Business goals usually involve an entire organization and can include items like budgets, customer lists, vendors, and service or product management. Pulling it all together can be challenging, but it's worth it if you can learn how to implement SMART goals (S=specific, M=measurable, A=achievable, R=relevant, and T=time-bound). We outlined some SMART goals examples you can use to help you create your own and stay focused on what you're trying to achieve.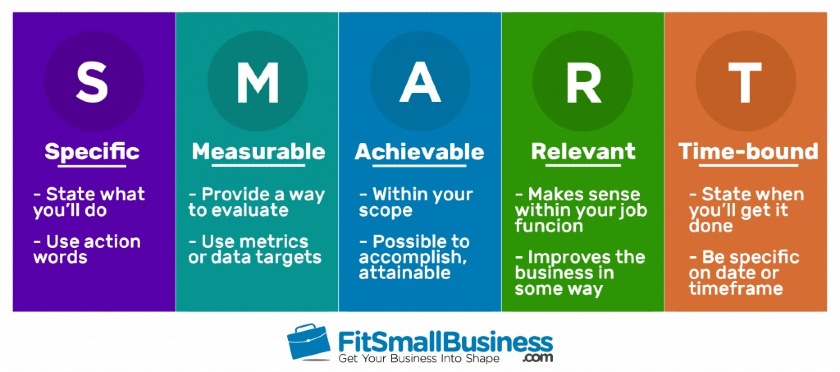 How SMART Goals Work
Each letter in the SMART goal acronym highlights a different aspect of your desired outcome. It doesn't matter if your goals are business-related or focused on some aspect of your personal life. Writing them down helps you achieve them. Using a formula like SMART when writing goals ensures you don't miss any critical goal-setting details. In addition, this process allows for a clear understanding and objective setting when worked on with a team of several people.
Here's how each letter in a SMART goal acronym helps you focus your efforts to achieve desired results.
S = Specific
The "S" in a SMART goal stands for "Specificity."
We all know that it helps us to remember to write down what you want to do, using action words. For example, instead of saying, "I want more clients," you might say, "I'm going to sign up four new clients within this next quarter." Being specific and using action verbs focuses you on what exactly you, or your team, needs to do. The key questions that you are asking you or your team are the following:
What needs to be accomplished; what's the objective?
Who (what team) is responsible for completing or driving this task or project?
What steps will you or your team take to achieve it?
M = Measurable
The "M" in a SMART goal helps you clarify and quantify your efforts so you can "Measure" them.
In the example above, we can add the additional note that your goal is to increase, by four, the number of new clients. Although establishing a target may seem obvious, many fail to add this important component to their goal framework. In short, your measurements determine whether or not you achieve your goal.
A = Achievable
The "A" in SMART goals represents the goal's "Achievability" factor.
This step reminds us to check to make sure the goal is within reach; is it practical? Experienced leaders will tell you that people are motivated by goals that stretch them as long as they're not unrealistic. Let's assume, for example, four new clients is an achievable goal, but the timeline suggested is not. Ensure that you are both ambitious as well as practical.
R = Relevant
The "R" in SMART goals addresses the "Relevance" of the goal.
If your overall business plan calls for increasing profitability, instead of sales, perhaps new customers aren't your primary goal. Instead of focusing on new customers, you may need to focus on the retention of existing customers and their profitability per sale transaction, price increases, or reducing production costs. Make sure the goal you set makes sense for you.
T = Time-bound
The "T" in SMART goals references the "Time" aspect of your goal.
Setting a time frame around your goals is essential, not just to identify the end or conclusion of the duration of your goal, but it motivates the identified endeavor. Working to achieve four new customers is fine, but if you don't set a time frame, it could diminish the objective overall, as it could take much longer to achieve four customers than desired.

10 SMART Goals Examples
Practical application is the best way to truly understand how SMART goals are utilized in small business today. These examples of SMART goals show you how you might apply the process for your own business.
1. Win Six New Business Accounts Before The End of The Second Quarter
There are many ways to design your SMART goals both for yourself and for your organization. Here is an example of what a business leader or sales professional may design within the SMART goal setting system:
Specific: Win six new business accounts
Measurable: We know to get to six, we need to have 12 proposals, 24 pitches, and 48 warm prospects
Achievable: Last year, we averaged five new business accounts during the same time frame, and we have been growing at 20%; this revised goal feels achievable
Relevant: The number and size of the accounts we win each quarter tie directly to our top and bottom lines
Time-bound: We measure our performance quarterly, which is incredibly important for staffing, budgets, and contingency planning
You may also decide to tie in your sales bonus structure to a set percentage above the baseline goal. This will allow you to reward all performers, while especially recognizing your top-performing staff.
2. Pay Off $10,000 in Business Debt Within 30 Months
Setting financial goals is an important step toward gaining control of your business finances. One example of a SMART goal may be to pay down the company's debt, thus making more money available for employee pay increases and other projects:
Specific: Pay off $10,000
Measurable: We can measure progress by monitoring our cash accounts as we go, and I will break down, or track, how we are doing month to month
Achievable: We will achieve this by spending less on growth-goal related items and will work to encourage vendors to pay on time and in full
Relevant: We will highlight low-cost development opportunities and project opportunities throughout the year that also can increase revenue
Time-bound: Within 30 months, we will achieve our objective
3. Increase Search Engine Traffic by 10% in the Next Two Months
Developing a program that increases your exposure within social media is a goal for many companies. Utilizing SMART goals can assist in this arena as well:
Specific: We want to increase our search engine traffic by 10% during the next two months.
Measurable: We will re-optimize our three best pieces of content to make them even better and aim to secure 10 high-quality backlinks to those pieces of content.
Achievable: If everyone contributes, this goal is very realistic and achievable.
Relevant: Search engine traffic is the most valuable traffic source for our business. This plan is the best way for us to increase our organic traffic, so accomplishing this goal directly translates into business success.
Time-bound: We will accomplish this during the next two months and measure our performance by both our actions and the ensuing results.
4. Increase New Customer Reviews by 30% Year Over Year
Most companies' growth these days has to do with the brand awareness your business has within the market. So, one of your most important goals in brand cultivation is your month-over-month (MoM) growth throughout the year:
For example, the number of new customer reviews we get must be 30% more than last year―on a year-over-year (YoY) basis.
Specific: Increase customer reviews by 30%
Measurable: We measure our progress through monthly reporting, and it shows if we reach our target or not
Achievable: We increased our customer reviews last year by 20%; we believe the 30% target is achievable
Relevant: Based on our research to date, it's 100% relevant to our top growth channels
Time-bound: We've got 30 days to achieve it
5. Confirm That 90% of Team Members Have Completed New Inventory Management Software Training by the End of Third Quarter
Specific: 90% of staff needs to be trained on the new inventory management software as soon as possible
Measurable: We have 100 employees; at least 90 need to complete the training
Achievable: Because the large majority have already received training, and the training is web-based and easy to access, this goal is achievable
Relevant: This training will allow our team to merge onto our new platform, and once people are comfortable with this new system, it will become more efficient
Time-bound: We want to achieve this goal by the end of the third quarter
6. Grow Market Share at least 10% by the End of the Year
Growing market share is the goal of most organizations, large or small. Objectives are SMART and used to support broader goals. So, objectives for increasing market share could look like the following:
Specific: We know the geographic area, the product line, and the level of growth (10%) we're looking for
Measurable: We will be able to measure our goal by tracking new customers, growth in new markets, and overall growth in current markets
Achievable: We grew, overall, by 8% last year and we feel this increased goal is doable
Relevant: Growth goals increases market share
Time-bound: We will reach our goal by the end of the year
It's very important to create and use SMART objectives because they provide a frame of reference for all involved. That way, at the end of the period being measured, your team can reassess whether or not it was truly "achievable."
7. Improve Automation Workflow by 20% Within Six Months
If you remain in business long enough, you will eventually engage in a large information technology project or enterprise resource planning (ERP) project. These can be monster projects. Enhancing your automation for your team is a great way to increase your ability to grow. At times, first assessing what your processes are is the best step to take:
Specific: You may have the workflows in place already and need to increase the traffic within
Measurable: We will increase our workflow throughput by 20%
Achievable: As long as our system is capable and our team committed, we can do it
Relevant: If successful, this will allow more work product to be completed by our present team
Time-bound: Although an ongoing goal, this timeline of 6 months is a good measurement of our progress
8. Plan Five Customer Education Webinars by Fourth Quarter
A good plan here may be to plan and execute five customer education webinars by the fourth quarter with 15-plus attendees per event and at least 80% highly satisfied or very satisfied responses regarding content:
Specific: The goal is to plan five webinars
Measurable: We will assess the number of previous attendees and new attendees in each webinar
Achievable: The personnel and system resources are available, and the need is active
Relevant: These webinars will help generate additional customers and/or our brand will acquire expertise in the market
Time-bound: We will have this completed by the fourth quarter of the current year
9. Get Three High-quality Joint Venture Partners in July
Although not all walk in the direction of joint ventures within the business world, some do in hopes that it will grow the organization's reach and/or profits. Although there are much larger scale examples of this, here is an example to consider:
Specific: We want highly desired or quality partnerships, which we can measure the definition of through the percentage of follow-through sales
Measurable: We want three partnerships during this time period
Achievable: We can complete this task as long as we utilize our network of contacts and follow up with soft leads that we have recently curated
Relevant: If successful, this will lead to additional sales and/or brand growth and expansion
Time-bound: We have until the end of July to reach this goal
10. Increase Website Traffic 25% by December 2020
Specific: To increase the number of visitors that come to our site by 25%
Measurable: Increase our annual visitors from 100,000 to 125,000
Achievable: Due to our social media and marketing teams' abilities and web tools in place, we will be able to achieve this if we continue to prioritize this objective over others
Relevant: The more traffic we have, the more money we make and the larger our reach
Time-bound: We have set the goal's target by December 2020
Do's And Don'ts in Setting SMART Goals
Now that you have seen some SMART goals examples, we want to share with you the "do's and don'ts" of setting SMART goals. This shortlist has examples of what others have done in the past that have impeded their ability to set successful SMART goals and execute on them thoroughly.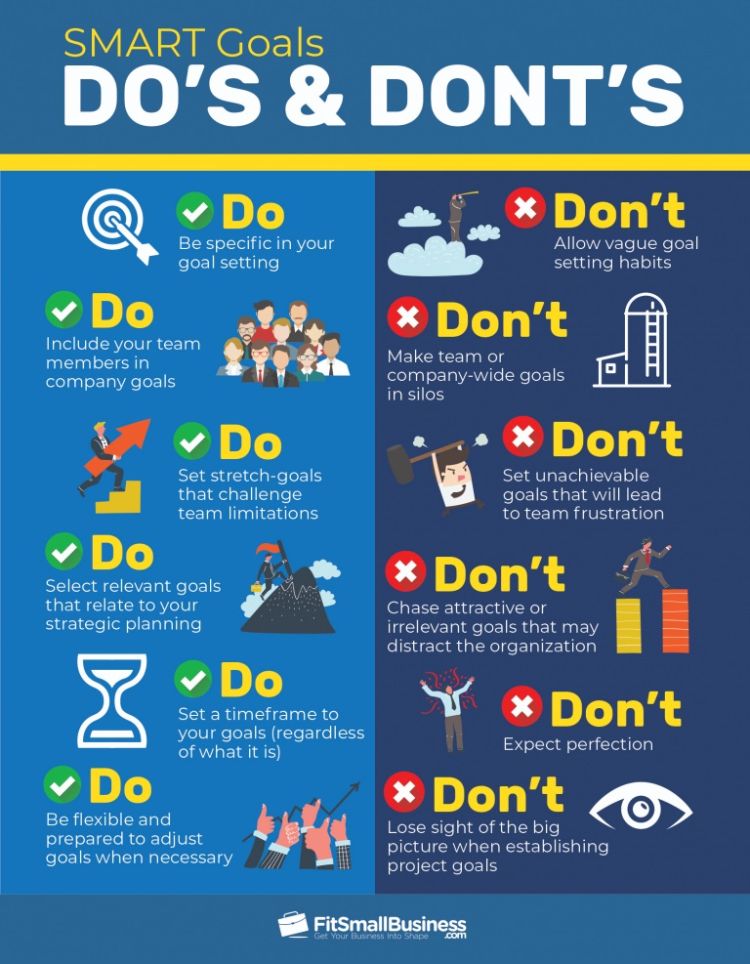 As you can see, following a few simple rules and ensuring that your team follows suit will aid you in setting SMART goals that make sense to everyone on the team.
Setting SMART Performance Goals
Setting SMART goals is a standard part of step one of the Performance Management Cycle, as shown in the illustration below. If you're looking to implement SMART goals as part of your performance management or business development process, you can find a comprehensive list of the best performance management systems available today.
Setting SMART goals is a standard part of a successful performance management or business development process. Beyond setting your own goals, you'll likely need to help your employees keep track of their own. A project management tool like monday.com lets each of your teams set, visualize, and track goals exactly the way they want. Try it free for 14 days.
Bottom Line
Not having a goal is like hiking without a map or building a boat without a plan. Making your goals SMART ensures that you not only know what you want to achieve, but you have a road map to get there as well as a way to measure your progress along the way. We encourage you to read more about using SMART goals as part of your performance management process.
Utilizing the SMART goals methodology will help your company achieve its strategic objectives. By designing specific, measurable, achievable, relevant, and time-bound goals, you will focus your team members on the most important objectives for your business, which will help you in achieving them efficiently.