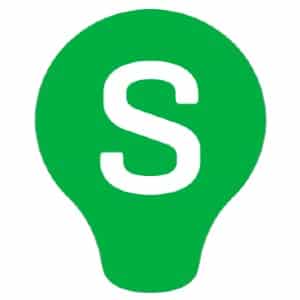 What We Recommend SmartRecruiters For
SmartRecruiters earned a spot in our guide on the best free applicant tracking systems. It received perfect scores in both applicant tracking and reporting, given its robust features that increase recruitment success. It also earned high marks in popularity but low ratings in pricing—mainly because it lacks transparency around its upgrade options.
In short, we recommend SmartRecruiters for:
Startups looking to scale quickly with a limited budget: If your company is small and working within a tight recruitment budget, SmartStart is the perfect choice for you. With this free plan, you'll get to advertise your open jobs to over 300 job boards like Dice, Indeed, and Monster and social media platforms like Facebook and LinkedIn.
New recruiting firms and headhunters: SmartRecruiters' robust recruiting tools make it a good fit for headhunters and recruiting firms that are just starting out. You can build your own career website, communicate with candidates and hiring teams, screen and evaluate candidates, track applicant progress, and schedule interviews without breaking the bank. It only allows you to hire for up to 10 active roles, but SmartRecruiters offers upgrades for more features and functionalities so that it can fit your growing hiring needs.
Fast-growing firms with professional recruiters looking to upgrade talent acquisition features: SmartRecruiters has a modern enterprise-grade platform that can help you find the best talent fast. With its SmartAssistant, you can automatically screen new and existing resumes, match the best candidates, and review candidate profiles with highlighted insights and intelligence-assisted match scores. You can also view a candidate's status, detect issues in your hiring workflow, evaluate applicants using pre-integrated assessment tools, sync all candidate emails and messages, and collaborate with recruiters and hiring teams using mobile apps, hiring feeds, and notifications—all in a single platform.
When SmartRecruiters Would Not Be a Good Fit
If you need a fully customizable and free applicant tracking system, then check out OpenCATS. It is an open-source software that you can easily download, install, and modify. It can handle all recruiting activities for you—from posting your jobs, parsing resumes, screening applicants, monitoring applicant status, scheduling interviews, managing offers and acceptances, and onboarding. You can even archive resumes and generate reports on recruiting activity for a quick and accurate overview. Since it is open-source, you need to join its online community to get the latest developments, tips, and even answers to your questions regarding the software.
If you're looking for free applicant tracking with other team management tools, then Homebase is your best choice. Its free version lets you track time and attendance and build schedules in one location, making it ideal for restaurants and retailers that hire hourly workers. Should you require performance tracking, GPS tracking, new hire onboarding, or advice from HR Professionals, consider upgrading to Homebase's paid plans that start at $19.95 per location monthly.
If your business is in an industry that's historically more vulnerable to discrimination complaints than others, then MightyRecruiter's robust reporting features will keep you in compliance. You can capture EEO data (ethnicity, gender, disability) from job applicants and access it in the case of an audit. It also has an "OFCCP Compliance" mode to track your searches so that you can easily download an OFCCP report (Excel or CSV file).
SmartRecruiters Overview
PROS

CONS

Easy to learn and use
Pricing is not transparent
Unlimited number of users and candidates
Job approval for the free version takes longer
Centralized candidate assessment
Self-scheduling feature is glitchy sometimes
SmartRecruiters Pricing
SmartRecruiters offers its SmartStart ATS version for free if your company has 250 or fewer employees and requires no more than 10 active job posts. If you need more than that, you'll need to upgrade to its SmartRecruit solution (custom-priced).
SmartStart

SmartRecruit

Price

($/Month)

$0

Contact SmartRecruiters

Numbers of Active Job Post

Up to 10

More than 10

Multi-Board Job Postings

✕

✕

Career Website

✕

✕

Job Widget to Integrate Your Jobs on any Webpage

✕

✕

ATS and Candidate Database Management

✕

✕

Interview Scheduling Tools

✕

✕

Configuration for Multiple Brands and Hiring Processes

N/A

✕

Full Marketplace Access with 350+ Partner Recruitment Systems and Services

N/A

✕
SmartRecruit, the paid product, has several upgrades to choose from:
SmartMessage: Allows you to communicate with candidates efficiently
SmartCRM solutions: Enables you to hire efficiently and strengthen your employer brand
SmartGlobal: Lets you configure its platform for multicountry deployments
SmartAssistant: Uses artificial intelligence (AI) to find, screen, and score candidates
SmartJob: A recruitment ad agency within your ATS
SmartPal: An advanced conversational AI
SmartConnect: Allows you to integrate the platform seamlessly with RESTful APIs, SSO support, and HRIS connectors
SmartDistribute: Centralized contract management of job distributions to more than 1,000 job boards in one view
SmartRecruiters Features
SmartRecruiters operates like most ATS software. You can post jobs, evaluate candidates, get feedback from interviewers, and view data analytics. It also has a hiring app to make it easy for job seekers to apply. Let's take a look at some of its essential features.
Candidate Sourcing
SmartRecruiters lets you reach more candidates through direct sourcing, multi-board job posting, talent pool building using SmartCRM, and recruiting campaigns. This way, you can find the best talent inside and outside your organization.
---
Multi-Board Job Posting
SmartRecruiters can post jobs to 300+ job boards (including Monster, Craigslist, LinkedIn, and Glassdoor) with just one click. You can also share jobs on social media, like Facebook. If you have an employee referral program, then you can ask employees to provide candidate referrals. With SmartDistribute, you can identify which job boards are helping you fill your talent pipeline, given its tracking reports and post-to-hire metrics, a feature that only SmartRecruiters offer.
---
Careers Page
SmartRecruiters allows you to build your own content-rich career pages using its drag-and-drop builder. If you already have an existing site, you can add a widget to make the site accessible. Videos, pictures, and even employee testimonials that showcase your company culture can be uploaded to encourage job seekers to apply.
---
Collaborative Hiring Tools
With SmartRecruiters' collaborative tools, your hiring managers and other stakeholders can exchange feedback in one platform. You can even create a standardized messaging system with its template library and maintain communication records using its historical message tracking.
---
Candidate Tracking and Management
After candidates submit their resumes, SmartRecruiters lets you track their application status. You can view which candidates have been interviewed, given an offer letter, hired, and rejected.
---
Mobile Hiring Application
SmartRecruiters' mobile application is available on both iOS (2.7 out of 5 stars) and Android (2.4 out of 5 stars) devices. It enables you to stay connected to your hiring team and screen, review, and approve candidates. Users find its interface simple and user friendly which allows them to browse candidate profiles and even rate and review each qualified talent easily. However, others reported bugs and login problems that the developers are trying to solve.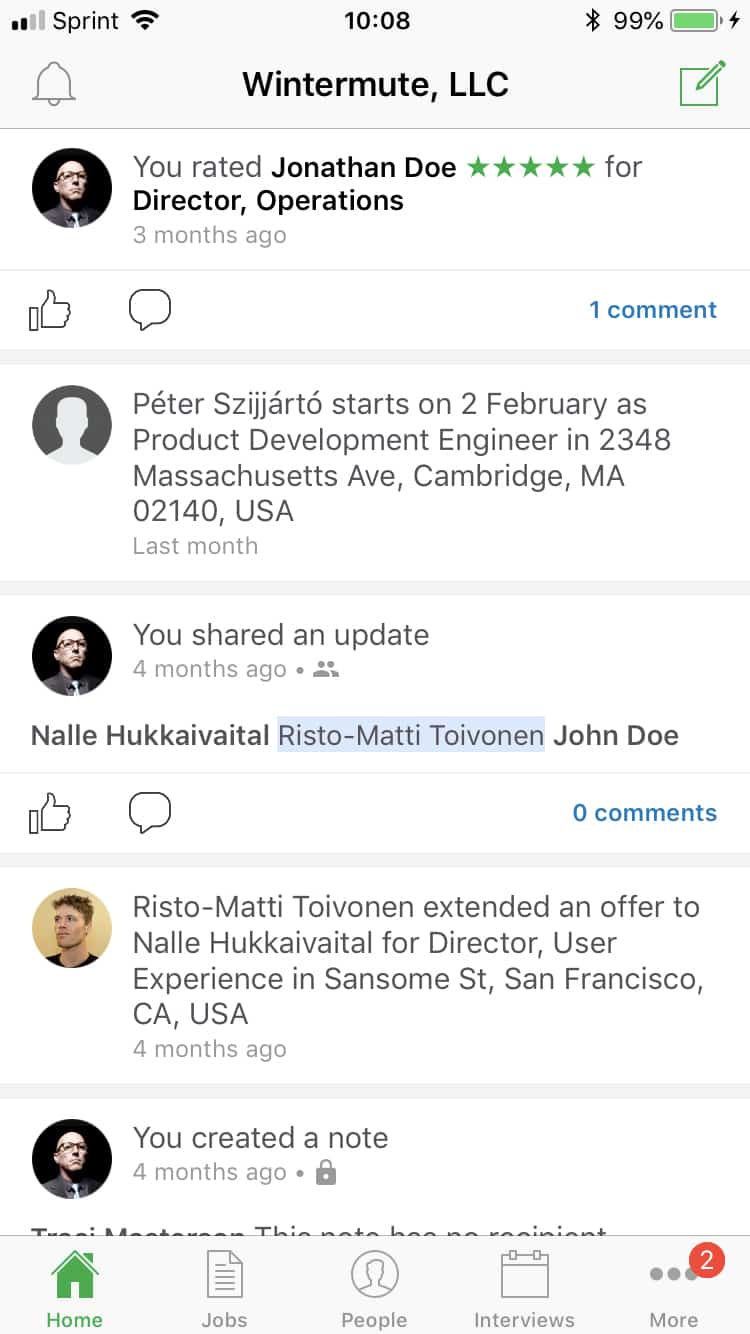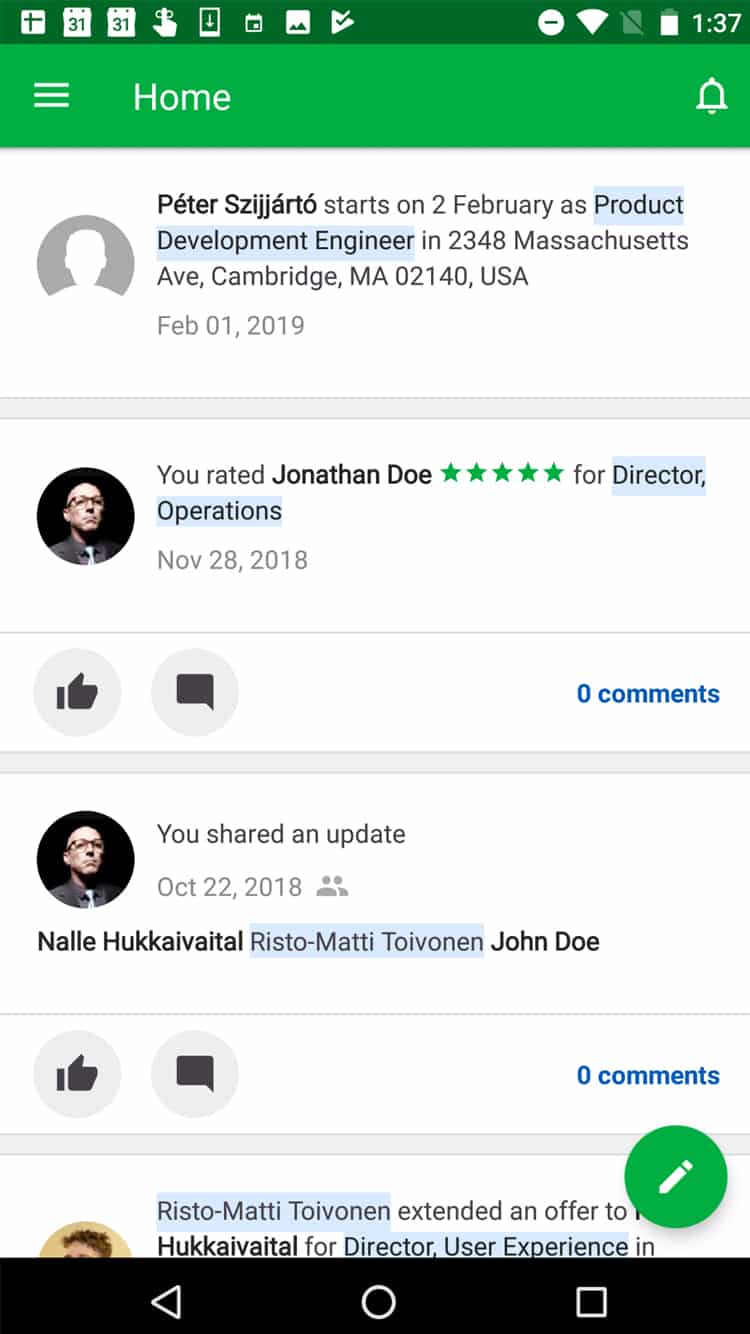 With a SmartRecruiters account, you can download the hiring app for Android and iOS.
(Source: SmartRecruiters)
---
Workflow Management
With SmartRecruiters, you can easily monitor an applicant's status. It keeps the talent acquisition process running using customizable tasks and reminders, easy approvals, and real-time dashboards. You can also improve candidate experience with timely feedback and set reminders to speed up the hiring process.
---
Applicant Screening
To help you identify the most qualified applicants, SmartRecruiters has customizable application forms and fully integrated assessments and skills tests to help evaluate a candidate. You can even put targeted selection questions in the application forms to determine if a candidate is fit for the role upfront.
---
Interview Scheduling and Process
SmartRecruiters allows you to compare your interviewers' calendars side-by-side and sync scheduled interviews across calendars. You can also schedule virtual interviews with multiple candidates and provide interview updates automatically. Standardized scorecards are used to get objective feedback from interviewers.
---
Offer Management and Onboarding
You can use SmartRecruiters' customizable offer letter templates and forms to extend offers to new hires quickly. Candidates can also view, sign, and accept offers from any device using SmartRecruiters' DocuSign integration. To ensure the quality of your new hires, you can use its pre-integrated background and reference checks during the onboarding process.
---
Recruitment Analytics
SmartRecruiters' end-to-end recruitment analytics and real-time recruiting data maximize hiring performance and give you insight into how to drive recruiting strategies forward. Also, you get immediate access to historical recruiting data, which you can export for further analysis or use to create personalized reports via SmartRecruiters' native Report Builder. You can even automate recurring reports delivery and share results with your team within the platform.
---
Third-Party Integrations
SmartRecruiters offers integrations with BambooHR, Appical, and FlareHR, so you can upload candidates' data to your HR software or payroll service once they're hired. One of the services SmartRecruiters offers that other ATSes don't is access to business partners and recruitment firms (when you upgrade to its paid edition). You can also connect SmartRecruiters to your company's Google or Microsoft calendar to schedule interviews and book available rooms for your interviews.
---
SmartRecruiters Ease of Use
Intuitive interface
User-friendly controls
User interface is available in English and 33 other languages (including Chinese, French, German, Japanese, and Spanish)
Knowledge base with extensive how-to guides (recruiting best practices, product tutorials)
Technical experts and certified project managers give you configuration, testing, and integration assistance and customized training for your hiring teams
Overall, SmartRecruiters is a user-friendly recruitment platform that has a straightforward and configurable interface with a mobile application that is easy to learn and use. In addition, it has a one-stop-shop resource center of how-to articles that tackle everything—from FAQs and step-by-step instructions to video tutorials and recruitment best practices. A team of technical experts and certified project managers are on standby in case you need assistance on implementation or even training.
However, it only offers live phone support in its premium plan. You can send your inquiries through its SmartPal feature or send a ticket through its customer support portal through its website or directly from the app.
Top SmartRecruiters Alternatives
| | | |
| --- | --- | --- |
| Best for: Companies that need reporting features that are EEO and OFCCP compliant | Best for: Firms with 50 or fewer employees | Best for: Small businesses that need to post jobs and track applicants for free |
| Monthly fees from: $0 | Monthly fees from: $19.95 per location but has free plan | Pay-per-click fees from: $0 to $5 per day |
| | | |
If you're unsure SmartRecruiters is right for you, see how it compares with our free applicant tracking software.
What Users Think About SmartRecruiters
Many users who left SmartRecruiters reviews online raved about its intuitive interface and user-friendly tools. Several even commented that it made their hiring process simple and more efficient. They also appreciate its collaboration tool, templated emails, and centralized candidate assessment feature.
On the other hand, some reviewers dislike that they can't customize some of its features and that its job posting feature can be glitchy sometimes. Others wished for a notification system that automatically updates them whenever there's a change in an applicant's status.
At the time of publication, SmartRecruiters reviews earned the following scores on popular user review sites:
These are some of the trends that I noticed when reading through its reviews:
| Users Like | Users Don't Like |
| --- | --- |
| User-friendly tools | Limited notification system |
| Straightforward interface | Customization options aren't robust |
| Simple but effective team collaboration features | Occasional job posting glitches |
Bottom Line
If you're looking for applicant tracking software with robust collaboration tools and a candidate management system, then SmartRecruiters is a good choice. It lets you post opportunities on multiple job boards and social media platforms using its one-click functionality. Also, it allows you to receive candidates around the globe and evaluate them together with the other members of the hiring team and stakeholders even while using your mobile phone. It even automatically provides successful applicants with an offer and onboards them.
If you want to learn more about its functionalities, then sign up for SmartRecruiters.
You May Also Like…