A social media marketing strategy is your game plan to build awareness for your business and grow your following on social media. Creating a social media strategy includes setting marketing goals, choosing the right networks to use, and measuring your desired results. Your strategy ensures social media has a positive impact on your business.
Below is a free template to get you started.
Free Social Media Marketing Strategy Template
We created a social media marketing strategy template to help you take the steps to solidify your own strategy. From setting goals to growing your following and measuring your results, our template guides you through every essential step of a strong social media marketing strategy.
Download free Social Media Marketing Strategy Template as a .PPTX or PDF file to create your social media marketing strategy.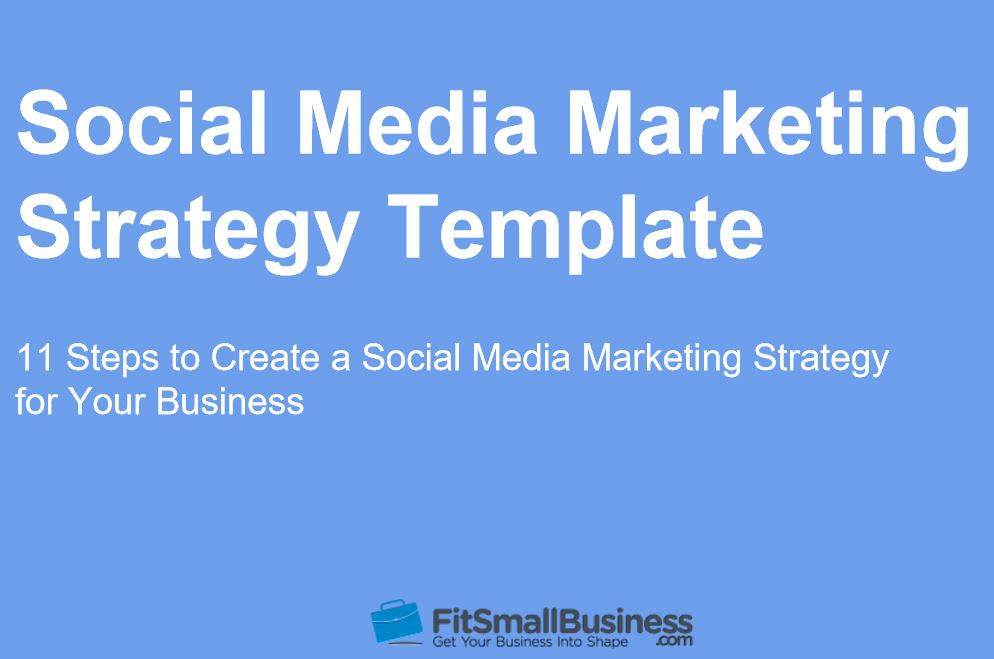 Let's look at how you can create an 11-step social media marketing strategy of your own:
1. Set Your Social Media Goals
To set your social media marketing goals, you want to think about what you want to accomplish and create a goal that is SMART (Specific, Measurable, Achievable, Relevant, and Time-bound.) Different businesses will have different goals, so consider your options and let your goals guide the rest of your strategy.
Here are a five general social media goals to use as a starting point:
Increase brand awareness: This is good for newer businesses that are trying to make their brand more well-known through growing and engaging a social media following.
Generate new leads: If you're looking for new leads, you can use social media to get email subscribers, event registrants, and new leads.
Drive website traffic: If your business wants to increase traffic to blog posts or product pages on your website, you can share links on social media to drive traffic back to your site.
Increase online sales: If you have an ecommerce business, you can use social media to run promotions and ads to increase sales.
Strengthen customer support: If your business needs a central place to address customer questions and concerns, you can use social media as your hub to interact with customers online.
Consider the goals above and choose one or two goals that will be most beneficial to your business. Then make the goal stronger by applying it directly to your business. A strong goal includes a number and a time frame. For example, a jewelry store might want to use social media to increase their online sales by 20 percent in December. A marketing consultant's goal might be to drive 100 new leads in three weeks by promoting their upcoming webinar on social media.
Start by identifying one to three goals for your social media efforts. You can use our template to list your goals so you can reference them as you continue to build your strategy.
2. Determine Which Social Media Channels Are Right for You
Choosing the right social media channels starts with understanding your target audience and which social networks they are most likely to use. The social media channels you choose to focus on should also be well-suited to your goals. For example, if you are a B2B looking to get generate more leads, LinkedIn is a good channel to focus on.
If you're brand new to social media, it's absolutely fine to focus on just one channel initially and grow a presence there first. Facebook or Instagram is often the best place to start. As you get more comfortable, you may want to expand to a few more networks to reach more of your audience if they use additional channels.
When deciding which channels to develop a presence on, think about your customers and your competitors. What are your customer demographics? Which channels are they likely to use? If you need help digging into your target audience, we have a customer profile template to help you create a thorough description of your ideal customer.
As for your competitors, run a Google search of their business name to see if any social media pages pop up. Then visit your competitors' websites to see if they have buttons to any social media sites. If your competitors have followings on a social channels, you probably should too.
Take some time to familiarize yourself with the major social media channels, each channel's key demographic, and what it's best for. The main social media channels you need to consider are Facebook, Twitter, Instagram, LinkedIn, Pinterest, YouTube, and Snapchat.
Social Media Channel Overview
Social Media Channel

Audience Demographic*

Best For

Facebook
Over 2 billion daily active users,
56% men and 44% women,
Popular for all age ranges
Businesses that want to reach a wide audience, run advertisements, and post live videos.
Twitter
335 million monthly active users,
Even split between men/women,
Most popular for 18-29-year-olds
Businesses that want to share timely updates, provide customer service, or share relevant articles.
Instagram
600 million active users,
Used by 38% of online women and 28% online men,
Most popular for 18-29-year-olds
Visual brands that want to share photos and videos of their products, staff, and customers.
LinkedIn
467 million registered members,
Used by 31% of online men and 27% of women-,
B2Bs that want to make professional connections, share industry or company news, and post jobs.
Pinterest
175 million monthly active users,
Used by 45% of online women, 17% of online men,
Popular with 18-49-year-olds
Ecommerce businesses that want to share product photos, drive website traffic, and increase sales.
YouTube
1.57 billion monthly active users,
Even split between men and women,
Popular with all age ranges
Businesses that want to share instructional videos, funny videos, or product review videos.
Snapchat
Over 300 million monthly active users,
70% of users are women, 30% men,
60 percent of users are under 25 years old
Businesses that want to connect with a younger demographic through images and videos.
*YouTube data from Omnicore. Snapchat data from Hootsuite. All other demographic data from Sprout Social.
3. Set Up Your Social Media Accounts
Now take a few minutes to sign up for your accounts. This will probably be the easiest step on this list. All major social media channels are free to set up, and most make it easy right from their homepage. Some networks, like Facebook, require a personal account before you set up a Page for your business.
Here are the links you need:
While all of these social media platforms can be accessed through a web browser, Instagram and Snapchat are both primarily mobile apps. All other major networks also have mobile app versions that are worth downloading so that you can access your channels on the go.
At this point, you only have to sign up for your accounts. Don't worry about filling in any additional information yet. There's a little research and analysis you should do first to make sure you're setting up your pages for success.
4. Analyze the Competition
Before diving into posting content, take a little bit of time to research your competition and analyze their approach. Take note of how many followers or Likes they have, what content they're posting, how often they're posting, and how many Likes and Comments they're getting on average. Pay attention to how they are positioning their business on social media so you can do something similar or intentionally different to stand out.
List a few things you like about their account and a few things you think you could do better. This analysis can provide some good inspiration for how you want to approach your social media channels and what benchmarks you can set for your own accounts.
If you don't have any direct competitors, just try to find a few accounts that are in an industry similar to yours. Again, you can use our Social Media Strategy Template to keep track of your findings.
5. Build Your Initial Presence
Building your initial presence means filling out your business information, adding a few images, and creating your first post. Don't try to start building a following until you have a strong foundation and you've filled out all the basic information on your page. Most channels do a good job of walking you through the necessary steps.
Here's a summary of general steps you should take:
Enter your business information: Provide an overview of your business, your contact details, and a link to your website.
Upload images: You probably want your profile image to be something recognizable, like your logo or a head shot. Make sure your images are the proper sizes and display well on desktop and mobile views.
Create your first post: Make sure people who arrive on your page get a good first impression. Your first post can be something simple like: Welcome to the [business name] Facebook Page! Like our Page for [type of content you will provide].
Follow your contacts: Start with your most loyal customers who you know will Like and Follow your new account. Most social channels have recommended contacts and potential influencers that make good first connections.
If you want to make sure your new social media page is set up correctly, you can hire Hibu to handle it for you. Their digital marketing specialists will use their experience and expertise to set up your page and efficiently run your social media campaigns. Click here to reach a representative.
"Before we outsourced our social media, between myself and my office manager, we were sacrificing time and energy updating statuses and building posts, rather than doing our real work that directly drives our business forward. Outsourcing our social media gave our staff the opportunity to fully dedicate themselves to their true roles."

— Eric Hobbs, CEO, Technology Associates
6. Create a Social Media Schedule
A social media schedule is a set calendar of content ideas to help you consistently post quality content on social media, which is key to achieving your goals and growing your following. Social media is all about consistency, so ideally you are dedicating about 15 to 20 minutes each day to social media to post and interact with your followers on a daily basis.
To start, make a list of all the different types of content you'd like to share on an ongoing basis. Keep in mind that you don't want all your content to be self-serving and promotional. A common social media best practice is to follow the 80/20 rule, which means 80 percent of your content is useful, educational, or entertaining and 20 percent is sales-driven.
For example, a yoga studio might want to post a mix of content that includes motivational quotes, 30-second video tips from their instructors, links to their weekly class schedule, helpful articles, discounts for new members, and photos from their recent classes.
Once you have a few different content ideas, start plugging these ideas into a simple calendar. CoSchedule has marketing calendar tools that make it really easy to stay organized. You can add all your social media, email marketing, and blog writing to a centralized calendar to stay on track:
You don't have to post on social media every day and it's OK to reuse some content if you're active on multiple channels. However, you want to make sure each network has its own unique value and that you're interacting with customers on a regular basis.
With 67 percent of consumers now using social media as a customer service channel, make sure you are communicating with your audience in a timely manner. To stay on top of your posting schedule and incoming messages, look into using a social media management tool to help you stay organized and save time. There are a lot of options, including tools with free versions like Buffer or Hootsuite.
7. Promote Your Social Channels
Promoting your social media channels means getting the word out about your new channels so more people will follow you. It is the best way to grow your following so that all your posts are seen by as many people as possible. You probably have more places to promote your social media channels than you think, and many of them won't cost anything to make an impact.
Here are some places you can promote your channels:
Your website: Add buttons to your social channels so website visitors can easily find your social accounts.
Your email list: Once you launch your social accounts, let your email list know. Then, include buttons to your social channels in the footer of every marketing email.
Your email signature: Add social media links to your business email's signature.
Send an email to your staff: Encourage your staff to follow your social media channels and invite their audience to do the same.
In-store signage: Put up signage in your store with your social media handle or URL.
Your other social media channel: Encourage your audience to follow you on multiple channels.
Social advertisements: You can run an ad to get in front of new audience members.
8. Measure Your Results
Your results will show you how your social media efforts are paying off and how you're stacking up against your goals. You'll be able to see how many followers you've gained, how much traffic you're driving to your website, and how much engagement your posts are receiving. All major social media networks give you access to metrics though their analytics platforms. If you decide to use a social media management tool, it will also likely have analytics available for you to use.
Let's review some common metrics that should come in handy:
Followers/Likes – Shows the size of your social media audience
Reach – Shows how many people are actually seeing your social media posts
Engagements – The number of Likes, Comments, and Shares your content is receiving
Clicks – The number of times your posts are clicked on
If you're posting multiple posts a week, you'll have a lot of data to review. Look at your overall performance on at least a monthly basis, as well as individual post performance statistics about once a week. Over time, you'll learn more about what type of content drives the best results for your specific goal, which will help you spend time on the things that really drive interest and action.
9. Optimize for the Best Performance
Once you have some data in your back pocket, you should be able to apply some learnings to your posting schedule and optimize for the best performance. Look at what's getting your business the most clicks, impressions, and engagements, and then tweak your schedule incorporate more of these types of posts. For example, if your yoga studio sees a lot of engagement on videos, you may want to experiment with creating more videos on channels like Facebook Live, Instagram Stories, or YouTube.
Optimization is what will really help you meet and exceed your goals. If you're having trouble getting the audience growth or engagement you're looking for, you may have to try some brand new ideas. Maybe it's time to try a paid ad to get in front of a new targeted audience. Look into adding hashtags to your posts to increase reach. Or, try posting a survey or poll to ask your followers directly what they are interested in seeing from your business.
Metrics can tell you a lot about how to optimize your content, but sometimes the best optimization comes from direct one-on-one conversations with your customers. Don't underestimate the power of understanding your target audience and providing them valuable or entertaining content.
The Concord Cheese Shop shows they understand what content resonates with their audience by posting a fun article about the benefits of red wine. The article resulted in 132 reactions and over 60 shares.
10. Run Promotions for Your Products and Services
After growing your initial following, social media promotions are a great way to get your products or services in front of a larger audience and generate some sales. Before spending money on social media advertisements, try posting a timely and compelling offer to your channels. Be sure to use a compelling image to draw your audience in.
Door County Coffee & Tea Company does an excellent job with their 25th Anniversary promotion. The promotion is timely in celebration of their anniversary. They write clear and compelling copy with all the offer details. Lastly, they include a colorful image with the discount prominently featured so it will jump out to anyone scrolling through their feed quickly.
Your social promotions should be clear, compelling, and easy to act on. If your sale is running over a couple weeks, it's also fine to post about it more than once. Urgency is an important element of a successful promotion, so be sure to post about your sale in its last 24 hours.
Test promotions regularly to see which offers result in the most sales. Just make sure to keep that 80/20 split, with 80 percent of your content focused on providing value and 20 percent promotional. That way, your audience won't feel inundated with sales-driven content and they'll be more willing to make purchases from you.
11. Run Ads on Social Media
All the major social media platforms (Facebook, Twitter, Instagram, LinkedIn, Pinterest, Snapchat, and YouTube) have social advertising features to help grow your sales and audience size. You don't necessarily have to run social media ads for your business. However, if you are looking to promote your product or service to reach a new audience, social media ads are a great way to increase your reach. If you have a product or service, revisit the successful organic promotions you've run in the past and think about how you can reuse the successful elements of this offer in your paid promotion.
Here are a few different examples of social media ads you can run:
Storewide discounts – Give your audience complete freedom to choose the product or service they want to purchase at a discounted price.
New product promotions – Drive awareness and sales for new products by featuring them in an ad.
New customer deals – Target non-customers with your social media ads and give them an incentive to make a first purchase with you.
E-book downloads – Show your industry expertise and grow your following by promoting your e-book to a targeted audience.
Webinar/event promotions – Increase attendance for your online or offline event by promoting an invite to your upcoming event.
Giveaways – Spark some interest in your business by promoting a free giveaway. You can link to a sweepstakes landing page, collect contact details, and choose a winner.
To really make money on most social media channels, you typically have to spend money on paid ad campaigns. Paid ads help you reach a larger audience, especially because social media algorithms limit how many of your existing followers see your organic (or free) promotions.
Each platform has its own advertising features, but there are a few things you can do to get the most out of your ads on any network:
Target Ads for Your Audience
Set up your ad campaigns so they reach an audience that is relevant to your business. Each platform has its own targeting features, but many allow you to target audience members based on demographics, locations, expressed interest, or behavior. Spend some time refining your desired audience before publishing any advertisement.
Create Multiple Versions of Your Ad
With a new audience, it's hard to know what's going to perform the best. When running an ad campaign, you want to create multiple versions of your ad with some slight variations. It may be easiest to start with two versions of an ad, so you can run a simple A/B test. Then, tweak the more successful ad by testing out different offers, creative, and copy to see what is performing the best.
If you want help creating multiple version of your ad, consider finding a social media consultant on Fiverr to help create multiple ad versions. This is the best way to test quickly so that you can see what types of copy, images, and offers will work the best.
Optimize for a Specific Metric
Once you run your ad, check on your results on a daily basis. You will want to tweak your approach to make sure you're not wasting money on poor-performing ads. When optimizing your ads, make sure you're focusing on one specific metric. Is your goal to have a ton of reach or to drive clicks to your website? Before making any changes to your ad, consider which ad versions are helping you reach your desired end result.
Consider Outsourcing Your Advertising
A lot of effort goes into a successful advertising campaign. You may decide that you'd prefer to hand off your advertising to an agency that is more likely to get you a good return on your investment. If you decide to outsource, look for an agency that specializes in working with small businesses, like Hibu.
Hibu offers small businesses comprehensive Facebook advertising management, including campaign setup, ad optimization, and reporting. Their Facebook advertising services start at $250 per month, and they will create ads to appear in the Facebook News Feed, on Facebook Messenger, Marketplace, and Instagram. Click here to reach a representative.
Bottom Line: Social Media Strategy
If creating a social media marketing strategy seems intimidating, focus on taking one small step at a time. You don't have to do everything all at once, but if you take the time to create a plan with clear goals, a consistent content schedule, and regular analysis, you'll develop an engaged audience that's eager to purchase your products and services.