A social media press release is a post that introduces a full press release that is used on social media channels like Facebook and Instagram. Its key elements include images, videos, links, hashtags, and social media handles. An effective social media press release offers businesses affordable and targeted press release distribution, free multimedia inclusions, more ways to increase press release engagement, and instant shareability by your target audience members (including journalists and media personnel).
Benefits of a Social Media Press Release
A social media press release allows you to earn targeted engagement and coverage of your story for free or for just a few dollars a day. It does so by offering targeting capabilities, free multimedia inclusions, easy shareability, and easy engagement opportunities on a free platform. Here's a closer look at the benefits of distributing a social media press release:
Affordable but effective distribution: A social media press release can be posted to your social media accounts for free. If you want to create a social media ad, you can potentially pay as little as a few dollars a day to run your social media press release ad before target consumers, business stakeholders, or media audiences.
Targeting by publication: When you run a social media press release ad, you can choose the companies whose employees you want to see your press release in their news feeds. For example, you could specify that you want employees who work at your local newspaper to see your press release. This means you can create personalized ads to appeal to target publications or journalists you want to cover your story.
Free multimedia inclusions: Many press release distribution services make you pay extra to embed videos or images in your press release upon distribution. A social media press release allows you to include this type of media for free.
Greater engagement: Social media platforms are designed for engagement; they are designed for people to connect and have conversations around the content people publish there. So, when you publish a social media press release with multimedia, hashtags, and other engagement-inducing elements, you can earn shares, comments, mentions (or buzz) that introduce your press release to people you otherwise may not have if you just published your press release on a news wire.
Instant shareability: When distributed via email or a distribution service, time-strapped journalists have to take the time to sift through perhaps thousands of stories to access your press release, then pull the elements out of it before sharing. In contrast, social media press releases can be shared by journalists (and influencers) with just a click of a button.
Social Media Press Release Template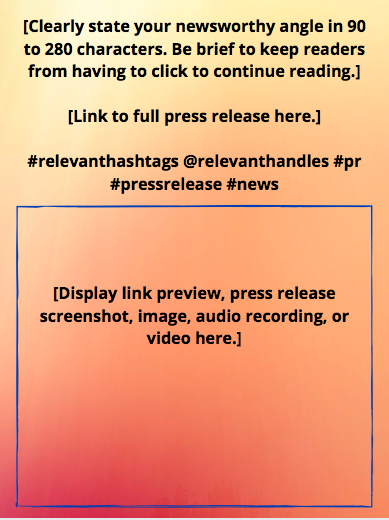 4 Elements Every Social Media Press Release Should Include
Depending on which social media platform you use to share your social media press release, your message may be different but the elements you include should remain the same. A social media press release should have text that explains why its target audience should care, hashtags that categorize it and make it discoverable, multimedia that produces engagement, and a link to your full press release.
Here are five standard elements every social media press release should include:
1. Copy
How much copy you include in your social media press release depends on the requirements or best practices on the social media platform you use. For example, a press release distributed on Twitter should be between 140 and 280 characters. For a press release shared on Facebook, for best results, limit your text to 90 characters or less so that your press release link (added after your press release copy) shows up before the ellipses.
Once you've decided on the length of your social media press release copy, it's time to focus on the words you use to introduce your release. Consider starting your press release copy with an attention-grabbing phrase like "just announced," "breaking news," or "press release." Next, share a very brief summary of your news that states why people should care or be interested in your news. You can increase engagement by ending your post with a question or prompt to engage like "tell us your thoughts" or "share your excitement with us."
2. Handles
Many business press release stories involve more than one company or the issuing company and influencers within the field. To increase engagement in your press release, include the social media handles of the businesses or influencers your press release mentions.
Doing this alerts these businesses that you are issuing the release so they may share about their involvement with their audiences, thereby exposing your release to more of your target audience. Include these relevant handles either within your copy (if you call out these businesses or influencers directly) or after your copy alongside your hashtags.
3. Hashtags
Hashtags are a means to encourage engagement and help your press release be found by media contacts who can amplify its reach. And they are very effective: Tweets that include hashtags enjoy 100% more engagement than those without, according to Hootsuite. They serve to help businesses get involved in relevant conversations, create discoverable content, and earn memorability and recognition with branded content.
Here are some types of hashtags to consider alongside your press release:
Alert media to your release: Make sure media personnel can find your social media press release and recognize it as a potential news story by including hashtags like #pressrelease, #publicrelations, #pr, or #news.
Engage your community: If your press release is meant for a local audience, attract that audience by including your city or state in a hashtag. For example, use hashtags like #NewYorkCity or #Nashville to alert the locals to your news.
Start or continue relevant conversations: If your press release is relevant to trending topics, include a hashtag to label it as such. For example, if you've decided to enact a new green initiative in your business, you might launch your initiative on or around Earth Day with the hashtag #earthday.
Categorize your content: Use keywords that tell your audience what your press release is about. Doing so can help people who are interested in those topics find your release. For example, if your company is raising awareness around cancer, use the hashtag #cancer to attract audiences interested in this type of content.
Highlight involved influencers: If your business is partnering with an influencer for an event or initiative, with the influencer's permission, hashtag their name so their followers can learn about your news release.
4. Multimedia
For better engagement (in the form of shares, likes, or comments), include an image or video with your release. For example, tweets with a video receive 10 times more engagement than those without, and Facebook posts with images earn twice the engagement than text-only posts. The more engagement you earn for your release, the more reach your release will earn. For example, if one person shares your Twitter release with their list of contacts, you potentially earn hundreds or thousands of more release views.
An easy way to create a custom image is to create your post using Canva. You can set up a free account, then search for the type of post you'd like to share. From there, design your post and share it. For example, use the search bar at the top of your Canva home page (once you've logged in) and search "Twitter Post." Then, choose a template and upload your image. You can customize it by replacing the provided text with your own copy, add multiple images for a collage, or add an image and a key quote or details from your release. Finally, download the image and share it to your Twitter profile with other elements of your social media release.
Pro tip: If you don't know whether to post a link with an image or a video, many social media platforms offer insights into which your audience most responds to. Facebook, for example, offers Facebook Insights with a graph that specifically addresses the level of engagement for different types of posts as well as the engagement level each type earns your business.
5. Link to Your Press Release
After you've introduced your press release, share the link to your full press release. If you don't yet have a full press release, read our ultimate guide on how to write a press release. Some platforms make sharing links easier than others. Facebook, for example, will let you share all the links you want in your post (though we recommend only sharing one), but Instagram can be trickier by not allowing you to share live links in posts.
For platforms that don't allow you to share a live link, create a custom image and share your link on your image. Especially on an image, for greater engagement, shorten your link using a tool like Bitly; Bitly will convert your press release link into a shortened one of just a few characters, making it easier for people to type it into a mobile or desktop search bar.
For best results, consider using Campaign URL Builder to create a custom link that allows you to track your press release performance in Google Analytics. Setting one up is as easy as filling out a simple form (as shown below). We will talk about how to measure performance a little later in this article, but for now, simply set up the link if you want to track performance and share it in your social media press release.
How to Distribute a Social Media Press Release
In posting your social media press release, your goal needs to be to increase engagement (and so reach) and to reach the right audience. We've already talked about how to use your press release elements to increase engagement. However, you can further increase engagement and reach by posting at the right time and using your chosen social media platform's promotion tools to reach the largest targeted audience.
Post at the Right Time
While we could tell you all the general rules for when most business audiences are most engaged, it is best to do your own research to understand exactly when your audience is most active (by posting, commenting, viewing, and reacting to your posts). If you have a business social media page, it is quite easy to find this information for free. While this process will vary depending on the platform, and most offer simple analytics reports to guide you.
For example, if you have a Facebook Business business page, Facebook Analytics is free and offers you graphs with information like when your fans are online and when they are most likely to engage with your post. Use this information to guide you in earning the most reach and engagement for your posts.
To learn more about how to market your business on Facebook, read our ultimate guide on Facebook for Business.
Use Promotion Tools to Increase Targeted Reach
Social media platforms offer tools to help you promote your release before people who you may not normally interact with on the platform. For example, you can create a Facebook and Instagram ad. When you do, you can use targeting options to reach the audience you wish to consume your release, even if they are not current fans of your business. This could mean reaching people in specified locations, of certain demographics, or who share relevant interests. It could also mean targeting employees who work at specified news outlets.
To learn more about how to use social media to create a social media press release ad and on how to target the right audience or publication, read our article on free and affordable ways to distribute your release.
How to Measure Social Media Press Release Performance
Tracking your social media press release performance helps you learn what worked and what didn't in reaching your target audience, what you can do to further promote your release, and how you can apply learned insights to future press releases for best results. There are many tools you can use to track your social media press release performance on a small business budget, including social media analytics reports, social listening tools like Brand24, and Campaign URL Builder for tracking in-depth metrics in Google Analytics.
Proprietary Social Media Analytics Reports
Most social media platforms have analytics reports you can access for free to track how your press release is performing. You will likely get more in-depth reports if you have advertised your post on the social media platform (for greater reach outside your contacts) rather than just posting it.
For example, an Instagram business account offers its Instagram Insights tool (provided by Facebook). It allows you to track metrics like which of your posts are most popular, their reach, where your audience members are located, when your audience members are most active, and how many people viewed your press release.
Once you've run your targeted ad, you can track key metrics like the number of people who viewed or clicked on your ad, how much you spent for that engagement, how your ad performs across different audience demographics (on Instagram versus Facebook), and across different devices.
Trackable Links
I mentioned previously that using a trackable link builder like Campaign URL Builder can help you learn more about your press release performance and audience in Google Analytics. A URL builder allows you to insert information into the link you provide in your social media press release so you can differentiate traffic coming from it to your site.
Here's how it works: Publish your press release on your website. Then, fill out the Campaign URL Builder form to create a unique URL for your full press release. As you fill out the form, the Campaign Link Builder will alter your original press release link to include the information you provide in the form. As you fill out the URL Campaign Builder report, you provide information like what social media channel your release link was published on and your campaign name.
Next, copy and paste that link into your social media press release (as we discussed in the above "Links" section). This unique URL differentiates traffic coming from that link to your website in Google Analytics reports. So, you can track traffic coming from your social media press release to your website and know that the traffic came specifically from your social media press release.
In Google Analytics, you can track key metrics in your "All Campaigns" report. These metrics include how many clicks your social media press release link earned, who purchased products on your website as a result of your social media press release, how long your social media press release traffic stayed on your website, what website pages this traffic viewed, and how many people didn't stay to read your full release.
Brand & Keyword Mention Tools
There are many social media mention tools. For example, for $49 per month, Brand24 tracks brand or product mentions across social media, news, blogs, videos, forums, and reviews. You can then track how much traction your release gets on other platforms as influencers and journalists cover your story before their audiences.
Trackable metrics include who mentioned keywords related to your story or brand, your social media reach, engagement earned by mentions, the reach of hashtags you used in your release, and the overall sentiment of mentions. For more information on how to set press release goals and what metrics are useful to track to help you meet them, read our guide on press release analytics.
Bottom Line
Posting your press release on social media helps businesses affordably issue a targeted release that earns engagement. It includes copy to introduce a full press release, a link to the full release, and multimedia. This multimedia could be a snapshot of the full release, an image, a video, or an audio recording. To increase engagement, a social media release should also include hashtags labeling it a press release and connecting it to relevant conversations and handles of the businesses or influencers involved in the story.