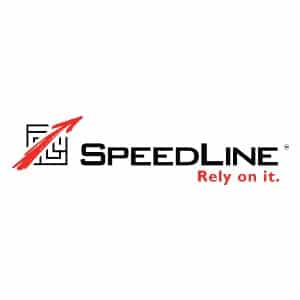 SpeedLine is a locally installed, legacy point of sale (POS) system for restaurants. This system has served independent pizza restaurants for decades and is usually the first to create pizzeria POS software innovations. As a locally networked system, SpeedLine has a much higher price than cloud POS and iPad POS systems. However, if you have the budget for it, SpeedLine is an excellent choice for any high-volume delivery restaurant.
What We Recommend SpeedLine For
The SpeedLine team designed this POS system specifically to support pizza shops, so it has a lot of niche functions for handling combos and coupons. It is an excellent system for high-volume pizza shops that combine a highly-customizable menu with a high staff turnover. It is practically impervious to user error and has robust driver management tools.
In particular, we recommend SpeedLine for:
High-volume pizzerias: If you run many combo coupons and manage an in-house driver team, SpeedLine is the strongest pizza POS for your operation.
High-volume delivery restaurants: Any high-volume delivery restaurant will benefit from SpeedLine's robust delivery POS functions, especially if avoiding card-not-present processing fees eats into your profits.
When SpeedLine Would Not Be a Good Fit
Restaurants on a budget: You probably noticed the "high-volume" theme with our SpeedLine recommendations. If you don't yet have that volume, we suggest checking out iPad POS systems.
Restaurants that want a cloud POS: If you want to manage reports and menu updates from a smartphone on your sofa, SpeedLine doesn't have that flexibility. Check out our favorite restaurant POS systems for the best options.
Food trucks: Unless you have a fleet of 10+ trucks, SpeedLine is probably more machine than you need. See our definitive ranking of food truck POS software instead.
Not seeing the right fit? Check out our list of the best overall POS systems for small businesses.
SpeedLine POS Overview
| SpeedLine Pros | SpeedLine Cons |
| --- | --- |
| Closed-network has robust offline functionality | High up-front cost |
| Comprehensive driver dispatch and management functions | Some updates can only be made by SpeedLine representatives |
| Best available combo-building and coupon tracking | Back office is not cloud-accessible |
| Multiple available payment processors to get the best transaction rates | |
SpeedLine Pricing
SpeedLine is an all-in-one package, so the price includes software, hardware, and installation. Its all-inclusive price is custom-quoted, based on how many terminals you need, the complexity of your menu, and what features you require. Since the price is so tailored and restaurants vary so widely, it is difficult to list a total price. You'll need to reach out to the SpeedLine sales team for an estimate, but budgeting for an overall upfront cost of anywhere from $10,000 to $15,000 is probably within the ballpark.
This is a much higher upfront cost than cloud-based restaurant POS systems, but it comes with some advantages too. First, there are no monthly on-going subscription fees for the POS software. Second, with this higher price comes a lot more one-on-one attention. SpeedLine representatives will import your menu into the system, including all of your customizations and modifiers. If you have limited administrative bandwidth, this can be a big help.
SpeedLine trainers and installation team members are computer experts who have restaurant experience. So, they understand how restaurants work, what tools you need to solve your pain points, and what options SpeedLine has to support you.
SpeedLine Payments
Choose your processor: SpeedLine supports multiple payment gateways, including Worldpay Express and Monetra, so you can shop for the best card processing rates.
Digital payment options: Accept online payments and mobile wallet payments.
Pay at the door: SpeedLine supports mobile card readers to process credit and debit card payments in the field.
Reduced chargeback liability: Accepting more dipped and swiped cards protect you from chargebacks.
PCI and EMV compliant: Ensure that your payments are encrypted and secure.
SpeedLine integrates with major payment gateways Worldpay and Monetra. Working with these providers ensures that your POS payments are encrypted end-to-end. These gateways also support a wide array of payment styles, from in-person payments, online payments, mobile wallet payments, and credit card payments at the delivery location.
The ability to tap, swipe, or dip physical cards away from the restaurant can significantly impact your bottom line. If most of your credit card payments are over the phone (and getting dinged with card-not-present transaction fees), the impact can be massive. Accepting payments at the delivery location also protects you from chargeback claims.
SpeedLine Hardware
Industrial grade: Industry-specific hardware withstands a lot of wear and tear.
Mobile tablets: Full-size mobile tablets make it easy to offer a massive menu with tableside ordering.
KDS: Robust features ensure your cooks receive tickets in the order they prefer.
Locally installed: SpeedLine terminals are networked internally, so the offline functionality is massive.
SpeedLine terminals are networked together on a closed, internal circuit, and credit card processing and online orders are the only functions that require internet access. SpeedLine operates on pre-configured SpeedLine POS terminals and mobile tablets that you can purchase directly through SpeedLine. The upside is that SpeedLine hardware is robust enough to withstand a high-traffic, hot, and wet restaurant environment. The downside, of course, is the price. Industry-specific terminals can be two to three times more expensive than iPads and Android tablets.
All restaurant POS software tends to work with the same third-party peripheral hardware, though. So, if you are switching from another restaurant POS and have some Epson printers or hardwired touch-screen monitors lying around, you might be able to reuse them. A SpeedLine technician can go through your hardware inventory and tell you what is compatible.
In addition to traditional free-standing POS terminals with cash drawers and receipt printers, SpeedLine supports robust KDS screens and handheld tablets for tableside ordering. Because its tablets are designed to support the restaurant industry, the screens are larger than iPad minis, so they display full-scale order buttons and order screens. If you've ever tried to squeeze a massive menu onto a tiny tablet, you know how a larger screen can speed your service up.
The KDS has a lot of insightful features. No matter how your cashiers ring a dish in, SpeedLine arranges the kitchen tickets to show orders the way your cooks prefer to see them. So, if your cooks want to see house salad tickets with dressing before any modifications, the POS will arrange it for you. The KDS also comes equipped with order timers so that you can ensure that all the items on a single ticket are ready at the same time. It also groups in-house dining, pickup, or delivery orders.
SpeedLine POS Features
SpeedLine's features are exhaustive. Any function that a busy, delivery-heavy restaurant could need is included. Pizza establishments—especially high-volume ones—have some of the most complex challenges of any restaurant type. Its menu items are infinitely customizable (and customers are in the habit of modifying every order). Combo orders are standard, and customers expect loads of promotional coupons. Then, you add the logistics of delivery operations and costs of card not present fees for nearly every sale, and you begin to see why pizza shops need such robust software tools.
In addition to the online ordering, menu management, reporting, marketing, and loyalty functions that we'll explore below, SpeedLine also features:
Inventory management: SpeedLine's Inventory tools monitor all your toppings at the ingredient level, regardless of how small a portion you use, and the dynamic "topping matrix" streamlines recipe creation. The module also includes in-depth reporting to illustrate food costs, stock and margin reports, and variance reports.
Forecasting tools: SpeedLine includes a Forecasting tool that calculates projected daily, hourly, and day-part sales based on your restaurant's past performance. Multi-location pizza shops can use this to communicate targets from a central office to individual locations. It syncs with employee scheduling and kitchen prep planning tools, so you know how to order and schedule to stay in budget.
Table management: In addition to basic table numbering and customer floorplan creation, SpeedLine's table service screen shows table status with color-coded alerts so that you know which tables are lagging or likely to clear soon.
Check Management: For full-service operations, SpeedLine supports seat numbers and separate checks. You can split individual items across multiple checks (like a shared pizza) and add individual items (like personal sodas). Orders placed via the phone have caller ID integrations, so you can easily view customers' delivery addresses and order history.
Workforce management: The SpeedLine POS has built-in employee scheduling functions. Training resources and tutorials are available on the SpeedLine support website. Connecting the POS to your payroll and accounting software creates an end-to-end accounting solution to reduce your bookkeeping hours.
Integrations: SpeedLine supports several popular third-party integrations like Restaurant365 (accounting), CrunchTime (inventory), BeerBoard (liquor control), Chowly, and ItsaCheckmate (third-party ordering and delivery).
Online Ordering and Delivery
Detailed delivery reports: Track average delivery times, high performing drivers, driver mileage, and percent of on-time deliveries.
Custom delivery zones: Decide where to deliver and set fees for various delivery zones.
Automated customer messaging: Send alerts to customers so that they know when to expect their delivery.
Visual dispatch: See delivery orders on a map, group nearby deliveries together, and assign them to drivers.
Pay at the door: Mobile card readers enable drivers to process card-present payments in the field.
Third-party option: Receive third party platform orders directly in your POS via third-party integration.
SpeedLine offers a built-in online ordering product called SpeedDine. With it, you get an optimized online ordering website or branded app that customers can use to place digital orders. Both the app and your online ordering site communicate directly with your POS, so prices, combos, promotional offers, and tax rates are the same across the board.
The built-in delivery dispatch and driver management tools are some of the strongest I have seen in a restaurant POS. Integrated caller ID shows customer information on your POS screen when customers call in orders. Deliveries show up on a navigational map, so you can easily see which orders should be assigned to a single driver. Delivery information is emailed to drivers' smartphones so that they can use their preferred navigation app. Drivers can run credit and debit cards on mobile card readers at the delivery address, saving you money on processing fees.
You're not locked into SpeedDine as the only online ordering option; SpeedLine's open software architecture allows you to integrate with other platforms like Deliverect and Ritual. You can use third-party delivery platforms alongside SpeedDine or other in-house delivery options too.
Menu Management
Screen design assistance: SpeedLine representatives will work alongside you to create a touch-screen layout that makes the most sense for your restaurant.
Directed ordering: Modifier prompts are hard-programmed to ensure that cashiers ask customers for all their modification choices like crust, sauce, toppings, and dressings.
Customized information display: At the touch of a button, your menu screen can display nutritional information, allergens, or recipes.
Upsell prompts: You can include item-specific upselling prompts as your staff rings in orders.
If you've only ever used iPad POS systems, the SpeedLine order screen will look busy to you. The fact that there are so few images of the order screen on the SpeedLine website makes it seem that the company is self-conscious about this fact. However, the busy-ness of the screen is what powers SpeedLine's incredible order customization tools.
Order screens typically show ingredients and toppings along the bottom. When you add a pizza to a check, included ingredients light up. Selecting or de-selecting these buttons adds or subtracts toppings from specialty or build-your-own pies. If you have ever trained new staff on menu item ingredients and allergens, you know how valuable this is. Cashiers and servers don't need to keep every recipe in their heads; the information is at their fingertips.
You can also attach relevant upselling prompts to specific menu items so that your team can suggest them at the most helpful moment in the ordering process. You don't need to rely on your staff to remember combos or current promotions, either. As your team rings in orders, the SpeedLine system will automatically apply any relevant coupons or promotions.
Reporting
Build-your-own reports: SpeedLine's reporting tools allow you to build your own custom reports or work with a SpeedLine rep to design one that shows precisely the data you want to track.
Heatmap reporting: Combine sales and delivery data to see what items are selling where.
Comprehensive: Whether you want to track customer behavior, food cost, labor costs, sales trends, or stock levels, SpeedLine has a report for you.
Visually dynamic: Many reports are presented with charts to support an at-a-glance analysis of sales and labor.
SpeedLine's reporting functions are as comprehensive as the system's other features. With all of your data feeding into a centralized, in-house network, you can combine sales, cost, and labor data in dynamic ways to get a deep look at your restaurant business's health and plan for growth. You can combine inventory reports and past sales reports to create kitchen prep lists based on your actual sales and costs.
The Heatmap report is another excellent example of this customization. With the Heatmap, you can search your sales history on a map that shows where certain items sell most or simply where your most active delivery customers live. This function can show you where to focus new marketing or promotions to have the most significant impact.
The system also includes a full spectrum of built-in reports to analyze sales, labor cost, inventory, food cost, delivery efficiency, kitchen productivity, and staff productivity. You can also track the effectiveness of marketing promotions. But if this is not enough, you can work with a SpeedLine representative to build custom reports that show exactly the data you want.
Marketing and Loyalty
Reward loyal customers: Use traditional points-based loyalty or customized offers for specialty items.
Automate bounce backs: Offer new customers a deal on a future order at check out to keep them coming back.
Survey customers: Print customer surveys on receipts (or link to an online survey) to catch issues before reading about them on the internet.
Personalized messaging: Send customers personalized offers for birthdays, anniversaries, or other celebrations.
Gift cards: SpeedLine integrates with multiple gift and stored value card programs and processors Worldpay, Givex, and Paytronix.
Email marketing: Send deals and messages to filtered customer lists.
SpeedLine has massive marketing and loyalty functions to help grow your restaurant business. The whole POS is built around an in-depth customer database that tracks everything from contact and payment information to multiple delivery addresses, order history, and notes. Caller ID integration also lets your cashiers see who is calling before they pick up the phone, so your customers get personalized service, even from new employees. The POS offers detailed customer and marketing reports to analyze marketing campaigns' results and help you plan new ones.
Delivery-heavy restaurants need to match customer expectations for combo deals and coupons. Pizzeria customers, especially, have a huge appetite for various "family meal" or game day deals. This is where SpeedLine takes a giant leap ahead of other restaurant POS systems, as this system can handle an incredible number of simultaneous coupons and complex combos. Your staff won't need to keep track of all of them because SpeedLine automatically applies active promotional deals to qualifying orders as they are rung on the POS.
SpeedLine Ease of Use
365 support: Reach a live customer support rep any day of the year, at virtually any hour.
LiveAssist: Allow SpeedLine technicians to connect to your POS remotely to troubleshoot or fix issues.
Kitchen ease: Timers on your KDS ensure all the items in an order are hot and ready at the same time.
Training support: SpeedLine hosts training tutorials and videos on a customer website to train your managers and employees.
User community: Connect with other SpeedLine users to learn how other restaurants get the most from their POS.
SpeedLine's robust customization options are only possible because of the system's complex backend software, so most of the preliminary POS system setup is done by the SpeedLine team. This takes the pressure off during your setup time, but it also means that you need a SpeedLine representative to make some updates. The upside is this removes some administrative tasks from your team, whereas the downside is that updates can take longer.
The information-packed order screens combined with SpeedLine's training resources make this POS one of the easiest for the front of house staff to learn. The directed order functions streamline the order process so much that your team doesn't need to know the system deeply to use it. SpeedLine users frequently mention running a busy service with brand-new staff and pulling it off seamlessly.
The SpeedLine website is full of helpful tips for pizzeria operators. Every person I have interacted with at SpeedLine is full of creative ideas for pizza operations and eager to share their knowledge. Its customer service team is based in North America and operates 365 days a year, 18 hours a day. I like to see 24-hour customer support, so restaurant operators always have someone to help, but SpeedLine's service hours run from 9 a.m. to 3 a.m. Eastern time, so they have most restaurants covered.
SpeedLine Restaurant Software Alternatives
SpeedLine is an excellent POS, but it is more machine than some restaurants need. If you are not a high-volume, delivery-heavy spot, a POS with a smaller footprint will be more your speed. If you absolutely must have a cloud-based POS, SpeedLine is also not for you.
What Users Think of SpeedLine POS
SpeedLine is not an internet-dependent POS, so it is not surprising that you don't find many SpeedLine users online. However, the few available user reviews are overwhelmingly positive.
Capterra: SpeedLine earns an overall rating of 4.7 out of 5 based on six user reviews.
G2: SpeedLine earns a full 5 stars based on one user review.
Reviews note SpeedLine's ease of use and ability to crunch massive amounts of customer information and sales data to create detailed reports. Many also mention how easy the system is to use. As a manager, I want to find tools that my staff like to use, so the fact that some of these reviews were written by delivery drivers and other front line staff really stands out to me.
| Users Like: | Users Don't Like: |
| --- | --- |
| Friendly and accessible customer support | Only a SpeedLine representative can make certain updates |
| Collects an incredible amount of customer data for detailed reports | Upfront cost is high |
| Robust menu modifiers, coupons, and combo support | Locally installed network is less flexible than cloud-based competitors |
| Excellent offline function | |
Bottom Line
SpeedLine has been creating tools for pizzerias for decades. Its familiarity with the pizza business model is evident in the insightful menu screen designs and intuitive combo building functions. The driver management and customer management functions are some of the best available in a restaurant POS. In a sea of cloud-based competitors, though, SpeedLine's upfront price is pretty steep. To get an accurate picture of your full costs, you'll need to reach out to SpeedLine for a custom quote.