Squarespace and Weebly are surprisingly similar, making the debate of Squarespace vs Weebly a difficult one. Both are top website builders that include prebuilt themes for you to customize to fit your business website. You can turn your site into an online store using either one, and they're both affordable solutions. Still, they are different platforms, so your unique needs will inform you which solution is the best fit for you.
Squarespace: Best for small businesses that want brilliant designs that show off creative products or services—and you can turn your site into an online store
Weebly: Best for selling online right away and on a budget—there's even a free plan
Squarespace vs Weebly at a Glance
Best Price: Weebly
The biggest difference in price between Squarespace and Weebly is that Weebly offers a free plan, whereas Squarespace does not. Of course, a free plan with Weebly means that you'll have Weebly branding and a Weebly subdomain (www.mywebsite.weebly.com)—not very professional, is it? Still, you can create an online store with Weebly even on its free plan.
Weebly does offer low-cost plans, though, that range from free to $26 per month, if paid annually. To get the branding removed, you'll have to pick at least the $12 per-month plan, Professional, and you'll get a free domain, secure sockets layer (SSL) certificate, and unlimited storage. The highest-priced plan is ideal for ecommerce businesses because you'll unlock features, such as PayPal payments, reviews, and abandoned cart emails, for $26 per month.
Squarespace doesn't offer a free plan, but you can try it free for 14 days. The lower-priced plans include all you'd need for a business website or a blog, but to sell online with Squarespace, you'll have to, at a  minimum, get the Business plan that costs $18 per month. However, it could be worth upgrading to Basic Commerce ($26) to get rid of the 3% transaction fees you'd have to pay to Squarespace.
Winner: There's no debate: Weebly is cheaper.
Best for Ease of Use: Weebly
The Squarespace vs Weebly race is a close one when it comes to ease of use because their editors are designed with non-coders in mind. You can get started with designing right away, and any setup process is guided, so you'll be confident in knowing your site is set up properly.
Building a Site With Squarespace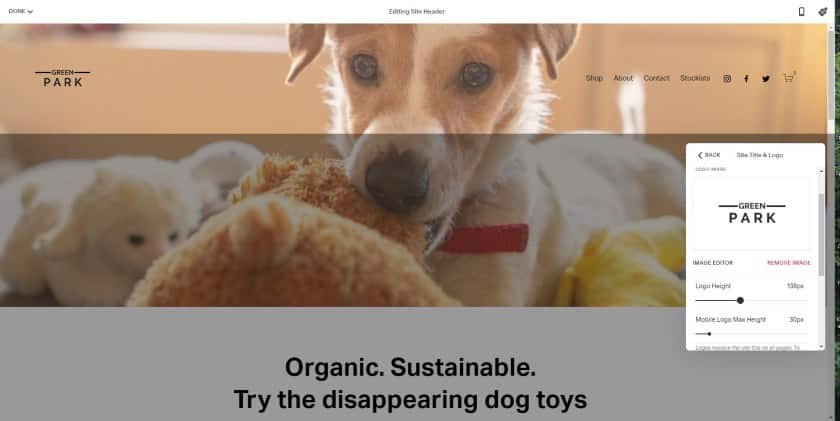 Squarespace is all about design, so it makes sense that it throws you right into editing a template. Creating a website with Squarespace is easy but maybe not intuitive. Its editor seems to be hidden at first. Your template choice will be full screen initially, and as you click on elements to edit, a menu appears as a pop-up to let you customize things.
It isn't always clear how or where you can adjust something in Squarespace's newest (7.1) editor, though. For example, when you add a logo, you may see that it's super small. You can change the size of your logo, but not right away. You'll have to save the changes you've made first before you even get the logo size slider option.
Building a Site With Weebly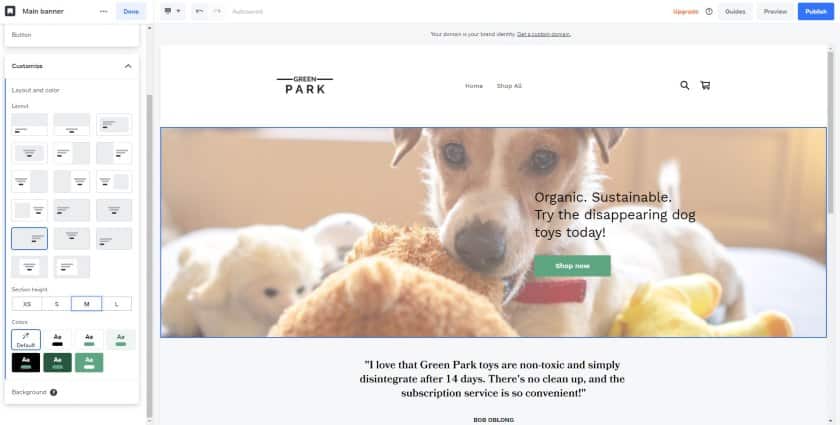 Weebly is a visual website builder, and it's intuitive from the beginning. Click directly on the template to edit anything from image to button to text. The left side menu lists the elements you have on each page. Choose "Add Section" to add a new element. You can make your site look unique by changing the layout.
If you don't want an online store, you can build a website with Weebly quickly and easily using its older drag-and-drop editor. Just be sure to choose the website-only choice and not the Square Online store option.
Winner: Weebly wins for being so simple, whether you're visual or prefer menus for better organization.
Best for Design: Squarespace
It's hardly fair to ask Weebly to go head to head with Squarespace in design—there's just no comparison. Squarespace offers more than 200 templates that are known for striking design. It's easy to get a professional-looking website or online store when you choose Squarespace, and all you have to do is add your content. You can customize the layout, fonts, and colors.
Weebly has been going through a lot of changes since partnering with Square. Previously, Weebly offered more than 100 themes for the design of your website. You can still use the prebuilt themes on the old Weebly editor, but if you want an online store, you'll have to use the default Square Online store design. While this does leave room for creative freedom, you aren't getting professionally designed themes or templates for an ecommerce website (there are workarounds, though).
Winner: Squarespace clearly wins here. All of the more than 200 free Squarespace designs are professional and clean, and it's harder to break templates with Squarespace, so your site will look professional.
Best for Ecommerce: Squarespace
As long as you're selling your own products, Squarespace or Weebly would be equally appropriate for you to choose for an ecommerce site. Neither of the website builders supports dropshipping, with one exception: You can integrate Printful, a printing and fulfillment service. Weebly and Square do not currently offer any easy dropshipping solutions.
For the most part, Squarespace and Weebly offer the same ecommerce features. You'll have to pay more overall to Squarespace to access all the features compared to Weebly, but Squarespace includes a bit more. For example, you can show customers limited availability of stock to help motivate them to purchase.
The most significant difference between the two is in payment processor options. Weebly with Ecommerce by Square only offers Stripe, Square, and PayPal Express. Squarespace lets you use all the same as Weebly, plus it offers direct integration with AfterPay.
Winner: Squarespace squeaks by as the winner as it offers more unique ecommerce tools to help you land more sales.
Best Functionalities: Squarespace
The great thing about both Squarespace and Weebly is that they work as intended. Both of them are website builders, so you don't have to think about the behind-the-scenes work. You can create a website or online store with either Squarespace or Weebly with Ecommerce by Square and your site will automatically look great on desktop or mobile.
Squarespace goes a step further for mobile audiences by letting you enable AMP, or accelerated mobile pages, on your blog. This feature lets the blog load much faster for mobile users, and it could benefit your ranking on Google. Speaking of blogs, you can't actually add a blog to a Square site, but you can create "Stories," which sort of works like a blog.
Winner: Squarespace wins because its back-end functionality works elegantly without you having to use workarounds to get something to work.
Most Capabilities: Weebly
When comparing Squarespace vs Weebly with Ecommerce by Square in terms of capabilities, it mostly comes down to how you can customize your site to do what you want. Squarespace only offers a couple dozen apps for you to integrate to change how your site works.
Weebly and Square offer a large app marketplace of about 200 apps to customize your and your customers' experience. And if you stick to a business website, you'll still be able to use the Weebly-only app marketplace, which includes more than 300 apps for you to use.
If you're looking for complete customization to code your own website or online store, a website builder might not be the right fit for you. With that said, it is possible to add custom CSS or HTML to either Squarespace or Weebly, but you may break designs or back-end functionality, and you may not get the same level of support if you change too much.
Winner: Weebly wins here with its many apps in both the Weebly and Square marketplace to help you change what your site can do.
Best Customer Support: Squarespace
The importance of customer support cannot be understated. For some, the quality or availability of support will make or break their relationship with the service. Squarespace offers 24/7 support on various channels, including email and Twitter. Live chat is available on weekdays from 4 a.m. to 8 p.m. Eastern Time.
Weebly now uses Square's customer support platform, so you'll get support by phone, live chat, and forums. Phone support is available from 6 a.m. to 6 p.m. Pacific Time on weekdays. However, Square's support team isn't always available when they're supposed to be, and email responses can sometimes take up to 48 hours.
Winner: Squarespace wins here with a slight edge over Weebly and Square because support is more readily available.
Best Alternatives
The Squarespace vs Weebly race was a bit of a photo finish, and it's possible that you've decided neither is the right fit for you. There are other options that may be a better choice.
Here are some of the best alternatives to Squarespace and Weebly:
Wix: Looking for more design freedom? Opt for Wix. It has one of the best drag-and-drop site editors, giving users maximum design flexibility within a site builder.
WordPress: If neither Squarespace nor Weebly offers quite enough capabilities for you, then your best choice might be WordPress, as it's nearly limitless thanks to thousands of plugins and the option to code.
Square: Want to sell online in addition to selling in-person? Square will be a great choice for you as it offers top-notch omnichannel selling and retail solutions.
Choosing the best website builder for you comes down to what you need and how comfortable you are with the technical side of site design. There are tools out there that fit your skill level.
Frequently Asked Questions (FAQs)
Does Square own Weebly?
In 2018, Square acquired Weebly. Since then, the two companies have worked together to build up Square Online, using the Weebly website builder to help users create online stores (powered by Square). Slowly, more of Weebly's functions and features are being incorporated or phased out of the Square platform. Learn more about what Square is and how it works.
Do professionals use Squarespace?
You might be surprised to learn how many web designers use Squarespace to design client websites. Squarespace has several beautiful designs, and its builder and content management are easy to figure out, so it's a good fit. Thus, you might find that web designers create small business websites using builders like Squarespace.
Do Squarespace & Weebly sites rank well?
Squarespace and Weebly (and other DIY website builders) should do well enough on Google, but it really all comes down to paying attention to search engine optimization (SEO). Most site builders are mobile-friendly and include tools to help you boost your SEO. However, some sites may load slowly, which could affect ranking. Squarespace combats this on mobile by enabling AMP for blogs. It's important to brush up on how to rank higher in Google, regardless of the builder you use.
Bottom Line
In the battle of Squarespace vs Weebly, it's a close call. Weebly is a good option if you're looking for one of the cheapest ways to start an online store. On the other hand, Squarespace offers more value, even if it is more expensive. You get beautifully designed templates for free, a blog that is optimized for mobile, and built-in ecommerce tools—some of which aren't even available from Weebly with Ecommerce by Square. Start your free Squarespace trial today.
You Might Also Like…