When learning how to start a blog for free, you need to select a blog topic and set clear blog goals. Choosing a blogging platform and naming your blog are the next steps in how to create a blog for free. You'll also need to write great blog posts and promote your blog.
WordPress is the most popular free blogging platform. If you want to make money from your blog, it's best to create a self-hosted WordPress blog using DreamHost. You can launch a money-making, self-hosted WordPress blog with DreamHost for as low as $2.59 per month. Visit DreamHost to learn more.
If you want to know how to create a blog for free, here are the five steps you need to get started:
1. Establish Your Blogging Goals
One of the biggest mistakes new bloggers make is starting a new blog just because they've been told it's a good idea. These beginners jump on the blogging bandwagon without knowing what a blog can and can't do for them. Before you launch a blog, you need to be clear about why you want to create a new blog. Knowing your reasons for wanting to launch a blog will help you make better blogging choices from day one.
Here are some popular blogging goals:
Boost your credibility and career: Creating a blog is a great way to demonstrate your knowledge and build your professional reputation.
Support a cause or organization: A blog can be a terrific centralized location for people with a common cause or affiliation to gather to access news, resources, and connect with one another through community-style forums.
Make money: The most common reason people want to start a free blog is to make money.
It doesn't matter what your blogging goals are—all of those just mentioned are valid. If you want to start a successful blog, you simply need to be clear about your blogging goals. The type of blog you create and the blogging platform you choose will all hinge on what you want to accomplish with your blog.
2. Decide on Your Blog Topic
If you want to know how to start a blog for free, it pays to do a little research before deciding on your blog topic or blog niche. The topic you choose needs to align with your overall blogging goals. It also needs to be a topic that you enjoy writing about.
It's important to take a look at other blogs with similar goals to yours. Learn from what top bloggers do best and come up with ideas for what you can do even better on your blog.
Most Popular & Profitable Blogging Niches
There really are no one-size-fits-all rules about the type of blog you can create; you can find successful bloggers in hundreds of different subject areas. Some blog topics tend to generate more traffic than others, though what matters most is attracting the audience that aligns with your blog content so you can achieve your blogging goals.
If making money with your blog is your primary goal, you'll want to explore what top-earning bloggers do to serve their blog audiences while making money. As a blogger, you could earn anywhere from a few hundred dollars a month to several thousand. Some of the most successful professional bloggers earn even more.
Here are a few of the most popular blogging niches, many of which have big profitability potential:
Beauty and fashion blogs: Fashion and beauty blogs are extremely popular, particularly among millennials, and can be extremely lucrative, too.
Mommy blogs: These are called mommy blogs because they focus on parenting, motherhood, and family life.
Food blogs: If you love cooking and creating new recipes, or just love writing about your favorite restaurants, you may want to start a food blog.
Pet blogs: Blogs about pets generally focus on a particular animal species or breed. With all the animal lovers in the world, it's relatively easy to find a pet-loving audience for your niche pet blog.
Travel: Many travel bloggers earn a full-time income writing about exotic and not-so-exotic locations around the world, as well as travel tips for safe and happy journeys.
Health and fitness blogs: If you're drawn to health and fitness topics, you might want to start a wellness or exercise blog.
Personal finance blogs: Millions of people are looking for ways to manage their money, save money, plan for retirement, and build wealth, which is why personal finance blogs are so popular.
Real estate blogs: If you're in the business of selling residential or commercial properties, you may want to start your own real estate blog.
Business blogs: You can enhance your professional profile or expand your business endeavors by starting a business blog.
Lifestyle blogs: These blogs are written from a personal perspective where the blogger shares life advice aimed at solving readers' problems or helping them live better lives.
Cause blogs: If there's a cause or issue that you support, you can educate and inform people and even raise money for your cause with a blog.
Career blogs: If you have an interest in helping people find interesting and satisfying work, you might want to start a career or job search blog.
Identify and Serve a Specific Audience
One of the key ways new bloggers get tripped up when creating a free blog is thinking only about themselves and their interests rather than their audience's wants and needs. The better you become at serving your audience, the more successful your blog will be.
If you want to be a successful blogger, it's important to get clear about who your audience is and what they want from you and your blog. One of the ways to establish a clear vision of who you're writing to is to create a persona of your ideal blog visitor. A blog audience persona is a fictionalized representation of who's reading your blog and types of blog content they want to consume. With every piece of blog content you develop, keep your blog visitors foremost in mind.
3. Choose a Free Blogging Platform
Free blogging software is readily available, which means you have a lot of options when learning how to create a blog for free. However, not every free blogging solution will serve all of your needs, so it's important to explore multiple options to see which blogging platform is right for you.
Best Free Blogging Platforms
Choosing your blogging platform is one of the most important decisions you make. Because each program comes with its own templates and editing tools, switching blog platforms after you've launched a blog can be both difficult and time-consuming. Do yourself a favor and test out several free blogging platforms before you invest too much effort into launching a new blog.
If you want to know how to start a blog for free, begin with one of these popular free blogging platforms:
Instagram: While Instagram is best known as a social media channel, it also allows you to do short-form blogging, or microblogging, for free. Instagram is a great blogging platform for bloggers who want to become influencers.
Wix: This all-in-one platform makes it simple and easy to create a free blog. It's well-suited for beginners with minimal technical experience.
WordPress.com: You can start a WordPress.com blog for free. Unlike a self-hosted WordPress site with DreamHost, you won't be able to blog under your unique domain for free, but you can launch a simple free blog in about 30 minutes.
Medium: If you want to blog about topics you care about but don't want to set up your own private blog, you can start blogging on Medium for free. If enough people read your blogs, you could even start making a few extra dollars a month.
Blogger.com: If you have a Gmail account, you already have access to Blogger. This free blogging platform from Google is best suited for personal and passion-project blogs.
Weebly: You can start a free Weebly-branded blog in just minutes. This is another simple-to-use platform that's perfect for new bloggers and is suitable for every blogging niche.
LinkedIn: If your primary blogging goal is to build your professional credibility, blogging on LinkedIn is the perfect way to connect with a business audience.
All of these free blogging platforms come with limitations, the most common of which is the lack of access to ecommerce capabilities. In layman's terms, free blogging platforms tend to tie your hands when it comes to making money with your blog. Luckily, there are a number of affordable paid blogging platforms that won't break the bank and will allow you to achieve all your blogging goals — including making money with your blog.
Create Your Blog Title & Domain
On free blogging platforms, you will not be able to create a free-standing domain but rather you'll have a subdomain on the blog platform's domain. For example, if you wanted to name your blog "Dave's Awesome Blog," instead of your blog address being "davesawesomeblog.com," with Weebly, your blog address would be "davesawesomeblog.weebly.com."
If you want to create your own custom domain, you can do so with Wix, Weebly, or WordPress.com for an additional fee. A domain is included in most of DreamHost's self-hosted WordPress plans. You can also purchase a domain name at Domain.com or Namecheap, but you won't be able to link a purchased domain to a free blogging account.
Best Blogging Platforms for Making Money
Over a third of all websites are built with WordPress. With a self-hosted WordPress blog, you have access to more applications, themes, and plugins than are offered through any other blogging platform. This allows you to create a versatile, highly customized blogging experience—and it also means you can sell products and services on your blog.
If your goal is to make money blogging, most people find that the easiest and cheapest way to get started is by launching a self-hosted WordPress blog with DreamHost as your hosting provider. You can get started for as low as $2.59 per month, which is an incredibly small investment to get everything you need to create a money-making blog.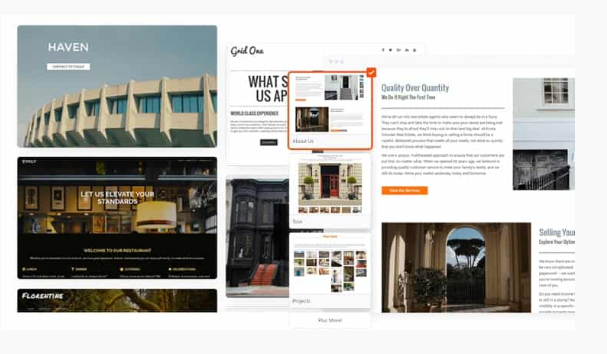 Some people prefer to use an all-in-one blogging solution, where blogging software and hosting services are packaged together. Like their free counterparts, premium versions of Wix and Weebly are examples of all-in-one platforms, as is Squarespace, a blog builder that's best known for its stunning designs. Each of these platforms has distinct advantages over free platforms, including ecommerce capabilities.
The three most popular all-in-one paid blogging platforms for making money online are:
Wix: While you can launch a Wix website for free, you can launch an ecommerce-enabled blog with one of Wix's paid plans. Ecommerce and business plans start at $23 per month. Wix is a favorite platform for bloggers who want full design flexibility.
Weebly: Again, you can start with Weebly for free, but if you want to have your own custom blog domain and add ecommerce functionality to your blog, you'll need to upgrade to one of Weebly's premium plans, which start at $12 per month. Weebly is particularly popular with small business bloggers.
Squarespace: This highly intuitive blogging platform comes with award-winning templates that give your blog an upscale feel. Plans range from $12 to $46 per month. This blog builder is favored by those with a penchant for clean, crisp, modern design.
Once you've decided on your blogging platform—whether that's a free or paid blog builder—you're ready to get into the nitty-gritty of creating your blog. Don't be nervous; setting up and designing your new blog is easy when you use any of the blogging platforms recommended here.
4. Set Up Your Blog
Every blog builder comes with its own directions for how to create a blog on its platform. If you're blogging with LinkedIn, Medium, or Instagram, it's as simple as setting up a free account and you're ready to start posting blogs. If you're building a custom blog on any of the other free or paid blog builders, simply follow the setup and launch procedures for your chosen platform.
Blog Design Best Practices
To create a blog that's as effective as it is attractive, you'll want to follow a few "best practice" tips>. Here are a few design best practices that enhance your blog visitor's experience and help you achieve your blogging goals:
Use high-quality images: Include eye-catching images on your blog to engage visitors and tell stories visually.
Include calls to action: If you want your blog visitors to take any action, such as sign up for a newsletter or buy something from you, make it crystal clear what action you want them to take.
Make your blog easy to navigate: Organize your blog in such a way that your readers can easily find blog content via simple website navigation menus.
Extend your blog reach with social sharing: Add social share buttons on your blog that encourage readers to share your blog content.
Use just a few fonts: Too many fonts make your blog look messy; pick two or three to use on your site and use them consistently in headers, subheads, body copy.
Post reviews on your blog: People feel most comfortable following bloggers that others love, so feature user feedback prominently on your blog.
Most blogging platforms come with a variety of templates that ensure you can create an attractive blog, but it's up to you to add the content that your readers want to see in the way they want to experience it. The best way to conduct blog design research is to visit lots of blogs, learn from other bloggers, then create a unique blog that achieves your goals.
5. Start Creating Blog Posts
Once your blog is set up, you're ready to start creating blog posts, and this is where you begin to get some real traction as a beginning blogger. It's also where you first put your thoughts and ideas out into the world, which some new bloggers find a little intimidating, but rest assured it gets easier with each new post.
Generate a Large Pool of Blog Post Ideas
There are several ways to come up with new blog post ideas. You'll want to begin by researching websites, blogs, courses, and products that appeal to the same audience you're trying to reach. Also, start following social media accounts where your ideal audience hangs out, and pay close attention to posts that get a lot of likes and comments. Never steal from these sources, but rather use them for content direction and inspiration.
The best way to come up with dozens of good ideas is to first generate hundreds of ideas. Start a log of blog post ideas and place any idea that comes to mind on that list. When you're first brainstorming blog post topics, you don't want to be too picky about which ideas you add to your idea list. Later, you can go back and reevaluate your thoughts to create your blog editorial calendar.
Smart ways to come up with in-demand, high-value blog posts include:
Ask your audience: Ask your blog readers or your social media followers questions about their wants, needs, and interests. You could also create a simple survey and send it to your email list.
Pay attention to trends: Use Google Trends to help you keep up on what's trending so you can write highly relevant posts.
Use Answer the Public: Type in a few keywords on Answer the Public and this free tool will generate questions that are frequently searched on Google.
Take notes on the fly: Use your phone's note-taking app or download Evernote to your mobile device so you're ready to jot down blog post ideas anywhere, any time.
Track social media buzz: You can subscribe to BuzzSumo to see what topics are most shared on social media.
When using these blog idea generation tactics, you'll start to see content trends as well as missed opportunities. Keep your finger on the pulse of what's going on in your blog niche and you're sure to come up with winning blog post ideas.
Write Effective Blog Posts
You want to make sure your posts are original, compelling, and serve your readers' needs and interests. It's important that your blog readers feel that they are benefiting in some way by reading your blog posts. When they do, they'll keep coming back for more.
Tips for writing effective blog posts include:
Deliver on your promises: Make sure the content you deliver in your blog post delivers on the promise you make in your blog post title.
Mix it up: Words can get boring, so add images, charts, videos, and audio clips that bring the concepts to life.
Make your blog titles sizzle: Your posts won't get read if your headlines fizzle, so use CoSchedule, a free headline analyzer, to write more click-through worthy blog titles and headlines.
Use bullet points: Make your blog easier to read by including bulleted lists in your posts.
Provide great examples: Tell stories and share real-life examples in your posts.
Tell your readers what to do next: When your audience finishes reading a post, direct them to other posts or related content.
The quality of your blog posts speaks to your audience in many ways. It tells your readers who you are and why they should listen to you. It also sets the stage for achieving your blog goals. Bottom line: make sure you focus on your audience and your blog posts will resonate with your readers—and your blog following will grow.
6. Generate Blog Traffic
When learning how to create a blog for free, one of the key areas where many new bloggers fall short is generating blog traffic. Unlike in the "Field of Dreams" where "if you build it, they will come," getting people to your blog requires a lot more than merely building a website—you must proactively attract visitors to your blog. That's why you need to understand the fundamentals of search engine optimization (SEO).
Master Search Engine Optimization (SEO) Techniques
Every day, millions of people use Google's search bar to find all sorts of content online. This is done by typing in a string of relevant words into Google—also known as keywords. In response to the search, Google delivers Search Engine Results Pages (SERPs). These SERPs include links that Google believes offer the best answers to the search query.
As a blogger, your goal is to have your posts show up high in those SERPs, preferably on the first page and ideally in the top three positions. The higher you show up in Google SERPs, the more visitors you'll attract to your blog.
If you master SEO techniques and incorporate them throughout your blog development, you'll increase your likelihood of appearing in Google search results. Most free blog builders do not come with robust SEO functionality, so if you're planning on relying on Google for blog traffic, you may want to reconsider going with a free blog builder. Creating a self-hosted WordPress site with DreamHost offers you an SEO advantage.
If you want extra help with SEO, and you decide to go with a self-hosted WordPress blog, be sure to install the free Yoast SEO plugin. Yoast will help you improve your page rankings on Google search by walking you through relevant SEO-related prompts every time you create a new page or post on your blog. This blog traffic-boosting plugin is only available for self-hosted WordPress blogs.
Top Ways to Promote Your Blog
While SEO is important to driving blog traffic, there are other ways to promote your blog to attract more visitors to your site. When learning how to start a blog for free, you must become adept at sharing your blog content in multiple ways. Email marketing, social media, guest blogging, and podcasting are popular ways to promote your blog.
Here are top ways bloggers actively promote their blogs to build their blog audience:
Start an email list: When people come to your blog, offer them a free gift or an email newsletter subscription in exchange for their email address. Then, you can contact them later to invite them back to your blog to view new content.
Be active in social channels: Create blog-focused profiles on Twitter, Instagram, Facebook, LinkedIn, YouTube, and/or Pinterest, and regularly schedule posts that promote your blog content.
Guest blog: Offer to write posts on other popular blogs that align with your audience. In exchange for your effort, most guest blogging posts include links back to your blog.
Appear on popular podcasts: As a podcast guest, you'll get the opportunity to spread the word about your blog.
Invest in paid ads: Post paid ads on social media or Google AdWords to attract blog visitors.
There's really no point in going through the time and effort to create a blog if no one is going to read it. As a blogger, your charge is not just to write great content, you also need to become your own blog marketing and public relations professional. The better you get at promoting your blog, the more successful you'll be at achieving your blog goals.
Frequently Asked Questions (FAQs) About How to Start a Blog for Free
What is the best site to start a blog for free?
The best free blogging platform is WordPress. You can build a free WordPress blog through WordPress.com, or create an ecommerce-enabled, self-hosted WordPress blog using DreamHost as your hosting provider. While WordPress is the best free blog builder, there are many other top free blogging platforms to consider, including Wix, Weebly, Medium, and Blogger.
How do you start a blog and make money?
The best way to start a blog and make money is to launch a self-hosted WordPress website. The best ways to make money on your blog include affiliate marketing, joining advertising networks, writing sponsored posts, and selling products or services.
If I create a blog for free, is it still a relevant blog?
Not all free blog platforms let users create quality blogs, though it is possible to create a relevant blog for free. When learning how to start a blog for free, it's important to be selective and use a high-caliber free platform such as WordPress.com, Wix, or Weebly to create an engaging, relevant free blog.
Bottom Line: How to Create a Blog for Free
WordPress, Wix, Weebly, and Medium are all high-quality, free blogging platforms. If you want to know how to start a blog for free, you need to understand core blog-building and blog promotion concepts, such as effective blog design and blog promotion. Focus on your audience first and you'll likely achieve your blogging goals.
While free blogs can be successful, investing in a self-hosted WordPress blog with DreamHost as your hosting provider offers you considerably more flexibility and power. With DreamHost, you can launch a fully customizable, SEO-focused blog for as low as $2.59 per month and start blogging immediately. Visit DreamHost today.