Blog outreach is the process of connecting with market influencers with the goal of garnering more attention for your blog. In blogger outreach, you connect with high-authority heavy-hitters to reach their audiences and gain massive exposure for your brand. You then leverage these connections to expand your authority and influence while boosting your blog traffic.
The five steps to generating massive exposure through blogger outreach include:
1. Understand How Blog Outreach Impacts Your Site
Building a blog audience is hard—very hard, in fact. Those who are the most successful at it understand that it's not a solo game; you need the support of other bloggers and influencers to get the traction required to create a money-making blog. Blogger outreach can make all the difference between achieving your blogging goals and singing the "I got no traffic" blogging blues.
Blogger Outreach Helps Boost Your Site's Domain Authority
If you want to increase your blog's domain authority (DA)—which is key to gaining more visibility on Google—then it's important that other high domain authority (DA) sites link to your blog. The links from other sites are called backlinks, and they are a signal to Google that you are associated with quality sites.
Google rewards you for having multiple high DA backlinks by ranking your blog higher in search results. As you land higher and higher on Google's search results, more and more people will learn about your blog. The result is huge gains in blog traffic.
Even better, as the number of quality backlinks to your blog grows, your site's overall domain authority increases. You've probably heard the expression "a rising tide lifts all ships." When your website's DA rises, you feel that impact sitewide, not just on the pages that receive the backlinks.
Blogger Outreach Helps You Increase Your Blog Traffic
Another key way that blogger outreach helps you is that the influencers you develop relationships with can become ardent supporters of your work. When top movers and shakers in your niche start talking about you, people listen and often heed the recommendation to follow you and your blog. Site traffic can skyrocket.
You automatically gain authority and credibility just by hanging out with people who have the reach and influence to sway their large audiences' behaviors. One of the goals in blogger outreach is to persuade top influencers to use their powerful online megaphones on your behalf. One positive mention from a blogger with over a million followers and your site traffic can soar.
2. Identify & Evaluate Blog Outreach Opportunities
Not all blog outreach opportunities are equal. Your goal is to find the right opportunities that will have the greatest impact for the amount of time and effort you invest. You'll first identify influencers to contact, and then evaluate where to focus your outreach efforts based on the relative difficulty expected to achieve a positive outcome.
Identify Influencers in Your Niche
When researching blog outreach opportunities, begin by listing the people you already know are influencers in your niche. Just make a list of as many as you know off the top of your head, then search Google to identify even more. Other tools you can use to research top influencers include Followerwonk, Alltop, BuzzStream, and NinjaOutreach.
After you've created your initial outreach list, take a few minutes to assess each of these influencers on a few different parameters. First, check out their website's DA with the free MOZ Domain Authority Checker. Then, note how many followers they have on their social channels or podcasts. Finally, assess how closely you feel their audience aligns with yours, from a slight match to a perfect match.
The assessment evaluation is a subjective call on your part. You can feel more confident making this evaluation now that you know the influencer's DA and have a good feel for the size of the influencer's social following.
Evaluate Specific Influencers for Blogger Outreach
| Influencer Name + Website Link | Website DA | Size of Audience by Social Profile | Degree of Audience Alignment* | Contact Info** |
| --- | --- | --- | --- | --- |
| Influencer 1 | 85 | Podcast Subscribers: 233K; Instagram Followers; 2M | Exact match | name@website1.com |
| Influencer 2 | 62 | Instagram Followers; 53K; Twitter Followers: 15K | Strong overlap | name@website2.com |
| Influencer 3 | 45 | YouTube Channel Subscribers: 432K; Twitter Followers: 2M | Slight Overlap | name@website3.com |
*This is your subjective evaluation of how closely the influencer's audience aligns with your own audience.
**It's easiest to grab this information while you're looking at the influencer's website.
You now have a list of blog outreach opportunities by influencer name. The information you've collected so far is directional. You've identified the movers and shakers in your niche, and you have a better idea of their audience size and how high Google is likely to regard each of these influencers based on their DA.
Intuitively, it makes sense to reach out to influencers on your list who have the highest DA, most followers, and fully align with your audience. Unfortunately, it's not quite that simple.
Evaluate Outreach Opportunities Based Degree of Influence & Difficulty
Some influencers are much harder to reach than others. Their inboxes are flooded with messages from people who want something from them. For example, even if you are able to find a company contact email on one of Oprah Winfrey's websites, that doesn't mean you're going to connect with Oprah.
Your initial list of people to contact is merely directional. Now you need to assess how helpful the influencer can be to you relative to the difficulty of reaching and persuading the influencer to promote you in some way or link to your website.
As you can see in the chart below, those who are both easy to reach and most influential are ideal blog outreach targets. If someone is influential yet difficult to reach, you'll need to decide whether the time and effort required to connect are worth the potential payoff.
It's important to reserve your energy for where it'll make the most impact. Evaluating who is easy to reach versus difficult to reach is not an exact science. Also, not all strategies work for all niches and all influencers. With every blogger outreach initiative you attempt, you'll learn what works for you and what doesn't.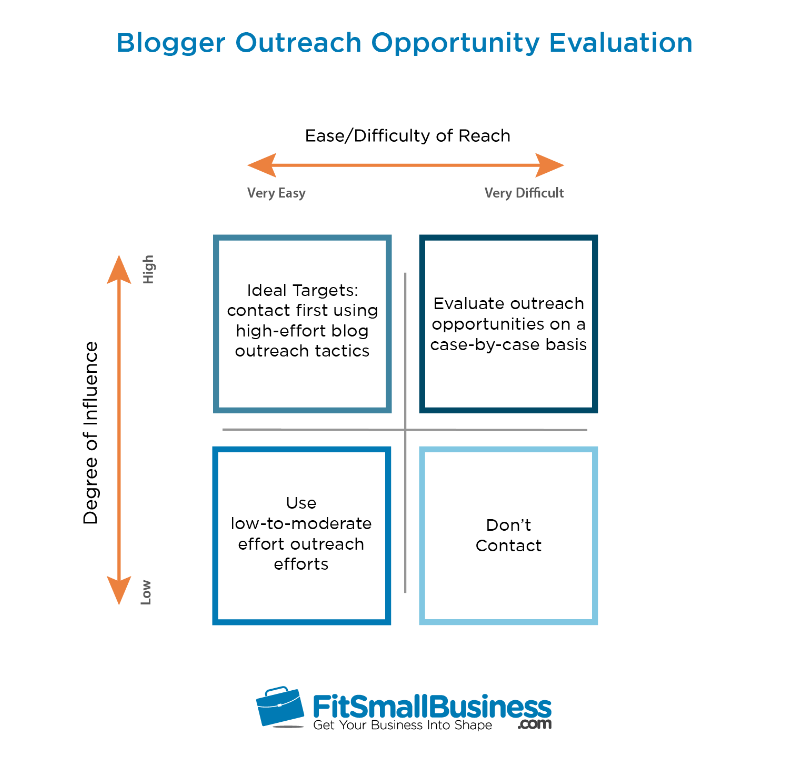 When to Use High-effort Blog Outreach Tactics
The more important the influencer is to you, in terms of both their audience size and their alignment with your audience, the more effort you'll want to expend connecting with them. High-effort outreach refers to the time, energy, and creativity you put into making contact with the influencer.
High-effort blogger outreach tends to have more points of contact and more personalized contact, such as a telephone call or an actual physical letter rather than an email. You might also want to invest in the influencer's products or services so you become intimately familiar with them, which will reflect in your outreach conversations.
When to Use More Automated Blog Outreach Tactics
For those who are somewhat influential while also easy to reach, you may want to employ more automated blogger outreach communication tactics that require less time and effort. For instance, you can create an email outreach template where certain fields are modified for personalization, but otherwise all emails contain the same content. This type of effort typically yields much lower results than full personalization efforts, but you can reach more people in less time.
3. Be Specific & Helpful When Conducting Blog Outreach
There are multiple ways to conduct blog outreach; in fact, it's best to vary your strategy. You won't be the only person reaching out to top bloggers and influencers. These people are in high demand and getting their attention requires both finesse and creativity.
Demonstrate Knowledge When Contacting Influencers & Bloggers
When reaching out to influencers and other bloggers, you want to demonstrate a true knowledge of their audience. Even better, show the influencer that you've supported them already by engaging on their social media channels, recommending their resources within your blog posts, or writing reviews about them on Google, Facebook, or other niche-relevant channels.
Always Be Sincere & Honest When Conducting Blog Outreach
Your credibility is being judged every time you reach out to others. That's why it's important to be honest and sincere. You can do a lot of damage to that reputation by coming across as purely opportunistic, or worse, getting caught in a fib.
Here's an example of an ineffective blog outreach effort. A real estate blogger emailed a personal growth (PG) influencer. In the email, the real estate blogger said that he loved the PG blogger's site and asked the PG influencer to link to his post on buying real estate. Obviously the real estate blogger did not even visit the personal growth site—much less love it—before sending out the request. The outreach effort was a complete waste of time.
"My #1 tip is to craft a thoughtful email, not just a canned paragraph that you use for every blogger. Try to find the owner's name, talk about an idea you have for collaboration, or tie in a post that you recently read and loved from their blog. This shows that you're invested in the partnership from the get-go. I've noticed that this definitely results in more responses."

— Haley Anhut, Marketing Manager, Clean Origin
Set a Specific Goal Before Contacting an Influencer
Whether you choose to reach out via email or phone, it's important to have a specific goal in mind before contacting an influencer. Be clear about the action you want the influencer to take. Vague requests lead to confused influencers, which in turn leads to ineffective blog outreach. Also, don't overcomplicate your request; simple requests yield far better results.
Specific call to action tactics for engaging with influencers in your blog outreach efforts include:
Let influencers know they have a broken link and suggest your content as an alternative.
Gently tell the bloggers that they're using an out-of-date link within their content and suggest that they switch to your content, which is more up-to-date and thorough.
Volunteer to speak at an influencer's event.
Suggest that the influencer tweet a quote or link to one of your posts that may or may not feature the influencer in it.
Offer to guest post on their blog and suggest some specific topics that complement, but don't compete, with current content.
Share a pertinent graphic that you've developed and let influencers know it's theirs to use anywhere or any way they'd like.
Request an interview with the influencer to discuss their newest book or course. Influencers are more likely to respond to requests when they're in launch or promotion mode.
Note that Google frowns on quid pro quo arrangements. For example, you can't offer to link to another blogger's post in exchange for a link to your post. You can offer to work collaboratively or be supportive of other bloggers' efforts.
Be complimentary yet genuine and helpful when conducting blogger outreach. These are human beings you are dealing with, and if you want them to do something for you, make sure that you're adding value to their audience with any request you make.
"When it comes to blog outreach, you will really need to focus on personalizing your emails and making a genuine connection with your outreach target. You need to remember that there's a real person reading your email and they typically receive dozens of these outreach emails every day. In order to stand out from the crowd, you really need to take time crafting a personalized message. Be authentic in your outreach. This will ensure a much higher success rate, as the content you're pitching will likely be highly relevant for their blog readers. You also must make a habit of following up on your outreach emails too, as this will drastically improve your success rate."

— Matt Woodley, Founder, Mover Focus
4. Scale Your Blog Outreach Efforts
Scale your blog outreach efforts by building an influencer network over time. Instead of settling for one-and-done contacts with prominent figures in your niche, your goal is to create lasting relationships with these movers and shakers. Hang out where they hang out; join forums, attend conferences and events, buy their products, and offer to provide resoundingly positive testimonials for them.
Yes, even your testimonial for an influencer's best-selling course or book can yield more exposure for your blog. In fact, top online course creators Amy Porterfield and Ruth Soukup regularly feature their fans in their course promotions, and many of those fans now have six-figure businesses themselves.
"Ensure that your outreach is targeted, personal, and to the point. I've had great responses from relevant outreach prospects when I've made clear where our contribution would be useful, and I always offer a suggestion for where the company I'm reaching out to may wish to contribute to our website."

— Megan Meade, Marketing Specialist, Software Path
Experiment With Outreach & Repeat What Works for You
You'll need to experiment with the words and persuasion techniques you use in your email or phone outreach efforts. What works for others will not work for you; you have your own voice and your own style of communication. Be genuine. Be original.
Items that are typically included in a blogger outreach email include:
A friendly, creative greeting
Authentic, fact-based compliments regarding the influencer's work
A clear call to action, i.e., tell the influencer what you want from him or her
An offer to support or help the influencer
Your contact information and an invitation to connect personally
Once you've developed an email or phone strategy that works for you, do it again. And again. And again. What works for one influencer is likely to work for another. Success breeds success. If you can say that a big-name influencer or celebrity shared something you wrote or created, you can be assured that others will be more eager to share it too.
As you create genuine, mutually beneficial relationships, you'll find that knocking on the next door gets easier and easier. You'll face less resistance when you can demonstrate that you already collaborate with multiple influencers. In fact, as your network of influencer connections grows, you'll soon find that other bloggers will start reaching out to you.
Use Tools That Speed Up Blog Outreach Efforts
While you can perform effective blogger outreach with merely a phone and an email account, there are some premium tools that make reaching out to influencers a bit easier. If your budget allows, consider purchasing blogging outreach tools that help you find influencers faster, keep track of contacts, and scale your outreach efforts more quickly.
Popular tools for blogger outreach include:
These blog outreach tools can help you scale your blogger outreach efforts more quickly and easily. To determine whether any of these tools are right for you, test each platform using its free version or free trial.
5. Measure Your Blog Outreach Efforts
Sometimes there's a direct correlation between when an influencer mentions you or your blog and when you see a specific result, such as a spike in blog traffic. For example, you post a guest blog on a site with 2 million followers and your site traffic quadruples overnight.
Other times, the impact of blog outreach is more subtle. You can't pinpoint performance improvement on any one outreach effort—it's the combination of all outreach efforts together that produce favorable results.
Ways to measure the impact of influencer action that occurred after blogger outreach include:
Spikes in website traffic, which are easily tracked with Google Analytics.
Increases in social media followers after a post is shared or your site is mentioned.
Sales for your courses, books, or other products increase.
The pace of email list sign-ups increases.
Increases in backlinks to your site, which is easily tracked using Ahrefs.
As a blogger, it's important to pay close attention to your key performance indicators (KPIs), such as website traffic, product sales, changes in your domain authority, and email database growth. When you regularly monitor the KPIs that signal changes in your blog's performance, it's much easier to spot the impact of your blogger outreach efforts.
Bottom Line
Blog outreach is an ideal way to build your blog's authority, boost your site traffic, and expand your following. When conducting blogger outreach, it's best to target people whose audiences are aligned with your blog audience. Create win-win relationships with influencers and you'll benefit from your blogging outreach for years to come.