Now more than ever, employers are eager to engage their remote employees within their organization. The number of people who work from home has increased 173% since 2005, and now 4.3 million people in the United States work from home at least half the time. Keeping them engaged by providing clear communication, a strong sense of company culture, and focus on the issues they care about most is important to retaining remote employees.
With our six key aspects to retaining and engaging remote employees, we walk you through how best to keep your remote-based employees not just working effectively, but actively engaged, feeling safe and a part of the team.
Top Solutions to Engaging & Retaining Remote Employees
| Threats to Employee Engagement | Solutions |
| --- | --- |
| Working "any" hours, can turn into working too many hours | Help employees set a schedule for themselves, which may differ given the day of the week. Encourage them to stick to it, but be flexible as needs evolve. |
| Team and/or supervisory communication can be lacking; overall feelings of disconnection (despite technology) | Supervisors and colleagues should set team meetings and one-on-ones with their direct reports to ensure regular communication. |
| Family members and household chores can be distracting and make for inefficient work practices | Encourage employees to set ground rules for working from home. |
| Employees are unsure if their manager thinks they're getting more done efficiently or if they're just wasting time. | Openly engage with your employees about work productivity. Review project work completed, and confirm that your "to do list" matches theirs for you. |
Source: Cons are partially pulled from Buffer.com reporting.
Just to summarize before we dive in, the six strategies to engaging and retaining your remote employees are:
Prioritize Communication
Set Clear Expectations
Focus on Pay and Compensation, Benefits, Training, and Promotions
Acknowledge Work Well-done
Do Work-life Check-ups
Incorporate Remote Working Practices Into Company Culture
Best Practices for Engaging Remote Employees
Employee engagement doesn't stop after you recruit your remote employees and, truly, never ends. Do you remember when you bought a new house, car, or bicycle? It was brand-new to you; and, later, much maintenance was required to keep it looking nice and operating the way it was designed to. Retaining your remote employees operates the same way.
On-going collaboration with your remote team members is essential. Many of these struggles can be attended to and even kept at bay with close engaging supervision and team meetings that help the employee feel like an active, important member of the team.
Collaboration and communication, loneliness, not being able to unplug, and staying motivated are topics that the team should be addressing together with a thoughtful, engaged supervisor. These are common hurdles which can easily be overcome with attention, dedication, and commitment on behalf of leadership.
We have found that the following six tips have greatly helped companies, of any size and within any industry, keep their remote team members more engaged, productive, and satisfied with their job. These are critical elements to creating a strong, reliable remote workforce that all managers should embrace.
1. Prioritize Communication
Collaboration and communication is often the No. 1 struggle remote employees have. Retaining your remote employees means you are actively engaging them, which in this case, means that you are prioritizing and maintaining all three of the following forms of communication:
Supervisor One-On-Ones
Whether these meetings are done daily, weekly, or every other week, be sure that you and your employee are in agreement that you are meeting enough and that the check-ins are meaningful and two-way in conversation.
Team Collaboration and Meetings
Even if you have a great relationship with your remote employees, they will not feel as though they are an important part of the team or engaged if they do not feel connected to their teams and colleagues. This may be the most essential part of a remote employee's work experience and will help them fight off the feelings of isolation and detachment.
Slack, Teams, or Other Chat Tools
Many people consider this one somewhat optional, but it should not be. Social chat channels help the employee feel like they're part of a community of other human beings. This is important. It is not always about talking shop or being productive; it is about having fun, being silly, and sharing pet pictures, recipes, and (politically correct) jokes. Slack.com, Office 365 Teams, or a team intranet have tools your team can use to connect.
2. Set Clear Expectations
When speaking to employees who work remotely, we have found that the advantages of working from home are the same attributes that can end up working against employees and distracting them if not wisely managed and co-engaged with leadership and other colleagues. You can help set clear expectations by creating a work-from-home policy that lists do's and don'ts, share a list of best practices, and distributing a list of productivity measures for each role.
The good news is that almost in all cases, remote employees can accomplish more from their remote location than being in the office (that is, projects tend to get done faster, there is less time spent in casual conversations throughout the day with co-workers, and so on). That is not the reason for setting clear expectations though. It is more for the employee's benefit. Employees who work remotely can more easily feel confused or unclear as to what project or team objectives are.
Oftentimes in business, plans and timelines change and if you are not around the water cooler or passing each other in the hallway, some information does not get to remote team members. This is a huge fear of many remote workers in general. Ensuring that they are not only "in the know" but feel as though they're "in the know" is a large part of whether or not an employee feels valued and engaged.
3. Focus on Pay and Compensation, Benefits, Training, and Promotions
As with all employees, pay, compensation, and benefits matter a lot. Although some perks or benefits may differ between the office-goers and remote employees, try to offer the perks of the job that the rest of the company receives.
Pay, Compensation, and Benefits
Pay should be managed methodically. Not only should remote employees be paid the same as others, when remote employees work in other time zones and need to work "off-hours" they should be compensated for that. Additionally, if the remote employee works in a city center (e.g., Los Angeles, San Francisco, New York City, Boston, Austin and so on), pay and overall compensation may need to be adjusted upward to cover the increased cost of living.
The benefits package may also have to be altered to make more attractive to employees living in other states. Healthcare providers selected by the company should include options that provide complete coverage for remote workers across the country and, at times, internationally.
Education and Career Development
Don't forget remote employees in your company's training and career development plans. FlexJobs notes that companies need to ensure that remote workers have the same opportunities to participate in internal education like lunch and learns, lectures, and skill-development classes, even if that means altering schedules to accommodate people in different time zones or recording classes for viewing later. When creating the budget for training and development as well as conferences and so on, be sure to include the aspirations of your remote employees.
Offering Promotions and Advancement
Remote employees are no different from office-goers in wanting to develop and advance their career. Mid-level managers wish to become senior level managers, and so on. If you have an internal posting process that shares open opportunities for advancement with employees, be doubly sure that your remote workers are also aware of these opportunities and have plenty of time to apply.
4. Acknowledge Work Well-Done
Everyone enjoys being recognized for their work. Remote employees feel a strong sense of success and engagement when their superiors acknowledge, especially publicly, when the employee's work has made a real difference. There is a sense of belonging that resonates with the remote team member as, in general, affirmations are few and far between in some workplaces of remote personnel.
For example, you could send out a team- or company-wide email sharing the great work that your remote team member accomplished. If you reward certain achievements, consider an e-gift card for a local restaurant. Recognition doesn't need to be formal or expensive for it to be effective, deeply appreciated, and remembered forever. A personal thank-you over Zoom, on the phone, or via email can go a long way in making employees feel valued and engaged while they work remotely.
5. Work-Life Check-Ups
When we attempt to define what active and effective employee engagement truly looks like, it can be challenging to pin down a single definition that everyone agrees on. Having said that, any manager or supervisor who is actively taking part in her employee's well-being and work-life balance as well as keeping tabs on stress levels and workloads will have employees who are willing to trek to the ends of the earth for them.
Work gets busy, and you can't always taper back workloads. That is one of many reasons to ensure that you and your employees are fluidly and effectively communicating about how work-life balance is fairing for them. Offering remote work opportunities is no longer a benefit in and of itself and which requires no other follow-up; COVID-19 has shifted the entire business landscape in a matter of months to a point where remote working is not only normalized, but in many cases, required.
Here are some suggestions to help you actively and authentically partner with your employees so they stay well-balanced as they blend work and personal life:
Maintain Healthy Boundaries
As a supervisor, you should communicate, and model, to your employees the importance of creating boundaries. Suggest that they work their normal hours or a normal amount of hours during their day, and then step away from the computer or home office until it's time to start working the next workday.
Connect Without Talking Shop
Taking the time to personally connect with your employee is critical. They need to believe that they mean more to you than churning work product.
Encourage Forums Where Employees Share Hacks
There is no better way to get employees to engage in the work-life balance mindset than to encourage sharing what they are doing to make that goal work. There is something about stating your goal or habit out loud, in the company of others, that makes it more of a dedicated commitment. Additionally, others can benefit from seeing colleagues prioritizing work-life balance, which will further nudge them in the same direction.
6. Incorporate Remote Working Practices Into Company Culture
Employees tend to support what their company culture actively defines. This means that leadership should not only create the remote work conditions that all companies need these days to stay alive, but also the working dynamic, spirit, and belief in your people that go along with such a large business-culture shift.
Your company's mission and purpose need to transcend the office and reach all remote-based employees. When they're working from home, it can be hard for some employees to buy into a work culture mentality. As a manager, it's your responsibility to make sure all employees understand and appreciate that even though the team is not in a single office space together, you're all working together toward the same common goal, executing on the same strategic plan and for the same purpose.
This can be truly challenging to accomplish with remote team members. It is during meetings with your team members that you have the best opportunity to imbue these thoughts, feelings, and beliefs.
Asking questions like, "How do you feel about your work these last two weeks" and "How does it relate to our goal (or strategy)" are helpful. "How are your one-on-one's going with John and Lindsey? How would you describe the communication in these meetings?" "How are you feeling about workload and having times to reflect throughout your workday? Are you coming up for air regularly?" "How can I support you better? Are there any roadblocks I can remove for you?" Each of these questions are more about the person than the project, or the work. These are good temperature readings that communicate to your team member that you are probing for balance, health, and understanding.
When it comes to connecting with your remote team members, it is more than the words or messaging that you share with team members that matter; they have to believe or buy in to you, specifically. This is particularly true for things like company mission, related key projects, your care for your team members, and culture.
Manager Training Required
When it comes down to it, the success of retaining your remote team members has a lot to do with manager or supervisory training. Do your managers know how to lead and engage a remote work team? It's generally not a skill one just wakes up with one day. Accessing solid resources, like this article, and webinars can be a major step in the right direction.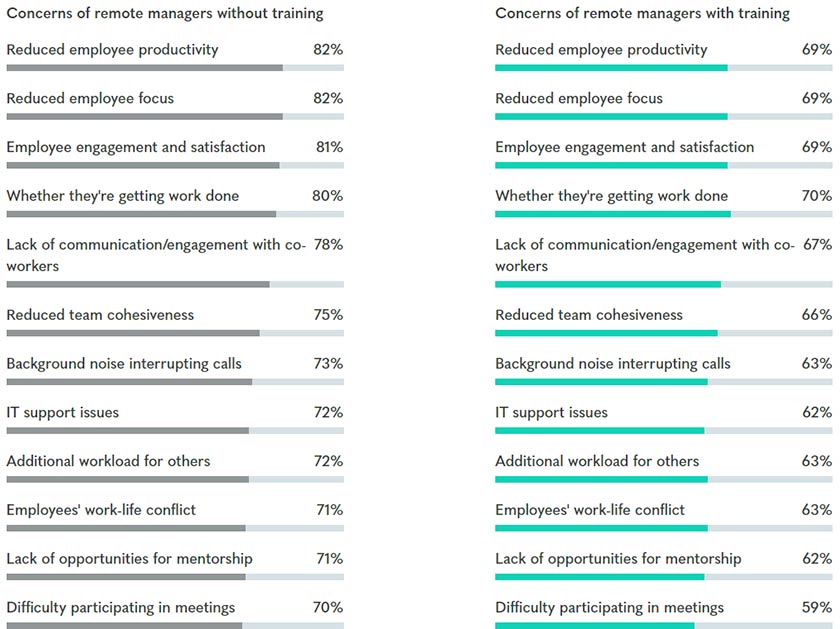 Source: Owl Labs
Having a remote working policy and strategy are important, but preparing your managers for their responsibilities as a supervisor of remote-based team members is essential to helping them lead successfully. They need to be equipped to have authentic, on-going engagement and communication with each of their team members.
In addition to not feeling that supervisors know how to lead remote workforces, there are many who doubt (some very strongly) that remote working is even effective, productive, and sustainable. It is just as much this mindset that needs reforming, as the skill sets of your leaders. Consider this survey below that reflects concerns, some of them authentic and genuine, from managers who are unconvinced or unsure about remote workforce sustainability.
Source: Owl Labs
Yes to Remote Working, 'But Only Through COVID-19'
Some employers don't want to invest too much into finding new ways to engage employees, because they're only planning for them to work at home while this COVID-19 crisis persists. However, we do not know when this will occur, and the concern we have with that mindset is that employers who feel this way, at times, do not equip their remote, home-based team members with all of the resources they truly need. Whether you are remote from two months, or indefinitely, you, more or less, need the same equipment, resources, capabilities, and healthy work practices.
Ensure that you are engaging all remote employees as though you are worried about losing your most essential resource. Even during times of temporary remote employment, employees can feel as though they are growing distant; they may feel insecure in their job and separated from their teams.
Ensure All Resources Are Provided
Engagement and retaining your remote employees begins and ends with the simplest of commitments; the promise to provide good gear to get the job done. As noted, ensure that your remote employees have all of the hardware, software, connectivity, and other provisions that will be required to conduct their job from home. With temporary remote-based work assignments, it is common to provide a laptop, for example, but not a docking station that allows multiple monitors, a desktop speaker, and so on.
Although concerns, fears, and observations did not entirely dissipate when it came to concerns about remote workforce management, many concerns dissipated significantly once leaders had a little training, or at times, just better comprehension, of how to curate and maintain a remote workforce.
Everyone Is Working to Catch-up
Even after reading all of this, if you still feel that COVID-19, the concept of remote workforces, and trying to keep your business alive all caught you off guard this year, you are by no means whatsoever alone. Here are some numbers that are meant to educate and motivate you, but to also offer you some solace. When asked which employers presently have a work from home policy, the reporting was stark:
That's it, just over 10% of companies surveyed had a remote working policy for their organization, even after several months of COVID-19 realities. How we proceed from here, however, will be how we are judged and assessed on our collective performance.
Bottom Line
The key to engaging and retaining your remote workforce is authentic attention directed at your employees, over-communication done right, and maintaining a sense of team continuity. Each one of these attributes must be prioritized as much as work product, quarterly financials, and customer satisfaction. Don't underestimate how isolating and "quiet" it can get when you are not the one working in the office.
Engage, engage, engage, and do so with an authenticity that truly embraces your team members in a way that makes them believe they are valued, appreciated, and needed for the organization's mission to be successful.