Entrepreneurs are becoming more and more prominent in American culture. It's not uncommon to see a successful business person on your TV screen, contributing to a philanthropic effort, or even trying his or her hand at politics.
Here at Fit Small Business, we wanted to see how people felt about the most high-profile entrepreneurs of today. Who is perceived as the best role model? Whose company is most tempting to invest in? Who would people like to see on the ballot in 2020?
We surveyed over 500 U.S. adults to see how people feel about six different entrepreneurs. What we found may surprise you.
People love AND hate Oprah Winfrey.
The fact that people love Oprah probably does not shock you. With 27% of the votes, she won the category of most admired entrepreneur by a landslide.
What is surprising however, is that more than 1 in 5 of respondents chose Oprah as their most disliked choice- making her the winner of that category as well.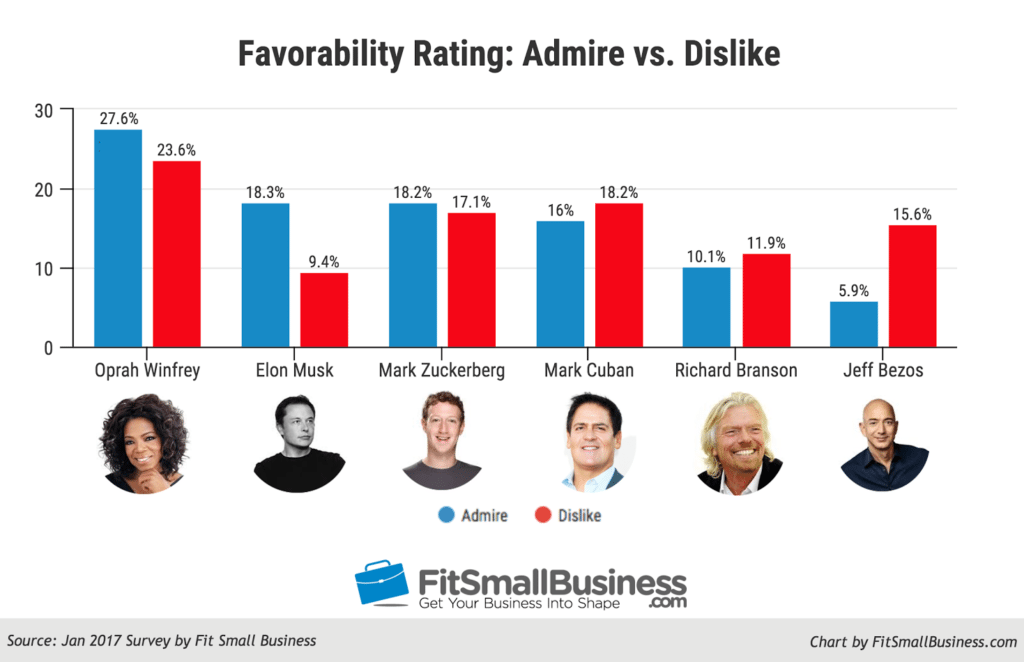 In the chart above you'll see a breakdown of votes by admire and dislike for each of the entrepreneurs in our survey.
Though Oprah won both most admired and most disliked, you'll notice that Elon Musk comes off the most favorable, while Jeff Bezos is shown as the most disliked.
People are 50% more likely to admire Musk than dislike him. On the reverse side, people are 62% more likely to dislike Bezos than admire him.
Most Popular Among Males: Oprah Winfrey, Mark Cuban and Elon Musk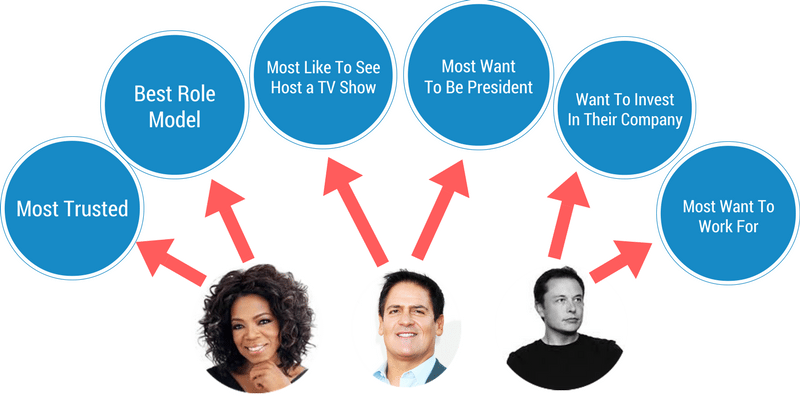 While Oprah Winfrey is by far the most popular choice among females, males split up their votes relatively evenly between Oprah Winfrey, Mark Cuban, and Elon Musk.
Men felt Oprah is the most trustworthy and the best role model. Cuban wins best personality, with men choosing him to host a TV show and to run for president.
Men thought Musk was the smartest with money, and had the best company culture. They hope to both invest in and work for his company.
Elon Musk has a large millennial fanbase.
Respondents ages 18-24 were 2x more likely than people aged 24+ to choose Musk as the answer to questions such as, Who do you admire most? Who would you like to work for? and Who should run for president?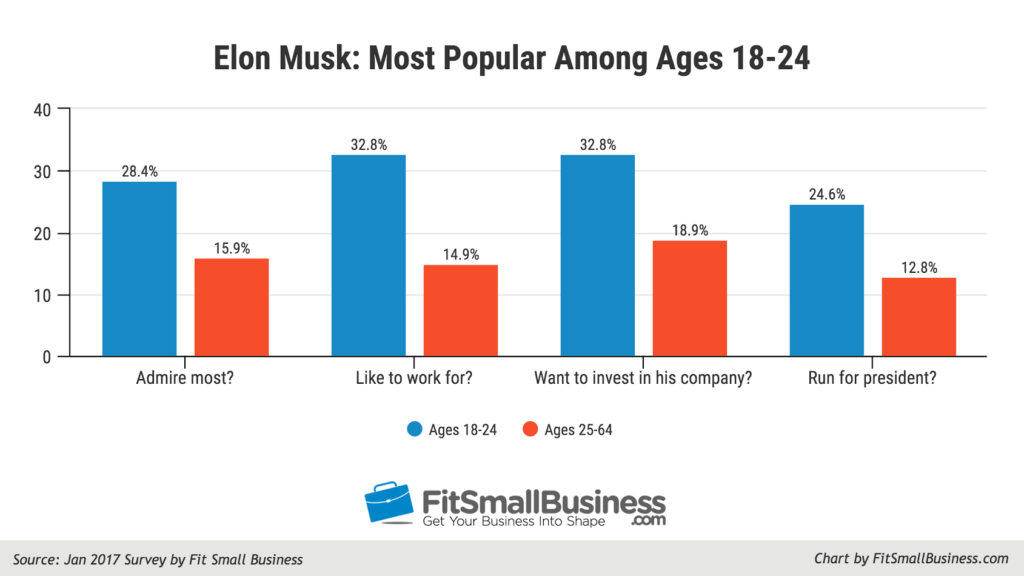 As the founder of both Tesla Motors and SpaceX, Musk is involved in both environmental projects as well as space initiatives. These are two areas that millennials are definitely fascinated by. Plus, his go big attitude is something that younger people appreciate.
Most people don't know who Jeff Bezos is. Those that do don't like him.
Jeff Bezos scored the lowest of all entrepreneurs on every single question except for our one negative question: Which one of these entrepreneurs do you dislike the most?
While the Amazon CEO scored around a 5% for every other question, when asked which of the six entrepreneurs was most disliked, his score rose to 15% of respondents.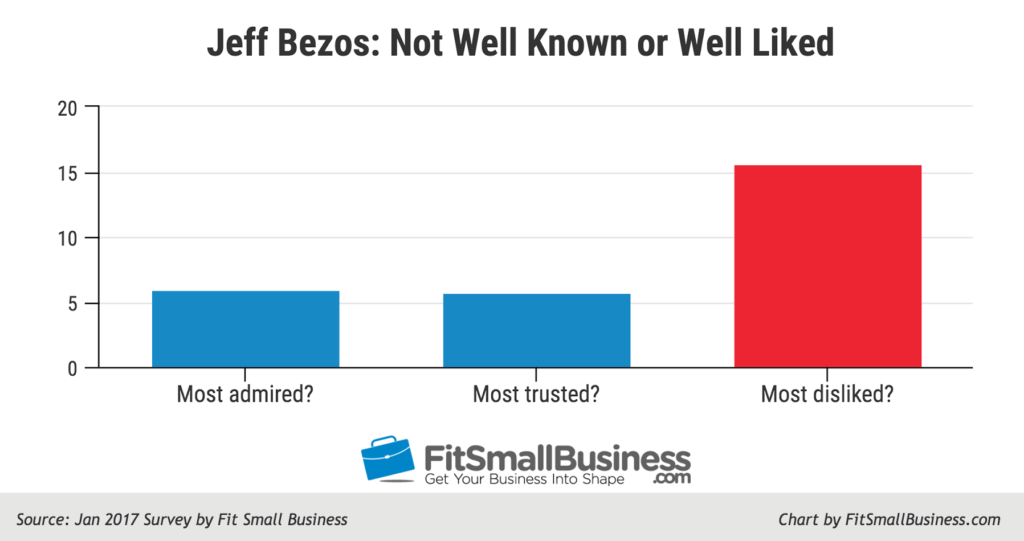 He is known for being private, which could be a factor to why not many people voted for him. His company, Amazon also has a reputation for being a grueling place to work, which could be why those that do know him, don't think favorably of him.
Mark Cuban is a guy's guy, while Mark Zuckerberg is a ladies man.
Across all positive questions, Cuban received 50% more votes among men than Zuckerberg.
On the flip side, Zuckerberg fared much better among women, with females 27% more likely to choose the Facebook founder over the Shark Tank star.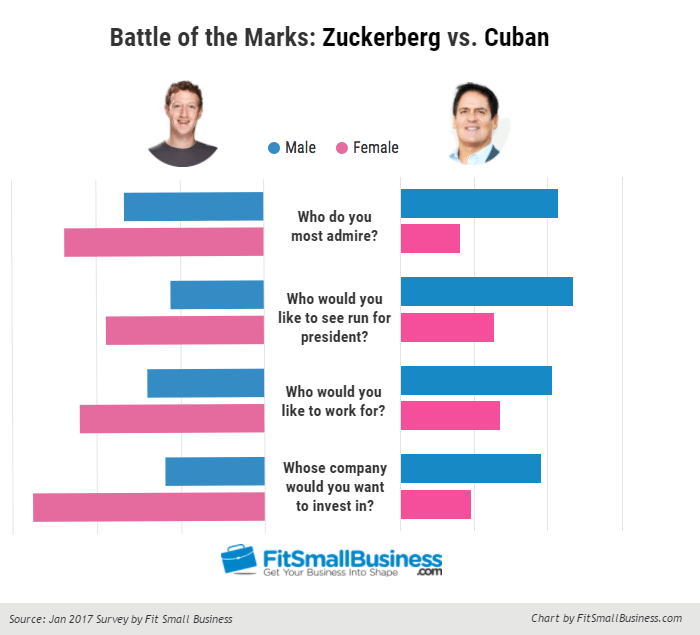 Wrap Up
Were you surprised by any of the findings above? Which entrepreneurs are your favorite and least favorite? Let us know in the comments section below!