There are tons of stereotypes surrounding how millennials compare to non-millennials, especially in the workplace. With millennials now taking up 35% of the workforce (Pew Research Center), it's important to know which stereotypes stem from truth and which are completely false. This will help HR managers and small business owners understand what this age group really wants from their jobs and lead to better relationships between employers and employees.
We conducted a survey in March, 2017 of 600 individuals between the ages of 18-65+ to get a handle on not only what millennials want but how this compares to other age groups. We then backed our own research with data from third party sources and expert insight to find out what millennials really want from the workplace and how they impact workplace trends.
1. Millennials Are Job Hoppers
Verdict: True
According to our research, twice as many millennials are currently looking for a new job compared to other generations.
42% of people ages 18-34 are considering a new job, compared to only 20% of people over 35.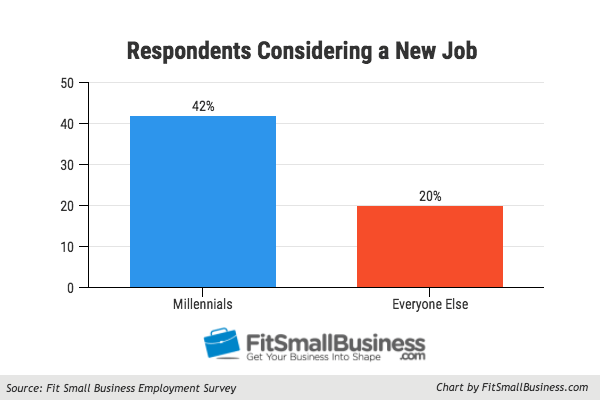 This finding is supported by research from Gallup which reveals that 21% of millennials say they've changed jobs within the past year, which is more than three times the number of non-millennials.
Why is this the case?
We consulted the experts to find out why millennials are more likely to move jobs. One clear reason is that millennials are still relatively new to the workforce.
"Millennials tend to job hop not due to lack of commitment, but more so because they are trying to find where they fit in. Millennials are also a target for recruiters, who are trying to find the newest, youngest talent, therefore access to new opportunities are greater."

—Tiffany Servatius, HR Manager, Scott's Marketplace
According to Forbes, millennials should not apologize for their job hopping ways. Millennials can earn a higher salary, grow their career, change locations more frequently, and find a better cultural fit from job hopping.
Instead of blaming the younger generation, employers need to learn what they can do to keep their top performing talent.
What Millennials Want
A survey by Quantam Workplace found that employees between 26 and 35 are the least engaged age group at just 67.3 percent engaged. This is bad news for employers, since both engagement and opportunities for development have been found to be huge factors for millennials staying at their jobs.
"The key is to keep them interested and their skills developing. As a recruiter, I've heard many stories from younger candidates that they are looking to leave where they are because they are no longer learning anything. Keeping them challenged and engaged is a key component of employee retention."

—Jana Tulloch, DevelopIntelligence
2. Millennials Don't Want to Work Hard
Verdict: True and False
Findings in our survey pointed to the fact that millennials are less willing to work hard at their jobs than other generations.
Millennials are 2x more likely to think a boss is too demanding, with 13% choosing this as a reason they would change jobs, compared to only 6% of respondents 35+.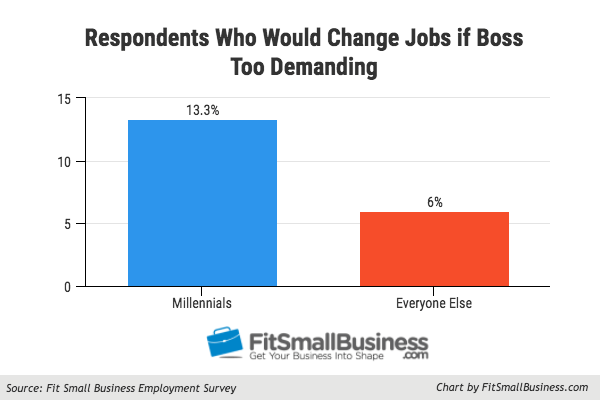 However, just because millennials don't want to be overworked, doesn't mean that they don't know how to work hard.
What Millennials Want
They want work life integration. In today's digital world, many employees can work from remote locations. By allowing this type of work life, you are allowing your employees more freedom to work on their schedule, instead of the more rigid 9-5.
"Millennials desire for flexibility can be perceived as a lack of work ethic. When in fact, millennials are happy to work all hours, they just prefer to be the ones that dictate which hours – particularly in instances where the time and location of the work that needs to be done is not contingent upon completing the task at hand."

—Stefanie O'Connell, Millennial Money Expert and Author
Another way millennial employees will work harder is if they are committed to their job and feel that they are doing important work.
In fact, most millennials are motivated by exciting and challenging work. But along with that, millennials want to understand how the work they are doing impacts the big picture, within the company and their community.
"In my experience, if millennials feel strongly about the organization they are working for, they will go the extra mile for that company. However, they have to be truly engaged and feel like what they are doing is making a difference in the world. Without that motivation, it can be harder for them to give their all because they don't feel as connected to the work."

—Deanna Russ, Senior HR Manager, ActiveCampaign
3. Millennials Can't Handle Criticism
Verdict: False
According to our survey, millennials are actually less likely than other age groups to leave a job because of a mean boss. This leads us to believe that millennials do not fit the stereotype that they are unable to handle criticism.
Only 17.6% of millennials chose having a mean boss as the top reason that they would leave their job. This compares to 19.3% of people ages 35+.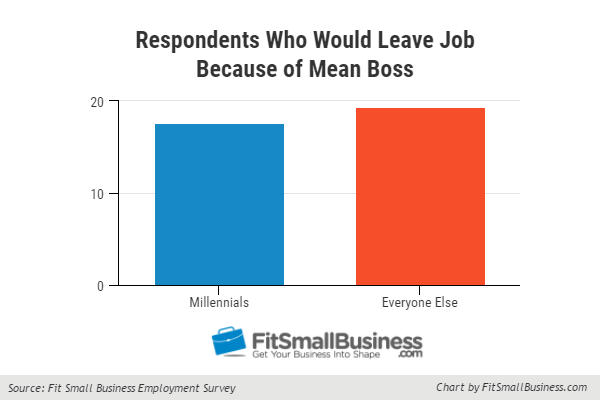 What Millennials Want
While millennials, like every age group, prefer praise, this does not mean they cannot handle criticism. Adults ages 18-34 actually crave feedback, with 80% of millennials preferring frequent feedback to traditional performance reviews, according to a study by Namely.
And frequent means frequent. Less than one in ten Millennials think weekly communication is enough. In fact, 35 percent want it multiple times a day, while 25 percent think once a day is fine (Huffington Post).
With a constant stream of feedback, the negative comments are interspersed with positive ones, which lessens the sting when critiques do occur.
"Millennials can adapt quickly with the right coaching and counsel. The stronger your relationship, the more criticism one can handle."

—Sonja Hastings, Recruiter, Optimal Sales Search
4. Millennials Want to Work for the Next Facebook
Verdict: False
While many people believe that you need unique benefits to attract the younger generation, this is not the case. According to our survey, the type of benefits desired is shockingly similar across all age groups, with 34% of millennials and 40% of everyone else choosing health care as the most important.
Plus, the benefits many believe are huge draws for adults ages 18-34 are actually the least desirable. For example, only 5% of millennials responded that a stake in the company is important to them.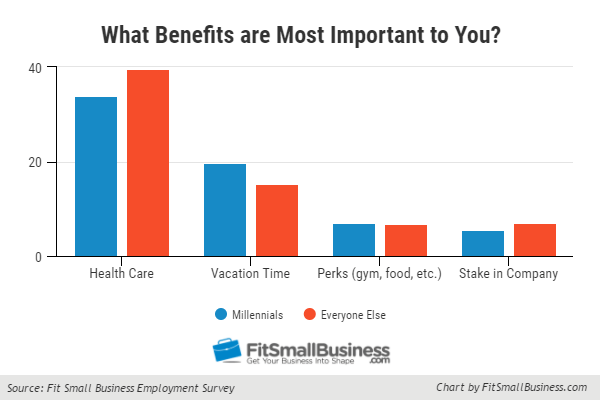 Why is this the case?
Our finding that millennials are not that concerned with special perks is backed up by research from Kogod School of Business American University. We reached out to get their insight on why this is the case.
"Millennials have grown up in unstable financial times so they won't commit to an employer that doesn't commit to them. The millennials we surveyed want a 401K plan with employer match funds, subsidized health insurance, telecommuting options and a paid two-month sabbatical after five years of employment. Employers willing to help them pay off student loans and save for a home will see even more loyalty and stability."

—Dawn Leijon, Executive in Residence, Kogod School of Business at American University
What Millennials Want
While special perks are nice, millennials are more interested in the type of work they'll be doing and the importance of the company as a whole.
The appeal of "the next Facebook" for millennials isn't about the perks, it really is about experiencing growth with a company and contributing toward that growth.

—Samantha Reynolds, Communications Coordinator, A Plus Benefits
Conclusion
While there is a lot of hype around millennials in the workplace, they really are not that different from all other generations. They want to feel engaged with the work they're doing, have a good balance of work life and personal life, receive constant feedback that helps them grow, and receive useful benefits such as health care and vacation time.
What do you think about the stereotypes mentioned in this article? Let us know in the comments section below!