Small business owners know the end of the year is a crucial time for their business and has the possibility of pushing an otherwise lackluster year into the green.
At Fit Small Business, we analyzed data from our own study plus findings from a national retail association to determine the best way for small businesses to take advantage of the spending season.
Many consumers plan on "shopping small" this season and purchasing gifts and other holiday items at local businesses, and there are multiple ways that you can boost your business' bottom line this holiday season. Read on to find out more.
Facts on Holiday Spending and Small Business
In 2016, holiday sales are expected to increase 3.6% to $655.8 billion.1
Holiday shoppers plan to spend an average of $422 this holiday season.
Over half (52%) of consumers plan to shop the weekend following Thanksgiving.
1 in 4 holiday shoppers (24%) are planning to "shop small" and purchase gifts and other holiday items such as decorations and food at a small or local business.2
Boutiques should expect the biggest crowds of holiday shoppers, with 46% of consumers saying they are likely to shop at this type of small business.
The main driving force behind people visiting local businesses is to "support" local business, with 50% of survey respondents choosing this as a reason to shop small.
Although half (51%) of consumers cited price as the #1 reason they would not shop at a small business, almost half (48%) said they would buy a present at a small business even if they could find it cheaper online or at a chain store.
Consumers who are planning to spend the most on holiday shopping are also more likely to shop on Small Business Saturday.
Unless otherwise noted, all data found in this report was collected in the Holiday Spending Survey that was conducted in October 2016 by FitSmallBusiness.com. The survey randomly sampled consumers visiting news websites. Respondents were men and women ages 18+ of all income levels from around the United States.3
Shoppers Expected to Spend Record Amount This Holiday Season
According to the National Retail Federation, holiday shoppers are expected to spend $655.8 billion dollars on gifts this year, which is up 3.6% from 2015. This is good news for business, but you need to make sure that your local business gets its fair share of the pot.
One in Four Shoppers Plan to "Shop Small"
Fortunately, the National Retail Federation has also determined that a quarter of the shopping that will occur this holiday season is expected to take place at small and local businesses. This means that small business owners stand to earn a large percentage of the billions that will be spent. However, you need to be smart and proactive about your holiday marketing strategy in order to best take advantage of the season.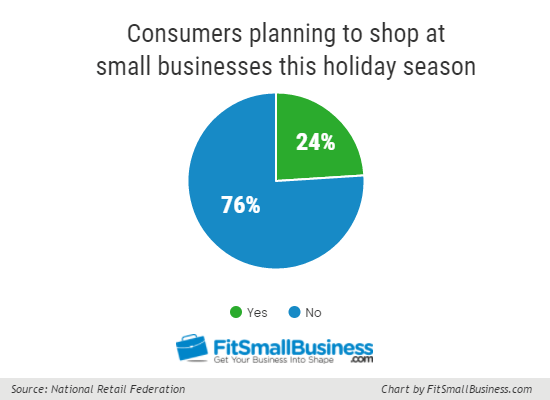 Which Small Businesses Fare Best During the Holiday Season?
According to our survey, shoppers are most likely to buy holiday presents from local boutiques and restaurants/food sellers, and least likely to purchase presents from a local toy store.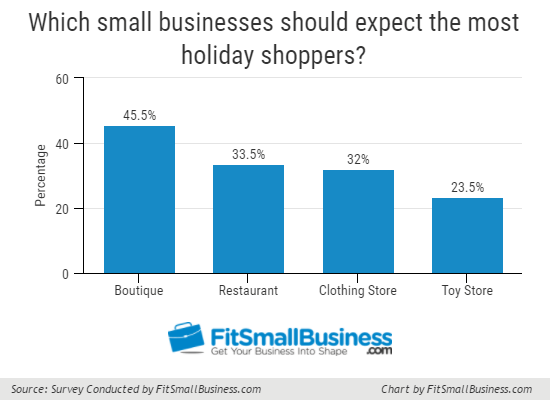 A positive takeaway from our survey for small business owners is that most categories ranked highly among their target demographic. For example, almost half (48%) of shoppers ages 18-24 reported that they would spend at a local media store (e.g. books, movies, video games). Boutiques ranked highest among women ages 45-54, and men are more likely than women to shop at a local sporting goods store.
The results from our survey suggest that small business owners should keep their target demographic in mind if they want to maximize spending in their stores over the holidays.
Factors that Drive Consumers to Small Businesses During the Holiday Season
Small businesses have plenty of advantages over big businesses, but what are the main driving factors that get people to visit a local store? In our study of U.S. consumers, we found that the reason that draws most shoppers (50%) to local businesses is to "support" local businesses, with convenience of the store coming in second (42%).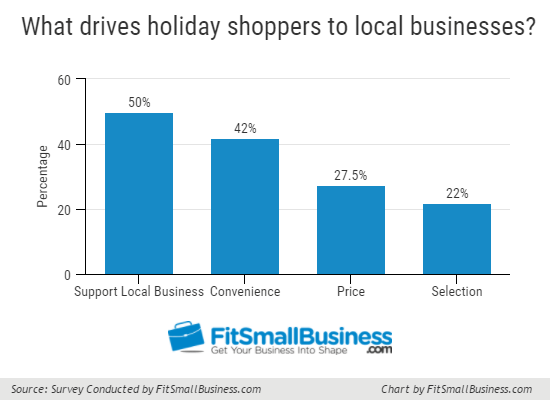 This may come as a surprise to small business owners who think they should be advertising their prices or selection over the holiday season. Instead, you should play to your strengths. Advertise the benefits your store provides that large retailers and online businesses don't.
You may be wondering how you are supposed to take advantage of our finding that consumers want to support local business. This is where Small Business Saturday comes into play. Over 50% of respondents have not heard of this shopping day, yet we know people want to support local businesses. Get the word out about the day with marketing and advertising efforts (we'll talk more about how to do this later in the article). Let people know that your business is participating to get more customers to your store this holiday season.
What is Small Business Saturday (and How Does it Differ from Black Friday/Cyber Monday)?
Small Business Saturday was started in 2010 and occurs the Saturday after Thanksgiving. This day was created to celebrate and support small businesses and encourage people to shop local. Thousands of people took part in 2015, including President Obama, who spent the day visiting a local bookstore and boutique market in Washington, D.C.
The day rounds out a weekend packed with holiday shopping. Black Friday is the day after Thanksgiving and draws mobs to big retailers such as Walmart and Best Buy each year. Cyber Monday was coined when online businesses started running deals on the Monday following Thanksgiving. On this day, people return to work and are ready to spend their day taking advantage of online deals.
Why Should your Small Business Participate in Small Business Saturday?
As a small business, it's unlikely that you can compete with the killer deals major retailers are able to offer on Black Friday. It's even less likely that you have an online store that can contend with online giants such as Amazon on Cyber Monday. With 50% of consumers looking to support local businesses, Small Business Saturday is the perfect opportunity to draw those shoppers to your store.
Shoppers who expect to spend the most on holiday gifts are also more likely to shop on Small Business Saturday.
In the study we conducted, we found that consumers ages 25-54 are the most likely to participate in Small Business Saturday.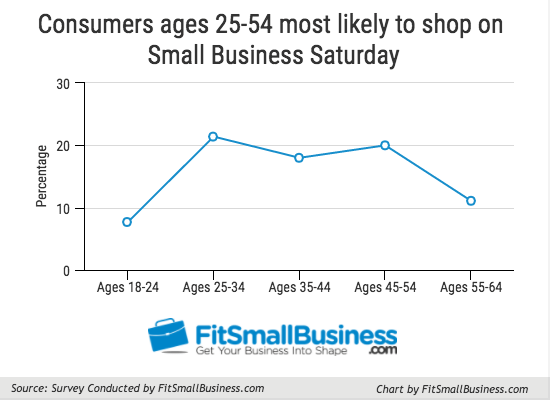 The same age group that is most likely to shop on Small Business Saturday also expects to spend the most on holiday gifts. According to our survey, 70% of shoppers ages 25-54 expect to spend $300 or more on holiday gifts this year. Compare this to ages 18-24, where 80% expect to pay less than $300.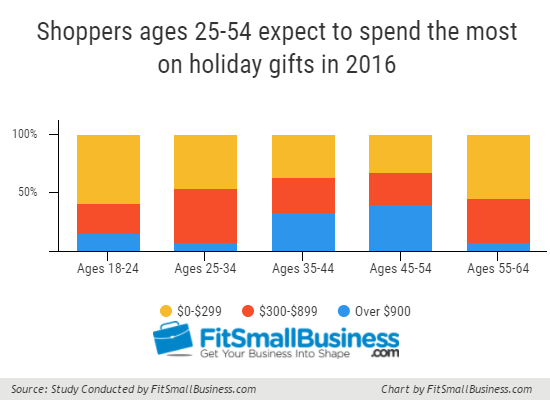 What Can Small Businesses Do to Prepare for Small Business Saturday?
You should now understand the benefits of participating in Small Business Saturday. Here are a few ideas to help you get the most out of the event:
Turn your store into a party – Small Business Saturday was created to celebrate local businesses like yours, so make it feel like a celebration! Have snacks and balloons at your store, and work with neighboring businesses to bring more people to your neck of the woods. Consider having entertainment or music; you want people to have fun. This is what sets the day apart from Black Friday and Cyber Monday.
Accentuate local flair – A big reason people shop on Small Business Saturday is to support the local community. Make sure visitors to your business can easily tell that you are involved locally by hanging pictures of spots in the area or frequent customers. You want it to come across immediately that you are not a chain store.
Hold a raffle or giveaway – This is a great way to capture leads. By offering, for example, $100 gift card to your store, you will be able to get the contact information of people who are interested in your business. Once you have their information, you'll be able to keep a relationship with them long after the day is over.
Get creative with social media – Consider updating your Facebook and Twitter cover photos to a Small Business Saturday themed image. You can quickly create an image for free using Canva. This will let your fans know ahead of time that you will be participating. Social media is also a place where you can show the personal side of your business by posting pictures with your customers and sharing things that are relevant in your community.
Reward check ins – Ask people to check in at your store using Yelp or Facebook. This will alert their friends that they have been to your store, and hopefully drive more traffic to your business. People are known to be trusting of a friend's recommendation.
Put a sign up in your window – The people who are most likely to visit your store on Small Business Saturday are the ones who pass by it on a regular basis. Take advantage of the local aspect by advertising at your store the month leading up to the event.
Run a promotion or discount – Give people a reason to visit your store. Running a promotion or discount on Small Business Saturday provides an extra incentive for shoppers to stop in.
Additional Resources to Help You Prepare for Small Business Saturday
Here are a few additional resources for you to get the most out of the day:
As the creators of Small Business Saturday, American Express has great information on how to get ready for the day, plus free custom downloadable marketing materials for your social networks, site, and storefront.
The Small Business Administration is an excellent resource for small businesses looking for helpful guidance. They have marketing templates plus articles on how to prepare for the day.
Join the Small Business Saturday Facebook page to get feedback from other small business owners. The page also posts frequent tips, interesting articles, and it's a great place to get ideas from creative small business owners that have participated in past years.
How to Compete During the Rest of the Holiday Season
Small Business Saturday is a great event for small businesses to participate in. That being said, the event is only one day out of the year, and if you want to get the most out of the holiday season you will need to learn how to compete on the rest of the days leading up to the holidays. This is especially true since half (52%) of survey respondents plan to shop the weekend after Thanksgiving, but only 15% plan to shop on Small Business Saturday.
Why would a consumer not shop at a small business?
According to our survey, 51% of consumers cited price as the reason why they would not shop at a local store, with 38% citing this as the only reason they would not shop small. Selection came in a distant second, with 25% saying this would deter them.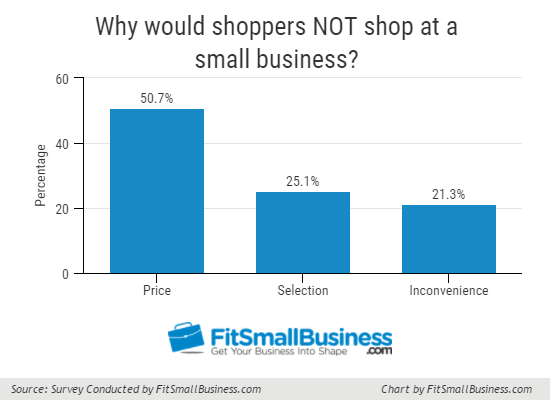 However, 48% of shoppers would buy a present at a small business even if they could find it online or at a chain store for cheaper. This means there are ways to compete with larger businesses that don't include lowering your prices.
Tips for Competing Against Big Businesses over the Holidays
Notice trends and act on them quickly
A perk of being a small business is that you don't have to go through a bunch of red tape to get something done. Take advantage of this by staying flexible this holiday season. If you notice a product selling fast, place it at the front of the store. If one promotion is driving more sales than another, concentrate on the one that works. By shifting quickly and being agile, you will have a leg up over bigger slower moving companies.
Promote quality service and customer experience over big discounts
This season you should focus on the qualities that set you apart, whether that be amazing customer service, or your connections within the community. Play into the fact that you're local by advertising the people who work at your store or by sponsoring a neighborhood event. You also don't need to offer big discounts to compete on price. Be creative. For example, are you offering free gift wrapping? That highlights your customer service and helps customers save some money.
Be the best in your niche
Take advantage of your small selection by being the best in your particular niche. For example, if you own a cheese shop, make sure all of your employees are knowledgeable about the product. This will give your store an added benefit over your average grocery store, as people will want to come in to learn more about the product they are buying.
The Bottom Line
The holiday season is great for businesses, especially with projected holiday spending in the 600 billions. You may think that small businesses are only going to get a tiny portion of this amount. However, with 1 in 4 shoppers planning to shop small, and 50% of consumers wanting to support local businesses, your small business stands to gain a high profit over the holiday season.
We suggest joining in on Small Business Saturday and promoting your participation in order to benefit the most this holiday season.
Footnotes
1 Data from National Retail Federation's Holiday Sales Forecast.
2 Data from National Retail Federation's Thinking Big About Shopping Small
3 Demographics for Fit Small Business's Holiday Spending Survey are as follows:
| Group | Response | Internet Population | Bias |
| --- | --- | --- | --- |
| Male | 64.00% | 47.90% | 16.10% |
| Female | 36.00% | 52.10% | -16.10% |
| 18-24 | 16.20% | 13.90% | 2.30% |
| 25-34 | 15.40% | 19.40% | -4.00% |
| 35-44 | 20.00% | 17.80% | 2.20% |
| 45-54 | 20.00% | 18.30% | 1.70% |
| 55-64 | 16.20% | 16.40% | -0.30% |
| 65+ | 12.30% | 14.20% | -1.90% |
| Midwest | 26.90% | 22.0% | 4.90% |
| Northeast | 21.20% | 18.00% | 3.30% |
| South | 21.90% | 36.40% | -14.60% |
| West | 30.00% | 23.60% | 6.40% |