Term life insurance is very affordable and ensures a death benefit for a set term, typically 10 to 30 years. Whole life insurance is more expensive, builds a cash value, and lasts your entire life as long as you pay your premium. Choosing term life versus whole life insurance depends on your budget and needs.
The best way to get affordable life insurance is to compare quotes online with a broker like Policygenius. Fill out their short online form to get custom term and whole life insurance rates in minutes.
Visit Policygenius
Term Life vs. Whole Life at a Glance
| Features | Term Life Insurance | Whole Life Insurance |
| --- | --- | --- |
| Policy expires | ✔ | |
| Level premium | ✔ | ✔ |
| Guaranteed benefit amount | Beneft may decrease if you skip premium payments | ✔ |
| Typical annual premium for $100k death benefit | $100 - $340* | $1,000 - $5,400* |
| Medical exam required | | ✔* |
| Builds cash value | | ✔ |
| Annual dividends | | Depends on the policy |
*Varies by policy
Cost is clearly a major difference when comparing term life versus whole life rates. Whole life insurance is significantly more expensive than term. But that's because whole life has an investment piece called the cash value. The money you save in cash value can add to the death benefit or be used when you need it.
What Is Term Life Insurance?
Term life pays death benefits only if you die while the policy is active, or during the policy term. After the policy expires, your insurer is no longer obligated to pay. Your premium only goes to the death benefit and administrative costs. There's no savings component like there is in whole life.
Because you're only covered for a specific period, term life insurance rates are usually lower than whole life insurance rates. Plus, most term life insurance offers level premiums. You may keep the same rate throughout the life of the policy. Term life policies can be renewed, but your rates may increase.
What Is Whole Life Insurance?
Whole life is a permanent insurance policy. As long as you pay, it remains active and your insurer pays the death benefit. A portion of your premium goes to a cash value. This feature lets you build equity. You can withdraw the money, use it to pay your premiums, or take it out as a loan.
The cash value is a benefit, but using it can have drawbacks. Depending on your policy, withdrawals may be taxable and typically reduce the death benefit. Loans also reduce the death benefit. And if you fail to pay the interest, your policy may lapse. That means your insurer no longer covers you or pays your dependents a death benefit.
When to Get Term Life Insurance
The simplicity and low rates of term life insurance make it the best choice for people who want to get coverage quickly. It's also a good option for individuals when their insurance needs are high but temporary, or who have a solid retirement plan they contribute to consistently.
Here are a few situations where term life insurance makes the most sense:
People with dependents – Term life protects them against the loss of the primary breadwinner.
People with a mortgage, credit card debt, or who have co-signed a loan – The death benefit can be used by the beneficiary to pay off debt.
Small business owners – A business owner may want to take out key man insurance, a term life policy that covers individuals essential their company's success.
Before buying term life insurance, people need to be sure they understand how term life policies are priced and structured. To get more details on term life, be sure to read our ultimate guide to Term Life Insurance.
When to Get Whole Life Insurance
Whole life insurance is right for people with long-term concerns, such as dependents who need lifelong support or a business that needs protecting. Because the benefits are paid no matter when the insured dies, whole life insurance can provide greater peace of mind. Moreover, the added cash value can be used to cover short-term expenses.
Whole life insurance can be a smart investment for:
High net worth individuals – Beneficiaries can use the death benefit to pay estate and inheritance taxes.
Business partners – Business partners can take whole life policies out on each other. When one partner dies, the other can use the death benefit to buy out their share.
Parents with special needs children – A child with disabilities often needs lifelong care. A whole life policy ensures the child receives support whenever the parent dies.
People who want to tap into their retirement savings – The cash value component can be used in retirement when other savings plans are maxed out.
Cost and policy details are essential details when picking a whole life insurance policy. Learn more about these in our ultimate guide to Whole Life Insurance.
An Alternative to Whole Life Insurance
Universal life is a good alternative for people who want permanent coverage but think whole life insurance rates are beyond their budgets. The policy lets you change the amount you pay or even skip payments depending on the current interest rate, the amount you've already paid, and other factors determined by your insurance company.
A 30-year-old can expect to pay about $2,400 a year for whole life insurance. For a similar universal life policy, their annual premium may be $500 to $600. However, universal life insurance premiums fluctuate with interest rates. When interest rates are low, your premium may go up.
To read more about the advantages of universal life insurance, be sure to check out our ultimate guide to Universal Life.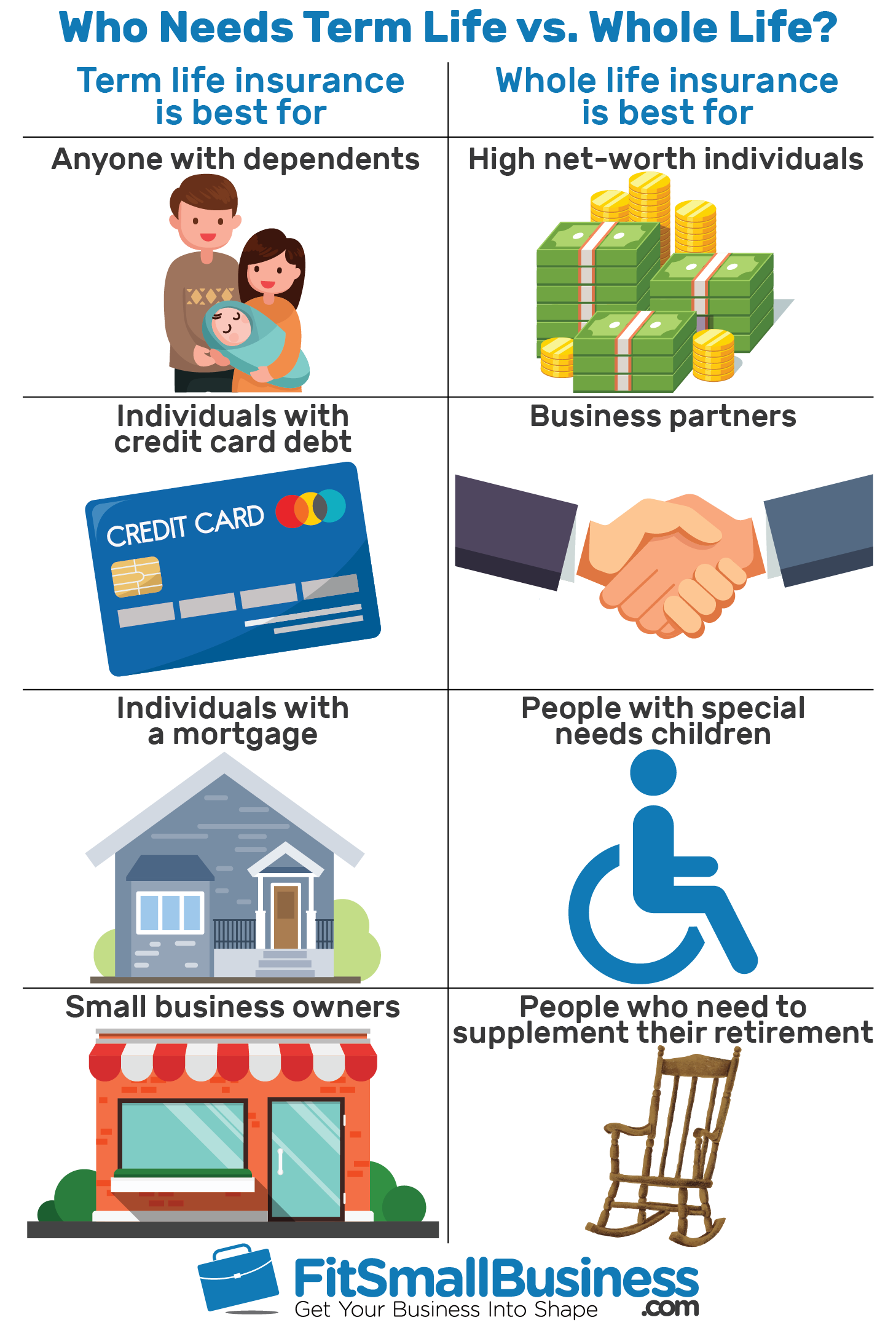 Term Life vs. Whole Life Example
Let's imagine a situation where someone might be looking for life insurance. Meet Rob. He's 32 years old and recently married. He and his pregnant wife recently bought a house with a 30-year mortgage. Rob has a good job and has been contributing to his 401(k) since his early 20s.
Term Life Example
As a soon-to-be father, Rob doesn't have a lot of disposable income, but he wants to make sure his wife and child can pay the mortgage should he die prematurely. He and his 401(k) are healthy.
In this situation, Rob isn't too concerned with retirement savings, so he might choose term life insurance for its low premiums. He can get a death benefit that covers the loss of his salary, their mortgage, and other anticipated debt.
Whole Life Example
Like we said, Rob has a 401(k), so the cash value isn't a major attraction for him. But what if he didn't have that safety net? Or what if he struggles to save money on his own? In that case, the cash value of whole life insurance might be the better option.
Either way, Rob has made a good choice by getting life insurance when he is young, says Chelsie Ball, a licensed life insurance agent with TermLife2Go.com:
"As an overarching recommendation, you should start looking for life insurance as soon as possible, as the best rates are for those who are younger and healthy. In most cases, you can keep your rate consistent throughout the term or whole life policy. But be aware that if your 30- year term policy ends when you are 50 or 60, your renewal will generally be at a higher rate since it will be based on your age and health."

– Chelsie Ball, life insurance agent, TermLife2Go
How We Determined When to Get Term Life vs. Whole Life Insurance
First, we compared term life versus whole life insurance by looking at each policy's core components, namely term lengths, premiums, and death benefits. But we also evaluated other elements, like medical requirements and the potential to build equity through the coverage. This information helped us determine which policy made sense in common situations.
We simplified these criteria into four categories:
Costs – We looked at whole life and term life insurance rates to see which tends to be lower and which may change over the life of the policy.
Policy term – For this category, the first consideration is how long the policy term is. Then we also consider whether the policy can be converted or renewed.
Medical requirements – You can get both types life insurance without an exam, but getting whole life insurance with an exam often results in a better price.
Living benefits – The death benefit is a given, but most whole life insurance adds living benefits, like additional cash value or dividends.
Cost is often a major factor in buying insurance. But when you're deciding between term life versus whole life insurance, you also have to think about your goals. Are you looking for a long-term investment or covering debts for your dependents after you pass away? Ultimately, life insurance needs to fit your situation. Use the following comparisons to pick the policy that works for you.
Term Life vs. Whole Life: Rates
Insurers determine term and whole life insurance rates by considering the insured's age, sex, and life expectancy. They use these statistics to predict whether you'll make a claim. A higher risk of claim means a higher premium. Term life insurance rates tend to be less than whole life because it limits the period for claims.
According to Timothy Wiedman, Associate Professor Emeritus of Management and Human Resources at Doane University, the difference in rates can be substantial.
"In terms of protecting one's dependents, buying term life insurance is almost always the cost-effective choice by far. By shopping around, for example, it's entirely possible to get a term policy that provides ten times the coverage of a whole life policy—but at roughly half the annual cost (e.g., a $500,000 term policy would be much less expensive than a $50,000 whole life policy)."

– Timothy G. Wiedman, Associate Professor Emeritus of Management and Human Resource, Doane University
Term vs. Whole Life Insurance Rate Comparison
| | Policy amount | Average whole life premium (annual) | Average 20-year term life premium (annual) |
| --- | --- | --- | --- |
| 30-year old | $250,000 | $2,400 | $150 |
| 40-year old | $250,000 | $3,500 | $240 |
| 50-year old | $250,000 | $5,400 | $530 |
The chart compares the typical premiums of 10 national providers for a $250,000 whole life insurance policy to a 20-year term life policy of the same value. The first thing to note is that whole life insurance rates are significantly higher than term life rates. But it's also important to know that the rates go up with the age of the purchases, sometimes as much as 60 percent.
The best way to find out what your rate will be is to fill out an application with Policygenius. You fill out a short application, and Policygenius returns rates from top life insurance providers within minutes.
Visit Policygenius
Term Life Insurance Rates
Term life rates are usually lower than whole life rates. This is especially true for young, healthy people. The later in life you purchase term life insurance, the higher your rate will be. That higher rate also hits if you decide to renew when your term is up.
This is because insurers determine premiums analyzing factors like:
Age
Overall health
Family medical history
Lifestyle
Age is perhaps the most significant factor because it brings you closer to your life expectancy. Depending on your policy, life insurance rates can increase by five to 12 percent every year.
For example, a young non-smoker pays about $150 a year for a 20-year, $250,000 term life policy. But if they decide to renew at age 40, their rate increases to $240. Since some term life insurance rates actually increase with the insured's age, it's important to find a level-premium policy, where your rate stays the same for the life of the policy.
Whole Life Insurance Rates
Whole life rates are also based on your life expectancy, but they're usually higher than term life rates. That's because whole life provides lifetime coverage. There's no cut-off date, so your insurer's risk for paying a claim is high. But whole life also has cash value. Part of your premium goes into that, too.
Level premiums are an important part of comparing term life versus whole life insurance rates. A term life policy without level premiums may actually end up costing the same as a whole life policy if both last to the average life expectancy.
Whichever you choose, life insurance is an investment, so it's important you understand your premium. Read our article on How Much Life Insurance Costs for more details.
Term Life vs. Whole Life: Policy Term
The policy terms are different for whole life and term life insurance. Term life has an end date, usually 10, 20, or 30 years after activation. Whole life insurance doesn't end until the insured dies or the policyholder stops making payments.
Term Life Policy Terms
Many people favor the shorter duration of term life insurance over the permanent coverage found in whole life. The temporary nature of term life makes the policy easy and more affordable to get. Plus, the policyholder can re-evaluate their situation to see if a different policy makes more sense once the policy expires.
Some people need to rethink their insurance needs before their term policy ends if they:
Suffer from poor health – A change in your health means you may not be able to afford whole life insurance once your term policy expires. Most insurers don't require a medical exam when you convert.
Increased their income – As you earn more money, the investment portion of whole life may be more attractive.
Realize they need lifelong coverage – For instance, the birth of a child with special needs may mean you need whole life insurance to cover them through their adulthood.
Most term life insurance policies have a conversion feature. This lets the policyholder turn some or all of their term life into whole life insurance. There's usually a deadline for converting your policy.
Whole Life Policy Terms
Unlike term life, whole life insurance does not expire. It remains active as long as the policyholder pays the premium. That's appealing for some people because they know their beneficiaries are taken care of as long as the premium is paid. But what happens if their situation changes and they need to surrender their policy?
Ending a whole life policy is complicated by:
Your insurer's missed payment rules – Whole life insurance usually has a nonforfeiture clause limiting your options.
Your policy's age – Whole life insurance also has a surrender period that lets your insurer apply stiffer penalties for dropping the policy.
The potential tax on the cash value – You may face a tax on the cash value if it's larger than the amount of the premiums you paid minus dividends you've been paid, cash you've withdrawn, and any commissions or fees your insurer paid with your premium.
People who worry about their situation changing may find whole life insurance too restrictive. It can take 10 to 15 years before your cash value sees significant growth. In that time, you may lose your job or have a baby, and the money you're spending on premiums could be put to better use.
Term Life vs. Whole Life: Medical Requirements
You can find both whole and term life insurance policies that do not require a medical exam. It's more common for a term life policy to let you skip the physical than it is for whole life. However, there are companies that offer no physical whole life insurance.
Term Life Medical Requirements
There are two term life policies for which you can skip a doctor's visit. One is guaranteed issue, where the insurer asks three to four medical questions before approving the policy. The second is simplified issue. The insurer asks more detailed medical questions and reviews your medical records.
Guaranteed and simplified life insurance are a good option for people who:
Are in bad health.
Are looking to cover funeral expenses.
Need coverage fast to secure a loan.
Have risky jobs or hobbies.
Both can be issued quickly, but neither offers a lot of coverage—usually less than $250,000.
Life insurance medical exams can be a hassle. You have to schedule the appointment, get stuck with needles, and then wait weeks for a decision on your coverage. Simplified and guaranteed term life eliminates that challenge, but they cost more. No-medical exams are riskier for the insurer, so the rates are up to 20 percent higher than life insurance that requires an exam.
Whole Life Medical Requirements
Whole life insurance is less likely to let you bypass the medical exam than term life is. When it does, the death benefits are often start around $5,000 and are capped between $25,000 and $50,000. That's why no medical exam whole life is mostly used for final expenses.
Similar to term life insurance, no medical exam whole life has two options: simplified issue and guaranteed issue. Your insurer will ask detailed medical questions and look at your medical records if you choose simplified whole life. For guaranteed issue insurance, they will only ask a few medical questions.
Whole life insurance has another option, called a fully underwritten policy. It requires an insurance medical exam, but that allows the insurer to properly assess the risk. Even people with health issues can often find the best price when they go this route.
Term Life vs. Whole Life: Living Benefits
Living benefits are benefits that let you access cash while still alive. For whole life insurance, that's the cash value, which lets you save a portion of your premium as a liquid asset. Some whole life insurance providers also pay dividends into the cash value. Term life insurance doesn't offer any living benefits.
Term Life Living Benefits
Term life insurance, unlike whole life insurance, has no living benefits. That may be a knock against it if you're hoping to use your life insurance as part of your retirement plan. On the other hand, term life insurance is usually cheaper, simpler, and easier to get because there's no cash value.
Whole Life Additional Benefits
One key difference between term life and whole life is the living benefit. Whole life policies let you build equity by stashing a portion of your premium in a tax-deferred cash value account. Some whole life insurance policies also pay dividends, which you can take as cash, save in your account, or use for your premium.
Most whole life policies only allow partial withdrawals from the cash value. You can use the money to:
Increase the death benefit.
Reduce your premium.
Buy additional coverage.
Take out a loan.
There are two important things to remember about the additional cash value. First, it is not part of your death benefit. The cash value goes back to the insurer when the insured dies, so you want to make use of the money while you are alive. Second, the cash is taxable upon withdrawal. Be sure to plan for that cost.
Term Life vs. Whole Life: Pros & Cons
Term life and whole life insurance have distinct features that make them appropriate for particular situations. One way to decide between them is to look at the pros and cons of each.
A few of the pros of whole life are:
Guaranteed death benefit – The death benefit is usually the face value of the policy.
Tax-deferred cash value – Part of your premium builds equity in cash value, which is money you can use as you see fit. You can even use it to pay your premiums, which means you pay your premium tax free.
Level premiums – Whole life rates are typically fixed. They won't go up with age.
Lifetime coverage – Your policy remains in force as long as your premiums are paid.
There are a few cons that come with whole life insurance, such as:
Expensive premiums – Whole life rates may be fixed, but they are higher than term life rates because the insurer takes on additional risk by supplying lifelong coverage.
Modest returns on investment – Most experts agree that you can get a better return investing in your own retirement account. Plus, cash value can take years to see any significant accumulation.
Complicated policies – The policy's cash value adds a layer of complexity that makes whole life difficult to understand.
As for term life insurance, the advantages are:
Temporary coverage – Since term life policies ends, you not stuck with an insurance policy that no longer fits your needs when your situation changes.
Low premiums – Term life insurance rates are usually lower than whole life rates. However, they can go up if you choose a non-level policy.
Maximum death benefit – A portion of all life insurance premium goes to death benefits. But with term life, a larger percentage goes to death benefits, so you're essentially getting more bang for your buck.
Term life insurance cons include:
No cash value – Whole life's savings feature can be a convenient way to build wealth. Term life doesn't include a savings feature.
Expensive to renew – Life insurance rates go up as you get older. If your term life ends, renewing your policy may be prohibitively expensive.
Inflexibility – Your term doesn't change with your situation. That means you need to predict how much coverage you need 10, 20, or even 30 years out.
Bottom Line
Choosing between term life and whole life is all about your goals. Term life insurance is the best choice for people who want an affordable policy that ensures their dependents can survive the loss of income after the insured's death. On the other hand, whole life makes sense for those who want to supplement their retirement income or have their final expenses covered.
Once you decide on either whole or term life insurance, the next step is to compare multiple quotes. That way, you can find the best policy at the right price for you. Policygenius is ideal for comparing quotes. The application is easy to fill out, and the site returns quotes within minutes.
Visit Policygenius