The Ordering.app Review: Is It Right for Your Business?
This article is part of a larger series on POS Systems.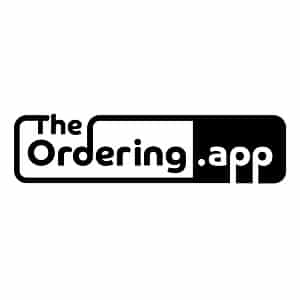 Our Review of The Ordering.app
The Ordering.app software was affordable for small restaurants accepting online food orders for pick-up, curbside, and in-house delivery operations. We especially liked it for small restaurants that wanted to increase their Google visibility.
The Ordering.app Restaurant Software Alternatives
| Software | Best for |
| --- | --- |
| | Online ordering built into a free restaurant POS |
| | Pre-paid catering and family-style meal online orders |
| | Online ordering with POS integration |
Below are the pricing and features of The Ordering.app before it was discontinued:
The Ordering.app Overview
PROS

CONS

Great online search visibility and integrates with Google's platform
Doesn't integrate with a lot of other tools
Quick set up and fee-based pay as you go
Driver management is limited
Free to use through Jan. 1, 2022
Payments only available through Stripe
Group order feature increases large orders from nearby locations
Only works on android devices
The Ordering.app Pricing
The Ordering.app operates with a pay-as-you-go model, similar to competitor Tock To Go. The Ordering.app customers pay a small percentage on easy orders placed through the app. At the time of this writing, The Ordering.app commission rate is 1.5%. However, to support struggling restaurants, the platform is offering the service for free through January 1, 2022.
There are no setup fees or monthly subscription fees, though if you accept online payments via The Ordering.app, you'll also pay Stripe's processing fees.
The Ordering.app Payments
Currently, the only payment processor The Ordering.app supports is Stripe. On the one hand, Stripe is great for small restaurants because opening an account is incredibly easy. However, if you already have a payment processor that you like, it can be annoying to add another account just for online payments.
Stripe transparently lists processing fees on its website. Current rates are 2.9% plus 30 cents per successful charge, but high-volume restaurants can negotiate a better rate by contacting Stripe and requesting a custom rate.
The Ordering.app Hardware
The Ordering.app operates on internet-connected Android tablets and smartphones. The Ordering.app recommends tablets that run Android 8.0 or higher, with 1280 x 800 resolution and a 7-inch or larger screen. After you've created an account, you can purchase a hardware starter pack via The Ordering.app site. The hardware kit includes a Tango tablet with a power cord, a compatible thermal printer, a tablet set up guide, and a window cling encouraging your customers to "order from us through Google." The kit is available for $190. You can purchase individual components for $70 to $190.
The only printer that The Ordering.app currently supports is the Eryin EY-80V 80mm Bluetooth and WiFi thermal printer. Unless you use an integrated Clover POS, The Ordering.app cannot print orders from your app to kitchen impact printers. For small operations that derive less than a third of their business from online orders, this won't be a problem—but high-volume restaurants that run a 50/50 split of online and in-house orders might feel the pinch. It would also be nice if the system worked with more robust industry-standard Epson TM-T88 printers since virtually every restaurant already owns plenty of these.
The Ordering.app Features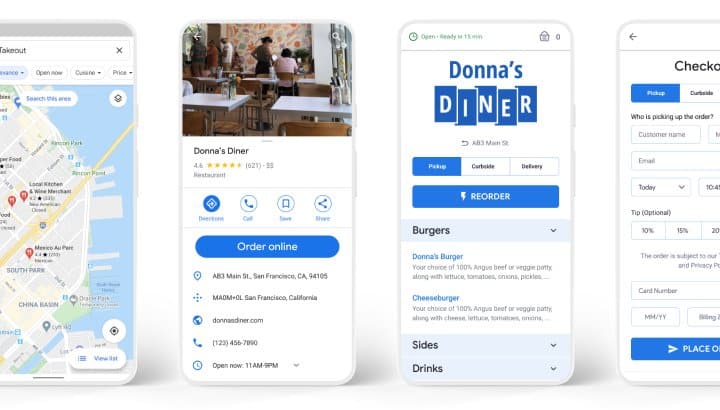 The Ordering.app has one mission—to accept online orders and direct them to your restaurant. The Ordering.app hosts your restaurant's ordering page under The Ordering.app domain. Orders placed via the app are directed to your The Ordering.app dashboard, which you can access via The Ordering.app connector app on an Android smartphone or tablet. Users who purchase The Ordering.app tablet can print orders directly to the attached thermal Bluetooth printer. You can configure menus and view reports in any internet browser.
The Ordering.app doesn't have a lot of bells and whistles, but the platform does support:
Sales reporting: The reporting function shows you a customizable view of your Ordering.app sales. You adjust the report's start and end range on an easy-to-read calendar. From there, you can filter the report by order type (all, pick up, curbside, delivery), payment method (online, in person, or both), and location (if you have more than one). You can export sales reports in .csv files for detailed filtering and analysis.
Multi-location functions: Your The Ordering.app page can host several locations. This is an excellent feature for local burger or burrito shops.
POS integration: Clover POS users can integrate The Ordering.app to edit menus and receive orders directly in their POS. The Ordering.app collects information about what POS its customers use, so we wouldn't be surprised if more integrations are in development.
Google supported log-in: You and your customers can log in to the ordering app using Google log-in credentials. Restaurant users won't gain access to their customers' email addresses but will still benefit from the Google ecosystem's frictionless user interface. Customers find your restaurant via Google Maps, they place an order, receive confirmation directly in their email, and pay with Google Pay.
Website Management
Easy site creation: The Ordering.app setup wizard prompts you to complete the basic steps.
Flexible hosting: Link to your The Ordering.app site from your restaurant website, or use The Ordering.app as your primary web presence.
Branded experience: Add logos so that your The Ordering.app site matches your main restaurant site.
Intuitive menu building: A series of prompts ensure you include mouthwatering photos and detailed item descriptions.
Increased visibility: Your The Ordering.app link appears in your Google search results and Google Maps.
You don't need any web design or coding experience to start building your The Ordering.app website. When you open your The Ordering.app account, a setup wizard prompts you to enter your restaurant's location, contact information, and hours of operation. You can upload logos to brand your site as well, but they aren't necessary to get started.
The menu builder is intuitive and easy to navigate. As you add new items, you can create menu groups, time-limited menus, and modifier groups. The Ordering.app allows you to charge for individual modifiers and allow customers to choose one modifier or an unlimited number. Modifications display in a series of cascading checkboxes, so they are easy to see and change. However, there is no bulk upload function; when you set up your menu, you'll need to enter each item individually.
The site is hosted under The Ordering.app domain, so your ordering site will be formatted as "ordering.app/YourRestaurantName." If you don't have a website for your restaurant, you can use your The Ordering.app site as your primary web presence. Most users can get a fully operational online ordering site up and running in as little as an hour.
---
Order Management
Set prep-time: Set prep times in your The Ordering.app dashboard to automatically alert customers to wait times.
Group orders: Customers can share an order link with their office or family to generate orders for large groups.
In-app notification: New orders appear directly in your The Ordering.app dashboard.
Email notification: Choose to be notified by email for large orders or all orders.
Printed order tickets: Tablet users can attach a thermal printer to print order tickets automatically.
Customer notifications: Your customers automatically receive an email confirmation for orders.
Pick your payment: Allow customers to pay online or opt to process all payments in person.
Orders placed on your The Ordering.app site automatically appear in your dashboard. You can also opt to receive an email notification for all orders, or all orders of a specific size. If you set a prep time in your business settings, The Ordering.app will let customers know how long their order will take, which can save you a lot of back and forth phone calls. The prep time is not customizable by dish—you can only set one prep time for the whole restaurant—but is easily edited from the dashboard if you are experiencing a business rush.
You can print tickets from your Ordering.app tablet to a connected thermal printer. However, without POS integration, The Ordering.app cannot print order tickets to kitchen impact printers. Opening a Stripe account allows you to accept online payments for your Ordering.app orders. If you want to accept cash or reduce your payment processing fees, you prompt customers to pay in person at your restaurant instead.
The Group Ordering feature is also a great fit for restaurants in business districts—allowing large groups of co-workers to place their individual orders on the same ticket is sure to be a hit for office lunches. You can also allow scheduled orders, so you have time to prepare for large orders.
The Ordering.app's order stream is very streamlined. Possibly too streamlined. It would be nice if the system could send status alerts via SMS text message to customer phones or set prep times by menu item. A well-done porterhouse steak takes a lot longer to cook than an order of fries, after all. But the uncluttered nature of The Ordering.app's tools is a great fit for restaurants that want to keep things simple.
---
Delivery Management
Customizable delivery zones: Use basic distance measurements or a custom-drawn polygon shape to outline delivery zones.
Delivery zones by ZIP code: Quickly set up your delivery area using ZIP codes.
Tiered delivery fees: Set specific fees for individual zones or distances.
Flat rate or percentage-based fees: charge delivery fees as a flat rate based on distance, or charge a percentage of the overall order.
The Ordering.app lets you choose how granular you want to be with your delivery zones and fees. Setting a simple ZIP code for delivery may be all you want to do in a small town. Restaurant owners in a busy city center with lots of one-way streets or dense traffic pockets may want to create more niche delivery zones. Ordering.app users can do either, or opt for a middle ground solution and set basic distance-based delivery zones.
You can set flat rate fees for each delivery zone or opt to charge a percentage of the order total as a delivery fee. You can accept tips and include suggested tip percentages on the customer checkout screen. But that's where The Ordering.app leaves you. If you want to use software to dispatch, track, and communicate with your drivers, you'll need a separate delivery management tool. And that tool really will be separate; currently, The Ordering.app does not integrate with any dispatch software.
The Ordering.app users are also unable to route their online orders directly to flat-rate, on-demand third-party courier services like DoorDash Drive. If that is your preferred setup, you'll be better served by Toast Now.
---
The Ordering.app Ease of Use
Dynamic Google listing: Customers can quickly identify your restaurant and ordering links.
Customer support: 8 a.m. to 5 p.m. Standard time, via in-app or web chat
Online resources: Users can search an online information database 24/7.
One look at an The Ordering.app customer's Google Maps listing shows you the platform's strengths. Users' restaurant listings include menu photos and two profile sections—menu and ordering—showcasing your online ordering menu. If you use a third-party platform like Uber Eats or DoorDash alongside your in-house online ordering menu, your Google listing can include both.
Like most Google-powered software, The Ordering.app is incredibly easy to navigate. The dashboard is laid out intuitively, navigation menus appear where you expect them, and dialog boxes pop up to guide you when needed. If you run into any trouble, you can reach customer support via in-app or web-based chat. If you run into trouble outside the hours of 8 a.m. and 5 p.m. Central time, the chat may not be monitored, though. In that case, The Ordering.app's online support database is a better bet.
However, as the platform grows, we'd like to see a lot more integrations and more dynamic user permissions. Currently, the only way to separate management functions from daily operations functions is to use the browser-based dashboard for sensitive functions like menu management and assign burner email addresses to your The Ordering.app tablets operating the connector app.
What Users Think of The Ordering.app
The Ordering.app is pretty new, so there aren't many user reviews on the popular software review sites. User reviews displayed on The Ordering.app site rave about the system's ease of use and mention how much their customers love the platform. However, one recent user on Google Play mentions daily calls to customer support to resolve issues with their tablet failing to post or print orders.
PROS

CONS

Easy for customers to use
Support can take time to reply
Clover POS integration is smooth
Occasional software glitches
Inexpensive way to offer online ordering
Bottom Line
The Ordering.app was powered by Google, so it used to be an obvious choice for small restaurants wanting to increase their visibility on the search engine. However, The Ordering.app was discontinued as of November 2021. Read our guide to the best online ordering systems for an alternative.
You May Also Like …