Third-party insurance is liability coverage purchased by you (first party) from an insurance carrier to protect against claims from other people (third party) for damage or injuries you cause. This coverage typically comes packaged in auto, homeowners, renters, and business insurance policies to protect against common risk exposures.
How Third-party Insurance Works
Third-party liability insurance covers claims that you, a family member, or your employee caused someone else's physical harm. If you cause third-party injury or property damage, there's a chance you might be sued for hefty damages. This is true if an incident takes place in your home or your business, or with your car.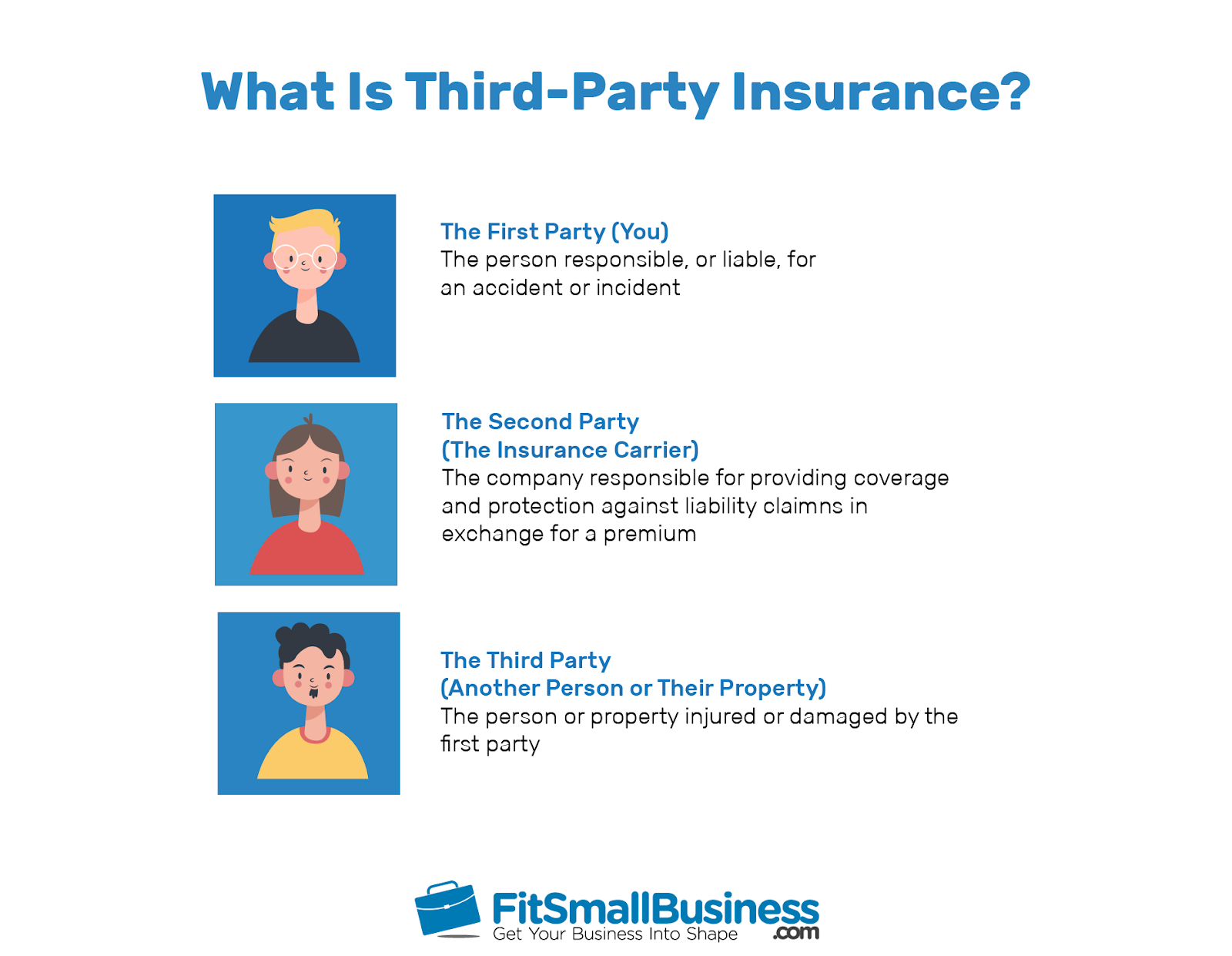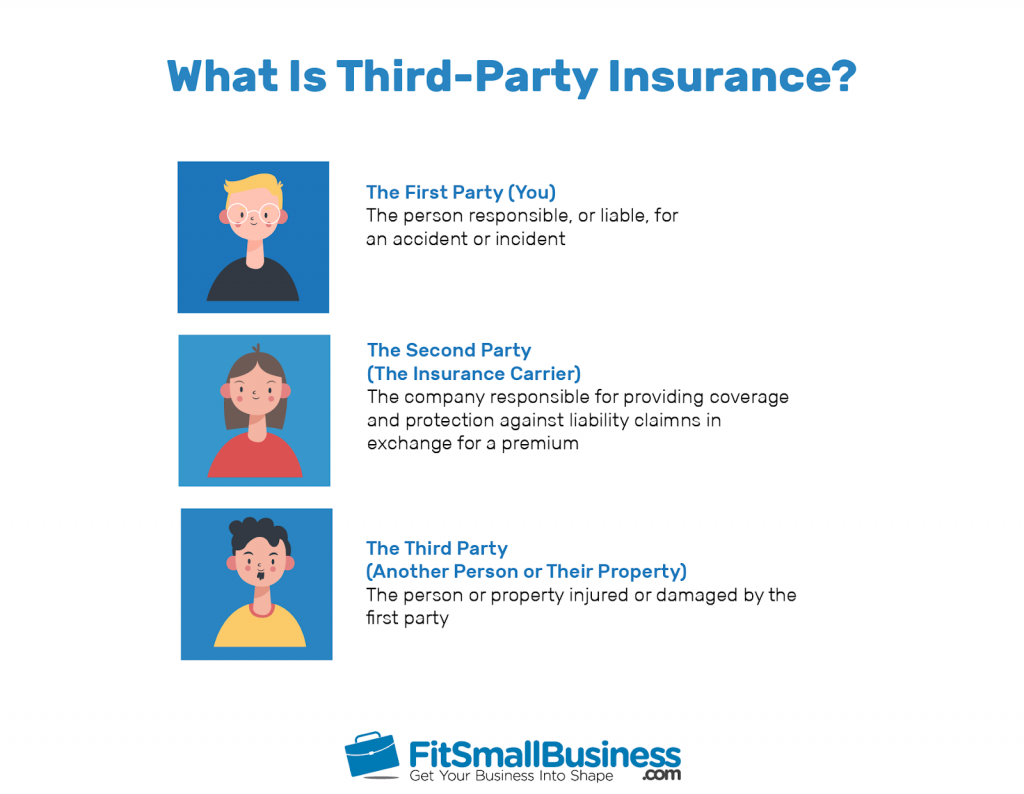 There are three entities involved in these cases:
You, or the first party: The person responsible, or liable, for an accident or incident
The insurance carrier, or the second party: The company responsible for providing coverage for liability claims in exchange for a premium
Another person or property of another person, or the third party: The person or property injured or damaged by the first party
The most common type of third-party coverage is auto insurance. For example, you get into a fender bender in your car with another person's vehicle. Your third-party auto insurance covers the other driver's medical bills and car repairs. If you have the appropriate third-party insurance, your insurer may help with costs or litigation associated with the claim.
Third-party Insurance Coverage Types
Third-party insurance is the liability protection found in both personal and commercial lines of coverage. Whether your business makes a professional error, you cause a fender bender or someone trips at your house, you can be held responsible. In some cases, you're liable for the injured party's damages or losses, regardless of the cause.
Personal Third-party Liability Insurance Policies
Type of Insurance

What It Covers...

Auto Insurance

- Covers another person's damaged property and bodily injuries if you're found at fault in an acciden

Homeowners Insurance

- Covers costs if you accidentally damage another person's property or if a visitor is injured at your home

- Covers costs if you accidentally cause physical injury or property damage away from your home

Personal Umbrella Insurance

- Provides additional coverage once the limits of your other liability policies have been exhausted
Here are some common types of personal third-party liability insurance.
Auto Insurance
Personal auto insurance helps protect you from financial loss in the event of an auto accident or theft. Almost every state requires minimum liability coverage for you to operate a vehicle legally. Anyone who owns or operates a vehicle should obtain auto insurance. The two states that don't require car owners to have third-party insurance, New Hampshire and Virginia, have laws mandating drivers to demonstrate they have the financial means to cover third-party claims.
If you're found at fault for an accident, basic third-party liability insurance for auto covers:
Property damage: Reimburses third parties for damage that you or another driver using your car causes to another vehicle or other property.
Bodily injury: Covers costs stemming from injuries or death that you cause while driving your car.
Depending on your coverage, personal auto insurance may also cover first-party liabilities, such as personal injury protection, comprehensive, and collision.
If you regularly need to drive and don't own a vehicle―for example, if you rent, hire, or borrow vehicles―you should still probably obtain at least the minimum coverage that's legally required. Just because you don't own a vehicle, doesn't mean you don't need auto insurance. Alternatively, you might consider a pay-as-you-go auto insurance policy to help keep costs affordable.
Homeowners Insurance
Homeowners insurance helps protect you, your home, and your belongings from unexpected events. Typically, a standard policy includes two types of coverage. The first is property protection, which covers your dwelling, its content and, often, other detached structures like garages and fences. The other is third-party liability insurance to pay for damages you or your family cause someone else.
Here are three examples of third-party liability coverage:
Physical injury: A neighbor slips on your front walk and breaks their arm
Property damage: A tree in your yard falls onto your neighbor's garage
Property damage outside of the home: You spill coffee accidentally onto a friend's brand new laptop
Additionally, if you own a condo or rent, condo insurance and renters insurance is available to help protect your liabilities. If you run a home-based business, your homeowners insurance typically does not cover business liabilities.
Personal Umbrella Insurance
Umbrella insurance provides you with extended liability coverage—or extra protection beyond what your auto or homeowners policy already covers. When you've exhausted the limits of your auto or homeowners insurance, that's when a personal umbrella policy kicks in.
For example, say you're at fault in a car accident. The cost of the injuries to others is $750,000, but the bodily injury limits on your auto policy is $500,000. An umbrella policy can help cover you for the remaining $250,000, up to the limits you choose.
Commercial Third-party Liability Insurance Policies
| Insurance Type | What It Covers... |
| --- | --- |
| General Liability Insurance | Non-employee claims of bodily injury, property damage, and reputational harm. |
| Business Owner's Policy | Combines commercial general liability and property coverages. |
| Professional Liability Insurance | Clients' accusations of financial losses due to your negligence, mistakes, or omissions. |
| Commercial Auto Insurance | Costs associated with accidents involving vehicles owned or used by your business. |
| Commercial Umbrella Insurance | Provides excess liability coverage above the limits of your basic policies once they've been exhausted. |
Some fundamental business insurance policies with third-party liability coverage include general liability insurance, business owner's policy (BOP), professional liability insurance, commercial auto insurance, and commercial umbrella insurance.
General Liability Insurance
General liability insurance is an essential policy for businesses of all sizes because, regardless of industry or operations, because it covers risks that any business can face. General liability insurance helps protect small businesses from third-party liability claims involving bodily injury, property damage, and advertising injury.
Here are three examples of what third-party general liability covers:
A customer gets burned after your employee spills hot coffee on them
You accidentally break a client's mirror while visiting their home
A competitor sues you for using false information about their business in an advertisement for your business
General liability is particularly important for businesses with brick-and-mortar locations because of the increased foot traffic and direct contact with third parties.
Business Owner's Policy
A BOP is a package of policies that includes general liability, commercial property, and usually business interruption coverage. BOPs conveniently provide necessary protection for small businesses, often costing less than purchasing separate policies. If you need additional policies, some insurers can customize BOPs with endorsements, such as cyber liability insurance.
However, BOPs are generally reserved for small- to medium-sized businesses in low-risk industries, and certain businesses won't qualify. Companies generally need to operate in small locations, generate less than $1 million in revenue, and have fewer than 100 employees. Additionally, limits for BOPs tend to be lower than what's available in a standalone policy.
Professional Liability Insurance
If your business faces a claim from a third party alleging they suffered a financial loss as a result of your negligence or errors, professional liability insurance helps cover your legal defense. Coverage typically pays for legal fees, court costs, and settlements or judgments. Professional liability is also called errors and omissions (E&O) insurance.
Professional liability insurance is often recommended for businesses or individuals with specialized professional training or services. Typically, this may include lawyers, medical practitioners, and accountants as well as real estate agents, business consultants, and information technology (IT) professionals. Professional liability coverage for people with technical training, such as hairstylists, personal trainers, and nutritionists, is also available from some carriers.
Commercial Auto Insurance
Commercial auto insurance provides third-party liability coverage for bodily injury and property damage when you or an insured employee is at fault in an accident. Small business owners can also add first-party coverage, such as medical payments and collision for added protection at an additional cost.
Commercial auto insurance typically only covers business-related driving and does not cover personal vehicles or personal use of business vehicles. However, some carriers allow you to add a personal use endorsement to a commercial auto policy.
Commercial Umbrella Insurance
Commercial umbrella insurance works much the same way personal umbrella insurance does, by providing small businesses with added liability coverage when claims exceed the limits of certain primary insurance policies, such as commercial auto or general liability. Most umbrella policies provide an extra $1 million of coverage.
Businesses with increased public exposure, as well as certain industries, should consider umbrella insurance because of their increased risk of third-party liability claims, such as a retail store with heavy foot traffic or a contractor working at a busy job site. Say a customer slips and falls at your business. When you add in their medical bills and your lawyers' fees, their bodily injury claim could exceed your general liability policy limit. Commercial umbrella insurance kicks in to cover the difference.
Cost of Third-party Liability Insurance
The cost of third-party insurance depends on many factors, including intended use—such as personal vs commercial—claim history, location, and coverage limits and deductibles. Carriers may vary cost based on how many policies you have and how long you've been a customer. Getting multiple policies or staying with an insurer for a few years can sometimes earn discounts.
Personal Third-party Liability Insurance Costs
Every carrier considers several factors when determining premiums for personal third-party insurance, such as homeowners and auto, so costs can vary widely. Insurers weigh the level of risk to determine the likelihood of you filing a claim. The more risk you present, the higher the cost of your coverage.
Here are some basic factors that may influence the cost of personal third-party insurance:
Your claim history
The age and value of your belongings
The value of your home or vehicle
The age of your home or vehicle
Your location can impact your rates
Your coverage amounts
Your insurer can help you save money – without reducing your coverage – by checking if you're eligible for discounts.
Third-party Liability Costs for Personal Insurance by Type
| Type of Insurance | Cost (annually) | | | | |
| --- | --- | --- | --- | --- | --- |
| Auto Insurance | $500 - $1,700 | | | | |
| Homeowners Insurance | $600 - $2,300 | | | | |
| Renters Insurance | $120 - $1,100 | | | | |
| Umbrella Insurance | $200 - $1,200 | | | | |
Third-party Insurance Costs for Business
Third-party liability insurance costs for businesses can also greatly vary, especially depending on the industry. In general, businesses, even small ones, tend to face higher risks for third-party claims than regular individuals because of their interaction with the public. Some industries have more customer interaction by the nature of their operations.
Here are some examples of industries with different levels of customer interaction:
Higher risks mean higher limits to offer adequate protection, resulting in higher prices for third-party insurance. Like personal third-party insurance, business owners might be able to save money on their commercial coverage by bundling together policies with the same carrier. An agent can help determine the appropriate amount of third-party liability coverage for your business.
Third-party Liability Insurance Costs for Business Insurance by Type
| Insurance Type | Cost (annually) | | | | |
| --- | --- | --- | --- | --- | --- |
| General Liability Insurance | $400 - $600 | | | | |
| Business Owner's Policy | $350 - $2,000 | | | | |
| Professional Liability Insurance | $500 - $3,500 | | | | |
| Commercial Auto Insurance | $750 - $1,200 | | | | |
| Umbrella Insurance | $500 - $1,500 | | | | |
Tips on Getting Third-party Insurance
Whether you're looking for personal or commercial third-party insurance, you should be on the lookout for many of the same things. You want to ensure your liability coverage limits are adequate, possibly give your limits a boost with umbrella insurance, and compare quotes from multiple insurance carriers to find a good deal on coverage.
1. Make Sure Your Coverage Limits Are High Enough
Third-party liability coverage only pays out up to your policy's limits, so it's essential to set the right limits. When it comes to personal auto insurance, in nearly every case, state-required minimums for liability are not sufficient to protect your assets. The same can typically be said of homeowners insurance. If an accident occurs, a standard policy's $100,000 to $300,000 in liability coverage won't cover a lot.
When it comes to commercial third-party insurance, apply the same rule of thumb. Work with an agent to ensure your policy limits are high enough to cover your liabilities if the unexpected occurs.
2. Give Your Liability Limits a Boost With Umbrella Insurance
A personal or commercial umbrella insurance policy can help provide peace of mind if a claim exceeds your basic policy limits. Purchasing umbrella insurance often costs less than increasing limits on all your policies. You might also receive a discount if you purchase umbrella insurance from the same carrier as your other policies. Keep in mind that the policy under the umbrella pays up to its individual limits first, with the umbrella adding coverage when necessary.
3. Compare Quotes from Multiple Insurance Carriers
Every insurer has its own method of determining costs, so you should compare quotes from several companies to find coverage at an affordable rate. When comparing offers, remember the premium isn't the only deciding factor. A less-expensive policy isn't a bargain if it leaves you or your business underinsured.
Third-party Insurance Frequently Asked Questions (FAQs)
Third-party insurance is more common than you might realize, but the type of policies and liabilities covered can be confusing. Here are a few of the most commonly asked questions:
Do I need third-party insurance?
Insurance needs vary among individuals, but you probably need some type of third-party insurance. It's likely you already have third-party insurance. Third-party liability coverage is found in common policies, such as homeowners insurance, auto insurance, and business insurance. The amount you need depends on your personal circumstances.
How do I know if I have enough third-party liability coverage?
The amount of third-party liability coverage you need depends on different factors, including the value of your assets and your savings. Typically, accidents and lawsuits exceed minimum policy limits, forcing you to pay out of pocket. The more you own or the higher risk you face, the more third-party insurance you should have.
How can I save money on third-party liability insurance?
Ask your insurer for discounts that may be available, such as bundling a homeowners policy with your auto insurance. Additionally, you might lower your premiums by making your payments on time, maintaining a clean claim history, and lowering your risk exposure, such as a security system for your home or vehicle.
Bottom Line
Third-party insurance covers a person or business against a claim from a third party—typically bodily injury or property damage. Whether you invite friends to your home, work with customers at your business, or drive your car through town, accidents occur. If you're found at fault, third-party insurance can help you cover the claim.