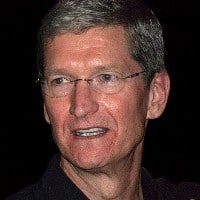 Tim Cook is the CEO of Apple, Inc., the world's largest company. He previously served as Apple's chief operating officer under company co-founder Steve Jobs, who died in 2011. Tim Cook quotes are a good source of motivation for those who want to start or grow a business.
Here are the 20 Tim Cook quotes on success, business, and technology:
Tim Cook Quotes on Success
1. "There are times in all of our lives when a reliance on gut or intuition just seems more appropriate—when a particular course of action just feels right. And interestingly, I've discovered it's in facing life's most important decisions that intuition seems the most indispensable to getting it right."
– Commencement address, Auburn University
2. "If you want to take credit, first learn to take responsibility."
– Commencement address, Stanford University
3. "Life will always find lots of ways to tell you no, that you can't, that you shouldn't, that you'd be better off if you didn't try. But there is nothing more beautiful or more worthwhile than trying. Especially when we do it not in the service of one's self, but one's own."
– Commencement address, Tulane University
4. "Great progress is possible, whatever line of work you choose. There will always be cynics and critics on the sidelines, tearing people down. And just as harmful are those people with good intentions who make no contribution at all."
– Commencement address, George Washington University
5. "Part of social progress is understanding that a person is not defined only by one's sexuality, race, or gender."
– Essay published in Bloomberg
6. "Our view is that education is the great equalizer of people. And if you look at many of the issues that we face in society today, that you can find their root in that people don't have access to quality education. Maybe they don't have access at all. And that the country should be investing more in that."
– Conversation with journalist Kara Swisher
7. "It's about finding your values, and committing to them. It's about finding your North Star. It's about making choices. Some are easy. Some are hard. And some will make you question everything."
– Commencement address, George Washington University
Tim Cook Business Quotes
8. "The best thing you can ever do in business is to find the win-win. You know, whoever you're working with. If you're trading between countries, you find a way for both to win. If you're working with a partner in business, find a way for both to win."
– Conversation with journalist Chris Hayes
9. "Those are the most important things for us: innovation, customer satisfaction, and the overall size and loyalty of our customers."
– Conversation with author and television host Jim Cramer
10. "I'm a deep believer in the power of the United States. One of the great things—many great things about our country, but one of those is that we are accepting people from everywhere and they all come together and they have the opportunity to, you know, build their business or do whatever they want, and we give them the freedom to do that. And that's always been a power."
– Conversation with journalist Christiane Amanpour
11. "We care about every worker in our worldwide supply chain. Any accident is deeply troubling, and any issue with working conditions is cause for concern. What we will not do—and never have done—is stand still or turn a blind eye to problems in our supply chain. On this you have my word."
– Tim Cook email to Apple employees
12. "Most importantly, we always want to maintain the cash we need to run our business, maintain strategic flexibility, and invest in our future."
– Apple quarterly call with analysts
13. "There's this thing in technology, almost a disease, where the definition of success is making the most. How many clicks did you get, how many active users do you have, how many units did you sell? Everybody in technology seems to want big numbers. Steve never got carried away with that. He focused on making the best."
– Conversation with Fast Company
Tim Cook Quotes on Technology
14. "Technology is capable of doing great things. But it doesn't want to do great things. It doesn't want anything. That part takes all of us."
– Speech at a conference of European privacy commissioners
15. "I'm not worried about artificial intelligence giving computers the ability to think like humans. I'm more concerned about people thinking like computers, without values or compassion, without concern for consequences. That is what we need you to help us guard against."
– Commencement address, MIT
16. "We reject the excuse that getting the most out of technology means trading away your right to privacy. So we choose a different path: Collecting as little of your data as possible. Being thoughtful and respectful when it's in our care. Because we know it belongs to you. In every way, at every turn, the question we ask ourselves is not 'what can we do' but 'what should we do'."
– Commencement address, Duke University
17. "We put the customer at the center of everything that we do. With products and technologies that are designed in the service of humanity. Innovations that enrich people's lives to help them learn, create, work, play, share, and stay healthy. Through the deep integration of hardware, software, and services, these products empower people to do incredible things every day."
– Apple September 2019 event
18. "We made the phone not so that you'll use it all the time. We made the phone to make your life better. And everybody has to decide for his or herself what that means."
– Conversation with journalist Norah O'Donnell
19. "We've never been about maximizing usage of our devices. It's never been a focus of ours. What we've always tried to do is infuse humanity into our products, and give you something that amplifies something you want to do, or enables you to create something that you couldn't create otherwise. And it—sort of, to make your difference in the world. And so that's where we've always been about."
– Conversation with journalist Steve Inskeep
20. "That has always been the objective of Apple. To do things that really enrich people's lives. That you look back on and you wonder how did I live without this."
– Conversation with author and television host Jim Cramer
Bottom Line
Tim Cook joined Apple in 1998. Apple, Cook says, was "a once-in-a-lifetime opportunity to work for the creative genius (Steve Jobs), and to be on the executive team that could resurrect a great American company." His successful career is an inspiration to many. Use these Tim Cook business quotes and his advice on success and technology to stay motivated.