When completing a project for a client, smart time management can mean the difference between a high payout or a flop. Whether you work as a freelancer or a small team, keeping a close eye on your billable hours improves efficiency, and allows you to optimize your billing structure for more profitable deals. This is why it's important to know how time tracking for freelancers works.
In this guide, we are going to discuss the key aspects of time tracking for freelancers; from setting your rate to using software like FreshBooks to track hours automatically. FreshBooks, who is the sponsor of this article, is one of the best-regarded time tracking and invoicing solutions in the SMB space. You can try out their award-winning software free for 30 days or get 60% off any subscription for 6 months through 4/30/2021.
Why Everyone Needs to Track Time
Whether you charge clients by the hour or a flat rate, it's important for you to keep track of both your time and your employees'/contractors' time. We have listed a few of the benefits below:
It will help you to identify which clients/projects are profitable vs. those that are draining company resources.
You will gain insight into both your productivity as well as employee/contractor performance, if applicable.
By tracking your time throughout a project, you can be confident that you have billed your clients for all of the hours that you and your team have spent working on the project.
How to Determine Your Rate
Trying to determine what to charge clients can be one of the most difficult areas to master as a freelancer. It can mean the difference between receiving a "yes" or a "no" from a potential new client.
While it's important to do your research to see what other people who do the same type of work charge in your geographical location; you still may find a broad range of rates like I did when I was providing bookkeeping/payroll services. For example, a CPA might charge between $80-$150/hr for the same work a bookkeeper might do for as little as $25/hr.
To give you an idea of how much hourly rates vary, we have included a table below that compares the hourly rate worldwide to the rate in the U.S. for a few of the common professions that have freelancers.
Average Freelancer Rates
| | Average Hourly Rate (Worldwide)* | Average Hourly Rate (US)** |
| --- | --- | --- |
| Content Writing | $17 | $22 |
| Web Design | $23 | $25 |
| Accounting | $21 | $36 |
| Legal Consulting | $33 | $38 |
*From Payoneer Freelancer Income Survey 2015
**From Indeed Salaries, 2017
Once you do nail down a rate that you can "live with"; the next question is whether you should bill a flat amount that resembles an all-inclusive package or bill by the hour?
How To Bill Clients: Flat Amount Versus Hourly Rate
The difference between flat amount billing and billing by the hour boils down to the following two questions:
Does the project have a clear end, like a website that's completed, or is it an ongoing relationship?
Who should bear the cost of the project if it takes longer than expected, or the benefit if completed sooner?
Let's take a look at the case for hourly billing and then we will look at the case for charging a flat amount:
The Case for Hourly Billing
Hourly billing usually makes sense when there's an ongoing relationship with the client, such as an IT firm that provides ongoing tech support. When the number of hours is unpredictable, hourly billing is typically a safer bet.
Here are some of the other scenarios to consider hourly billing:
Experience: If you've been in business for more than a year, then you probably have a pretty good idea of how long it will take you to complete a project and how much you should charge to make a profit. On the other hand, if you just got your first client, then you don't have this advantage and may want to go with the all-inclusive flat rate approach.
Unanticipated Delays or Issues: If you run into an issue which results in the project taking more time than originally estimated, you will get paid for all of the hours worked. If you had given your client a flat rate, you would have to "eat" any additional hours that were not included in the original estimate.
Detailed billing: Unlike billing for a flat rate, you can provide very detailed invoices to your clients when billing hourly, which mitigates any potential disputes. I recommend including a line-by-line description of each task along with the total hours and the hourly rate. This is where it helps to have an invoicing program like FreshBooks, which can easily log and categorize tasks, and produce a well-formatted invoice.
Below is a sample invoice created in FreshBooks of what a detailed invoice should look like: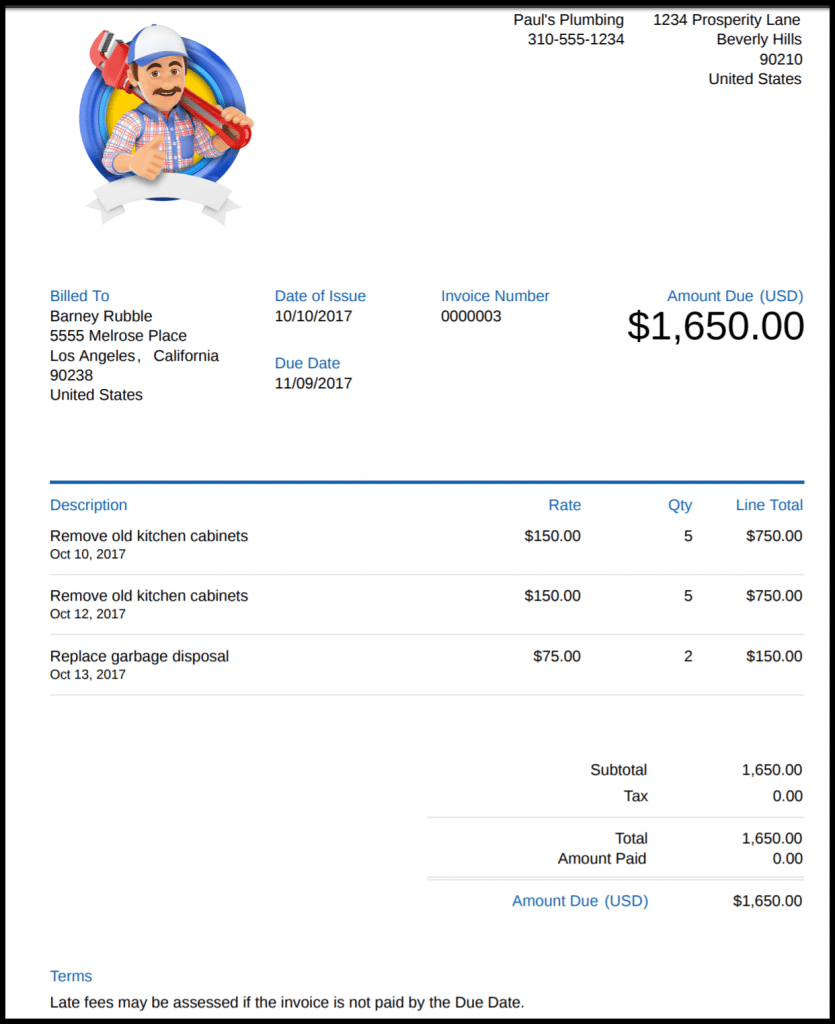 Ok, now let's discuss the case for billing clients with a flat rate:
The Case for Flat Rate Billing
Flat rate billing is what most clients want. It's simple, predictable, and easy to budget for. Clients can give you a faster "yay" or "nay" with a single price in front of them. It also benefits you because it switches your focus from an hourly rate to the value that you bring to the table and the impact it will have on your client's business. This is just one of many tips I learned in Breaking the Time Barrier by Mike McDerment & Donald Cowper; it makes a great case for value-based pricing.
As a service provider, you have the potential to earn more or less under flat rate billing. It all depends on your ability to stay on time and on budget.
Efficiency will pay off: If you finish a project early, the time that you save equals profit. For example, if your original estimated hours for a project was 40 hours and you complete it in 35, you still get paid the flat fee. If you had billed an hourly fee you would only get paid for the actual hours worked, which is 35 in this example.
No surprises: Under flat rate billing, your client knows exactly what their total out of pocket cost will be. This billing structure works great for brand new clients because they are put at ease knowing there will be no surprises when they get the bill. On the flip side, if the project ends up taking longer than you originally expected, you will not get paid for any additional hours that you have to work as a result.
Easier to Track: You're probably thinking, why would I track my time if I have already agreed to a flat rate for a project? It's important to track your time for ALL projects for a couple of reasons:
To ensure the project is on track to meet the agreed-upon deadline that you made with the client.
Tracking the amount of time each task takes will help you to estimate the cost of future projects.
Simpler Billing: Unlike hourly rate billing, you can create a very simple invoice that bills your customer for a portion or the entire amount of the project at once. Tip: I recommend that you ALWAYS require a deposit of at least ⅓ of the total amount upfront before you begin any work.
Take it from someone who had to learn the hard way: You don't want to find yourself in a situation where you have multiple projects going on and no cash flow coming in until you complete the projects. It is very hard to stay motivated to complete the work and it makes it difficult to pay your bills.
Billable Versus Non-Billable Hours: What's the Difference?
If you don't establish some basic rules when time tracking for freelancers, trying to distinguish whether or not something is billable or nonbillable can be tricky. In general, tasks directly related to the project are considered billable hours— such as, for a web designer, the hours actually spent designing and coding the website.
On the other hand the following administrative tasks are considered to be non-billable hours. This can include:
Time spent sending follow-up emails to clients.
Receiving an unexpected call from clients.
Time spent creating invoices to bill clients.
Filing/paperwork.
Remember, there is no hard and fast rule of what you can and cannot bill your clients for. However, it's important to decide what tasks you are going to bill for, and then communicate this to your clients both verbally and in writing so that there is no misunderstanding later on.
When faced with a task that you can't decide whether you should bill a client or not, asking yourself these questions may help to steer you in the right direction:
Did you put it in writing that you were going to charge for the task?
Did your client ask you to do this task or did you decide to do it?
Are you doing this task because you made a mistake?
Does the task help you to complete the project?
Who benefits more: you or your client?
You've Gone Over Budget, Now What?
In general, this situation should only apply if you are using the hourly rate billing. As we have discussed for flat rate billing, any hours that exceed the original estimate you will have to "eat". I would say the only time where this may not be the case is if the reason for the project going over budget is due to an error or a delay on the client's end to provide you with the info that you need to get the work done. Tip: Be sure that this disclaimer is stated in writing in your initial client proposal.
If you have exceeded the estimated hours that you provided your client with then you must inform the client ASAP. I would simply send an email to request a meeting with the client. I would not include what the issue is in an email. You want the opportunity to convey the reason for the additional hours and sometimes with an email things can get "lost in translation". Be sure that you are prepared to outline in detail the work that was done with the additional hours.
To avoid this kind of situation, we recommend that you use a time tracking & billing system like FreshBooks. With FreshBooks, you can run a time entry details report as often as you like to stay on top of your billed and unbilled hours for each client. We will show you how to run this report in the Time Tracking Reports in Freshbooks section below.
Common Methods for Tracking Time
Many small businesses track their time using a time tracking software like FreshBooks or a spreadsheet program like Microsoft Excel.
Tracking Time in Excel


If you don't want to invest in a time tracking software and you are a solopreneur then Microsoft Excel is a budget-friendly solution.
To use Microsoft Excel time tracking template, simply open Excel and click on "New Document". This will bring up an online database where you can choose from several hundred templates.
Here are some of the pros and cons of using Excel to keep track of time:
Pros
Access to more than 200 templates in the Microsoft library so that you don't have to create one from scratch.
You can customize the template to include your company logo and as many rows and columns as needed to capture the information that you want to track.
Cons
If you have employees and contractors who need to track their time then you may have quite a few spreadsheets that you will need to collect and consolidate into one.
Setting up a spreadsheet is a manual process that will require quite a bit of time to set up.
You must have a good understanding of how to create formulas in Excel.
Tracking Time using Time Tracking Software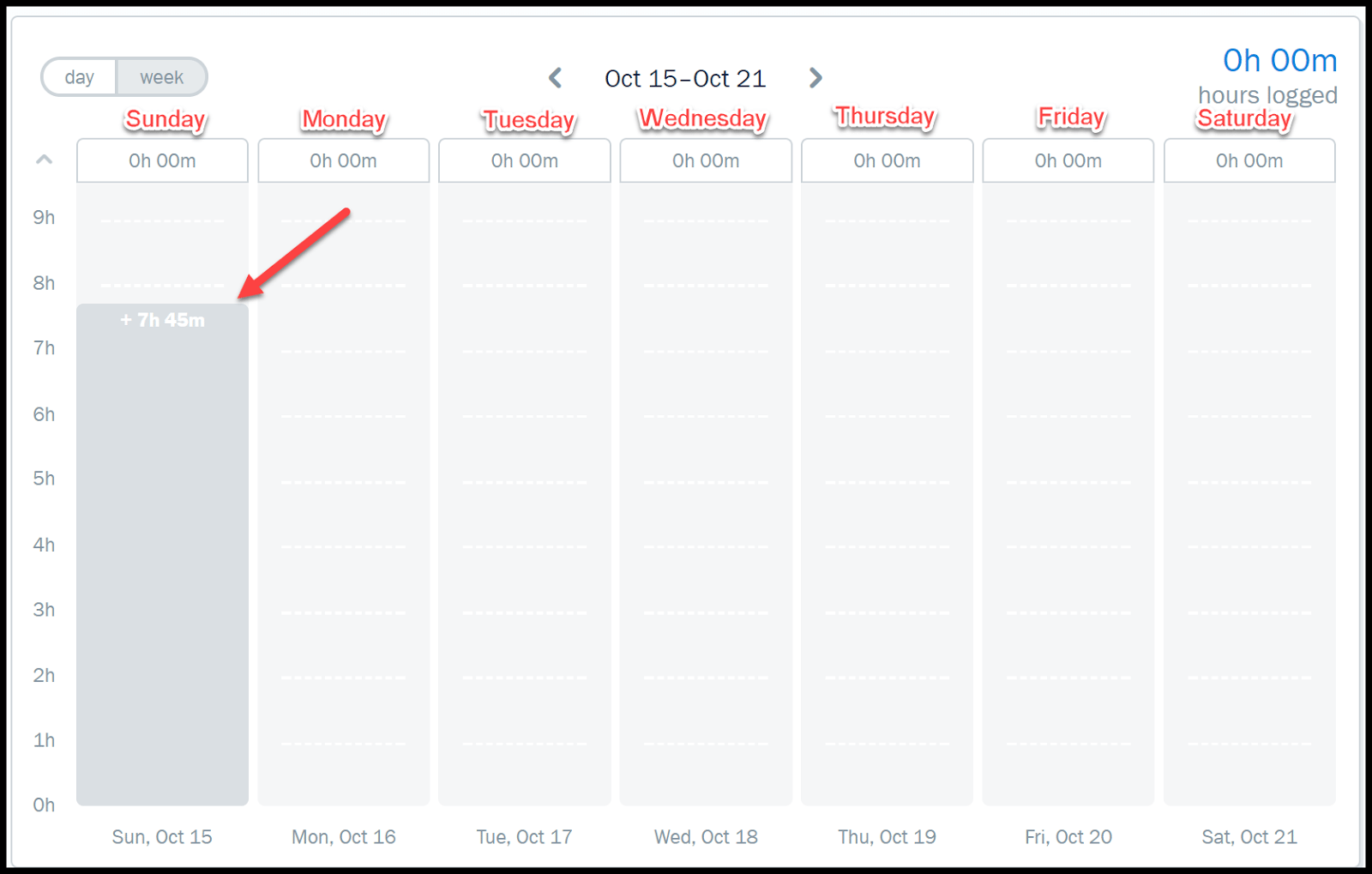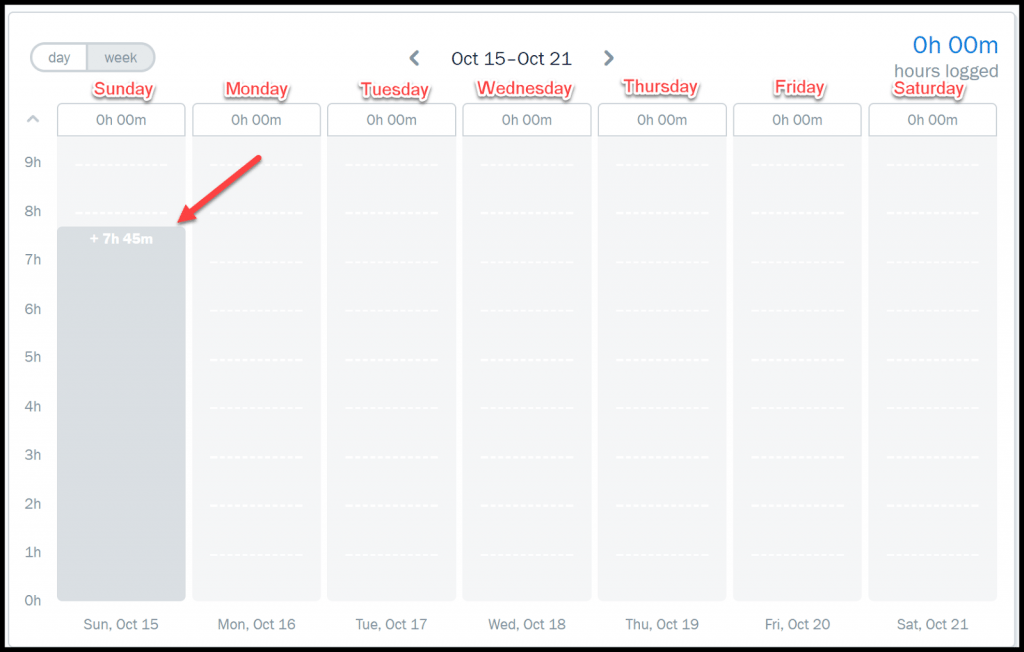 Once your business starts to grow and your team of one becomes a team of many, it's time to ditch those Excel spreadsheets and upgrade to a time tracking software like FreshBooks. For one, the setup time is much faster and there is no double work. Everyone can log their own time in the system and you can review everyone's time by just running a report in just a few short minutes!
Here are some of the pros and cons to using FreshBooks to keep track of time:
Pros
With FreshBooks, your team will have anytime, anywhere access. Whether you have employees in-house or contractors all over the globe, you can provide each person with their own login credentials so that they can log their time using any computer or mobile device with an internet connection.
By running reports and reviewing them often, you will be able to catch errors sooner with FreshBooks.
There are no complicated formulas to worry about. Time tracking software like FreshBooks will do all of the calculations for you! All you have to do is start/stop the timer or log your time manually.
You can automatically transfer time to an invoice and bill your customer right away.
Cons
Similar to most time tracking software, you will have to pay a monthly fee to use FreshBooks. However, unlike Excel, you can do a LOT more with FreshBooks than just track time. You can manage all of your income and expenses in FreshBooks.
Like most new software, you will need to learn how to use FreshBooks. The good news is the learning curve is not steep. As part of the research for this article, I set up a FreshBooks account and I was able to figure out how to track time with just the help of a couple of support articles!
Now that we've made our case for using a time tracking software over Excel, we would like to show you just how easy it is to use! FreshBooks is our recommended time tracking software. If you don't have a FreshBooks account, sign up for a free 30-day trial to get started.
How to Track & Bill for your time with FreshBooks
Once you are signed up and logged into your FreshBooks account, follow the steps below to track & bill your time using FreshBooks.
There are two ways you can record your time in FreshBooks. You can use the timer to record time while you are working on a client/project; or you can choose to enter your time manually. We will cover how to use the timer first and then we'll show you how to record your time manually.
How to use the Timer in FreshBooks
Follow the steps below to record time using the timer in FreshBooks.
Step 1 – Navigate to Time Tracking
Click on the Time Tracking which is located on the left menu bar as indicated in the screenshot below.

Step 2 – Start the Timer
In the upper right-hand corner, you will see a "Start Timer" button. Click that button when you are ready to start tracking your time for a project/client.

You should see a timer like the one below pop up on your screen.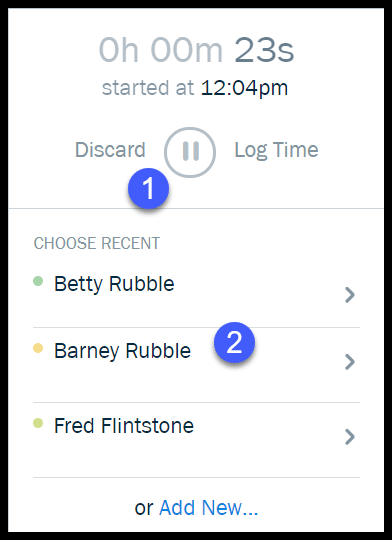 Pause/Start Time: You can start/stop the timer as many times as you like. If you decide not to log the time, just click the "discard" button.
Select a client: Select a client before you start the time, while the timer is running or after you stop the timer; it's up to you!
From this point on, all remaining steps are the same as if you were manually recording your time. Head over to step 4: enter details for each time entry.
How to Manually record your time in FreshBooks
If you forget to set the timer before you start working or you spend a lot of your time on the road and not in the office, you can enter your time manually into FreshBooks.
Follow the steps below to manually enter your time in FreshBooks.
Step 1 – Navigate to Time Tracking
Click on the Time Tracking which is located on the left menu bar as indicated in the screenshot below.

Step 2 – Select Timeline
You can enter time using a daily view or a weekly view. Make your selection by clicking on either the "day" or "week" option as indicated in the screenshot below.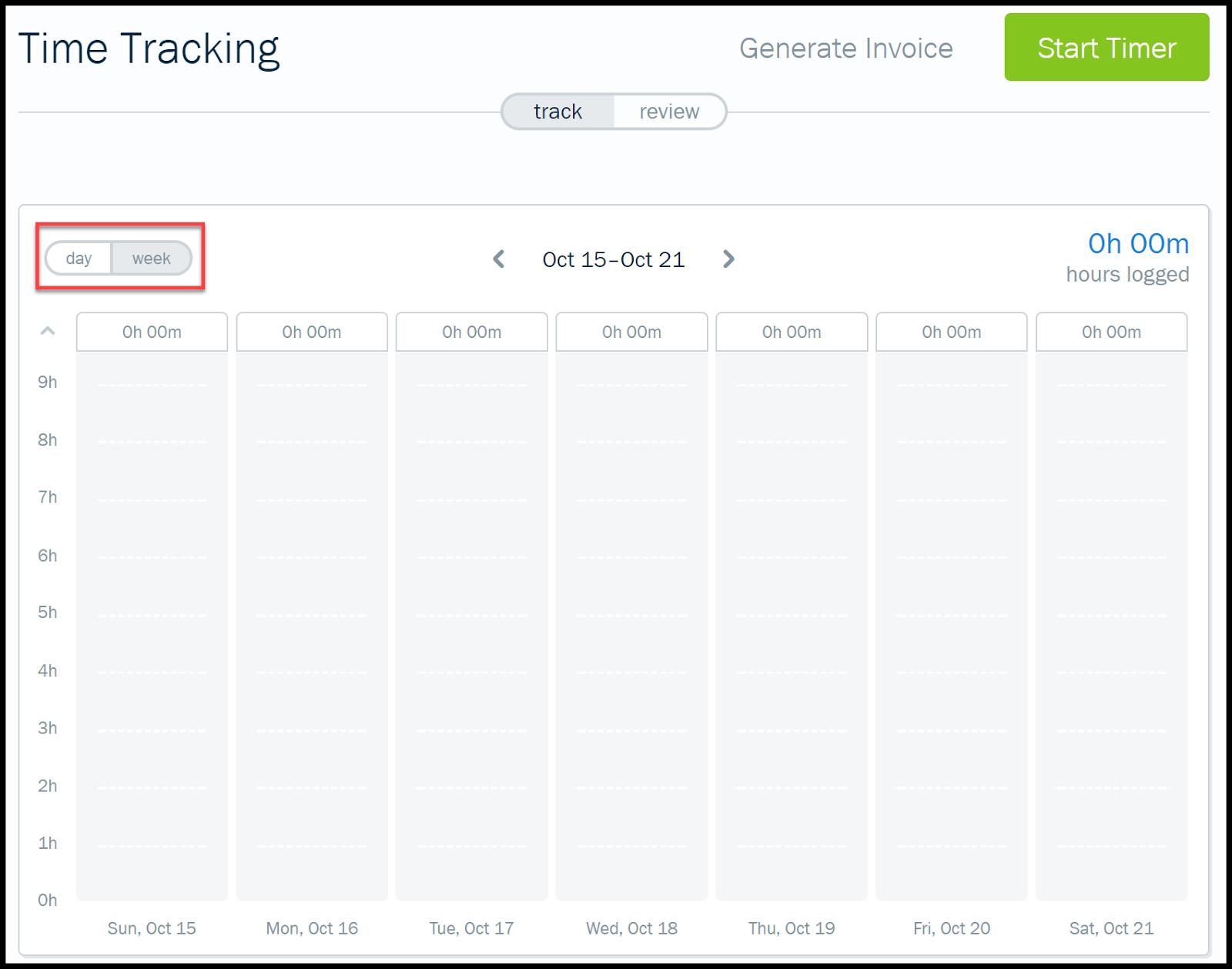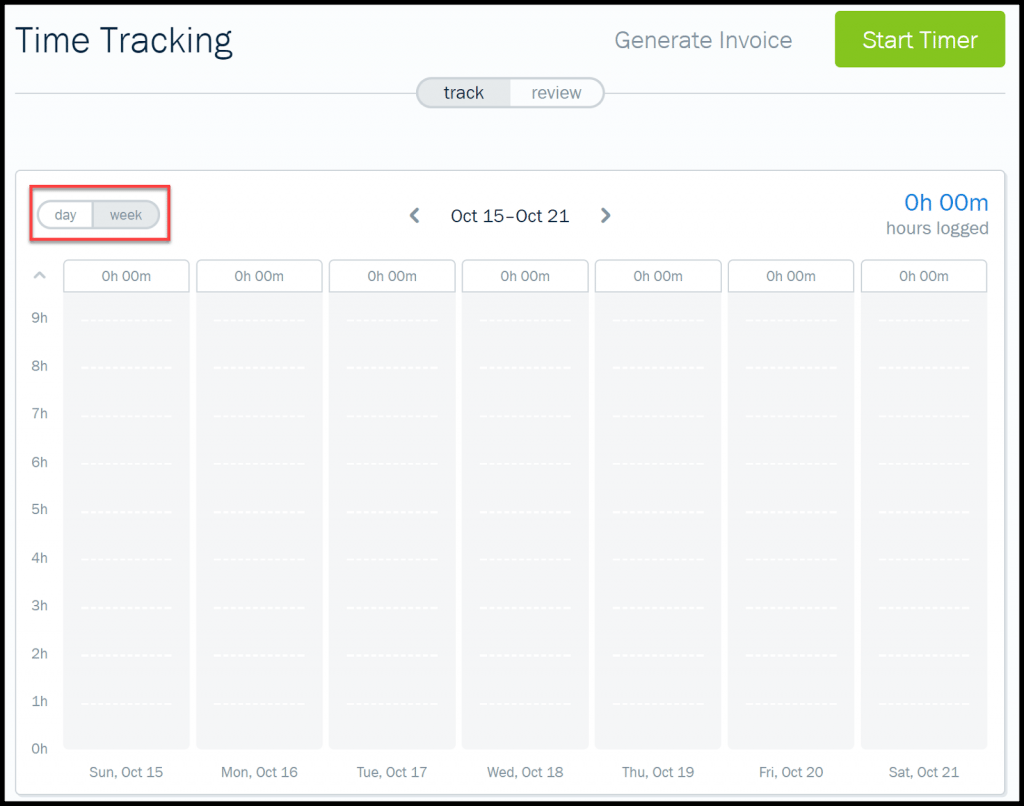 Step 3 – Log your Time.
Begin logging your time by clicking on the total number of hours worked for each day that you have hours worked. Note: In our example, we have chosen the week view which begins with Sunday as the first day of the week. If you selected the day view in step 2, you will only see one day at a time.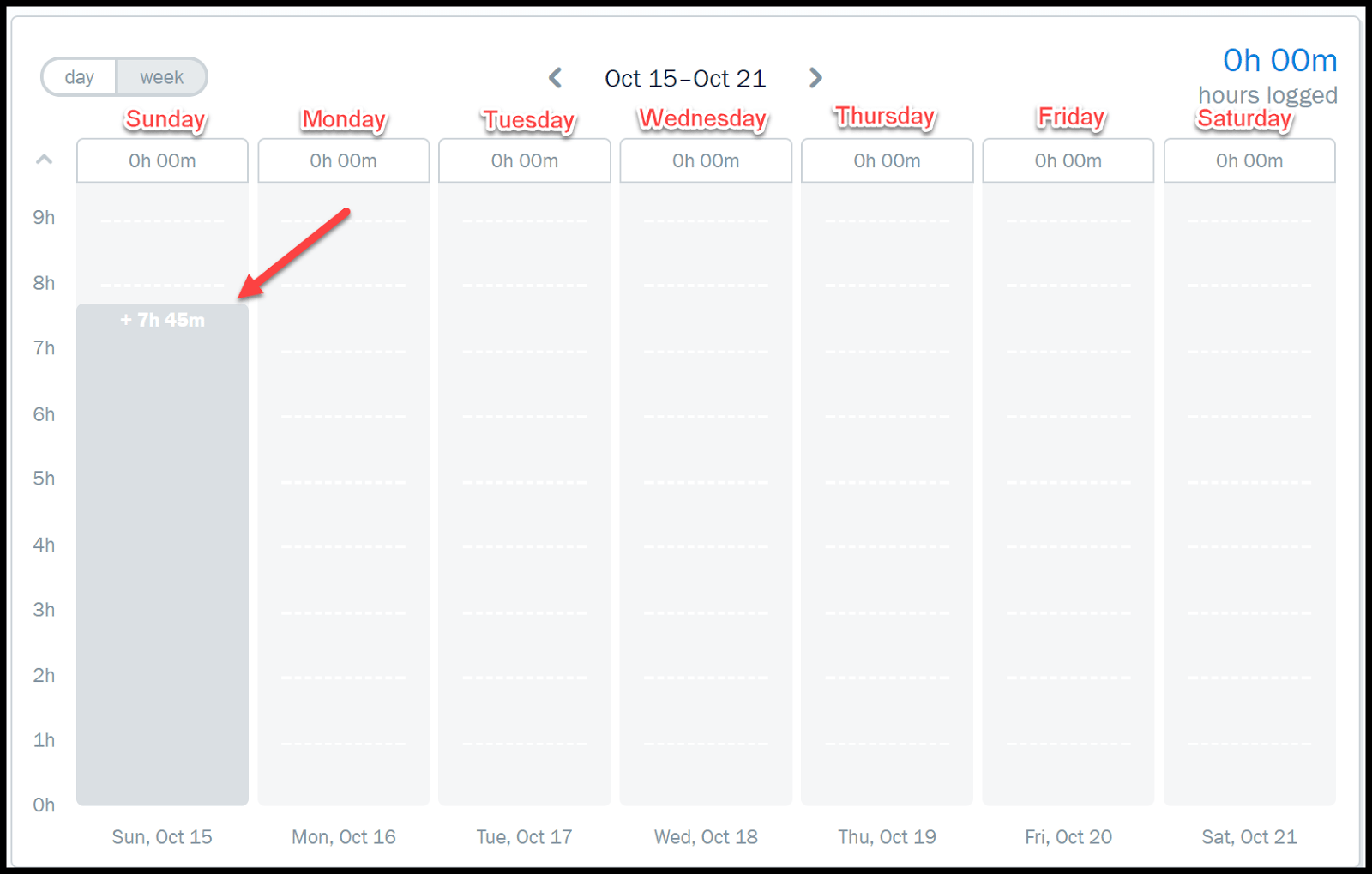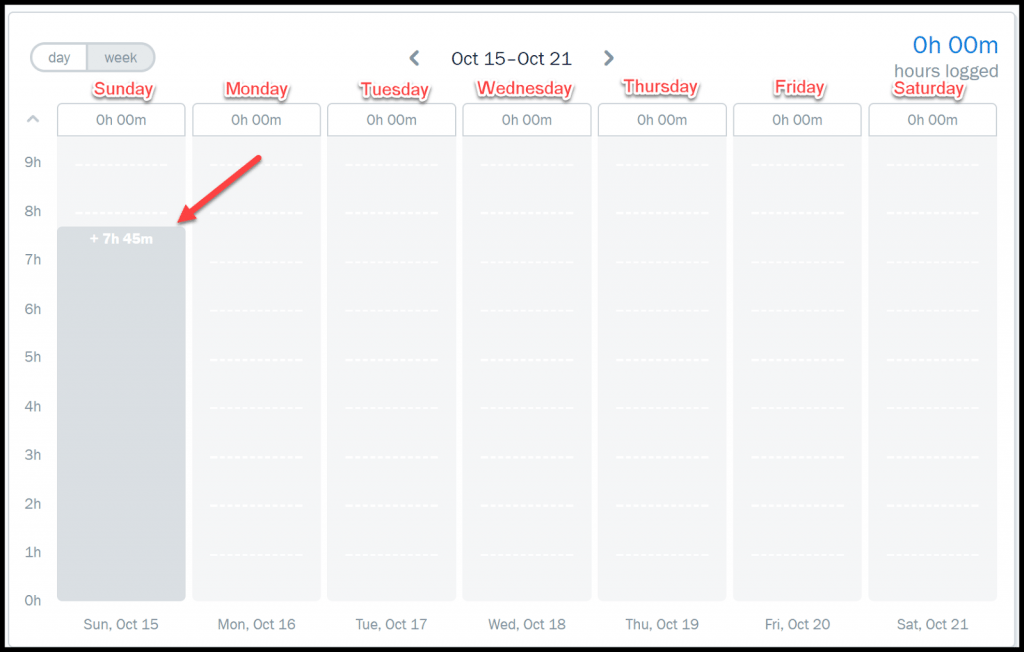 Step 4 – Enter Details for each New Time Entry.
When you log your time, the following box will display so that you can provide additional details. Below is a brief explanation of what info you should include.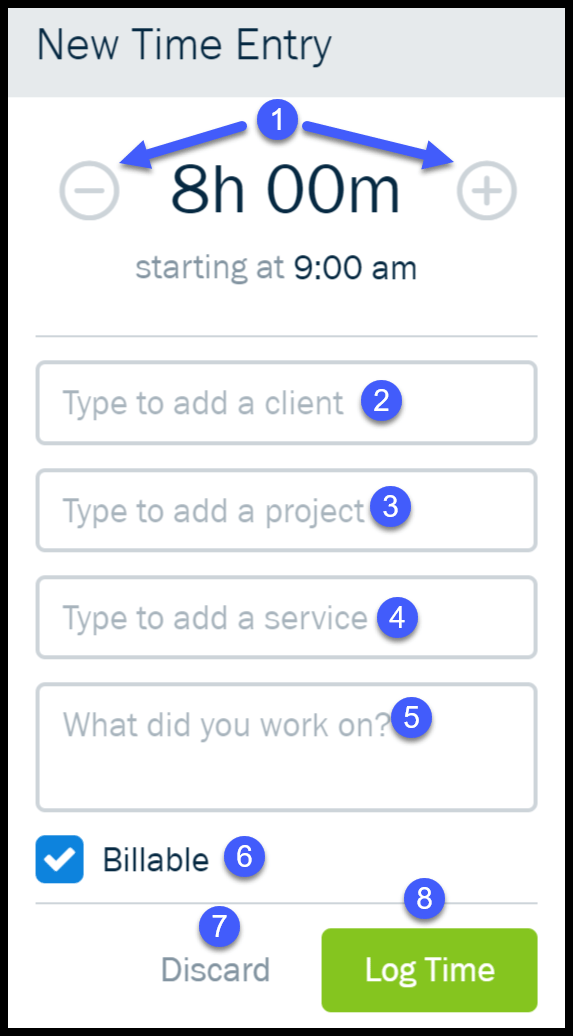 Hours: You can increase or reduce the amount of time worked by clicking the plus (+) or the minus(-) sign as indicated in the above screenshot. Note: The time increase/decreases in 15-minute increments.
Add a client: If you previously set clients up, they will appear as an option once you start typing their name; if you have not set clients up, you can do so by entering the name in this field.
Add a project: If the time you are logging is associated with a project, you can select the project by clicking in this field; similar to clients, if you have not set up a project yet, you can do so by typing it in this field. Note: This is an optional field so if you do not use projects, just leave it blank.
Add a service: Enter the type of service that was performed for the time logged. If you have previously entered services, they will appear as you begin typing in this field; if you have not previously set up a service, you can do so in this field.
What did you work on: Use this field to enter a description of what you worked on during this time. For example, "Bookkeeping services for the month of October 2017".
Billable: If you plan to bill this time back to a client, leave this box checked. However, if you do not plan to bill this time back to your client because it is non-billable time, be sure to remove this checkmark.
Discard: If you have decided not to log this time, you can simply click this button to discard the info and it will not be saved.
Log Time: Once you have completed all of the fields, be sure to click the "Log Time" button to save your work.
Step 5 – Review the Time Logged
Once you have entered all of the hours worked, you should see the total number of hours logged in the upper right hand part of the screen as indicated below.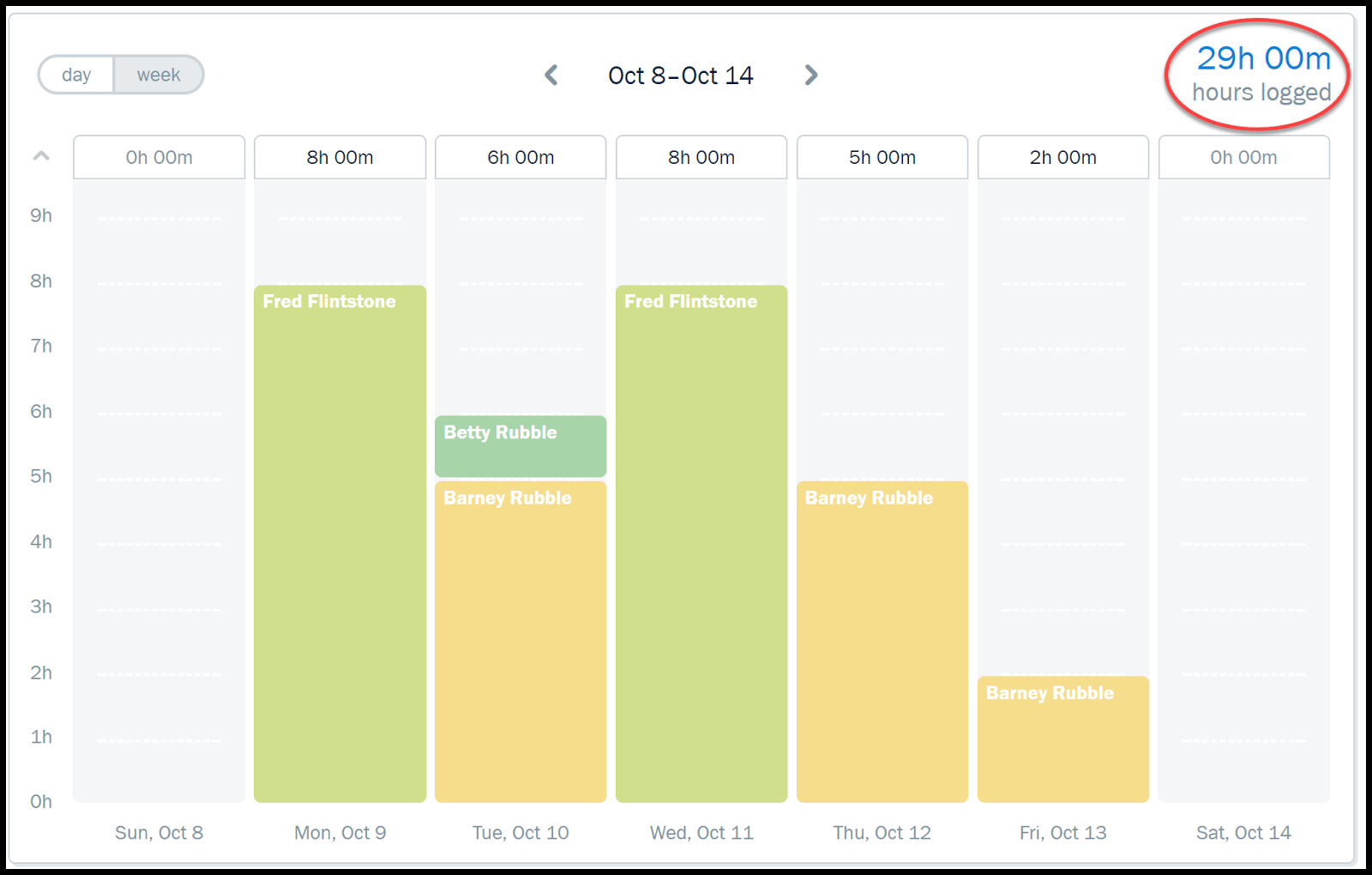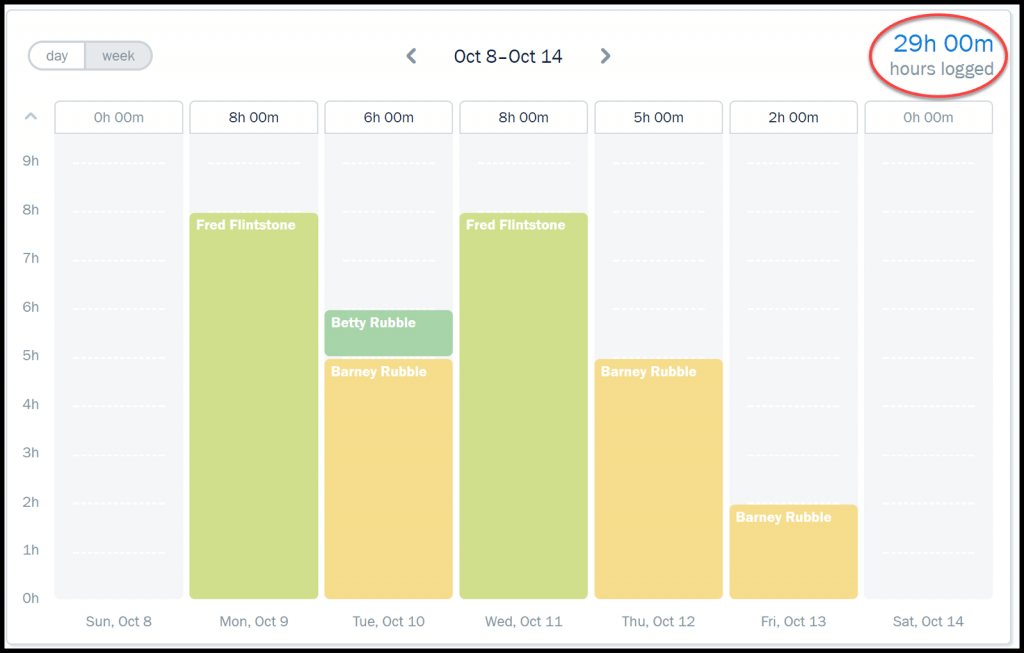 Step 6 – Review All Time Entries
You can review all of the time that has been entered by clicking on the "review" option. A snapshot along with a brief explanation of the info you will find here is below.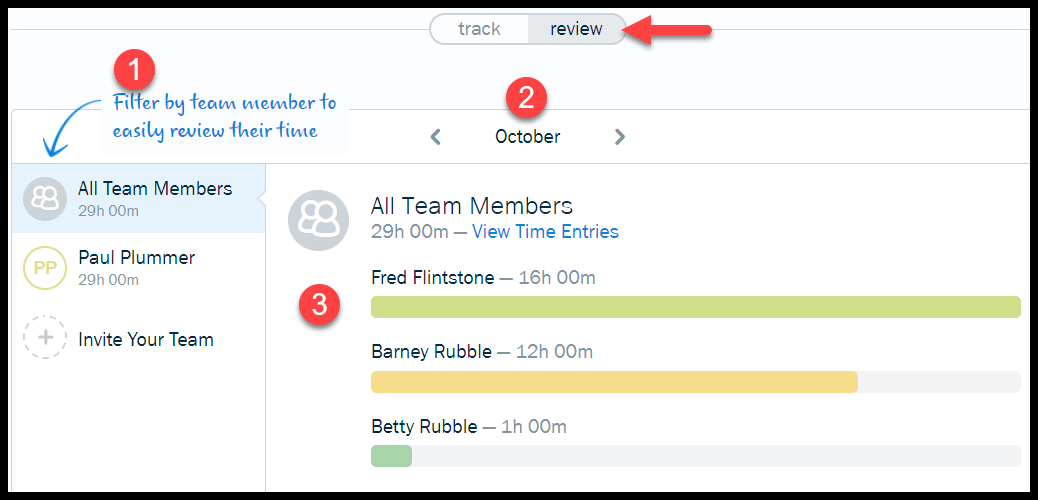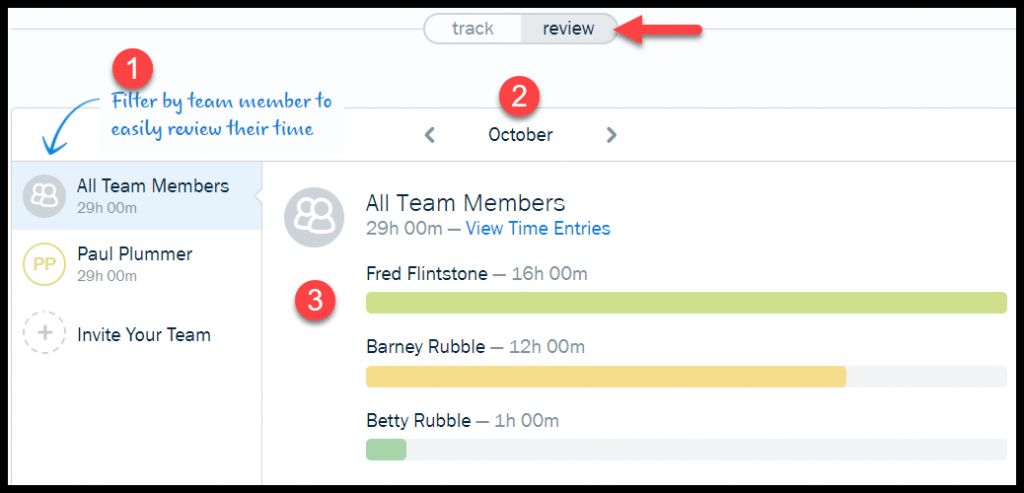 Filter time by team member: If you have a team of people that work for you, their names will be listed in this column. You can click on an individual's name to see just their time or you can look at the entire team's hours by clicking on "All Team Members" as indicated in the above screenshot. Note: Paul is a solopreneur so he is the only person listed in our example. In the next step, we will show you how to invite team members.
Timeframe: Select the month that you would like to review time for.
Client details: Based on your selections for items #1 and #2, the client name and total hours logged will appear here. Just click on the client's name to review the detailed hours logged.
Step 7 – Invite Your Team
Make sure that you are on the Review time screen that we just discussed in the previous step. Click on the "Invite Your Team" option as indicated in the screenshot below.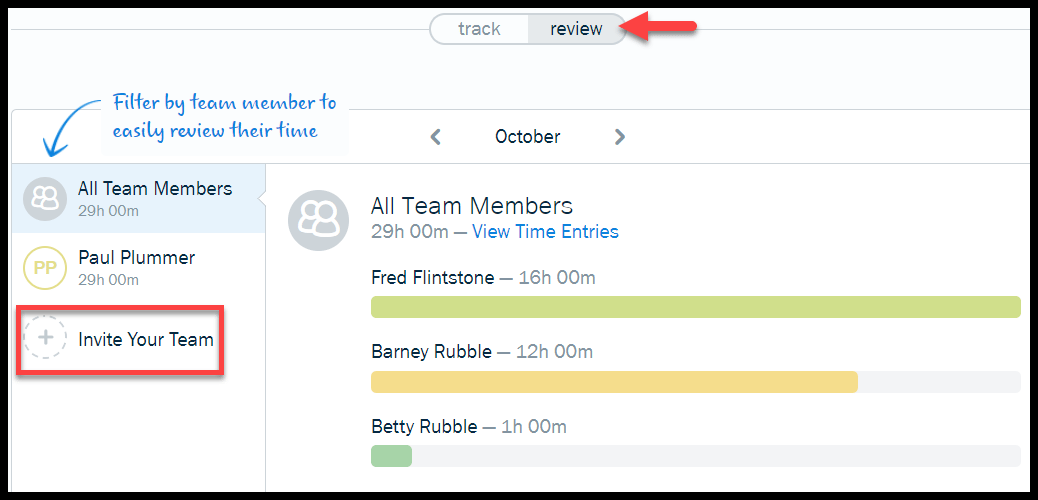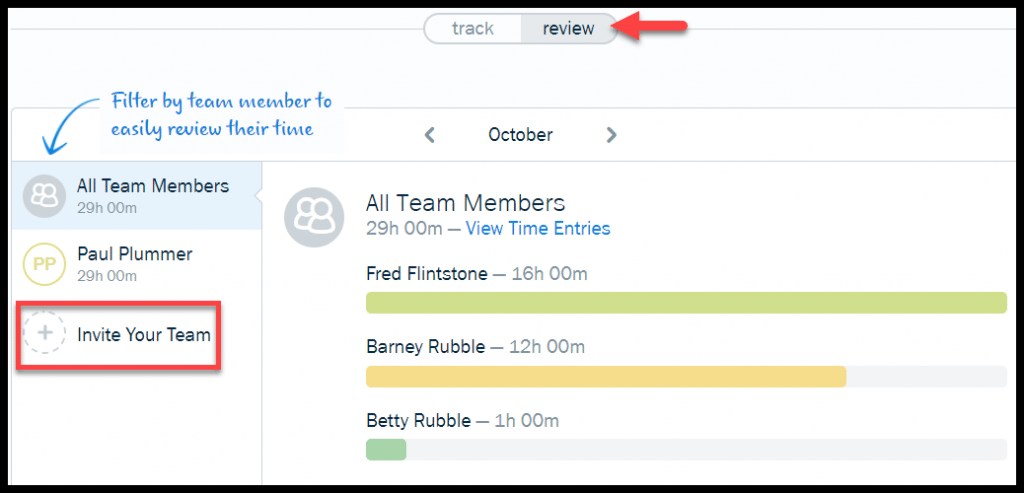 The following screen will display. Depending on whether you are setting up an employee or a contractor click on the appropriate link as indicated below.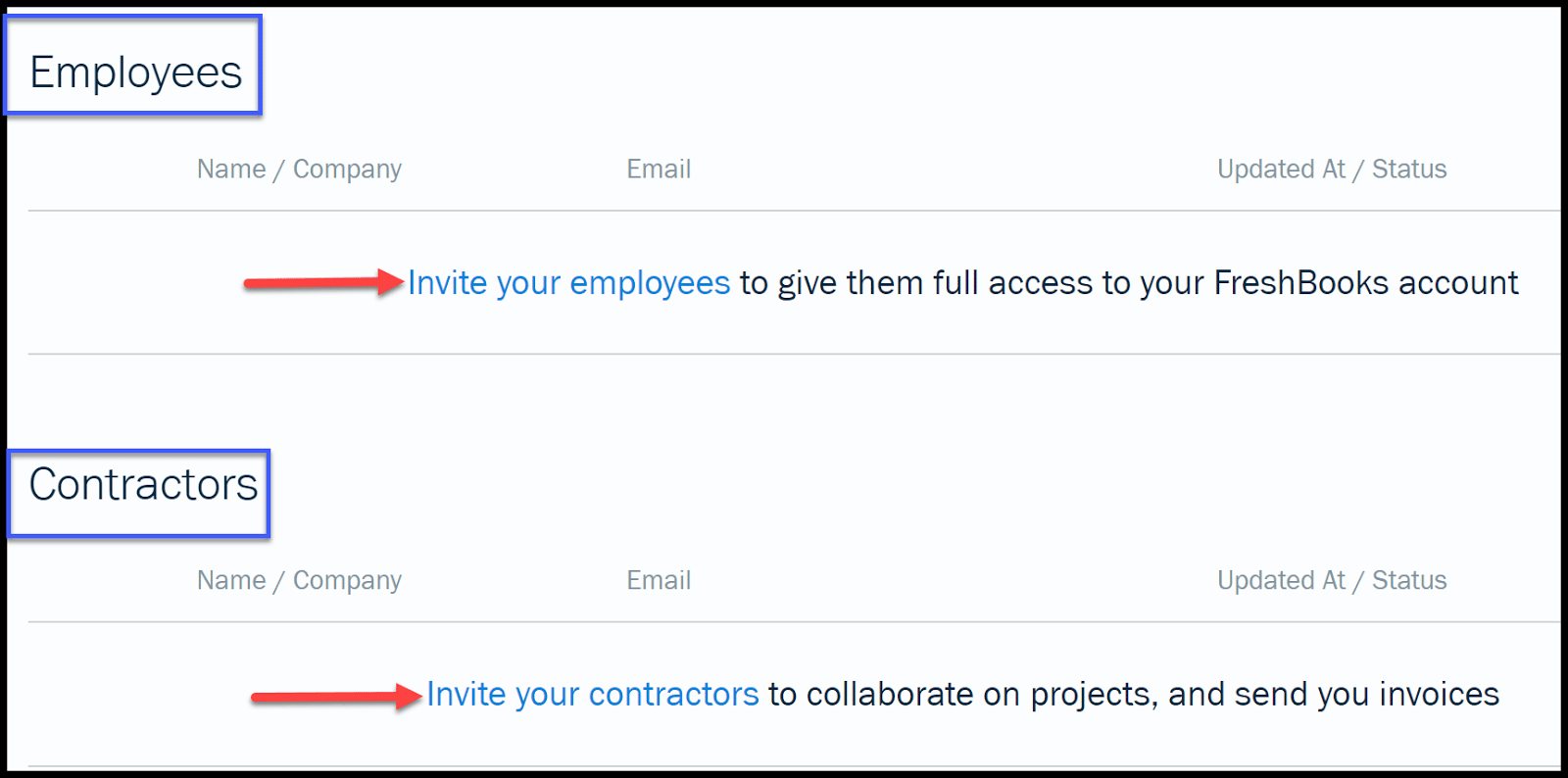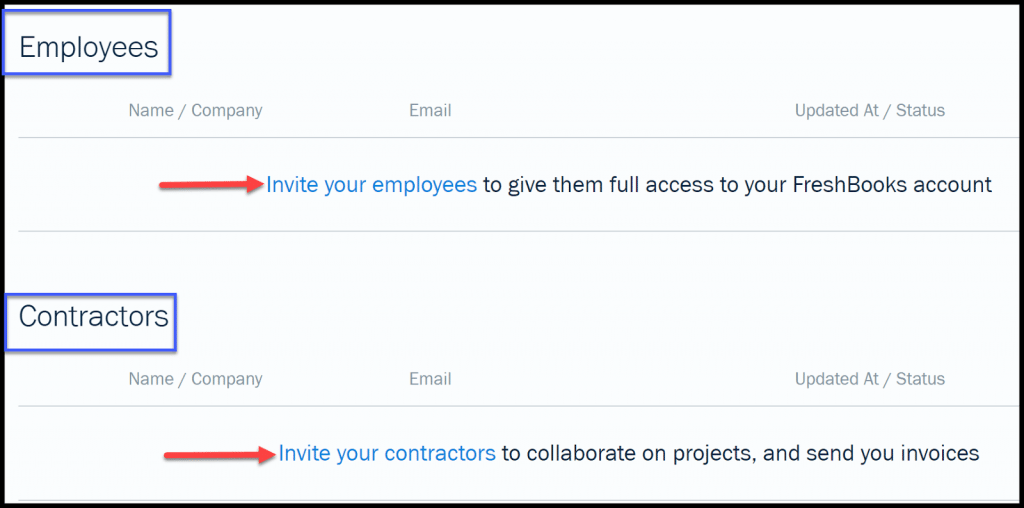 The following screen will display. Provide the info required as follows.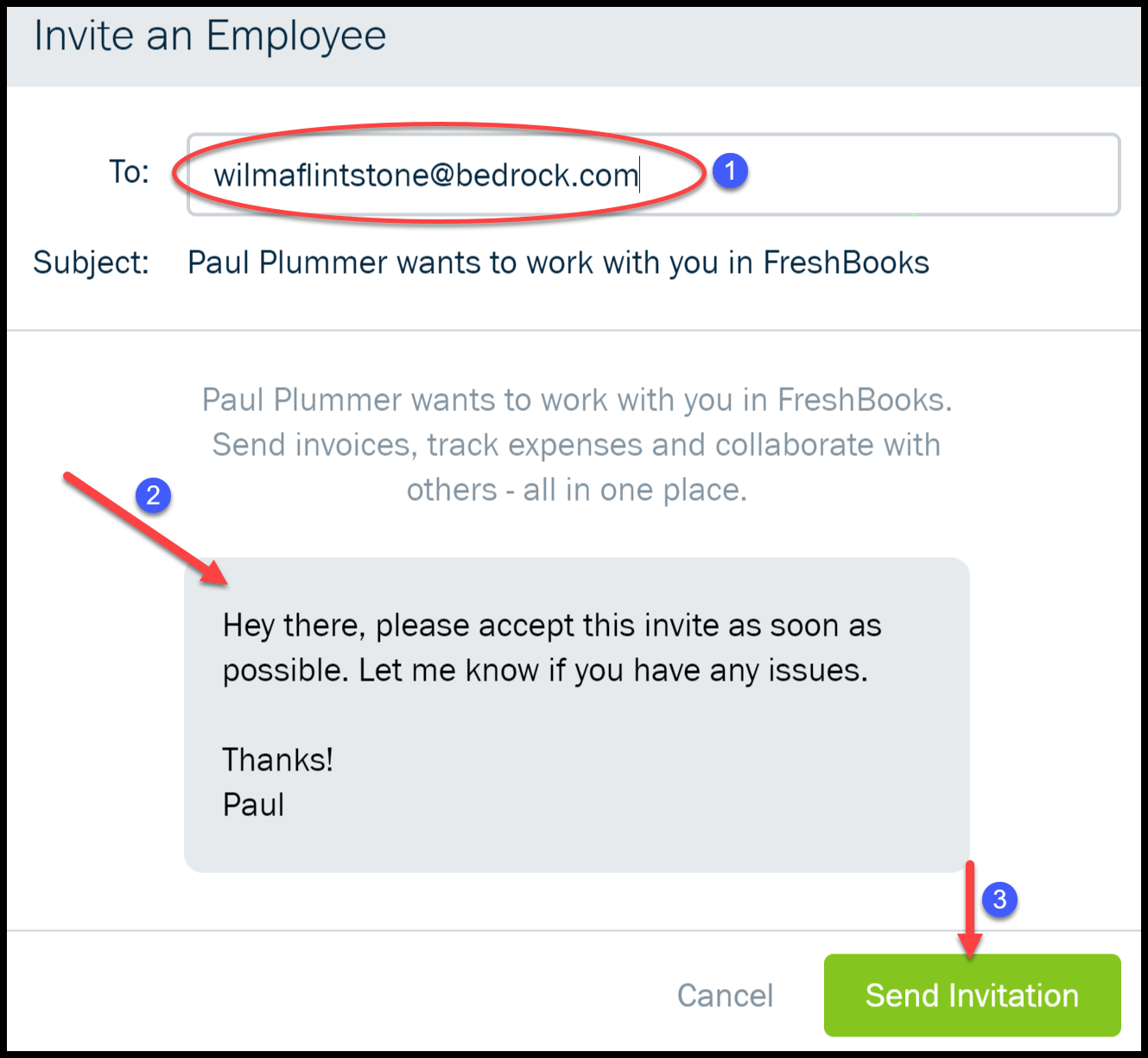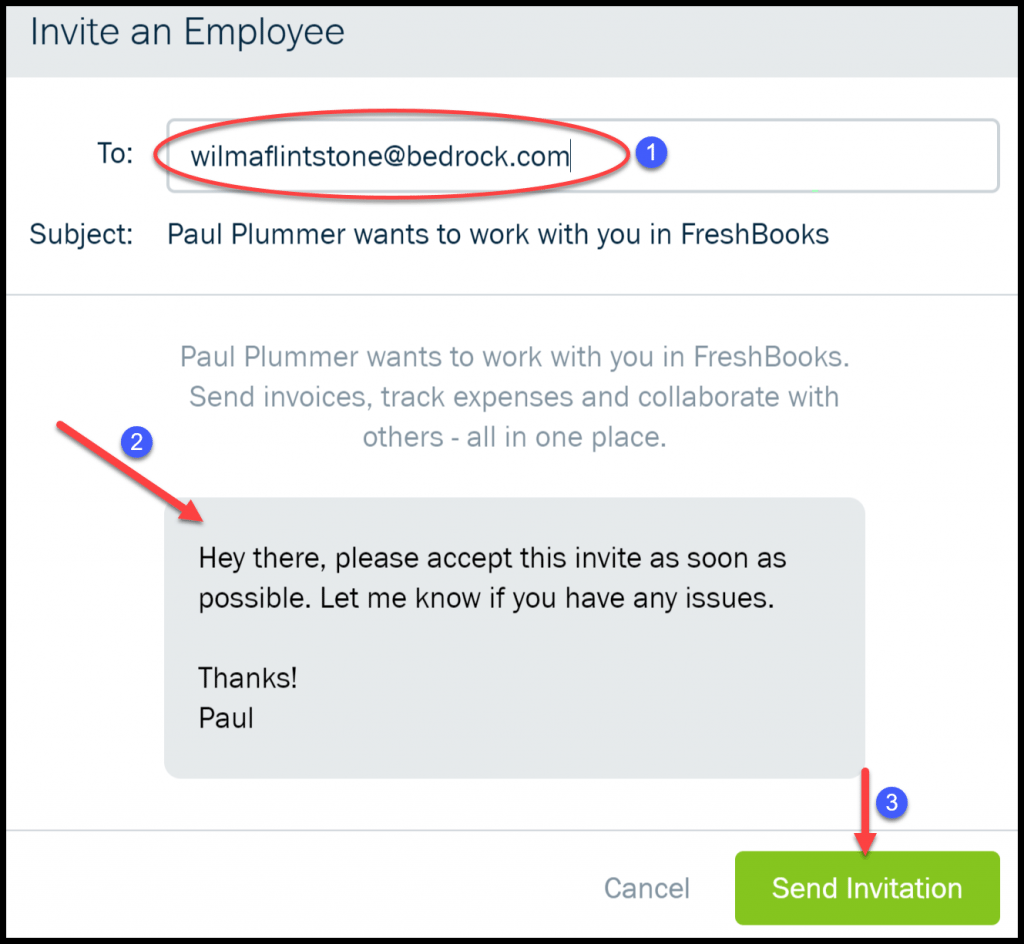 To: Enter the email address of the employee/contractor you are setting up.
Personal message: FreshBooks has created a message right above this field; however, you can add your own personal message as well in this field.
Send Invitation: Click the "Send Invitation" button once you have entered all of the info.
Step 8 – Create Invoice to Bill Clients for your Time
You can generate an invoice by clicking the "Generate Invoice" tab to the left of the Start Timer button, select the radio button to the left of the client that you would like to invoice and click the "Continue" button as indicated in the screenshot below.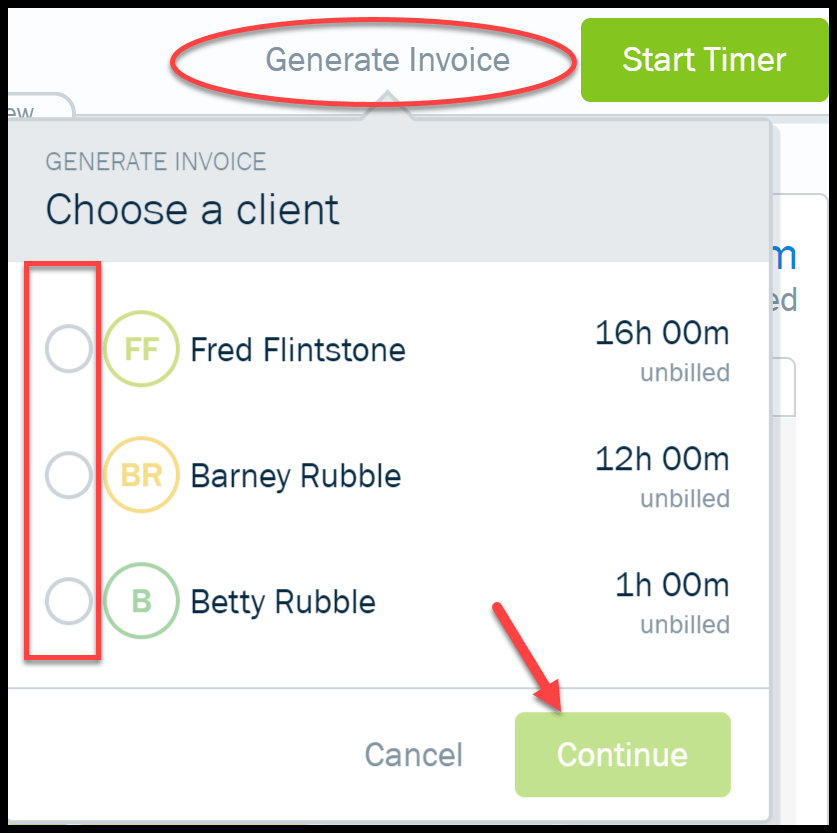 Step 9 – Select the Date Range to Bill your Client
From the drop-down, select the dates that you would like to bill the client for.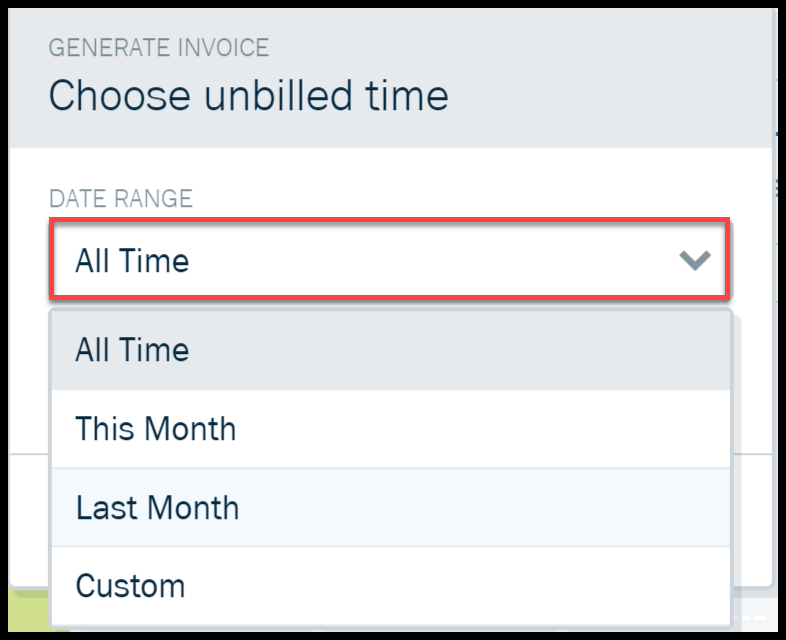 Step 10 – Enter a Standard Rate
If applicable, you can enter a standard rate for this client or for the services performed. Otherwise, you can just skip this step and enter a rate directly on the invoice.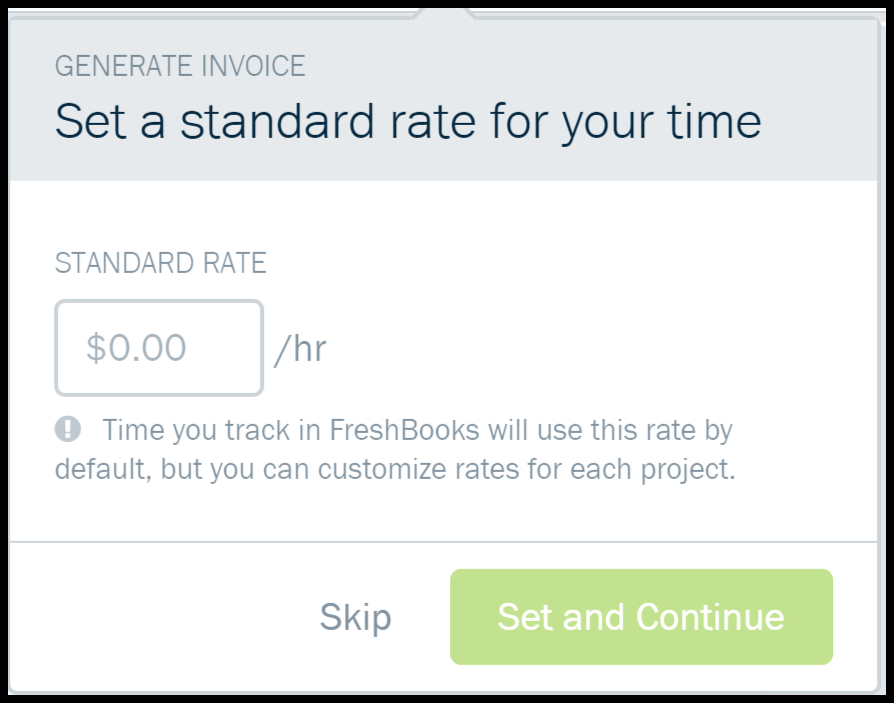 Step 11 – Select the Invoice Description that you want to appear on the Invoice
Depending on your preference, you can choose the level of detail that you would like to appear on your client's invoice. The 3 options are: Detailed, Grouped or Simple. Below is a snapshot and a brief explanation of each type of description.
Detailed Description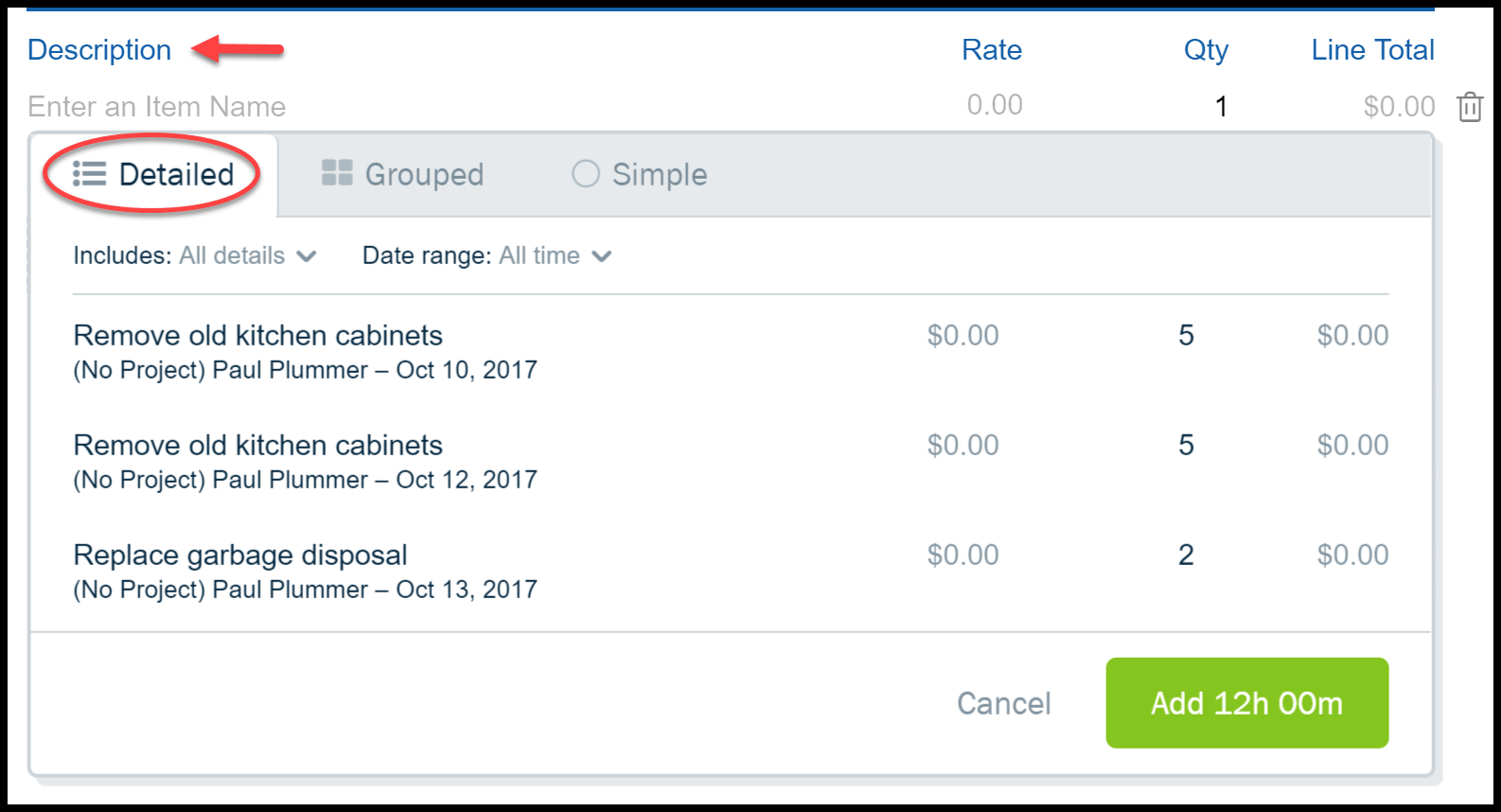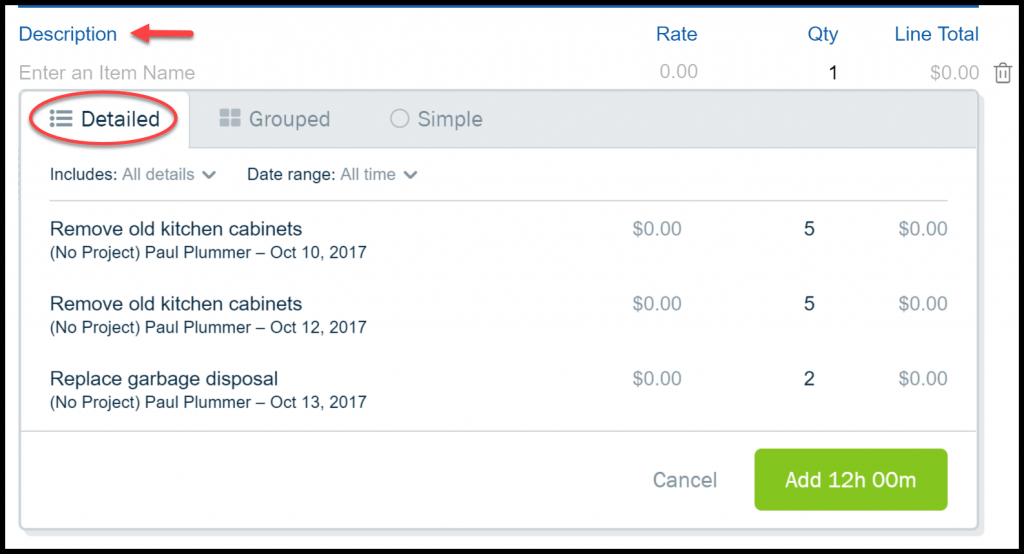 The Detailed Description will list each time entry that was made as individual rows on the invoice. Note: This option is best for those clients that it's important to show the total hours worked for each day.
Grouped Description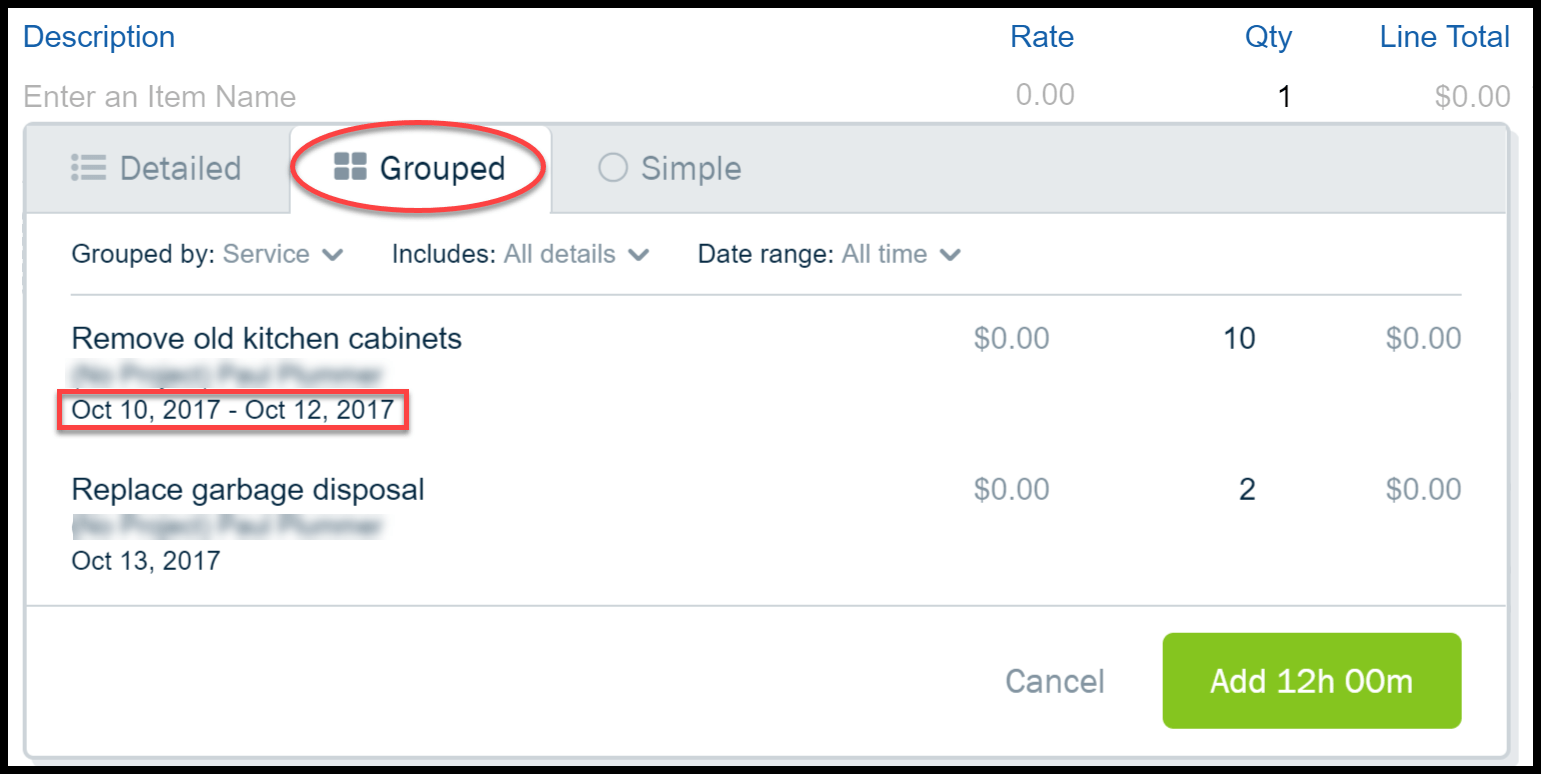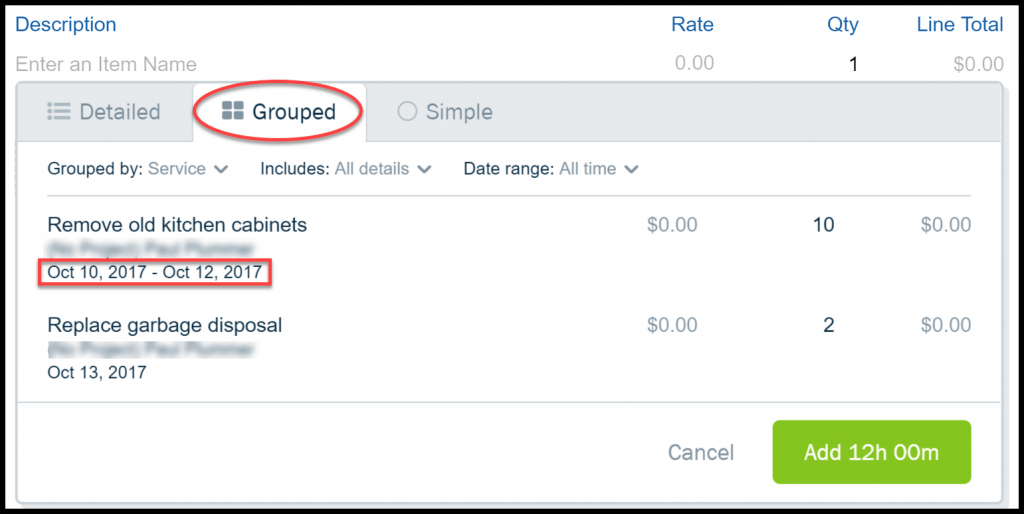 The Grouped Description will consolidate the same service into one row on the invoice. Note: This option is best for those clients that don't need to see each day. Notice you still have the date range indicated right below the service.
Simple Description


The Simple Description shows the least amount of detail possible. It will show the date range and total hours worked on one row in the body of the invoice.
In my opinion, the more details you can provide on an invoice, the fewer questions your client will have about what you are billing them for which means your invoice will not get held up and you will get paid faster!
One other important note is that you can choose what info to include (or omit) from your invoices, regardless of the description type that you choose (detailed, grouped or simple). Below are the fields that you can choose to add/remove from your client's invoice:
Step 12 – Complete your Invoice
In the next screen, you will have the opportunity to enter a rate and the hours (qty) for each service you are billing for. Your contact info (phone #, mailing address) that was entered when you set up your FreshBooks account will appear on the invoice. FreshBooks automatically calculates each line item to arrive at the invoice total.
Be sure to check out our invoicing guide to learn best practices for invoicing clients and step by step instructions on how to invoice using FreshBooks.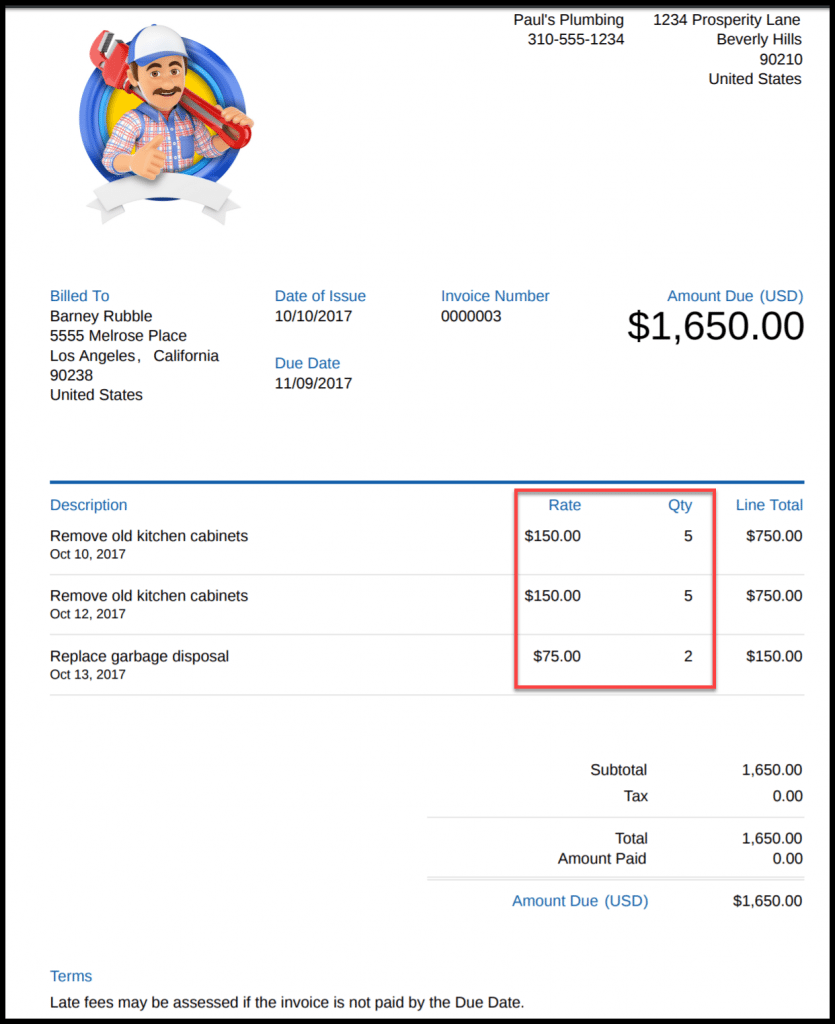 Once you have billed a client for hours worked, your time tracking dashboard will show the status for hours that you have invoiced as "billed". All hours that have not been invoiced will remain in an "unbilled" status as indicated in the screenshot below.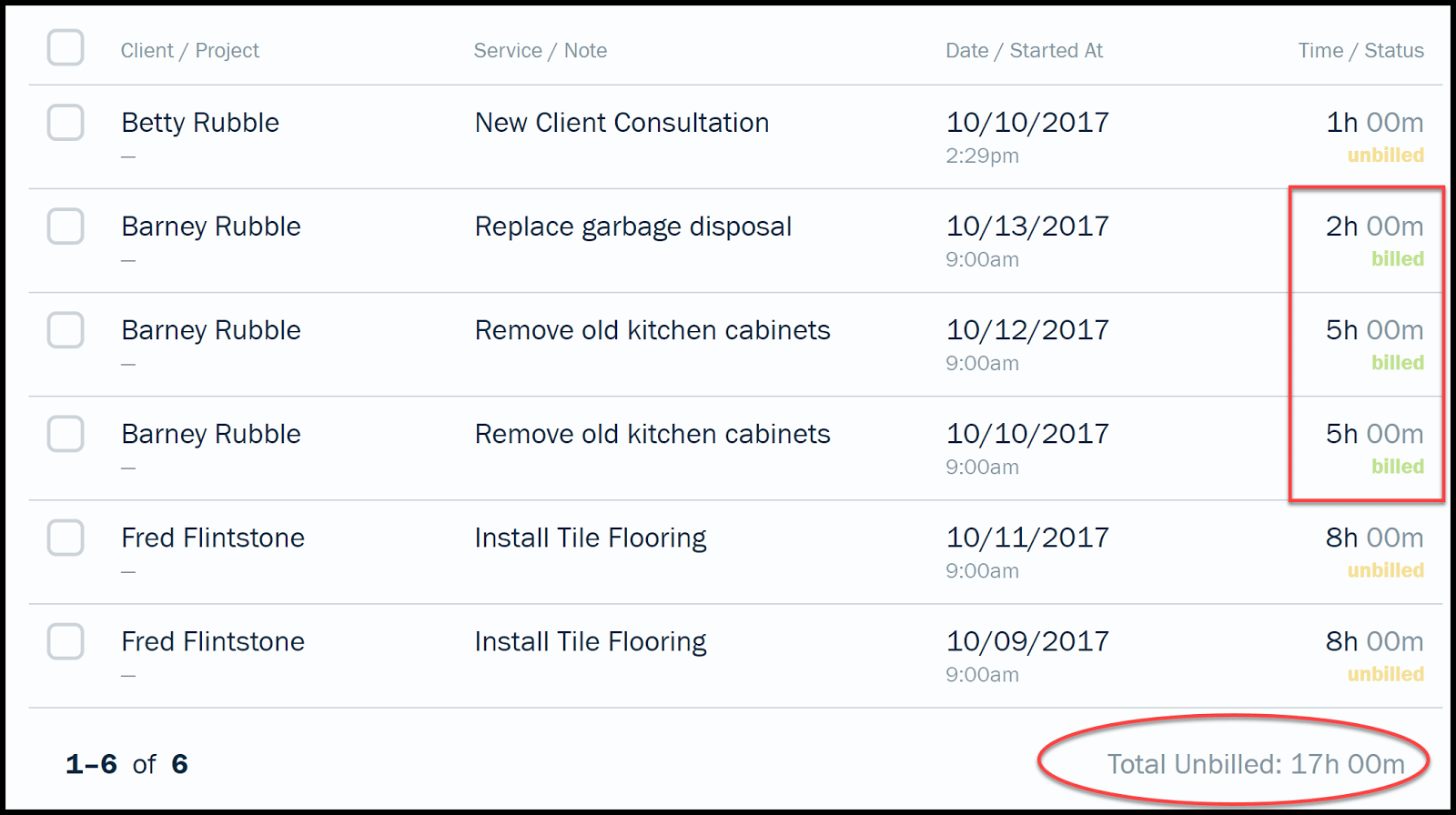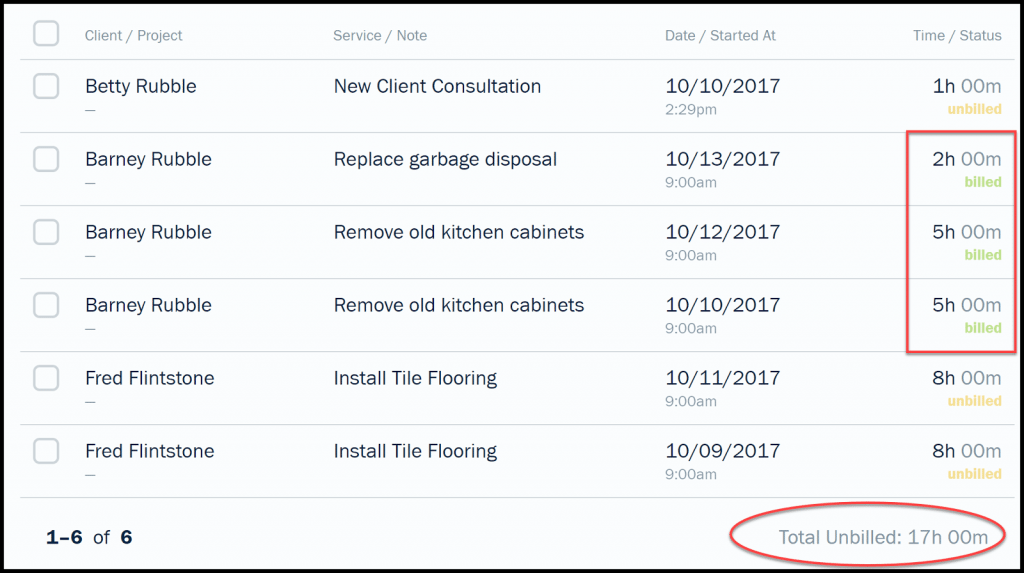 Time Tracking Reports in FreshBooks
Whether you are a team of one (aka solopreneur) or you have employees and contractors that work for you; you should implement a couple of best practices:
Have all team members log their time on a daily basis.
Review Time Tracking reports on a daily basis.
With that said, FreshBooks has a time tracking report that you can run in less than 30 seconds.
Follow the steps below to run the time entry details report in FreshBooks.
Step 1 – Navigate to Reports
From the Dashboard in FreshBooks, scroll down to the Advanced Reports section and click on Time Entry Details as indicated in the screenshot below.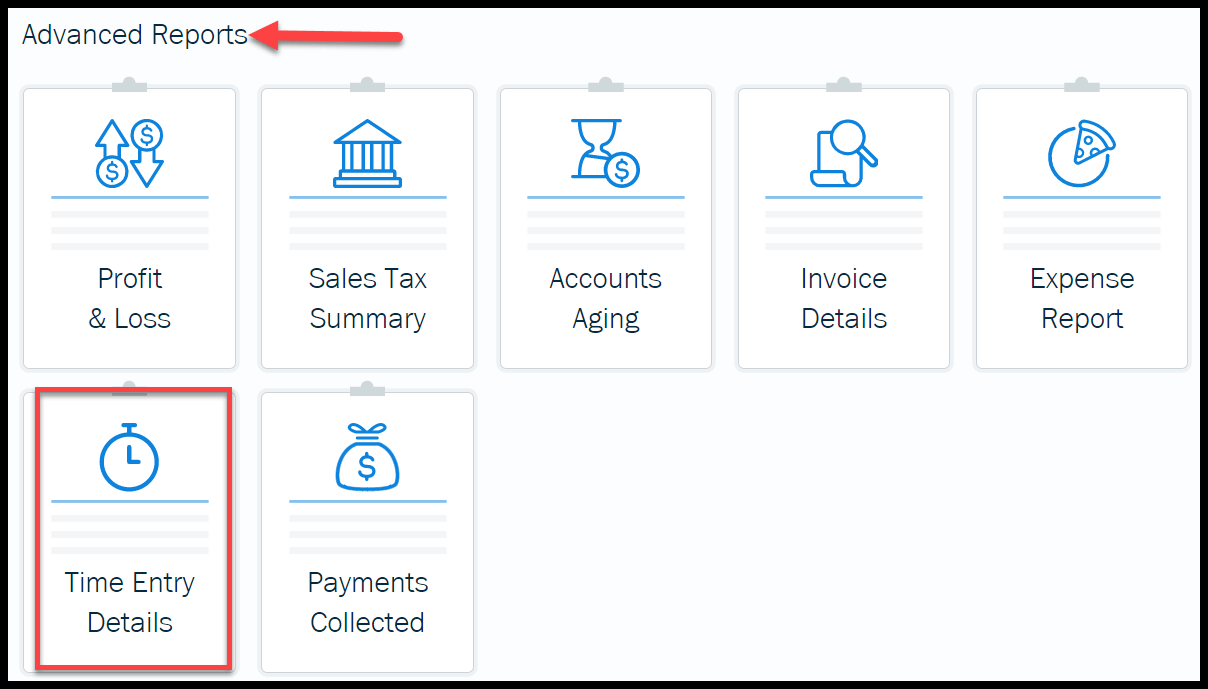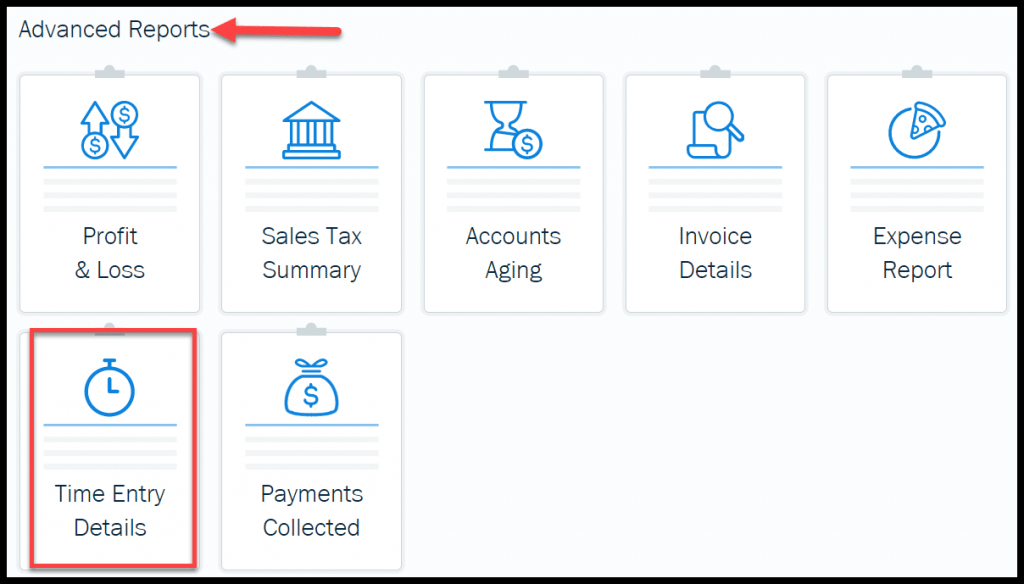 Step 2 – Choose Report Filters
There are several filters that you can choose to customize the report. Below are the options available along with a brief description of each.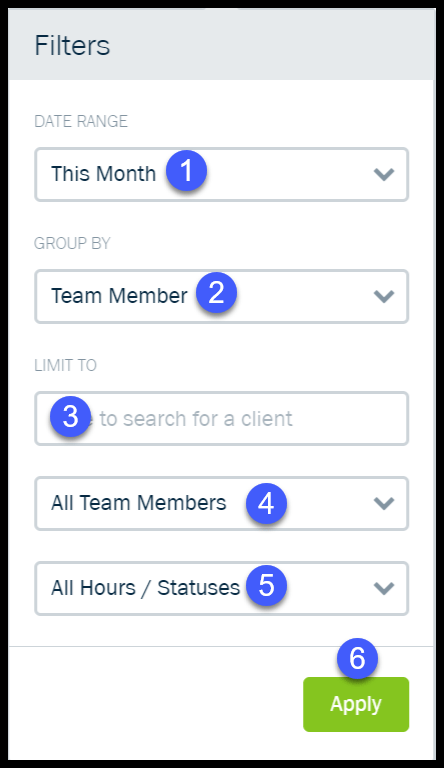 Date Range: From the drop-down, select the date that you would like to review time entries for.
Group By: You can group the report by team member, client, project, service or week; just click the drop-down to make your selection.
Limit To: You can filter the report so that it only shows time entries for one client or use the default which shows time entries all clients.
Team Member: Filter the report to show time entries for one employee or contractor on your team.
Status: All time entries are categorized as billed, unbilled or non-billable. You can filter this report to just show the time entries for one particular status.
Step 3 – Review Reports
Below we have provided you with a couple of sample reports that we ran in FreshBooks using our fictitious company Paul's Plumbing.
Time Entry Details Report Grouped By Client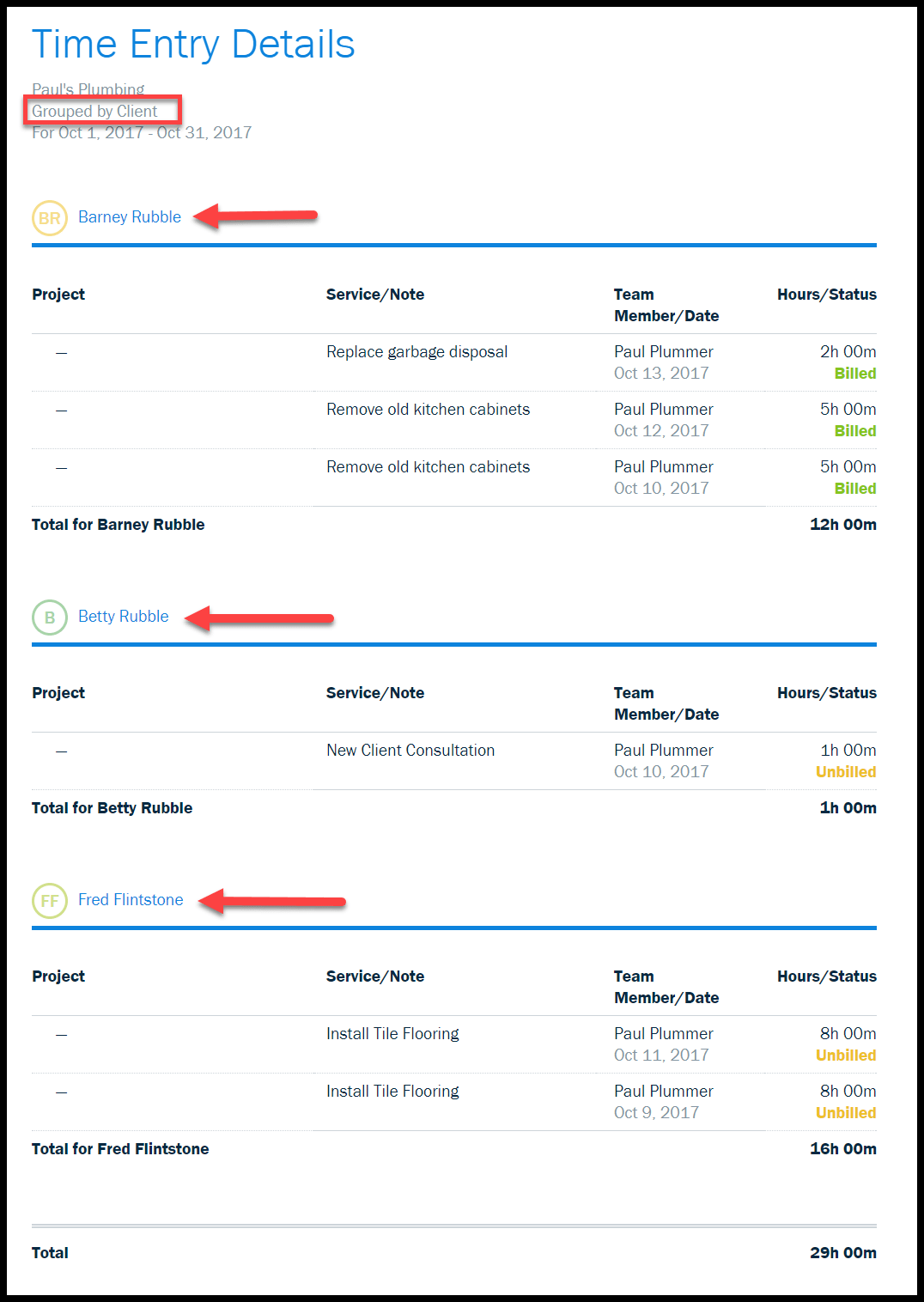 This report is grouped by client. It will help you to easily see the total number of hours for each client as well as the hours that have been billed and the unbilled hours. In addition, this report also includes a column for the project (if applicable), type of service performed and the team member's name who performed the work.
Time Entry Details Report Grouped By Service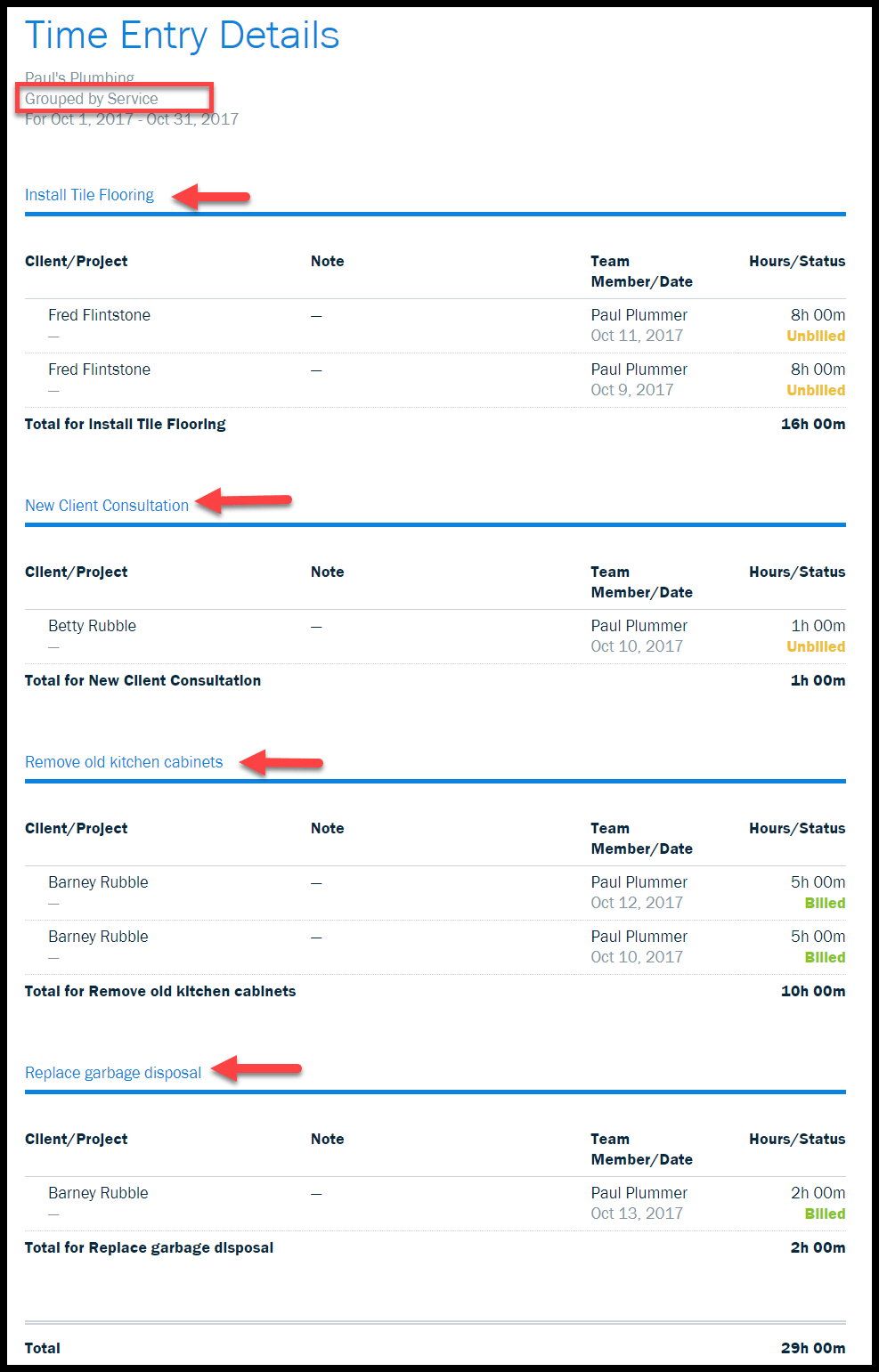 This report is grouped by the type of service performed. It will help you to easily see the total number of hours (billed and unbilled) for each service. In addition, this report also includes a column for the client/project (if applicable), the name of the team member who performed the work and any notes.
Note: Share this report with clients or team members by exporting it to excel or printing it.
The Bottom Line
In this guide, we have covered best practices for managing & billing for your time, we have discussed some of those frequently asked questions like whether you should bill an hourly rate or use flat amount and we have provided you with a peek into how much easier life can be if you invest in a time tracking software like FreshBooks. This is the best approach when time tracking for freelancers.
If you're having difficulty giving up your Excel spreadsheets, sign up for a free 30 day trial of FreshBooks and see just how much time you can save you and your team.