TimeCamp Review: Is It the Right Time Tracker for Your Business?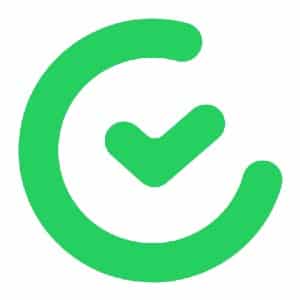 TimeCamp is a time and attendance tracker that also serves as a lightweight project management software. Available via web browser, mobile app, and desktop program, it provides users' productivity insights and, depending on the plan, has invoicing, billing, and reporting features. It comes with free and paid subscriptions, which start at $7 per month, per user.
What We Recommend TimeCamp For
TimeCamp monitors time spent on tasks—which are classified as productive or idle. It also helps project managers monitor their project profitability using its billing and invoicing features.
In short, TimeCamp is best for:
Individuals who primarily want to track and manage productivity: TimeCamp offers its basic features, including productivity insights and unlimited tasks and projects, at no cost. In fact, TimeCamp earned a spot in our guide to the best free time tracking software for freelancers.
Freelancers and contractors looking for a lightweight project management tool: The automated time tracking feature allows users to set up keywords for their clients or projects. Once TimeCamp detects them in their activities, it automatically assigns this time to the right client or project. The web-based and desktop apps can then run silently in the background.
Small and medium-sized businesses with remote and/or in-office employees: TimeCamp helps track what employees are working on, whether on-site or remote. The software's GPS tracker, though still in the beta version, allows organizations to manage their team member's localization. TimeCamp also has a leave management feature.
Those looking for a time tracker that integrates with other popular apps: TimeCamp not only helps users track their hours easily but also allows integration with other software such as Trello, Microsoft Teams, and Slack for a smoother work process.
When TimeCamp Would Not Be a Good Fit
Organizations looking for a simple time tracker that's easy to set up: Although TimeCamp is intuitive and simple to use for individuals, businesses with new users may find it complex to set up. Training new users could take time. Businesses that constantly hire new employees may find their productivity reduced with training. Instead, consider using Hubstaff, which comes with a user-friendly interface and controls.
Individuals looking for free invoicing: Although users can use the time-tracking tool for free, you must get the paid plan to obtain additional features such as invoicing. A better option is Harvest, where its free plan comes with an invoicing option and expense reports.
TimeCamp Overview
PROS

CONS

Intuitive time-tracking features; has an automatic and manual tracker
Multiple functional features may be complicated for new users
Detailed reporting with different view capabilities
Manual time tracker has glitches
Integration with other productivity software like Asana, Trello, or Slack
Mobile app is sluggish and difficult to use
TimeCamp Pricing
| | Free | Basic | Pro |
| --- | --- | --- | --- |
| Monthly pricing* | $0 | $7 | $10 |
| Numbers of users | Unlimited | Unlimited | Unlimited |
| Numbers of projects | Unlimited | Unlimited | Unlimited |
| Project templates | ✔ | ✔ | ✔ |
| Tags | ✔ | ✔ | ✔ |
| Bulk edit | ✔ | ✔ | ✔ |
| PDF export | ✔ | ✔ | ✔ |
| Hide time from users | N/A | ✔ | ✔ |
| Time rounding | N/A | ✔ | ✔ |
| Managing roles | N/A | ✔ | ✔ |
| Team productivity tracking | N/A | ✔ | ✔ |
| Budgeting and billable time | N/A | ✔ | ✔ |
| Export reports to XLS | N/A | ✔ | ✔ |
| Custom reports | N/A | ✔ | ✔ |
| Invoicing | N/A | N/A | ✔ |
| Billing rates | N/A | N/A | ✔ |
| Custom user roles | N/A | N/A | ✔ |
| Time sheet approvals | N/A | N/A | ✔ |
*Annual plans are available.
TimeCamp also offers an Enterprise plan that has everything in Pro, plus a self-hosted server, private cloud implementations, and personalized training.
TimeCamp Features
TimeCamp allows users to monitor which tasks take up the most time and develop ways to use their time more effectively. Here are TimeCamp's essential features.
Time Tracking
TimeCamp currently works on Windows, MacOS, and Ubuntu. You can track time through your web browser and TimeCamp's mobile and desktop apps—right after you create a project. If you are a project manager, then you can designate a project to team members. As an individual, you can work on several projects and track time spent on those separately. If you need to take a break, then pause or stop the timer.
Desktop
Web
You may also use keywords in its automated time-tracking feature. TimeTracker can automatically capture and record time spent on different tasks with the set keywords. You can switch between automatic and manual modes any time.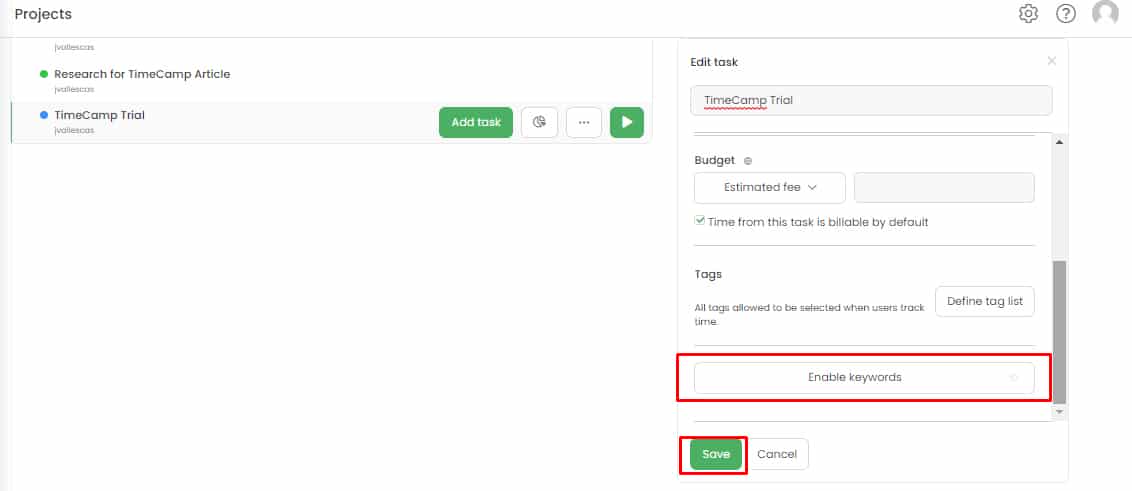 If you make mistakes in manually tracking time, TimeCamp has features to correct errors. For example, tracking time but forgetting to assign time to the proper project. You can adjust this manually to reflect the correct project or task. Or, if you forgot to start tracking your time when you started working, you can manually add or remove time.
TimeCamp's time tracking function does not end in keeping logs for projects—you can also track overtime. The platform is also equipped with leave management features to help users monitor sick, vacation, and holiday leaves.
---
Productivity
Teams can monitor their time on specific tasks and ensure that they're designating the proper time needed. This feature will help project managers understand which tasks take up more time and which ones to reduce.
With TimeCamp, it's possible to measure a member's idle and productive hours. You may also enable its computer screenshots feature to verify productivity.
TimeCamp also has a Private Time feature, which when turned on, stops the time tracking and monitoring. Team managers can view how much time is used but not what apps and URLs were opened. However, I found that Private Time is not as easily accessible on the web app compared to the desktop version.
---
Invoicing
This feature is available only in the Pro plan. You can specify your hourly rate for specific projects and integrate your PayPal account into the system. Time Camp will then generate the total cost over time, so it's easy to see how much to bill the client.
You can integrate accounting tools like Xero and QuickBooks and export invoices from TimeCamp to your preferred software. You can then send the invoice to your clients as a PDF file or a link.
---
Integrations
TimeCamp enables integrations with other project management systems for paid users. Integrating TimeCamp with other systems makes it easy to monitor the time for each project straight from the project management software you're using. There's no need to toggle between two systems when you're recording hours. At the time of writing, TimeCamp is said to integrate with 87 apps.
---
Reports
TimeCamp can produce reports using its collected data for tasks or projects. You can also generate reports for each team member. In these reports, expect to see an overview of each team member's productivity, how they're spending their time, and how each task progresses. Reports can be generated by project or by team members over time.
When you go to the Reports tab and select a specific task or project, it will show a graph of the number of hours used for the project. The report will also show an estimate of the billable hours allocated to the project. TimeCamp also allows you to review detailed activity reports for every individual, such as detailed logs.
---
TimeCamp Ease of Use
TimeCamp is simple to use once you learn its many features. You can use it like a stopwatch where you start, pause, or stop time for a specific project. Setting up a new project is also straightforward and can be done quickly on both the web and desktop apps.
After setting up an account, you can immediately use the time tracker for your projects. For businesses, they first need to invite the employees to make their TimeCamp logins. Project managers can then designate them to projects and prompt them to track their time using the software.
Unfortunately, I have found that TimeCamp's host of features beyond time tracking can be overwhelming. It's a good thing that they provide email and live chat support for questions or troubles using its apps. I like their live chat feature, which connects users to real support agents and not chatbots. They also have a knowledge base on their website for technical questions on using TimeCamp.
I think that TimeCamp is most efficient when combined with other productivity software. Using its integration feature is especially helpful if you need to monitor billable hours, track ongoing tasks, and check project progress.
What Users Think About TimeCamp
Many individuals who left TimeCamp reviews praised its effective time tracking capability. Freelancers find the free version an excellent tool to monitor their productivity and determine how much time they have spent working on a task. Team leaders like the reporting feature and the simple way of generating a weekly time sheet, which they can swiftly share with their co-workers.
The most common complaints with TimeCamp include its mobile app, which can be sluggish and less intuitive than its web-based app. Mac users also complain of the desktop app malfunctioning.
TimeCamp has received the following scores on the following sites:
Top Three Alternatives to TimeCamp
| | | |
| --- | --- | --- |
| Best for: Freelancers wanting a free time tracker to invoice clients and accept payments | Best for: Businesses with employees working at different locations | Best for: QuickBooks users looking for a time tracker and attendance tool for hourly employees |
| Monthly pricing: Starts at $12 per user | Monthly pricing: Starts at $7 to $20 per user. | Monthly pricing: $20+ $8 per employee |
| | | |
Bottom Line
TimeCamp is a time-tracking tool that freelancers and project managers find useful. The free plan allows individuals to track their time effectively, making it a cost-effective solution to monitor their productivity on various projects or tasks. Businesses can also monitor their employees' attendance, leave, and overtime. Users can also opt for paid plans to take advantage of their billing and invoicing features.
It provides a 14-day free trial without needing a credit card, so you can check if it's the right tool for your business.