Photography business cards need a strong design to stand out in an industry that relies heavily on aesthetics. Competition is fierce — Insureon reports that only 40 percent of photography startups survive their first year and just 25 percent make it through their second — so we compiled a list of 25 examples you can follow to help.
Here are 25 of the best and most inspiring photography business card examples on the web.
---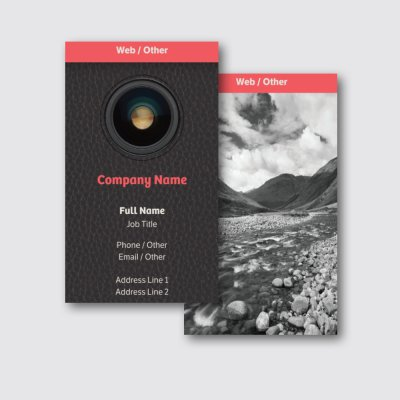 Once you've got your design all set up, make sure that your business cards are professionally printed with Vistaprint. Vistaprint is the business card provider of choice for small businesses, with its affordable price and great turnaround time. And if you still haven't finalized your business card design, you can easily choose from their over 10,000 templates or get help from one of their professional
---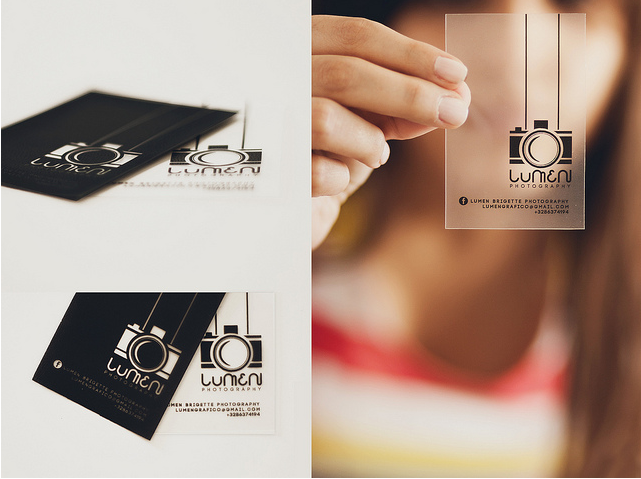 If you have the budget to spare, try these plastic translucent photography business cards. By making use of a different canvas, you expand the possibilities of marketing material designs that you can create. They will definitely be eye-catching and will surely make your business stand out.
---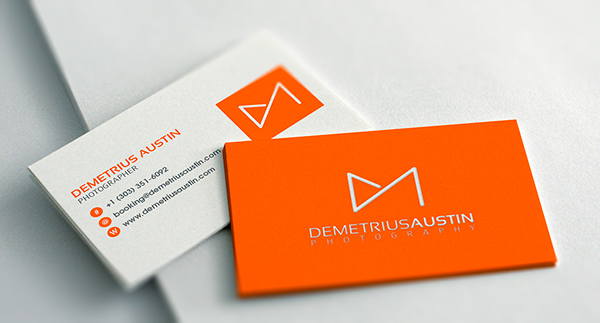 Eye-catching block colors give your business card more impact even from afar. They usually work best with a minimalist design and paired with small fonts that won't disturb the clean look. Experiment with the colors for an exciting look.
---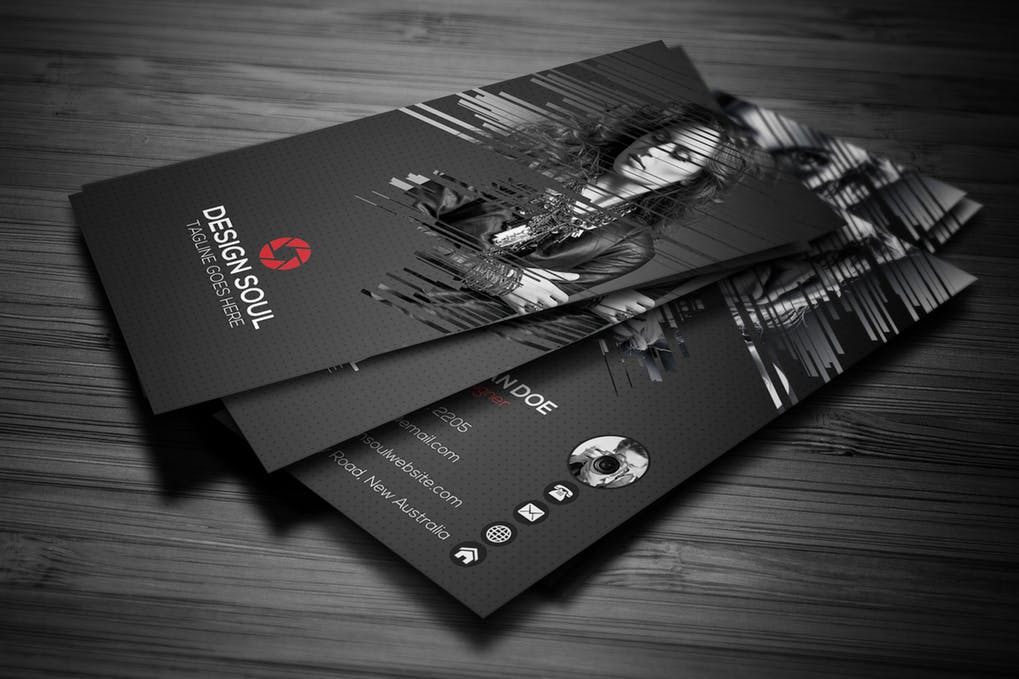 This business card example has it all. Unique image, clean design, a stand-out logo and all the details presented in an interesting format. Don't limit yourself to a black canvass. Deep reds and dark purples are also elegant and can impress clients as easily.
---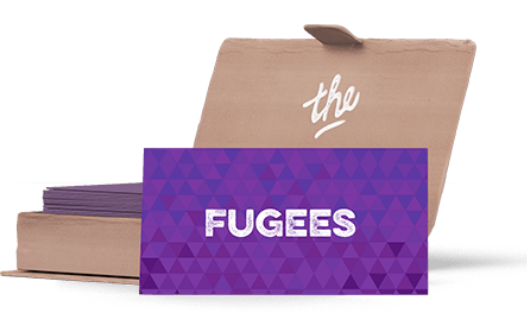 Make sure your business card provides the best first impression to your clients and investors. Use online branding tools like Tailor Brands to help you design and incorporate a stunning logo that completely captures your brand. They also offer business card design services to match your brand. Visit Tailor Brands and start automating your branding strategy today.
---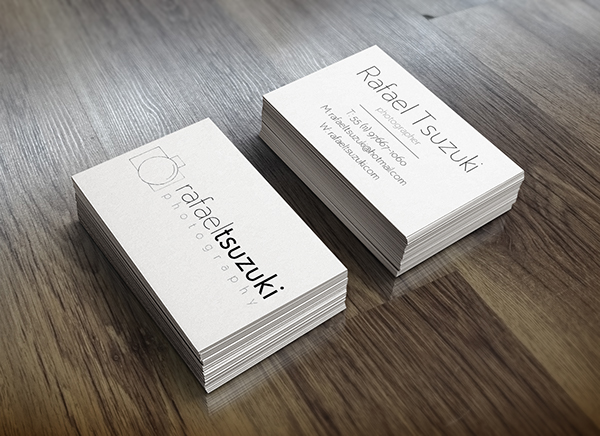 There's beauty in a clean, minimalist look. This example shows how a simple white card becomes elegant with subtle illustrations and thin lines of plain fonts in black and gray. Just remember to make sure your text is always legible.
---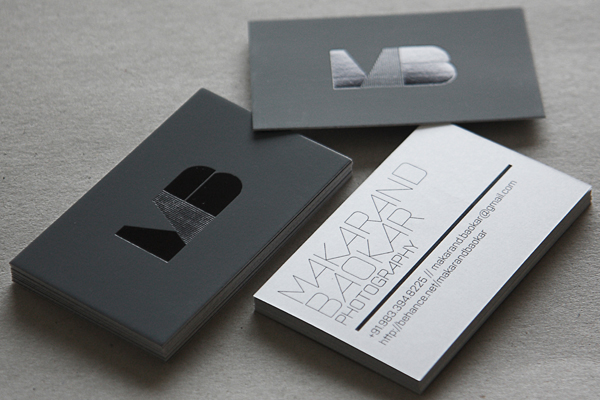 For those who love black, you can also display your own style of elegance. Add texture or Spot UV design to accent your logo or illustration and let your personality stand out. Remember to keep the font style consistent for a well-polished look.
---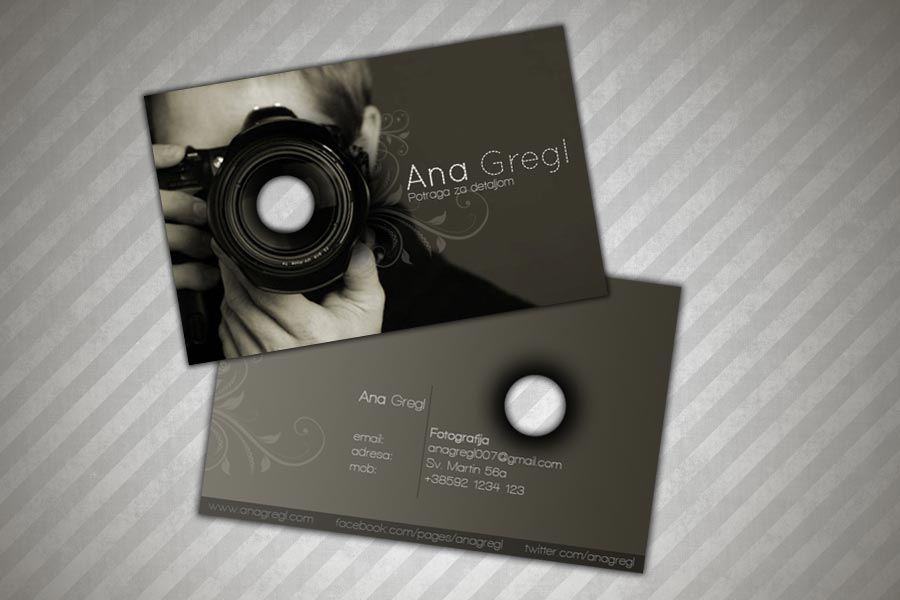 A different take on a simple design. This one is in gray. Notice how the image text and illustrations are also kept in gray tone to keep the simple, elegant look. The image is also eye-catching and almost life-like, so that it seems to jump out from the card.
---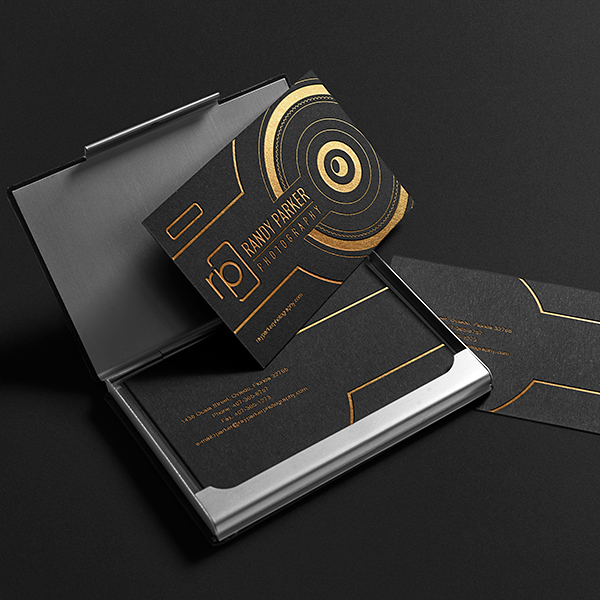 If you want to impress, try a black and gold business card. Gold brings a luxury element to black and it can give your business card a sense of exclusivity to attract high-end clients. The gold foil design is very tasteful and is made to not overwhelm the overall vibe.
---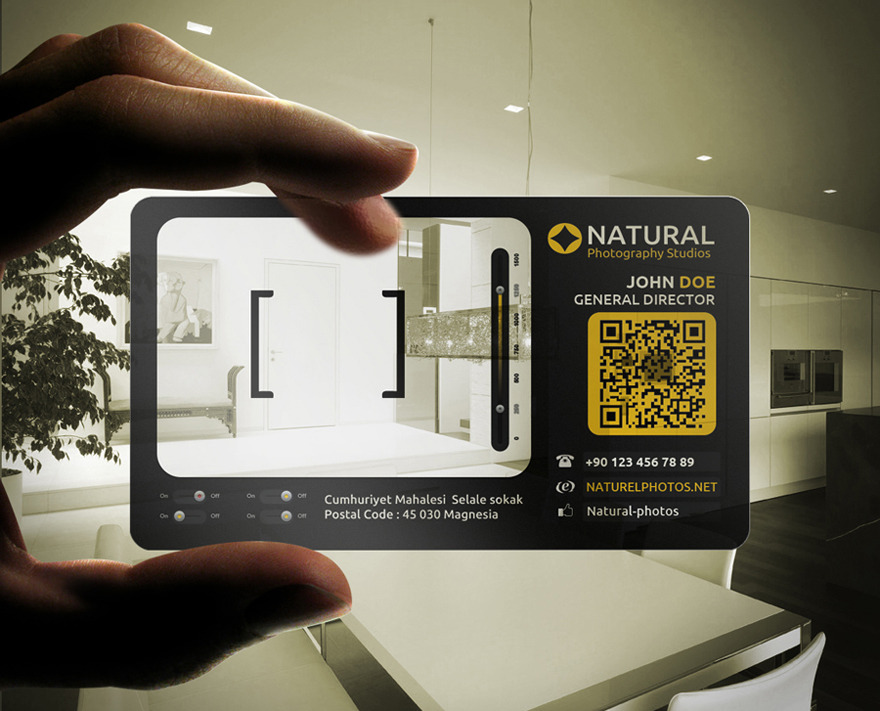 This example makes engagement easy for photographers, and the design is surely one that any customer would want to keep. The plastic camera design gives your business card an extra interactive experience that will keep you top-of-mind with your potential clients.
---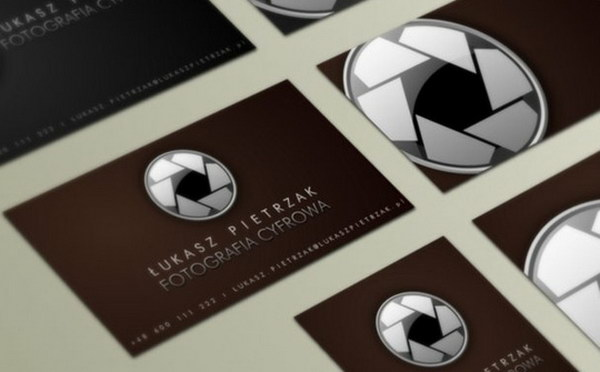 You will want your potential customers to keep your card and also make it easy for them to identify your service with a simple glance. This iconic lens shutter design is easily recognizable and paired with the use of shades and shadows on the fonts to complement the look.
---
12. Event-Focused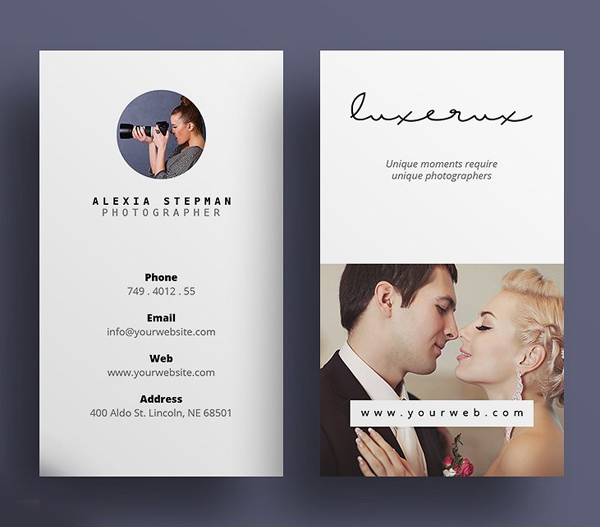 This photography business card can easily identify the kind of projects a photographer does. Photographers who engage mostly for events can get inspiration from this example. Choose one striking image from your portfolio and add an overlay of your website name or business name.
---
13. Eco-Friendly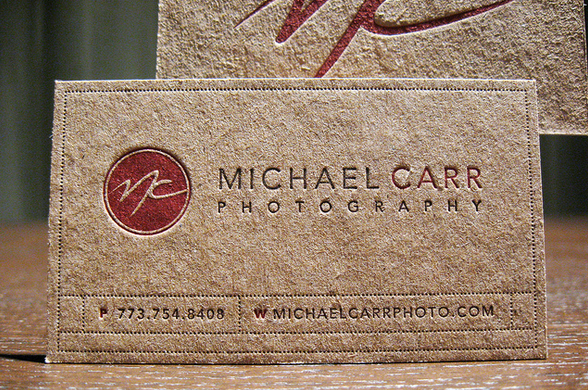 If you are passionate about the environment and want to make a statement in your business, try this eco-friendly business card on for size. Made of recycled paper material, this business card will easily catch anyone's attention and help you stand out from your competitors.
---
14. Die-Cut Design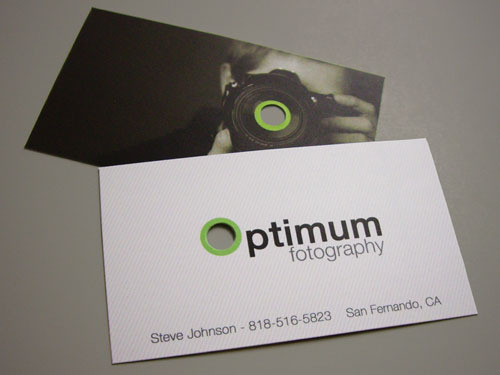 This business card includes a die-cut element for an easily recognizable look uniquely your own. This idea adds a new layer of creativity for designers to explore. Give your business card a unique shape at the edges or incorporate it as an accent on your image, like the one in our example. Keep in mind that your business card should always be able to fit in your client's pocket or wallet, or else they might get lost or discarded.
---
15. Promotional
What stands out from this design is the stitching detail on the side that provides an interesting accent and texture for your business card. The layout is simple but eye-catching, using beautiful, striking images to get the attention of potential customers.
---
16. Letterpress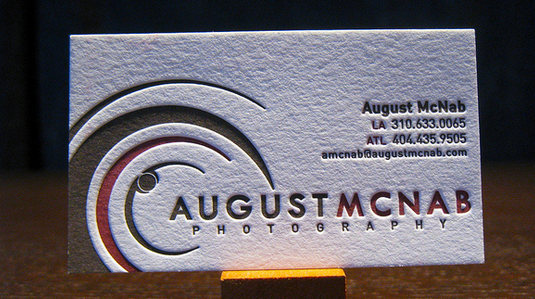 Letterpress is all about texture, and it can be the standout feature of your business card. In this example, the designer used textured paper as well to make the letterpress more profound, completing a sense of luxury that any customer will want to have.
---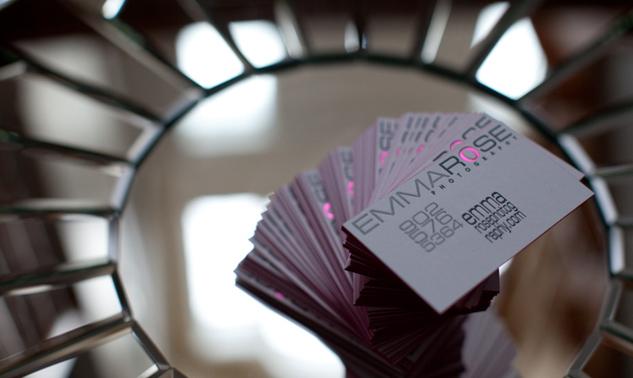 This example shows how a spot UV, letterpress or foil design can provide an impressive accent for business cards in any color. Notice how the accented single letter of the business name matches the background. This can be a great idea for businesses that use a single color in their brand.
---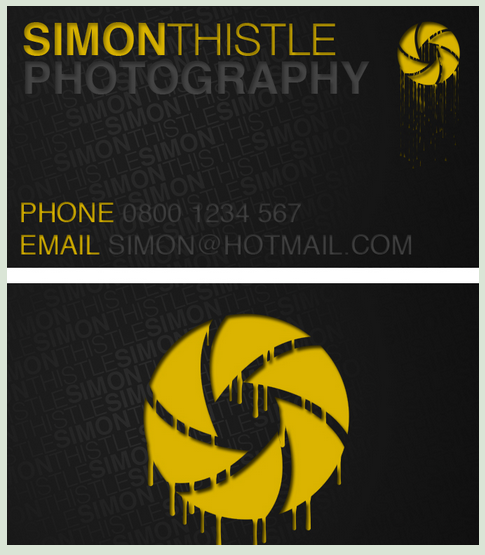 This example has a very bold design, perfect for modern and creative photographers who want to include uniqueness in their brand. The paper itself is specially made to sport a pattern of the business owner's name, making it memorable. Choose your own logo or other free image and customize to get the same effect.
---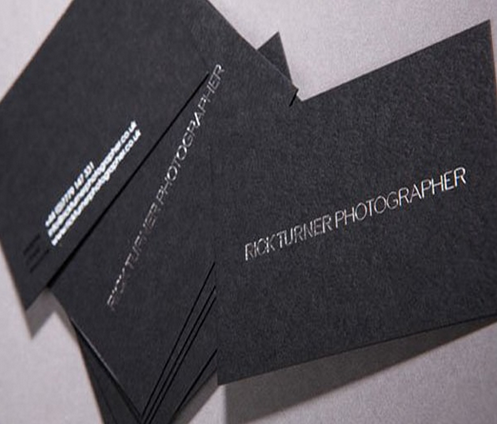 Like its gold counterpart, silver also makes for a good first impression. This very sophisticated look can also exude a sense of exclusivity and luxury. It works great with textured paper and minimal design.
---
20. Spot Varnish Design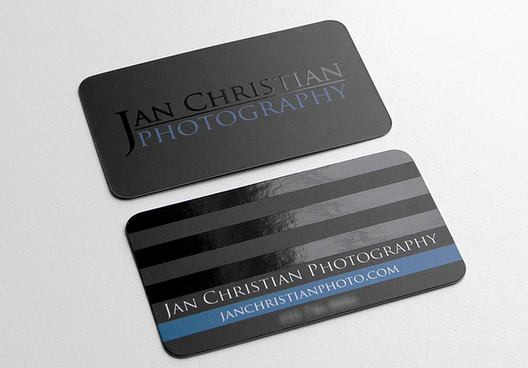 This is another take on the use of spot varnish for business card designs, but with a more contemporary look. It applies two different textures, making it all the more interesting. Be careful when choosing the font type and make sure it adds to the elegant overall vibe of the card.
---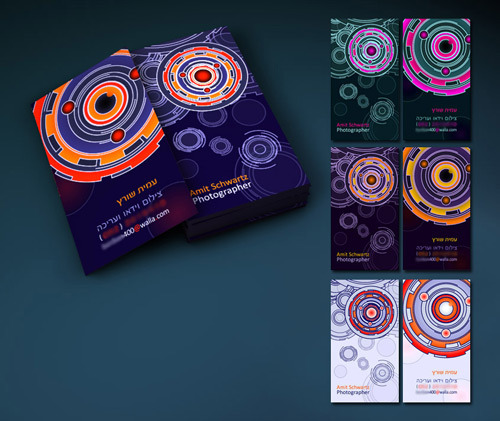 Colors let this business card stand out. The eye-catching and brilliant design also brings life to the overall look. Perfect for photographers of any kind, create a mix of color palettes that plays to your brand.
---
22. Black Minimalist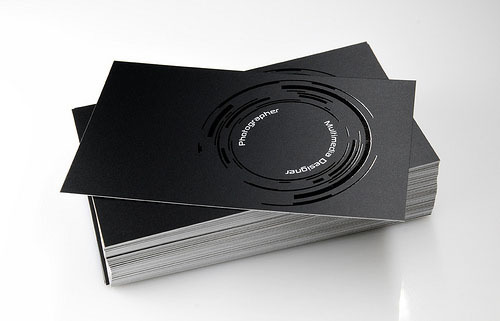 Notice how this example lets the business card stand out with a unique, minimalist design. This is a great example of how to use spot UV as an accent to the illustration instead of the text. It immediately showcases your creativity to potential clients.
---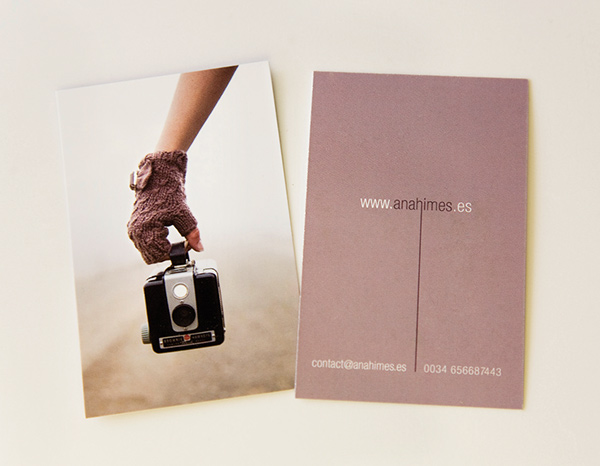 It doesn't always have to be black and white. Pink can also look elegant with a tasteful image and simple layout. Just take a look at how this example brings out the beauty in a minimalist design with just a striking image and play on pastel colors. Try it with your own brand color to bring out the elegant vibe that works for your business.
---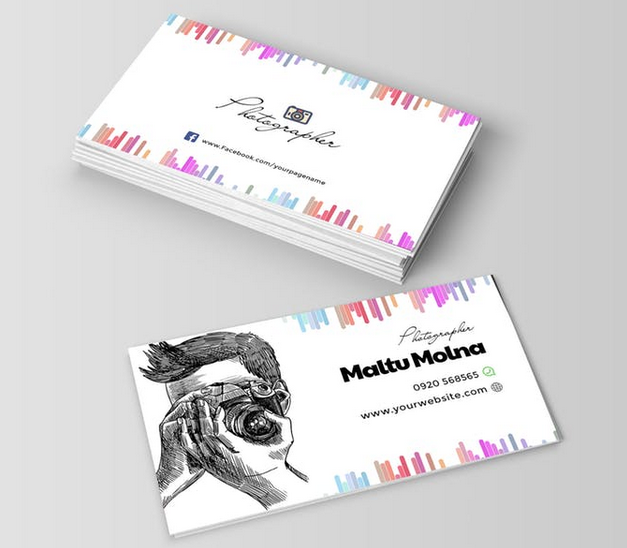 Use this example to bring out the fun, creative look in your brand. An illustrated image with colored borders in a simple white background makes for a memorable design. Create an illustration with your own logo or signature image for a unique look and style.
---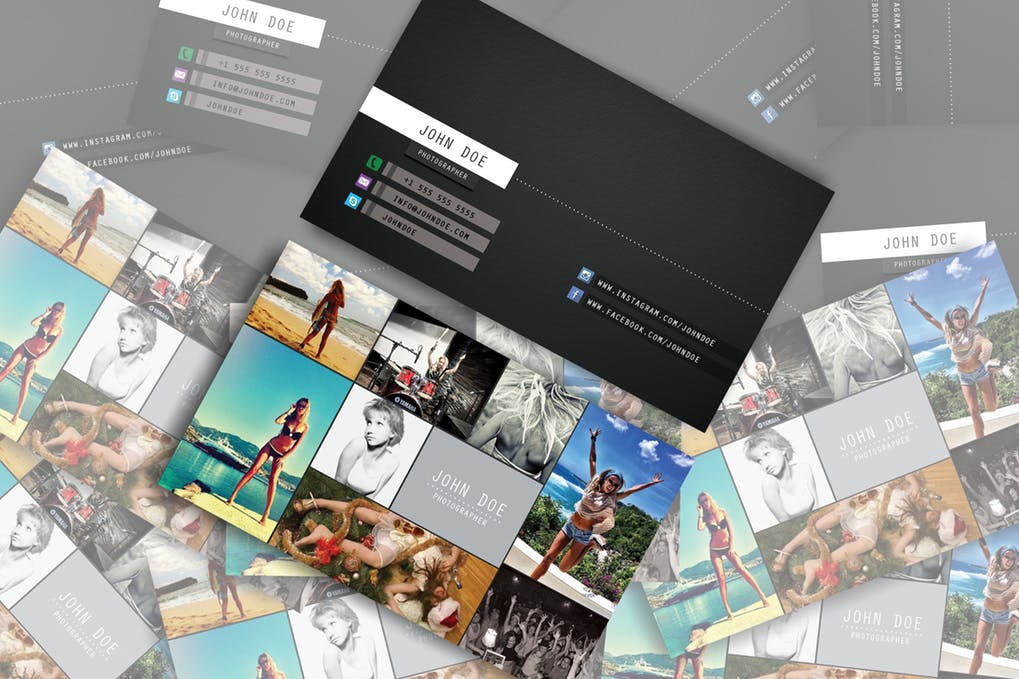 This business card shows you a creative way of showcasing your best work. Make use of a photo collage to give your potential customers an idea of your projects and the possibilities of working with you. Make sure you keep the messaging at the back simple and easy to remember so as not to overwhelm the design.
---
Over to You
Your business cards give you a chance to create a lasting first impression on your potential customers, so it's important that your design also makes your brand as memorable as it is beautiful. Use these examples to inspire you the next time you want to reinvent your own.
Found some photography business cards examples from our list that you like? Let us know in the comments.