Sales tools are software systems designed to help your sales reps work as efficiently and effectively as possible to maximize your sales. If you run a sales team, you know that the largest cost you incur is your sales reps salaries, so it makes sense to make the best use of sales tools.
In this article, I will share with you my top 10 sales tools. Each of these sales tools has a different purpose, so you can cherry pick specific tools to solve weaknesses in your sales process. You could also consider putting all 10 in place for less than $250/month.
Sales Tools Summary Table
| Tool | What It Does | Starting Price |
| --- | --- | --- |
| Pipedrive | Sales CRM | $10/month |
| Sales Navigator | Sales Intelligence | $80/month |
| Leadberry | Website visitor identification | $35/month |
| Leads 411 | Lead Generation | $75/month |
| Lusha | Contact Enrichment | Free |
| AirCall | Sales Call Integration with CRM | $30/month |
| Slidebean | Sales Pitch Presentations | $8/month |
| Doodle | Scheduling Meetings | Free |
| Zoom | Virtual Pitch Presentations | Free |
| Canva | Creating Sales Support Collaterals | $9.95/month |
Now let's take a closer look. Here are our top 10 sales tools for 2018:
Top 10 Sales Tools
1. Pipedrive: Best CRM Sales Tool
A sales CRM makes it easy to measure and manage each stage of your sales process. I recommend Pipedrive because it's affordable, easy to setup and use, works from a visual pipeline, which makes sense to salespeople, and automates all of the sales metrics you need.
Pipedrive Pricing
| | Silver | Gold | Platinum |
| --- | --- | --- | --- |
| Price | $10/user per month | $24/user per month | $63/user per month |
Starting from only $10/user per month, Pipedrive provides all of the basic features you will likely require. But to integrate with other useful sales tools like Lusha, Leads411, Leadberry and Aircall, you will need the gold price package, which costs $24/user per month.
Click here for more about Pipedrive pricing.
How Pipedrive Improves Efficiency
Pipedrive automates a lot of the administrative work involved in sales. which can save your sales reps up to 10-20% of their time each week.
For instance, Pipedrive:
Automatically logs customer contact like email, phone calls and website visits
Provides visual reminders for tasks that need you need to complete
Highlights rotting deals in red if they have sat in one stage for too long
Automatically generates the sales metrics reports you are likely to need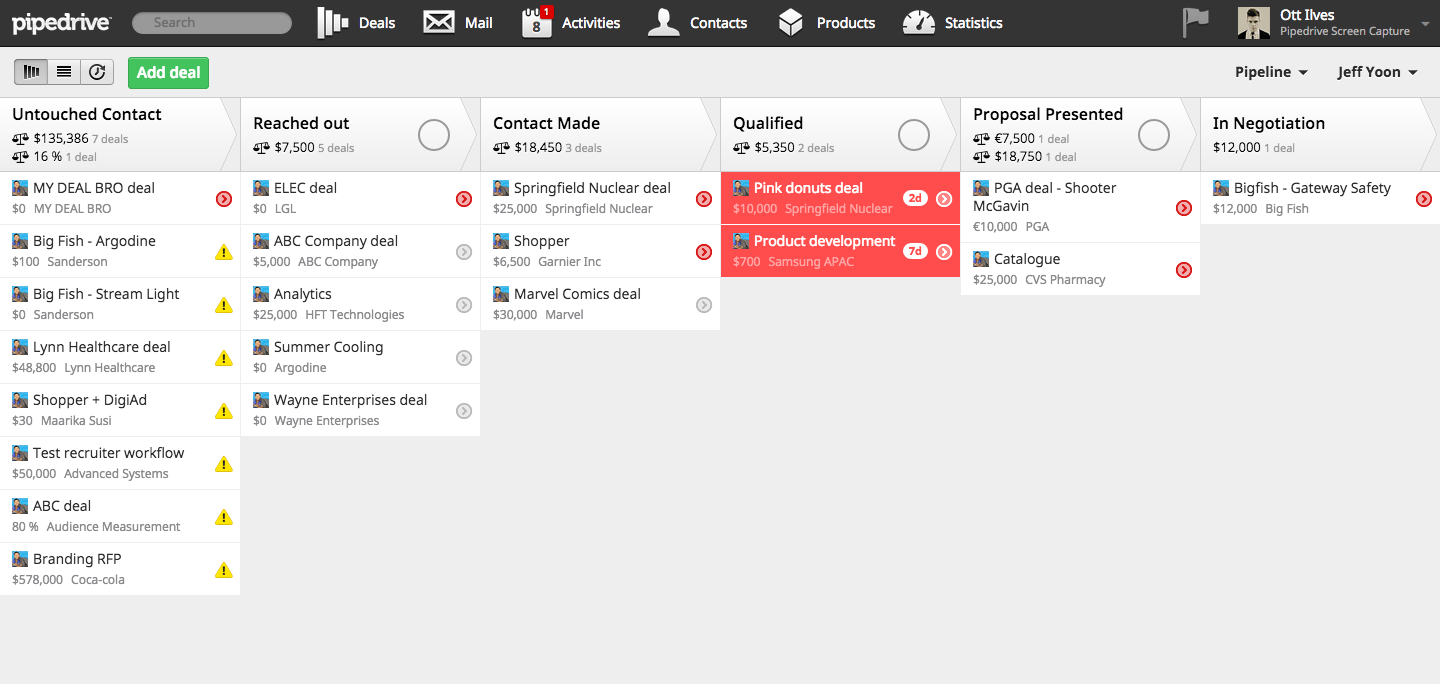 How Pipedrive Improves Sales Effectiveness
Sales teams are also able to work more effectively together in Pipedrive. The main reason for this is that the whole system works off a visual representation of your sales pipeline. From this basic structure, the sales manager can use Pipedrive:
As a real-time sales team agenda for weekly sales forecast meetings
To benchmark the sales pipeline of each sales rep and establish sales best practice to share across the team
To easily identify areas for improvement both for individual sales reps and for the team as a whole
Pipedrive Integrations
With over 80 sales related native integrations, Pipedrive is very versatile. I recommend integrating with 4 other sales tools on this list:
Pipedrive Customer Support
24/7 customer service and support is available via live chat and email.
Sales intelligence helps you find future prospects, understand their customer profile, interpret their buying needs and better personalize your communication. I recommend LinkedIn's Sales Navigator as it gives the most complete picture of b2b customer profiles in the US and around the world.
Sales Navigator Pricing
| | Professional | Team | Enterprise |
| --- | --- | --- | --- |
| Price | $80/user per month | $130/user per month | Speak to Sales Navigator |
The $80/user per month is all you are likely to need as a small business. This package will search with 31 different individual contact attributes and 14 different company attributes to find the ideal customer profiles to target for your business.
Click here for more about Sales Navigator pricing.
How Sales Navigator Improves Efficiency
Sales Navigator provides an efficient way to identify prospects that fit your ideal customer profile using the broadest range of customer attributes commonly available. Once you have selected prospects, you can follow them and receive updates, for example, when they make social posts on LinkedIn's media channels.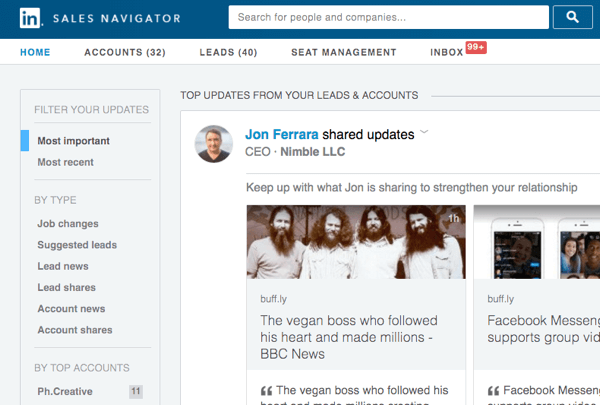 How Sales Navigator Improves Sales Effectiveness
Sales Navigator will make your sales reps more effective, because it will allow you to target your ideal customer prospects more accurately straight from your desktop. The data is also more accurate and up to date because LinkedIn account owners are motivated to maintain their own your website to learn more social profiles. This means less time wasted selling to the wrong people, or basing your sales approach on inaccurate or out-of-date information.
Sales Navigator Integrations
Sales Navigator integrates with Salesforce and Microsoft Dynamics. It also feeds other tools used by small business like Leads411, which integrates with Pipedrive.
Sales Navigator Customer Support
Self-help knowledge base support is provided via Sales Navigator Help.
3. Leadberry: Best Website Visitor Identification Tool
Website visitor tracking enables you to identify prospects that have visited your website. I recommend Leadberry because it does this is real-time and is recommended by Google Analytics.
Leadberry Pricing
| | Pro 100 | Pro 200 | Pro 400 |
| --- | --- | --- | --- |
| Price | $35/user per month | $44/user per month | $76/user per month |
Leadberry starts at $35/month for up to 100 unique business leads. All of Leadberry's price packages are more affordable than its competitors, who generally position and price themselves for larger enterprise customers. And if you are a charity, you can use Leadberry for free.
Click here for more about Leadberry pricing.
How Leadberry Improves Efficiency
Leadberry is the most efficient and cost-effective way that I am aware of to identify all of your website visitors who do not provide their details when they visit your site. It allows you to identify new prospects by company name that may be visiting your website as a result of Google search or customer-word-of mouth. It also allows you to identify existing prospects who come back to your website to learn more.

How Leadberry Improves Sales Effectiveness
Understanding which companies have visited your website, what they viewed, for how long, and which company key contacts you would follow-up with, easily allows your sales reps to improve their effectiveness. They can secure more sales opportunities and have a better understanding of the questions their prospective customer is trying to answer at this stage of their sales journey. In addition, Leadberry provides real-time email alerts when a prospect arrives on your site, which allows your sales reps to make a timely follow-up.
Leadberry Integrations
Leadberry exports data to CSV and integrates with PipeDrive, Zoho and Insightly.
Leadberry Customer Support
Business hours support is available via support@leadberry.com.
4. Leads411: Best Lead Generation Tool
State of the art lead generation tools make it easy for you to buy cold leads that fit your ideal customer profile from within your sales CRM. Leads411 does this, and it also keeps your leads clean via live updates and provides change event email alerts (known as purchasing triggers) so that you know when prospects are entering the buying time-zone.
Leads411 Pricing
| | Basic | Pro | Team |
| --- | --- | --- | --- |
| Price | $75/month | $125/month | $349/month |
| Exports | 100 | 300 | 1000 |
| Cost/Record | $0.75 | $0.42 | $0.35 |
For $75/month, you can get up to 100 leads per month (or $0.75 each). If you have higher cold lead volume requirements, the cost per contact record reduces to $0.42/record in the Pro package and only $0.35/record in the Team package. The Team package also allows you to create your own custom triggers.
Click here for more about Leads411 pricing.
How Leads411 Improves Efficiency
Unlike conventional business list purchases, which are generally exported to you only via CSV, Leads411 integrates with most small business CRMs, including Pipedrive, to provide the most efficient solution currently available. Leads are less expensive to purchase and they are kept up to date without any action required from your sales team.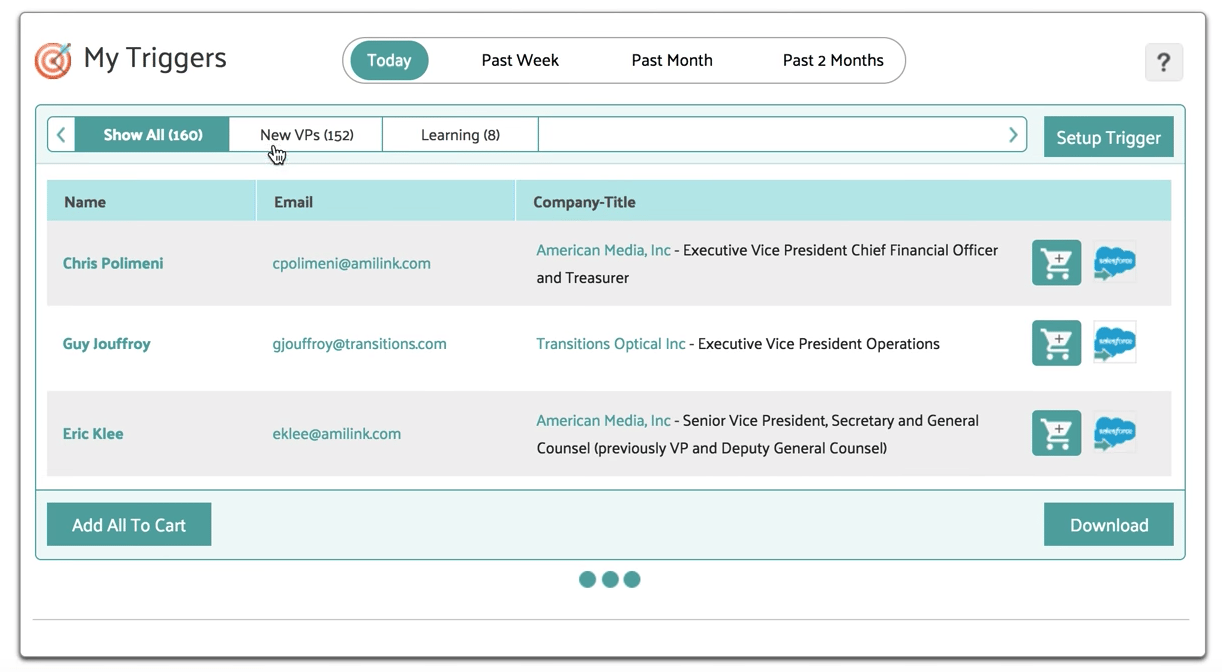 How Leads 411 Improves Sales Effectiveness
First off, having clean and constantly updated live records will in itself make your sales reps more effective. This is because they will no longer waste time on dead or out-of-date prospects.
What's more, purchasing triggers will allow your sales reps to take their effectiveness to a whole new level. This is because prospects are only in buying mode perhaps 5% of the time and purchasing triggers will give you a much better idea of when this is, which will ultimately improve conversion rates. For example, you can receive an alert when a customer has replaced a tool, which acts as a trigger to purchase your product or service.
Leads411 CRM Integrations
Leads411 integrates with Pipedrive, Insightly and Zoho and other leading small business sales CRMs. It also integrates with Highrise and other leading contact management systems.
Leads411 Customer Support
Support is available via support@l4mail.com or call 877-673-1022 during regular business hours.
5. Lusha: Best Sales Contact Enrichment Tool
Sales contact enrichment tools allow you to improve the quality of contact record data that you have for sales prospecting purposes. Lusha provides a very simple and cost-effective tool that allows you to discover contact direct email addresses, phone and mobile numbers.
Lusha Pricing
| | Essential | Professional | Premium |
| --- | --- | --- | --- |
| Price | $25/month | $59/month | $119/month |
| Reveals | 50 | 200 | 500 |
| Cost/Record | $0.50 | $0.30 | $0.24 |
I recommend using the free plan to test the tool, which allows you to get up to 5 contact reveals for free each month. Starting from $25/month and reducing in cost/contact reveal from $0.50 in the Essential package to only $0.24/contact reveal in the Premium package, Lusha provides a cost effective solution for businesses making cold calls as part of their sales process.
Click here for more about Lusha pricing.
How Lusha Improves Efficiency
If you are a small business without a scaled and formalized sales process, Lusha provides a great way to get the direct contact details your sales reps need to be able to make that first call. You just download the Chrome extension in two-clicks and ask Lusha to reveal contact information when browsing prospects in LinkedIn or Twitter. This will save your sales reps time trying to find personal contact details and/or calling out of date numbers.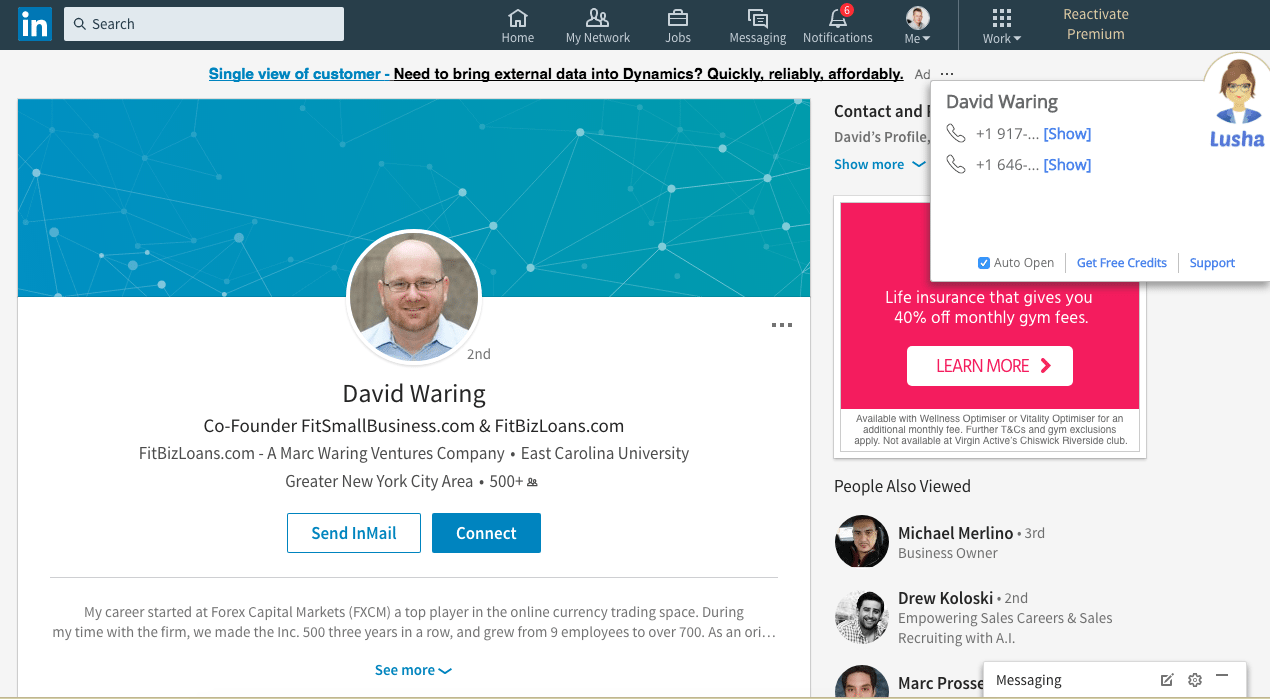 How Lusha Improves Sales Effectiveness
If you are trying to encourage your sales reps to do their research and take a more personalized approach to contacting leads, Lusha is a great way to get this to happen. Sales reps hunt for new opportunities on LinkedIn and Twitter, identify new prospects and intel, then can immediately reveal direct contact details and make personalized cold calls to improve their effectiveness.
Lusha CRM Integrations
Lusha comes with a Chrome Extension. It also has an open API, which any good web developer can use to integrate with a sales CRM like Pipedrive if you wish.
Lusha Customer Support
Business hours support is available via support@lusha.co.
6. AirCall: Best for Sales Call Integration with CRM
Sales call integration with CRM allows you to make outbound sales calls from your prospect contact record and automatically record each call and other useful call metrics straight into your prospect contact record. This takes a lot of the tedious work out of managing leads and call records.
AirCall Pricing
| | Premium | Enterprise |
| --- | --- | --- |
| Price | $30/user per month | $50/user per month |
Both AirCall price packages requires a minimum of 3 users, but if you purchase AirCall via Pipedrive, they may be prepared to waive this condition to win your business. All incoming calls are free, as you would expect, and outgoing calls are competitively priced based on volume.
Click here for more about AirCall pricing.
How AirCall Improves Efficiency
By putting in place a VoIP sales call platform that is designed to integrate with your small business sales CRM, your sales reps can make calls and the sales call platform and your sales CRM look after the call admin. Each call is also audio recorded automatically straight into the prospect contact record and other useful call metrics like "what time of day your team is most likely to get through to their intended target prospects" are automatically generated.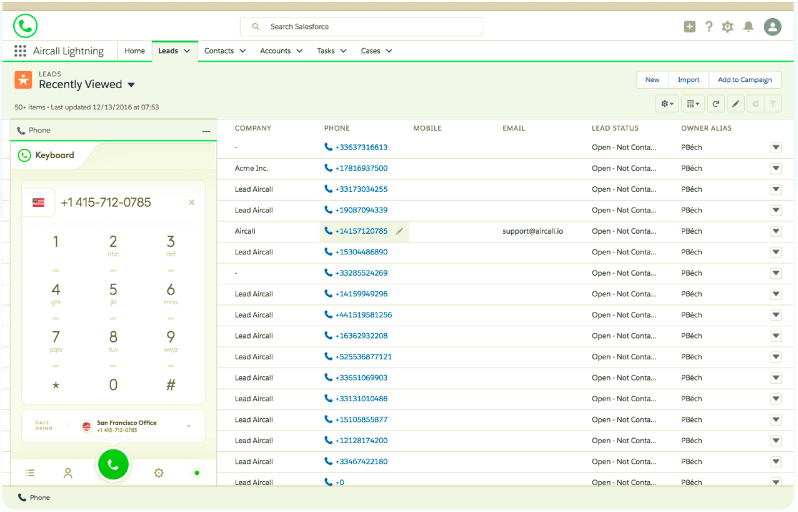 How AirCall Improves Sales Effectiveness
Because each call is automatically recorded and a range of other useful call data is generated, you are able to measure and manage the crucial cold calling stage of your sales process. This helps you ensure that:
Each sales rep is making enough cold calls to feed the future sales pipeline with enough sales opportunities to sustain your business
Calls are of the right quality and key aspects of the call, for instance, managing objections, are undertaken properly
All sales reps have access to all audio call records to learn and improve
AirCall Integrations
AirCall integrates with a wide range of sales CRMs including Pipedrive, Zoho and HubSpot.
AirCall Customer support
Business hours phone and email support is available as well as a comprehensive FAQ.
7. Slidebean: Best Sales Pitch Presentation Tool
Sales pitch presentation tools help you create a professional slide presentation to support your sales pitch. I recommend Slidebean because it's esy for anyone to create a professional-looking sales pitch presentation without graphic design training or even being blessed with a creative eye.
Slidebean Pricing
Individual

Premium

Corporate

Price

$8/user per month

$19/user per month

$39/user per month for up to 3-users.
Extra users @ $10/month
At only $8/month, Slidebean provides better value than tools like PowerPoint because you also get access to millions of high quality images, icons and GIFs. However, if you want to add custom branding, you will have to pay $19/month for the Premium package.
Click here for more about Slidebean pricing.
How Slidebean Improves Efficiency
Lots of small businesses still use external design agencies or freelance designers to create sales pitch presentations. If you choose to adopt Slidebean that will no longer be necessary, as you're able to create professional branded pitch presentations in-house. What's more, they will be able to incorporate images, GIFs and icons at no extra cost.
How Slidebean Improves Effectiveness
From a sales perspective, Slidebean radically improves your sales reps effectiveness because when they send a copy of the sales pitch following their presentation, it provides meaningful sales pitch analytics as their prospects engage with it. For example, you can see who went back to review the pitch after the presentation, which pages they read and for how long. With this information, reps know who to prioritize and which parts of their presentation could be refined to improve their effectiveness.
Slidebean Integrations
Slidebean doesn't have any integrations; it doesn't need any.
Slidebean Customer Support
24/7 email and phone support is provided by a named account manager.
8. Doodle: Best Meeting Scheduling Tool
Meeting scheduling tools help sales reps to schedule sales calls and meetings with customer prospects without wasting time playing calendar ping-pong and reducing the risk of being calendar blocked. Doodle makes it as simple and foolproof as possible for sales reps to schedule meetings at a very affordable cost.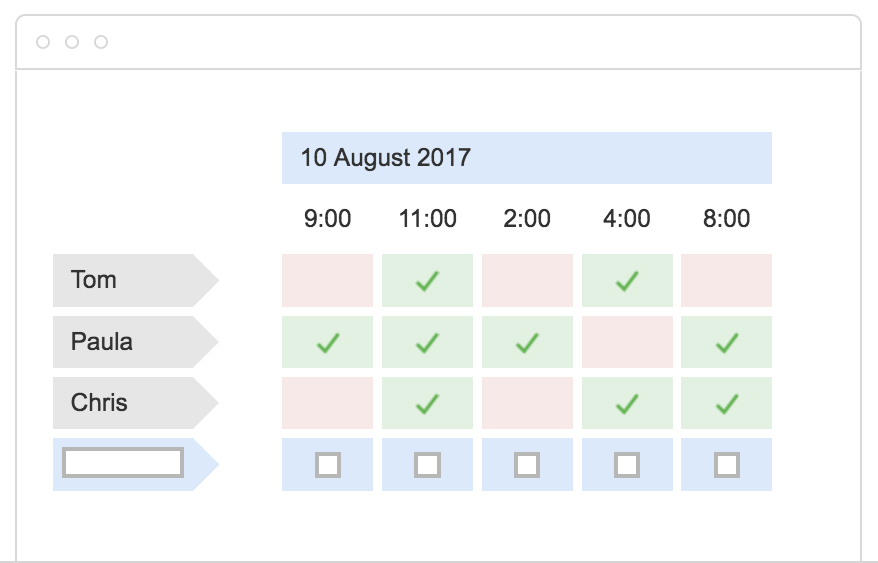 Doodle Pricing
| | Free | Private | Business |
| --- | --- | --- | --- |
| Price | $0/user per month | $29/user per month | $49/user per month |
Doodle's free price package is great if all you want to do is connect your calendar to Doodle and allow your prospects to pick a time when you are free to meet with you. If you want some of the more advanced features, like automatic reminders when prospects have not responded, then you'll need the $29/month Private package. And if you want custom branding then you'll need to $49/month Business package.
Click here for more about Doodle pricing.
How Doodle Improves Efficiency
By using Doodle your sales reps can avoid wasting time playing email ping-ping with customer prospects by opening their diary to them to show them when they are free and allowing their prospect to decide when it suits them to meet. The Doodle interface is the most user-friendly I have encountered and if you are just starting out then the free package is all that you will be likely to need.
How Doodle Improves Sales Effectiveness
By using Doodle you will avoid losing good meeting opportunities simply due to your prospect getting frustrated by the process of trying to find a mutually convenient time to meet. In addition, the Doodle mobile app allows sales reps in the field to be responsive and manage setting appointments easily when travelling or in the field.
Doodle Integrations
Doodle integrates Google Calendar, Office 365, Outlook.com and iCal.
Doodle Customer support
Business hours support is available via support@doodle.com
9. Zoom: Best Virtual Meeting & Presentation Tool
Virtual meeting and presentation tools allow you to have sales pitch meetings when your customers are too far away to feasibly meet them in person. Zoom allows you hold video conference meetings with prospects and share your screen to present your sales pitch presentation.

Zoom Pricing
Pro

Business

Enterprise

Price

$14.99/user per month

$19.99/user per month
(min. 10-users)

$19.99/user per month
(min. 100-users)
Zoom has an excellent free package that allows calls of up to 40 minutes in length. If your calls are likely to exceed 40-minutes, you will want to purchase a paid package, which start from $14.99/user per month including call recording.
Click here for more about Zoom pricing.
How Zoom Improves Efficiency
For most businesses, it's a poor use of time to travel long distances for face-to-face meetings unless the contract value justifies this level of time and travel cost commitment. Zoom provides an efficient solution for distance meetings that works better that most of its competitors because Zoom has the most consistent video and audio call quality that I have experienced in its price range.
How Zoom Improves Effectiveness
Because Zoom has excellent call quality, it provides your sales rep with one less obstacle to navigate to deliver a successful sales presentation. I recommend using two screens when delivering sales pitches via Zoom, this will allow you to both observe your audience and the slides you are presenting in order to deliver the most effective pitch. For instance, how engaged your audience is will help you to judge the pace of your presentation and also when to pause for questions.
Zoom Integrations
Zoom provides 26 native app integrations including Dropbox, Slack and Google Calendar.
Zoom Customer Support
24/7 phone support is available. For free package customers, response time is next day.
10. Canva: Best Sales Collateral Creation Tool
Sales collateral creation tools allow you to create sales materials that you would otherwise outsource to a design agency or freelance designer to produce on your behalf. Canva allows you to create professional quality sales materials in-house like sales brochures, posters and event invites without incurring these external costs.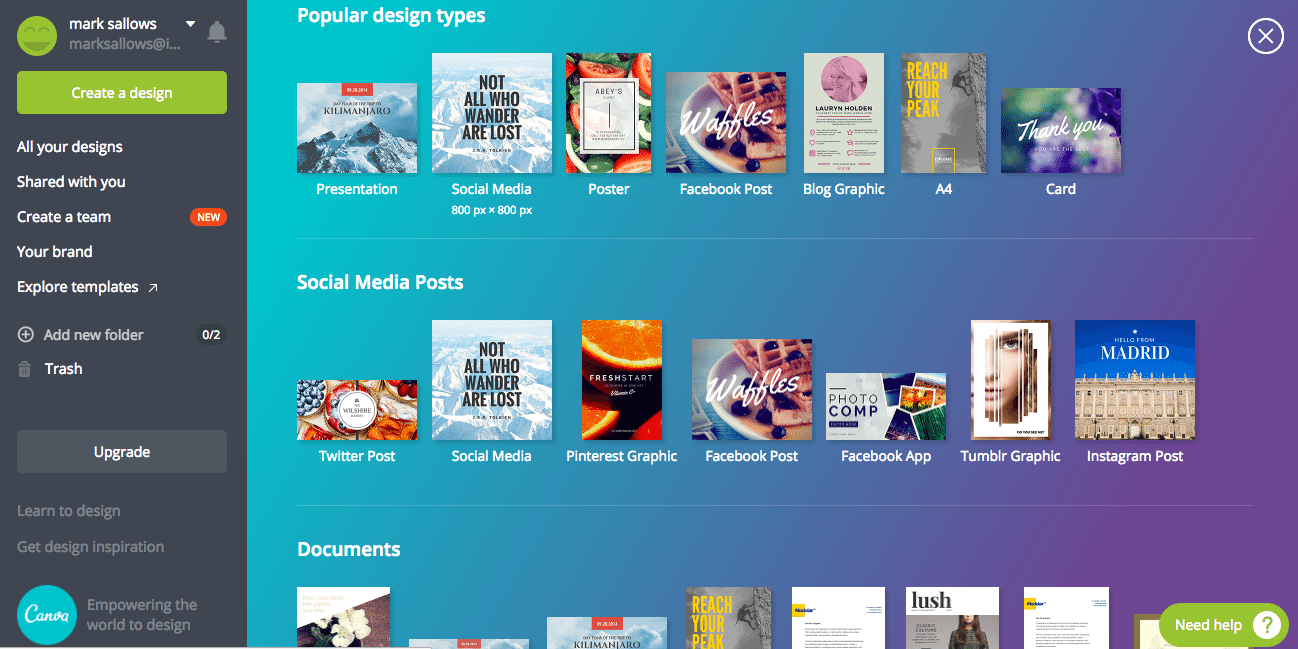 Canva Pricing
| | Canva | Canva for Work | Canva for Enterprise |
| --- | --- | --- | --- |
| Price | Free | $12.95/user per month | Coming soon |
Canva has a free version for up to 10 users and a limit of 1GB of storage. However, I would recommend the $12.95 Canva for Work package as this package allows you custom branding, color palette and fonts to create professional sales materials.
Click here for more about Canva pricing.
How Canva Improves Sales Efficiency
If you want to create sales materials in-house, Canva makes this efficient to do by providing you with over 8,000 themes to choose from. Utilizing a drag-and-drop interface, it's easy for anyone to create professionally-branded materials. This allows you to personalize sales materials for different customers without needing to incur external design costs.
How Canva Improves Sales Effectiveness
The ability to personalize your sales materials to suit each customer, for instance a sales brochure, is a great way to improve sales effectiveness. Canva makes it possible for small businesses to compete with much larger businesses who don't have the same budget restrictions and do this as a matter of course.
Canva Integrations
Canva doesn't have any integrations.
Canva Customer Support
Support includes a support service, a design school, a tutorial and a blog.
Bonus! 11. RingCentral: A VoIP Service that Integrates with CRM
You're likely to make lots of calls as you follow-up with your customers during their progression through the sales process. Keep your costs down by using a VoIP service such as RingCentral for calls, conferencing, and even SMS messages. They're our recommendation for the best full-featured VoIP provider for small businesses.
Third-party apps can also make RingCentral integrate with your CRM system, such as Pipedrive, to make recordkeeping simple. Plans start as low as $19.99/month but you can start a free trial today:
The Bottom Line
Using the best available small business sales tools is the smart way to get the most sales performance for your buck out of your highest sales cost – your sales reps. I recommend giving them the sales tools they need to function most efficiently and effectively. I would also recommend putting the right small business sales CRM in place first. I recommend Pipedrive, not just because it is it's affordable and effective, but also because it integrates easily with all of the other sales tools you are likely to need.