There are many sales tools on the market that help with specific aspects of the sales process. To help you find the best small business sales tools, we looked at solutions across each stage of the selling process and evaluated them based on pricing and features to give you the best combination for sales enablement.
Top 6 Small Business Sales Tools 2019
| Small Business Sales Tools | Best for |
| --- | --- |
| | (Best overall) Small businesses that want to track prospects through a visualized sales pipeline |
| | Organizations that need a complete, powerful business phone service |
| | Remote teams that want to communicate with employees and customers via HD video meetings |
| | Companies that want to track emails and send memorable video emails to prospects or customers |
| | Businesses that want to increase the number of quality leads in their prospect base |
| | Teams that want to build effective business presentations for free |
How We Evaluated Small Business Sales Tools
There are products in many different categories that can help teams foster business relationships and make sales. These tools involve everything from customer relationship management (CRM) platforms, to voice-over-internet-protocol (VoIP) services, to presentation software. Services should serve some use in the sales and sales management process, be affordable enough for small businesses, and offer adequate customer resources in the event of a problem.
Therefore, we evaluated small business sales tools on the following:
Price: We looked at each solution's pricing tiers and packages
Ease of use: We evaluated how easy the service is to set up and use
Sales benefit: Each solution should offer a unique benefit to small business users
Software integrations: We assessed whether each provider offered integration tools for CRM platforms for managing customer relationships
Customer reviews: It can be helpful to hear what current customers of a call monitoring solution think of a product.
Customer support: There should be ample customer support available for customers in the event of a problem.
Based on the above criteria, we recommend Pipedrive. The CRM is one of the best sales tools a small business can have when it comes to managing prospects and converting them to sales. The sales software comes at an affordable price and is easy enough to use for workers of all skill levels. The fact that it offers a visualization of the sales pipeline helps salespeople better understand where their prospects stand in the sales process.
Best Overall Sales Tool for Small Businesses: Pipedrive


Pipedrive is a CRM service that is designed to help you enter the name and information of prospects, update their status in the sales pipeline, and ultimately close a deal with them. Features include contact management, workflow automation, a meeting scheduler, and more. Pipedrive starts at $12.50 per user, per month, and is an excellent fit for any small business that wants to track prospects through a visual sales pipeline.
Pipedrive Pricing
Pipedrive offers three different pricing plans that range between $12.50 to $49.17 per user, per month. This pricing makes it one of the more affordable CRM plans available on the market today. All plans come with a 14-day free trial so that you can try the software out for yourself before committing.
Pipedrive Tiered Features
| | Silver | Gold | Platinum |
| --- | --- | --- | --- |
| Pricing | $12.50/user per month | $24.20/user per month | $49.17/user per month |
| Customizable Pipelines | ✔ | ✔ | ✔ |
| Contact & Calendar Synch | ✔ | ✔ | ✔ |
| Customizable Web Forms | ✔ | ✔ | ✔ |
| Sales Goals | ✔ | ✔ | ✔ |
| Reports & Dashboard | ✔ | ✔ | ✔ |
| Email Sync | | ✔ | ✔ |
| Hassle-free Meeting Schedule | | ✔ | ✔ |
| One-click Data Enrichment | | ✔ | ✔ |
| Non-branded Web Forms | | ✔ | ✔ |
| Team Management Tools | | | ✔ |
| Goal Tracking | | | ✔ |
| Custom Reporting & Live Dashboards | | | ✔ |
| Advanced User Permissions | | | ✔ |
| Single Sign-on Functionality | | | ✔ |
Silver
The Silver version of Pipedrive costs $12.50 per user, per month and comes with contact management tools, a visual pipeline, and a customizable reporting module. Pipedrive Silver also offers a goal tracker module that allows you to set goals for both individual salespeople and teams. These goals will appear in agents' dashboards and keep track of whether an individual or team is accomplishing those goals. The feature serves as both a motivator and an organizational tool for tracking productivity.
Compared to more expensive sales software plans, Pipedrive Silver is very basic. It lacks the meeting scheduler of the Gold version, so you will have to use an outside service like Google Calendar to set up meetings and conferences. It also lacks the live dashboards of the Platinum edition that bring you up-to-the-minute data on sales activity. Still, the fact that this plan offers such a simple set of features makes it great for teams new to CRM technology.
Gold
Pipedrive's Gold plan is $24.20 per user, per month and adds features like the automatic meeting scheduler. This allows users to send their availability to prospects to pick a time to meet. It also comes with email sync functionality that reads your inbox. Then, it automatically pulls relevant info about deals and contacts into the appropriate sales case within the system. This saves you the trouble of having to do this yourself manually.
The Gold edition is missing the more advanced features found in the top-shelf Platinum version. For example, it does not come with the team management tools that let you organize salespeople into separate teams. It doesn't come with the live dashboards of the more expensive package either. Still, the Gold version is ideal for companies that have mastered the basics of CRM functionality are ready to upgrade to some helpful sales automations.
Platinum
Pipedrive Platinum is the most expensive version of the package at $49.17 per user, per month. The sales software comes with live dashboards that update at regular intervals. It also comes with advanced user permissions which let you dictate full control over what individual users can and cannot do. For example, you could onboard sales assistants who can view dashboard information but cannot make any changes to a pipeline.
As powerful as the Platinum version is, it is more than three times the price of the entry-level Silver package. Pipedrive Platinum is likely too expensive for most small businesses. However, this system provides a robust set of features and is an ideal fit for organizations that want the very best in CRM technology.
What Pipedrive Is Missing
Pipedrive makes it very easy to keep track of leads in a sales pipeline. However, it comes up short in some regards when you compared to other CRM solutions. For example, Salesforce allows you to set up automations for your sales tracking activity like approval processes for signed documents. However, Pipedrive is so easy to use and affordable that it is still one of the best services of its kind on the market.
What Users Think About Pipedrive
Pipedrive customers are mostly satisfied with the service. They appreciate that it is straightforward to use and has a clear, clean interface. However, there are several complaints about glitches encountered when using the service.
"I love Pipedrive. It's by far the easiest to use CRM I've ever encountered. What I love about it most is the smooth integration with Gmail and all its intuitive features. It attributes emails to all the right accounts, is extremely easy to customize, and the notification system makes sure you never forget to follow up. One thing they could improve would be the dashboard functionality but, overall, it's probably the best CRM for small businesses out there."
―Alexandra Kaschuta, Manager, Fundsquire.
Best Phone Service for Sales Teams: RingCentral


RingCentral is a leading VoIP business phone service offering features like calling, texting, group chat, and video conferencing. Unlike a landline-based phone service, RingCentral is a VoIP system that transmits phone calls and texts over the internet. Pricing ranges from $29.99 to $59.99 per user, per month. It's the right choice for businesses wanting an affordable business phone service with the best combination of features.
RingCentral Pricing
RingCentral's pricing for up to 10 users ranges from $29.99 to $39.99 per month. Unlimited user plans range from $34.99 to $59.99 per month. All packages have an annual contract option for a discount on the cost per user. Customers who pay by the month can cancel any time without penalty.
RingCentral Tiered Features
| | Essentials | Standard | Premium |
| --- | --- | --- | --- |
| Pricing | $29.99/user per month | $34.99/user per month | $44.99/user per month |
| Toll-free Minutes | 100 | 1,000 | 2,500 |
| Unlimited Calls | ✔ | ✔ | ✔ |
| Unlimited SMS | ✔ | ✔ | ✔ |
| Mobile Apps | ✔ | ✔ | ✔ |
| Unlimited Video Conferencing | | ✔ | ✔ |
| Multilevel Auto Attendant | | ✔ | ✔ |
| Internet Fax | | ✔ | ✔ |
| Call Logs & Reports | | ✔ | ✔ |
| Automatic Call Recording | | | ✔ |
| Integration With Salesforce | | | ✔ |
| Voicemail-to-Text Transcription | | | ✔ |
Essentials
The Essentials plan, which starts at $29.99 per user, per month, is RingCentral's entry-level package. This plan includes unlimited calling within the United States and Canada and short message service (SMS) supports up to four people in an audio or video conference call and comes with 100 toll-free minutes. It also comes with access to the mobile app so that salespeople can effectively take their work number with them by downloading it on their personal iOS or Android device.
Unlike the more expensive Standard option, this package does not offer a multilevel automated attendant feature. This means that you will have to greet and route callers manually when they call. It also lacks faxing, which could be a deal-breaker for teams that still use the technology. Still, the Essentials package is a robust sales too that has a complete core set of features for any general business user.
Standard
For $34.99 per user, per month, the standard version of RingCentral adds an automated attendant to the software. This is a useful feature because it can automatically pick up the phone for you when a customer calls. It provides them with a voice menu where they can reach their desired extension without having one of your human employees intervene. This is convenient and also gives your organization a more established, respectable phone presence.
However, if you want advanced features like automatic call recording and voicemail-to-text transcription, you will have to upgrade to the more expensive Premium package. This version also only provides 1,000 toll-free calling minutes a month, which could run out quickly if you have a high call volume. With that in mind, the fact that RingCentral Standard comes with the multilevel automated attendant makes it worth the cost for established companies.
Premium
RingCentral Premium contains all of the features of the Standard as well as automatic call recording, voicemail transcription, inbound caller ID and integrations with business tools like Salesforce and Zendesk. This means that incoming caller data can be sent and stored in those systems automatically without you having to do it manually. This helps increase the number of leads your sales team has.
The Premium plan is the most comprehensive package for the lowest price that RingCentral offers and therefore is the best for a medium- to large-sized businesses that can take advantage of all the advanced features. This plan also supports up to 100 people in audio or video conference calls, which will be useful in supporting a larger remote workforce.
What RingCentral Is Missing
RingCentral offers a complete set of telephony features. However, it is one of the pricier business phone services on the market. For example, you can subscribe to Grasshopper for as low as $26 per month for three users. Still, RingCentral offers an ideal mix of usability and functionality. It is an excellent option for any small business sales team.
What Users Think About RingCentral
Customers are happy with the range of features that RingCentral offers and the overall reliability of the service. However, some were disappointed with the long customer support phone queues and lack of response via email for support.
Best Sales Tool for Video Meetings: Zoom


Zoom is a video conferencing platform that gives presenters the ability to share their camera or screen, even when on a mobile device, for free. Paid versions range between $14.99 and $19.99 per user, per month, for meetings with features like webinar transcripts. This makes Zoom a great sales tool for those who want to hold webinars or video meetings for customers and associates.
Zoom Pricing
Zoom's prices range from the free Basic plan to $19.99 per host at the highest level. Each level of service supports at least 100 participants. The fact that you have so many attendees on the free version of the app makes this one of the most affordable systems on the market.
Zoom Tiered Features
| | Basic | Pro | Business |
| --- | --- | --- | --- |
| Price | $0 | $14.99/host per month | $19.99/host per month |
| Number of Participants | Up to 100 | 100, with option to add more | 100, with option to add more |
| Time Limit on Meetings | 40 minutes on group meetings | None | None |
| Unlimited Meetings | ✔ | ✔ | ✔ |
| Host Controls | ✔ | ✔ | ✔ |
| User Management Tools | | ✔ | ✔ |
| Admin Feature Controls | | ✔ | ✔ |
| Reporting | | ✔ | ✔ |
| 1GB Storage | | | ✔ |
| Dedicated Phone Support | | | ✔ |
| Cloud Recording Transcripts | | | ✔ |
| Admin Dashboard | | | ✔ |
| Vanity URL | | | ✔ |
Basic
Zoom's free Basic tier supports up to 100 participants for an unlimited number of meetings, which is why it is also one of the best free sales tools out there. You also get access to host controls so that you can mute participants or kick them out of the meeting altogether. Zoom offers exceptional audio and video quality at all levels of service so that you should be able to understand speakers as long as they have a decent internet connection.
However, Zoom Basic is limited to meetings of just 40 minutes in length. It also lacks the analytic reports found in the more expensive versions of the software. Therefore, Zoom Basic is best for small companies that only need to have brief webinars or meetings for smaller audiences.
Pro
For $14.99 per host, per month, Zoom Pro grants you access to administrative controls, which allow you to disable meeting recordings and chat. It also comes with a reporting module that provides detailed information on how many people are viewing your webinars and the length of your meetings.
Zoom Pro, along with all versions of the software, has no option to host meetings within a web browser. This means that all of your attendees will have to download the Zoom client on their own machines. It also doesn't allow for file sharing like other webinar platforms on the market. Still, Zoom Plus is suitable for budget-conscious businesses looking for a good mix of premium call control features.
Business
This top-tier version of the Zoom costs $19.99 per host, per month, and comes with automatic transcriptions of your meeting recordings. It also comes with the ability to give meetings custom URLs. This is helpful as you can create memorable URLs that your audience will remember better instead of a random assortment of numbers and letters.
Zoom's Business version is powerful, but it only comes with 1GB of cloud storage for your content. While this isn't a significant issue, it would be nice if you could share lots of meetings and other files easily using the service. However, $19.99 is a reasonable price for so many features. This is an ideal option for companies that want to use custom URLs for a more professional presence when inviting associates to presentations.
What Zoom Is Missing
Hosting webinars via a piece of sales software like Zoom is an effective way of staying in touch and fostering relationships with your customers. However, other solutions on the market, like GoToMeeting, offer unlimited cloud storage for meeting recordings. However, as a workaround, you can store meetings on your local machine and upload them to a storage service. Zoom remains one of the best conferencing tools available today.
What Users Think About Zoom
Users are satisfied with Zoom. Our readers gave it a 4- out of 5-star rating. They find that it has exceptional call quality and that the system is intuitive. Some negative reviews mention that users can get booted from a meeting if their connections are too slow.
Best Sales Tool for Video Emails & Email Tracking: BombBomb

BombBomb is an email marketing platform that allows users to send videos to their contacts through email, text, and social media. Additionally, it allows you to track every email you send through the service so you can see who opens your messages. It can even provide notifications for when prospects read your emails. BombBomb sals software starts at $468 per year and is ideal for teams that want to send memorable emails as well as track their marketing efforts.
BombBomb Pricing
BombBomb offers three different pricing package: Individual for $468 per year, Individual Plus for $588 per year, and Individual Plus + Prompt, which costs $1,499 per year. While this system comes at a high price, it's worth noting that this is not priced per-person so team members can share one account.
BombBomb Tiered Features
| | Individual | Individual Plus | Individual Plus + Prompt |
| --- | --- | --- | --- |
| Price | $468 per year | $588 per year | $1,499 per year |
| Contacts | 2,500 | 3,500 | 3,500 |
| Gmail App & Chrome Extension | ✔ | ✔ | ✔ |
| Mobile App | ✔ | ✔ | ✔ |
| Email Tracking | ✔ | ✔ | ✔ |
| Group Coaching Session | ✔ | ✔ | ✔ |
| Automated Follow-ups | | ✔ | ✔ |
| Priority Support | | ✔ | ✔ |
| Customized Campaigns | | | ✔ |
| Home Purchase Anniversary greetings | | | ✔ |
| Birthday Messages | | | ✔ |
| Educational Training Videos | | | ✔ |
| Automatic A/B Testing | | | ✔ |
| Prewritten Emails | | | ✔ |
Individual
BombBomb's Individual version costs $468 per year and allows you to send video emails to up to 2500 contacts every year. These videos can either be anything from a quick greeting recorded with your webcam or a professionally shot advertisement. Additionally, you also get the ability to track these emails and see insights on email open rates, how long they spent looking at your content, and how many links they clicked.
However, advanced features such as automated follow-up messages and pre-generated greetings are locked behind more expensive versions of the system. Still, this entry-level sales tool offers a core set of features for an affordable price. You can even share an account among your entire team so that you don't have to buy multiple licenses.
Individual Plus
Individual Plus adds the ability to configure and deploy follow-up messages to up to 3,500 prospects. For example, you can set up another email to be sent a week after your original greeting that brings up relevant details about the message and inviting the prospect to get in touch again. You also get priority over Individual package customers when reaching out to the company's customer support. The Individual plus package costs $588 per year.
While this is a powerful package, you'll still have to create content by yourself. Unlike the more expensive Individual Plus + Prompt edition, this version does not come with pre-generated greetings that you can edit and deploy to your audience quickly. As a result, Individual Plus is ideal for companies that do not mind drafting their own email messages.
Individual Plus + Prompt
For $1,499, BombBomb's Individual Plus + Prompt edition also supports messaging to up to 3,500 contacts and adds a range of extra features. The package comes with pre-generated greetings that salespeople can use to generate and deploy emails quickly. This includes birthday and holiday greetings that you can send existing customers. This can help make them feel valued and likely to become repeat customers.
It is disappointing that the company's educational videos are only available to those who buy its most expensive version. This means that anyone who wants guided help in using the system is being forced to pay as much as triple the cost of the entry-level package for features they may not need. BombBomb Individual Plus + Prompt is only recommended for sales teams that want to use prewritten greetings.
What BombBomb Is Missing
BombBomb is a unique system that can help you build relationships with your contacts. However, it comes at a higher cost compared to more traditional email marketing services like Mailchimp, which offers paid versions starting at just $10 per user, per month. However, BombBomb's video emailing features are unmatched and are ideal for any salesperson looking to make memorable content.
What Users Think About BombBomb
Our readers give BombBomb mixed reviews. On the one hand, they like being able to send embedded videos into email contents so easily. Some users report that it has had a direct effect on the number of deals they close. However, some users find that the price of the system is steep.
Best Lead Generator Tool for Sales: UpLead


UpLead is a lead generator sales tool that sells business users access to its database of more than 30 million verified business contacts. With a starting price of $49 per month, it provides a list of email addresses in a searchable database that you can market to and, hopefully, close deals with. UpLead is ideal for companies who rely on cold calling and emailing for the bulk of their sales and need a reliable source for verified leads.
UpLead Pricing
UpLead charges a monthly fee based on the number of credits that you need. Credits can be used to download contacts. Pricing starts at $49 per month for 200 credits and goes to $299 for 3,000 credits. One credit equals one downloadable contact.
UpLead Features
UpLead is designed to provide you with real people that you can reach out to and build business relationships with. The company promises that every contact you download is a real person. You can search for leads by location, name, industry, and other filters.
Sales Value
Finding quality leads is an arduous process. Without a lead generator, it requires a lot of cold calling and sorting through bad numbers and disinterested contacts. UpLead saves your agents a lot of time and effort by providing a list of leads that they can immediately start working with. The fact that each contact in its system is verified ensures that you are not paying for invalid email addresses.
Setup & Ease of Use
Using UpLead is a straightforward process. All you need to do is go to UpLead's website, choose a package, and make an account with the company. From there, you can search through the company's database based on name, industry, company, company size, and more. Once you are done, you can spend credits on downloading a list of these contacts and start reaching out to them immediately.
Additional Features
In addition to basic contact information, UpLead lets you build detailed profiles for each of your contacts. For example, you could go to a chief marketing officer's profile and, if you have the information, add their education background, experience, and links to their social media profiles. When their profile is downloaded and shared with your sales team, they will also have this information that could be useful in closing a deal with them.
What UpLead Is Missing
UpLead is a phenomenal sales tool to find prospects to speak with. However, if you deliver effective sales pitches when you are talking to these contacts, then you will want a presentation building tool such as Google Slides in your toolkit. Google Slides is a free solution that lets you build, edit, and share visually striking presentations for your clients and associates.
What Users Think About UpLead
Customers are mostly satisfied with all that UpLead has to offer. Many users report that there are plenty of search filters that can be used to find the exact types of business-to-business (B2B) individuals they want to market to. However, some users also complain that the company's customer service channels are unhelpful.
Where to Find UpLead
UpLead provides quality, verified B2B leads as a fair price. Using its service saves your team the trouble of having to find contacts themselves and lets them focus on closing deals. Click the button below to start your free trial with five free leads today.
Best Lead Generator for Sales: Google Slides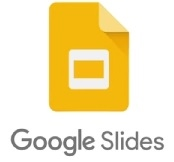 Google Slides is a free presentation-building solution that is part of the company's suite of business productivity software, which also includes Docs, Sheets, and Forms. Google Slides comes with a robust set of tools to let you create presentations as you see fit. Google Slides is our best overall pick for small business PowerPoint alternatives due to its features and general usability. It is great for any sales team looking to build effective presentations.
Google Slides Pricing
Google Slides comes free with any personal Google account and also comes bundled with the G-Suite platform for business email accounts, which costs $6 to $12 per user, per month. This makes it one of the more affordable presentation builders on the market.
Pricing Plans include:
Personal Google Accounts: Free with 15GB of storage
G-Suite Basic: $6/month, per user with 30GB of storage
G-Suite Business: $12/month, per user with unlimited storage, activity reporting, and retention policies
Additional 100GB of storage is available for $1.99 per month.
Google Slides Features
Google Slides allows you to create and present slideshows with a wide range of templates to choose from. You can even import PPT files so that you can work on existing PowerPoint files if need be. It also allows real-time collaboration, which is great for teams that are working on important presentations together.
Sales Value
If you have ever used Microsoft's PowerPoint software, then you should be immediately familiar with Google Slides. This web-based solution provides a set of tools for building slideshows with text, audio, and video. It also comes with tools for giving presentations, such as a remote clicker for smartphones, and speaker notes. This is helpful for sales because you can provide visual content to show to prospects as you are giving your sales pitch.
Setup & Ease of Use
If you have a free Google account, you can start using Google Slides immediately by going to slides.google.com. From there, there is a very clear and intuitive interface for building your presentations as you see fit. Should you need any help, Google offers a community forum that has an active group of posters to help you solve problems.
Additional Features
One of Google Slide's best features is the fact that you can collaborate on presentations for free. If you send a link to your presentation to one of your teammates, they can sign in, look at what you are doing, and make changes in real-time. This is ideal for group projects as everyone can not only provide input into presentations but enact those changes themselves as well.
What Google Slides Is Missing
Google Slides is one of the most popular presentation systems on the market. However, presentations look only as good as you can design them. If you do not have an eye for design, you might want to use a simple premade template and enter your text into the slides.
What Users Think About Google Slides
Most users are impressed with how useful Google Slides is, especially for a free tool. Remote teams particularly love the collaboration features, and most customers find the platform highly intuitive. There are complaints about some features being broken when Google issues updates to the platform, but that the company is quick to fix the issues.
Types of Sales Tools
There are many different sales tools on the market. All of the solutions that we looked at are helpful in a different part of the sales process. Some are meant to help you source leads while others let you track prospects through a pipeline. Others are designed to help you make effective marketing collateral.
CRMs
In basic terms, CRM systems are designed to help you manage all of your company interactions with either prospective customers or existing customers. You can almost think of it as an enhanced version of the Rolodexes of old. The sales software keeps tabs of the names and contact information of your customers.
However, it adds to that by letting you attach notes to each contact and track where they fall on a sales pipeline, all the way from the sourcing of the lead to closing the deal. CRMs are a vital tool to the modern salesperson as they help you keep track of the people you are marketing to.
Business Phone Services
Despite a wealth of other tools available, the telephone remains an essential tool of salespeople all around the world. Having a business phone service in place allows you to make calls, hold conferences, and even send text messages with a unique business number.
In 2019, most new business phone systems are VoIP services that transmit calls over the internet rather than traditional copper landlines. These services are cheaper than landline setups and also come with features like visual voicemail, SMS, and even mobile apps so that you can take your work number with you on your personal device.
Video Conferencing Software
As its name implies, video conferencing services allow remote users to tune into virtual conference rooms via their webcam and computer microphone. This way, sales agents can enjoy "face time" with coworkers and associates even when they are traveling for work.
Video conferencing services are popular among remote employees of all kinds, and sales teams are no exception. Modern technology has also allowed video conferencing systems to offer video quality and audio quality so high that you can have a natural conversation with someone on the other side of the planet. Click here to read more about video conferencing systems.
Email Marketing Software
Email marketing software is designed to let you create and send targeted email campaigns to your audience. These messages offer professional-looking contents sent right to the inboxes of your prospects and customers. Not only that, but these solutions can often track the performance of your campaigns, telling you how many people opened the message, what links they clicked on, and other useful information.
Email marketing campaigns are a fast, easy, and cost-effective way of letting your prospects know about your company's services. They are also easy enough to use even for nontechnical users.
Lead Generation Software
Cold calling takes up valuable time and effort. Rather than try to create business leads yourself, there are many lead generation services on the market that provide you with a list of quality contacts to market to at an affordable price. These services are incredibly easy to use and often let you download contact lists into a simple .csv file for easy sharing.
Presentation Software
Most people have come across a slideshow presentation at some point in their professional lives, and for a good reason. As a salesperson, visual aids can help you illustrate your points better. For example, a chart or a bulleted list can drive home the incredible value of your product or what sort of benefits working with your company might provide.
Bottom Line
There is no shortage of sales software tools available today to help your business foster relationships and close deals. Everything from CRMs to email trackers to lead generators and beyond can all be used to help your company succeed.
We think that every sales team should have a CRM in place. Pipedrive is among the best tools of its kind on the market today, especially for beginners. It strikes an ideal balance between being intuitive while also having enough functionality to help you manage prospects through a pipeline. Click the button below to get started with Pipedrive today.