How To Track and Pay Bills in Sunrise Accounting
We're pleased to present this tutorial for Sunrise, one of our best accounts payable (A/P) software and leading small business accounting software. In this third lesson of our free Sunrise tutorials, we're going to cover how to pay bills in Sunrise Accounting. We'll also show you how to add expenses, track unpaid bills, and classify expenses from the bank feed.
You'll get the most out of this guide by following along in your own Sunrise account. If you haven't yet subscribed to the platform, you can sign up for a free account or enroll in a 14-day free trial of Sunrise Plus.
In the news:
Sunrise by Lendio has been renamed Lendio Accounting.
Step 1: Add & Manage Vendors
Adding vendors to Sunrise can be done manually or by comma-separated values (CSV) file import. Both vendors and customers are classified as contacts within the software, and you can indicate a contact as one or the other (or both), during setup. You can also add a new vendor when creating a new expense.
To navigate to the Contacts page, follow these steps:
Step 1: On the left menu bar, select My Business.
Step 2: Click on Contacts.
You'll see a list of contacts that have already been created here. Below, we describe how to import, manually add, edit, and delete vendors in detail.
Import Vendors
The first step in importing vendors in Sunrise Accounting is to create your file for import. Sunrise can only import CSV files, so your contact list must be exported from your prior software in that format. You can find detailed instructions on how to generate this CSV file within the help feature of your prior program.
Step 1: Access the Contacts page from the My Business tab on the left navigation menu.
Step 2: Click the More drop-down list.
Step 3: Click Choose CSV file and navigate to the necessary fields. Once your file has been successfully imported, you'll see a message that indicates the import was completed.
Add Vendors Manually
Step 1: From the Contacts page, click the green Create Contact button.
Step 2: The next screen will show three tabs: Contact, Address, and More. Fill in the fields for each as described below.
Fill in the following info for each section. All fields are optional, except Contact and Country.
Contact: Business or contact's name, country, phone number, and whether the contact is a vendor or customer (you may select both)
Address: Street address, city, state, and ZIP code
More: Fax number, website, tax ID, currency, payment terms, email attachment delivery mode, and tax-exempt option

Step 3: When you're done entering contact information, click Save.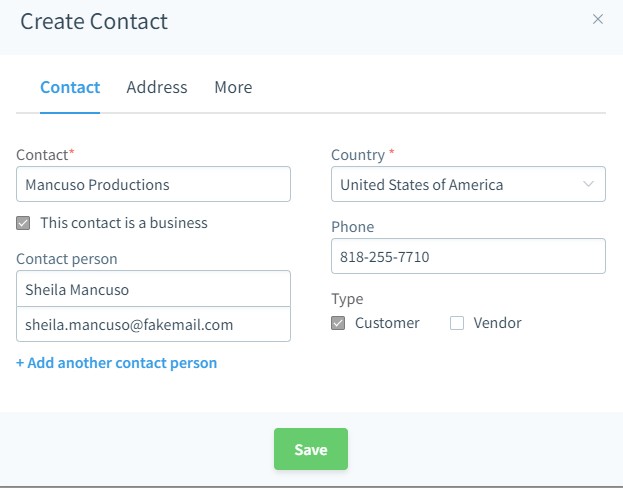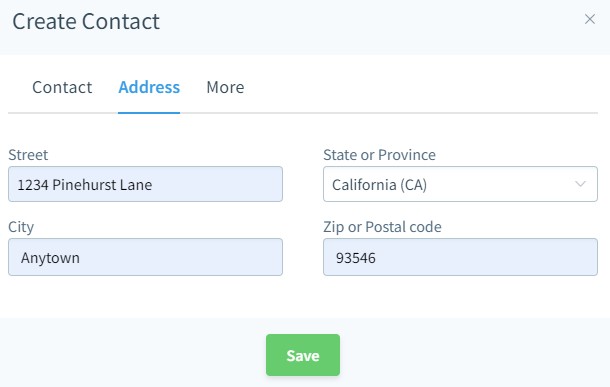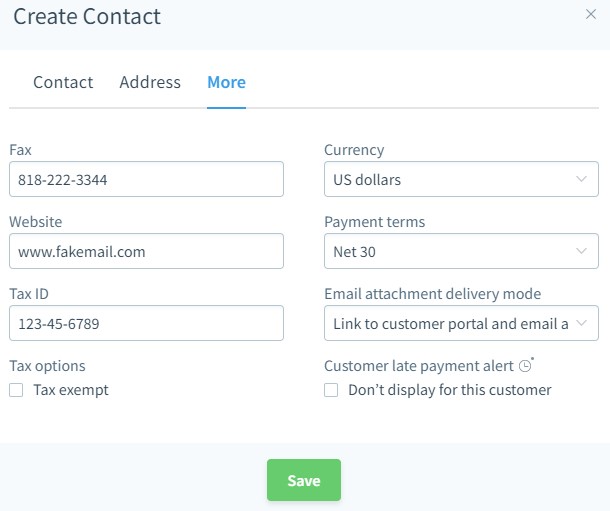 Edit Vendors
Step 1: In the left menu bar, click My Business.
Step 2: Select Contacts.
Step 3: On the Contacts page, click on the name of the contact you want to edit.
Step 4: Click the blue Edit link on the right.
Step 5: Make any necessary changes and click Save to update the information.
Delete Vendors
Step 1: On the Contacts page, click the name of the contact you want to delete.
Step 2: Click the More drop-down menu in the upper right corner.
Step 3: Select Delete Contact.
Step 4: Click Yes, delete to confirm.
Step 2: Add Expenses That Are Paid Immediately
This section addresses how to add expenses that are paid immediately as opposed to entering an unpaid bill and then paying later. There are two main paths to entering expenses, either manually or by using a bank sync. We covered how to set up a bank connection and download your transactions in the first tutorial, and below we show how to add expenses that are paid right away, as well as describe the fields that you'll need to complete.
Step 1: In the left menu, click on the Expenses tab.
Step 2: Click on the green Create Expense button in the upper right corner of the screen.
Step 3: Enter the following information to create your expense. To mark the expense as already paid, you'll need to check the paid box and indicate the payment date and account it was paid from in the drop-down menu.
Vendor
Expense date
Paid (status)
Due date
Voucher #
Reference #
Currency
Description
Expense Category
Amount
Step 4: Drag and drop or click to upload any necessary files.
Step 5: When finished, click either Approve or Save as draft if you need more time to create the expense.
Step 3: Track Unpaid Bills
If you're wondering how to track bills in Sunrise Accounting, you'll be glad to learn that the platform allows you to view all of your bills and their associated status, whether they're paid or unpaid. To navigate to this section, click on Expenses on the left menu bar and then select Record Expenses. This will take you to the screen where you can enter and view unpaid bills.
Enter an Unpaid Bill
To enter an unpaid bill, you'll want to follow the same steps as in Step 2. The only difference is that you don't check the box that indicates the bill was paid. This will leave it as an outstanding bill.
View Unpaid Bills
You can view the list of your unpaid bills by navigating to the Expenses screen.
Step 1: On the left menu bar, click on Expenses.
Step 2: Select Record Expenses.
Step 3: The following screen will show a list of all bills or expenses that have been entered, both paid and unpaid. To view a list of unpaid bills, click on the Unpaid tab.
Step 4: The following screen shows the status of your bill (whether it's overdue or unpaid), the bill number and date, vendor name, expense category, and amount. There's also an Action drop-down menu, which allows you to take the following actions:
Enter Payment
View Expense
Duplicate
Credit Expense
Edit
Void Expense
Alternatively, you can click on the bill in the list for greater detail, which is explained below.
This is the main page, which gives you access to various actions, including entering payment.
Expense summary: This page shows a summary of the expense, including the description, expense category, and amount
Enter payment: Once you pay the expense, you can record the payment by clicking on this button. When you enter the payment, the expense will no longer be marked as unpaid.
You can add comments and view a timeline in this section.
Timeline: The timeline shows all of the activity associated with the expense since it was created
Comments: If you want to remember specific details about an expense, you can add comments. This is also helpful for collaborating with other staff members and sharing certain information about an expense.
Enter the Payment of an Unpaid Bill Manually
Adding a payment in Sunrise changes the bill status from unpaid to paid and allows you to match it to transactions in your bank feed.
Step 1: On the Expenses screen, click on the bill that you want to record payment for.
Step 2: Click on the green Enter Payment button in the upper right corner.
Step 3: Fill in the payment date and amount and select the payment account from the drop-down menu.
Step 4: Click the Enter Payment button to confirm.
Match an Unpaid Bill to a Payment From the Bank Feed
One of Sunrise's unique features is that you can match an unpaid bill to a payment from the bank feed. You also don't need to enter manual transactions—as long as all of your business expenses are found in your synced bank account.
You'll learn more about matching transactions in our next tutorial about bank reconciliations, but this ultimately saves you a step because you don't have to manually enter the bill payment once it's made. Instead, you just need to drag the unpaid bill to the list of unmatched transactions from your bank account, as shown below.
Step 1: On the left menu bar, click your account name in the banking section (checking in our example below).
Step 2: Click on the Unmatched tab and locate the transaction transferred from your bank account that you want to match with the unpaid bill.
Step 3: On the right column, you'll see a list of Created Entries. Find the matching entry that you have created and drag it to the unmatched transaction.
Step 4: Click the green Match To button to confirm. The transaction will move to the Matched Transactions list.
Bottom Line
You have now learned how to track bills in Sunrise Accounting, as well as how to manually enter the payment of an unpaid bill and track expenses that are paid immediately. The next tutorial in our Sunrise course is How to Reconcile Bank Accounts. It will include reconciling your bank feed with your bank statement and how to upload a CSV version of your bank statement.