TSN Advertising  has an interesting value proposition. In the interview below with TSN's CEO, Eric Zdenek, he states that TSN's Out-Of-Home (OOH) advertising solution has an effective CPM rate  (cost per thousand ad views) that is a fraction of traditional billboard advertising. He indicates that buying ads on the sides of large, local delivery trucks can back into a rate of only $1 per thousand views.  An advertisement on a typical delivery truck receives about 1,000,000 views per month. Using a $1 CPM rate, buying an advertisement on a local delivery truck should cost about $1,000.  That sounds affordable.
1) What is the primary service your company provides to local businesses?
TSN Advertising provides Out of Home advertising for our clients across the country on the sides of local delivery trucks.  We partner with local, large delivery trucks that are based in and deliver to the markets in which our clients are interested in advertising.  We then execute, monitor, and wrap up the campaign on their behalf.
2) I have noticed that some companies involved in Out Of Home advertising only serve certain regions. Is your company able to service businesses throughout the US?
Having the advantage of a nationwide inventory of trucks, TSN has already launched nationwide campaigns for two of our clients, Samsung and Boost Mobile.  We are active in a dozen markets from Miami to LA and have inventory in another 40 markets, hitting well over 90% of the US market.
3) What type of local businesses tend to use your services?
TSN so far has worked with major brands such as Jamba Juice and the LA Clippers in two types of promotional campaigns: product promotion and TV Network promotion.  But our primary area of strength as a platform is in our branding abilities with our large scale platform and our relatively low cost per square foot vis a vis other OOH platforms.
4) What is the difference between Out Of Home (OOH) and billboard advertising?  Do local businesses tend to focus on buying billboards?
Billboard advertising is one medium in the larger, OOH category of advertising.  Certain local businesses find advertising on billboards particularly helpful when they are used to promote their nearby location…a billboard over a local restaurant is a great example.  For other businesses, in particular virtual businesses, transit or truckside advertising suites them well as the price point allows for more exposure and their business model accommodates customers from a wider geographic area.
5) What advantages do billboards and OOH have over radio and local broadcast for a small business?
A common aspect hailed by OOH providers is the inability for OOH audiences to 'change the channel' on advertisers.  Increasingly, consumers are skipping ads and changing stations to avoid traditional radio and television advertising.  We can see this phenomenon in advertisers' new approach to TV and Radio: There's been a steady shift away from traditional Radio and Television and towards a broader, New Media Marketing approach, which utilizes online videos, grassroots marketing tactics, and integrated OOH campaigns.
An excellent example of late is the integration of cult comedy star character, Ron Burgundy and the promotion of the Dodge line up of vehicles & Anchorman 2.  Dozens of online-only videos were made next to just a couple that aired on television.  In addition, the promotion of Anchorman 2 has shifted much of the traditional commercial dollars to live promotions, meant to inspire an audience to seek it out, rather than trying to capture the audience's' attention through traditional TV and radio spots.
The new landscape of the 'impatient audience', if you will, has forced advertisers to re-evaluate their radio and television approach and left the OOH arena as a viable branding solution to an increasingly elusive audience.
As providers of hundreds of square feet of branding at the street level, TSN is in a unique position to get a client's advertisement in front of commuters and consumers without risk of the channel being changed.
6) What are common mistakes that small businesses make using OOH advertising?
Small businesses of less than, say, $2 – 5 million in revenue, often times find themselves in a challenging middle ground between valuable, pro business growth, Direct Results needs, and the eventual, overarching value that comes with brand recognition.  Not only do both of these require their own marketing approach, they also yield different results for the advertiser.  A younger, direct results-focused company could find themselves mistakenly employing a large, branding platform like billboards before they can justify the larger expense associated with them.
Although the branding side of the OOH arena requires larger budgets, it does yield stronger brand reinforcement for their advertisers.  This brand recognition lends itself to stronger results across all other marketing tactics and business development efforts.  However, employing costlier brand recognition OOH mediums too soon can drain too much of a small business' marketing budget to be justified.
7) Can you think of a fantastic OOH campaign for a small business which your company was involved? Do you have a picture?
TSN recently helped promote a new partnership between Jamba Juice and the MLS team, Chivas USA.  The campaign utilized the trucks in the campaign to promote a new summer flavor at several Southern California Jamba Juice retail locations along with nearly a dozen home Chivas USA games.  The trucks themselves circulated throughout LA during the week and provided highly targeted advertising on the weekends.
8) What questions should a small business ask when buying billboards or OOH?
The first questions I'd ask would be internally facing, if you will.  What are our immediate business development needs?  Where are we on the 'direct results (DR) to branding' spectrum?  Do our OOH options align with the state of the business' marketing needs?  To that end, I'd be sure to ask, "how will we know this is working?"  This answer will yield further insight into the original question I posed, "where are we on the "direct results to branding" spectrum."  If your answer is, "we'll know if we get phone calls", you're probably closer to the DR side of the spectrum.  If your answer is, "do we see references to this particular OOH campaign pop up in new biz outreach, do we see an uptick in the success of other marketing efforts like adwords or subscription numbers, etc," then you're probably on the branding side of the spectrum.
Once you answer those questions, you can allot your marketing budget and set yourself up for success when you answer the next set of questions I'd ask.
Specific to OOH campaigns, I'd like to know the metrics around the platform. For a branding platform, I'd need to know the cost per square foot, the cost per thousand impressions (CPM), the coverage area, the production costs, and finally, the placement (monthly) costs.
Drilling down even further into what TSN offers, I'd like to know what special appearances will cost me as advertisers can now reach special events with branding-sized platforms in ways that avoid the elusiveness of the 'impatient audience' I spoke of earlier.
Finally, I'd take a look at some of the intangibles like, what might the perception of this platform be?  If we employ skinny billboard trucks, might our customers backlash as these units add to traffic congestion and pollution? If we use buses will we be spending too much to wrap a large portion of it that ends up being difficult to see due to perforated windows, wheel wells, and partitioned doors?  If we use billboards how do we avoid being one of the poor billboards with a tree covering a portion of it?
9) What is the pricing model for buying OOH advertising?
All OOH buys include two components: Production and Placement costs.  Production is the one-time cost to produce and install the physical advertisement.  Placement costs are the weekly or monthly costs associated with having the advertisement up and running.
TSN offers its platform with three components: production, placement, and special appearances.  TSN is proud to offer our clients industry-low production costs, which come in at over 60% less than the industry average.  Yes, you read that correctly, 60% less.  Our photo quality, professional print and installation capabilities allow our clients to increase their campaigns by 20-40% over the competition.  Finally, should our client have the need to bring their 440+ sq ft advertising unit to a special event, we offer such a service on a simple per hour basis.
10) How accurately can one predict the number of people will "pass by" a OOH advertisement? What percentage of these people will tend to look at the advertisement?
According to surveys conducted for organizations like the Outdoor Advertising Association of America, truckside advertising is among the most recognizable and memorable form of OOH advertising.  Attention rates are commonly over 90% and retention rates are commonly over 75%, both figures are markedly higher than we see for bus shelters or billboards.  This doesn't come as a surprise to us as our trucks sit directly at eye level and are often stuck next to or in front of our audience.  As for campaign metrics, our platform has the ability to include comprehensive reporting, which offers real timeimpression estimates and CPM (cost per 1000 impressions) levels.  After a few of our clients opted for this reporting, we showed our trucks to generate over a million impressions per month, per truck, which yielded a CPM of just over $1.  That's compared to billboard averages CPM of about $4 – 5.
11) How have technology advances in the last few years, impacted how local businesses advertise?
Surprisingly enough, technology has revolutionized the OOH, truckside advertising industry.  Just a couple years ago wrapping a truck would cost you some $5,000 and take all day for an experienced crew of 3 or 4.  And many current companies have been slow to adopt new material and practices and still charge between $3 – 4k per truck.
Now, with technological advances in the material available for wrapping and decreased costs for the material, we can wrap a truck in just a couple hours and do so for only about $1,000.  Because of the tremendous volume TSN wrapped this past year, we have been able to pass on 10s of 1000s of dollars in savings to our clients.  These savings have been used to increase the campaign size, as we did with 800LoanMart to an incredible 100 trucks, and in other instances were used to free up budget for more product giveaways in the case of Boost Mobile.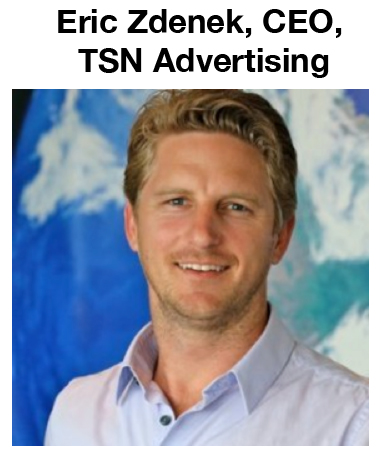 Eric Zdenek is a UCLA and London School of Economics alumnus who has been involved in startups for over 10 years, starting with a family business in LA. During his time at UCLA, he led and grew the sales and marketing team for Mobile Illumination, an LA-based holiday lighting company.  After growing the company's sales from $200k to a market-leading $5 million in just 5 years, he changed course with long-term volunteering in Thailand.
After helping run the all-volunteer organization All Hands Volunteers' first project, Eric returned to the startup world to take on a daunting challenge: find a way to offer substantial branding opportunities in the overly expensive, oligopoly-dominated Out of Home space.
TSN Advertising was founded to provide exactly that: genuine branding opportunities in the OOH space without astronomical price tags.  Within the first year of operation, TSN landed accounts that spanned the country from major brands such as Samsung, the LA Clippers, Jamba Juice, Boost Mobile, Chumash Casino & Resort, and even launched the nation's largest truckside advertising campaign with 800LoanMart.  TSN is now in an aggressive growth phase as it builds on its early success.