Twitter came on the scene in 2006 and has evolved at warp speed ever since. Not only is it one of the most visited social mediums in the world—but it has also become a game-changing recruitment tool and brand builder. Candidates and employers can quickly find each other to learn more about the other. There are best practices when utilizing Twitter recruiting, and we will dive into some of them, which will give you enough information to launch your own Twitter recruitment campaign.
Although not all of these are needed to be successful with your Twitter recruitment strategy, the general idea is that the more of these recommendations you consider using, the better the chance that job seekers will find you.
1. Create a Separate Twitter Account for Recruitment
Both large and small organizations are beginning to utilize Twitter as part of their overall recruiting efforts. What many progressive Twitter-using companies have begun doing is to create a separate channel (or Twitter account) for their recruitment campaigns.
This can be incredibly effective as it drives targeted traffic to the recruitment account where you can spend your (precious) brief messaging space addressing career and related opportunities instead of the company's products and services.
For example, here is how Walt Disney leverages Twitter for both its commercial marketing and advertising (the left image) and its recruiting campaigns (the image to the right).
2. Determine the Type of Recruitment Tweet
Employers utilize Twitter in several ways. Some title their tweets "job openings," others use "job perks," and so on. It is suspected that over 80 percent of corporate Tweets, in general, have to do with recruitment activity of some kind. As a result, job seekers on Twitter know to track companies of interest through their corporate Twitter accounts.
Twitter is also a strong social network because it wields its platform strengths through overall follower-connectivity. Your Twitter account can easily let followers know of upcoming in-person recruiting events, new job postings, and specific company- or brand-related recruitment advertising that may be of interest.
Again, this can be part strategy related, as not all companies will lead with "job openings." If companies have strong recruitment tools through their benefits or paid time off (PTO) programs, it is wise to lead with these employment-related attributes as opposed to a more generic "job opening" phrased announcement.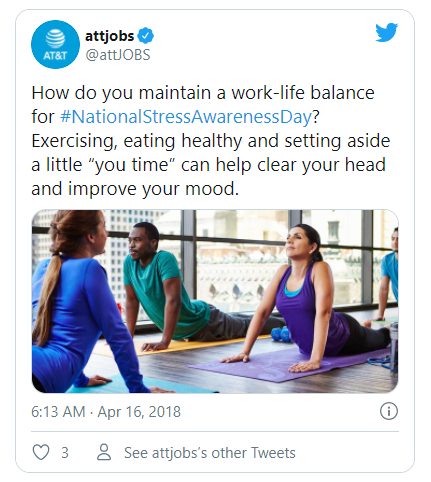 Each day, we recognize the 35,000 veterans and military spouses who call themselves Home Depot associates and celebrate their service to each other, our customers, and our communities. We're honored to be ranked by @Forbes on America's Best Employers for Veterans 2020. pic.twitter.com/TwNZhEHG8I

—Home Depot Careers (@HomeDepotCareer) Nov. 9, 2020
In each of these examples, corporate recruiters took a slightly different approach in their Twitter efforts, rather than simply mentioning the job that they have open at the time. AT&T highlighted work-life balance and how employees can stay healthy, and Home Depot noted its career opportunities overall and how they celebrate their employees.
The research around this topic concluded in an overall recommendation that when employing Twitter's platform for job advertisements, it is better to make use of Twitter as more of a "…content marketing platform than a job board." This fortifies our earlier points of Twitter helping expand your brand, overall, as you seek top talent on its platform.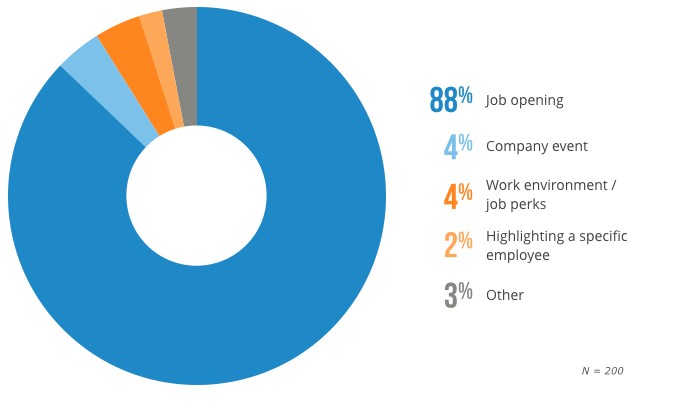 3. Use Hashtags (Must)
First, what is a hashtag? In case you do not know, we want to start here. When on Twitter, adding a "#" symbol to the beginning of an "unbroken word" or phrase creates a hashtag. When you use a hashtag in a tweet, it is then automatically linked to all other tweets that include the same hashtag (which is essentially linking topics or discussions on a similar topic). Why people hashtag has mostly to do with extending the longevity of the conversation or topic and broadening the topic's awareness (whatever it happens to be).
Now that you know what a hashtag is, it is important to understand why you should utilize them. Career Profiles points to research that reflects recruitment effectiveness when the hashtag "#jobs" is used. When hashtags are used within your recruitment-related tweets, there is a significant up-tick in views.
So if you utilize a combination of hashtags and easy click opportunities to your company's website, you can greatly enhance your effectiveness in driving talent to your career page and application process.
Also note the following:
Twitter's business blog also suggests adding your company's hashtag to your product packaging, website, and anywhere else that customers may be more apt to tweet it out.
Combine your primary hashtag with others in your recruitment ad. This link has several thousand potential job seekers who may find your opportunity even if they may not have been searching for it.
Use hashtags to promote additional traffic when combining it with a survey or content.
Last point on hashtags, if you have never used hashtags before, don't be shy. The sooner you utilize them for your recruitment needs, the better off you will be. Visit this YouTube video clip on creating hashtags on Twitter (as well as other social media platforms), and we're positive that it will get you moving in the right direction.
4. Use Employer Search for Top Talent
There are better and easier methods to search for qualified candidates on Twitter than to just launch standard searches for people. Twitter has an impressive advanced search feature that allows employers to take the initiative, beyond their Twitter advertisement, to locate candidates with the experience and background they need.
Utilizing this feature also allows you to grow your brand within the Twitter universe and promotes the fact that your organization is hiring, which encourages followers (many of whom are passive job seekers) to check in repeatedly with your Twitter page.
5. Be Active, Frequent, and Consistent
If your company decides to maintain a Twitter account, part of that maintenance, if you want to be successful, is being on it daily. In fact, tweeting several times a day is not unusual for active corporate recruiting accounts. If job seekers are messaging you and not getting a response, within the same day, they will most likely feel ignored and will move on.
The average period between tweets hovers around 15–20 minutes. If you regularly do not reply or comment within this time frame, viewers will not hang out waiting for responses (you may get lucky, and some may check back with you, but not all do). If you have a marketing or HR professional on your team who can spearhead this post, it will pay dividends.
Just to offer some perspective, Facebook's median time frame for engagement point is close to 90 minutes (compared to Twitter's 20 or so minutes). Twitter is more interactive and dynamic in the sense that job seekers want, and expect, to actively engage with you in real time about opportunities that you have posted.
Recruiting on Twitter is about being active, acquiring followers, messaging exciting and dynamic content, and attracting top talent over the long haul.
Did You Know?
There are 330 million monthly active users on Twitter, as of 2020, and 145 million daily active users (30 million of those daily users are from the United States). Also noteworthy are the most common age groups who use Twitter. As of 2020, 44 percent of users range in age from 18–24. This also happens to be the group that utilizes Twitter for job searches more than any other.
6. Use Video
Although they should be short, as is the way in the Twitter Universe, videos are always really influential to job seekers who spend time on social media. This point cannot be overstated. It is easy to be informative and encouraging with employee videos that share why they love the company and what it has done for them.
When employers on Twitter use videos, those tweets receive 6x more retweets than those without video clips—so use video clips.
This is what happens when you let the CEO direct their own recruiting video (@jack 👀). Also, how did the @TwitterSG office get their own slide?? #WeHaveQuestions #TweepTour #JoinTheFlock in APAC pic.twitter.com/KoicQC5kjD

—Twitter Careers (@TwitterCareers) July 3, 2019
7. Consider Twitter's Paid Service
We have saved this tip for last as this feature is not always used for recruiting on Twitter. Much of the time, companies use the paid service for advertising their overall brand, products, or services. This feature is nice, as paid content gets you in front of thousands of Twitter users who are not necessarily linked to your account or search for you.
There are examples of companies utilizing Twitter's paid feature for recruitment efforts, though. The benefit of the paid feature is that content remains front and center for longer periods. Videos posted remain up to 5 times longer, and there is a reported higher maximum resolution for paid content. Paid services also offer the option for companies to write a menu of auto-responses, which can be used for replying to comments and commenting in conversations.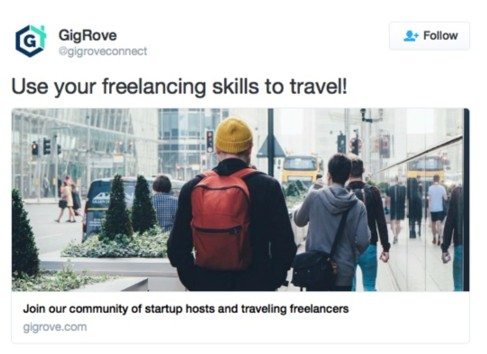 Understanding Who Uses Twitter & How They Interact
As noted within the infographic, tweets with hashtags receive 100% more engagement, and an average Twitter account user will tweet twice per month, while some heavy users will tweet as often as 138 times per month. These factors will impact your Twitter recruiting success. Some candidates will not get back to you in real time, not because they are not interested in the job, but because they visit their Twitter account only once a day (as opposed to a heavy user who may check their Twitter account hourly).
These are important facts, as understanding who uses Twitter and who does not help employers target their audience when recruiting on this medium. As we unpack how employers can effectively use Twitter for recruiting, we also need to highlight how job seekers utilize Twitter in their job search.
Viewers can interact with your Twitter account in many different ways. Here are the most common interactions that viewers have with corporate Twitter accounts:
Viewers can "favorite" your tweet
Viewers can "follow" your Twitter account
Viewers can respond directly to your tweet or another tweet within the conversation
Viewers can retweet your original tweet or another within the conversation
Viewers can retweet your hashtag(s)
So, as we begin to share some tips on what your company can do, as it includes Twitter in its overall recruitment strategy, we will do so with a better understanding of how job seekers utilize Twitter for themselves.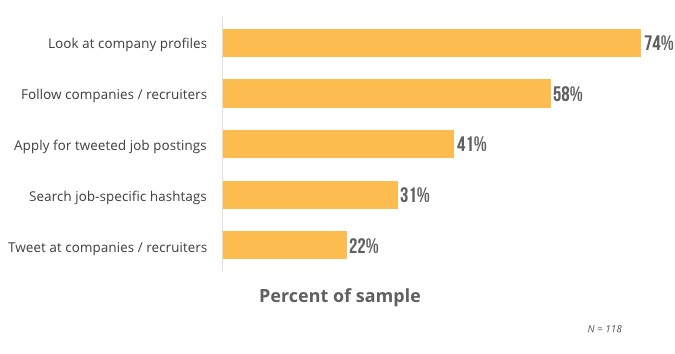 How to Know if Twitter Is Not Right for You
It is also important to note that Twitter may not be a helpful or strategic tool for all employers. Although it can never hurt to post a free tweet advertising a job opportunity, not all companies find great success recruiting for their open vacancies on Twitter.
We have found two factors to be relevant for when companies find that Twitter is not working out for them, and they are both fairly straightforward.
Update frequency: As we have made mention within this article, if your company is not regularly and frequently updating your posts and responding to job seekers' questions and comments, then Twitter will more than likely not be the tool that your team wants it to be.
Your audience: This may sound obvious, but Twitter will not be an overly effective tool if the candidates you are hoping to source do not frequent Twitter. If they are not on social media, then a lot of your efforts may fall on deaf ears. It is true that certain talent pools are not commonly active on Twitter. Although there are always exceptions to the rule, examples may include people seeking manufacturing, construction, some food service-related jobs, and so on.
Having made these two points, this is not an exact science, which is why it is important to have a multi-channel recruitment campaign that is not solely social media-based or any other singular vessel of advertisement. As a general rule, it never hurts to post open jobs on Twitter—but it just may not always help you find that perfect candidate.
For more recruiting tips, see our article on social recruiting. Or, to learn the ins and outs of hiring once you've successfully recruited qualified candidates, check out our guide on how to hire employees.
Bottom Line
Once you've decided on your corporate Twitter recruiting account, overall recruitment strategy, and have a point person who will help manage Twitter activity, you can begin focusing your efforts on attracting and advertising for top talent and getting the best people for your organization.
As you begin utilizing Twitter for your recruitment needs, you will find it easier and more effective the more you engage with it. Lastly, note that even if you do not always get your hire from Twitter advertising or recruiting, every time you tweet and viewers interact with you, your company is building on its brand.