UX and UI are often confused with one another, and with so many similarities, it's easy to understand why. UX stands for user experience, which seeks to answer the question of how a user interacts with a site. UI stands for user interface, which seeks to answer the question of what a site should look like. Each is responsible for different aspects of the design process, but they work together to accomplish your business' goals by addressing your site visitors' needs.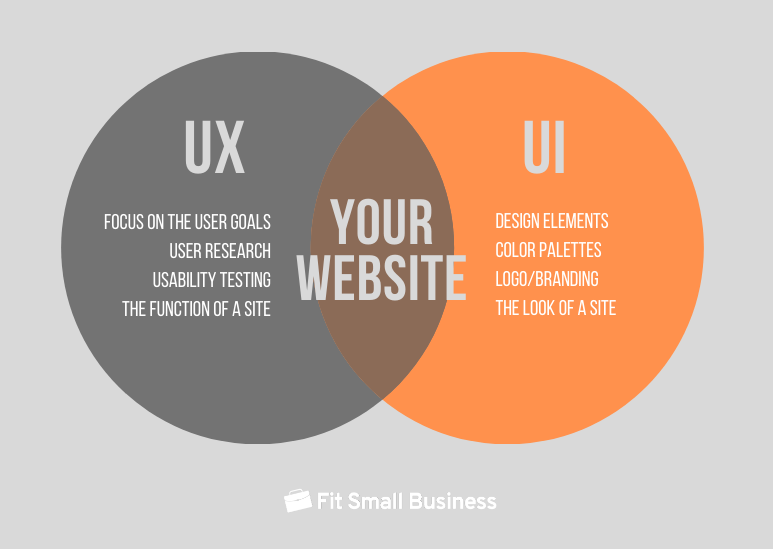 What Is UX Design?
UX design puts users at the core of the web design decision process. It focuses on user behavior and considers how users interact with a website to help direct users toward reaching the goal of the website, whether that be to become a lead or close a sale. In other words, it's the process of creating the path from what a user wants upon landing on a website and what the business is looking to achieve with its website.
UX design elements and facets include:
Focus on the goal of the website (e.g., generate leads, increase sales, and so forth)
Focus on how site visitors interact with a website
User research
Usability testing
Tip: Still looking for additional information? Learn more about UX web design.
What Is UI Design?
UI design is the process of creating specific elements that a visitor will encounter on your site. In other words, it's responsible for the visual components of a site, such as its layout and branding. UI design is the foundation on which UX design is built.
UI design elements and facets include:
Focus on what to make
Focus on the visual elements of a website (e.g., graphics, font, and so forth)
Branding
Layout
How Do UX & UI Work Together?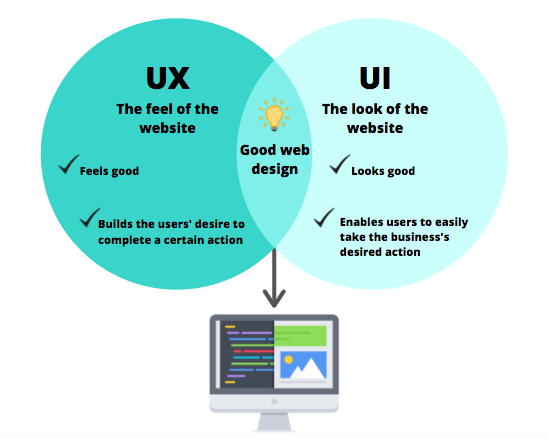 Together, UX and UI work to achieve the business' goals by meeting the needs of the users. To do this, UI is the foundation, or platform, on which UX can be built. In other words, UI is the look and UX is the function of the design. A commonly used analogy for UX vs UI and how the two work together is thinking of it like riding a horse, where UI is the equipment (i.e., the saddle) that facilitates UX, or the feeling (i.e., joy) of riding a horse.
How UX and UI work together:
Wireframes: UX and UI both use wireframes to map the user journey in terms of how it works (the interface) and how users interact with it (the experience).
Form meets function: Together, UX and UI create a website that not only looks good (UI), but feels good for the user (UX).
Achieves the overarching site goal: Collectively, UX and UI help a site achieve its overarching goal, whether that is to capture leads or generate sales, by helping users easily achieve the goal they had that led them to visit the site.
7 Examples of UX & UI Design
For more clarity on what UX and UI design are in web design, and how they work together to create websites that serve as effective marketing tools for business, let's take a look at some examples.
Duolingo, a major language education provider, offers a good example of good UI and UX design. What it does well is taking a large number of different language options and simplifying the user interface, making it easy for users to find and select the language they wish to learn and thereby creating a good user experience.
Hover is a domain name registrar that uses a clean and clutter-free user interface. It directs the user to search for their desired domain name. By giving users a clear action that meets their purpose for visiting the site, the site successfully achieves both the user's goal (to get a domain) and the business' goal (to sell domains).
The website for Texas Physical Therapy Specialists provides direct access to what users most frequently visit the site for: information about what is offered, patient forms, and the option to make an appointment. By leading with what users want, it makes it easy for users to get what they want, creating a good user experience and eliminating pain points.
Upon first glance, this website for a local coffee shop is minimalistic and serves the user by providing a way to place an order, front and center. It also utilizes a streamlined menu with just three pages: locations, hours, and reservations. What's more, you can click on the logo to the right of the page to switch to the website for the business' bar.
Discosloth is a marketing agency with a website that provides a good example of good UI and UX design. Its homepage is very simple and directs users to select which service they are interested in. It achieves this by eliminating clutter from a traditional menu, giving users one clear path to obtaining the information they're looking for.
Pure Synergy effectively and literally puts its users' goals at the forefront of its site. It does this by using a homepage hero image that directs users to find out which supplements are right for them, as well as using "Health Goal" as its first menu option.
The Ruffwear website does a good job of not only putting its products front and center, but it also effectively promotes its heartfelt brand story. By leading with its story on the website's homepage, it helps better connect users to the brand, which can help influence purchase decisions and brand loyalty.
Frequently Asked Questions
How do you design a website?
The process of designing a site can be complicated, but it doesn't need to be. Instead, you can design a site in just seven steps. First, start by determining your website goal. Then, research your competitors and your audience. Collect your brand identity assets (i.e., a logo and color scheme), build a wireframe, select a template, and finally, customize your template. Learn more about how to design a website.
How do you build a small business website?
It may be easier than you imagined to build a small business website. While all-in-one site builders, such as Squarespace and Wix, are designed to make it easy for anyone to build their own site, it's also possible to build a WordPress website using a drag-and-drop page builder plugin, such as Beaver Builder or Elementor. Get the full breakdown of building your small business website.
Is it possible to build a WordPress website with no web design experience?
Yes, it is possible to build a WordPress website with no web design experience or coding knowledge. While it will involve taking the time to learn how to use WordPress, thanks to drag-and-drop site page builder plugins, you can build a professional-looking WordPress website without code. Follow the step-by-step instructions on how to make a WordPress website.
Bottom Line
It's easy to see why UX and UI design are frequently confused, as the two work hand-in-hand to simultaneously achieve the goal of both website visitors and the goal of the website. An easy way to distinguish between the two is by looking at UI as the foundation for UX, in that UI creates the form so that UX can incite the function (with the function being the goal of the website).
A well-designed website holds the power to drive sales and help a business grow. However, it's not easy to design for UX. Many leave the UX design to the pros, such as those at Optuno, in order to ensure their site is designed to be a high-quality marketing machine.