Upserve by Lightspeed Review: Is It Right for Your Restaurant
This article is part of a larger series on POS Systems.
Upserve by Lightspeed is a cloud POS (point-of-sale) system designed by former restaurant workers. This system operates on both iOS and Android devices and is an excellent tool for full-service and fine dining restaurants and craft cocktail bars. As an all-in-one solution, Upserve has built-in payment processing with a contactless option. It also combines dynamic reporting with streamlined online ordering options in an elegant, easy-to-navigate package. Upserve includes marketing and reputation management tools in its baseline subscription, making it an excellent choice for small restaurants focused on customer relationship management (CRM).
Upserve

What We Like
Operates on iPads or proprietary Android tablets
Transparent pricing
Deep-level analytics and automated reporting
Marketing and reputation management included in the baseline POS
What's Missing
Locked into Upserve Payments
Contracts are three years
High upfront cost
Deciding Factors:
Software monthly pricing: $59 to $359 (See detailed pricing below)
Per-terminal fee: $40 to $60 per month (See detailed pricing below)
Installation fee: Custom quote
Contract length: Three years
Available payment processors: Upserve payments
Customer support: 24/7 via phone and email
Standout features:

Available on iOS or Android tablets
Included training mode
Best-in-class ingredient level inventory with one-click reordering
Deep-level reporting
Included employee scheduling
24 to 48 hour funding options
When To Use Upserve by Lightspeed:
Upserve by Lightspeed appears regularly on our annual ranking of the best restaurant POS systems. Its inventory management functions, which we explore in detail below, are typically the features that earn Upserve the highest points.
In particular, we recommend Upserve by Lightspeed for:
When To Use An Alternative
Restaurants on a budget: Upserve is one of the priciest cloud POS systems on the market. If your budget is tight, check out our favorite low-cost POS systems.
Food trucks: Upserve likely has more features than a micro-enterprise like a single food truck will use. See our recommended food truck POS systems for the best options.
Pizzerias: Upserve supports delivery management and menu modifiers but not robustly enough for most pizza shops. For pizzeria-specific functions, check out our top recommendations for pizza POS systems.
Upserve by Lightspeed Pricing
Upserve's pricing structure is unique among cloud POS systems. There is a single monthly subscription fee based on which functional tier you choose, plus a per-terminal fee. The baseline subscription (Upserve's "Core" level) starts at $59 per month plus $60 per terminal for the software. It's easy to see how your costs could add up. However, part of the reason it is easy to see is that Upserve lists more of its pricing publicly than competitors like Toast.
However, like competing cloud POS Revel Systems, Upserve is priced to compete with traditional legacy POS systems like MICROS, Aloha, and POSItouch, and compared to those, Upserve's pricing is competitive. Among cloud POS, however, Upserve is at the high end.
| | Core | Pro | Pro Plus |
| --- | --- | --- | --- |
| Monthly Subscription | $59 | $199 | $359 |
| Monthly Per-terminal Charge | $60 | $50 | $40 |
| Logbook | ✔ | ✔ | ✔ |
| Guest Trends | ✔ | ✔ | ✔ |
| Upserve Payments | ✔ | ✔ | ✔ |
| Basic Reporting | ✔ | ✔ | ✔ |
| Upserve Workforce | ✔ | ✔ | ✔ |
| Upserve Marketing | ✔ | ✔ | ✔ |
| Reputation Management | ✔ | ✔ | ✔ |
| 24/7 Support | ✔ | ✔ | ✔ |
| Live Mobile App | ✔ | ✔ | ✔ |
| Third-Party Integrations | ✔ | ✔ | ✔ |
| Upserve Inventory | Optional Add-on | ✔ | ✔ |
| Upserve Loyalty | Not included | ✔ | ✔ |
| Customizable Rewards | Not included | ✔ | ✔ |
| Custom Reporting | Optional Add-on | Optional Add-on | ✔ |
| Online Ordering | Optional Add-on | Optional Add-on | Optional Add-on |
| Gift Cards | Optional Add-on | Optional Add-on* | Optional Add-on* |
* For a limited time, online ordering is included free in the Pro and Pro Plus packages.
The pricing and included features can change any time at Upserve's sole discretion. Since Upserve was purchased by Lightspeed at the end of 2020, nothing has so far changed price-wise. But Lightspeed has a history of changing the pricing and offerings of other acquisitions. After purchasing ShopKeep, for example, Lightspeed eventually renamed the product Lightspeed S-Series and sunset the product. With Vend, Lightspeed has so far updated the pricing structure but appears to have made no other major changes. So, we wouldn't be surprised if 2022 brings some updates to Upserve's pricing or a potential wholesale renaming of the product.
Upserve by Lightspeed Hardware
Upserve by Lightspeed is one of the few cloud POS systems that works on either iPads or Android tablets―but only on Android tablets that you buy directly from Upserve. The same holds true for iPads. You likely won't be able to use the hardware you already own. You'll need to purchase your terminals that are preconfigured directly from Upserve.
Upserve offers excellent hardware options for many types of restaurants, from stationary terminals to handheld devices. Upserve has one of the most useful handheld ordering and payment devices available in a cloud POS. It is pocket-sized, has a touch screen, contains a built-in card reader, and is drop-resistant.
Upserve previously listed prices for hardware publicly but no longer does. You'll need to contact it directly for a custom quote. But this chart includes estimated prices based on Upserve's previously listed prices so that you can get an idea of what to expect.
Upserve Android Terminal

Upserve IOS Terminal

Upserve Mobile Terminal

~$1,300*

~$220*

~$500*

Stationary terminal with a built-in card reader

Stationary iPad POS with a built-in card reader

Handheld Android order and payment terminal
*Prices listed are estimated figures based on previously published prices. Prices may change at any time based on Upserve's sole discretion.
MagTek iDynamo Card Reader

EMV 2.0 Card Reader

Epson Kitchen Display System

~$100*

~$250*

~$900*

Lightning port connected swipe card reader

Stationary tap and dip card reader

Kitchen display screen with bump bar and attached printer
*Prices listed are estimated figures based on previously published prices. Prices may change at any time based on Upserve's sole discretion.
Upserve is cloud-based, but you have the option to hardwire your Upserve terminals similar to a legacy POS setup. This increases offline functionality considerably—you'll never lose kitchen communications when your internet goes down—but it can come with an installation fee of $1,700 or more. You also have the option to add handheld tablets equipped with contactless card readers.
Some Upserve users say the handheld tablets are limited functionally, although many pocket-sized handheld tablets suffer from this affliction. They are great for line-busting and quick order entry in quick-service environments and busy bars. However, the tiny screen on a handheld tablet will never act exactly like a larger POS terminal that simultaneously displays every table and several checks. Extensive menus with lots of courses and menu modifiers will always feel the effects of a handheld tablet's smaller buttons and crunched screen.
Upserve by Lightspeed Payments
Built-in: Using Upserve Payments is a required part of the Upserve POS
Custom-quoted: Rates vary by restaurant type and sales volume
Flat rate: Custom quotes are a flat rate per transaction, which makes figuring your costs easy
Troubleshoot anytime: Upserve's 24/7 year-round US-based customer support is part of the payments package
PCI-1 and EMV-compliant: Swiped, tapped, dipped, near-field communication (NFC), and card-not-present payments are all secure, reducing chargeback liability
Upserve is an all-in-one restaurant POS solution. Restaurants that use Upserve will have to use Upserve's in-house payment processing for credit, debit, and mobile wallet transactions. Upserve Payments offers a single flat rate for processing payments. Your quoted rate will vary, usually based on your card mix, sales volume, and business type.
When your POS provider is your payment processor, it means that you can't shop around for the best rate. But it also means that you get 24/7 year-round customer support for any payment-related issues. Before signing a service contract with Upserve, getting a few quotes from other merchant service providers is a good idea. If you find a lower rate elsewhere, Upserve will likely try to match or beat it.
Upserve by Lightspeed Standout Features
Functionally, Upserve is very similar to Toast. Both systems pitch themselves primarily as alternatives to mainline, locally installed POS systems like MICROS. The major difference between Upserve and Toast is in the more nuanced features and what modules each system offers in their baseline memberships. Upserve, for example, includes its Workforce and Marketing tools in its Core membership. Unlocking the system's robust inventory features, however, requires upgrading to Pro or Pro Plus. Small restaurants that are more concerned with marketing than inventory will likely prefer Upserve.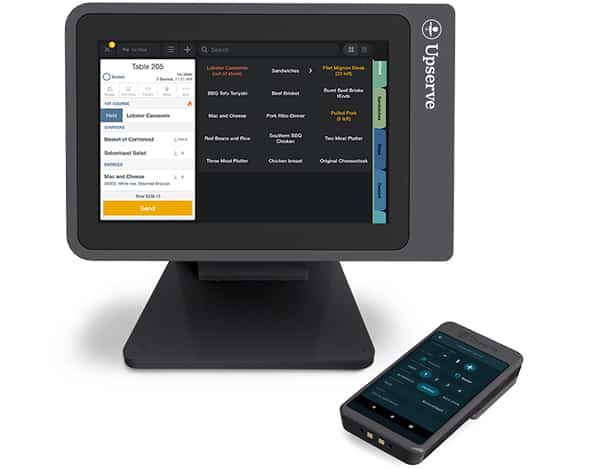 ---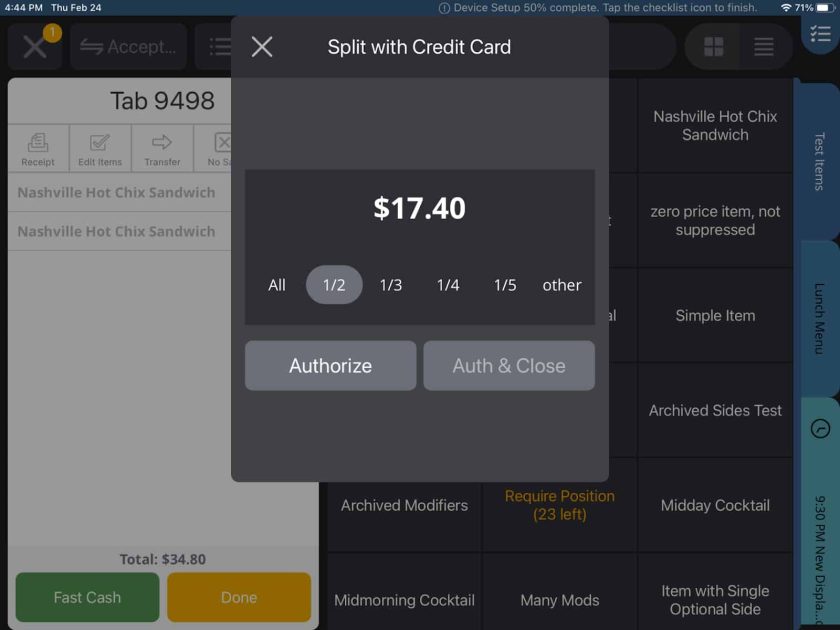 ---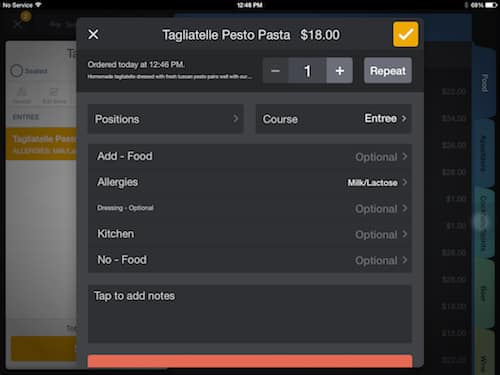 ---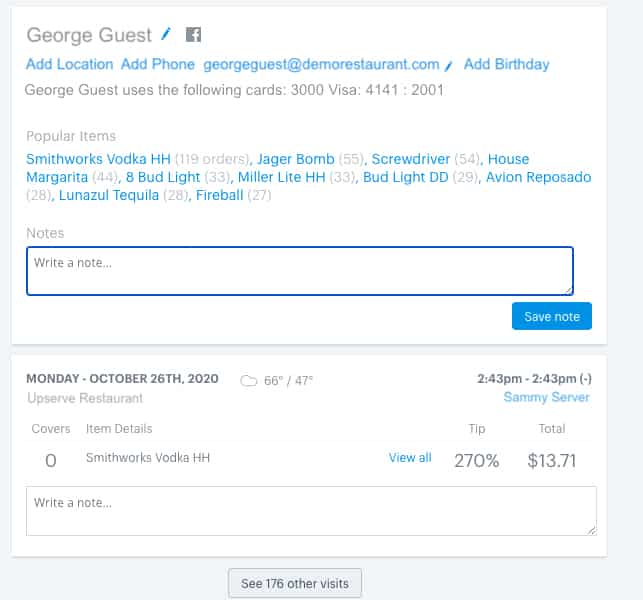 ---
Upserve is an all-in-one solution. Payments processing with contactless options is built in. Add-on modules to manage in-house delivery, inventory management, and detailed reporting are available. Upserve also offers several unique reports for tracking online reviews directly from the POS. In addition to the inventory, online ordering, workforce management, and reporting that we explore below, these features are also worth noting:
Check and order management: With Upserve, you can start checks on tabs or tables. You can create custom floor plans that match your restaurant or bar exactly and take orders and payments tableside. You can include detailed recipes for each menu item so that your servers and bartenders can double-check recipes and ingredients when questions arise. Orders can be printed in the kitchen on impact printers or a kitchen display system (KDS) screen.
Seat and course management: Upserve allows you to require seat numbers and course numbers on each order. This is an excellent feature for full-service restaurants with large support staff.
CRM: Upserve manages customer information through the Upserve Guest Book. Your Guest Book automatically adds customer profiles using credit card information. The Guest Book then tracks their purchase history and allows you to add contact information and filter customers into custom groups like VIPs or regular customers.
Integrations: Upserve doesn't host a ton of integrations, but it has all of the important ones covered. If you want to expand on Upserve's workforce management tools, you have Gusto, 7shifts, and HotSchedules. For accounting, you can plug directly into QuickBooks and Rasi. Beyond the built-in online ordering module, you can also integrate directly with Grubhub and Chowly. Inventory management options include MarketMan, Orca, and BevSpot.
Upserve Inventory
Recipe costing: Entering recipes and ingredient information enables full-scale recipe costing reports to show each menu item's profitability
Vendor management: The vendor log allows you to process purchase orders and invoices from a central dashboard
Low inventory alerts: Automated alerts let you know when supplies are low
One-click purchasing: Streamlined system allows you to place supply orders with a single click
Barcode scanning app: Count physical inventory and log new product as it arrives via a barcode scanning smartphone app
Upserve's inventory is effortless to navigate, and the most automated system available in a cloud POS. You can bulk upload vendors and menu items via Excel, comma-separated values (CSV), or OpenDocument Spreadsheet (ODS) file. A quick download turns any smartphone into a barcode scanner to check in vendor deliveries or speed up physical inventory counts. You can set par and warning levels for your raw ingredients, and Upserve will alert you when your supplies fall below par. The inventory dashboard will arrange suggested orders by vendor so all you need to do is review and approve the order. The orders are emailed directly to your suppliers from the Upserve dashboard.
Like the rest of the Upserve ecosystem, the inventory module uses colors and other visual cues to illustrate information for at-a-glance analysis. Red, yellow, or green circles indicate stock levels: red is low and green is good to go. The system also has a single "Top Up All" button that, when pressed, drafts orders for all ingredients below the par level. You can review the orders by vendor, then place them all at once by clicking a single button. An integration with QuickBooks makes it easy to process vendor payments.
The inventory reports are as easy to navigate as the inventory tracking tools. The reporting and tracking tools make Upserve's inventory truly foolproof. The combination of Upserve's strong reporting and inventory tools also feeds insightful reports like Upserve's menu performance report, which shows you at a glance how to optimize your menu to increase sales. If you are struggling to control your food and beverage costs, these tools alone can make Upserve a worthwhile investment for your restaurant.
---
Upserve Online Ordering
Branded website: Customize Upserve's online ordering system with your restaurant's logo and brand colors.
Online ordering hub: A central dashboard organizes all online orders, whether they come from in-house or third-party sites.
Digital ordering: Online ordering module also supports quick response (QR) code orders and payments.
Automated text messaging: Keep customers updated on their order status and send bounce-back promotions to encourage future orders.
Bringg integration: Supports maps-based driver management for restaurants with in-house couriers.
For a limited time, Upserve is including Online Ordering for free to Pro and Pro Plus users. Although this offer may expire at any time, at Upserve's sole discretion. Check with Upserve for current promotions.
Upserve's Online Ordering module is offered as an optional add-on to your Upserve subscription, and you'll need to contact Upserve for a price quote. Although in addition to your monthly software fee, Upserve currently also charges a 2.99% fee for all online orders. This can be paid by the customer, by you, or you can split the fee between your restaurant and your customers. This is unusual―currently Upserve is the only POS we are aware of that charges both a monthly software fee and a per-order fee for online ordering. You can choose to add additional service fees to customer checks if you need to offset the costs of takeout containers or extra staff.
Once you add the Online Ordering module, Upserve speeds your online ordering site creation by importing your top-selling takeout items. Then, you can brand your site with your logo, brand colors, and menu images, so your customers get a seamless ordering experience.
Upserve also integrates with third-party delivery platforms like Grubhub and Seamless so that you can receive third-party orders directly in the POS, alongside any in-house online orders. This allows restaurants to create a hybrid online ordering and delivery strategy. You can leverage the visibility that third-party platform sites offer while also saving money on commission-free, in-house online orders. You can use automated text messages to keep customers updated on their order's status, or text a promo code for a future order to encourage customers to continue ordering directly from you in the future.
For delivery, Upserve users can rely on third-party drivers or add the optional Bringg integration to manage a team of in-house couriers. This integration allows you to assign drivers to orders using a maps-based dispatch board and includes an integrated driver smartphone app that tracks your team in real-time. Bringg comes with its own monthly subscription fees. You'll need to contact Bringg directly for pricing.
---
Upserve Workforce
Streamlined tip pooling: Tip pools can be customized by revenue center and employee role and based on sales or total tips
Labor cost controls: Real-time alerts track how many labor dollars you schedule
Customize communications: Send schedules via text or email
Control clock-ins: Lock your terminals to prevent early clock-ins
Upserve includes employee management functions, like scheduling and clock-in controls, in the baseline Core membership. You can enter incredibly detailed employee roles and tip tracking information to automate tip distributions in the POS directly. Break and overtime tracking are well equipped to help you comply with California meal break and overtime laws. But Upserve doesn't yet have an alert designed to meet New York City's "Spread of Hours" law to flag employees that are scheduled to return to work less than 10 hours after their last shift.
Upserve's Workforce functions allow you to create schedules from scratch or create templates for your most-used scheduling patterns. You can share completed schedules with staff via email or text and create lists to send certain schedules only to relevant staff members. Upserve also has the option of controlling clock-in times so that you don't overpay staff who clock in early. The scheduler shows you exactly how many labor dollars your schedule will cost, so you know if your plans align with your labor budget.
---
Upserve Reporting
Comprehensive: Basic sales, labor, product mix, profit and loss, and daily logs are included at all subscription tiers
Know what is working: Campaigns reporting tracks individual promotions so you can easily see where your advertising dollars are working
All your reviews in one place: Reputation Management reports track online reviews across sites so you can monitor your reputation from a central location
At-a-glance analysis: Callout boxes, vivid colors, and automated charts in reports allow your managers to assess the health of your restaurant quickly
Multiple reporting tiers: Higher level reports like Server Insights, Menu Insights, and recipe costing are available at higher tiers
Upserve's reporting dashboard is a part of all three subscription tiers, though (as in sister POS Lightspeed Restaurant) the reporting functionality varies by subscription level. Core memberships include basic reporting like daily sales, server closeout, close-of-shift, and close-of-day reports. The Pro and Pro Plus tiers add more in-depth reports, many of which are unique to Upserve. This structure ensures that small operations don't pay for analytics that they don't use. Meanwhile, it can create confusion about what reports are included at each tier. So, let's break down the different tiers.
Upserve Basic Reporting
Sales, product, and labor reports: Enough reports to support daily operations are included; since employee scheduling is part of the entry-level plan, labor cost reports are included too
Reputation management: All Upserve customers can access the reputation management features
Marketing reports: Since marketing is included in the baseline subscription, so are all the associated marketing reports
Live mobile app: All HQ reports are available wherever you are via a mobile app
The basic reports cover everything you need to run your daily operations. You get sales and labor reports along with shift reports and daily summaries. You also get access to marketing reports that track the effectiveness of your discounts and promotions since marketing tools are included in the Core subscription.
Upserve's Campaign report tracks events and promotions from theme nights to promo codes to help you determine if a promotion or advertising campaign was worth the investment. You can compare the dates you ran a campaign to similar dates in the past to compare the sales and traffic data, including new customer acquisitions. Reputation management logs all of your reviews on social media sites and peeks at your competitors.
The most useful aspect of all Upserve's reports is how easy they are to read. Upserve's dashboard synthesizes data into charts, graphs, and callout boxes, drawing your (and your team's) attention to the most important information at a glance. Upserve's reports are a pleasure to read and analyze. You can also access reports from anywhere using Upserve Mobile, the connected smartphone reporting app.
Pro and Pro Plus Reporting
Custom reports: Pro Plus customers can build custom reports with the assistance of the Upserve team
Menu insights: Upserve's Magic Quadrant report allows you to see your menu item performance at a glance, similar to Toast's menu management reports
Server insights: This report itemizes server and bartender sales patterns to help you identify top performers and training opportunities
At the Pro and Pro Plus levels, Upserve offers more in-depth reporting. These reports cover staff productivity and menu item performance and allow you to create custom reports. Like Upserve's baseline reports, the Pro and Pro Plus level reports pre-analyze a lot of your data. Instead of combing through product mix reports and comparing each dish to its individual food cost, you can pull a Menu Insight report that compares all that data and presents it on a scannable grid.
Restaurants with large staffs will particularly enjoy the Server Insights report that illustrates front-of-house staff productivity. This report uses a dynamic color-coded theme to show how well individual staff sell various menu categories like entrees, desserts, wine, and beer. This allows you to easily identify training opportunities and even pair staff who need improvement with a trainer who excels in the precise area they need to strengthen.
---
Upserve by Lightspeed Ease of Use
24/7 customer support: Customer support is available 24/7 via phone or email
Training mode: Upserve users love the fully functional training mode that allows new staff to drill into Upserve's functions without messing up the day's sales
Visual ecosystem: Various colors and symbols on reports and order screens communicate tons of information at a glance
Intuitive layout: Buttons and menus seem to fall naturally where you expect them; Screens are highly responsive and satisfying to use
Streamlined screens: Screens feature a minimal layout with additional tabs on the right-hand side to speed navigation
Upserve is, hands-down, one of the most comfortable restaurant POS systems to use. Upserve customers mention frequently how quickly their staff can learn the system. The streamlined screens with intuitive layouts make this a POS you can sail through. In the back office, vivid colors and navigation bars keep you oriented. In the vendor dashboard, vendors are listed by their company logos, so you can quickly pick the right one from the lineup. Upserve also includes a training mode so that new staff can learn the system without interrupting your operation.
Restaurants that rely on a KDS will find Upserve's offering a bit antiquated. Rather than using the dynamic touch-screen design of other Upserve displays, the KDS relies on stripped-down Epson monitors. These are hardier in hot kitchen environments, but they don't have the broad functionality and productivity insights that competitors like Toast provide. Upserve's recent purchase by Lightspeed, which has one of our favorite KDSes, could change this, however.
Upserve by Lightspeed Alternatives
Upserve by Lightspeed is incredibly user-friendly and feature-rich. But it can be pricey and may be more machine than a small operation needs. The systems below are good alternatives if you need something different.
| | | |
| --- | --- | --- |
| | | |
| | | |
| Best for: Restaurants that need a feature-rich all-in-one POS at a lower cost | Best for: Small restaurants that need a free POS | Best for: Restaurants that want Upserve-style reporting at a lower upfront cost |
| Pricing: from $0 to $165+ per month | Pricing: from $0 to $60+ per month | Pricing: from $39 to $289+ per month |
| | | |
What Users Think of Upserve by Lightspeed
Upserve users show a lot of appreciation for this restaurant POS system. Many reviews describe Upserve as the easiest to use restaurant POS system the reviewer has encountered. Users also comment frequently on the speed of payment processing and easy-to-read reports. Experts also give Upserve high marks for ease of use and dynamic, streamlined reporting.
G2: Lists Upserve as a Spring 2022 High Performer, rated 4.1 out of 5 based on more than 85 user reviews.
Capterra: Upserve is shortlisted as an Established Player for both bar and restaurant POS, and as an Emerging Favorite in online ordering and delivery for 2022. It earns a star rating of 4.3 out of 5 based on more than 270 user reviews.
Most of the negative reviews for Upserve appear to have come after the time Upserve was acquired by Lightspeed. During the acquisition, several reviews mentioned long wait times to contact a customer support representative. Some also mention sales reps who misinformed them about Upserve's capabilities. These could be linked to a changing staff as two companies merged their operations. Though other reviewers mention feeling stung by Upserve's three-year contract. Users should be sure that Upserve is the right fit for their business before committing; you'll be on the hook for three years' worth of fees if you want to cancel.
| Users Like: | Users Don't Like: |
| --- | --- |
| Easy to read reports and user-friendly interface | KDS is less streamlined than the rest of the Upserve system |
| Unique reports like Reputation Management, Server Insights, and Menu Insights give a 360-degree view of your restaurant | Three-year contract is lengthy and expensive to cancel |
| Training new staff is easy | Customer service can be hard to reach |
| Third-party integrations can customize the system further | System can get pricey with multiple add-ons |
Bottom Line
Upserve is one of the easiest restaurant POS systems to use. Insightful use of color and visual cues make the back office, in particular, incredibly quick to learn. Upserve is a great fit for independent restaurants that are more concerned with marketing and customer acquisition than inventory tracking. However, medium- to high-volume restaurants that can afford the higher subscription tiers will find it the most streamlined inventory system available in a cloud POS. To see if this system is a fit for your restaurant, contact Upserve for a full demo and price quote.