Connect RingCentral to Microsoft 365 (formerly RingCentral to Office 365) to increase productivity and collaboration at your company. Installing the RingCentral for Microsoft 365 app enables teams to make appointments and see customer details in the same browser window. Use the steps below to set up your integration and learn how to use RingCentral with Microsoft 365.
1. Pick a RingCentral Plan

RingCentral for Office 365, now called RingCentral for Microsoft 365, comes with all RingCentral plans. Likewise, RingCentral packages include unlimited calls within the U.S. and Canada, visual voicemail, and call forwarding.
If you're not an existing user and need a voice-over-internet-protocol (VoIP) provider that scales with the size of your business and has both calling and unified communications features, schedule a time and date when RingCentral can reach you using the form below.
Once signed up, set up one of the following RingCentral plans to take advantage of the RingCentral for Microsoft 365 integration:
Essential: $19.99 per user, per month
Standard: $27.99 per user, per month
Premium: $34.99 per user, per month
Ultimate: $49.99 per user, per month
The above plans are based on an annual payment. However, monthly plans are also available. In addition, companies with 100 or more users enjoy volume-based discounts. Check out our RingCentral review for more details about the packages and benefits.
2. Download the RingCentral for Microsoft 365 App

Once you've activated your RingCentral account, you can pair it with your Microsoft 365 subscription. Find the app in the RingCentral App Gallery or Chrome Web Store. It's a Chrome extension that works with Chrome 69 or later. Next, click "Add to Chrome" to install the extension to your Chrome browser.
3. Log In to Your Microsoft 365 Account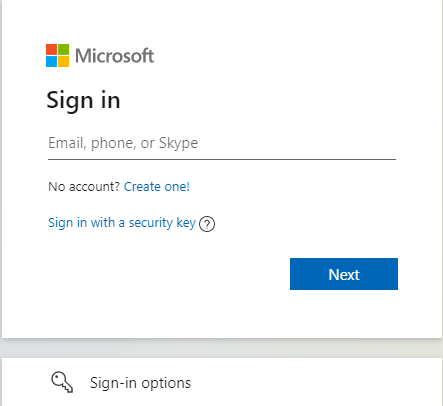 Open your Microsoft 365 account in the browser window. Tap on the RingCentral extension, and a pop-up will display where you can enter your RingCentral login details. From there, your RingCentral and Microsoft 365 integration is complete.
How to Use RingCentral Microsoft 365
Several RingCentral features can be accessed within Microsoft software, allowing users to book meetings and make calls without leaving Microsoft Teams or Outlook. After your accounts are connected, it's time to learn how to get the most out of your RingCentral Microsoft 365 integration.
Sync Contact Data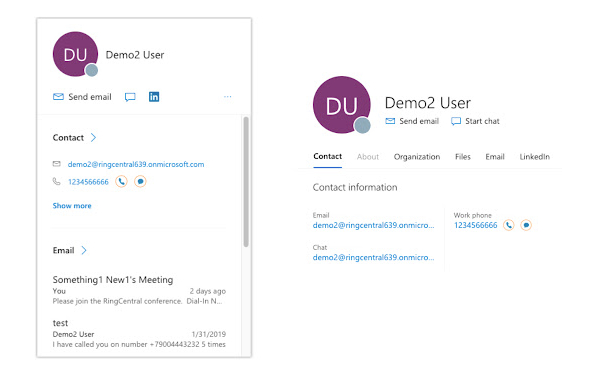 Searching through multiple address books for client or vendor information isn't efficient. Fortunately, the integration synchronizes contact data from both RingCentral and Microsoft 365. The information resides in a central database where you can search contacts or view details, such as a person's name, email address, and organization.
You can also take action without leaving your contact list, including listening to voicemails, viewing text messages, and updating contact information.
Schedule Video Meetings & Audio Conferences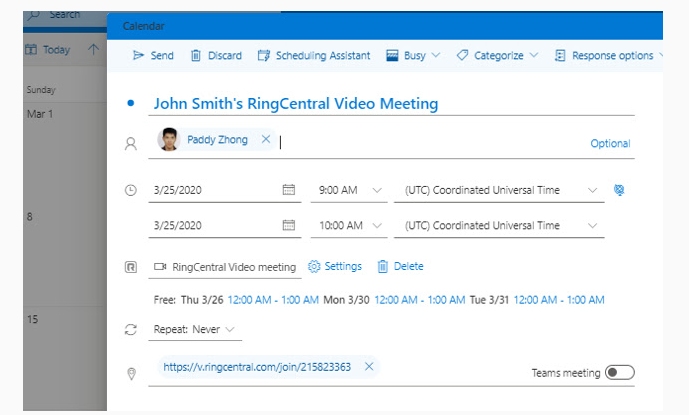 There's no need to open a second appointment scheduling program when using the RingCentral Microsoft 365 integration. Instead, you can book an appointment from the RingCentral for Microsoft 365 app, Outlook, Teams, or Microsoft chat conversations.
If you're chatting with a client in Microsoft or responding to an email, simply tap on the Schedule Meeting tab. From there, you can pick the meeting date and time, add a topic and optional password protection, and choose the format.
Plus, the "Save in Calendar" feature creates an entry in your Microsoft 365 calendar app and gives you the option of sending invitations to desired attendees. Meeting invitation recipients can decline the meeting time or accept and add the appointment to their calendar.
Communicate With Co-workers & Customers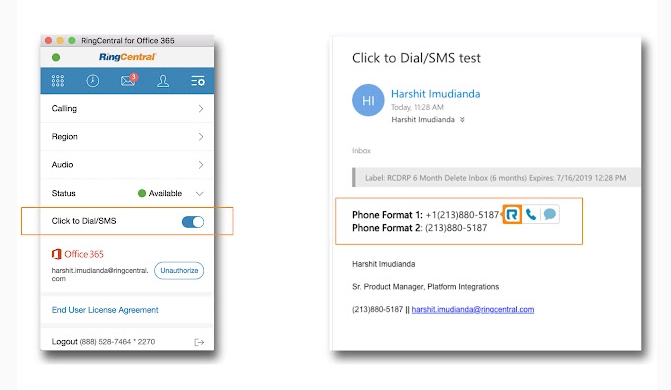 The RingCentral for Microsoft 365 app enables teams to make calls and send messages how and when they want. The integration turns any number in Microsoft Outlook and Teams into a clickable link. Simply tap the number to begin a new call.
Likewise, you can tap the text and meet icons while using Microsoft Teams to text or instantly start a video meeting. In addition, incoming calls and messages display in a pop-up notification, allowing users to answer calls from their device.
Access Call Logs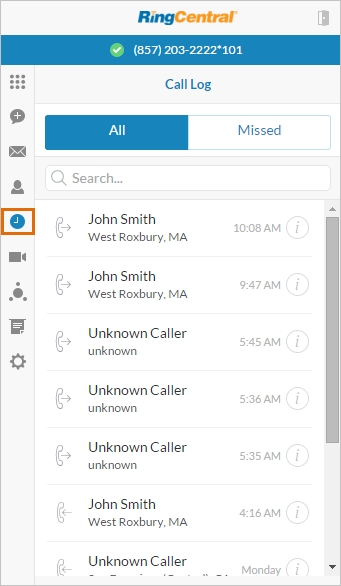 See a complete list of missed, answered, and dialed calls in your RingCentral data logs. It puts information about all communication methods, including voicemails, calls, faxes, and texts, in one location.
Use RingCentral Features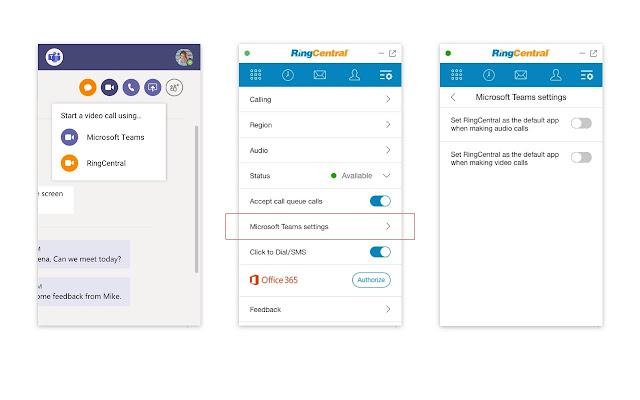 The RingCentral for Microsoft 365 app also supports other VoIP features. These include access to call history, quick calls and SMS, integrated contacts, and active call controls. These help enhance your business calling and makes business processes more seamless. You can also set your presence data to show team members your availability, and it'll appear across all devices used to access your business phone service.
Additionally, the app supports active call controls. Place your caller on hold, initiate a multi-party call, or switch devices mid-call without leaving your application.
Frequently Asked Questions (FAQs)
What are the system requirements to use RingCentral for Microsoft 365?
You can access the RingCentral for Microsoft 365 app using a desktop computer running the Windows 7 or Mac OS X 10.8 Mountain Lion (or later) operating systems. The app works as a Chrome extension using a Chrome 69 or above browser. Additionally, users must have an active Microsoft 365 and a RingCentral account.
How do I set up a RingCentral meeting in Outlook?
Find the "Schedule a Meeting" button under the home tab, complete the setup details, and click send to invite attendees. The location field lists the RingCentral Meetings internet link (URL), so participants can tap on the link to join the meeting. All scheduled meetings in Microsoft Outlook sync with your RingCentral Meetings app.
Can I dial 911 from my Microsoft 365 apps?
Yes. Once you connect RingCentral with Microsoft 365, you can choose an Enhanced 911 (E911) location. After completing this step, Microsoft 365 users can dial 911 while using Microsoft Teams or Outlook.
Bottom Line
Switching between communication apps decreases productivity and may result in misdials or missed opportunities. However, the RingCentral for Microsoft 365 app lets you initiate a call or schedule a meeting right from your email inbox or while chatting with co-workers in Microsoft Teams. Plus, its Chrome extension allows you to immediately connect your business phone system and team collaboration platform.
If you want to learn more about the RingCentral phone system, start with a free trial. You can add up to five users during your trial and test out popular features to see if it's a good fit for your team.