If you're like most businesses, you send a lot of the same emails over and over again. It could be introductions, sales pitches, or customer service messages, just to name a few.
At FitBizLoans (the sister site of FitSmallBusiness.com) we cut out time by saving email templates in our CRM Insightly. By sending emails through the system, we get the additional benefit of keeping everything logged and organized by contact/opportunity. Plus, we can even see which of our sales emails are performing the best.
In this guide, we'll show you exactly how we set all this up at FitBizLoans, so you can repeat the steps for your own business.
Choosing Templates That Save Time
If you want to save time using email templates, you first have to consider which emails you send often enough to warrant using one. Templates can be personalized before you click "send," so it doesn't have to be a word-for-word copy. The bulk of the message, however, should be the same.
At FitBizLoans, we tend to write the same messages when we're introducing ourselves to clients, requesting information and answering FAQs, so each of these are perfect candidates for email templates.
Saving Email Templates In Insightly
To create an email template in Insightly, the first step is to go to the "Emails" menu, then select "Email Templates" near the top, and click the "New Template" button in the upper right-hand corner. This brings you to the new email template menu.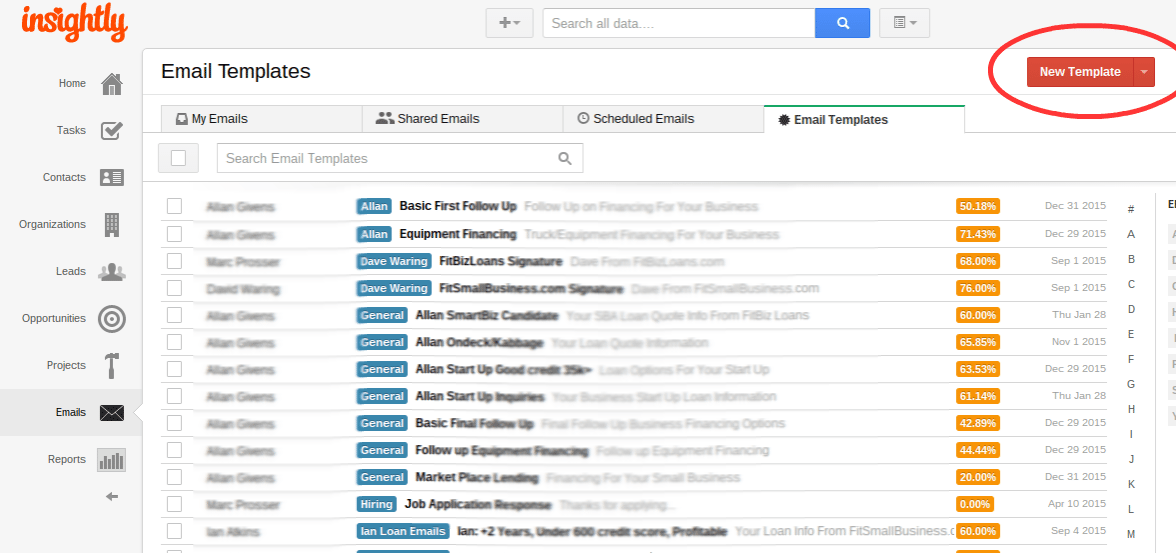 The first thing you'll want to do is select the category of the email. Categories help you sort templates based on their type or purpose. At FitBizLoans, we have templates for sales, hiring and PR, so each of these are a separate category. Likewise, each of our salespeople keep some of their own templates, so these are saved under their names as separate categories.
The next thing you'll do is name the template. Like the category, this is only for sake of keeping templates organized. The name and category of the template are not visible to the recipient.
Writing The Email
Next you'll write the email itself, starting with the email subject and then moving onto the body. As a general rule for sales emails, you want the message to be as short and as personalized as possible. For help on this step, check out our guide How to Write a Sales Email in 4 Simple Steps.
The "Insert Fields" button the far right of the editor menu lets you insert data from your records in Insightly. For example, you may want to insert the client's name: "Dear [First Name]." For whichever recipients you select, Insightly will find and place their first name in the email. You can also choose data fields like their company, their address, or any of your custom fields.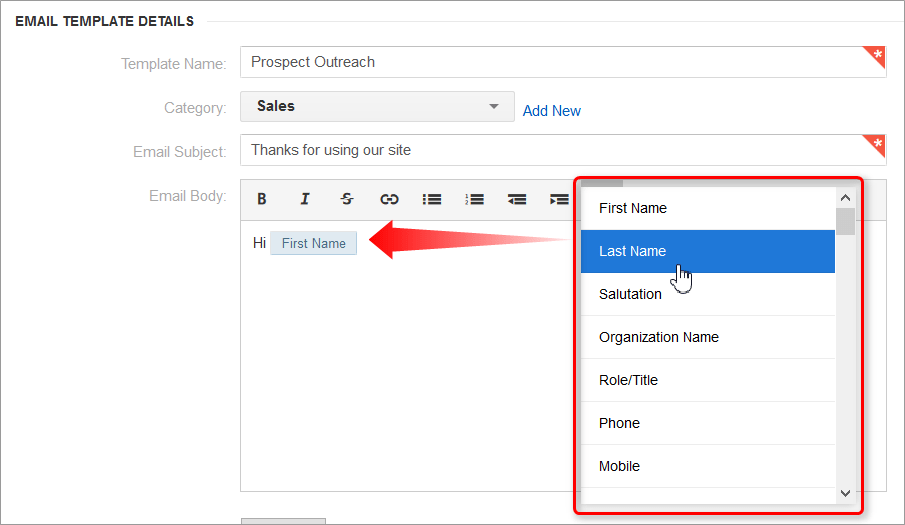 The final step before saving your template is to add attachments you may need. Insightly lets you attach up to 20 MB of files to each template. While you wouldn't use this feature to attach, say, a price quote that will vary from customer to customer, this is perfect for sending documents that are the same for each customer. At FitBizLoans, we use it to send checklists of documents we need from our leads.
Sending Emails
When it comes time to send an email, click the "Emails" tab on the left hand toolbar, then "New Email."
First, select the template you want to use. You'll notice the templates are sorted alphabetically by category. Once you find the one you need, click it and the text will load in the spaces below.
Even though you're using a template, Insightly gives you the chance to edit the message before sending it. This is helpful incase you need to fill in some gaps. For example, at FitBizLoans, we like to include some background on our prospects when sending cold emails, so we leave an [X] in the body which reminds us to go do some research.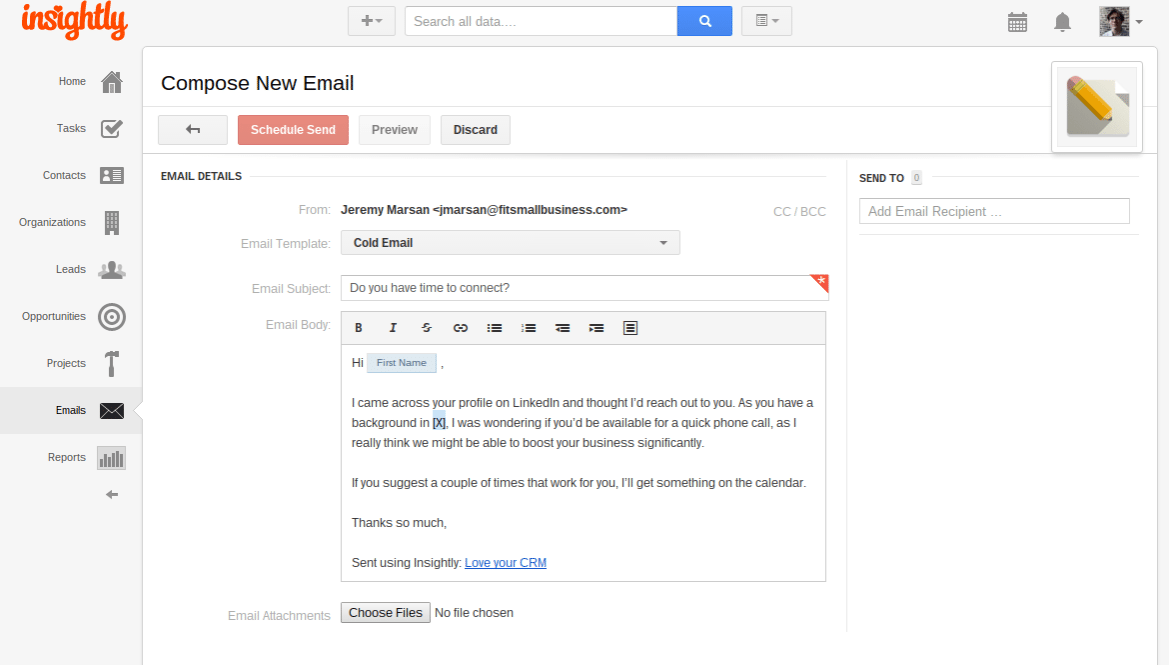 Additionally, if you're a paid user and sending an email for the first time, you'll want to remove the branded email signature: "Sent using Insightly: Love your CRM." You can do this by just deleting the text. Or, make your way to "User Settings" and "Email Signature" to save a new one.
Once you're finished with your message, select your recipient(s) on the right-hand menu and click "Schedule Send." You'll either have the option to send the email immediately, or, if you're signed up for a Plus, Professional, or Enterprise plan, you can schedule the email to go out later.
Tracking Emails
One of the major benefits to using email templates in Insightly is the fact that you can track the email's effectiveness.
Often times, our salespeople will write a few different email templates for the same message. For example, if they're sending a cold sales email, they may have a few different ideas for subject lines, pitches or calls to action. By "trying out" each template, they can determine which one performs the best, then use that template exclusively for future emails.
Insightly automatically tracks the effectiveness of each template, so it's very easy to perform these tests. Clicking on an email template, you can view the open rate (percentage of recipients who opened the email) and average click rate (percentage of recipients who clicked a link inside). Here's an example of a follow up template written by one of our salespeople: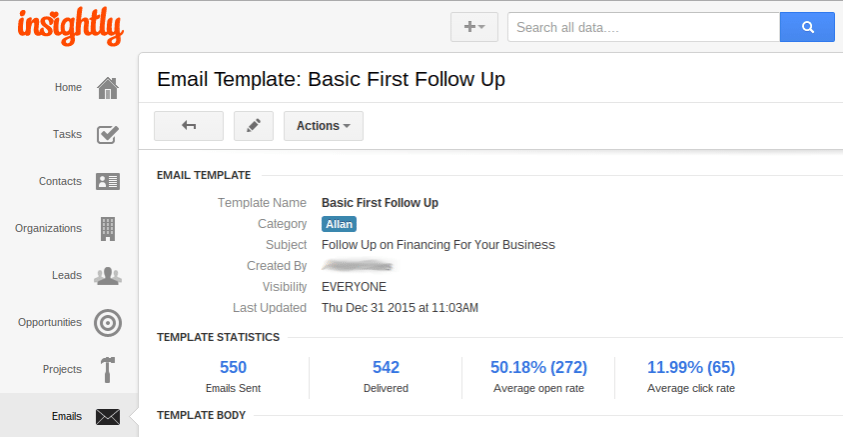 This data becomes more and more useful as you adopt Insightly as your main emailing tool. From the "Email Templates" page, you can sort all templates by their open rate. So you can easily identify which messages have been the most effective, and note any common trends between them.
Want to manage 1000's of leads, save time, and get organized? Click Here to get our FREE CRM guide and find out how.
The Bottom Line
Combining your CRM with your emailing platform helps keep things more organized. For one, your contact book is always available with a single click. Secondly, all of your sent messages are saved under the relevant menus (contact, opportunity, etc.), so you and your team members can easily get up to speed.