Variable life insurance is a type of permanent coverage that provides death benefits to your beneficiaries plus cash value that grows during the life of your policy. This cash value can be used to increase your death benefit, cover premium payments, or be withdrawn as needed. Variable life insurance typically starts around $75 per month.
When buying life insurance, it is important to make sure you have the right coverage, have confidence in the provider and understand the options and mechanics of your specific product. People who want to get life insurance quickly can use PolicyGenius to get an easy-to-understand quote within minutes so you can understand what you're buying.
Variable Life Insurance Providers
The best life insurance providers do more than just look at pricing. They help you look at the real reasons you need the insurance and how much is the right amount. Life insurance providers should have simplified claims processes to ensure beneficiaries can access benefits sooner than later.
Top Variable Life Insurance Providers
| Provider | Best for |
| --- | --- |
| Policygenius | Consumers looking for rate comparisons among multiple  insurance companies |
| Prudential Financial | Legacy and estate-planning families transferring wealth to the next generation. |
| AIG | Savvy investors seeking diverse and reputable investment options |
| Legal & General America | High-income earners who can afford to pay lifetime premiums off in 15 years |
| Nationwide | Younger couples seeking affordable policies that grow with their income and needs |
Some top variable life insurance providers to consider include:
Policygenius
Policygenius is an online personal insurance broker that partners with the top life insurance providers to get customers the best policy for the best rate. Policygenius' mission is to take the insurance-speak out of the purchasing process helping policyholders feel confident that beneficiaries will be able to get proceeds quickly.
Policygenius is ideal for the insurance shopper who wants to complete one questionnaire and see what companies offer the best pricing. Policygenius looks at the individual needs of each member of a family and can provide quotes from different carriers if some are better for individual family members.
Prudential Financial
Prudential Financial is a premier life insurance and retirement planning company with operations around the world. The firm's reputation for being trustworthy comes from 140 years of delivering on promises to clients. Prudential Financial has received superior and excellent ratings from the major insurance credit reporting agencies.
Prudential Financial is a good choice for families looking for estate planning solutions to pass wealth on to the next generation. Prudential Financial works with clients beyond purchasing a life insurance policy and has the resources for complex estate plans that utilize various retirement, trust, and tax planning strategies.
AIG
AIG has a 100-year history of protecting families and businesses around the world from a wide range of risk. Even though AIG is one of the biggest and most financially sound companies in the world, it also maintains community involvement at a local level offering paid volunteer time for employees. This willingness to be in the trenches with its client-base gives AIG insight to develop new and better solutions for customers.
AIG is a great variable life insurance provider for customers who want higher quality investments that yield better long-term results. AIG variable life insurance policies include subaccounts that offer investments from mutual fund giants like include mutual fund giants like Fidelity, Franklin Templeton, Invesco, PIMCO, and Oppenheimer.
Legal & General America
Legal & General America, underwritten by Banner Life Insurance Company who is the seventh largest insurer in the world. It has nearly 200 years of life insurance experience and can build policies to meet the changing needs of consumers. It also holds superior ratings from Moody's and A.M. Best.
Legal & General is an ideal life insurance provider for customers who want to develop long-term strategies for wealth protection and savings. With a universal life product that can be 100 percent paid up in 10 to 15 years, policyholders can relax knowing they are insured for life with potential cash growth.
Nationwide
Nationwide is a household name for home and auto insurance and has become one of the largest insurance and financial services companies in the world. The company places a huge emphasis on customer service that leads to retention and is dedicated to providing the best service in fulfilling customer needs to keep the relationship for a lifetime.
Nationwide is a good option for young life insurance buyers who understand investments and want policies that grow with them over the long-term. The variable universal life policies at Nationwide allow young couples to keep costs down, get bundling discounts with home and auto insurance, and allow the investment subaccounts to help the policy grow over time.
What Is Variable Life Insurance?
Variable life insurance is permanent insurance, meaning it stays in force and will pay a death benefit to your beneficiaries as long as you pay the premiums. Permanent policies differ from term policies, which have a designated coverage period. Variable life insurance is unique among permanent policies because it allows customers to invest in the cash value portion of their policy in mutual funds.
What Variable Life Insurance Covers
Variable life insurance covers your family by paying a benefit if you die while the policy is in force. While there is no restriction on how your beneficiaries can use these funds, most people buy life insurance to alleviate the loss of income you provided while alive. Death benefits can be used to replace several years of income, fund college for the kids, or pay off a home.
Unless your life insurance policy goes into a living trust designating how to spend it, your beneficiaries will ultimately decide how to use the money. The living trust dictates things like whether or not the money can be used for college, buying a home, or a wedding. It can also designate an allowance ― called a spendthrift clause ― if parents are concerned with kids blowing the entire amount on a trip around the world.
What Variable Life Insurance Doesn't Cover
Variable life insurance is similar to other types of life insurance because it has several exclusions and limitations. Death by suicide is a standard exclusion for all life insurance companies. Individual carrier exclusions are also common for risky lifestyle components like flying small aircraft, skydiving, scuba diving, rock climbing, and other high-risk activities.
Existing health conditions, health history, and lifestyle are areas where insurance carriers spend extensive time underwriting new policies. The basic rule of thumb is the more medical conditions you have, the higher your premiums or potential denial. It's also basically impossible to get life insurance if you have a terminal illness. Every insurance carrier evaluates risk based on the company's desire to cover different types of individuals.
Variable Life Insurance Costs
Variable life insurance premiums depend on your age and health, the death benefit desired, your lifestyle, and the carrier. Generally speaking, the younger and healthier you are, the less you will pay for life insurance, with costs typically starting around $75 per month.
Typical Variable Life Insurance Costs & Deductibles
Estimated Monthly Premium Based on Death Benefit

Age

$250,000

$500,000

$1 million

Male

Female

Male

Female

Male

Female

20

$85

$75

$160

$130

$325

$270

30

$130

$110

$230

$190

$450

$300

40

$180

$160

$350

$290

$700

$550

50

$300

$230

$550

$450

$1,100

$900

60

$500

$400

$900

$700

$1,850

$1,400
*Quotes based on nontobacco with standard health rating per Policygenius
Every insurance company has their own pricing for life insurance, with many having a larger appetite for permanent insurance and others restricting their offerings to term policies. If you want to purchase variable life insurance, be sure to choose a top-rated provider who can give you the best rate. Subpar providers are known to delay payouts up to six months, which can leave your beneficiaries trying to manage finances without the funds you left them.
Variable Life Insurance Premium Factors
Life insurance premiums are based on the expected lifespan of an applicant, which is affected by various things like age, medical history, and lifestyle. An insurer first considered all of these factors when deciding whether to issue a policy. If it is issued, the rating for the insured may be excellent, standard, or substandard. Prices are most favorable for excellent applicants while substandard ratings can require additional costs for specific conditions.
Insurance company premiums are based on many different factors including:
Gender: Women live longer than men, therefore are less expensive because the insurance company expects to collect more premium over time
Age: Insurance rates are based on mortality tables, which means the older you are, the closer you are to dying
Medical history: A history of having cancer, depression, or any other serious medical condition increases premium payments
Chronic medical conditions: High cholesterol, high blood pressure, mental illness, and diabetes are a few examples of chronic conditions that increase premiums
Tobacco use: Smokers and tobacco users (including vape) tend to develop serious chronic conditions that can lead to premature death, so tobacco users have higher rates
Lifestyle: High-risk lifestyles that include activities like rock climbing, skydiving, and flying small aircraft can increase life insurance premiums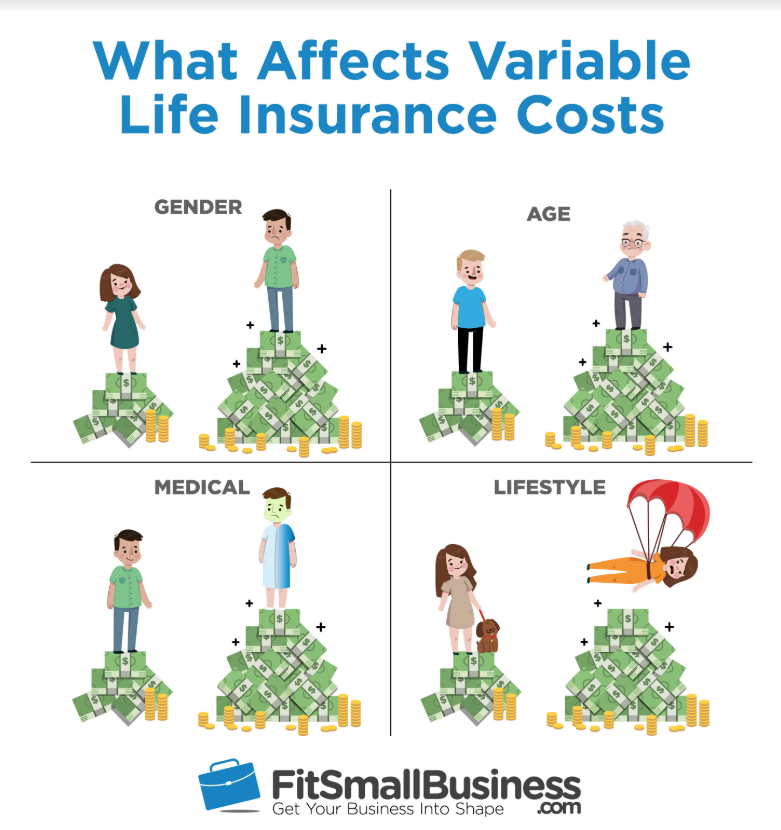 Understanding the Fees & Cost of Variable Insurance
Life insurance companies charge monthly or annual premiums that cover the cost of insurance, administrative fees, and investment management fees. However, variable life insurance premiums also include a cash component that is invested in mutual fund subaccounts. This cash portion makes variable life insurance more expensive than other types of life insurance policies.
Cash Value & Surrender Charges
Surrender charges refer the cost to close a policy out before a designated time period. Most life insurance policies have surrender periods of five to 15 years and a schedule of fees for each year. These fees are a percentage of the amount withdrawn. A 10-year surrender fee schedule might start with a 10% penalty for withdrawals during the first year and reduce by 1% each year until the 10-year surrender period is complete.
Insurance companies charge surrender fees because it costs money to manage a policy. These costs are amortized during the expected lifespan of the insured. Canceling the policy and cashing out costs the insurance company money, which is why surrender charges exist.
How Variable Life Insurance Works
Variable life insurance has three financial components: death benefit, premium, and cash value. Premiums are paid monthly or annually and broken into two subcategories: the investment portion and the cost of insurance (COI). The COI pays for the actual death benefit and administrative costs, while cash value is reflective of the variable investment, usually a mutual fund, chosen by the policyholder.
A life insurance policy pays a death benefit to beneficiaries upon the death of one or more named insureds. Policies generally have one named insured, but there are joint life insurance policies that insure two lives, usually a married couple. Policies with multiple named insureds can either be a first-to-die or second-to-die policy, depending on how a policyholder wants to protect their spouse or other beneficiaries' financial interests.
The Cost of Insurance vs Cash Account
Every variable life insurance policy has two primary buckets that your premium dollars go into: the COI bucket and the cash account. The cost of insurance pays for the administrative costs of underwriting and administering life insurance. The cash value is the investment portion of the policy. The COI is taken from the premium payment, and the rest is invested in the cash bucket.
Costs and fees paid by the COI bucket include:
Mortality & expense charges: Costs of the life insurance death benefit
Sales & administrative fees: Commissions, policy maintenance, and standard business expenses
Riders: Any additional coverage options used to customize a policy including things like guaranteed insurability, waiver of premium, and accelerated death benefits
Investment management fees: Costs associated with the investment portion of the accounts to manage the portfolio; fees vary for different subaccounts
Policy loan interest: Policyholders repay any funds they borrow against their policy with interest added to premium payments
Cash accounts in variable life insurance are what grows over time. This is the investment bucket of the insurance policy and what makes variable life insurance so beneficial for people seeking potential growth.
How Variable Cash Accounts Work
The portion of your monthly variable life insurance premium that goes into your cash account is invested in various subaccounts. Most policies offer up to 30 investment options in mutual funds and ETFs that allow you to build a diverse portfolio. The choices may range from a conservative money market, index fund, bonds, or higher-risk equity investment funds.
The choices of investment are limited to the partners a life insurance company has. You won't be able to select any mutual fund trading on the market. It is important to understand that the variable account you choose is not a guaranteed account and values fluctuate based on the investments you choose. You can adjust investment options by contacting the insurance company.
Ways to Access Life Insurance Cash Value
The cash value in your variable life insurance policy should grow over time but can also be tapped when you need access to funds. There is more than one option for you to choose from when accessing the cash value in a permanent life insurance policy.
You can access your permanent life insurance cash value by:
Closing the policy: Cashing out the policy cancels all death benefits and is subject to surrender charges
Taking a loan out: Borrow up to 50% of your cash value and pay back the money plus interest to yourself; this is a no-credit-check loan that reduces death benefit if you die during the loan period
Using some cash value: Subsidize retirement or use funds for a major purchase like college for the kids with some of the cash value; this may reduce some of the death benefits and can be subject to surrender charges
Cash value accounts in variable life insurance provide you with the flexibility to protect your beneficiaries' financial future but also allows you to access cash if you don't need as large a death benefit anymore. For example, if the original death benefit was to pay for your son's college but he is about to graduate, using some cash value won't affect the long-term goals of death benefit coverage negatively.
Understanding Life Insurance Contracts
Variable life insurance is a contract between the policy owner, their beneficiaries, and an insurance company. Surprisingly, the insured doesn't need to be any of those, even though his or her life is what is being insured. The owner has what is called an insurable interest on the insured's life and is obligated to pay the premium. In exchange, the life insurance company pays a death benefit to beneficiaries.
The insurable interest can be a family member relying on the income or even a business interest ― partner, investor, or lender ― who relies on a key man like the CEO of the company. The contract is unilateral, meaning once the insured is underwritten and approved, the insurance company cannot cancel the policy as long as the policyholder pays the premium.
Variable Life Insurance Pros & Cons
Variable life insurance has both advantages and disadvantages. Consider your family need and overall insurance budge before finalizing insurance policies. For example, while the cash value of variable life may be very attractive, the increased cost may not be feasible for the amount of insurance your family needs.
Variable Life Insurance Pros
Variable life insurance is an attractive insurance policy for people who want to lock in rates for their lifetime because it provides more than just a death benefit to policyholders. The fact that it continues to provide insurance without expiration means the cash value can grow and provide flexibility to policy owners.
Some advantages of variable life insurance include:
No expiration date: Continues to cover the insured for the duration of his life as long as policy premiums are paid
Premium flexibility: Policy tailoring options allow premiums to remain lower for designated periods making it affordable to those just starting out
Cash value: Money that can be borrowed against, used to pay premiums, or cashed out for any reason
Tax shelter: Cash value growth is tax-deferred to owners and death benefits are tax-free income to beneficiaries; loans are also nontaxable; only cash value surrenders in excess of contributions are taxable
Investment opportunity: Subaccounts that give policyholders mutual fund options for conservative, moderate, or aggressive investment strategies
Variable Life Insurance Cons
While variable life insurance is great for people who want the cash value, it also has disadvantages. Because of the benefits including the cash value, these policies tend to be more expensive than other life insurance policies. The complex nature of variable life insurance can also result in client confusion and unrealistic expectations.
Some disadvantages of variable life insurance include:
Potential losses: Subaccounts are nonguaranteed mutual fund investments that fluctuate in value and can lead to significant losses
Unrealistic expectations: Illustrations showing how cash value works in variable life insurance often highlight higher-than-average returns, setting unrealistic expectations
Higher fees: Mutual fund management fees and higher administrative costs are passed down to the policyholder
If you are unsure whether variable life insurance is the perfect option for your needs, consider the other life insurance options available to you. You don't have to be locked into one type of life insurance policy either. Many people have a combination of permanent and term insurance to maximize coverage, long-term growth, and maintain affordability.
Variable Life Insurance Alternatives
There are other life insurance options for those who don't want the inconsistency of subaccount fluctuations found in variable life insurance. These include term life, whole life, and universal life insurance. Each type of life insurance serves a specific consumer need.
Term Versus Variable Life Insurance
Term life insurance is not permanent; it only remains in effect during the contract term or period. Term policy periods range from five to 30 years. Once the policy is approved, the price remains level for the entire policy term. There is also no cash value with term policies. The lack of cash value and eventual conclusion of the policy make term life insurance less expensive than variable life insurance.
Term insurance is typically for younger families who need substantial coverage for home mortgages, future child expenses, or supporting a spouse. Many employers offer some type of term insurance through employee benefits, and this is often the least expensive way to get coverage.
Variable Life vs Whole Life Insurance
Similar to variable life insurance, a whole life insurance policy is a permanent policy with a part of the monthly premium going toward the cost of insurance and part of it going into a cash account. Unlike variable life insurance, whole life policies don't have fluctuating subaccounts. The interest rate can increase but not go below the minimum annual rate that's guaranteed by the insurance company.
Whole life insurance is more expensive than term policies but similarly priced to universal policies. The cash value doesn't have the same upside as variable life but also doesn't have any downside, so the cash value remains stable. Whole life is often purchased to cover lifelong needs and for estate planning purposes where stability matters.
Variable Life vs Universal Life Insurance Options
Variable life and universal life are often confused because universal life policies are sometimes structured as universal variable life. Both are permanent variable policies with subaccounts investing the cash portion of the premium. However, universal life is a type of permanent policy that doesn't have level premiums. It is best described as a guaranteed annually renewable term policy based on age.
Annually renewable policies can be cheap when you are younger, but premiums increase with each birthday. The idea is to help younger consumers afford permanent policies with premiums growing as their careers develop and incomes rise. Incorporating the variable component often helps policyholders pay part of the premium increases over time.
Annuities & Life Insurance Options
An annuity is not life insurance but is a tax-deferred product offered by insurance companies. Annuities are either fixed or variable, meaning the rate is either fixed or invested in subaccounts that fluctuate. Annuities name a beneficiary and avoid probate but don't have a multiplier effect like life insurance does where a smaller premium can pay large death benefits.
Annuities are used by investors who want to place more money in tax-deferred vehicles. As long as the money stays in the annuity, it grows tax-deferred. Withdrawals are treated as taxable income and may also be subject to surrender charges. If contributions are made after taxes, only annuity earnings taken out are taxable.
Tips on Getting Variable Life Insurance
Here are some ways to help you when buying life insurance.
Buy When You're Young
Variable life insurance costs are less expensive when you are young and healthy. Most of the common health issues that increase the rate start after the age of 40. Plus, the added time to invest the variable portion of the policy also gives you the chance to let the money grow to larger sums, some of which can be used to pay your premiums as you get older.
Understand Your Risk Tolerance
Variable life insurance has risk in the subaccounts. Every subaccount targets a different investment objective, some being conservative and others being aggressive. Historically, more conservative accounts fluctuate less than aggressive investments, but past performance is not an indicator of future results. Be sure to find investments that you're comfortable with.
Buy This as Life Insurance With a Savings Option
Make sure you are purchasing this policy with life insurance as the primary consideration and not a savings or retirement program. Savings and retirement programs are often less expensive outside of life insurance. Get the right death benefits needed that fits your budget even if that means mixing variable life with less expensive term life. Don't choose lower death benefit amounts than what you need just because you like the savings portion.
Variable Life Insurance Frequently Asked Questions (FAQs)
Life insurance is too important to make a quick or rash decision. While we try to provide as comprehensive coverage on the topic as possible, we know you might still have some questions. Our mission is to provide the best answers to your questions.
Is variable life insurance a good investment?
People buy variable life insurance for two reasons: life insurance and wealth building. Variable life insurance allows the policyholder to choose from specific mutual fund options. Policies typically have 20 to 30 subaccount mutual funds of various risk categories like index, bond, small cap, and technology funds. Funds investment options should meet the policyholder's investment objectives.
Is variable life insurance a tax shelter?
Variable life insurance is considered a tax shelter because the cash portion of the account grows tax-deferred and the death benefits are tax-free for beneficiaries. Surrendering a cash value life insurance policy is subject to income tax on growth. Additionally, death benefits paid into a living trust or directly to the estate executor may be subject to estate taxes.
Can you cash out a variable life insurance policy?
Cashing out a variable life insurance policy is called surrendering the policy. You can take part or all of your accumulated cash value out but may have to pay surrender charges and may no longer have coverage. Consider a loan or partial withdrawal if you anticipate still having a need for life insurance.
Bottom Line
Variable life insurance is a great way to not only protect your loved ones from your unexpected demise; it also serves as an investment account that can grow over time. If you are purchasing variable life insurance, be sure to consider the realistic ups and downs of the variable subaccounts and how they may affect your long-term benefits.
If you are unsure about how to determine how much life insurance you need or what the best type of insurance is best for you, be sure to visit Policygenius. The online application system takes just a few minutes and will provide you with several coverage options to help you make a quick and easy choice.