In our review of the best retail POS systems for small businesses, Vend earned a 4.35 out of 5 for its integrated payment processor, intuitive user interface, and management and backend features. This POS system works best for brick-and-mortar retailers that are expanding and starting to need advanced tools, such as larger and more complex inventory and customer management and more options for payment processors.
Vend has been acquired by Lightspeed and was sunset on Oct. 2, 2023. While Vend previously served expanding retail businesses well, we no longer recommend it in our list of the best retail POS systems because the system is discontinued. Lightspeed is a good alternative, as it has adopted some of Vend's key features, such as the mobile scanning app. Visit Lightspeed to learn more.
The following depicts Vend's pricing and features before the product was discontinued:
Pros
User-friendly interface
Can choose your own payment processor or use the integrated one
Free customer-facing display app
Free barcode scanning app for iOS mobile devices
Cons
Expensive monthly price point
Third-party integration required for best ecommerce functions
Loyalty features only available on the most expensive plan
Supported Business Types

Retail

Brick-and-mortar retailers, wholesalers, dropshippers

Standout Features

Strong checkout features (returns, refunds, discounts, layaway, etc.)
Variant and composite inventory
CRM and reporting tools
Create custom payment options
Free iOS scanner app for counting and receiving products
Multi-location settings including the ability to configure warehouse locations for stock tracking

Monthly Software Fees

High, but offers a good value for the product

Billed monthly: $89–$269
Billed annually: $69–$199

Based on users that opt for Lightspeed Payments

Setup and Installation Fees

$0

DIY installation only

Contract Length

Month-to-month

Can pause your account for a monthly fee

Payment Processing Options

Lightspeed Payments or most other major processors

Payment Processing Fees

Lightspeed Payments: 2.6% +10

Other processors: Varies

Customer Support

24/7 for all plans
Best for

Monthly software fee

Hardware costs

Read full review

$0–$60 (custom pricing available)

$49–$799

$89–$269 (custom pricing available)

Custom quote

$0–$165 (custom pricing available)

$627–$1,099 (monthly payments or pay-as-you-go options available)

$39–$399 (+$89 for POS Pro)

$49–$329
Who Should Use Vend
Of the many retail POS software we have tested, Vend has proven it has a lot to offer growing brick-and-mortar retailers. Vend offers real-time inventory management tools for all its subscription plans, including mobile scanning apps for receiving shipments, built-in demand forecasting, barcoding, and integrated purchase order management. Vend is also suitable for high-risk, high-volume businesses, such as retail stores selling CBD, tobacco, and vape products.
Who Should Use an Alternative
Vend is not a good fit for anyone looking for a free POS option, though it offers a free trial. It is also not the best pick for appointment-based retailers because it lacks an appointment system. While you can add an appointment integration, the Vend subscription price point might be too steep if you can't maximize its retail functions. You'd be better off choosing an industry-specific POS like Square Appointments.
While Vend is a great POS option for its features, it did lose some points for its overall high price point. Vend does not offer a free plan, and its cheapest plan starts at $89, depending on the payment processor you choose (though lower annual pricing is available). This is a high starting point for most small businesses, but there is a free trial offer if you want to try it out first.
Vend offers three different plans at three different price points that vary based on features. Each subscription comes with one register, and each additional register costs $59 per month for each plan.
The main differences between Vend's plans are the advanced features, like advanced reporting, loyalty features, and premium API access (this last one is available only on the custom-priced Enterprise plan for high-volume businesses). However, even Vend's Lean plan offers all the tools you could need for running a retail business.
Vend has an integrated payment processing option (Lightspeed Payments), which has the same flat processing rate across all plans: 2.6% + 10 cents. This rate may change if you handle transactions through third-party processors. Vend's partner processors may provide exclusive discounted transaction rates.
Fees and Features

Lean

Standard

Advanced

Subscription Fee

(Billed Monthly)*

$89

$149

$269

Subscription Fee

(Billed Annually)*

$69

$119

$199

Locations

1

1

1

Registers**

1

1

1

Accounting

✕

✓

✓

Ecommerce

✕

✓

✓

Loyalty

✕

✕

✓

Advanced Reporting

✕

✕

✓

Inventory Management

✓

✓

✓
* Prices based on users that opt for Lightspeed Payments.
** Additional registers cost $49/month (billed annually) or $59/month (billed monthly).
Vend Hardware
Vend operates on a custom quote system for its hardware. This means that businesses cannot buy hardware directly from Vend. Instead, if you need a hardware setup, you can reach out to Vend's sales team, where you will discuss your hardware needs and receive a quote. Visit Vend by Lightspeed to learn more.
If you would rather get hardware yourself, Vend is very flexible. Because Vend is browser-based, retailers can operate Vend's POS software on any internet-enabled device. Vend also has a POS app that can be downloaded onto iPads and iPad minis if you want to conduct mobile sales or use an iPad register system. Additionally, most industry-standard accessories—like barcode scanners, receipt printers, and cash drawers—are compatible with Vend. This flexibility means you can set up a countertop checkout with hardware that you get through Vend or from a third-party vendor.
Vend's website also has a comprehensive help center with a step-by-step guide and expert partners ready to answer questions regarding hardware and integration.
Vend earned high marks for its feature-rich and flexible checkout. Its checkout can run on both internet browsers and mobile devices (iOS and Android) via the Vend App. The interface is easy to use and prompts you through selling actions, adding new customers to the database, using the system's built-in loyalty program, assigning an employee to each transaction, conducting returns and exchanges, tacking on discounts, and making transaction notes. Not only that, but just like you see with Square POS, Vend allows you to add custom action tiles to your checkout screen, so your most used actions or products are right at your fingertips.
Vend creates user barcodes you can assign to employees and attach to their IDs. This means that all that staff members need to do to attach themselves to a transaction is scan their barcode ID.
Vend's checkout is also great because it features a customer-facing display app. All you do is download the app and integrate it with your POS. From there, customers can add personal information to their profile right from your iPad or tablet device.
Vend uses Lightspeed Payments as its integrated payment processor, and you can also integrate with most major payment processors with no fee for outsourcing. Additionally, since being acquired by Lightspeed, you receive a discount on your monthly payments if you opt to use Lightspeed Payments as your processor. Lightspeed Payments offers a flat processing fee of 2.6% + 10 cents for tapped, inserted, or swiped transactions and 2.9% + 30 cents for keyed-in transactions. Visit Lightspeed for more information.
Once you have chosen a payment processor, the sky is really the limit. Vend lets shoppers pay how they like, with all major credit and debit cards accepted via swipe, tap, dip, sign, or contactless technologies, like NFC and Apple Pay. Not only that, Vend complies with both Payment Card Industry (PCI) and General Data Protection Regulation (GDPR) standards to protect your and your customers' information.
Contactless payments through mobile near-field communication (NFC) payments, like Apple Pay, are also possible. For businesses that create custom products or operate off of work orders, you can create quotes and "park" the transaction to checkout once the order is complete.
---
With Vend's integration with the Hyperspace Age Verification App, businesses that sell restricted products can verify IDs. Hyperspace is certified for the Retail Access Control Standard (RACS) as required by the Food and Drug Administration (FDA).
Essentially, when the age verification app is integrated with your POS system, you can set age requirements for certain products. When an age-restricted product gets scanned into a transaction, an age verification notice will pop up. From there, employees will be prompted to scan the customer's ID, such as a driver's license. Once verified, the purchase can continue.
---
Gift card selling, redeeming, and tracking capabilities are built into Vend's POS system. You can create your own gift cards, order through Vend's supplier, or get them from a third party. You can even import previously-issued gift cards and their balances via CSV file. Additionally, gift cards are included as a tender option at checkout, making it easy for store associates to redeem.
Vend also has a point-based loyalty program built into its POS dashboard and checkout screens, though you will need to be subscribed to the Advanced Plan. Reward or loyalty balances show up on receipts when customers make a purchase, and they can also be sent by email. It also lets you customize your program, allowing you to assign points to the loyalty actions that have the biggest impact on your business.
---
Vend POS includes tools to build customer profiles, create customer groups (such as a VIP program), and give groups special pricing. Your customer's information—which extends across all your sales channels—includes purchase history, loyalty points, VIP status, and account balances, and is automatically stored under each customer profile.
Vend makes it easy to add to your customer list with a feature that allows you to create customer profiles during the checkout process. Additionally, all customers from all your sales channels automatically sync to your POS, so all your online customers will have profiles when they visit your storefront.
The only major shortcoming of Vend's customer management is that it lacks customer reporting capabilities (like you see with Lightspeed POS).
---
Vend earned high marks for its management features, with a 4.25 out of 5 in our evaluation. With rich inventory management, CRM, and reporting tools, there is little that Vend leaves to be desired. It lost points in this area for keeping so many of its features, such as loyalty and advanced reporting, behind a paywall.
Vend has powerful inventory management tools for brick-and-mortar retailers. The platform makes it easy to add inventory to your POS catalog. You can either add products individually through the dashboard or upload them in bulk using a spreadsheet. Moreover, it is designed to handle many variants (like different sizes and colors) and composite items (like gift baskets or discount bundles).
One of its most unique features is its corresponding free barcode scanner mobile app. When you download this app, your mobile device camera becomes a barcode scanner. Employees can use the mobile scanner to perform full or partial stock counts, receive shipments, or even check if a product is in stock at any location, verify pricing, and confirm product specs.
Many POS systems don't allow you to do partial inventory counts. Scanner by Vend is a native feature ideal for retailers with large or complex inventories that want to cycle spot-checks.
In addition to its scanner app, Vend can also track inventory in real time, set automatic restock points, track vendor information and purchases, and make detailed product pages that include pertinent product information.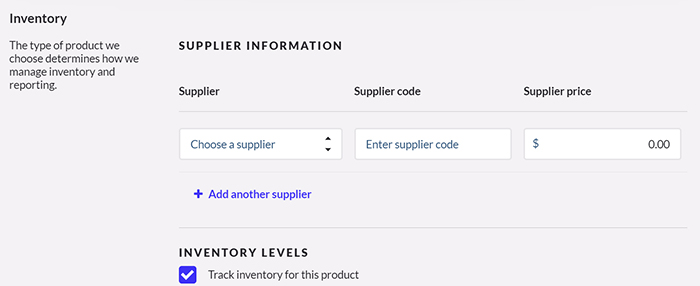 ---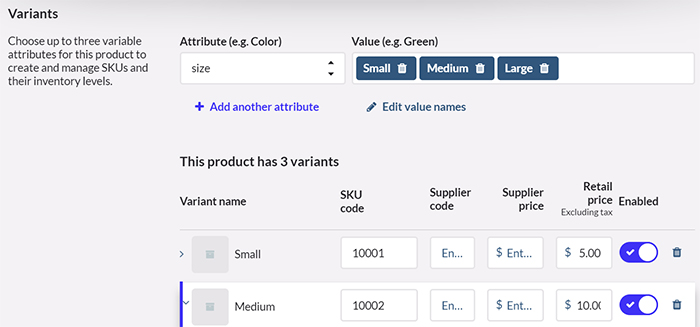 ---
Another notable inventory capability that Vend brings to the table is its fully integrated order management features. Vend lets you create, send, and track purchase orders (POs) from within the POS.
Most other systems, like Square, will generate reorder reports but require you to export or create POs in a separate program. Vend lets you manage POs across all locations from one place and provides employees visibility into what shipments are on the way.
Not only can you manage purchase orders with Vend, but the software also has full order management. This includes built-in stock receiving, ordering, returning, and transferring features.
---
Vend includes a native ecommerce tool called Ecwid, which allows you to design an online shop quickly and easily. This can be either your own website and online shop; a store on social media platforms like Instagram, Facebook, and TikTok; or dedicated platforms such as Amazon and eBay. For shipping, Ecwid integrates with more than 40 payment shipping providers that can get your products to customers all over the globe.
With Ecwid, you'll be able to create and process gift cards, discounts, and email reminders to enhance your customers' experience online. It also lets you add more functionality to your existing website, if you have one. What's more, all of these features can be managed from the Vend POS, simplifying your processes and ensuring that you don't miss any data or opportunities.
Vend also has free integrations with most ecommerce platforms including WooCommerce, Shopify, and BigCommerce. This means you can sync your brick-and-mortar and ecommerce sales channels on one platform, making it easy to stay on top of all the parts of your retail business.
Vend's ecommerce management features include:
Online orders: These will appear on your POS dashboard, so you can monitor and fulfill online orders straight from your POS platform without needing to switch between two systems.
Customer syncing: When customers create a profile in your ecommerce store, it will automatically be added to your customer database on your POS system.
Multichannel syncing: Add your Amazon, social, or eBay storefront to your POS dashboard so that all your sales channels are synced and in one convenient location.
Vend's ecommerce features are only included in the Standard and Advanced plans—there are no ecommerce integration capabilities in the Lean plan.
---
Vend has a streamlined and incredibly helpful reporting module with eight reporting categories, including the retail dashboard with daily sales and numbers, inventory, payments, registers, gift cards, store credit, and tax reports. You can also view your reports from anywhere via Vend's browser-based dashboard. Though Vend does not have a mobile reporting app, the dashboard is mobile-friendly.
One of my favorite reporting features is the ability to set daily, weekly, and/or monthly sales goals for each employee and track their progress. You can even allow employees to monitor their progress against their goals. This is unique to Vend and makes it easy to hold your staff accountable and help them stay on track.
Another key feature is Vend's demand forecasting reports, which enable you to anticipate how much stock you'll need and what is selling the most. Additionally, all of Vend's reports are adjustable, so you can click through different variables and filters to problem-solve and find the data you need. Not only that, but Vend lets retailers set up custom reports. Many POS systems in this price range only offer templated analytics, so this is a notable feature, one that I have only ever seen in Lightspeed's premium plans.
Did you know?
Vend integrates with QuickBooks, Xero, and MYOB for accounting.
---
Vend offers a wide range of integration options, from accounting applications to employee management tools. It also has an in-house developer community to assist users in building highly customized functions, such as an online store or third-party payment processor, through Vend's open application programming interface (API).
Some of Vend's most popular integrations include:
QuickBooks Online
Xero
BigCommerce
WooCommerce
Shopify
Homebase
Mailchimp
Timely
Fobi (formerly Loop Insights)
NetSuite
---
Vend earned perfect marks in this category. It is incredibly easy to use and offers great customer support that is available at all times.
Setting up Vend POS is easy. The software is compatible with most PCs, Macs, and iPads and integrates seamlessly with popular payment processors. From there, Vend walks you through a step-by-step setup guide and prompts you through actions like ringing up a transaction and adding customers to your database.
It also allows you to upload your customer database and inventory in bulk, so you don't have to add each item individually. Additionally, it makes it easy to integrate third-party tools with a few clicks or with the help of Vend's developer community, which can assist you in developing customized tools with the API. The POS also has an offline mode that lets your store keep on processing sales even if you lose internet connection.
Once set up, Vend integrates your customer data and inventory across locations so that inventory counts and customer purchase histories are always up-to-date. The provider also has one of the most highly-rated customer support teams. It offers 24/7 global customer support via email and chat. Plus, its experts are available for hands-on support and on-site training requests. An extensive help center is available as well.
In our expert evaluation, Vend did quite well with a 4.25 out of 5. We love Vend for the flexibility it gives you in setting up your store in terms of ecommerce and payments. It is also feature-rich and offers tons of tools to help your business flourish. Vend also stood out to us for how much support it offers its users—with 24/7 customer service and tons of onboarding tools and assistance from real people.
Vend lost its points in the value for money and pricing areas. While Vend is a great product, the price point is high, and, considering there are so many free POS options available, it is hard to say if Vend's value matches its price.
What Users Say in Vend POS System Reviews
Vend is among the top retail POS systems on the market. However, as of this writing, there are very few up-to-date iOS user reviews for this provider in the App Store.
Meanwhile, Vend has earned the following scores on popular review sites:
Overall, users are positive about the Vend platform but still desire more third-party integrations, among other things. Some of the most common feedback we gathered from reading Vend POS reviews and speaking to business owners who use the platform are as follows:
Users Like

Users Don't Like

Intuitive, easy-to-use software
Expensive fees
Useful inventory tools
Limited integration options
Versatile and flexible processes
Errors when using its bulk upload feature
Methodology: How We Evaluated Vend POS
When we evaluate POS systems, we look for options that are affordable, reliable, and easy to use. We also considered inventory management tools, online store and multichannel selling features, customer and employee management, payment processing options, reporting and accounting tools, customer support hours and quality, and third-party integrations.
We also only look for POS systems that offer multiple hardware options, including iPad apps, tools for selling online, and multiple plans so the software can grow with your business.
While Vend checked the major boxes, it lost points primarily for its pricing structure. Vend's monthly subscription fees are high for POS systems, and many of the advanced features are hidden behind a paywall. Despite that, Vend scored well in nearly every category and earned a 4.35 out of 5 in its cumulative score.
Click through the tabs below for our in-depth evaluation criteria:
15% of Overall Score
We prioritized systems with a starter plan with monthly fees of less than $75, awarding extra points to systems that offer a free plan. We also considered payment processing fees and whether the system offers negotiable or volume discount rates. Finally, we penalize a system that caps the number of users, products, transactions, or sales you can process without upgrading plans. Vend did well in terms of providing unlimited users and integrated payment processing, but lost points for its expensive subscriptions.
20% of Overall Score
Retailers need speedy checkout tools like customizable hotkeys and easy product lookup, return management, and mobility to ring sales curbside or on the sales floor. We also prioritized flexible payment tools like contactless, gift cards, store credit, layaway, and order-ahead options. Finally, we considered whether the system could process custom, work, or service orders, such as repairs. Vend scored fairly well here, only losing points for a lack of native ecommerce tools and paywalled loyalty features.
35% of Overall Score
The most important consideration was inventory management—low-stock alerts, matrix inventory, and purchase orders, plus easy stock counts and shipment receiving. We also looked into CRM tools like directories, loyalty programs, marketing, and customer feedback collection. Additional points were given for employee management features, including logins, scheduling, and commission reporting. Seamless omnichannel management for creating an online store and processing ecommerce orders and detailed reporting for products, sales, customers, and employees were also considered. Vend got a nearly perfect score here, only missing out on having advanced marketing tools.
15% of Overall Score
Easy installation, detailed training materials, and 24/7 customer support were essential considerations. We also prioritized a hybrid installation or offline mode, so you can still operate if the internet goes down. Finally, we awarded points to software that can run on various hardware so retailers can choose their preferred devices. We consider Vend very easy to use and intuitive in general.
15% of Overall Score
In this section, we evaluated the system's comprehensive feature set (including any standout tools), the value it offers for the price, popularity and user reviews, whether or not it experiences a lot of downtime, and the overall experience of navigating the system's interface. Vend got a high score here due to its great features, though a corresponding high price point lowered the score a bit.
*Percentages of overall score
Vend POS Frequently Asked Questions (FAQ)
Vend was the name of the original Vend product that customers use today. After being acquired by Lightspeed, it became Vend by Lightspeed—also called Lightspeed X Series. Lightspeed Series X offers the same features that the original Vend did, just under a new name.
---
With monthly billing, $89–$269 per month. With annual billing, $69 – $199 per month. Processing rates (using Lightspeed Payments) are 2.6% + 10 cents for in-person transactions, and 2.9% + 30 cents for keyed-in transactions.
---
Vend is suitable for retailers that operate primarily as brick-and-mortar stores with single or multiple locations. It's also great if you want to use a specific payment processor or if you need to verify customer IDs. Look for alternatives if you need native ecommerce tools or a free POS system.
---
Bottom Line
Retailers with large and fast-moving inventory require a POS system that can easily track and manage their business activities. Our Vend POS review finds that granular inventory features make it one of the best retail POS systems on the market. To top it off, Vend offers advanced checkout tools and built-in customer management and loyalty features that you usually find as add-ons in other top-ranking POS software. Vend also allows users to choose their payment processor at no additional cost. Sign up for Vend's 14-day free trial.