Vend vs Square: Which Retail POS Is Right for Your Business in 2022?
This article is part of a larger series on POS Systems.
Square and Vend offer user-friendly point-of-sale (POS) software that help retailers manage in-store and online operations. Both can process sales, manage customers, and generate reports. Vend, however, offers stronger and more detailed features and works with more payment processors. Square, on the other hand, is a free POS system with simpler features.
To help you find the right retail POS for your business, we compared Vend vs Square for Retail in pricing, hardware, and features. Here are our recommendations:
Vend: Best for managing large databases of product and customer information; also a good fit for fashion boutiques, gift shops, sports retailers, health and beauty stores, and other retailers with complex inventories
Square for Retail: Best for smaller businesses with more straightforward inventories or craftspeople who do fewer sales; also recommended for startups, mobile vendors, coffee shops, food trucks, and solo service providers needing an easy and reliable way to accept payments, manage customers, and view basic reports
Vend vs Square Quick Comparison
| | | |
| --- | --- | --- |
| | | |
| | | |
| Best for | Businesses with a large inventory and customer base | New or small businesses, brick-and-mortar shops, businesses on a budget |
| POS basic software monthly fee | $119–$299 (monthly billing); custom plans available | $0–$60 (monthly billing); custom plans available |
| Ecommerce software monthly fee | Third-party platform needed | In-house website builder: $0–$72 (annual billing) |
| Payment processing fees | Varies depending on processor | Square Payments: 2.6% + 10 cents to 3.5% + 15 cents per transaction |
| Available sales channels | Integrates with Shopify, WooCommerce, Magento, and BigCommerce | Square Online store, payment links, add checkout to an existing site, Facebook, Instagram, mobile POS, in-store, and local delivery |
| Inventory management | Included (advanced) | Included (basic); advanced available in higher plans |
| Customer management | Included (advanced) | Included (basic) |
| Loyalty | Included | Add-on |
| Reporting | Included (basic); advanced available in higher plans | Included (basic) |
| Ease of use | Excellent | Excellent |
| Customer support | 24/7 email or live chat, online support center, courses, and ask-an-expert | Monday–Friday phone support, 24/7 automated chat support, seller community, and resource library |
| | | |
Both Vend and Square are two of our top picks for the:
Most Affordable: Square
| | | |
| --- | --- | --- |
| | | |
| Monthly POS subscription | $0–$299 (with add-on options included) | $119–$299 |
| Monthly ecommerce subscription | $0–$72 | Third-party only |
| Card reader pricing | $0–$49 | Varies depending on processor |
| Terminal and register pricing | $299–$799 (all-inclusive) | $440–$1,066 (all-inclusive) |
| Card-present transaction fees | 2.5% + 10 cents to 2.6% + 10 cents | Varies depending on processor |
| Ecommerce transaction fees | 2.9% + 30 cents | Varies depending on processor |
| | | |
Square is by far the most affordable POS option, with an entirely free online store platform and POS system for any one location. Anyone can sign up for a free Square account in minutes and start selling through an online store and mobile device with Square POS's mobile app. Square POS also has premium plans with more advanced features that start at $60 per month and add-on products, like payroll and loyalty, that you can tack on to your POS plan for a monthly fee.
Whereas Square has a free plan for a single location, Vend has a basic plan (Lite) that costs $119 per month for one location and one register. It also has a Pro package at $159 per month for one location/register (but has additional features) and an enterprise pricing option where you work with a sales rep to create a custom plan and monthly price.
If you pay for Vend and Square annually (as opposed to monthly), your rate will decrease slightly, saving you money over the course of the year.
Square vs Vend: Payment Processing
Square's free plan makes it attractive for the budget-conscious entrepreneur, but if you do steady sales, you should consider the costs for payment processing when doing a price comparison.
Square requires you to use its in-house payment processor. It charges simple flat rates with no extras or surprises tacked on and also offers discounted rates for high-volume sales. This makes the provider very attractive to the new business person or the casual solopreneur. Square Payments even works with Apple Pay and other contactless payment options.
While Square's payment processor is straightforward and competitive, you can find better rates if you shop around for alternate payment processors as Vend allows. Depending on your sales volume and the kind of sales you do, you may find a better deal—and it might even make up for the cost of the Vend system.
Best for Retail Sales: Tie
| | | |
| --- | --- | --- |
| | | |
| Best for | Established on-location businesses, businesses with large or complex inventories | Startups, small shops, solopreneurs, hobbyists, mobile sales |
| Register features | Menu with photo and quick keys, customer search, sales notes, discounts, custom receipts, refunds and store credit, split tender, layaway | Menu with photos; digital receipts, offline mode, split tender, discounts |
| Barcode scanning | Included | Included |
| Customer relationship management | Personalized marketing, loyalty program | Personalized marketing, loyalty program, card-on-file |
| Online ordering | Through third-party apps only | Free. Syncs with POS, can upgrade to paid plans, sell through Facebook, Instagram, and TikTok |
| Employee features | Role-based access and permissioning, track sales per employee | Timecard reporting, permissioning |
| Multilocation features | Stock transfer, central customer database and loyalty program, trend assessment across stores | Cross-location returns and exchanges |
| Reporting features | 20 sales and inventory reports, custom reporting | 19 sales and transaction reports, inventory reports custom reporting |
| | | |
In our evaluation of the best retail POS systems, Square's retail POS, Square for Retail, scored the highest (4.54 out of 5). Price was a major deciding factor in our evaluation, and with Vend being one of the pricier systems on the market, it lost lots of points for its steep price tag, earning a 3.66 out of 5 in total.
While Square beat Vend in terms of price, Vend outscored Square in the ease of use of register and checkout features. In our evaluation, Vend came out with better order and return management, inventory tracking, and dashboard customization options.
Square for Retail Is Best for New & Small Shops
Square earns high marks from our on-staff reviewers and real-world users because it is so easy to use, handles in-store and mobile payment processing, and works great for solopreneurs or hobbyists with just a few items and brick-and-mortar stores. Its low price point, streamlined interface, business management add-ons like payroll, and integrated online ordering make it the best option for any new shop or store with simple inventory needs.
Vend Is Best for Established Businesses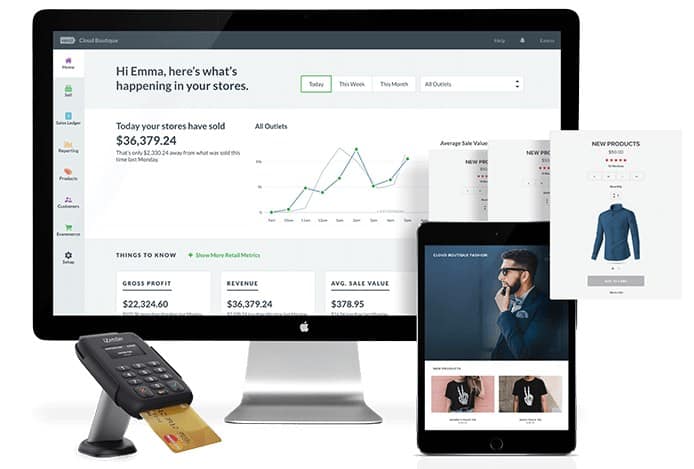 ---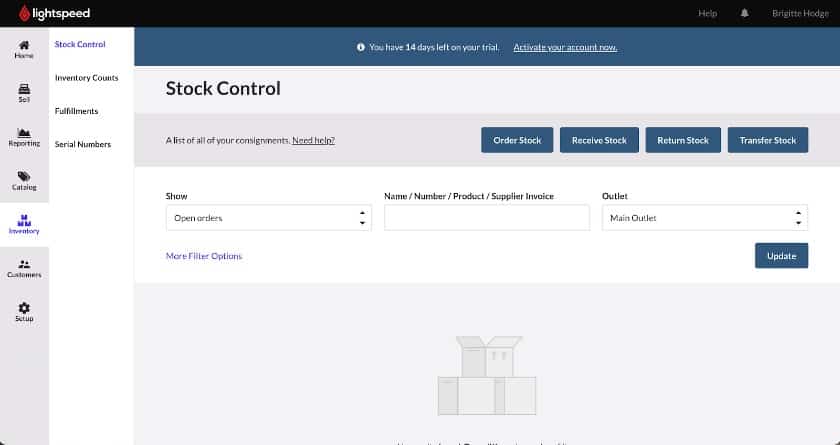 ---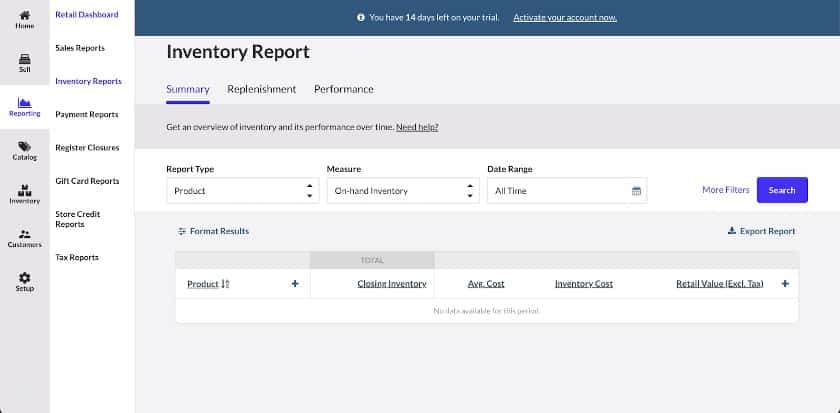 ---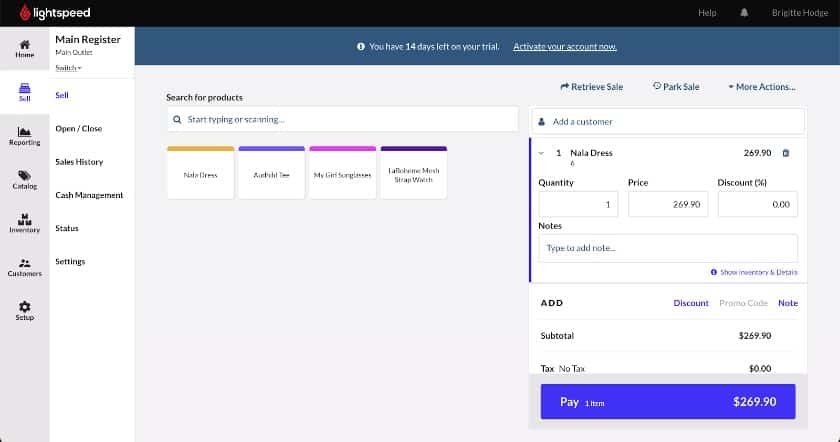 ---
Vend's pricing and more advanced features makes it a better choice for established businesses with a high sales volume and large inventory. The system is highly rated for ease of use, and its resource library is fantastic. You will find videos, training guides, and even classes on running a great retail business through Vend University.
Vend also has an intuitive, streamlined register with programmable quick keys (something Square lacks). With this tool, you can add your top products or checkout actions right to your checkout screen dashboard for easy access when checking customers out. Vend also makes it easy to issue store credit instead of refunds, offer discounts, handle layaway, set up gift cards, add customers to your database, and set up and manage multiple registers—connecting everything from stock levels to customer purchase records across all locations.
One major area where Vend is lacking compared to Square, however, is its absence of an in-house website builder—you'll need to integrate a separate solution for that. This also leads me to another area where Square is the better option.
Unlike Square, Vend does not have in-house add-on tools like you find with Square Payroll, Square Online, Square Loyalty, etc. With Vend, you will have to look for third-party apps that are compatible with the POS system and can be integrated. However, if Vend does not already have an API, it offers you the ability to create one yourself.
One interesting thing about Vend is that its loyalty program does come included with your POS subscription, unlike with Square where it is an add-on feature with an extra cost. With Vend's customer management features, in addition to a customer database and tracking capabilities, you can also run a custom loyalty program with rewards points, shopper tiers, and marketing campaigns.
Best for Inventory Management: Vend
| | | |
| --- | --- | --- |
| | | |
| Our Inventory Feature Score | | |
| Modifiers | Included | Included |
| Barcode scanning | Included | Included |
| Bulk import | Included | Included |
| Low-stock alert | Included | Included |
| Multistore functions | Included | With Pro (paid plan) |
| Reconciling count | Partial and full | Unspecified |
| Vendor management | Included | Included |
| Item lookup | On register, on the backend, via Vend Scanner app on mobile | On register, on the backend, manually via mobile app |
| | | |
Vend is the better choice if you need a POS system that works great with a large or complex inventory. In our evaluation of the best POS systems for inventory management, it earned a lower overall score (4.20 out of 5) than Square (4.35 out of 5)—but that's because price was the biggest deciding factor, making Square the obvious winner with its free plan.
But for inventory features alone, Vend received a higher mark than Square (4.17 vs. 3.83). For the richness of Vend's features and the granularity of its management tools, it is the clear choice for more sophisticated inventory management features that can better handle variants, bundles, and multiple locations.
Expand to watch our video on Vend Inventory Management
Inventory management is one of Vend's top strengths as a POS system. You can add products via Vend's interface or bulk upload products, set up modifiers for size and color, track live stock levels, create bundles, set low stock alerts, order and receive shipments, manage vendors, run a multitude of reports, and perform inventory counts all from your POS system.
One of Vend's standout features is the Vend Scanner mobile app. It allows employees to take quick stock counts, receive orders, and look up items on mobile devices.
While the price for all these features is higher than Square's, Vend really does offer some of the most advanced inventory management features out there, making its hefty price tag well worth it for businesses managing large inventories.
---
Square Is a Good Budget Solution for Managing Few SKUs
When it comes to inventory management, Square is a great solution if you are on a strict budget or have a smaller inventory.
Unlike Vend, Square lacks many of the customization features for classifying stock that you see with Vend. Square's inventory tools do, however, let you create a product catalog with images, some modifiers, item count, and low stock alerts even with the free plan. The Pro plan includes bulk transfer across locations, barcode printing, vendor management, and bulk inventory intake. It also allows barcode scanning and stock adjustments.
Best Hardware: Square
| | | |
| --- | --- | --- |
| | | |
| Terminal prices | $600–$1,035 (includes tablet) | $169–$799 (includes tablet) |
| Third-party hardware compatible | Yes | Yes |
| Models available | Star Micronics MPOP All-in-One in different configurations, accessory options | One terminal, but multiple accessory options |
| Card reader prices | None | $0–$299 |
| Compatibility | iOS and Android devices | iOS, Android, and Square devices |
| Card-present transaction fee | Requires payment processor | 2.6% + 10 cents |
| Keyed-in transaction fee | Requires payment processor | 3.5% + 15 cents |
| | | |
Square beats Vend, however, because it offers two things Vend does not: dedicated registers and a card scanner you can use with your phone for mobile sales. This makes Square more versatile because it gives you the option to conduct mobile sales outside of your store and gives you options to use your own tablet for your register.
Both Square and Vend offer payment plans if you need to pay for a piece of hardware over time.
Square Mobile Card Readers
Square Reader for Magstripe

Square Reader for

Contactless and Chip

Square Terminal

First free, additional $10

$49

$299 (or $27 per month for 12 months)

Available with lightning or audio jack input. Accepts payments via magstripe (swiped).

Connects via Bluetooth. Accepts payments via EMV (chip), or NFC (Apple Pay, Google Pay).

All-in-one credit card machine with POS, card reader, and receipt printer.
Square Terminal
| Square Register | Commercial Tablet with Stand Kit |
| --- | --- |
| | |
| $799 | $600–$1,035 |
| Fully integrated POS system with a detachable customer display. Accepts chip cards and contactless payments. | Square can be run on iPads and Android tablets using the online application. Stands work with 10.2" and 10.5" tablets. |
| | |
Vend Terminals
| Star Micronics MPop | Vend Pro Hardware Kit | Vend Starter Kit |
| --- | --- | --- |
| | | |
| $600 | $1,066.49 | $673 |
| Choice of configurations: mPOP and stand, mPOP and scanner. Accept chip, swipe, or tap payments. Tablet sold separately. | Full POS with iPad, barcode scanner, receipt printer, and cash drawer. | Barcode scanner, receipt printer, and cash drawer. |
| | | |
Bottom Line
Unless budget is your primary concern, you will probably be satisfied with either Square or Vend. Vend is the more powerful system and good for busy, multilocation businesses and high-volume businesses that prefer to use a separate payment processor. Meanwhile, Square is better for smaller businesses that want an affordable system that will grow with them.
You May Also Like …