Viral marketing is the 21st century's gold standard for word-of-mouth. In the '80s, everyone asked, "Where's the beef?" In the '90s, it was a lot of "Whazzuuuuuup?" A single ad or social media post that gets people talking, offers a challenge, or otherwise encourages sharing can serve as a springboard to massive business success. Here are the best viral marketing examples of the year to help inspire your next buzz-worthy campaign.
Here are the 21 best viral marketing examples from 2021 and what made them work:
1. Fisher-Price Shows Adults How to See Toys Everywhere
Mattel and Fisher-Price worked with Wieden+Kennedy to create a brand awareness campaign that encourages everyone to be a kid again. "See toys everywhere" features everyday objects kids see as toys. Your hairbrush can be a microphone, a banana can be a phone, or a light switch can be strobe lights.
The Instagram posts inspired more conversation than likes compared to other posts by the brand. On Instagram, different types of posts generally produce different types of engagement. If you want more conversation, you should post content that will spark a conversation, much like Fisher-Price. Want more shares? Post memes and giveaways.
2. Dove's Pass the Crown Campaign
In the summer of 2021, beauty brand Dove went viral for its "Pass the Crown" campaign, which didn't even promote a particular product. Instead, it raises awareness for The C.R.O.W.N. Act, which stands for Creating a Respectful and Open World for Natural Hair. Dove and State Senator Holly J. Mitchell (California) worked to get The C.R.O.W.N. Act passed to end hair discrimination.
While most of the company's videos get a couple thousand views each, the one featured here snagged more than 130,000 views in three months. Video is one of the best formats for viral marketing—people spend an average of 100 minutes watching videos daily online.
3. Hyundai Teams Up With BTS
Tapping into a new audience can be difficult. For the best chance at success, you may need to find an unlikely but high-profile partner that shares a common goal or interest. This is often referred to as relationship marketing. However, not everyone has the connections or cash to hook up with celebrities, let alone a worldwide phenom like South Korean boy band BTS.
Hyundai does, though, so when it teamed up with BTS to mark World Environment Day, the car company was able to ride the popular coattails of the boy band. And it worked—the 60-second video ad absolutely went viral with more than 105 million views on YouTube (one of the biggest counts of these recent viral marketing examples).
BTS fans may now have a better awareness of the Hyundai brand, while more Hyundai enthusiasts may listen to BTS' songs. But both audiences heard the main message: Raising awareness about hydrogen-powered energy and its effect on the environment.
4. Zoom's Virtual Background Contest
Business search trends during COVID-19 changed, including an exponential increase for Zoom's video meeting app when video conferencing became essential for nearly everyone during the lockdown. Zoom started a virtual background contest in 2020 that carried over into 2021. It invited users to share the virtual backgrounds they made to use on Zoom calls on social media using the #MeetHappy hashtag.
The response was decent, and winners received prizes, such as Logitech headphones. This was a minor viral marketing campaign, but the goal was primarily to promote the hashtag, a tactic you can easily replicate for your small business.
Now Zoom uses #MeetHappy on many of its posts to help with brand awareness and announcements regarding the product and company. Those aware of the contest are likely to watch for new posts using the tag to find out if they won or check for new contests, and in the process, they are getting updates about Zoom.
5. Samsung UK IG Game
Samsung UK got its game on to bring awareness to a new product. The company partnered with Social Chain to create an interactive, choose-your-own-adventure type of game on Instagram. As you play through the game, making choices that will change the story, you find out about new features available on Samsung's latest phone.
Gamification isn't new—one of the most common examples is the slot machine—but the market is projected to grow to $30.7 billion by 2025. It works because games create immersive user experiences that can generate brand and product awareness, education, and customer loyalty. Plus, your business may go viral with a game that's fun, creative, and worthy of a share.
6. The Travis Scott Meal at McDonald's
TikTok is a social media platform where it's insanely popular to take on TikTok challenges. In 2020, McDonald's capitalized on the trend by partnering with rapper Travis Scott to promote the Travis Scott meal. TikTok users recorded themselves placing orders for the meal by playing the hit song "Sicko Mode" at drive-thru windows.
As a direct result of this publicity stunt and partnership, many McDonald's franchises couldn't keep up with demand. To solve the (good) problem, McDonald's made the meal available only through the app. This helped the fast food restaurant better manage individual store inventory and increased app downloads.
7. Airbnb Helps COVID-19 Responders
Doing good inspires a lot of likes, shares, and engagement on social media, as Airbnb learned at the height of the COVID-19 pandemic. While much of the world went into a lockdown in 2020, many Airbnb rooms and homes sat empty. So Airbnb chose to foot the bill for 100,000 COVID-19 responders who needed a place to stay.
Airbnb's Instagram posts are typically pictures of beautiful homes around the world, but this particular post had a different message that resonated with more than 12,000 people who liked it. A slightly viral post like this during extenuating circumstances can help keep a brand top of mind and give customers another reason to use the brand or service.
8. Mr. Peanut Dies
Going viral for a marketing stunt is usually a good thing for a business, but it doesn't always go as planned. When Planters decided to kill off its mascot Mr. Peanut during a Super Bowl ad in 2020, it coincided with the untimely death of basketball great Kobe Bryant. The response was mixed, but it definitely sparked conversations online.
Even though Planters pressed pause on the campaign, it was widely tweeted about, mostly with questions asking, "Why?" The campaign did continue eventually, and Baby Nut, the new Planters mascot, was born.
There's a lot you can do to help a viral marketing campaign succeed, but there's still an unknown element. Be sure to stay on top of comments as your campaign rolls out to make sure it's resonating with and not offending or confusing users. Hootsuite lets you see all your social media activity in one dashboard, which makes it easy to engage and respond.
9. Nadaré Co. Uses TikTok on Launch Day
Small businesses can see huge success with even moderate virality. For jewelry company Nadaré Co., thousands of views on TikTok was good, but when one video went viral just as the company launched its line, the jewelry sold out.
To go from 4,000 views to 182,000 resulted in huge exposure (and major revenue), and it snowballed from there. Now Nadaré Co.'s TikTok regularly gets 12,000 to 300,000 views on styling TikTok videos.
10. Weetabix Goes Viral With … Beans?
A common meal in the U.K. is beans on toast. However, Weetabix isn't toast—it's a popular breakfast cereal that comes in the form of palm-sized wheat biscuits. The brand's Twitter partnered with Heinz to pose the question: "Why should bread have all the fun?" showing a picture of Heinz beans on Weetabix.
Most of the time, Weetabix tweets get a handful of comments, likes, and reshares. This time, though? More than 130,000 likes and 68,000 retweets with a mix of comments from amusement to disgust. It was so talked about that people who'd never heard of Weetabix were suddenly aware of the brand and its popularity.
If your goal is for your marketing campaign to go viral, you may have to be willing to think far, far outside the box. Weetabix jumped so far out of the box that this campaign even sparked a debate in the U.K. House of Commons.
Pro tip: You can make your own colorful, fun images for tweets that have a big impact using Canva. The free graphic design tool gives you access to lots of free elements and images, making it easy for small business owners engaged in do-it-yourself (DIY) marketing campaigns.
11. Bizarre Coffee Posts on TikTok Consistently
To go viral, a marketing campaign often requires a bit of experimentation and consistency. In the beginning, the TikTok videos of coffee and food posted by the owner of Bizarre Coffee, Sabrina Kaylor of Canton, Georgia, regularly got a couple hundred views. As her videos rose in popularity, however, she started getting thousands of views and more foot traffic to her shop.
In January 2020, Sabrina's video of a lavender latte got more than 6,000 views, but that was nothing compared to her March 2020 post of the same coffee drink—more than 140,000 views. The difference? Kaylor reshot the video, replaced the text-to-speech voice with a voice-over, and a music change. She added graphics to the newer video too.
12. Apple's #ShotoniPhone Viral Marketing Campaign
Want to convince people that your product is the best, get more sales, and not have to produce any content yourself? Start a contest your existing customers will want to get in on and then post the top entries.
Apple's #ShotoniPhone viral marketing campaign let its users show off the iPhone 12 Pro's features. The winning images are displayed on Apple's Instagram (IG) account, in a gallery on Apple's website, and on billboards around the world.
Campaigns that result in user-generated content offer several benefits. Your business gets increased brand and product awareness, which in turn means more sales. Plus, you'll have user-generated content to use on social media and lots of customer loyalty.
13. Gillette Taps Into NFL Audience
An homage to a Hall of Fame National Football League (NFL) football player and his motto could very well spark interest, and Gillette was counting on it. Deion Sanders was once quoted saying, "If you look good, you feel good. If you feel good, you play good. If you play good, they pay good." Gillette ran this messaging in TV ads with its men's care products (mostly razors).
The ad features vintage shots of Sanders and two other NLF players, Saquon Barkley and Christian McCaffrey. The YouTube video has 1.8 million views and counting—far more than Gillette's norm, which usually ranges from a couple thousand to a few hundreds of thousands of views.
14. Fashion Nova Goes Viral on Facebook
Apparel brand Fashion Nova is known for its sexy, barely-there styles. On its Facebook business page, the company posts photos of scantily clad models, which garners lots of likes and comments, usually in the hundreds. One post in particular, though, caught the attention of Facebook users who joined the conversation about the fashion being showcased.
That post was shared more than 80,000 times and got more than 200,000 comments and more than 40,000 reactions. Fashion Nova's post just an hour before only got six shares. Although many of the comments were comedic, and some were even negative, the post's virality still effectively reached people who didn't know about the brand. Virality like this brings more visitors to the brand's social channel, and, in turn, the website, for people who like what they see.
15. Country Singer Name Drops, Dances & Goes Viral
There's no doubt that pop-country singer Walker Hayes is having a viral moment. Hayes' hit song "Fancy Like" blew up in the summer of 2021 when he posted a video of him and his daughter dancing to the track. The track references casual restaurant chain Applebee's and fast food giant Wendy's, so they benefitted too.
This sort of virality is the holy grail of viral marketing, as neither Applebee's nor Wendy's had to do anything for the extra publicity. The YouTube video has 30 million views and counting, and another 2.3 million views on TikTok. The content is original, relatable, and despite the big corporate names mentioned, doesn't feel like an ad. By the way, you can often now hear the track played in Applebee's restaurants.
16. Starbucks UK 'What's Your Name?' Viral Video
People are often able to spot when a company is riding the coattails of a movement, and if they sense that effort is only to capitalize, a marketing campaign can backfire. In fact, one of the hardest things to convey as a marketer is authenticity. To do this effectively as a marketer or a brand, you have to earn consumer trust over time.
Using stories to share your company's core values is essential. The Starbucks UK "What's Your Name?" video did just that, striking viral marketing gold in the process. The video features a trans teen consistently being referred to by his dead name but that at Starbucks, there is no judgment or correction.
The YouTube video has more than 2.8 million views, a huge increase in numbers compared to most videos on the channel that typically hit in the thousands. Response to the ad was positive too, with people tweeting how the video made them feel.
Pro tip: You don't have to have a marketing budget like Starbucks to create professional videos that speak to your target audience and beyond. Fiverr is a freelance marketplace where you can find professional creators to help you create shareable videos.
17. Amazon Reposts User-generated Content
One of the best (and most cost-effective) ways to attempt virality is to share what your existing audience is saying about your business. Ecommerce giant Amazon has a bevy of reviews and social media posts to sift through that run the gamut of emotions, and some are very funny.
Reposting reviews and comments on Instagram and other social networks can drive more traffic to your site and make people like your brand more. Plus, you're making one of your fans feel special by highlighting their cleverness.
18. KFC South Africa Borrows Brand Slogans
In summer 2020, KFC's slogan was called out for not being appropriate during a pandemic because, let's face it, "finger lickin' good" isn't terribly hygienic. So, KFC South Africa's social media team decided to take a different approach to keep its name out there—using other brands' slogans.
The team tagged the brands they borrowed from, so it resulted in a cross-brand promotion. Another result? Lots of fans joined in with their own suggestions for slogans while COVID-19 was running rampant. At the very least, it kept KFC top of mind for its followers, and it helped start a fun conversation that didn't feel forced.
19. Pepsi Offers Prizes for User-generated Content
Who doesn't like free stuff? Contests have always been a big draw for consumers.
Pepsi not only showed it knows its audience, but it also knows how to jump on a trend. TikTok challenges are huge, so Pepsi created the #That'sWhatILike hashtag challenge. Similar to Zoom and Apple, using a hashtag can be a long-term, memorable marketing ploy (Pepsi continues using the hashtag for other promotions).
Pepsi also used influencers to help push the challenge, employing Adam W, for example, to encourage others to post their own videos on TikTok. Influencer marketing can be hit or miss, and if you're lucky (and the influencer has an audience that's right for your brand), your promotion may go viral.
20. MoonPie Uses Meme Trends
The benefit of having a social media marketing team that interacts with followers and even creates memes is that they can capitalize quickly during the short life of a trend. This allows the brand to tap into audiences it may not have reached otherwise—when its fans retweet, comment, or like a tweet—increasing reach and the odds that others will discover the brand.
Several brands have become known for their social media managers' snarky humor, weirdness, and ability to tap into meme trends. MoonPie is a good example of a brand whose social media team "gets" the quirky side of the internet. You'll find a lot of self-deprecating humor and quick wit in replies to their social media posts as well.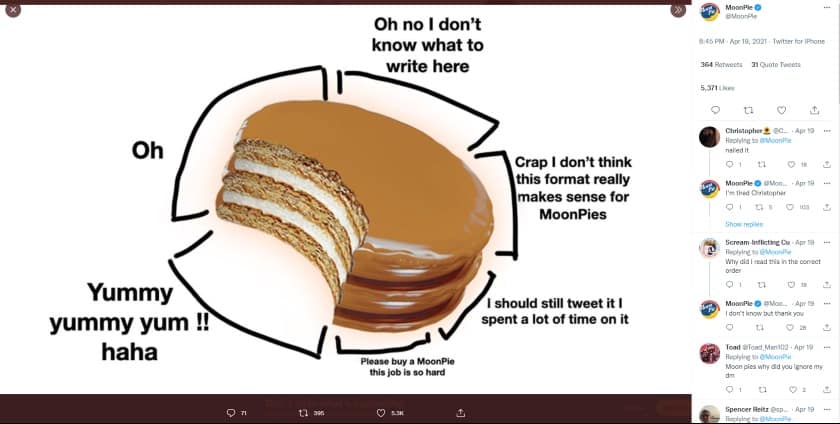 21. Unique Pro-vaccination Ad Causes Stir on Social Media
When Charlotte, North Carolina, residents saw a digital billboard on a truck from a funeral home, curiosity was piqued. Some were angry, others were amused, but they were all snapping pics and posting them on social media. The message: "Don't get vaccinated" during a pandemic caused quite the stir.
This example of a publicity stunt was hatched in September 2021 by advertising agency BooneOakley to encourage people to get the COVID-19 vaccine. The website on the side of the truck pointed to a fake funeral home, but users who visited the site and clicked were taken to the StarMed Healthcare website. The result was thousands of retweets, likes, comments, news stories, and visits to the StarMed Healthcare website.
Frequently Asked Questions (FAQs)
Are there different types of viral marketing?
To be viral marketing-ready, the content must be an internet-shareable type of media, such as a video, social media post, email, image, or text message. Many viral marketing examples come from contests, user-generated content, topics that evoke an emotional response, and teaser campaigns. Most successful viral marketing campaigns are engineered, but having luck on your side helps.
How does viral marketing work?
To make viral marketing work, you need an audience willing to help spread your image, post, video, or other content. It's similar to word-of-mouth marketing, but typically happens via social media, email, or text messaging. It's considered viral, i.e., spreading from person to person like a virus, as it spreads organically (vs paid advertising) beyond the initial audience.
Why is viral marketing effective?
A well-designed viral marketing campaign creates curiosity about and awareness of a brand, product, or topic. It's so engaging that people who see the viral marketing message will pass the message along to their friends, family, and followers. It has a snowball effect, so it grows as it travels.
Bottom Line
Most marketers only dream of creating an ad that's so good that it spreads like wildfire. Although there's no sure way to make your marketing campaign "go viral," there are some ways you can set your campaign up for the best chance at building buzz and virality.
The most successful viral marketing examples usually come from teams with their ears to the ground—they stay on top of trends and make sure their messaging resonates with more than just their target audience. Not all viral marketing campaigns will be successful, so you have to experiment a bit. Plus, there are different levels of viral, and it's relative—your campaigns don't have to get millions of likes or shares to be effective.
You Might Also Like…