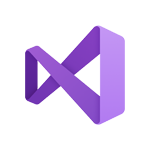 Visual Studio is a Microsoft app development software that enables developers to build, edit, and test apps for Android, iOS, Mac, Windows, web, and cloud. It provides access to developer tools, cloud services, support, training, and software. It costs $1,999 to $5,699 per year and is best for developers, testers, and information technology (IT) professionals.
Visual Studio Pros and Cons
| Pros | Cons |
| --- | --- |
| Highly customizable platform. | Large installation file size. |
| Widely integrated with other software and offers many plugins. | Slow boot-up time, slow build times, and increased CPU and memory usage. |
| Works with a variety of languages, such as C++, Node.js, Python, .NET, and JavaScript. | Crashes can occur. |
Who Visual Studio Is Best For
Developers: Visual Studio comes with end-to-end developer services for mobile and desktop apps, including continuous integration with Git and Agile tools.
Testers and IT Professionals: It provides comprehensive testing tools, including access to core Microsoft server software and monthly Azure DevTest individual credits for development and testing in the cloud.
Visual Studio Pricing
Visual Studio pricing varies based on three paid standard subscription options that costs $1,999 to $5,999 per user for the first year. Renewal pricing ranges from $799 to $2,569 per user per year. The main differences between the plans are the target users and the inclusion of Visual Studio IDE.

Plans

Standard First-Year Pricing*
($/User/Year)

Renewal Pricing*
($/User/Year)

Visual Studio Professional

$1,999

$799

Visual Studio Test Professional

$2,169

$899

Visual Studio Enterprise

$5,999

$2,569
*All subscriptions are paid in full at the start of the billing cycle.
Monthly cloud subscriptions are also available for Visual Studio Professional ($45/month) and Visual Studio Enterprise ($250/month). With cloud subscriptions, developers can rent Visual Studio, Azure DevOps, and the subscriber benefits without a long-term contract.
Standalone licenses are offered for Visual Studio Professional, which cost $499 (one-time fee) or $45 per month.
Visual Studio Professional
Visual Studio Professional is recommended for developers. It works with the earlier versions of PC and the newest versions of PC and Mac. It provides access to any Azure DevOps organization features. Subscriber training and education benefits include credits and subscriptions to Microsoft Azure learning, LinkedIn learning and Plurasight training, DataCamp, and a CODE magazine (print or digital).
Visual Studio Test Professional
Visual Studio Test Professional is recommended for testers and IT professionals. There is no Visual Studio IDE included in the subscription, but subscribers can use Visual Studio Code―free for anyone―and Visual Studio Community―free for open source projects, classroom learning, and academic research, plus for any use by up to five people in small organizations.
Visual Studio Enterprise
Recommended for developers, Visual Studio Enterprise has the same features as Visual Studio Professional in addition to having Microsoft Office Professional Plus, Project, Visio, SharePoint, Exchange, Dynamics, and other Microsoft server software access for development and testing. It also has Office 365 Pro Plus and Office Professional Plus 2019 software for production use.
Visual Studio Alternatives
| | | | |
| --- | --- | --- | --- |
| | | | |
| Best For | Users who want to create applications easily without requiring professional programming skills | Users who want app development software with pay-as-you go pricing | Users who want custom-made help with app development |
| Pricing | Starts at $0/month | Starts at $0/month | Contact customer support for pricing details |
| | Read Reviews | Read Reviews | Read Reviews |
Visual Studio Features
Visual Studio features are designed to help developers build any app, game, or extension using any language of their choice. Here is a deeper explanation of Visual Studio's most important features.
Code Development
Developers can navigate, write, and fix code fast with live unit testing and diagnostic tools. It comes with default keyboard shortcuts that can be configured and customized, as well as extensions and integrations.
Code Collaboration: In-context Collaboration, Easy Repo Management, and Seamless Workflow Integration
Teams can see code history quickly without leaving the Visual Studio editor. They can find references, linked bugs, work items, code reviews, and more easily without leaving the editor, thanks to CodeLens. The Live Share feature connects sessions of co-workers, allowing teams to navigate, set breakpoints, and type in a single editor session. Adding multiple Microsoft, work, and school accounts is also easy. Users need to link these accounts to Visual Studio and access the resources without having to sign in to each separately.
Rich debugging for all code
Bugs can easily be inspected, diagnosed, and profiled. Developers can use Data Tips to see the name and current value of a variable, to expand an object and see its elements, and to edit the value of a variable. Visual Studio can also debug code from anywhere―from launching a local Windows app on the desktop or in the Android emulator to attaching a remote Azure instance, iOS device, or gaming console to any web browser.
Testing Tools
With Visual Studio, developers can write, execute, and debug unit tests in the language and test framework of their choice. The varied set of built-in project templates and test frameworks support multiple platforms and make it easy to get started.
Most Helpful Visual Studio Reviews
Most Visual Studio reviews available online are positive, with many noting its high degree of flexibility for customization and availability of plugins.
Project Development Solutions is What It Does Well
"Visual Studio is offered by the Microsoft team and, as part of my work requirements, gets used nearly every day. Project development solutions is what this product does well, and you can get a vast majority of things done with the free version."
—Trevor Howard
It Consumes Many Resources on Computers
"It consumes many resources of the PC, so it does not let make use of many other programs at the same time. It requires a powerful PC to get the most out of it. As expansions are downloaded, the demand for resources that the application has increased greatly. It is not very intuitive to use for newbies, nor is there a guide included in the application to learn how to use the shortcuts it has. You have to go to the official website to learn more about its functionalities."
—Sofia Key
Visual Studio Frequently Asked Questions (FAQs)
What types of support does Visual Studio provide?
Visual Studio provides live chat support in English from Monday to Friday, excluding holidays for installations. Technical support and billing concerns can be solved by reaching out to helpdesk from a user's account dashboard. It also has a comprehensive knowledge database and developer community.
What languages are supported?
Visual Studio is available in English, Chinese (Simplified), Chinese (Traditional), Czech, French, German, Italian, Japanese, Korean, Polish, Portuguese (Brazil), Russian, Spanish, and Turkish. Users can select the language of Visual Studio during installation. The Visual Studio Installer is available in the same fourteen languages and will match the language of Windows, if available.
Does Visual Studio have minimum hardware system requirements?
To run smoothly, Visual Studio needs computers with 1.8GHz or faster processors, quad-core or better; 2GB of RAM, 8GB of RAM recommended (2.5GB minimum if running on a virtual machine); hard disk space: minimum of 800MB up to 210GB of available space, depending on features installed. Typical installations require 20GB to 50GB of free space. Video cards need to support a minimum display resolution of 720p (1280×720). Visual Studio will work best at a resolution of WXGA (1366×768) or higher.
Visual Studio Alternatives
Have you read these Visual Studio reviews and are still not sure if it's the right fit for you? Read our reviews of all top app development software.