It's a wise idea to test your network before choosing a new phone system or upgrading an existing system, and to periodically check your bandwidth's overall health. VoIP test tools report metrics like network speed, lag times, and data loss, which can tell you if your network can support VoIP phone technology or if it's time to switch to a new provider.
Why You Should Be Using VoIP Test Tools
Voice-over-internet-protocol (VoIP) is a type of business phone system and telephone technology that transmits calls over the internet instead of through traditional fiber optic wires. It is becoming increasingly popular in the business realm thanks to its internet-based functionality and ease of use compared to a traditional landline. However, the network supporting your phone system is its backbone—your calls will only be as good as your network.
VoIP test tools will help you gain better insight into your business' network. You can view things like:
Overall speed: This is the rate at which data is transmitted, and it will impact the number of phones your system can support.
Latency: A term for the amount of time for data to transfer between points—this will impact whether there is a delay between the time a person speaks and when the person on the other end of the phone hears it.
Packet loss: How many units of data are not received during any given internet connection (such as a VoIP call)—this can indicate whether you should expect dropped calls.
This kind of data collection is highly valuable for your business, letting you track patterns and sequences to determine what your network can and can't handle. Best of all, VoIP test tools are free; you don't need to pay anything to determine the health of your system.
Perform the following tests to check your VoIP system's overall wellness:
VoIP Speed Test
The word "bandwidth" is also known as your network speed. To determine how many phone lines your network will support, we recommend running a VoIP speed test well before going through the hassle of setting up a new phone service. This will give you a quick snapshot of your overall bandwidth by giving you readings of the following four pieces of information:
Download: The speed at which your network can upload files and other pieces of information to the internet.*
Upload: The maximum amount of data that your network is able to receive per second.*
Ping: How long it takes for the device to communicate with the server. For example, on a VoIP call, you might hear a slight delay; anything below 100ms is typically fine.
Jitter: Data packets can be lost while being transmitted across the connection. Jitter refers to how accurately they are transmitted.
*Note that the lower of these two numbers (likely the upload speed) will more accurately measure your actual bandwidth.
VoIP screen test
How a Speed Test Can Help Your Small Business
Understanding your bandwidth and overall internet speed will help you determine how many VoIP lines you can add to your network. Too many lines can jam the system and cause problems with call quality and speed. Poor bandwidth and internet speed can be a direct contributor to poor call quality. Consider the table below:
Recommended Lines per Upload Speed
| Bandwidth (Upload Speed) | Maximum # Lines | Recommended # Lines |
| --- | --- | --- |
| 500 Kbps | 5 | 1 |
| 1 Mbps | 10 | 2 |
| 5 Mbps | 50 | 11 |
| 10 Mbps | 100 | 22 |
| 30 Mbps | 500 | 67 |
You can see that the lower the bandwidth speed, the fewer the phone lines you can add. On the other hand, you can also see that a good upload speed will allow for more phone lines; the bandwidth of 30 Mbps could allow for nearly 500 phone lines, though for the best results, it should have about 60 to 67 lines.
If your results were poorer than you had hoped, it could be in part to your internet service provider (ISP). Contact a representative at your ISP to learn the rated internet speed that should be included with your package. If you're not sure which ISP is the best for your area, read our reviews for the best business ISPs to determine the best for you.

Latency (Ping) Test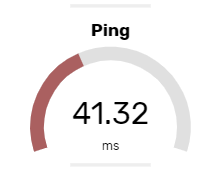 100ms ping or under: This is considered an excellent connection for VoIP networks.
100ms to 250ms: Though you are likely to experience a slight delay when making calls, this is considered within the range for a good connection.
250ms ping and over: Anything over 250ms is considered a poor connection, making it nearly impossible to make VoIP calls.
How a Latency Test Can Help Your Small Business
If your business has a high call volume, making and receiving VoIP calls is going to be a large part of your workday. If you have clients who are unable to hear you properly, or experience dropped calls or long delays, it's frustrating for both the employee and the customer. Your latency speed will help you to determine whether or not it is feasible to use a VoIP system at all.
Packet Loss Test
Units of information that are transmitted over the internet are called packets. Packets are sent and received over the network any time an internet connection is initiated, including making VoIP calls. There are times when packets fail to reach their destination ("packet loss"), which can result in a slow, poorly connected network.
To run a packet loss test, visit RingCentral's website to run a free packet loss test.* It takes a few minutes to complete, but once it has, you are shown a percentage rate of packets lost during transmission. Generally speaking, call quality will be noticeably poorer at a loss rate of 5% or higher. If you measure at 0%, this means that no significant packets of information are being lost in transmission.
*This test requires Adobe Flash Player and you might encounter issues when running it with Google Chrome. You may need to use another browser, such as Microsoft Edge.
How a Packet Loss Test Can Help Your Small Business
A slow network connection is frustrating for all parties involved: the caller, the receiver, and anyone else who is using the network. A packet loss test can not only deliver valuable information about your network, but it can help you to read between the lines and see what bigger issues might be at play. You can try following our troubleshooting tips if you'd like to try resolving the issue yourself.
Frequently Asked Questions (FAQs)
How can I improve my VoIP call quality?
Once you have run your VoIP tests, use the data to decide where to go next. Some ways to improve your call quality could be:
Contact your ISP to determine whether to upgrade your service: Speak to a representative about your current rated internet speed and whether it suits your current environment.
Invest in quality equipment: As the saying goes, you get what you pay for. While you don't necessarily need to spend a small fortune on quality equipment, some varieties are better than others. Read our picks for the best VoIP headsets to learn more.
Upgrade your hardware: This includes your modem, router, and any switches that might be out of date. Modernizing your server room can make a world of difference in VoIP call quality.
What causes jitter in my network?
There are many contributing factors that can cause jitter in your phone calls. While the reasons themselves may vary, it will ultimately boil down to your ISP quality. If your ISP is unreliable, then you will experience more jitter.
Some reasons for jitter might be:
Old, outdated, or broken hardware: In a world that is consistently updating technology, something as simple as a faulty Ethernet cable can cause jitter. Other hardware might include an outdated router, switches, or modem.
Congested network: This is likely the most obvious culprit of jitter. Too many devices connected to the same network can cause intense slowing and backup, which will render the network insufficient to handle any VoIP calls.
Wi-Fi: Though convenient, Wi-Fi does not always carry a strong enough signal to transmit VoIP calls and is infamous for being an inconsistent technology as it is. Wi-Fi might be the perfect environment for mobile devices, but it is not suited for something as loaded as a VoIP call.
Bottom Line
Your network is an integral part of your business. Knowing where it stands as far as overall health can help you to see how many phone lines will best accommodate your needs, as well as how many phone lines will overwhelm your system. Using VoIP test tools can also help you to see what kinds of upgrades you might need to improve performance even more.
Regularly testing your network will help your system stay in the best possible shape, as will a reliable VoIP system such as RingCentral, which is also our choice for the best overall small business phone system. The system also comes with a wide range of features and at a range of price points for all budgets. Click the button below to learn more and to find out how you can try RingCentral free for 15 days.