Vonage vs 8×8: Which Is Better for Small Business in 2023?
This article is part of a larger series on VoIP.
Vonage and 8×8 are two top cloud-based business communications solutions offering unlimited domestic calls and texts, video conferencing, and international calling. In this Vonage vs 8×8 comparison, we found that 8×8 is the better option, given its feature-rich plans, larger meeting capacity, and unlimited global calling. Vonage is suited for small teams looking for an affordable, simple-to-use phone system with essential call management features.
Based on our comparison, the best use cases for Vonage vs 8×8 are as follows:
8×8: Best for its automated phone system with unlimited local and international calling
Vonage: Best for its customizable phone systems with basic calling features
8×8 and Vonage are excellent cloud-based phone systems for small businesses seeking call management functionality, offering limited collaboration tools and third-party integrations. If you're looking for task management, robust real-time analytics, and extensive integrations, we found a great alternative:
RingCentral: Better for companies seeking powerful integrations and advanced call management and analytics
Vonage vs 8×8 at a Glance
| | | |
| --- | --- | --- |
| Monthly Starting Price (per User) | $19.99* | $28 |
| Annual Billing or Volume-based Discounts | Volume-based | Annual billing |
| Free Trial | ✕ | 30 days |
| International Calling | Bundled minute plans | Unlimited calls to up to 48 countries |
| Unlimited Domestic Calling | ✓ | ✓ |
| Team Messaging | ✓ | ✓ |
| Auto-attendant | Multi-level | Multi-level |
| Video Conferencing | 25 participants | 500 participants |
| Customer Support | 24/7 phone, email, and live chat | 24/7 customer support with X series plans |
| Uptime Service Level Agreement (SLA) | 99.999% | 99.999% |
| For More Information | | |
*Pricing is based on one to four users.
Are you interested in these providers? For a more in-depth look at each provider, read through our 8×8 review and Vonage review.
Best Alternatives
Reviewing Vonage vs 8×8, these two providers offer essential call management features but fall short on other capabilities, like extensive integrations, artificial intelligence (AI), and internal collaboration. When searching for a business phone system with these features, consider these service providers to complete your communication stack.
A few 8×8 and Vonage alternatives include:
RingCentral: This leading cloud-based provider offers robust unified communications (UC) capabilities. Base plan users get access to multi-level interactive voice response (IVR), team chat, unlimited local calls, and a suite of call management features. Here's our RingCentral review with the latest pricing and feature set.
Nextiva: This business collaboration software stores and facilitates conversations in one workspace. It captures all your interactions, including phone, video, email, chat, and SMS. It offers advanced features in its base plan, such as toll-free minutes, video meetings, and unlimited internet fax. Read our Nextiva review for more details.
Ooma: Here's a provider with a free residential package suited for solopreneurs and freelancers working from home. It has unified communications (UC) features like virtual faxing, auto-attendants, and text messaging. Find out more about what this provider offers in our Ooma review.
Best for Pricing: 8×8
Monthly Pricing 

X2: $28 per user for unlimited users, unlimited calling to 14 countries, high-definition (HD) conferencing for up to 500 participants, multi-level auto-attendant, messaging, team chat, and call analytics
X4: $57 per user for unlimited calling to 48 countries, front desk for receptionists, call monitoring (barge, whisper, and monitor), and supervisor analytics

Users can mix and match plans and save up to 23% with annual billing.

Monthly Pricing

Mobile: $19.99 per line for unlimited 50+ standard phone features, team messaging, and 20 app integrations
Premium: $29.99 per line for multi-level auto-attendant, 100 video attendees, customer relationship management (CRM) integrations, and desk phone capability
Advanced: $39.99 per line for on-hand call recording for 15 hours, call group, and visual voicemail

Rates are based on monthly billing for 1 to 4 users. Volume discounts are available for more than 5 users.
When comparing Vonage vs 8×8's pricing plans, 8×8 wins thanks to its comprehensive subscription plans that include features like call queues, which is a paid add-on with Vonage. While 8×8's base plan is higher than Vonage's, it comes with unlimited users, unmetered international calling, multi-level auto-attendant, and HD audio and voice for up to 500 participants. With annual billing, the monthly rate lowers by up to 23% and starts at $24 per user, paid monthly.
8×8 provides users with more features at a rate comparable to other leading voice-over-internet-protocol (VoIP) providers like RingCentral and Nextiva, which are at about $30 per user, paid monthly. 8×8 offers two straightforward pricing plans, X2 at $28 for all-in-one voice, video, and chat capabilities, and the X4 at $57 for advanced call handling and analytics. When it comes to value for money, 8×8 is the clear winner in this round.
Vonage has three plan options that start at an affordable monthly rate of $19.99 per user. However, this basic plan has limitations, and you need to upgrade to premium plans to access features like multi-level auto-attendant, visual voicemail, and call recording. The great thing is Vonage's pricing goes down the more users you have. Vonage is an excellent option if you're looking for a budget-friendly VoIP plan with essential call management and team messaging.
Best for International Calling: 8×8
| | |
| --- | --- |
| All X series plans come with unlimited international calling to 14 up to 48 countries, depending on your plan | Offers a global calling plan with minute bundles and a home plan with unlimited international calling to over 60 countries |
When we compared Vonage vs 8×8 in terms of international calling battle, 8×8 came out on top because all of its subscriptions come with unmetered international calling. X2 users can call 14 countries, while X4 users can make free calls to 48 countries, including Singapore, South Africa, and Israel. Economic centers like the United Kingdom, Hong Kong, and Australia are all within reach, giving your business easy access to global markets.
Unlike 8×8, Vonage doesn't have unmetered international calling, but it does offer global calling plans. Countries are grouped into two tiers, and you can select a tier or both, depending on your calling needs. Tier 1's bundled minutes start at a monthly rate of $10 for 1,000 minutes, and tier 2 starts at $110 for 1,000 minutes. If you're subscribed to Vonage's residential plans, you can opt for unlimited domestic and international plans starting at $9.99 monthly.
Best for Video Conferencing: 8×8
HD audio and video conferencing for up to 500 participants
Enterprise-grade security and reliability
Collaboration tools like screen sharing, calendar integration, streaming, and analytics
Cloud recording
Public and private chats
Advanced moderation controls like permissions and hosting

Audio conference and screen share with up to 200 participants
Video conference with up to 25 participants
Collaboration tools like chat, calendar integration, and whiteboards
Recording and storing up to 15 meeting hours
8×8 recently upgraded its video conferencing limits, and all X series plans can host up to 500 meeting participants, while Vonage only hosts up to 25 attendees. 8×8 offers HD audio and video conferencing without meeting or minute duration limits. Use the meeting lock, participant lobby, and optional end-to-end encryption to ensure privacy and security. Some other key virtual meeting features include YouTube livestreaming, calendar integrations, and audio sharing.
8×8's high participant limit beats Vonage by a mile as well as other VoIP providers like RingCentral, Ooma, and Nextiva. While most small teams and businesses find a participant limit of 15 to 20 sufficient, 8×8's powerful virtual meeting features can scale with you as you grow. It's great for internal team sessions and training or companies looking to reach a wider audience by hosting large virtual customer events.
Vonage's virtual meeting and conferencing features are geared toward small team discussions or client meetings. It's compatible with Google and Outlook calendars and offers dedicated dial-in numbers from 60 countries.
Best for Call Management: 8×8
| | |
| --- | --- |
| Multi-level auto-attendant, call forwarding, transfer, park, hunt, and ring groups, call queues, voicemail transcription, music on hold, call recording, and voicemail transcription | Multi-level auto-attendant, call announce, screening, forwarding, parking, waiting, tagging, logs, hold music, and caller identification (caller ID) |
Our Vonage vs 8×8 comparison finds 8×8 in the lead for call management, as its entry-level plan already includes basic and advanced features. 8×8 provides entry-level subscribers with call handling and queues, voicemail transcription, unmetered global calling, and call center analytics. Some of these essential features are offered as paid add-ons with Vonage.
8×8's standout call management feature is its multi-level auto-attendant, available in all plans. It has essential features like intelligent call routing and custom hold music, elevating your customer's calling experience. On the other hand, the same feature, multi-level auto-attendants, only unlock under Vonage's Premium plan priced at $29.99 per line, per month.
Vonage has over 50 business communications features available; however, not all are included with a plan subscription. Some features, such as call queue, business inbox, conference bridge, and call recording, require additional fees. Based on these offerings, 8×8 has more comprehensive, all-in packages, but Vonage's a la carte services are best for businesses that want to customize their systems based on needs.
Best for Integrations: 8×8
Offers 43 third-party integrations, including popular software such as Microsoft Teams, Salesforce, and Google Workspace
18 integrations are related to business phones
Communication APIs available for SMS, voice, chat, and video

Offers a total of 23 integrations, 10 of which are paid
Free integrations include Google Workspace, HubSpot, and Slack
Application programming interfaces (APIs) for voice, video, SMS, and verification
Both providers integrate with popular productivity and customer relationship management (CRM) software like Microsoft Teams, Salesforce, and HubSpot. 8×8 wins this round because it has more third-party integrations than Vonage. Additionally, 8×8's integration support comes with software subscriptions, but not all integrations are free with Vonage. For example, integration with Salesforce is priced at $4.99 monthly.
While Vonage and 8×8 offer a mix of integrations, other providers offer more comprehensive third-party integrations. Consider RingCentral if you want a provider that works seamlessly with third-party apps. This unified communications as a service (UCaaS) platform integrates with over 200 applications, ending tedious app switching and distributed data.
Read our RingCentral integrations listicle to learn more about the provider's top call management, productivity, and organizational integrations.
Best for Ease of Use: Vonage
| | |
| --- | --- |
| Very easy to use with a neat and intuitive interface | Fairly easy installation and setup but requires a bit of a learning curve to navigate |
Based on our experience and customer feedback, Vonage is the clear winner for ease of use. Vonage's setup process is fast, simple, and straightforward. Its design is intuitive and consistent across all compatible devices. To set up the phone system, sign up for the service and, using the same credentials, sign into your online account. Once you've created users and assigned extensions, use the service on your computers, IP phones, and smartphones.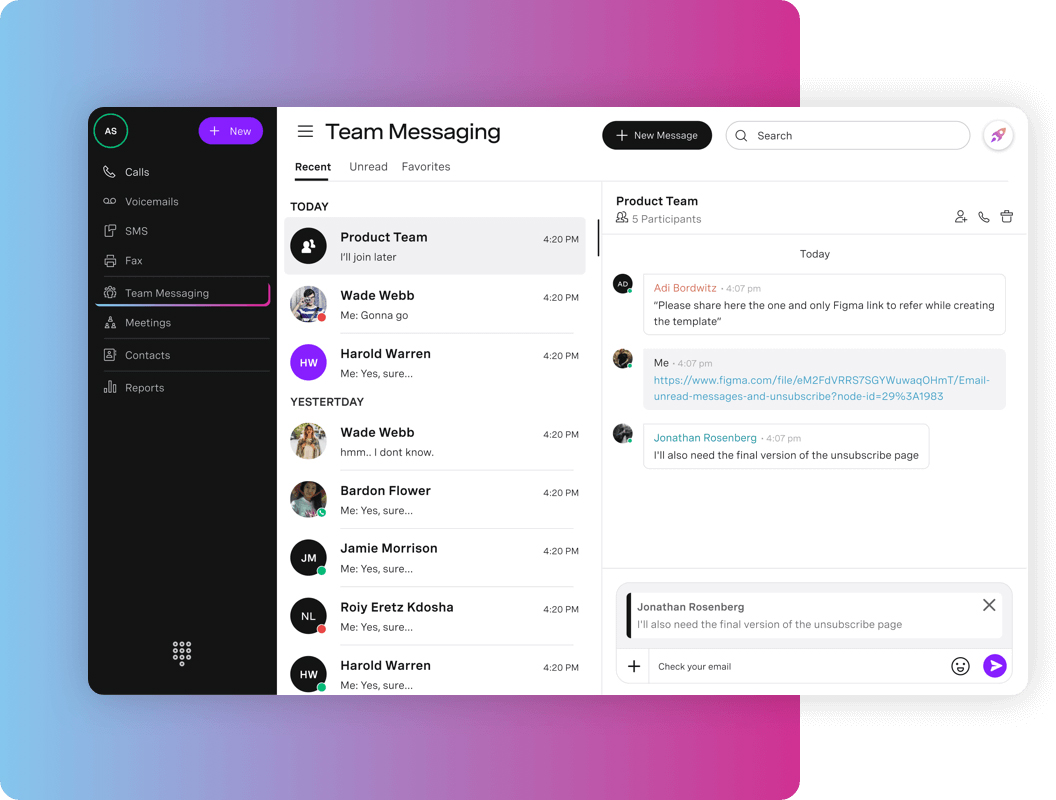 ---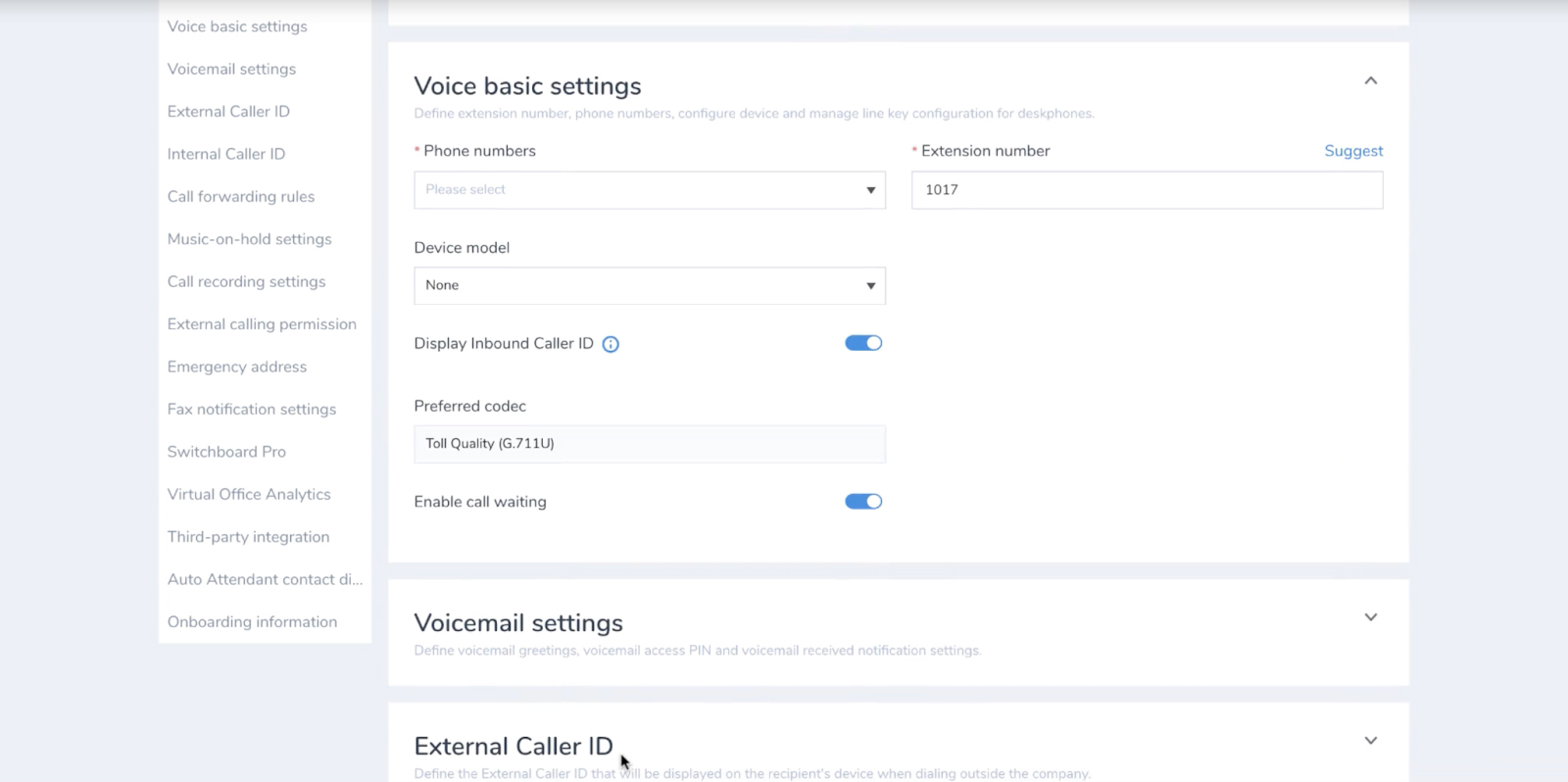 ---
Vonage also has a Getting Started section on its business support page to guide you through setup. On the other hand, 8×8's setup process is a bit more complex, given its layout and submenu options. Its interface and online portal have all the settings and access you need, but based on feedback, it takes some time to familiarize yourself with everything. To assist customers, 8×8 offers customers free online training.
How We Evaluated Vonage vs 8×8
To provide an objective 8×8 vs Vonage comparison review, we identified criteria points that reflect small businesses' priorities when choosing a VoIP provider. These include pricing, general features, international calling, and overall ease of use and popularity.
Here's a complete breakdown of these factors:
Pricing: To evaluate the platform's accessibility in terms of pricing, we reviewed the cost of each provider's entry-level and second-tier plans. We also checked if they have a free plan and annual and volume discounts.
General features: This Vonage vs 8×8 comparison focused on essential VoIP features, such as unlimited calling within the U.S. and Canada, uptime SLA, and mobile apps. Our review also took into account each platform's call management features.
International calling: We looked at the availability of international calling options and whether the providers offer unmetered global calling. We favored the provider that offers global coverage, and if it has a per-minute schedule, its calling rates should be affordable.
Expert score: During our 8×8 vs Vonage comparison, our expert score refers to our evaluation of the providers' standout features, popularity, and ease of use. We also considered their value for money.
Frequently Asked Questions (FAQs)
"Five nines" is the gold standard for uptime, and this Vonage business vs 8×8 review found that both service providers have a 99.999% uptime service level agreement (SLA). As long as you have a strong and consistent internet connection, you can use 8×8 and Vonage. When talking about VoIP reliability, we look at uptime, which is the percentage of time that a provider is online and functioning.
---
You need an internet connection for a VoIP system to work, which means having a modem and router. Users make calls using smartphones, desktops, or IP phone devices where your provider's software is downloaded and installed.
---
Vonage recommends a minimum upload speed of 90 kilobytes per second, per phone line to attain the highest audio quality. A slower upload speed can affect your call quality.
---
Bottom Line
Vonage and 8×8 are popular VoIP apps for small businesses because they offer essential and advanced tools for communication, such as auto-attendants and team messaging. Based on our review, 8×8 is the overall winner thanks to its unlimited international calling, extensive call management features, and high meeting participant capacity. However, choose Vonage if you want a flexible phone system you can customize based on dynamic calling needs.
8×8 is one of our top auto-attendant providers for small businesses, ideal for handling international calls. See if 8×8 is right for you and sign up for its 30-day free trial today.