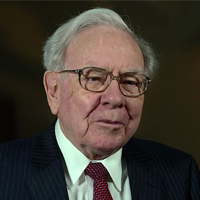 Warren Buffett is a successful investor who serves as chairman and CEO of Berkshire Hathaway. Buffett is one of the wealthiest people in the world and a highly sought-after speaker. His wisdom has become an inspiration to many. These Warren Buffett quotes offer wisdom that may be able to help you and your business.
The following 25 best Warren Buffett quotes focus on investing and business:
Best Warren Buffett Quotes on Business
1. "It takes 20 years to build a reputation and five minutes to ruin it. If you think about that, you'll do things differently."
2. "It's better to hang out with people better than you. Pick out associates whose behavior is better than yours and you'll drift in that direction."
3. "I insist on a lot of time being spent, almost every day, to just sit and think. That is very uncommon in American business. I read and think. So I do more reading and thinking, and make fewer impulse decisions than most people in business."
4. "The business schools reward difficult complex behavior more than simple behavior, but simple behavior is more effective."
—According to Warren Buffett, when investing in either business or the stock market, simple strategies sometimes make the best results compared to any complicated process.
5. "You can't make a good deal with a bad person."
6. "No matter how great the talent or efforts, some things take time. You can't produce a baby in one month by getting nine women pregnant."
—Patience is the key in making a successful business. Buffett believes that some things just cannot be rushed.
7. "In the business world, the rearview mirror is always clearer than the windshield."
—Buffet emphasizes that it's more difficult to see what the future lies ahead. It's easier to look back to the past and learn from it.
8. "Never invest in a business you cannot understand."
9. "Opportunities come infrequently. When it rains gold, put out the bucket, not the thimble."
—When investing in both business and the stock market, Buffett advises to keep a watchful eye on every opportunity that comes your way, and make sure you are ready to seize it when it comes.
10. "I always knew I was going to be rich. I don't think I ever doubted it for a minute."
11. "Someone's sitting in the shade today because someone planted a tree a long time ago."
—Buffett's advice: Build a business that is of value to humankind.
Warren Buffett Quotes on Investing
12. "Rule No.1: Never lose money. Rule No.2: Never forget rule No.1."
—These are Buffett's only two rules for investing. Make sure to protect your bottom line.
13. "Forecasts may tell you a great deal about the forecaster; they tell you nothing about the future."
—As no one can really predict what will happen in the future, don't easily believe every forecast that you hear because most of the time they are just the opinion of the forecaster. According to Buffett, it's better to do your own research and make your own forecast.
14. "Time is the friend of the wonderful company, the enemy of the mediocre."
—When you invest in a good company, you do not need to worry about holding your investment for a long time. In fact, the longer you hold your investment, the better your chances that your investment will grow. However, if you invest in bad companies, you will have to keep an eye out on the value of your stocks because these kinds of companies are not good for long-term investing.
15. "Investors should remember that excitement and expenses are their enemies. And if they insist on trying to time their participation in equities, they should try to be fearful when others are greedy and greedy only when others are fearful."
—Buffett, in his 2004 annual letter to Berkshire Hathaway shareholders
16. "Risk comes from not knowing what you're doing."
—Buffett in answer to a question about how he evaluated investments and risks during a 1993 appearance at Columbia University's Business School in New York City.
17. "Only buy something that you'd be perfectly happy to hold if the market shut down for 10 years."
—Buffett encourages investors to have a long-term mindset. This means you should not be easily swayed by market volatility.
18. "It's far better to buy a wonderful company at a fair price than a fair company at a wonderful price."
19. "After all, it's only when the tide goes out that you discover who's been swimming naked."
—Buffett believes that when times are bad, that's when you find out who is really doing well.
20. "You don't need to be a rocket scientist. Investing is not a game where the guy with the 160 IQ beats the guy with 130 IQ."
21. "Calling someone who trades actively in the market an investor is like calling someone who repeatedly engages in one-night stands a romantic."
—The investment mogul believes that investors are those who are patient and are willing to invest for the long term. Traders who buy and sell actively on a short-term basis are not really considered investors.
22. "Wide diversification is only required when investors do not understand what they are doing."
23. "Our favorite holding period is forever."
24. "An investor should act as though he had a lifetime decision card with just 20 punches on it."
—Buffett advises investors to be extra careful when choosing which companies to invest in. Imagine just having to invest in 20 companies for your entire lifetime. You have to make sure you're investing in good ones.
25. "We always live in an uncertain world. What is certain is that the United States will go forward over time."
Bottom Line
Warren Buffett quotes on investing, business, success, and life are popular not just in the United States but also around the world. His wisdom is sought by many who want to learn his secrets to wealth and success. His famous quotes and advice will help you build a successful business.