You could say that restaurants were born to adapt to crises. The first restaurant was established after the social disorder of the French Revolution, after all. The 1918 Flu Pandemic gave rise to many of the sanitation standards restaurants live by today, as well as the National Restaurant Association.
We all know that restaurants are under immense pressure right now, and both diners and owners are adapting quickly. If history is any guide, the future restaurant world that emerges from COVID-19 will be stronger and more tech-savvy than ever before. Here are some transformations diners can expect to see in the months and year ahead.
6. Diners Want Tech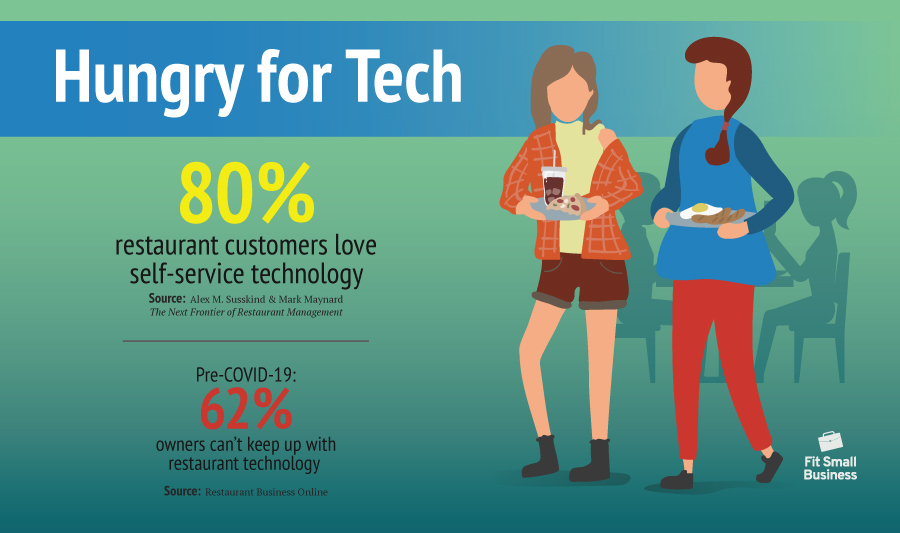 Happening Now
For a long time, cutting-edge technologies were too pricey for mom-and-pop restaurants, and we couldn't always get the easy ordering perks we wanted. But sometimes tech—like a fairy godmother— finds us right when we need it.
Within days after the forced closing of restaurants, restaurant tech brands launched free online ordering software for independent restaurants. This is what made it possible for those of us isolating at home to order our favorite comfort foods from small restaurants in our neighborhood.
What to Expect in the Future
Independent restaurants are hit hard right now. But stress can be an incredible opportunity for innovation to serve the consumer. After social distancing ends, expect to see your favorite neighborhood eatery add tech tools at a head-spinning pace to service you.
Ordering Ahead and The Return of the Automat
Low price operations such as burger joints, will encourage us to order ahead via an app. Buffets and cafeterias will dish our orders for us from behind glass. No one will want to use shared serving spoons. Just like during the Great Depression, we will see the return of the Automat.
This time, though, the Automat will be Jetson's style, with temperature-controlled cubbies and holographic doors. We will see this first in popular takeout chains. Still, it won't be long before some independent restaurants look for ways to add this technology as well, even if it means joining forces with neighboring restaurants.
Voice Ordering & Contactless Payments
Cash and credit cards are germ magnets; we all know that. Until a COVID-19 vaccine develops, contactless payments will make everyone more comfortable dining out.
In fast food spots, you'll also see more self-service kiosks and fewer cashiers. Tests on voice ordering were in a few small markets at the end of 2019, but the age of COVID-19 is setting the stage for a full debut.
More Pay-Ahead Dining Models
If you've hit a trendy restaurant within the past five years, you've probably bought a ticket to get a reservation. Be ready for pay-ahead models such as ticketed-reservations that will help restaurants struggling with cash flow after COVID-19. So we'll see them pop up even in casual eateries, especially during the holiday season.
5. The Death of Third-Party Delivery Apps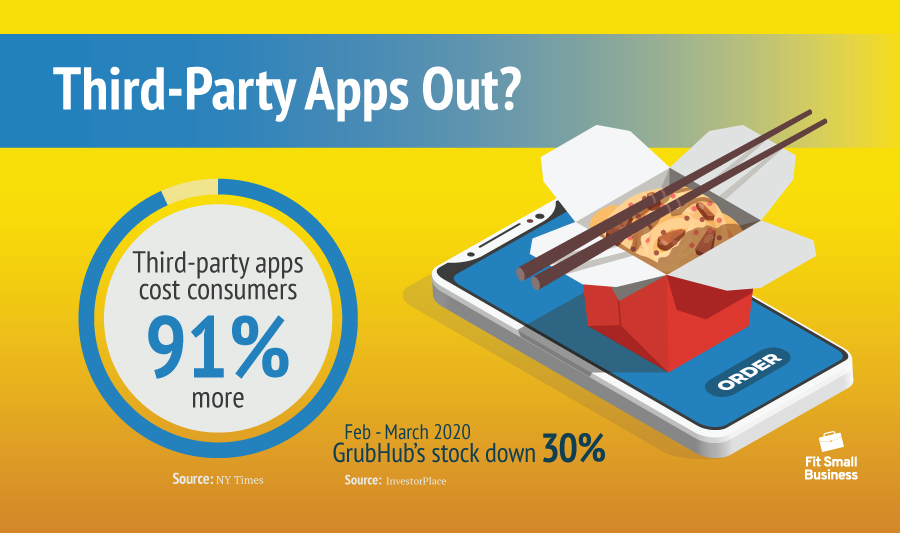 Happening Now
We all want to feel good about our purchases, especially when we choose to support local businesses. Lots of recent headlines have criticized third-party platforms such as GrubHub, DoorDash, and Uber Eats for profiting from struggling restaurants during the pandemic.
Even before that, consumers were getting exhausted by fee hikes and poor delivery service. Overall, it's not looking great for the apps.
What to Expect in the Future
Post COVID-19, consumers will be more value-driven and more community-minded. Third-party delivery fees will be too steep to attract them. And if the platforms charge high fees to restaurants instead? Restaurants will just develop their own app for their customers.
Social Media Will Get More Delicious
Third-party platforms have become our go-to place for discovering new restaurants and remembering our favorite ones. Restaurants will regain our attention by getting creative on social media. Our Instagram feeds won't only be filled with deals and daily specials, though. We love to hear stories. And restaurant owners love to give us what we want. We're going to see more people, more personal stories, and more shared jokes.
Restaurants Will Ask for Our Loyalty
With their newly active social media channels, our favorite eateries will ask us to show our loyalty by downloading their apps. A restaurant-specific app answers all the challenges presented by COVID-19. You can order and pay without touching anything another person has touched, and you won't pay third-party fees. Bonus: Restaurant apps remember your favorite orders, and let you earn loyalty points.
Fewer Waiters and More Drivers
Prepare to see your favorite waiter knocking on your door. Until there is a cure or a vaccine, we're going to be fussy about dining in close quarters with strangers. Since takeout and delivery will continue to be popular, restaurants will use their staff to deliver orders to you.
4. New Tech & Business Models Emerging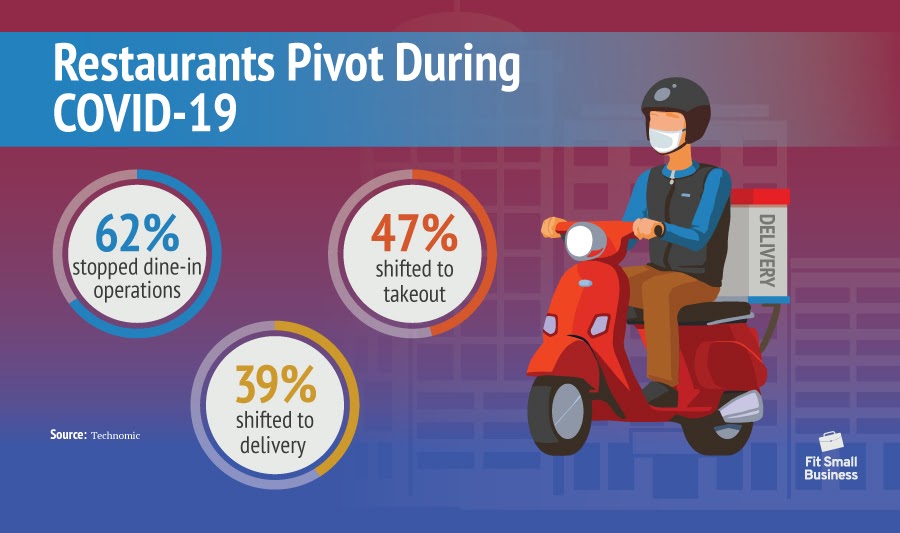 Happening Now
Folks in the South and Midwest are buying "survival kits" of staple ingredients (including toilet paper) from restaurants such as LongHorn Steakhouse and Whiskey Cake. People all over the country can order an 8-person burger kit from Shakeshack to be delivered by mail. In states that allow it, alcohol delivery is keeping restaurants afloat and making self-isolation bearable.
What to Expect in the Future
After COVID 19 resolves, some of your favorite restaurants will shift to operating as ghost kitchens; basically kitchens without dining rooms that prepare food for delivery only. Chef-curated meal kits and other retail-style products might replace your Blue Apron subscription.
Meal Kits & Subscription Boxes
The meal box trend is going to stay hot. This will expand your options for meal kits designed by a chef and restaurant team that lives in your neighborhood. What's not to like about that? In France, even Burger King is getting into the meal kit game with a DIY Whopper Kit. If you signed up for a restaurant's app, you might receive invitations for full-blown subscriptions for boxes.
Ghost Kitchens Will Take a Firm Foothold
If you aren't cooking your dinner from a curated box of ingredients, you might be ordering it from a restaurant without a dining room. With the wind of social distancing in its sails, ghost kitchens will become more common in the coming months. This will increase the variety of cuisines available in your neighborhood.
A Campaign to Extend Liquor Delivery
Loosening alcohol restrictions in some cities has been a lifeline for restaurants during the pandemic. And the ability to get a gallon of margaritas with your taco delivery has helped keep us all home.
Restaurant and customer interests are aligned here. Restaurants want to keep delivering margaritas to us. And we want to keep ordering them.
3. Demand for Local Foods and Alternative Meats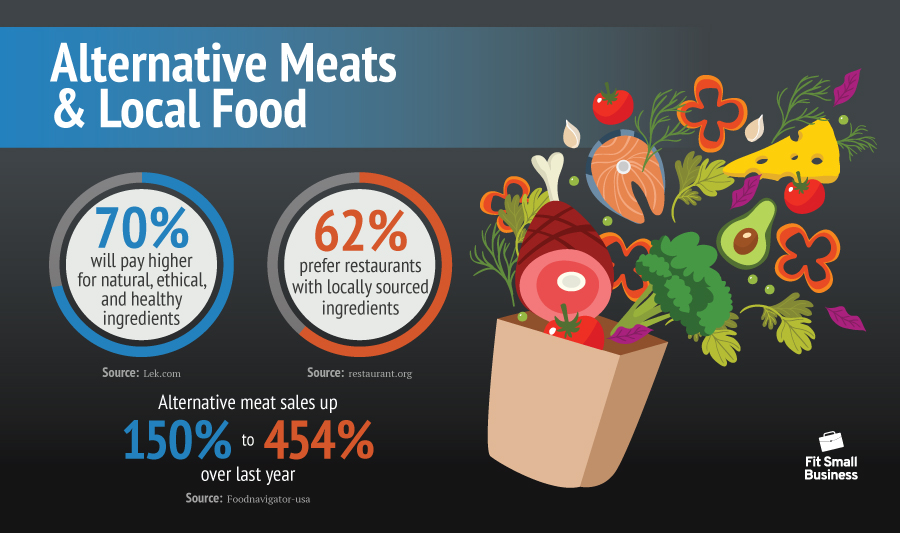 Happening Now
In recent years, several human illnesses have originated from animals. So it makes sense that consumers are interested in exploring non-animal food proteins. On the opposite end of the spectrum, we're also munching on high-calorie snacks and comfort foods such as pizza and fried chicken right now.
Behind the scenes, supply chains are struggling. Travel bans are delaying temporary workers who are critical to harvests. Small farms that rely on restaurant clients are unable to sell to grocery stores.
What to Expect in the Future
Your local restaurant is going to grow more self-sufficient. Instead of reading the names of farms on a menu, you'll eat vegetables that are grown right in the restaurant. This will be great for everyone who needs encouragement to shed the "quarantine 15."
Ingredients Grown On-site
Large groups like Los Angeles' Tender Greens chain have been growing produce in their restaurant for years. Now on-site growing technology has become so space-age that restaurants can grow crops in a cabinet. Look for grow cabinets in place of some refrigerators in a restaurant near you. They look so tempting we might even see them on display in dining rooms.
More Vegetable-Focused Menus
It will be a lot easier to eat healthy when restaurants re-open. Customer fears about meat will encourage restaurants to focus on creative vegetarian and vegan fare. When we emerge from self-isolation, it will be like New Year's when our resolutions to eat healthier translate into higher health food sales.
2. Competitors are Becoming a Community
Happening Now
Throughout the shutdown, customers have loved seeing feel-good headlines of restaurants banding together to feed healthcare workers and first responders. We've enjoyed seeing and sharing initiatives such as #theGreatTakeout on our own social media channels.
Restaurants are Working Together, and We Love It
Foodservice volunteers with World Central Kitchen have served 750,000 meals to hospitals, schools, and food insecure communities.
The LEE initiative built Relief Kitchens in 14 cities to feed unemployed restaurant workers.
Restaurants that promoted #TheGreatAmericanTakeout received 3x the amount of social media chatter and 2x higher net sentiment scores from consumers.
What to Expect in the Future
Groups of restaurants will build joint ventures for food delivery and technology that they can share. For customers, these moves will mean better, more personalized service. Our favorite restaurants supporting one another will make our local dining scenes better able to withstand downturns, which ultimately means more food options we can feel good about ordering.
Shared Delivery Driver Fleets
Restaurants will share staff to create a team of delivery drivers they can all use. Delivery drivers that are employees and not independent contractors will provide better service. You'll actually be able to get a person on the phone if something goes wrong with your order.
Small Restaurants Will Combine Promotional Efforts
Bolstered by the success of the #TheGreatTakeOut, small restaurants will continue to join forces to create promotions in their community, especially during slow seasons. Look for micro-festivals such as restaurant sponsored block parties and night markets that feature food from several competing restaurants.
1. Sanitation Concerns will Change Dining Rooms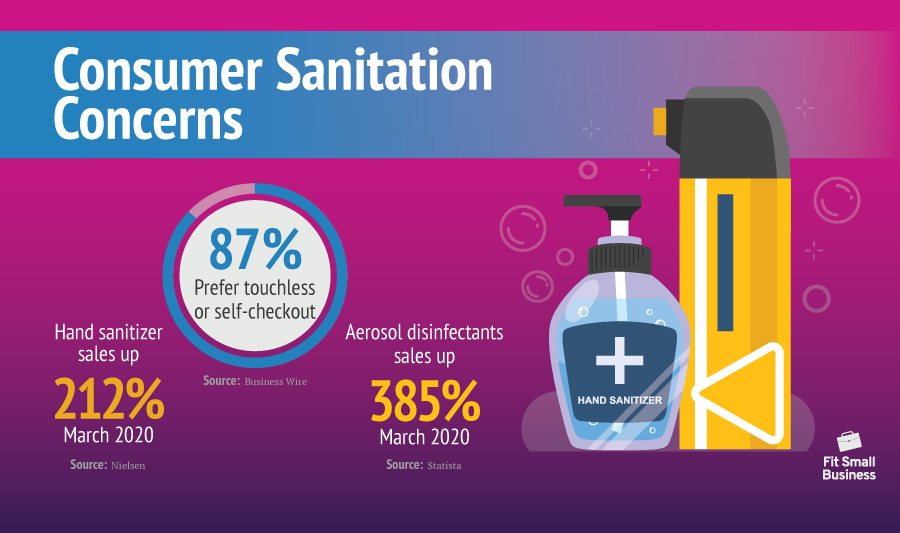 Happening Now
As consumers, we've spent the last few weeks buying every available disinfecting solution. Restaurants across the country have lost the use of their dining rooms entirely. After the shutdown ends, restaurants need to soothe our fears that dining rooms are germ-factories.
What to Expect in the Future
Until there is a vaccine or cure for COVID-19, we're happy to see people washing their hands. We'll also be thinking about the cleanliness of restaurant tables and utensils. Restaurants will look for new ways to increase sanitation standards and will turn to some old-school moves such as white-glove service.
Communal Hand Wash Sinks in Dining Rooms
It will be a lot easier to wash your hands before you bite into a burger. Hand wipes and hand sanitizer will be available in low-price restaurants. Fine dining restaurants will return to the age-old steamed towels and finger bowls. Everywhere in between, look for communal hand wash sinks to become a dynamic addition to the dining room.
Tablecloths and White Glove Service
Say goodbye to the naked table, but get comfortable talking to people wearing masks. Table coverings such as butcher paper and tablecloths that can be removed and replaced between diners will make a comeback.
No one is going to hand you anything in a restaurant from a bare hand. And many restaurant staff will speak through masks. Gloves and masks will become part of staff uniforms.
End of the Open Concept Dining Room and Open Kitchen
Open-concept dining rooms are going to get a makeover. High-backed booths and small private dining rooms for groups of six to eight will make it easier to hear each other at your next birthday dinner. Open kitchens will get glassed-in, and tables will be separated by several feet in all directions.
No More Table Caddies
Tabletops are going to get a lot cleaner. Say goodbye to overstuffed condiment caddies and utensil holders. The upside is that the uncluttered tables will be much more sanitary. The downside is that you may have to order your favorite jam flavor and coffee sweetener alongside your breakfast combo.
Tailored Table Settings
Silverware and linen napkins will be brought to the table when you sit down. Glassware will show up only when you order something to drink. What you order will drive the whole dining experience. Rather than risk the health of employees and customers, more restaurants will turn to disposable forks, knives, and plates.
The Bottom Line
The sad truth is that some beloved restaurants will close during this pandemic, never to re-open. As a whole, though, restaurants are uniquely poised to rebound. There is a deep well of technology available for small restaurants to serve their customers in various new ways. And the camaraderie within the industry is strong.
Consumers have always loved restaurants. After social distancing ends, it will be easy to support the local spots that are striving to share their stories—and their tastiest treats—with us. Solutions such as voice ordering and restaurant meal kits will transform the way we order, serve, and enjoy food for years to come.
Methodology
We ranked the items on this list utilizing data and expert opinions from the fields of hospitality, business, and statistics. These sources include Statista, The Food and Agriculture Organization of the United Nations, Technomic, Nielsen, The Cornell School of Hospitality Management, BlackBox Intelligence, Eater, and the New York Times.