When business owners think about how to improve customer satisfaction, the first thing that often comes to mind is customer relationship management (CRM) software. After all, "customer relationship" is part of the title. However, CRM can also help grow your business in ways that go beyond the customer relationship.
1. Increased Employee Satisfaction
While one of CRM software's primary purposes is to foster customer relationships, the fact is customers aren't even aware of the software you use. The people directly impacted by it are the people who use it daily—your employees. CRM's impact on internal staff is rarely talked about even though they rely heavily on it to do their jobs.
As someone with a long history of using CRM software, I've experienced the good, the bad, and the ugly when it comes to relying on it to do my job. Some companies didn't have CRM at all and worked off of spreadsheets, while others built their own platform in-house. Still others bought the most expensive software, complete with all the add-ons. Whatever path you choose, the way you implement your CRM will directly impact employee engagement.
Sales teams use CRM software for almost every function of their job. From logging information, creating tasks, closing deals, communicating with different departments, and getting paid my commission, nearly everything revolves around CRM.
When working with various CRM software throughout my career, the company's work processes dictated how much extra admin time I spent inputting data, how much I'd get scolded for not entering enough information, and the accuracy of important reports. The easier it was for me to use the CRM, the more successful I felt in my role because I was less distracted from doing my job, which was selling.
Sales isn't the only department whose job satisfaction is impacted by CRM. Marketing and finance also rely heavily on information and data contained in the CRM. Inaccurate or incomplete data causes more work for the departments responsible for pulling reports or lists. Because of how many different departments rely on CRM, its successful use comes down to employee engagement as well as the software itself and how the company configures it.
Tips & Takeaways
While CRM is a helpful, necessary business tool, it can also cause headaches, so be intentional about its configuration. When creating rules and processes around your CRM, keep employees and their job duties in mind. Ask yourself if this will make their jobs easier or wind up creating more work. Mental challenges should come from being stimulated by their jobs, not trying to figure out how to use the CRM.
Your CRM serves as the backbone of your business. It's the fundamental tool that links all of your departments together, so don't underestimate the impact it has on employee morale. CRM is touted as benefitting the customer, but many don't realize how much it impacts the employees who use it day in and day out.
2. Improved Customer Relationships
Now for the obvious: CRM exists to improve customer relationships. You probably already understand that CRM is a database where customer data and interactions are logged. But how does it improve customer relationships? The goal of implementing CRM is to improve customer service, but in what ways will customers be impacted?
Improved Response Times & Account Maintenance
CRM software allows you to maintain accounts by delivering on promises to customers. Since you see all account histories in one place in real-time, your team can monitor accounts and make sure they have what they need when they need it. CRM enables you to stay "in the know" on customer accounts by providing ultimate visibility. As a result, your diligence shines through to your customers.
Your CRM is constantly compiling data, so you'll know which processes get stalled or held up. Many companies call it "identifying bottlenecks in the business." Once you have this data, your team can set out to improve response and delivery times to serve the customer better. CRM allows for constant optimization of processes, which leads to more efficiency and happier customers.
Gathering data also allows you to anticipate the needs of your customers. CRM automatically tracks purchase history, what you've offered them in the past, and how you won them as a customer to begin with. This data allows your team to pre-emptively offer products at the right time and sell more powerfully.
Personalization
"Segmentation" is CRM terminology for customer personalization. By compiling customer data, your CRM builds a detailed picture of customers' buying behaviors. CRM software typically collects automatic data on:
Location
Age
Gender
Preferences and dislikes about your product or service
Where your customers spend the most and the least
This information allows you to tailor offerings to the customers' needs and get better results for them. You'll also be able to pinpoint your highest-paying customers, which allows you to market differently to them. Making the sale often comes down to the right message at the right time. CRM automates these functions so you have the best probability of closing deals.
Customer Retention
Customer loyalty results from keeping customers consistently satisfied. Humans are creatures of habit, so if you can keep your customer satisfied, you increase the likelihood of not only keeping them, but preventing them from looking elsewhere.
Customer retention is key to growing your business because, in most scenarios, it's cheaper to keep existing customers than to acquire new ones. CRM features like calendar reminders ensure that you don't miss meetings and important dates, while task notifications remind you to follow up at the right times.
Tips & Takeaways
Don't let the broad umbrella term "improve customer satisfaction" be your CRM business goal. Instead, create tangible, measurable goals that result in business growth, e.g., "maintain a customer retention rate of 85%" or "decrease customer service wait times by 15%." Let your CRM software help you meet your goals by providing transparency through automated data collection, which illuminates where your business can use improvement.
3. Increased Productivity & Efficiency
Automating manual processes is one of the primary purposes businesses implement CRM. Automation and systematizing your business is key to business growth because the time employees save on compiling data and assembling reports can be spent on more profitable activities. Spending too much time on manual tasks can result in falling behind the competition, so productivity and efficiency are crucial to maximizing your employees' time.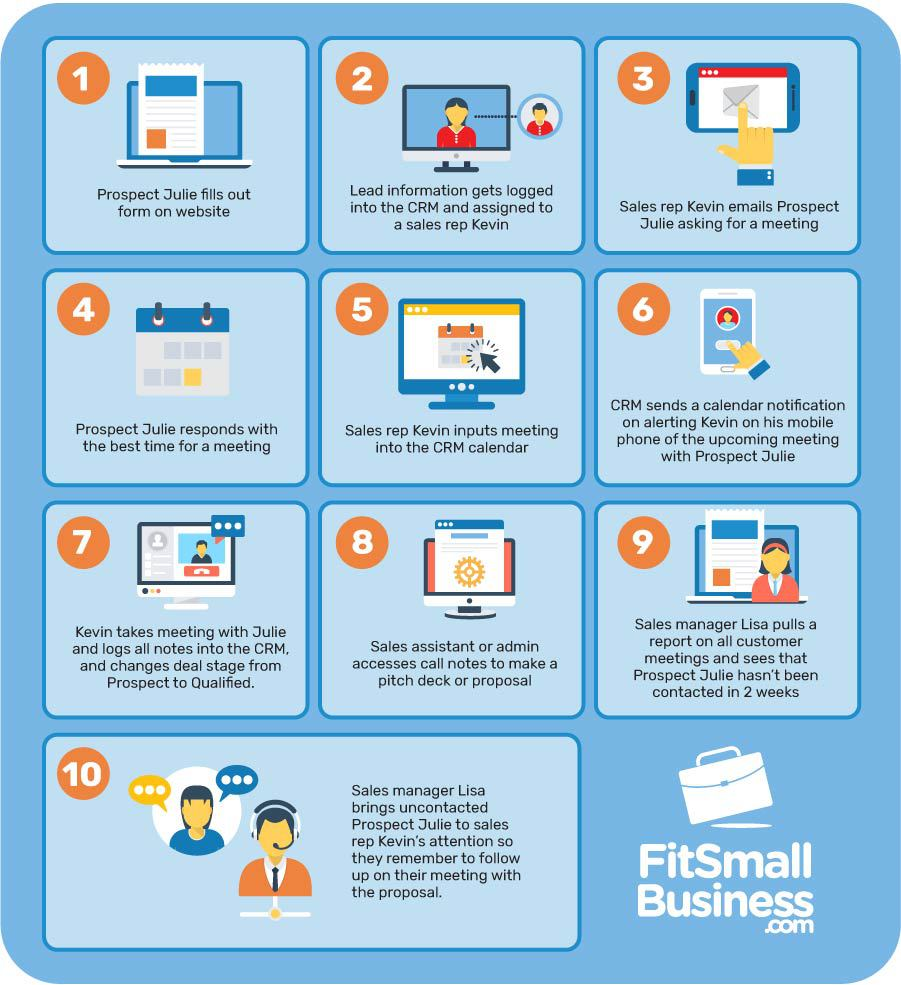 For example, a sales manager can use CRM software to pull the yearly revenue report with a few clicks in preparation for a meeting with C-level executives. By not having to gather data manually, that time savings can be reinvested into coaching reps or creating sales strategies to push the business forward.
Similarly, assume a marketing manager is tasked with compiling a list of leads gathered from a trade show and making sure the sales team calls on them. With CRM, she can upload the list of contacts and have them automatically distributed to sales reps based on geographic location. A marketing manager would typically distribute leads manually, which is unnecessarily time-consuming when better methods exist.
Tips & Takeaways
Don't underestimate how much employee productivity is wasted on manual tasks. Automation and systematization should be a top priority if you hope to grow your business. The more you can get done in the shortest amount of time allows you to focus on the activities that will move the needle forward in your business, such as interacting with customers or coming up with new business strategies that propel the company forward.
4. Accurate Tracking & Forecasting
Knowing your numbers is essential to business growth. You must know how much you're making versus how much you're spending to determine profitability. On top of that, you must also be able to forecast your business' future growth based on your current situation and market trends. You must track business metrics such as revenue and net profit margin to maintain the health of your business.
Without CRM, companies track essential business metrics with outdated methods such as spreadsheets and other manual tracking processes that leave room for error. CRM software cuts down on manual work and room for errors while gathering and tracking numbers more efficiently. Then business owners can use auto-generated reports to check the status of the business daily, weekly, monthly, and annually.
Tips & Takeaways
The most important metrics and reports that CRM tracks and creates for you include:
Sales revenue: Sales revenue refers to the income from all client purchases. Returns or undelivered services must be subtracted from income to get the final sales revenue result. Revenue is an important key performance indicator (KPI) to track because it helps gauge whether your services are in demand.
Net profit margin: Sales revenue mentioned above is not your "take-home pay" or the amount you get to keep. Your net profit margin is how much money you'll take home after overhead and other expenses incurred running your business are paid.
Gross margin: Gross margin is a metric used to predict the future success of the business. Gross margins show you how a particular product or group of products within your business is performing. By monitoring declining gross profit margins, you'll be able to focus on the weakest part of your business to prevent issues arising in the future.
Monthly recurring revenue (MRR): MRR is the total dollar amount brought in monthly. You should measure new MRR (MRR brought in by new customers), expansion MRR (customers who upgraded their plan and increased MRR), and churn MRR (revenue lost from customers canceling before their expected lifespan) to get a clear overall picture of your bottom line.
Marketing costs: Tracking and calculating marketing costs helps you understand how much you spent on advertising and measure the results.
Customer acquisition costs (CAC): CAC is how much you spend to obtain a new customer. It is calculated by dividing all costs spent on acquiring a new customer by the number of new clients acquired in a specific time frame.
5. Scalable, Repeatable Processes
Just as automation of processes leads to more productivity, your business should be composed of scalable processes. Repeatability is especially essential when it comes to your sales process. Companies should aim to make their sales process repeatable to drive down customer acquisition costs (CAC). In other words, you want to pinpoint what's working in your sales process and execute that process repeatedly.
Without repeatable processes, businesses close deals by taking shots in the dark, wasting time on tactics that may not work. Instead, you should get clear on what's useful and double-down on those tactics. CRMs allow efficiency in the sales process so that scale is possible. The number one way to tell if your sales process is scalable is whether or not it's repeatable. That means that your operation goes as smoothly handling 50 leads as it does handling five. Since CRMs have established steps and rules, this ultimately leads to scalability.
Bottom Line
CRM software is known for improving customer relationships. While keeping customers happy is the main benefit of CRM, it also serves as the structure of your company. Optimizing your CRM and its processes ultimately leads to business success. CRM will help grow your business through employee satisfaction, strong customer relationships, increased productivity, and scalable processes.
When shopping for a CRM, consider a CRM that is designed to grow with you so you don't have to learn a new product later. Salesforce Essentials is a highly rated CRM in this regard, as it gives growing teams access to many of the platform's advanced features, integrations with third-party tools, forecasting, and workflow management tools at a much lower price point than its enterprise-level product. Read more about Salesforce Essentials by visiting their website.