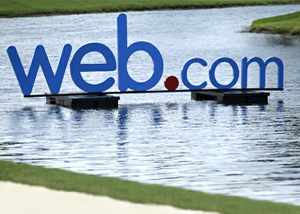 Fit Small Business recently had an opportunity to interview the CEO of Web.com, David Brown. David is not a newcomer to web marketing; his involvement started in the late 1990s. In the following interview, David argues that small businesses need online marketing help. Essentially, they should work with a company that offers a variety of web services instead of limited solutions. From an intellectual standpoint, this argument makes tremendous sense. Why go around and find a hosting company, a web design company, an SEO company, and a pay per click company, when you can receive all these services from one company. One company (and one point of contact) should mean a higher level of service and potentially discounts for buying services together. More importantly, David Brown suggests that one company can do a better job of recommending the right mix of services for a particular small business.  On the other hand, can working with specialists provide a higher quality service for a better price?  My sense is that for firms just starting their online marketing efforts that a company like Web.com is a great starting point. Interview with David Brown, CEO of Web.com:
Click Here to get our FREE Google advertising guide and discover the 6 steps you can use to show up #1 in Google search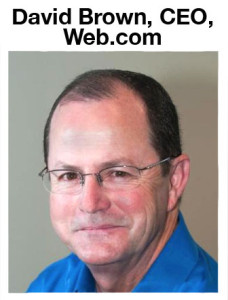 What are the main services that your company provides to small businesses? Web.com is a leading provider of Internet services and online marketing solutions for small businesses. Our experts provide "one stop shopping" for small businesses through every step of building process and work to maximize an online presence designed to help small businesses succeed online. This includes a full suite of services from domain registration and hosting to do-it-for-me and do-it-yourself (DIY) website builds to SEO, mobile, pay per click advertising and digital advertising to eCommerce and more. We are able to offer the basic tools small business owners know they need, as well as the advanced tools that address the needs they might not immediately recognize. Additionally, we've bundled in a world class mobile website builder and Google Places into our Custom website products. And, we've enhanced our Facebook product to get customers more Fans, Likes, Comments and Shares.
Do you have any suggestions for a small business trying to find a domain name? Small business owners are beginning to recognize the level of importance that consumers place in online engagement, as well as the return on investment benefits of online marketing efforts versus more traditional. Once they understand the need to maintain a strong digital presence, they discover that the Internet ecosystem is a far-reaching and occasionally confusing place. Customers need to find a company who offers broad access – as not every registry signs up with every registrar – and who has broad distribution and great customer service. We work with our customers to ensure that they maximize online visibility at every step of the process, and selecting a domain name is certainly a tricky part of the process – especially with recent addition of Top Level Domain (TLD) options. That means that small businesses can now select from abundantly more TLD extensions – think of it as the portion to the right of the dot in a URL – and we are able to make suggestions about what will work best. For example, a New York-based pizza parlor might benefit from using a geographically based TLD, such as .NYC or .pizza instead of .com. At Web.com, we can help build our customers' awareness of choices they might not have considered.
How many domain names does a typical small business register and why? Just as there isn't a typical small business, there isn't a typical online marketing solution that meets every small business' needs. With that being said, the average small business has approximately three domain names. We try to educate our customers about the tools that will help them accomplish their business goals – sometimes that means registering multiple domains to help the business improve its search results.
Is website hosting a commodity product? If not, what is the most important difference between hosting providers that a small business should consider? There are a lot of domain registration and hosting options available, but what many small business owners don't understand is what we call the, "if you build it, they won't necessarily come" approach. Just because a small business takes the step of securing a website, and even if they take the next step offilling it with compelling content, it doesn't guarantee a significant number of site visits or that it will immediately jump to the top of search results. What counts is what the small business does with its website. With Web.com, we are committed to seeing our customers succeed online, and we have the experience, technology, breadth of services and, most of all, the right people in place to make that happen. We work with our customers to help them with their selection of domain names, web design, online marketing, and advertising and social media efforts. We understand that small business owners don't always have the time, the resources or the know-how to reach their online goals – after all, they're busy running a business. Which is why selecting the right online services partner is critical.
What type of web hosting services do you provide? (i.e., shared servers, dedicated machines, cloud based)? How should a small business decide between these services? First and foremost, small business  owners want to have confidence that their web services provider can do what they promise. At Web.com, we provide our customers something many other providers do not – namely a dedicated team of specialists that can handle every aspect of their web needs from the selection of domain names, to web design, online marketing and advertising, social media efforts and more. These specialists are all Web.com employees and are part of the dedicated team that will help ensure that our customers experience the best service available. Since web hosting options can seem like a foreign language to most non-IT professionals, we find that educating customers using a language they understand is the most important factor when working with small business owners. They don't think of domain registration, website hosting, site design and analytics – they think of a URL that leads to a website. Our solutions simplify the process and combine all the elements necessary to help customers be successful online. There are absolutely customers that only need web hosting and we're happy to work with them as well. Web.com provides scalable and reliable web hosting services by UNIX® in three main packages, "Essential Web Hosting," "Professional Web Hosting" and "Premium Web Hosting." All three packages include a free domain name for one year, unlimited data transfer, large amounts of disk space and high capacity email storage. They also provide customers with numerous free open source applications, such as blog tools and content management; an easy-to-use Website builder tool; FTP access and dedicated customer support. The biggest differentiators between hosting packages are the size of disk space, monthly data transfer, number of email boxes and tools, such as open source applications and programming languages. After a small business determines how they plan to use their website and the amount of traffic they expect on their site, they'll be able to identify the best web hosting package for them.
What are the most popular content management systems used by small businesses today? Do have a recommendation on which one is best for a business setting up their first website? Today, there seems to be too much emphasis on content and not enough on the site's construction. That isn't to say that good content isn't important. When it comes to website builds and content management systems, we have two primary types of customers – those that choose our Custom Website by Web.com solution and those that select a DIY option. With Custom Website by Web.com, we build, manage and update customers' sites at their request, leveraging our vast expertise in layout, design, content and site architecture. And since many of our customers are small businesses with little to no web design experience, this is an incredibly popular option. In terms of CMS options, we offer the most popular available including Joomla, Mambo,  xoops, Geeklog, Drupal.
What are some common mistakes or oversights made by small businesses when setting up websites that impact their search engine rankings? The biggest mistake is the "if I build it, they will come" mentality that we already discussed. Online marketing plays a tremendous role in where small businesses appear in search results. The other common mistake small businesses generally make is not recognizing that consumers might describe a company much differently than the owner does. Because the small business is the "expert" they often fill their content with industry jargon that aren't the terms usually searched by interested consumers. For example, if a small business specializes in a proprietary bagel-doughnut combination they call a "bagenut," potential consumers will be looking for doughnuts or bagels in searches – not "bagenut." If it is a specialty, it absolutely has a place on the website, but the more generic terms need to lead and be used more often Lastly, and this is one of the most basic, but too many small business sites make it difficult to find contact information. Phone number, address, email and hours of operation should be prominently displayed on the top of every page – sometimes even the top and bottom.
What is a good page loading time for a small business site? How much does hosting play into page loading time?  Any tips for speeding up loading time? There really are too many variables to pinpoint a specific number in terms of page loading time but suffice it to say that consumers won't wait. The web is an almost-instant gratification channel where results are generated as you type and recommendations are made almost before you think about needing something. A site needs to have the items necessary to make it both functional and engaging – that means easy-to-follow flow, limited text, some but not too many pictures and, most important, informational and compelling content.
Click Here to get our FREE Google advertising guide and discover the 6 steps you can use to show up #1 in Google search
About David Brown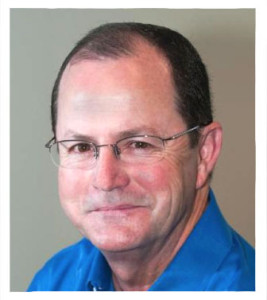 David Brown serves as chairman, president and chief executive officer of Web.com, where he maintains heavy involvement in day-to-day operations. He was named president of Web.com in August 1999 and CEO in August 2000. He has directed Web.com's acquisitions, integration and product development efforts and the growth of the company, including the company's initial public offering in 2005 and its acquisitions of Register.com and Network Solutions. David founded Atlantic Teleservices, a technology services company, in 1997, which became a part of Website Pros in 1999; Website Pros subsequently purchased Web.com and assumed its name in 2007. David's commitment to helping customers – especially equipping small business owners – is the driving force behind Web.com's mission of helping businesses succeed online. David holds a BA in General Studies from Harvard.