Web.com Review: Does Its Site Builder Stack Up?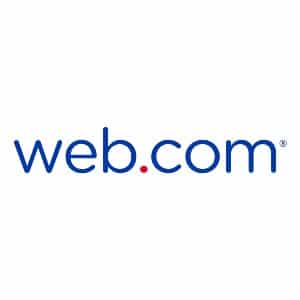 Web.com is a web hosting platform and domain registrar that also offers a beginner-friendly site builder. Although Web.com reviews show that it's easy to use, site customization is limited and the features included are very basic for the price. Web.com might be enticing to those building a personal website, but most small businesses would benefit far more from all-in-one website builders like Squarespace, Wix, or Weebly.
Web.com Overview
Who Web.com Is Best For
Web.com pricing is attractive, but its features are just a little too basic, especially when you compare it to plans in the same price point from Squarespace, Weebly, and GoDaddy. Most small businesses need solid search engine optimization (SEO) to get found by prospective customers online. But based on Web.com review, one of its biggest failings is its lack of SEO, especially on its cheapest plan. For this reason, it's best for personal, non-business websites.
Web.com is recommended for:
Individuals looking to create a personal website: If you don't need a professional website, our Web.com review shows that it can work as a personal website. The low price point and unlimited storage and bandwidth for $10 per month are good for sites that aren't worried about growing an online audience.
Who Web.com Isn't Best For
Web.com allows you to build a professional website within minutes. But despite being able to quickly build a site with Web.com, it has limited features and design capabilities for the price, and we wouldn't recommend it for anyone looking to build a website for their small business.
Web.com is not recommended for:
Web.com used to be extremely expensive, but recently reduced its prices to be more in-line with other site builders. Still, when it comes to its price-per-feature ratio, there are other, more robust options that are not only beginner-friendly, but also give more bang for your buck. We recommend trying out Wix, Squarespace, or any of our top small business website builders instead.
Web.com Pricing
Although Web.com pricing doesn't include a free version and plans don't come with a free trial, it offers cheap prices ($1.95, $2.95, and $3.95, respectively) for the first month. After the initial billing, Web.com pricing increases steeply. Aside from its DIY Site Builder (do-it-yourself), you can reach out to Web.com for a custom, professionally designed website package.
For more information about Web.com pricing and plan features, select a plan from the drop-down menu below:
Starter
---
Marketing
---
eCommerce
---
Web.com Features
As part of our Web.com review, we determined whether or not Web.com's DIY Builder can hold its own against more popular site builders like Squarespace and Wix. To do this, we looked at Web.com's ease of use, selection of templates and design abilities, features, and customer support. We found that Web.com needs more unique features and more valuable packages to compete with the top builders.
For a more in-depth breakdown, click on the tabs below.
Templates & Design
---
Unique Features
---
Ecommerce
---
Ease of Use
Web.com's biggest (and maybe only) draw based on our Web.com review is its ease of use. It has a relatively clean interface and a block-based editor where you can add either premade or empty blocks to flesh out your website. While it's a far cry from the design freedom you get with Wix's drag-and-drop editor, it's still a lot more customizable than a sectional builder like GoDaddy, for example.
All in all, it rates highly for how easy it is to use. For a complete website beginner, it might take a little more time to get used to Web.com's Features and Blocks (i.e., elements and premade sections), but it shouldn't take you longer than a few hours and you should be able to build a Web.com website in as little as four steps.
Customer Support
Web.com has 24/7 customer support via phone, live chat, and email, plus an hour of dedicated support from its professional design team when you sign up for any one of its plans. It also has a blog that acts as something like a knowledge base. For help using the site builder, check out Web.com's YouTube channel. From experience, this gives the most updated information about the website builder, as Web.com doesn't have very many tutorials online.
What Users Say in Web.com Reviews
While you can find many high ratings online, Web.com reviews mostly speak to its hosting services. On the other hand, the few Web.com reviews we found for its site builder were mixed. Some users were impressed with how easy Web.com is to use and its low prices, while others were frustrated about the lack of design and the poor features it offers.
Here's how Web.com fared with its users:
These Web.com reviews are in line with our experiences with Web.com's DIY Site Builder. It's by no means the worst site builder we've ever used, but falls short of having the tools and features needed to build a good business website. Our main complaints are its lack of features, especially lack of website basics, such as built-in SEO, and its very basic offerings for the prices that you pay.
Bottom Line
Web.com's site builder is a far cry from the likes of Wix, Squarespace, and other top all-in-one business website builders. You can build a basic small business site affordably, but if you're looking for any sort of advanced features like SEO, marketing, and ecommerce, you're better off looking elsewhere.
At its current state, we can't recommend it to any small business looking to build a professional website when there are much better options available in the same price range. Instead, check out our list of the best website builders for small businesses, or try out various free website builders before subscribing to a plan.
You Might Also Like…
Our top recommended builder for small businesses is Squarespace. See why with our Squarespace review.
Need a fully customized website? Read our Wix review and try it out.
If Web.com's ease of use is appealing but you need more features, you'll find better options on our list of the best drag-and-drop website builders.