In a showdown of Wix vs Weebly, both website builders prove to be beginner-friendly, but that does not mean they're without their differences. We put the two head-to-head to find out which is best across several variables that matter most to businesses, from design quality to features and capabilities. Between the two, there's no beating Weebly in terms of simplicity and price. However, Wix is the winner when it comes to design freedom and advanced features.
When to use Wix or Weebly:
Weebly vs Wix at a Glance
| | | |
| --- | --- | --- |
| | | |
| Expert Score | 4.25 out of 5 stars | 4.14 out of 5 stars |
| Starting Price | $6 per month | $14 per month |
| Ecommerce Plans | $26 per month | $23 per month |
| Ease of Use | Beginner-friendly | Beginner to intermediate |
| Design | Limited customization capabilities | Maximum customization capabilities |
| Built-in Appointment Booking System | No | ✔ |
| Sell Gift Cards | ✔ | No |
| Accept Recurring Payments (e.g., Subscriptions) | ✔ (With the $26 per month plan) | ✔ (With the $23 per month plan) |
| Membership Site | ✔ | ✔ |
| Dropshipping and Print On-demand Integrations | No | ✔ (With the Business Unlimited plan for $27 per month) |
| | | |
Looking for more specific features? Try one of these:
How We Evaluated Weebly vs Wix
Comparing Wix vs Weebly, we think it's important to not only evaluate the similarities, but also the differences. We looked at both the pricing plans and the value of those plans—what do you get with each plan? Ease of use is subjective, of course, but we considered all the ways that Weebly and Wix make it easy (or difficult) to create a site or online store.
Click the tabs below to learn more about each of our evaluation criteria:

20% of Overall Score
Affordability is a leading factor among small businesses, and while site builders provide an inexpensive alternative to hiring a web designer, pricing still varies greatly. So we analyzed two providers across a number of price-related factors, from pricing by plan level and contract length to the price you'll have to pay to accept payments online.
20% of Overall Score
It's not just about the price, but what you get for the price you pay. To find the value of each provider, we looked at everything from storage and bandwidth limits to free extras, such as a domain name, a free SSL certificate, built-in search engine optimization (SEO) tools, uptime, and speed.
10% of Overall Score
Odds are, there are specific website features you'll need based on your specific business type. To compare how the providers stack up, we considered the capabilities of each platform to see which best meets the needs of businesses regardless of which industry you're in.
20% of Overall Score
All-in-one site builders, such as Weebly and Wix, were designed to make building a site headache-free for anyone—regardless of previous web design experience. To compare how easy each provider really is, we analyzed both editing interfaces and considered which involve a shorter learning curve and better templates to get you started.
10% of Overall Score
Support isn't glamorous, and it often gets overlooked, but quality support can make a world of difference if you ever find yourself in need of help. To find which is best, we considered the availability of support from each provider in terms of support channels (i.e., phone, live chat, and email) and support hours.
20% of Overall Score
There is only so much you can glean from the providers without first-hand experience, so we included our own expert opinion based on years of use with each platform. We included our perspectives on value for the price, quality of features, ease of use, and popularity.
*Percentages of overall score
Let's take a closer look at Wix vs Weebly:
Most Affordable Pricing: Tie
| | | |
| --- | --- | --- |
| | | |
| Starting Price | $6 per month, billed annually | $14 per month |
| Starting Price for Online Stores | $26 per month, billed annually | $23 per month |
| Contract Lengths Available | Monthly, every six months, every 12 months, every 24 months | Monthly, yearly, two-year subscriptions |
| Free Trial Length | Free plan available | Free plan available |
On the surface, it's obvious that Weebly is the more affordable option. Plans range from $6 per month to $26 per month. Wix starts at $14 per month and goes up to $49 per month for the top-tier ecommerce plan.
If you're going to stick to a basic small business website or typical online store, then Weebly is the best value—especially with its unlimited storage and bandwidth features. However, if you want to set up appointments, recurring payments, or online ordering, you'll have to tackle a lot of Square apps to make that work (and not all of them are free).
Wix includes appointments and online ordering features on its basic ecommerce plan (for subscriptions, you'll have to go with the $27 per month plan). However, Wix limits your bandwidth and storage, so you may end up with extra costs if traffic is high and be picky with the media files you upload.
Winner: It's a tie. Weebly costs less if you're looking for a simple website or online store, but Wix provides more value if you want to accept recurring payments, bookings online, or online orders for restaurants.
Best for Ease of Use: Wix
| | |
| --- | --- |
| | |
| Separate editors for building a website or online store (ecommerce by Square) | Wix ADI builds a website for you based on your answers to a few questions |
Weebly and Wix are objectively easy to use if you're only comparing the editors. They just do things a little differently. Weebly gives you the option to create a website or an online store, and each option gives you a different editor. The main difference is the amount of design freedom you get with each. With Weebly, you design on a grid, so it keeps your elements locked in place (so your site always looks professional), whereas Wix provides near limitless design flexibility.
Building a Site With Weebly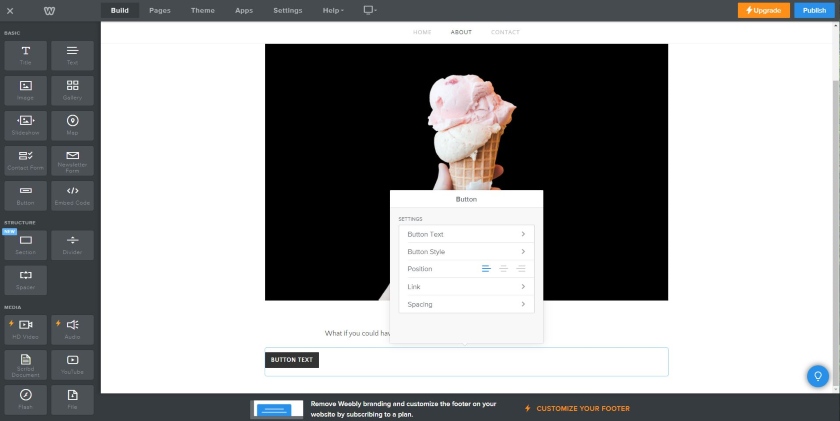 Using the classic Weebly editor is easy and intuitive. You can click on an element to change settings, and you can drag and drop elements onto a page. Plus, you can easily change themes without losing the content you've added, which is a nice time-saving feature. However, the classic editor feels antiquated compared to other options. A detailed guide showing you every step to create a site with Weebly can help you decide whether it's the right choice for you.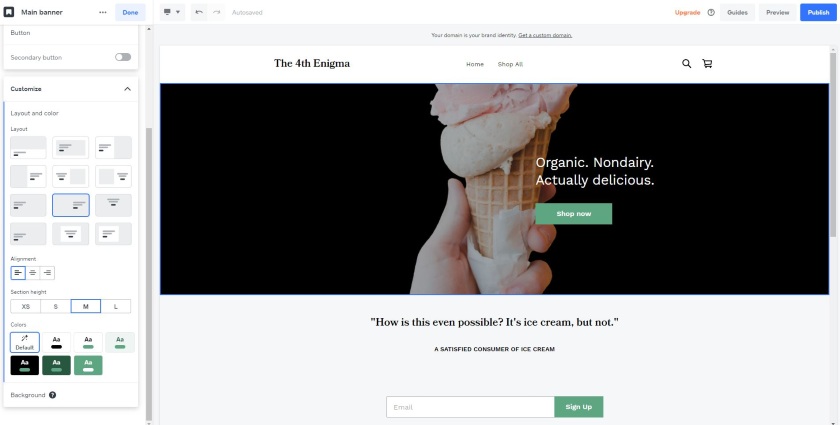 You also can't use Weebly's classic editor to create an online store. If that's what you need, you'll be ushered over to the Square Online editor. This editor is a bit more updated in its look, but it's a little more limiting compared to what you can do with Weebly's classic editor. For example, changing the layout of this headline requires you to choose a preset layout on the left. It isn't a true drag-and-drop editor, but it's easy to use once you get to know it.
Building a Site With Wix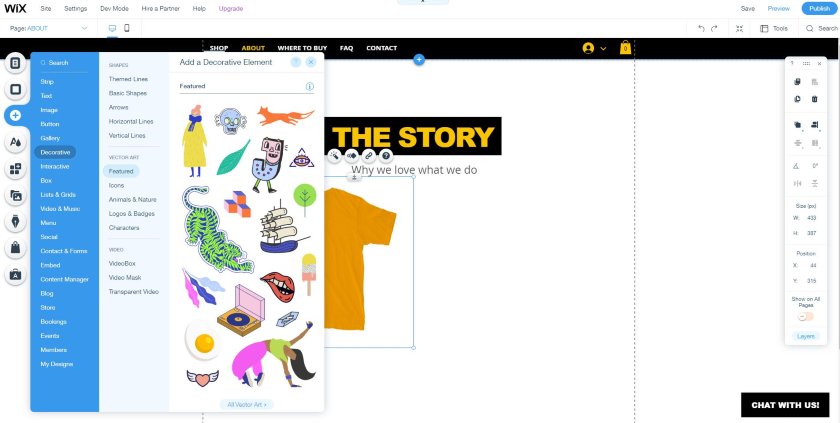 After you pick your template, you can jump right into customizing the look of your site. You can access every page and element from the left-hand menu. Simply choose the page you want to work on, and then drag and drop whatever you want onto the page. You can use the right-click on your mouse to do a number of things, including delete, add a link, or arrange layers. It's easy enough to use and figure out on your own, but it can help to follow a step-by-step guide on how to build a site with Wix.
Winner: Wix wins here for its simplicity. You don't have to worry about choosing between two different builders for websites and online stores, and you have layout freedom—just drag and drop whatever you want to wherever you want. Plus, the Wix artificial design intelligence (ADI) feature makes designing a site easier than ever.
Best Web Design: Wix
| | |
| --- | --- |
| | |
| Change themes easily—pick a new theme and keep your content | Choose from more than 800 templates (over 100 are for online stores) |
Weebly and Wix offer themes or templates to help jump-start designing a small business website, but there are some noticeable differences between the two. An important difference to keep in mind is that Wix doesn't allow you to change your template. However, you can create as many sites as you'd like. On the other hand, Weebly lets you switch a theme any time, so you can give your site a face-lift without having to rebuild the entire site.
With regard to templates, Weebly only offers about 60, whereas Wix has over 800 to choose from. Granted, Wix may have gone overboard on its number of templates available. Both offer well-built templates that are broken out by industry or business type, making it easier to find the right template for you.
Winner: Wix is the winner for design. You get more choice with Wix, and the designs are objectively better. Changing a Wix design is easier too, because the editor gives you more design freedom.
Best for Selling Online: Weebly
Starting Price for Selling Online

$12 per month

$23 per month

Standout Ecommerce Features

Display item badges (e.g., low stock, limited)
Accept and sell gift cards
Create coupons
Manage inventory for online and offline stock

Sell subscriptions
Abandoned cart recovery emails
Dropshipping available
Accept online appointments
Take online orders
For the easiest—and cheapest—platform to start selling online, choose Weebly. Its ecommerce features are powered by Square, and it's more affordable. For as little as $12 per month (not including payment processing fees), you can sell online with Weebly—that's nearly half the price of an ecommerce-enabled plan with Wix.
Ease of use and price aside, Weebly and Wix offer similar ecommerce features, such as simple inventory management, unlimited products, a free domain, web hosting, and automatic tax calculations. The differences are in the advanced features and limits.
In Weebly's case, you'll have to use Square apps to get booking features and online ordering. Wix doesn't offer loyalty program features until the highest level of plans (and it's through a third-party app), and automated sales tax is limited to 100 or 500 transactions (on mid- and high-tier plans only).
Winner: Weebly wins the ecommerce battle. It's far easier to start selling online with Square handling ecommerce. The only exception is if you want to create a dropshipping site, in which case, Wix would be a better pick for you.
Most Extensive Capabilities: Wix
| | |
| --- | --- |
| | |
| Weebly offers more than 50 free apps in its app center | Wix's app marketplace features more than 300 apps |
Apps are important for any website builder, as they'll extend the functionality of your website. When comparing Weebly vs Wix as it comes to apps, you have to keep in mind that the apps for regular websites built on Weebly are different compared to the apps available for Weebly (Square) online stores.
The Weebly app center has more than 300 apps (56 free), but only about 200 apps in the Square app marketplace. Wix offers about 300 apps, and many of them are made in-house by Wix developers.
Many of the apps available for Wix are similar to those in the Weebly app center, so it seems like a draw. Except for one thing: If you build an online store through Weebly, you can only use the apps in the Square app marketplace, which means you won't be able to use some apps you may want, such as live chat or pop-up notifications.
Winner: Wix offers much more functionality with the help of Wix-created and third-party apps, whether you create a regular website or an online store.
Best Customer Support: Wix
| | | |
| --- | --- | --- |
| | | |
| 24/7 Support | N/A | ✔ |
| Live Chat Support | ✔ | N/A |
| Phone Support | ✔ | ✔ |
| Email and/or Support Tickets | ✔ | ✔ |
Wix—and its customers—win when it comes to support because it offers support around the clock with a 24/7 service, whereas Weebly's phone support is available from 6 a.m. to 6 p.m. Pacific Time, weekdays only. Granted, Weebly and Wix offer support in different ways, so if you happen to prefer support via live chat, you might actually prefer Weebly. You'll also find extensive documentation and guides in each builder's support center.
A different support highlight is how each company handles feature requests. Weebly and Square (they share support and development teams) consider customer feedback, but it's mostly handled quietly and behind the scenes. Wix also takes feedback into consideration, but they make it a little more public by posting the feature request on forums—and asking for votes from the community for the feature.
Winner: Wix wins the support battle thanks to the 24/7 callback service.
Best Alternatives to Weebly & Wix
Weebly and Wix are both excellent options for anyone who's new to website design, but that doesn't mean they're the only options out there, and they might not quite have what you're looking for. So, the good news is that you're not limited to choosing a winner in the Wix vs Weebly battle.
Here are some of the best website builders for you:
If those site builders sound like they would suit you better, read more about the best website builders.
Frequently Asked Questions (FAQs)
Is Weebly good for beginners?
Yes. Weebly is an excellent choice for beginners for a few reasons. You start with a template and then customize it by adding your own content through its easy-to-use editor. If you want to use a different template, your content won't change. It's one of the best site builders for beginners, but if you're unsure about it, consider the best Weebly alternatives.
Is Wix bad for SEO?
Nope. Wix has built in a lot of search engine optimization (SEO) functionality, so you shouldn't need third-party apps to meet your SEO needs. You can create custom URLs, add a meta title and description, and add alternative text to images.
How do I create a website for my small business?
You have a lot of options for building a website for your business. If you don't have any web design experience, a website builder can be an easy solution. Sometimes it's best to hire someone to create what you want from the ground up. Learn more about creating a small business website.
Bottom Line
Weebly and Wix are great website builders for beginners. They both have easy-to-use editors and include all the basics you need for a small business website (or online store). Weebly is a bit more beginner-friendly than Wix, but you're going to be able to do far more with design and ecommerce with Wix.
You Might Also Like…