When you compare Weebly vs WordPress for your website, you need to consider how much time and technical know-how you have. You can create essentially the same website using either website builder, but it's going to be much easier with Weebly. On the other hand, while building a site with WordPress involves a lot of time and steep learning curve, you'll have extensive customization opportunities.
Weebly is an all-in-one website builder that includes everything you need to manage your professional website easily. The beauty is that it's code-free and it's designed to make it the process of building a site headache-free. On the other hand, WordPress is an open-source content management system (CMS) with vast customization options. However, it's not user-friendly and you'll need to source a domain and web hosting from a third party.
Here's when to use each CMS for your website:
Weebly: Best for small businesses that need a professional website quickly, easily, and with zero coding required
WordPress: Best for small businesses that need a fully customizable website that lets you control 100% of the technical aspects
So, trying to figure out which is better—Weebly or WordPress—it's kind of like comparing manual vs automatic transmission in a car. Do you know how to drive a stick shift, do you even want to bother with it, and if so, in doing so, will you actually take advantage of the benefits it offers? If you're still on the fence, keep reading.
Weebly vs WordPress at a Glance
| | | |
| --- | --- | --- |
| | | |
| Price* | $0-$26/month | $3.95-$25/month |
| Ease of Use | Very easy | Intermediate |
| Design | Prebuilt, modern, and responsive themes | 11,000+ themes, some are free, not all responsive |
| Ecommerce | Built-in ecommerce solution via Square Online | Ecommerce and shopping cart plugins available |
| Functionality | 300+ apps work seamlessly with Weebly sites | 50,000+ plugins for WordPress, but not all work with current version |
| Capabilities | Limited customization | 100% customizable |
| Support | Phone, email, forum | Forum |
| | | |
*Paid annually
Weebly vs WordPress: Price
Comparing the costs of creating and maintaining a website via Weebly vs WordPress is somewhat even. Weebly offers four plans from free to $26 per month, if you pay annually. Each plan includes hosting, a domain name, and a secure sockets layer (SSL) certificate. Most businesses will want the Professional plan at $12 per month, which removes all Weebly branding and gives you a unique domain name.
At its cheapest, WordPress will cost you about $50 per year (or about $3.95 per month), but that's only with a domain name and the lowest-cost hosting with Bluehost. Most people will pay a one-time cost of about $50 to $80 for a WordPress theme, and $50 to $70 per year for an SSL certificate (if their hosting company doesn't provide one with their plan). Additionally, if you run into any issues, you may need to hire a web developer to help, adding another expense.
Winner: Weebly wins here because it's an all-inclusive cost per month. Even though the costs are similar between the two choices, you get a better value from Weebly because you save time and effort.
Weebly vs WordPress: Ease of Use
If you've never created a website before, you'll find Weebly to be one of the easiest website builders to use. There's no difficult setup process, so you can get started designing with the drag-and-drop editor immediately. With WordPress, you'll need to install it on your site via your hosting company, point your domain to the appropriate servers, and then you'll have to learn what's what on the WordPress dashboard.
Building a Site With Weebly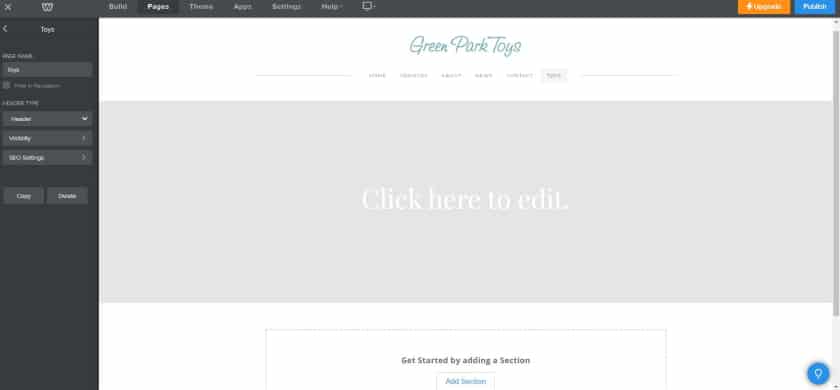 The clear prompts to help you design your website with Weebly make the process so easy. Click the button instructing you to design your site and you'll see your home page with your chosen theme. You can simply click on whatever you'd like to change, including text, buttons, and images. Add a section using the prompts, and then drag and drop whatever elements you want.
Building a Site With WordPress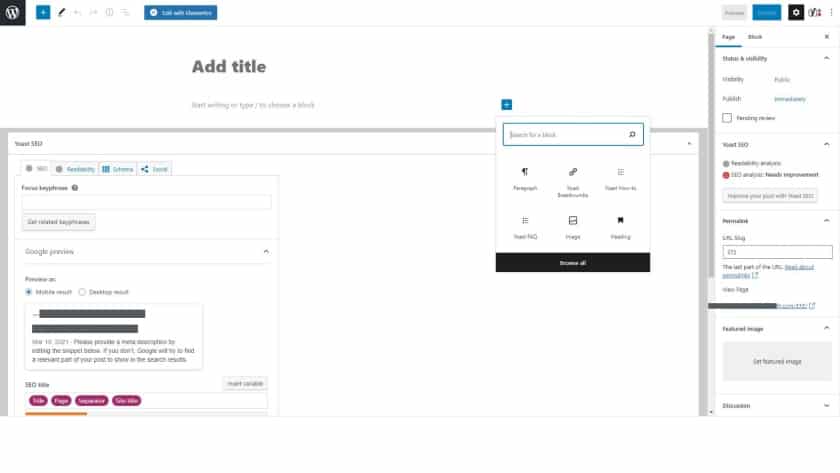 Getting started with WordPress will take a bit more time than with Weebly. Once it's set up, though, you can start creating pages and using the block editor to build each page block by block. You may find it's a bit more difficult to use than Weebly because you'll have to learn where everything is, such as where to name your page and what each element, or block, is. That said, adding a page builder plugin or following a guide like our article on how to build a website using WordPress can make it easier.
Winner: Weebly is by far the easiest website builder to use here. Just follow the prompts and add or remove what you want; the builder will take care of the tiny technical details in the background.
Weebly vs WordPress: Design
When you compare Weebly vs WordPress in design, Weebly shows again how it was made to be easy to use. Weebly gives you more than 100 prebuilt themes designed for a variety of industries, and once you pick one, all the design elements just pop into place—you just change or add the content. A brilliant addition: If you change your mind about the design, just pick a new theme and your content stays—only the theme swaps. It saves you so much time.
WordPress includes some default themes typically named by year and they are free. You can locate them in the theme menu, and then you'll have to choose one and activate it. Designers create lots of themes for WordPress; there are more than 11,000 themes out there. Some themes are free, but premium themes usually cost $50 to $100. If you switch your WordPress theme with content on your site already, most of the content will be unaffected by the swap. However, some elements may not work the same. Sometimes themes won't work well with plugins you use, and it could "break" your WordPress site.
Winner: Although limited, Weebly is the winner as its prebuilt themes are ideal for almost any small business, and you can swap the design any time you want, making it incredibly easy to update your site's design at any time.
Weebly vs WordPress: Ecommerce
If your plan is to create an online store and you're wondering which is better for this, Weebly or WordPress, you're likely better off starting with Weebly. Weebly partnered with Square, so all of the ecommerce functionality comes from Square Online.
Weebly ecommerce includes everything built in, such as a shopping cart, payment processing, and inventory management. All of the features are included with your Weebly monthly fee, and you'll only have to pay for shipping of your items and payment processing per transaction. The biggest downside of using Weebly for ecommerce is that there is currently no dropshipping option. If you're looking for an easy site builder to create a dropshipping site, try Shopify.
To sell online with WordPress, you'll have to install plugins and make sure all them work together. There are plenty of excellent options for this, such as WooCommerce. To get all the features you'd need to equal that of a Weebly ecommerce site, you may need to pay for extensions and other plugins ($10 to $150 per year). You'll also need to set up those plugins and make sure they all work together.
Winner: WordPress gives you more control and flexibility over your online store, but keep in mind this could be more expensive to run.
Weebly vs WordPress: Functionalities
What's working behind the scenes of a Weebly website is the functionality. You don't have to think about whether your website will look as good on a mobile phone as it does on a browser—Weebly just works as intended. It is limited, though, so you may not be able to easily add animation, and you can't add a blog to an ecommerce site.
WordPress requires a lot of effort to make sure everything works properly. You aren't guaranteed that every theme and plugin will play nicely with one another, so questionable coding may result in a broken website or elements. You'll have to double-check whether your site is responsive on each page, and if it isn't, you may have to design separately for mobile phones and tablets.
Winner: Small businesses are much better off choosing Weebly to ensure their site works on every device, so they never miss an opportunity and have the peace of mind that their site functions properly.
Weebly vs WordPress: Capabilities
At its core, a Weebly website is a simple, but pretty place on the internet for your business to connect to your audience. Turn it into an online store with a click of a button, and you can easily add products, sell online, and be a full-fledged ecommerce business. If you want to attract more customers, for example, you can find marketing tools in Weebly's 300-plus app store.
WordPress is a bit like a blank slate platform, so a business can create a website that can do anything. To do so, you will need to hire a developer or have some serious coding knowledge already. Through plugins and coding, you can create a website or online store that can do almost anything—but it'll cost you (in money, time, and effort).
Winner: WordPress has a lot more customization possible, but it isn't easy, so you'll likely need to hire a developer to deliver specifically what you want.
Weebly vs WordPress: Customer Support
Ever since Weebly joined forces with Square, its support has migrated to the Square support platform. This means that as a Weebly and Square customer, you'll have access to phone, live chat, and forums for help. Phone support is available 6 a.m. to 6 p.m. Pacific Time on weekdays. The direct support is a big bonus, whether you're creating a website or an online store, in case you get stuck and can't find the answer in the knowledge base.
In stark contrast to Weebly, WordPress has no direct support. The platform is open source and free, so the only support available is through documentation and community forums. WordPress has been around since 2003, though, so whatever question you have has likely been asked before. Your hosting company may have answers too. And if you hire a developer, that person should be able to answer questions.
Winner: Weebly is a better choice for any small business that wants the peace of mind knowing there's a support team available to answer questions.
Frequently Asked Questions (FAQs)
Why is my Weebly site not secure?
Websites need to have secure sockets layer (SSL) certificates, and Weebly includes one for every plan, but you may need to enable it in settings. Platforms like WordPress do not include SSL certificates by default, so you may need to get an SSL certificate yourself.
How much does a website cost?
There are many website builders that offer free plans, but typically these are hosted on subdomains, so you'll have the website builder's branding on your page. Website costs vary depending on whether you use an all-in-one website builder like Weebly or an open-source option, like WordPress. Expect to pay about $12 per month, on the low end, for a professional small business website.
What are the best website builders?
The top website builders include Weebly, Wix, Squarespace, and WordPress, but each one is suitable for different purposes. Weebly is the easiest to use and ideal for professional-looking small business websites, while WordPress is the most customizable, and can be used for any kind of business. Read more about the best website builders.
Bottom Line
In the battle of Weebly vs WordPress, the easy choice is Weebly. Small business websites and online stores (powered by Square) come together easily and quickly. Plus, Weebly is inexpensive and all-inclusive. WordPress is much more flexible and customizable, but you'll end up with additional costs, and it takes more time and effort to create a website or ecommerce site with the website builder.
You Might Also Like…