What Are CRM Analytics: The Simple Guide for Small Businesses
This article is part of a larger series on CRM.
Customer relationship management (CRM) analytics refer to the processing and interpretation of data within CRM systems. It offers valuable, data-driven insights into various areas of a business, including sales performance, revenue forecasts, and customer service—enabling small business owners to make sound decisions, understand customer behavior and increase their satisfaction and retention rate, as well as identify potential business opportunities.
This article discusses how small businesses can benefit from using CRM analytics in more detail. You'll also learn about the must-have analytics tools for tracking sales, service, and marketing campaigns.
CRM Analytics Benefits & Uses
CRM analytics provides users information they won't be able to process simply by looking at raw data. The metrics produced by analytics help businesses improve sales forecasting and take the guesswork out of opportunity identification, which can include pinpointing where most leads come from or which communication channels are most effective.
When aggregated into meaningful reports, CRM analytics help sales professionals increase productivity in the following areas:
Lead conversion rate: Shows the total number or percentage of leads that converted into actual sales, assisting users to project revenues accurately
High ticket opportunities: Identifies which hot leads are most likely to convert into opportunities, prompting sales agents to prioritize those leads
Sales pipelines: Lets users pinpoint stages in their pipeline where opportunities are stuck to assess whether a lead needs closer attention or an indication of low conversion potential
Customer touchpoints: Allows users to see which of their communication channels generate the most leads, such as webforms, websites, social media, email, and call inquiries
Sales agent performance: Identifies which sales agents close the most deals and which industries they perform the best with, so they are assigned responsibilities that match their skills and increase their profitability
Top and least active customers: Enables users to identify their top customers through the revenues that they bring in, allowing them to know which ones to maintain as well as identify which ones are inactive and may need more nurturing
Top and least performing products: Lets users see which products and services bring in the most revenue, guiding sales agents as to which products to offer potential customers
Who CRM Analytics Are Best For
Numerous types of data can be extracted and processed by CRM analytics tools. Below are some of the users who benefit most from it and why.
Business owners: Owners of small to mid-sized businesses can keep track of their overall business' health or identify what aspects of their operations need additional focus. This also applies to solo entrepreneurs or micro-business owners.
Sales agents: Sales representatives can measure their progress toward goals and assigned targets, and plan their follow-up activities based on them.
Sales team managers: Sales managers can assess their entire team and keep track of their sales agents' performance.
Finance professionals: Chief financial officers (CFOs), accountants, bookkeepers, and members of the finance staff can extract helpful reports that show financial health and performance.
Top Must-have CRM Analytics Tools
Most CRMs offer automated analytics tools that efficiently aggregate data into processed reports. This makes information easy to understand, instead of making users sort through spreadsheets of cumulative data. Below are some examples of the most helpful CRM analytics tools business owners should look for when deciding which CRM to use.
Lead & Deal Conversion Tracking Tools
These tools enable users to closely monitor how their lead outreach is translating into closed deals. It allows them to see dips and spikes in lead conversion rate for a specific period of time. This analytical tool also gives users visibility on whether they need to ramp up their efforts in reaching and generating more leads to hit their sales targets.
Lead Source Analysis Features
These features provide users with a view on which of the channels they're utilizing give them the best returns when it comes to sourcing leads—giving them an idea as to which channels they should invest more in with respect to their marketing or advertising spend. Lead source channels could include their website, social media ads, physical events, or Google ads.
Sales Agent Performance Monitoring Tools
These tools allow sales managers to assess and evaluate the overall and individual sales performance of the members of their team. Sales agent performance tools show the leads converted, deals closed, and revenue generated by each sales agent. This lets managers identify top performers and agents who need more coaching.
Forecast Reports
Based on how leads are converting, deals and opportunities coming in, and revenue being generated, sales forecast reports provide users with intelligent and data-based figures on how their business will perform in a certain amount of time. This allows users to plan ahead to ensure that their business stays on track.
Post-sale Tracking Tools
Enables users to nurture existing customer relationships and give more value to the services or products that they purchase, and even personalize their customer experience. Post-sale tracking tools can help identify top customers and spenders, products or services these customers usually purchase, and communication channels that they usually use.
What to Measure With CRM Analytics
To gain the most from CRM analytics, there are two main categories of customer relationship engagement activities users should measure: presales engagement and post-sales engagement. The former measures interactions that take place before the sale, such as follow-up calls and product demos, while the latter measures activities that occur after the sale, like revenue reports or project status.
Presales Engagement
Measuring presales engagement activities help users become better at closing deals because it gives them a way of identifying the activities that resonated with their prospects the most. This includes measuring sales interactions and marketing campaign effectiveness.
These are several presales activities to consider when measuring CRM analytics:
Prospecting: Lets users assess their sales team's ability to identify new leads and fill the front end of the pipeline by measuring things like the number of prospecting calls made, new leads acquired, or cold emails sent during a given period.
New opportunities: The health of a sales pipeline depends on the number of new opportunities added, so a CRM should track associated activities, such as the number of calls made and the number of proposals sent, opened, acted upon, and completed.
Product demos: Allows users to measure the number of product demos by sales rep and the total number of product demos that yield sales to set future goals for their team.
Meetings and calls: Closed deals often occur because of meaningful one-on-one customer interactions with sales agents. Businesses must track activities like the number and length of phone calls, frequency of in-person or online meetings, and post-meeting engagement—such as the number of free trial sign-ups.
Post-sales Engagement
Monitoring post-sales trends is important for improving customer retention and involves measuring interactions and activities that take place after the sale. These include tracking activities like billing patterns, number and types of calls to customer service, and project status.
There is a wide variety of post-sales engagement activities worth tracking, including the following:
Billing: Patterns in customer billing offer valuable insights, such as the likelihood to cancel or keep a product or service based on payment history.
Service tickets: Customers that generate a high number of tickets may be at risk for canceling products and orders. Businesses must monitor the number of tickets a customer files with their service department as this will allow them to take preventive measures to control customer churn rate.
Project management: Tracking overall project status; the status of milestone activities allows sales teams to take actions, preventing project status and timelines from slipping.
Cross-sells and upsells: Monitoring cross-selling and upselling opportunities helps sales professionals plan campaigns based on purchase activity.
CRMs With the Best Analytics Features
Many CRM providers offer analytics features, varying from lead conversion analysis and sales revenue forecasts to agent performance tracking and customer touchpoint monitoring. Below, we chose our top three picks and discussed why we think they have excellent analytics tools.
Zoho CRM
Zoho CRM offers some of the most robust analytics tools in the market—covering various aspects of a business from pre- to post-sales. It lets users visualize sales figures accurately, helping them make data-driven actions.
This CRM enables users to track progress based on specific goals, identify high-quality leads that can bring in more money, analyze sales funnels, and measure advertising and marketing return on investment (ROI). Zoho CRM also has the tools to evaluate consumer behavior that includes identifying top customers and spenders, most bought products, and channels most interacted with.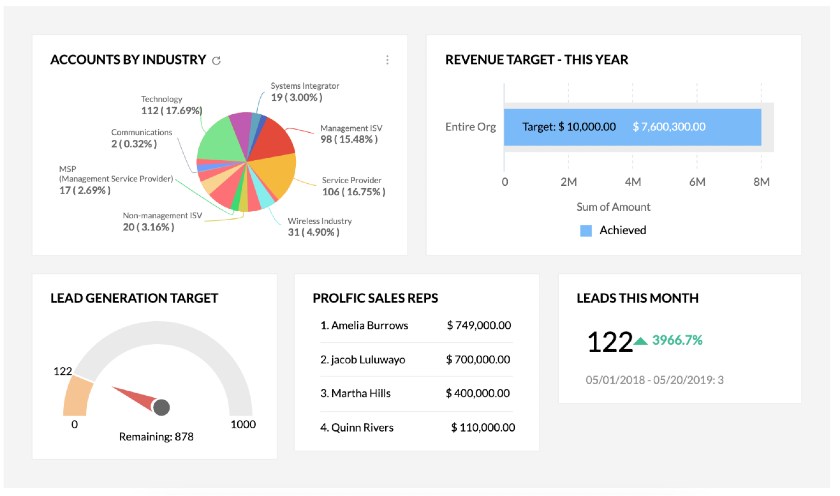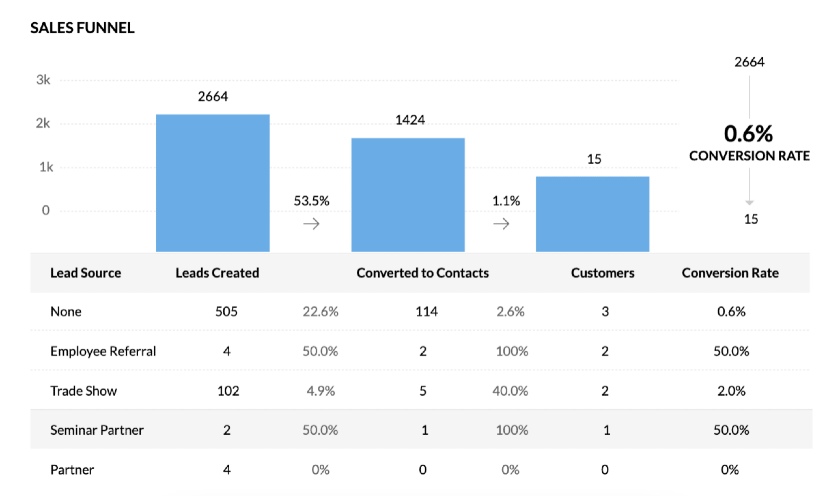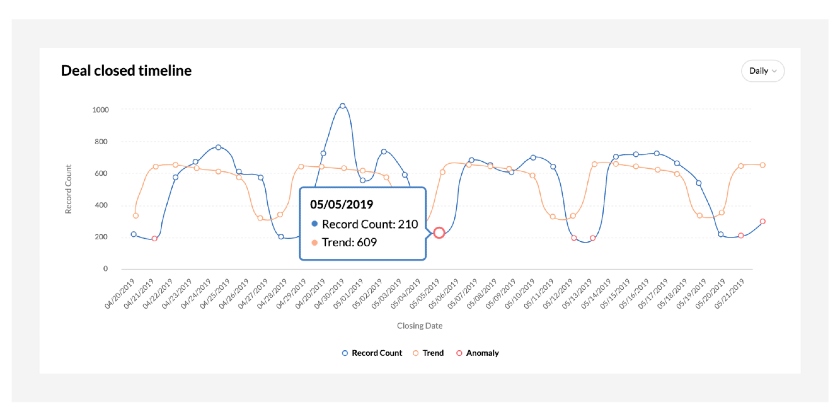 Check out our Zoho CRM review to learn more about the analytics tools of this provider.
Pipedrive
Pipedrive presents easy-to-understand data in customizable reports and interactive dashboards, helping sales teams process data that shows them winning patterns and bottlenecks. Its analytical tools help users analyze deals that show how many opportunities their salespeople win or lose and why and forecast revenues to predict turnover growth.
Pipedrive's activity reporting lets users track custom sales activities, such as emails, calls, or events to see which ones are the most effective in reaching out to customers and repeat patterns that worked.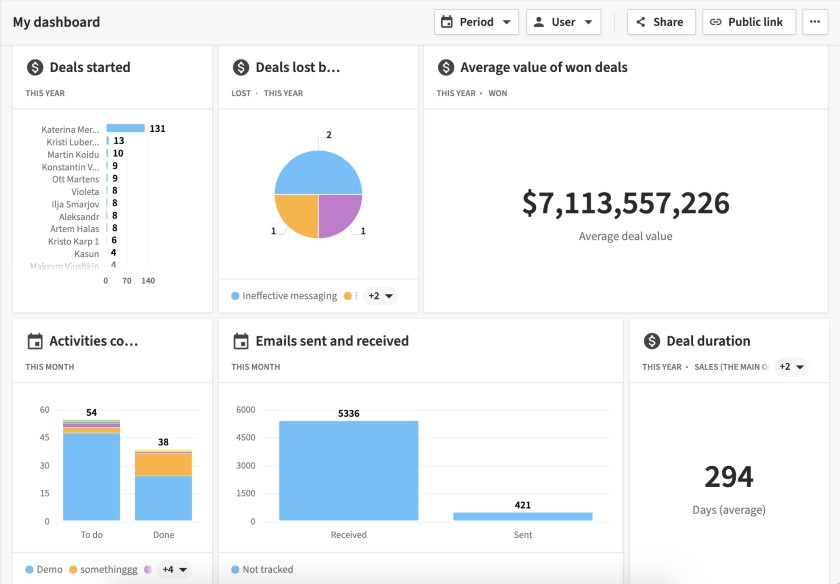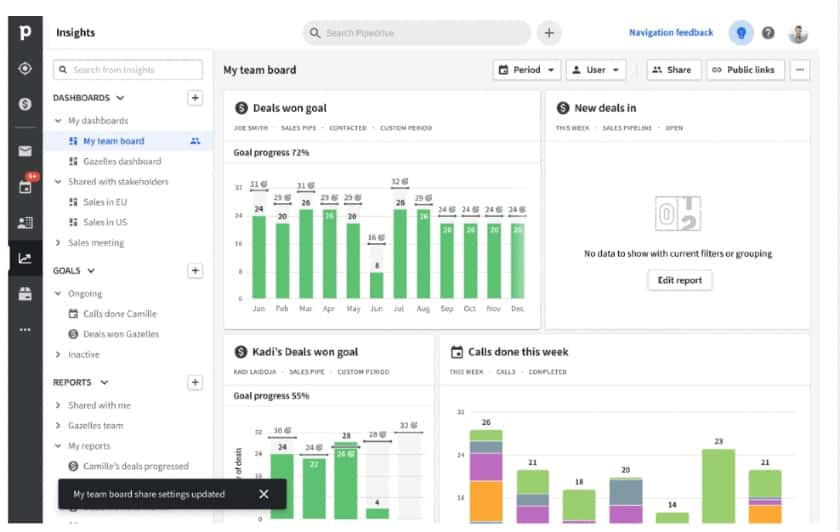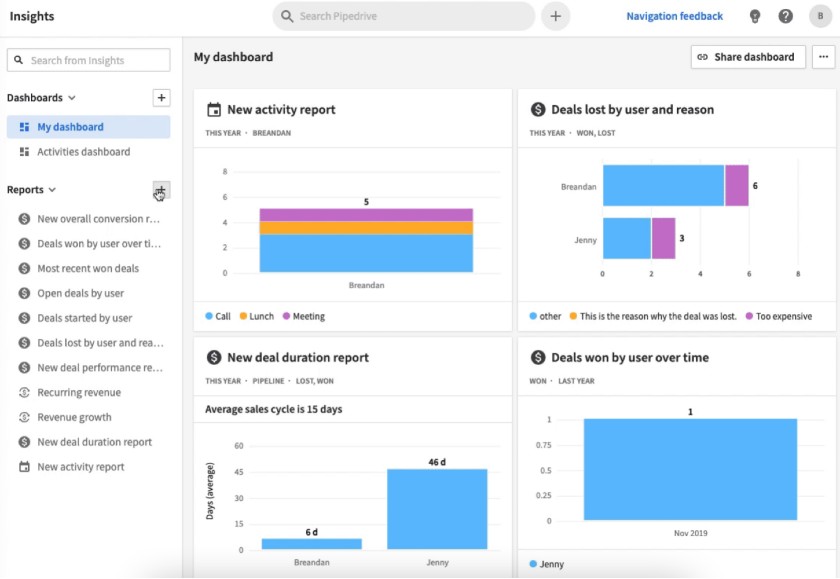 Check out our Pipedrive review to learn more about the analytics tools of this provider.
Freshsales
Freshsales offers users visual reports, allowing them to analyze team performance across geographies and territories. Its analytical reports provide users a look into various areas of their business, including identifying sources that contribute to their growth and tracking their contacts' interaction—attributing every touchpoint toward a conversion.
Data reports also allow sales teams to monitor deals over different periods and see how they convert and evaluate sales trends, as well as analyze win and loss rates to make better strategies.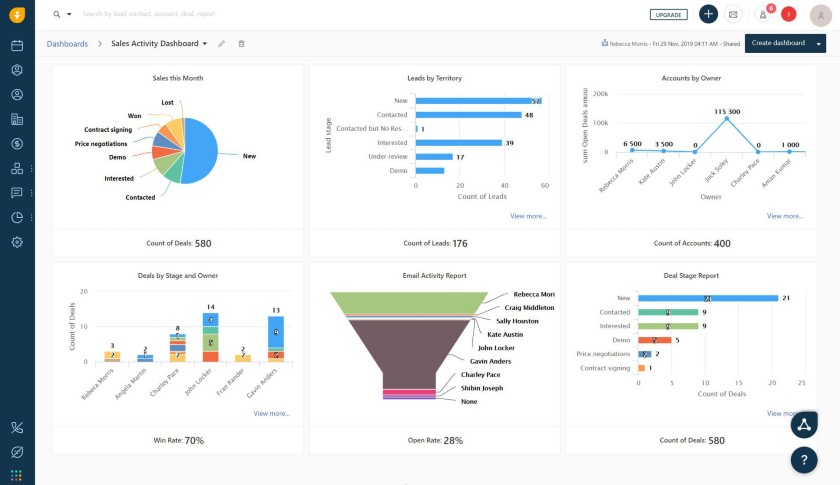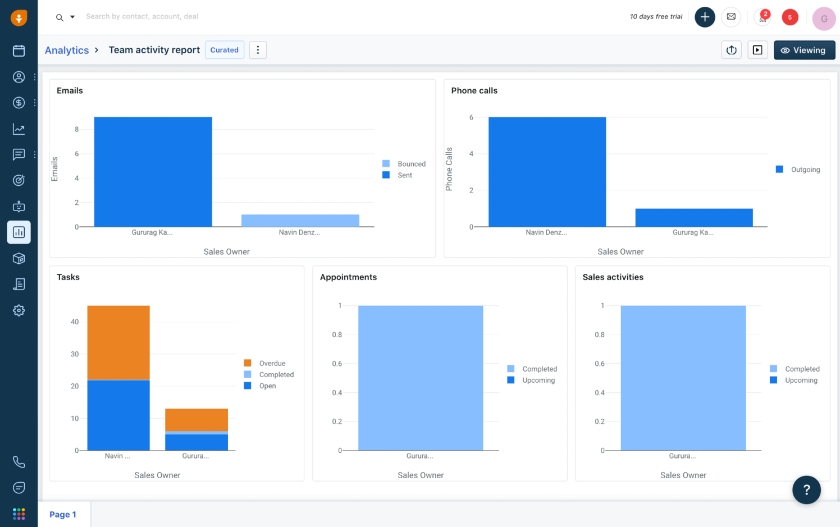 Bottom Line
CRM analytics tools have intelligent processing capabilities to ensure that your business data is processed meaningfully, allowing you to accurately gain insights on business performance. Instead of looking through data manually, CRMs let you process and create them automatically through point-and-click or drag-and-drop functionality, saving time and allowing you to focus on using the information to increase sales and foster positive customer relationships.
When it comes to reporting on CRM analytics, Zoho CRM is a smart choice for small businesses. Its robust reporting features, as well as a comprehensive suite of powerful customer relationship management tools, make it a worthwhile and affordable solution for tracking the performance of your sales team and overall business health.