A ghostwriter creates written content that is published in another person's name. Hiring a ghostwriter is often a good solution for busy professionals who need help creating books, blogs, articles, and business documents. Ghostwriters average $7,000 to $60,000 for full-length books and $25 to $150 per hour for smaller projects.
If you're interested in hiring a ghostwriter for your professional or business needs, then you should check out the writers on Fiverr. Many have considerable experience with a wide variety of writing projects. Visit Fiverr to explore writing services.
What Is a Ghostwriter & What Do Ghostwriters Write?
A ghostwriter is a person who creates all types of writing for others for a negotiated fee. Typically, ghostwriters do not get credit for their work and, in most cases, another person or business entity claims authorship of the finished project.
Ghostwriters are most frequently associated with writing full-length books and, indeed, many ghostwriters specialize exclusively in book writing. Other ghostwriters work on a myriad of projects, including:
Articles
Blog posts
Newsletters
Speeches
Case studies
Scripts
Screenplays
Brochures
Short e-books
Hiring a ghostwriter involves finding a writer who has the experience and skills required to execute your ghostwriting project successfully. It also requires finding someone who can assume the voice, point of view, and overall tone that you want to come through on your finished project.
"A ghostwriter must become you. For ghostwriting to be effective, the writer you employ must get to know you as a person, your industry, and the language you speak. He or she is quite literally representing you, so it's imperative that their written communication is consistent with yours in every aspect."

—Chane Steiner, CEO, Crediful
When and How to Hire Ghostwriters
There are two main reasons that most professionals and businesses hire ghostwriters. The first is that they're simply too busy to write their own content, and their valuable time is best spent elsewhere. The second reason that people hire ghostwriters is that while they have an important story or content to share, their writing skills simply aren't all that polished. Ghostwriters are experts at communicating in crisp, clear, and compelling language.
If you're pressed for time or simply aren't confident in your writing skills, you might want to consider hiring a ghostwriter. You'll find that a ghostwriter can help you convey your story or develop the content you need to be created more quickly and easily—and often better—than you can do on your own.
When hiring a ghostwriter, you'll need to do the following:
Define your project clearly: Decide what you want to be written, why you're creating the project, who'll be reading the finished work, how you want the project written, and establish fundamental ground rules regarding what you want from your ghostwriter.
Conduct a thorough search for a ghostwriter: Explore typical outlets where ghostwriters can be found, including agencies specializing in ghostwriter services, freelance websites, and employment sites.
Evaluate ghostwriter candidates: Review candidates' experience, background, skills, writing portfolio, and interview ghostwriters to assess their fitness for your specific project.
Hire a ghostwriter and create a letter of agreement or contract: Negotiate the full terms of the working arrangement, including cost, deadlines, and project ownership rights, and create a letter of agreement or project contract. Consider using LegalZoom for your contract needs.
Establish a project management and communication plan: Working successfully with a ghostwriter requires being clear about what needs to be done and when it needs to be done, as well as establishing clear communication rules from day one.
Review the ghostwriter's submitted work: The larger the project, the more frequently you'll need to review the ghostwriter's work and request any needed edits or rework.
Hiring a ghostwriter is a fairly straightforward process. The key is taking great care in the search and interviewing stages so you find a great ghostwriter who will deliver what you're looking for in the time and manner you want it delivered.
"The hardest thing about hiring ghostwriters is finding a great one—someone who can turn your brief template into gold. I suggest seeking out and finding 10 quality writers with great examples in your industry. Provide test assignments and eliminate the sub-par responses.
"If you're not blown away by what they write, then they're not worth your money. This process may seem like a big investment upfront, but their writing will represent your business. It's worth taking the time to hire the right person."

—Craig Anderson, Owner, Appliance Analysts
What Ghostwriting Services Cost
Ghostwriting services costs vary for several reasons, including project type, time and effort involved, and the ghostwriter's experience level. For a full-length book, ghostwriter fees range from $7,000 to $60,000. Short e-books typically range from $100 to $2,500. For smaller projects, ghostwriters' fees range from $15 to $150 per hour.
Of course, there are exceptions to these average ghostwriter fees. Highly experienced ghostwriters who develop books for celebrities and high-profile clients often charge well into the six figures for their work. Ghostwriters who are just starting out may charge as little as $3,000 to $5,000 for a full-length book just to get the experience.
If you decide to share credit for the work with your ghostwriter, you may get a discount on your ghostwriting services. While ghostwriters typically don't get credit for their work, some are willing to offer a 10% to 20% discount on projects where their names are prominently featured along with the project owner.
Here are a few more examples of what you'll pay for different types of ghostwriting services:
Blogs: If you decide to use a ghostwriter for blogs and articles, expect to pay between 10 cents to 40 cents per word for a quality ghostwriter. Some writers charge by the project, but their rates are often still linked to project length.
Speechwriting: Seasoned speechwriters typically charge between 50 cents and $1.25 per word to write a speech.
Magazine articles: If you want to outsource a magazine article to a ghostwriter, expect to pay from 75 cents to $1.25 per word for an experienced writer.
Newsletters: You can usually hire ghostwriters for your newsletter from 10 cents to 30 cents per word. If the newsletter topic is highly technical or specialized, expect to pay up to 50% more.
The best advice for those thinking of hiring a ghostwriter is to make sure you don't confuse the price you pay with the quality you receive. Some high-quality ghostwriters charge less than others, and so it's essential to do your homework in vetting ghostwriters for your projects.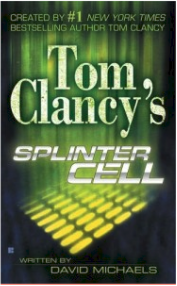 Splinter Cell is a Tom Clancy book that was written by a ghostwriter, Raymond Benson
(David Michaels is a pseudonym used throughout this book series)
Where to Find Ghostwriters to Hire
One of the best ways to find a ghostwriter for your projects is through your professional network. If others whom you respect have hired and recommend a ghostwriter to you, heed their advice and do your homework to find out if the recommended writer would be a good fit for you.
You don't have to rely solely on your network to find a good ghostwriter, however. There are many online sources for hiring a ghostwriter.
Ghostwriting Service Providers
There are a handful of agencies and online networks that specialize in ghostwriting services. These companies not only provide writing services, but many can also help you with book design, layout, copyediting, proofreading, publishing, and some will even create an author website for you.
Here are a few ghostwriting service providers that you might want to explore:
Paramount Ghostwriters: Ghostwriting services with Paramount range from $25,000 to $45,000 for 200- to 350-page books.
Ghostwriter Experts: This site specializes in providing ghostwriting services for smaller projects, such as brochures, video scripts, press releases, case studies, and magazine articles. Pricing is done on a project basis, so you need to visit the website to receive a quote on your project.
We Ghostwrite Books (WGB): You can have WGB write a 125-page book for you for $11,900, a 175-page book for $15,900, or a 250-page book for $17,900. It also offers complete book publishing services for $2,900.
Find Ghostwriters on Writer Job Boards
Another way to find a ghostwriter is to visit online writer's sites and boards where freelance writers go to find work. Since writers regularly visit these boards, you may find an excellent ghostwriter for your project through these writer-focused channels.
Here are a few of the most popular writer sites:
The Problogger job board: As the name suggests, writers who frequent this board specialize in writing blogs, though you can also post larger writing projects on this board. You can post a job on Problogger for 30 days for $70.
Writers Weekly: You can post your ghostwriting and other writing jobs on this website for free.
Journalism Jobs: Many people prefer to hire a professional journalist to be their ghostwriter. Post your ghostwriting job on this site for 35 days for $100 and get full access to their resume database.
Freelance Writing Jobs (FWJ): Post your ghostwriting job on FWJ for 30 days for $30.
Writers Work: You can post a ghostwriting job on Writers Work for free, and then writers respond with proposals for working on your project. You can also search the writer's marketplace to find a ghostwriter. Writers fees range from $35 to $8,000 and up.
Reedsy: This site connects you to all types of writing freelancers, including ghostwriters, for free. Review the writers' pages and then submit a quote request to anyone you feel might be a good fit. This site features extremely accomplished writers, so expect to pay well into the thousands for your book projects.
Find Ghostwriters on Freelance Websites
The best websites for hiring freelancers are also great sites for hiring ghostwriters. When searching for ghostwriters on freelance sites, be sure to go the extra mile to ensure the ghostwriter you hire has the skills, experience, and work ethic required to complete your project to your satisfaction.
Here are the most popular freelance sites:
Upwork: Post up to three jobs on Upwork for free. You will pay a 3% processing fee on any projects that freelancers work on for you. You can state a budget in your project description, so you are in total control of what you pay your ghostwriter.
Freelancer: You can post a ghostwriter job on Freelancer for free and name the fee you're willing to pay your ghostwriter. You'll pay a fee of 3% or $3, whichever is greater, for fixed-priced projects on Freelancer and 3% on hourly projects.
Fiverr: You can submit a free service request form on Fiverr that details your ghostwriting project needs and set your own budget. You can also find a ghostwriter by searching Fiverr's freelance services board, where fees are posted and can range from $5 into the hundreds, depending on the project. You'll pay a 5% to 10% service fee on all orders.
Recruit Ghostwriters Using Job Search Sites
The larger the project you're working on, the wider you need to cast your net to find the right ghostwriter for you. If you're not finding the perfect ghostwriter through the channels already mentioned, you may want to advertise your ghostwriter position in the same way you would advertise other jobs.
Here are the top general websites for posting jobs online:
Indeed: You can post a freelance ghostwriting job on Indeed for free. Indeed has a pay-for-performance job-posting model, which means you only pay when people click on your job ad. Average fees range from 10 cents to $5 per click. Sponsored ads are available for as low as $5 per day.
ZipRecruiter: You can post a ghostwriter job on ZipRecruiter, and your job automatically posts to more than 100 job boards. Since plans start at $249, you might only want to use this source if you have multiple project needs or an extensive project that merits the posting fee.
Glassdoor: A one-time posting on this general job site costs from $64.90 to $249, depending on the package you select.
LinkedIn: You can post your job on the LinkedIn job board, but a better way to find your ghostwriter is to enter "ghostwriter" in the LinkedIn search bar. You'll find dozens of results for individuals and companies that provide ghostwriting services.
Posting ghostwriter positions on online job search sites isn't the best way to find ghostwriters for small projects. It can be a smart strategy to extend your ghostwriter search reach, though, which may be vital if you plan on investing thousands in ghostwriting services.
"My best advice for hiring a ghostwriter is for you to be as specific as possible with your request—for example, a minimum number of words, voice and tone, and so on—and to ask for samples. My past bad experiences with ghostwriters stemmed from them not meeting my expectations, and this could have been uncovered early in the process if I had asked for samples and expressed the specific requirements needed."

—Jenn Leach, Owner, Master Her Money
What a Ghostwriter Does for You
A ghostwriter can perform many tasks for you, and how much they do depends mostly on what you agree to when hiring a ghostwriter. Some project owners prefer to give minimal details to their ghostwriters and let the ghostwriters take full charge of project details, including organization, research, and writing. Other project owners remain more involved in the writing project every step of development, from initial concept through final edits.
The services that a ghostwriter will perform for you are first outlined in the project proposal. Then, when drafting your letter of agreement or contract, you'll outline all expected tasks, deadlines, and other stipulations for the work. If you need help with the legal aspects of working with a ghostwriter, including drafting a contract or a confidentiality or nondisclosure agreement, consider working with LegalZoom.
Develop the Ghostwriting Project Proposal
If you hired your ghostwriter through a freelance channel, you might have drafted the ghostwriting proposal yourself, wherein you outlined your full expectations for the project. If you are hiring your ghostwriter through other means, it is common to request that ghostwriters who are applying for the work develop a custom ghostwriting project proposal for you. You can learn a lot about a ghostwriter by how thorough they are at developing a proposal.
Here are key elements you should expect in a ghostwriting project proposal:
Statement of work: This is a descriptive statement clarifying what the project is.
Fees: The ghostwriter should propose a project fee, or if multiple service options are suggested, fees related to each service proposed.
Scope of work: This is a detailed accounting of the specific work the ghostwriter agrees to perform, from creating an outline to completing a final draft.
Method of conducting the work: This section of the proposal details how the ghostwriter intends to collect the required information to complete the project. Proposed research methodologies and planned interviews are typically included here.
Recommended timelines: Ghostwriters needs to state the anticipated amount of time required to complete the work as well as their availability to conduct the work.
How revisions will be handled: In the project proposal, a ghostwriter should specify how revisions and edits will be handled. If there is a cap on the number of revisions, that needs to be stated clearly.
Project ownership: The ghostwriter needs to state that they agree to turn over full rights to the project to you.
If agreed to, all of the above elements will become part of the contract or the letter of agreement for the project, where you establish fees and expectations for the work
The final steps of hiring a ghostwriter are all about assessing their fitness for your position. Be sure to ask for copies of their past work as well as references. If your ghostwriter will be working on a long project, such as a full-length book, it is common to have them write a sample chapter. You'll want to review any test projects or work thoroughly before moving forward with the rest of the project.
Pros and Cons of Hiring a Ghostwriter
There are both pros and cons to hiring a ghostwriter. You'll be able to get your writing projects completed by a professional with exceptional writing skills, which is the biggest pro. Top cons to hiring a ghostwriter are that finding the right person for your project can be hard, and managing a ghostwriter through a long, complicated project can be quite challenging, too.
Pros of Hiring a Ghostwriter
People hire ghostwriters for many different projects and reasons. There are numerous upsides to hiring a ghostwriter.
Here are the top benefits of hiring a ghostwriter:
Build your professional reputation quickly: Because you're getting credit for the work instead of the ghostwriter, you can quickly build your credibility as an expert.
Better quality writing: Ghostwriters deliver high-quality writing, and if you're not a strong writer, that can be a significant advantage for you.
You save time: Writing projects often consume a lot of time, time that could be better spent elsewhere.
You get more done: Because your ghostwriter is doing the writing work for you, you can get more done by focusing on other pressing needs.
When you find a quality ghostwriter, you've struck gold. Be sure to keep the communication lines open between you and your ghostwriter so that the work that's produced continues to meet the high-quality standards that will make you proud to attach your name to the project.
Cons of Hiring a Ghostwriter
You must understand the downsides of hiring a ghostwriter. Not all ghostwriters are equal, and some bring an extremely different work ethic and skillsets to the table that can cost in terms of time, money, and frustration.
The key cons of hiring a ghostwriter include:
Wrong voice: If you want your ghostwriter to be able to pick up on your tone and voice, you may be disappointed. Not all ghostwriters are good at this task
Subpar or inadequate content: Ghostwriters aren't mind readers. If they're not sufficiently prepared or adequately skilled enough for the task, their final results may fall short of your expectations.
Managing a ghostwriter can be time-consuming: A ghostwriter may save some time since they're doing the writing for you, but you might devote more time coaching them than you anticipated.
Ghostwriters can be expensive: While there are budget-friendly ghostwriters around, the outstanding ones charge a lot of money.
The best way to avoid the downsides of hiring a ghostwriter that doesn't measure up is to do a thorough job of vetting ghostwriters in the hiring process. Extra time spent upfront could save you lots of time and aggravation throughout the project.
Alternatives to Hiring a Ghostwriter
At first glance, it may seem that the only alternative to hiring a ghostwriter is to do all the work yourself. That's not true—you have two options that can help you get your writing projects done without all the work falling on your shoulders. The first option is to hire out the research, and the second is to work collaboratively with another expert.
You Write But You Hire Out the Research
Most writing projects require a lot of research. The longer or more complex the project, the more research that's involved. Instead of hiring a ghostwriter to do the entire project, you could hire a person to research your writing project. You will need to direct your researcher on the types of things you're looking for, but it could save you a lot of time in the long run.
Work Collaboratively With Another Expert
In hiring a ghostwriter, you give some direction to your writer, but you typically turn over the wheel and let your ghostwriter drive much of the project. While that often works great, sometimes your writing projects could veer off course because you're not there to direct project development every step of the way.
Instead of giving the keys for the project to a writer who may or may not have in-depth knowledge in the area they're writing about, you can choose to work with another expert. Working collaboratively with another expert has many advantages. You'll both get credit for the work, you'll lighten your load because you don't have to do everything yourself, and you could end up finishing more quickly than had you set out to write the entire project on your own.
Frequently Asked Questions (FAQs) About What Is a Ghostwriter
You asked, "what is a ghostwriter," and you now have a strong foundation about what a ghostwriter is and what ghostwriters do. Still, you may have more questions that you'd like to ask about hiring a ghostwriter. Below are the top questions we hear about ghostwriters.
What is a ghostwriter going to need from me?
Ghostwriters need to be prepped fully on what you want for the project and the specific actions you want them to take. Give them background information, timelines, and a thorough project description, including your target audience and what the results need to look like. Also, be clear about who'll do the required research for the project.
How do I find a ghostwriter?
You can find ghostwriters through your personal network, ghostwriting agencies, writer job boards and forums, and general freelancer sites. You can also post ghostwriting jobs on traditional online job search channels, such as Indeed.
What is a ghostwriter used for?
Most people associate ghostwriters with writing books, and many are book writers. You can also hire a ghostwriter for other types of work, such as blogs, magazine articles, case studies, scripts, speeches, screenplays, and newsletters.
Do I need a legal contract with my ghostwriter?
At a minimum, you'll need a letter of agreement with your ghostwriter, outlining full expectations for the project. You may also need a nondisclosure agreement and ownership rights agreement. For full-length books and large-scope projects, a contract is a good idea. If you need help with creating a ghostwriter contract, contact LegalZoom.
Bottom Line
While it can take time to hire a ghostwriter who is a perfect match for your projects, using a ghostwriter has many advantages over doing the work yourself. You save time and get more done because you've outsourced your writing work. You also end up with a polished, professionally written project.
If you need to find ghostwriters that can help you with your pressing needs, consider Fiverr. Writing professionals on Fiverr can help you with a full range of business projects, including blogs, case studies, research, scripts, speeches, website content, technical writing, press releases, and sales copy. Visit Fiverr to learn more.