P Cards, also known as purchasing cards, are charge cards and you'll pay no interest because the balance is due in full monthly. Businesses can buy goods and services with the card instead of using checks or automated clearing house (ACH) transactions. Businesses benefit from paying no interest and may benefit from early payment discounts on accounts receivable.
If you're looking for a P Card alternative and still want to control company spending, consider a prepaid card from a provider like Bento for Business. Bento provides inexpensive business prepaid, which can help manage business and employee purchases through one easy to use account portal.
What Is a P Card?
A purchasing card is a type of commercial card, similar to a corporate card, that companies can use to facilitate business-to-business (B2B)  purchases of goods and services. As with other commercial cards, a P Card is a charge card, and you'll need to pay the balance in full every month. This means there is no annual percentage rate (APR), and you won't pay interest on your purchases.
Who a P Card Is Right For
A purchasing card is best for business owners looking to issue employee cards to purchase goods and services instead of using other payment methods, such as checks or ACH transactions. This type of company card is an excellent option if your small or growing business is looking to simplify their purchasing process and streamline expense reporting.
Purchasing cards are right for:
Businesses wanting to streamline their payment process: Organizations looking to simplify and manage their B2B purchases can benefit from a P Card; these types of purchases include office equipment, supplies, and any technology hardware or software
Growing businesses: A purchasing card is recommended for companies with traditional purchasing processes, at least $4 million in annual revenue, and additional growing business needs; it is specifically ideal for growing businesses that want to cut costs and have efficient B2B transactions
Companies want to earn early pay discounts: If your suppliers or service providers accept credit cards, you may be able to pay your accounts receivables early using your purchasing card and get the benefit of any early pay discounts they might offer
We interviewed Terri Brustad, CPCP, NAPCP's manager of content services, which is a professional association founded in 1999 committed to advancing commercial card and payment practices worldwide, who said:
"P Cards were first developed for the United States federal government's General Services Administration in the 1980s. Since then, they have grown to being widely used in all sizes of private and public sector organizations. In other words, organizations that range from a few employees to a Fortune 500 company see the value and have implemented the product."
Much like a prepaid business card, purchasing cards give you the opportunity to take control of your company spending. If a purchasing card doesn't seem like a good fit for your business, consider a business prepaid card that also allows you to control employee spending.
How a P Card Works
Purchasing cards or ghost cards are typically given to employees, who are then able to use their card to purchase goods and services. Once the employee has his or her card, he or she makes a purchase on demand or by an invoice from the supplier or service provider. That supplier or service provider reports the transactions to the purchasing card provider, the same way with any credit card transaction.
You will receive your bill at the frequency you've agreed on with your provider, which is typically every 15 or 30 days. Based on your agreement with the card provider, this bill is either paid automatically in full by the provider withdrawing funds from a connected checking account, or you pay the balance in full manually.
Your business can either input the transactions into your accounting system manually or are automatically entered, depending on the services your P Card provider offers. Some providers have systems that connect to your accounting system to automate this process. Then, the process starts over.
The P Card Process at a Glance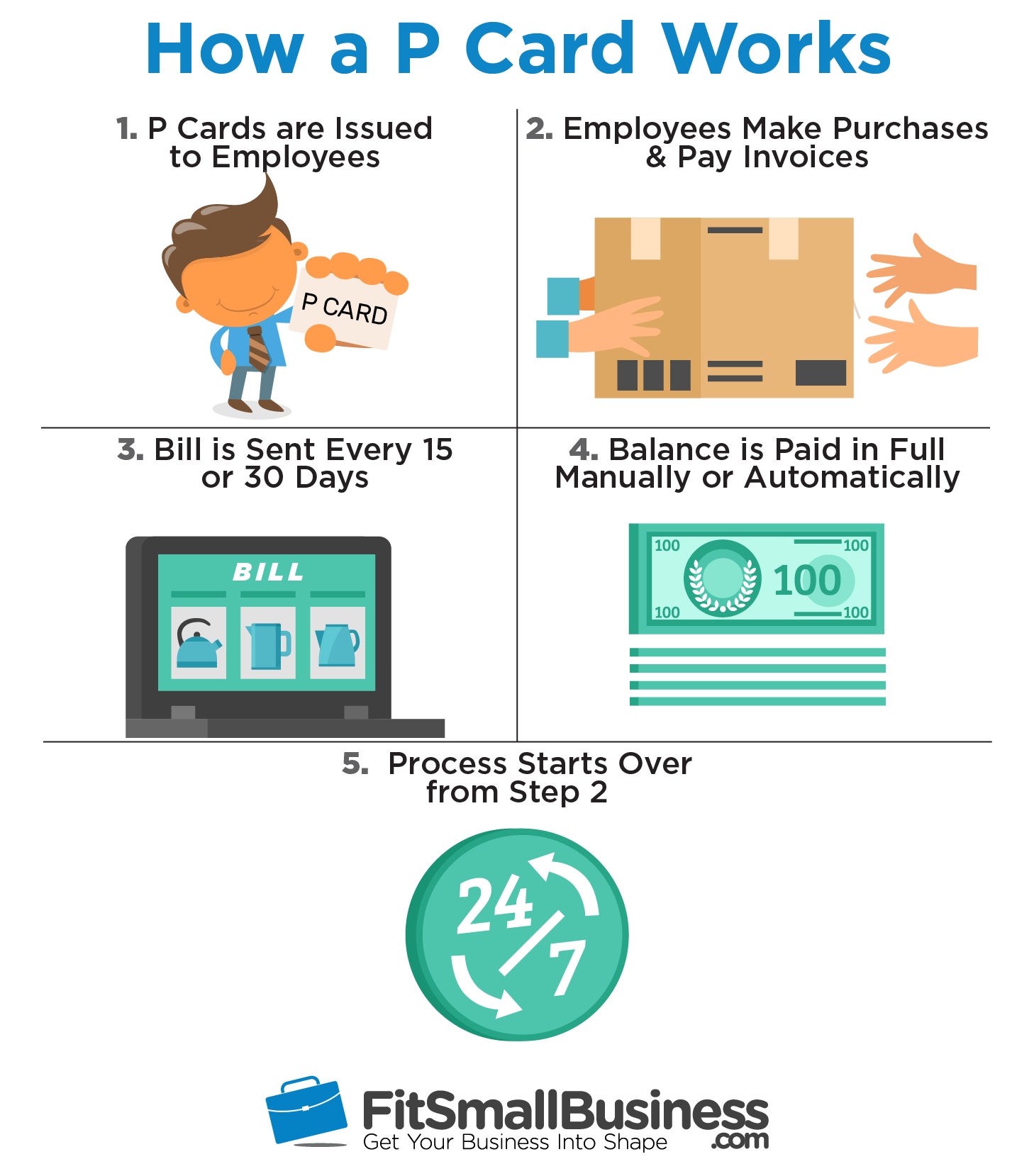 P Card Costs
Purchasing cards don't carry interest rates or have an APR because you're expected to pay the outstanding balance in full at the end of every month. Any unpaid balances will be hit with a monthly late fee up to $40. Although, card providers may require automatic payments or could terminate your purchasing card if late payments happen too often. Most card issuers don't charge for purchasing cards, so that businesses can expect no annual fees.
The fees that you can expect with a P Card are:
APR: None
Annual fee: None
Late fee: $0 to $40
A purchasing card program should be seen as a privilege, which can be taken away from irresponsible use. If your business usually pays late and collects several late fees, your purchasing card has the potential to be canceled.
P Card Repayment Terms
Similar to a company charge card, purchasing cards don't have any APRs or allow for balances to be carried over to the next billing cycle. The business owner or account holder is expected to pay the account's balance in full every month. Any unpaid balances that are unpaid will be charged a late fee. If your habitually late, then your provider might require you to set up automatic payments or could terminate the card agreement.
For this reason, a purchasing card is not ideal if you know you won't be able to pay your statement balance in full. If you know you'll need to leave a balance on your card, it's worth considering a small business credit card that offers a 0% APR introductory period.
P Card Qualifications
Typically, purchasing card providers have qualifications that vary for each specific business. Some of the most common qualifications you can expect include spend requirements, level of liquidity, business and personal credit score, and your level of cash flow coverage.
The qualifications for purchasing cards are:
Spending requirements: Some card providers require a minimum amount of monthly or annual spending before they allow you to get a purchasing card; if your business has a very low spend amount, then a small business credit card is a better alternative
Business credit score: It's always a good rule of thumb to maintain a good business credit score with each credit reporting bureaus; the four bureaus and what's considered a good score are Dun & Bradstreet (80 or higher), Experian (76 or higher), Equifax (90 or higher) and FICO SBSS (140 or higher)
Personal credit score: Some card provider will check the business owners' personal credit score and require a score of 640 or higher
Level of cash flow coverage: Card providers will generally evaluate your level of cash flow coverage to determine if you can repay your debt obligations with your operating cash flow. This should be at least 1.25 times your debt service coverage ratio (DSCR).
In addition to these common qualifications, purchase card providers will likely evaluate the financial condition of your business. They want to see that it was profitable both currently and in the past couple of years.
P Card Providers
Purchasing card providers may offer expense management software, benefits like revenue sharing, and typically have no annual fees. These cards are generally a good choice for any business looking to streamline their payment process.
Some common purchasing cards are:
Business owners generally can't apply for a purchasing card online. Instead, card issuers usually ask that owners or potential account holders fill out an online contact form or call to speak with a banking representative. To find the card that's best for your business, we recommend using guides that evaluate multiple cards like our purchasing card buyer's guide.
Note: The information related to the JPMorgan Chase Purchasing Card has been collected by fitsmallbusiness.com and has not been reviewed or provided by the issuer of this card.
What the Benefits of a P Card Are
There are a handful of benefits businesses and organizations can receive from the use of purchasing cards. The three most common benefits are discounts and rebates, potential revenue sharing, and software to help with expense reimbursement. These benefits can help businesses simplify their purchasing process and make it more efficient.
The major benefits of a purchasing card are:
Early pay discounts are possible: Sometimes, you can earn discounts by using cards for accounts receivable and making early payments; for example, you might be able to negotiate an early payment discount, such as 2/10, net 30, which means your supplier will discount your invoice by 2% if you make the payment in 10 days instead of 30
Revenue sharing may offset costs: Often, P Card programs offer revenue sharing to businesses and organizations, which means that the P Card provider will give you a set percentage of the revenue they earn from credit card exchange fees as rebate; this can more than offset any cost associated with the card and grow your company's earnings
Expense reimbursement software is often included: Some providers include software for expense reimbursement; these software programs help simplify expense reporting, saving you lots of time; they are often mapped to your account software, eliminating the need for your accounts payable team to make manual entries
Additional spending controls: Purchasing cards provide business owners with additional spending controls, such as managing employee and business purchases through a portal and setting limits on spending amounts and spending categories; you can also issue employee cards and lock or unlock their individual cards
To benefit from a purchasing card, businesses and organizations need to understand what it takes to implement a purchasing card program. Through five different focus point, you can roll out a successful purchasing card program for your business.
What It Takes to Implement a P Card Program
To implement a successful purchasing card program, it's a good idea to get all those who are going to be involved in the process involved. This can help make sure you set it up properly from its beginning. For example, some people who should be involved are your accounts payable staff, employees who will be using a card, and any managers who are going to approve expenses.
Similar to a corporate credit card policy, it's important to set expectations and come to an agreement on how the employees should use their cards. Some common expectations would include spending limits, suppliers where the cards can be used, and what they can be used to purchase.
What It Takes to Implement a Large P Card Program
Implementing a small P Card program is relatively easy. However, there are additional steps you can take to implement a large purchasing card program for your business. This includes creating a business case, developing your purchase card program model, piloting the P Card program within your company, and submitting a request for proposal (RFP) to potential P Card providers.
The four key steps you should take to implement a large purchasing card program are:
Create a business case: This should layout the roadmap for the purchasing card program. The business case should include anticipated savings and benefits, any potential roadblocks, mitigating risks, identify the business needs, and make a recommendation.
Develop the P Card program model: This is a higher level step that should identify any goals and target transactions, define different roles and responsibilities, decide on program requirements, and design the control environment.
Pilot the P Card program: Testing the program your business team comes up with is important to make sure that it'll be successful moving forward. This pilot can help reveal any gaps or issues that need to be fixed before rolling out your program
Submit a request for proposal (RFP) to potential P Card providers: Businesses can use an RFP to help select their P Card issuer. This can help potential new account holders find a card that works for their business' or organization's needs.
To execute a strong and beneficial purchasing card program, it's important to take note of all these different steps and factors. By following these steps, you'll help ensure the successful implementation of your new P Card program.
Pros & Cons of a P Card
Purchasing cards provide businesses and organizations with the opportunity to procure goods and services without using normal payment methods including checks or ACH transactions. They're especially good for controlling company spending, earning purchase discounts, and making the process efficient. However, without solid policies in place, a purchasing card can sometimes be misused.
Pros of a P Card
The positives of a P Card are:
Control company spending: Account holders can set restrictions for every cardholder including single-transaction limits or monthly limits; they can also have set vendors where the cardholder can use their card
Earn purchase discounts: You can offset costs or add to your earnings by taking advantage of early payment discounts and possibly earning rebates; if one of your service providers and suppliers doesn't, you can reach out to them and ask to negotiate an early pay discount
Convenience for employees: Employees don't need to get reimbursed for spending personal funds; with the use of software that some card issuers provide, receipts can also be uploaded immediately to help track spending
Cons of a P Card
The negatives of a P Card are:
Balances are required to be paid in full: Similar to a charge card, a purchasing cards outstanding balance is expected to be paid in full every month; this means you can't carry any balance to the next billing period; if you do, you will be hit with a late fee; if you need to carry a balance, a 0% small business credit card would be a better choice
Possible card fraud and misuse: Purchasing cards are just about as easy to use for business purposes as they are for personal expenses; this could cause misuse by cardholders if they don't understand how their cards are supposed to be used
Requires successful policy development: A good purchasing card program must be outlined by an even better policy structure. The downside to this is that they take time to develop and will come with roadblocks that need to be fixed
The pros and cons of purchasing cards don't have to be a challenge to your program. With excellent monitoring and communication of the program policies, your business can avoid them in the future.
Alternatives to a P Card
Purchasing cards help business owners simplify and streamline the traditional B2B purchasing process. However, if your business needs revolving credit or a card with fewer purchase restrictions, it may be best to consider an alternative. Some common alternatives include a small business credit card, prepaid business card, corporate credit card, and a secured business credit card.
Small Business Credit Card
Compared to a purchasing card, a small business credit card is a great method of financing for businesses that may not have much revenue but need access to capital. Some credit cards on the market like the Chase Ink Business CashSM, offer cash back rewards, no annual fees, and low introductory and ongoing APRs. To get a business credit card, we recommend having a personal credit score of 670 or higher. Choose a business credit card that offers rewards and perks you want to receive.
Prepaid Business Card
Prepaid business cards are a great alternative to purchasing cards and petty cash because they offer similar features when it comes to controlling company spending. Prepaid cards like Bento for Business gives account holders the opportunity to preload funds onto employee cards and set their spend limits. Prepaid business cards also tend to have much lower qualifications than a regular credit card.
Corporate Credit Card
A corporate credit card is best used for quickly growing business that are experiencing $4 million in annual revenue, good business credit, at least 15 cardholders, and expected annual credit card expenses of $250,000 or more. It's common for a corporate card to have lower fees, cash rebates, and sometimes no personal liability requirements.
Secured Business Credit Card
Secured business credit cards are best for business owners who don't meet the qualifications of a normal business credit card or purchasing card. Some secured business card providers offer financing to business owners with personal credit scores below 640. This is a great financing option to build your business and personal credit.
P Card vs Small Business Credit Card: How They Are Different
There are a handful of differences when comparing a purchasing and small business credit card. These differences typically vary for each specific card, but the most common include the APR, repayment terms, various discounts or rewards, and spending restrictions.
The major features of a purchasing card and a business credit card are:
| Major Features of a Purchasing Card | Major Features of a Business Credit Card |
| --- | --- |
| No regular APR | APR between 14%-25% |
| Balance must be paid in full monthly | Unpaid balances accrue interest charges |
| Possible pay early discounts | Some card have up to 5% cash back |
| Account holder can set spending restrictions | Can be used at any location that accepts card |
Frequently Asked Questions About a P Card
We covered a lot of information on purchasing cards and how they work. There are some questions that are asked more often than others, and we address those here. If you have any other questions, feel free to comment below and we will provide an answer.
The most frequently asked questions about purchasing cards are:
What Is the Difference Between a Purchasing Card & Corporate Card?
Purchasing cards are meant to make B2Bs purchases while corporate cards are meant to make any other type of business purchases, such as travel, meals, and entertainment. Both fall under the umbrella of a commercial card and are types of charge cards. If you do obtain a corporate card, it's important to set a corporate credit card policy.
How Do P Cards Work?
P Cards let businesses issue employees cards for business-to-business purchases on behalf of the company. Purchasing cards allow goods and services to be paid for with a card instead of using traditional methods like checks or ACH transactions. The business is liable for paying off the full balance every month.
Does Square Accept P Cards?
P Cards carry a major credit card label like Visa, Mastercard, and American Express. Square specifically accepts these credit card brands. Although purchasing cards are generally used for B2B purchases, they still function the same as a regular credit card and can be used at any service providers and suppliers that accept cards.
The Bottom Line
If you're looking to save money on the traditional purchase process for goods and services, a purchasing card would be an excellent option for your business. Giving you expense management tools and the ability to set purchase restrictions, you can save time and money on your purchase orders.
If you're looking to control employee spending instead of setting up a purchasing card program, consider a prepaid card like Bento for Business. Bento is an affordable option for small business owners that offers your two first cards for free.