An exchange traded fund (ETF) is a type of fund that pools together individual stocks, bonds, and other securities. ETFs allow investors to diversify their investments much more cost-effectively than trading individual stocks and bonds. Investors can also trade ETFs anytime during the day, so they're ideal for investors who want short-term gains.
What an ETF Is
An ETF is an open-end investment fund that's registered with the SEC to sell shares to individual investors—just like a mutual fund. However, unlike mutual funds, ETFs don't issue new shares directly to individual investors. Instead, investors trade shares in ETFs on exchanges just like individual stocks.
ETF shares are created when certain authorized financial institutions—called "authorized participants"—exchange certain stocks, bonds, and commodities for new ETF shares. These shares can then be traded by individual investors on the open market.
ETFs hold diversified baskets of stocks, bonds, and other investments, which gives investors a high degree of diversification, similar to mutual funds. The biggest advantages of ETFs are that they typically have lower costs than mutual funds and that they can be traded quickly throughout the day, allowing investors to profit from short-term gains.
Types of ETFs
Within the world of ETFs, there are many different types of funds. However, there are four main types of ETFs that most investors should know. These ETFs each have different objectives and contain underlying investments that are focused in certain areas in order to pursue their objectives for investors.
The four main types of ETFs are:
Stock ETFs – Funds that focus on stocks for investors who want to own equities that should appreciate as a company continues to grow.
Bond ETFs – ETFs that focus on bonds and other fixed income investments for investors focused on income rather than growth.
Leveraged ETFs – Funds that use debt to generate higher returns for investors willing to accept greater risk.
Indexed ETFs – Some ETFs are structured with portfolios that mimic popular indices for investors who want to track the Dow Jones Industrial Average or the S&P 500.
"Leveraged ETFs and ETNs are dangerous. Earlier this year, a day after the CBOE Volatility Index (VIX) saw its largest one-day increase ever―115.6%―Credit Suisse announced it would be closing its popular inverse VIX ETN. The Velocity Shares Daily Inverse VIX Short ETN (XIV), which had billions in assets at one point, lost 96.3% of its value on a single day, prompting its issuer to redeem the notes early and close the fund."

– Robert R. Johnson, PhD, CFA, CAIA, Professor of Finance, Heider College of Business, Creighton University
These are the four main types of ETFs used by most investors. If you think you may want to invest in other specialty funds, including currency, commodity, or real estate ETFs, be sure to contact one of the providers in our Top ETF Providers section below.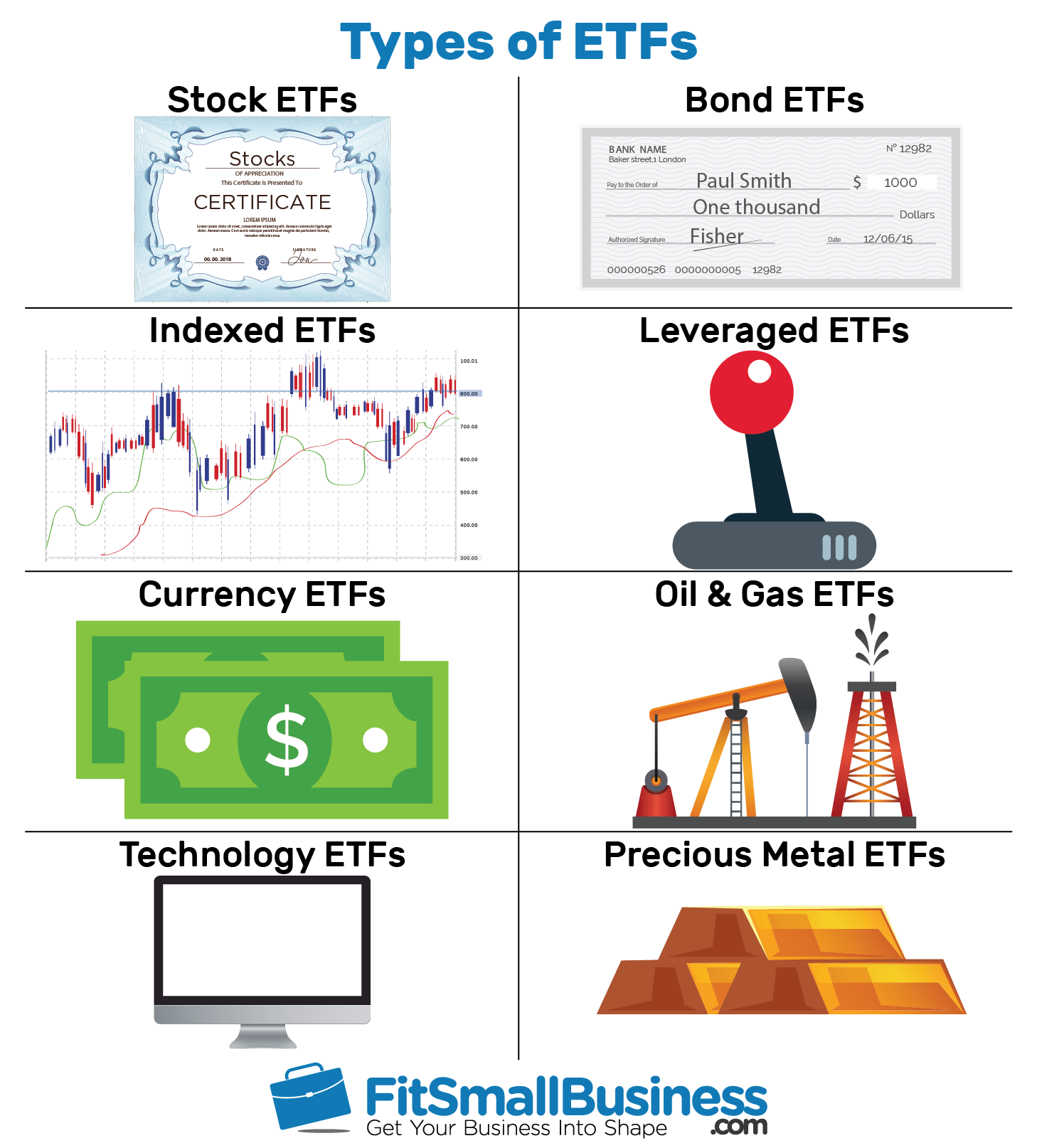 When to Use ETFs
ETFs are ideal for newer investors who lack the resources to build large portfolios. ETFs can also be beneficial for experienced investors who want a low-cost option. If you want to trade investments throughout the day to take advantage of quick market moves without the risk of individual stocks, ETFs can also be a good option.
Some cases when you should use ETFs include:
Inexperienced investors or those with less than $200,000 – If you don't have the experience or assets to build a custom diversified portfolio, ETFs can accomplish the same thing for a fraction of the cost.
Low-cost passive investors – Buying and holding ETFs can be much cheaper than investing in mutual funds or trading stocks.
Frequent traders who still want diversification – ETFs allow you to trade shares throughout the day while still owning a broad basket of individual stocks and bonds.
ETF Costs
ETF costs are one of the biggest reasons why many investors choose to invest in these funds. ETFs are structured almost like mutual funds, but typically have much lower annual expense ratios because they aren't actively managed. Most investors who use ETFs only have to pay trading commissions and a small annual expense ratio.
Some typical ETF costs include:
Fund expense ratio: typically 0.4% – 0.5% per year
ETFs charge annual expense ratios, similar to mutual funds, that are automatically deducted from the fund and are used to cover fund administration costs.
Trading fees: $5 – $15 per trade
Anytime you buy or sell shares in an ETF, you will pay commissions that vary by ETF provider and the ETF you're trading.
"We like ETFs because they are low cost and can give clients broad market diversification. We also like them for sector allocation. It seems some sectors have strong correlation. For instance, energy companies trade pretty closely in line with one another and the price of oil. Having a broad energy ETF can be a good way to get exposure to a sector without having multiple positions."

– Devin Pope, Senior Wealth Advisor, Albion Financial Group
ETF Valuations
Some investments, like mutual funds, have managers that set the price at which shares can be bought or sold, which is equal to the total value of the fund's portfolio plus some commission for purchases. ETFs trade on the open market and their share prices often trade at a premium or discount to NAV.
When ETF share prices get too far away from the net asset value of the fund's portfolio, authorized participants create or redeem shares by exchanging ETF shares and securities in an underlying portfolio. This adjusts the value of the underlying portfolio and brings it closer to the share price of an ETF on the open market.
"The main thing I believe that investors should be aware of when investing using ETFs is that when we get a bear market and if there is a point where some stocks are having their trading halted due to large drops, the ETF is an investment that will suffer greatly if an investor is seeking to sell their ETF shares during these volatile days."

– Brad Creger, President, Total Financial Resource Group
Top ETF Providers
If you want to invest in an exchange traded fund (ETF), it's important to work with a good ETF provider. ETF providers typically take two forms: companies that offer ETFs and those that make ETFs available on their investing platform. You can choose one company that does both or two different companies for each function.
Some of the ETF companies include:
1. iShares
iShares was one of the earliest ETF providers. Originally founded by Barclays but now owned by BlackRock, it is one of the world's largest asset management companies. iShares offers more than 340 ETFs that pursue a variety of strategies and focus investments in a variety of industries and asset classes.
iShares is a great provider for investors who want a wide variety of ETFs to choose from, all of which have low annual expense ratios and are available through most investment platforms. If you're looking for specialty ETFs, iShares can also be helpful because of the variety of their funds.
2. Vanguard
Vanguard is widely known as the largest and one of the oldest mutual fund companies in the world. While they're popular among investors seeking low-risk, efficient, and cost-effective mutual funds, they also offer their own line of ETFs.
If you already have mutual fund investments and want to try investing in ETFs, Vanguard is an ideal provider. Vanguard caters to risk-averse investors who want to buy safe, conservative investments and don't want to do a lot of trading. Investors can set up an ETF account with Vanguard to make regular contributions and focus on low-cost ETF investing.
3. Powershares
Powershares is another one of the early ETF companies. While the company started as a boutique investment firm managing a group of ETFs, it has since been acquired by investment giant Invesco and grown to a group of over 120 ETFs.
Invesco is another asset management company with a long history of offering cost-effective, professionally-managed mutual funds and ETFs. If you're looking for a dynamic set of funds that iShares may not have, definitely check out Powershares.
4. TD Ameritrade
TD Ameritrade is a large diversified financial services company. The firm offers banking, investment advisory, and securities brokerage services. Using their platform, investors can buy and sell a wide variety of ETFs.
TD Ameritrade doesn't offer their own line of ETFs. However, they do give investors wide access to a large and growing number of funds—many without any trading commissions. If you are looking for a platform to use for buying and selling ETFs or think you may benefit from other services, be sure to consider TD Ameritrade.
5. Charles Schwab
Charles Schwab is another well-established financial services company that's ideal for investing in ETFs. Schwab provides a host of business, retail banking, and investing services. In addition to Schwab's trading platform that investors can use for trading ETFs, the company also offers their own line-up of funds.
While Schwab's own line of funds isn't terribly wide, they do offer cost-effective trading for a small set of funds that pursue core investment strategies. If you're looking for a banking or advisor partner who also makes ETFs available on their trading platform, Schwab is a great option.
How to Invest in ETFs in 4 Steps
If you have a retirement plan at work and ETFs are available through your plan, then investing is easy. Simply enroll in your plan and start contributing. However, investing in ETFs on your own is a little more complicated. Before you can start investing, you first have to find a provider, and then open and fund an account.
The four steps of how to invest in ETFs are:
1. Identify an ETF Provider
If you think ETFs are a good fit for your investing strategy, the first thing to do is choose an ETF provider. This means that you need to choose an ETF company as well as a provider you can use for buying ETF shares. While these may be the same company, they're often two different companies.
2. Complete the ETF Account Application
Once you've chosen an ETF provider, you'll need to open an account with that provider that you can use for investing in ETFs. Opening an account typically involves an account application, which can often be completed online in just 15 to 20 minutes if you have all of your information.
3. Fund Your ETF Trading Account
After your ETF account is approved, you will need to transfer money to fund your account. You won't be able to invest in ETFs until these funds hit your account, which can take between one and ten days. The funding process may also be included as part of the account application.
4. Purchase ETF Shares
When you've established and funded an account with your chosen ETF provider, the last thing to do is direct your investments into individual ETFs. Be sure to research individual ETFs for their costs and investment goals before you invest in a fund. If you want to change your ETF investments later, you can always sell your shares or buy more.
Ways to Invest in ETFs
While there are many different types of ETFs, there are also different types of accounts that you can use for investing in them. If you have an employer-sponsored plan at work, you may have access to ETFs through your company plan. Other types of accounts can be set up for investing directly in ETFs.
Some types of accounts you can use for investing in ETFs include:
Traditional IRA – Traditional IRAs are the simplest retirement account available. They're not employer-sponsored accounts

—

anyone can set one up on their own and contribute up to $5,500 tax-deferred each year.
Roth IRA – A Roth is like a Traditional IRA but contributions aren't tax-deductible. Roth IRA contributions are still taxable, but the account grows tax-free and withdrawals are tax-free in retirement.
SEP IRA – SEPs are high-contribution plans that allow self-employed individuals and business owners to contribute 25% of income up to $55,000. If you have employees, you also have to make SEP contributions for them whenever you contribute for yourself
SIMPLE IRA – A SIMPLE is a lot like a 401(k)

—

employees contribute up to $12,500 through salary deferrals, which employers must match 100% up to at least 3% of employee compensation.
Traditional 401(k) – Using a 401(k), employees can make pre-tax contributions that employers have the option of matching. Employers can also make profit-sharing contributions each year, bringing total 401(k) contribution limits to $55,000.
Roth 401(k) – A Roth 401(k) is similar to a traditional 401(k) and is often a feature of 401(k) plans. Roth 401(k) participants have the same investment options and matching as a Traditional 401(k), but Roth contributions aren't tax-deductible.
Safe Harbor 401(k) – Safe Harbor 401(k)s are exempt from 401(k) nondiscrimination testing because employers match employee contributions up to at least 4% of employee compensation.
ETF Alternatives
ETFs are great products for many investors. They're a cost-effective way for many investors to own diversified groups of stocks or bonds. These funds may concentrate investments in particular sectors or assets, mimic particular indices, or use debt to magnify returns. However, ETFs aren't right for everyone, and many investors prefer to use individual stocks, bonds, or mutual funds.
Some typical ETF alternatives include:
ETFs vs. Stocks
Stocks are shares of ownership in individual companies that trade privately or on open exchanges. When you buy a share of stock in a company, you actually own a piece of a company and are entitled to some of the company's earnings, including dividends.
Trading or investing in individual stocks has been popular at different times throughout history. While stock trading is often viewed as a way for investors to make quick money, it's actually extremely risky. Unless you're a wealthy or sophisticated investor, it's typically not a good idea to invest in individual stocks.
ETFs vs. Bonds
Countries and companies issue debt in the form of bonds. These bonds are purchased by large institutions and even individual investors. When you buy a bond, the issuer pays back the amount of the bond over time with interest. If you buy a government bond, the interest may be tax-free.
Bonds can be a good option for older or more conservative investors who want to generate a fixed income from their portfolio. However, like stocks, they can also be risky. If you aren't a wealthy or experienced investor, you're probably better off investing in a bond-based mutual fund rather than individual bonds.
ETFs vs. Mutual Funds
Mutual funds are very similar to ETFs—they also hold diversified portfolios of stocks and bonds and offer investors a cost-effective way to achieve diversification without buying individual securities. Unlike ETFs, mutual fund companies issue new shares whenever an investor wants to invest. When an investor decides to sell, the fund company redeems their shares.
While mutual funds aren't traded in financial markets like ETFs, they are a great alternative for investors who want to build a cost-effective portfolio. Using mutual funds, investors can contribute passively to professionally-managed funds and only review their holdings regularly or when their investing goals change.
ETFs vs. Target Date Funds
A target date fund is a certain type of mutual fund that's designed to help investors who plan to retire in a particular year. When the target retirement date is still far off, target date funds concentrate investments in stocks and gradually shift to bonds as the retirement date approaches. This helps to reduce volatility in the portfolio over time and start generating income to meet retirees' living expenses.
Target date funds are designed to mimic long-held strategies that investors use as they age. By using target date funds, investors don't have to manage their own portfolio—the target date fund takes care of shifting from stocks to bonds on their behalf. Everything is done automatically as they near retirement and often at a lower cost than they'd pay managing their own portfolio.
ETF Frequently Asked Questions (FAQs)
If you still have questions about ETFs after reading this article, here are some of the frequently asked questions about them. If you don't see an answer to your question, you're welcome to post it in the comments below.
Some ETF frequently asked questions include:
1. What's the Difference Between a Stock and an ETF?
A share of stock represents a partial ownership interest in an individual company. An ETF, on the other hand, is a fund that owns a basket of many individual stocks and bonds. Every ETF investor is entitled to their share of dividend or interest earnings from all the companies within the ETF portfolio.
2. Do ETFs Pay Dividends?
Some ETFs pay dividends—it just depends on whether the ETF owns stocks that pay dividends. If an ETF pays dividends, it's really just distributing dividends that were paid by the individual companies held in the ETF portfolio. If an ETF owns stocks that pay dividends, those dividends are distributed to individual ETF investors.
3. Why Are ETFs Tax-Efficient?
Many ETFs are more tax-efficient than alternatives like mutual funds. Whenever a mutual fund sells shares from its portfolio, it can create a taxable event that's passed on to fund investors. ETFs, however, don't often buy or sell shares within their portfolio. As a result, fewer taxable events are created.
4. Why Should I Buy an ETF?
ETFs are ideal for investors who want a cost-efficient way to buy a diversified basket of stocks, bonds, and other securities. ETFs also allow investors to buy and sell shares throughout the day to take advantage of short-term fluctuations in price.
Bottom Line
Exchange traded funds (ETFs) are excellent tools for investors who want a cost-effective way of investing in a diversified portfolio of stocks and bonds. Using ETFs, investors can purchase baskets of stocks, bonds, and other assets that track certain industries or indices. Investors can also trade ETFs throughout the day to take advantage of short-term gains.