If you've heard a blogger or podcaster talk about RSS feeds, you may be wondering, "What is an RSS feed?" RSS feeds allow applications to automatically receive content updates from websites and podcasters. RSS feed readers are popular with individuals who want to use one news feed to monitor updates from multiple sites.
RSS feeds and websites go hand-in-hand. If you want an easy way to create a website, you can count on DreamHost. With DreamHost, you can launch a WordPress website along with your RSS feed for as low as $2.59 per month. Choose DreamHost for reliable, secure, affordable website hosting. Visit DreamHost today.
What Is an RSS Feed & How Does It Work?
RSS is short for Rich Site Summary or Really Simple Syndication. RSS feeds are useful tools for keeping track of new content from multiple online sources. RSS feeds allow users to automatically access fresh content from a website without having to visit the website. To find the RSS feed code on any website, type in the "domain name/feed."
For example, the raw code for the FitSmallBusiness.com/feed looks like this:
As you can see, sharing raw extensible markup language (XML) RSS feed code is not in anyone's best interest. This is merely the language that applications use to communicate RSS data.
People who want to follow RSS feeds typically do so through an RSS feed reader. Popular feed readers include Feedly, Bloglovin', and Inoreader. These readers allow users to follow new content from dozens or even hundreds of sources in a single feed. Some readers also allow you to create multiple feeds to follow if you prefer to maintain separate feeds by subject matter or for different uses, such as professional versus personal use.
RSS readers allow you to easily view content on any device, be it a desktop, laptop, tablet, or mobile device. Most readers offer free mobile apps that make scrolling through and viewing your RSS feeds easy regardless of which device you're using.
In essence, with an RSS reader, you're creating your own online newspaper that only contains the information you're most interested in viewing. RSS readers assure you see the most recent posts from the sources you follow, so you never miss out on important news.
While most readers offer a free option, some offer premium services that allow you to set up dozens of feeds and follow hundreds of sources. Fees for premium RSS reader services range from $1 to $7 per month.
RSS Is Different Today, But It's Not Dead
A popular misconception you may hear today is that RSS is dead. When Google shut down the once highly popular Google Reader in 2013, many people speculated that RSS would soon die out. After all, it appeared that Google, the king of all things web-related, was abandoning RSS, so the RSS feed's ultimate demise was imminent. Social media had simply become a better option for most users, as social media platforms come with the interactivity, engagement, and a sheer volume of users that RSS feeds do not enjoy.
RSS is not dead, but how it's used today has changed dramatically. RSS is the underlying technology used by most news aggregation sites. It's also critical for podcasters who use RSS feeds to deliver fresh content to podcast directories. In addition, some websites, especially technical and scientific blogs, still promote RSS subscription options.
How RSS Feeds Work for Websites & Blogs
While most users today follow RSS feeds through RSS readers, a few site visitors still prefer to sign up for your RSS feed on your website. For that reason, as a website owner or blogger, you may want to post an RSS feed icon on your site so that people can subscribe to your RSS feed.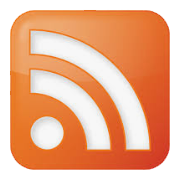 This common RSS subscribe icon is less popular on websites today, but is still common on technical sites.
Most people use various social media channels for following blogs and websites today. For this reason, you're not likely to find as many RSS feed subscribe buttons on websites now as you would have seen 10 years ago. You will still see RSS icons on some sites, particularly technical websites whose users are familiar with XML.
One of the ways website owners offer reader-friendly access to their RSS feeds is through a web feed management provider. Feedburner, which is owned by Google, is the most popular RSS feed management tool among bloggers, podcasters, and other content-driven websites. Burning your RSS feed with Feedburner is as simple as adding your website address to the Feedburner form, as pictured below.
How People Subscribe to Your RSS Feed
Once you've set up your RSS feed with Feedburner, your next step is to make it easy for website visitors to subscribe to your RSS feed. As already mentioned, most people today will subscribe to your RSS feed through an RSS reader, where they can quickly and easily follow content from multiple sources. Users don't even need to know your RSS feed link to add your site to their RSS readers; they can simply type in your site URL and the reader automatically grabs your RSS feed for the user.
If you like, you can also encourage your blog or website visitors to subscribe to your RSS feed directly by including an RSS icon on your site. RSS icons are usually placed alongside other popular share suggestions, such as social media and email share icons. Users merely click the icon to follow the site's RSS feed.
How RSS Feeds Work for Podcasters
As a podcaster, if you set up your RSS feed with Feedburner, you'll need to check the box that says "I am a podcaster." Podcast RSS feeds contain only podcast content. Podcasters need a podcast-only feed because podcast directories like iTunes and Google Play Music require a podcast RSS feed in order to publish new podcast episodes.
"Hosting a business podcast and growing the subscriber base isn't easy. I still use RSS feeds for the distribution of my business and personal finance podcast, Financially Boundless. Getting listed on Apple Music, Google Podcasts, Spotify, and the like is not easy! Our podcast host offers an RSS feed of our podcast that we can submit to podcast directories and aggregators to automatically 'fetch' our new episodes when we post them. Our RSS feed ensures our podcast is listed in every directory it can be, and maximizes our exposure to audiences all over the world."

– Dane Janas, CEO, Boundless Tax
Who Uses RSS Feeds?
Most people who use RSS feed readers do so to collect information from multiple sources in one easy-to-use feed. RSS feed readers automatically update with the latest content from the sources you specify you want to follow.
Small business owners and bloggers use RSS feeds to follow subjects or topics of interest to their industry or business. Businesses and bloggers can also monitor site content updates from multiple competitors through an RSS feed reader.
As already mentioned, bloggers and websites offer RSS feeds as a way of encouraging visitors to follow content updates. This practice is far less common today, as most people prefer to direct site visitors to social media channels where users and site owners are far more active. Scientific and technical websites are the exception; you'll find RSS icons are common on these sites.
Another way people knowingly or unknowingly use RSS feeds is through popular news aggregators, such as Google News and Flipboard. These sites collect and offer syndicated web content from blogs, podcasts, websites, and video sites all in one place using RSS technology. It's seamless for the reader, who no longer has to go site-to-site gathering RSS feeds to add to their readers.
Podcasters need a podcast-only RSS feed to submit their work to podcast directories. Podcasters also need a podcast hosting platform, such as Libsynb, SoundCloud, or Podomatic. If you're a podcaster, your hosting platform will create a podcast-only RSS feed that you can then submit to popular podcast directories, such as iTunes, Google Play Music, Spreaker, and Spotify. Once you're connected to these directories, all new podcast episodes will automatically load onto the directories that you've joined.
Popular RSS Feeds
Some blogs and podcasts stand out among the rest. So, it's not surprising that some sites' RSS feeds are more popular than others.
Here are examples of popular RSS feeds that have an active follower base:
Washington Post: Stay up-to-date on breaking news in politics, sports, world news, and national news.
ESPN News Feed: Sports enthusiasts follow breaking news in droves. ESPN offers a number of feeds, featuring news about the NFL, MLB, NBA, soccer, and college football.
TED Radio Hour Podcast: If you like Ted Talks, you'll enjoy following this podcast; it highlights the same speakers and subjects you've come to enjoy through TED videos.
National Public Radio (NPR): NPR.org makes much of its content available for RSS subscription.
RSS Feeds Costs
RSS feeds are built-in to most websites and blogs today, so you won't need to do anything to create your RSS feed for your website. If you need a podcast-only RSS feed, your best option is to sign up for a podcast hosting service—which you'll need anyway—that will then provide you with a podcast-only RSS feed. Average podcast hosting fees range from free to $20 per month. If you use RSS feeds via RSS feed readers, as most people do, costs for RSS feed readers range from free to $7 per month.
RSS Feed Reader Providers
While once-popular RSS feed readers like Google Reader and Digg Reader have closed their doors, you still have plenty of options to choose from. The most popular RSS feed readers today include Feedly, Inoreader, Panda, NewsBlur, and RSSOwl. You can also subscribe to RSS feed reader apps that specialize in podcast feeds, such as Podcast Addict.
RSS Feed Reader Features
RSS feed readers allow you to access RSS feeds easily through both mobile and desktop devices. RSS feed readers sometimes cap the number of unique feeds you can create as well as the number of sources you can follow in their free plans.
Some RSS feed readers offer paid plans for $1 to $7 per month. Features for paid plans vary quite a bit, but many include advanced features such as the ability to add notes and highlighting, create alerts, create bookmarks, view ad-free news feeds, and keyword monitoring.
Pros & Cons of RSS Feeds
RSS feeds have both positives and negatives. If you are considering using RSS feeds for your business needs, it's important to understand what RSS feeds can and can't do for you.
Pros of RSS Feeds
RSS feeds can help you save time. Rather than visiting websites one by one, you can sign up for an RSS feed reader and follow multiple sites all at once. You also receive automatic updates whenever fresh content is added to any of the sites you follow, which is a nice advantage to using RSS feeds.
Another reason to follow RSS feeds is that you don't have to give individual websites your email address to access new information. This has several benefits. The first is that you can remain anonymous and your personal data remains secure. The second is that your email inbox doesn't get flooded with updates and promotional offers from all the sites you follow.
One more benefit of using RSS feed readers is that you actually receive the updates you want. Not all emails sent today are successfully delivered; around 30% to 50% of emails sent in bulk email pushes end up in a spam or junk folder. That means if a site is delivering RSS feed content via email, you could miss out on important updates. With RSS feed readers, you are sure to receive every update from the sites you follow.
Cons of RSS Feeds
The main con of RSS feeds is that many people find using social media channels like Twitter, LinkedIn, Facebook, and Instagram far more convenient. Also, unlike social media channels, RSS feeds deliver non-interactive content. Nowadays, people enjoy the interactivity, community, and discussions that are possible when accessing content through social media channels.
Alternatives to RSS Feeds
The rising popularity of social media was not a death blow to RSS feeds, but it certainly made using RSS feeds unnecessary for millions of former RSS feed users. Today, social media channels are the main alternatives to RSS feeds.
You can easily follow websites, blogs, and podcasts you enjoy through social media instead of through RSS feeds. You can also find new websites and blogs you want to follow on social media channels by using hashtags (#) to search for related content.
Frequently Asked Questions (FAQs) About RSS Feeds
We've gathered the top questions that readers have about RSS feeds and included our answers below.
Are RSS feeds still used?
Yes. Millions of people still use RSS feed readers to automatically receive and view the latest content from websites, blogs, and online content providers. In addition, RSS feeds are used by podcasters who connect their RSS podcast feeds to popular podcast directories, such as iTunes, Spotify, and Google Play Music.
How do RSS feeds work?
RSS feeds are XML format files that automatically update new content from websites, blogs, and podcasts. Most people use an RSS feed reader to access a site's RSS feed. RSS feed readers collect RSS feeds from multiple sites, based on the user's preferences. The users can then view content in one convenient news feed.
What are the best RSS feed readers?
Feedly, Flipboard, Inoreader, and News30 are all popular RSS feed readers. Podcast Addict is an RSS feed reader app available for Android that specializes in podcasts, though it also supports audiobooks, YouTube, and RSS news feeds.
Bottom Line: What Is an RSS Feed?
RSS feeds aren't used as widely today as they were before the explosive popularity of social media, yet they are still used. Users access RSS feeds through RSS feed readers that collect content from multiple sources and create custom news feeds that are automatically updated. Podcasters use RSS feeds to connect to podcast directories.
When you launch your WordPress website with DreamHost, your RSS feed will automatically be built into your site. You can create a modern, secure blog or website with DreamHost for as low as $2.59 per month. Visit DreamHost today.