Cornerstone content consists of those few core articles that best represent your blog and tell readers what your blog is all about. It's embarrassing to admit, but I never considered cornerstone content as a big deal when I first started out as a blogger. Once I began to understand that search engines factor the quality of your cornerstone content into your website's ranking, I realized what a monumental mistake that assumption was.
Now as a blogging and business growth consultant, one of the first things I teach new bloggers is how important cornerstone content really is. It's hands-down the most essential content on your blog. But what makes cornerstone content so special, why is it so vital, and how do you create it? These are all great questions that every blogger should understand and it's what you're about to learn now.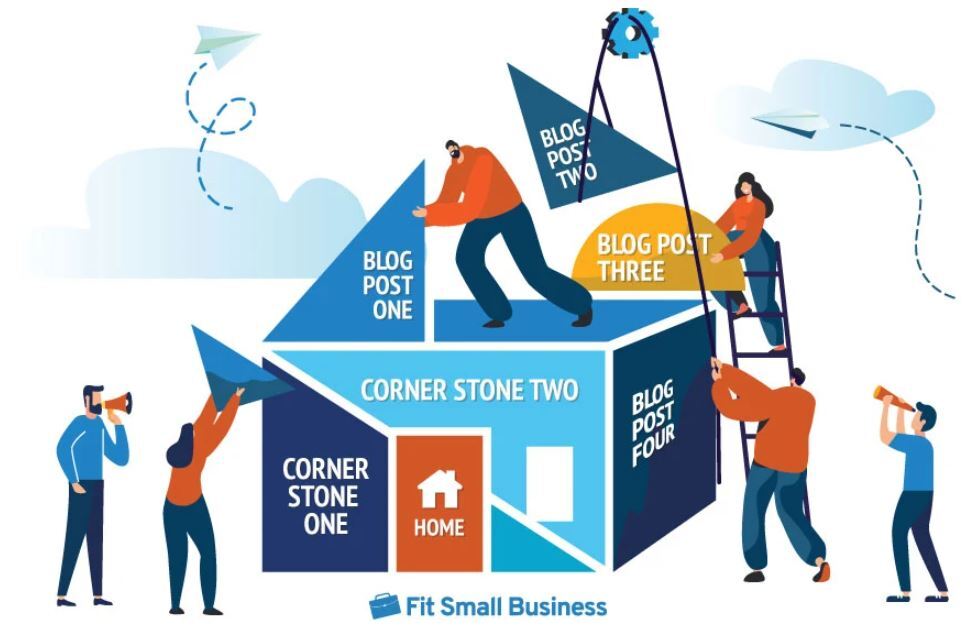 What Is Cornerstone Content?
In buildings, a cornerstone is set first and all other stones are then built around that stone. While cornerstone content for your blog might not be the first content you write, it is the foundational content that best conveys what your blog is all about and helps connect all other content on your website.
Cornerstone content is:
Substantial in scope and depth
Targeted to a specific keyword
Optimized for search engines
Goes above and beyond to wow the readers
Easy to share
Has a goal to both inform and move the reader toward a specific action
Cornerstone content can be developed as either a blog page or a blog post. It is evergreen, meaning that it is timeless in nature and not seasonal or based on trendy concepts. Because your cornerstone content best represents what your blog is all about, you need to go the extra mile to make sure it is stellar in every way. You should also update it regularly, so it is always fresh and accurate.
Examples of Cornerstone Content
In most cases, a blog's cornerstones aren't labeled as cornerstone content. Yet, you can recognize something as cornerstone content by looking at the subject covered relative to the main topics the website blogs about, the depth of that content, and the obvious effort that went into creating the piece.
Cornerstone Content Example One
This first example of cornerstone content comes from Brian Dean of Backlinko, one of the preeminent experts on generating high-quality backlinks for your blog. As a blogger, you need to understand the importance of backlinks—which are simply links to your blog from other sites. Not surprisingly, the post "Linking Building for SEO: The Definite Guide" is a cornerstone content post on Backlinko because this blog specializes in teaching you everything you need to know about link building.
Brian Dean uses a landing page approach to introducing the cornerstone on building links, breaking down the post into eight chapters. He goes the extra mile in his Definitive Guide by adding lots of colorful images and citing several authoritative websites, studies, and statistics throughout the post.
Cornerstone Content Example Two
The Floating Authority's post, "Learn How to Kayak Like a Pro—a Step By Step Beginner's Guide," is another example of cornerstone content. This in-depth post features an infographic and several video clips that make the information come to life for site visitors. The Floating Authority's niche is everything around watersports. Offering this type of popular guide would be cornerstone content on a blog of this nature.
Cornerstone Content Example Three
The Review Meals blog offers its readers new recipes, cooking guides, and product reviews. One of its cornerstone posts is titled "The Healthiest Meal Delivery Kits: A Nutritional Study and Analysis." Review Meals studied over 300 meals from seven top meal kit delivery services and offered a comprehensive review of their findings. The post contains several original charts and graphs that bring the findings of their study to life. It is a robust post that offers product reviews over a large consumer area: meal delivery. For a review meals type of blog, this would be cornerstone content.
How Cornerstone Content Helps Boosts Your Rankings on Google
If you intend to make money blogging, you'll need to drive a lot of traffic to your website. One of the best ways to do this is by ranking high on Google. With so much competition out there, this is not easy to do, but great cornerstone content can help.
When Google crawls your site, it needs to understand what your blog is about. Google only wants to deliver the best results to searchers, so it also looks for signs of expertise, authority, and trustworthiness (EAT) from your site.
When you organize your blog's content under a small handful of cornerstone pieces—typically no more than five—you're essentially telling Google that these cornerstone pieces represent the essence of your blog. The rest of your blog's content, which is organized underneath cornerstone content, further supports that you offer site visitors a great deal of expertise in certain areas. This, in turn, leads to higher rankings on Google.
Five Essential Steps to Creating Amazing Cornerstone Content
There are five key steps to creating cornerstone content that builds your blog's credibility. These steps include conducting in-depth keyword research, developing a great content plan, creating amazing content, promoting that content, and regularly updating your cornerstone posts and pages.
1. Do Your Keyword Research
Before you launched your website, you probably did a fair amount of keyword research to figure out what to blog about. If you didn't, don't worry, this short lesson will help catch you up on how to get started and you can always refer to our in-depth guide to keyword research later on for a thorough lesson.
I'm going to use a leadership blog as an example of how keyword research ties into cornerstone content development. You can apply the principles here to any blog in any blogging niche.
In our pretend leadership blog, we first take a look at the search volume and keyword difficulty for the term leadership. No surprise, the search volume is sky-high at 87,000 per month, but the high keyword difficulty makes it difficult to rank for that single word.
Frankly, the single word "leadership" does little to tell you what people are looking for on Google anyway. So you don't want to write a cornerstone content piece around something that's so ill-defined. Luckily, it turns out our fictional blogger has deep expertise in transformational leadership as well as adaptive leadership—these more specific subjects may be better candidates for cornerstone content.
Here's what we see when we research traffic and difficulty for the keyword "transformational leadership":
With 38,000 in monthly search volume, there's plenty of interest for this keyword. As you can see, though, with a keyword difficulty rating of 41, we know there's also a lot of competition for this keyword.
Now let's look at what we find when we research the second specialty that the blogger wants to write about, namely, adaptive leadership.
The good news is that the difficulty for the keyword "adaptive leadership" is much lower with a difficulty rating of only 15. The not-so-stellar news is that the search volume is 4,000 per month, considerably less than the 38,000 for this blogger's other primary keyword.
Should Cornerstone Content Target Keywords With Less Competition or With Higher Volume?
Both adaptive leadership and transformational leadership can make good cornerstone content for this blogger. The first has less competition, so it may be easier to rank higher on Google. The second has a lot more volume, which means ranking high might be an uphill battle, but that doesn't mean it's impossible. The blogger will just need to create a cornerstone article that outshines everyone else out there competing for the same term.
Frankly, if your blog is new, you should generally pursue keywords with low competition. Yet, if your expertise is in something for which considerable competition exists, and for which there is considerable search traffic, don't walk away from producing a cornerstone article about it. Even if you don't rank high on Google, you can always promote your cornerstones via other methods such as social media, email marketing, or even advertisements.
One thing you never want to do, though, is to build cornerstone content around keywords that have little to no traffic—as no traffic typically means no interest. That's why you do your keyword research first: So you know there's sufficient interest in your cornerstone topics before you put in the considerable time and effort to create them.
What Content Should I Develop to Support Cornerstone Content?
Buildings don't just have cornerstones—they have many other stones to complete the structure. Likewise, your blog needs more than cornerstones, so you need to develop additional content that relates to the cornerstones you create.
The chart below shows an example of how to build content around the "transformational leadership" cornerstone for our fictional leadership blog.
Example of Cornerstone Content and Related Content
Cornerstone Content:

The Definitive Guide to Transformational Leadership

Related Content*

How Transformational Leaders Solve Tough Problems

11 Qualities of a Transformational Leader

How to Inspire Innovation as a Leader

How to Be a Better Manager Using Transformational Leadership Principles

Are You a Transformational Leader?

7 Benefits of Transformational Leadership

Why Innovation Demands Transformational Leaders

9 Ways to Help Managers Adapt How They Lead in Times of Crisis

Emotional Intelligence & Transformational Leadership: Understand the Connection

Transactional vs Transformational Leadership

15 Examples of Transformational Leadership in Action

*(which all link back to the cornerstone content)
It's important that all the supporting content link back to your cornerstone. Also, make sure that you don't duplicate content from one post to the next. While some overlap in content is unavoidable, you want to make it easy for Google to clearly see the primary keyword you're targeting on every article you write—and that keyword should be different for every article.
2. Plan Your Cornerstone Content With Care
Just as you take great care to develop an overall blog content plan, you must put considerable care and thought into developing your cornerstone content.
Here are a few questions you'll want to ask as you commence the planning process:
What types of media will I add to the cornerstone to create a rich customer experience (e.g., video, infographics, illustrations, animations, quizzes, and tools)?
What questions are people asking online about this topic?
What studies or examples can I cite to add credibility to this cornerstone?
How will I organize the content in this cornerstone?
How will I make this cornerstone better than any other content that's currently available?
What examples can I include that make the content hit home for readers?
What do I want people to do after reading this cornerstone content?
Once you've answered all these questions, you're ready to move on to the next step: cornerstone content creation.
3. Create Your Cornerstone Content & Optimize It for Search
There are a number of things to keep in mind when creating cornerstone content—and I'll share those tips next—but remember nothing is more important than keeping your readers foremost in your mind. Go the extra mile to create something amazing, and you'll find your readers sharing your cornerstones and coming back to your blog for more.
Cornerstone Content Is Longer Than Other Posts
Cornerstone content is longer—usually 2,000 to 10,000 words or more. It's more comprehensive than a standard blog post and can be developed in any blogging format such as ultimate guides, case studies, and in-depth step-by-step posts.
Cornerstone Content Is Authoritative
You'll typically see mentions of related research studies and compelling statistics in cornerstone content. Don't be surprised if you also see quotes from experts or highly acclaimed books within a cornerstone.
Cornerstone Content Can Be a Blog Page or Blog Post
There are two schools of thought on what makes the best cornerstone format: a blog page or a blog post. There aren't any studies that show one is definitively better than the other, so I recommend developing your cornerstones in whichever format you feel works best for your content and your niche.
Whether you go the page route or choose a post, make sure your content is easy to read and navigate. The longer your content is, the more challenging this can become. Adding a Table of Contents helps. You can also get creative and use images to help guide your reader through your post, as K9ofMine.com does in its "Types of Dog Beds: 16 Kinds to Choose From" cornerstone (image below).
Cornerstone Content Has More Bells & Whistles
You want your cornerstones to shine, which means you have to serve your A-game. That means dazzling your readers with a phenomenal experience using a wide variety of visuals and possibly adding interactive or video content in your post.
While I wouldn't recommend outsourcing the entire cornerstone, I would suggest outsourcing some content-creation tasks. For example, many bloggers use freelancers to help them develop professional-level images, videos, charts, animations, graphs, and other eye-catching visuals for their cornerstones.
One of my favorite freelance sites is Fiverr—you can find freelancers to work on just about any creative task there and you won't pay an arm and a leg.
Cornerstone Content Is Optimized for Search Engines
Make sure your cornerstones are optimized for search, so they have a higher likelihood of ranking high on Google. If you haven't already done so, you can install an SEO tool on your website to help you with this. Yoast SEO and Rank Math are popular plugins that can guide you through the basics of optimizing your pages or posts.. Read our post, SEO for Bloggers, to learn more.
Cornerstone Content Always Includes a Call to Action
If you want to create a successful blog, you need to establish clear content goals and objectives whenever you develop any content for your site, including cornerstones. One goal you need to establish upfront is what action you want your readers to take after they've read your cornerstone. Then, create a compelling call to action (CTA)—which is a prompt to the reader to take the specific action you desire.
Examples of CTAS:
Ask readers to share the article with others
Ask readers to give you their email address in exchange for a worthwhile lead magnet
Ask readers to read another article
Ask readers to make a purchase (though be careful not to do too much blatant selling in your cornerstones—it can be a turn off)
You don't want your site visitors to merely read your cornerstones and leave never to return again. Your goal is to provide them with strong reasons to share your content and continue interacting with you over time.
4. Promote Your Cornerstones
While you've optimized your cornerstone for search, you don't want to just sit back and wait for organic traffic from Google to roll in. Instead, you want to proactively promote and market your cornerstones.
Make Your Cornerstone Content Easy to Share
There's no better time to ask your audience to share something with their networks than when they're actually reading your cornerstone content. Actively encourage content sharing and make it easy for site visitors to share your content. Social sharing plugins, such as Social Warfare, Sumo, and Easy Social Share Buttons are all great tools for boosting content shares.
Share Your Cornerstone Content on Social Media
Much like you develop an overall social media strategy for your blog, you'll want to develop a social media strategy for your cornerstones. Actively promote your cornerstones on the social channels where you have an active following. Don't forget to ask your followers to share the content with their connections too.
Perform Blog Outreach
Blog outreach is the process of reaching out to influencers, publications, and other experts with large audiences with the goal of getting more exposure for your content. Since cornerstones are so important to your success, you'll want to develop a custom blog outreach strategy to gain added exposure for these posts and pages. I recommend using a blog outreach tool like BuzzStream or NinjaOutreach to help you with your blog outreach efforts.
Use Paid Advertising to Promote Your Cornerstone Content
One more way to promote your cornerstone content is through paid advertising. You can test pay-per-click (PPC) campaigns on Google or various social media channels to promote your cornerstones. If you go this route, I suggest going with a small budget and reviewing performance results before scaling your advertising spend.
5. Maintain Your Cornerstone Content With Regular Updates
Cornerstone content needs to be both timeless and current. That means you should write it for consumption at any time of the year, but it should always have the latest stats and up-to-date information in it. Your readers prefer fresh information, and so does Google. I recommend updating your cornerstones at least twice a year, and even more frequently when warranted.
Bottom Line
Cornerstone content helps your readers better understand what your blog is all about. It also helps search engines recognize the depth of your blog's expertise, authority, and trustworthiness (EAT)—which can help you rank higher on Google. While cornerstone content can be created in many formats, to be effective it needs to be feature-rich, in-depth, highly share-worthy, and include a compelling call to action for readers.