Coworking is a simple concept: Entrepreneurs or microbusinesses share office space and equipment. Not only do they save money on leases and maintenance, but they also benefit from a community where they can learn from each other, share skills, and make connections. The concept originated in 2001 and has become a worldwide phenomenon, with many agencies offering coworking spaces not only for local businesses but also for travelers who need a place to hang their company hat.
How Coworking Works
Coworking at its simplest means sharing an office space with other businesses or solopreneurs. The typical coworking space provides a place to work such as a desk, private office, or conference room. Some offer "hot desks," which are simply empty desks or tables anyone can occupy for whatever time they need. Other amenities include:
High-speed internet
Receptionists
Kitchen or break room
Conference rooms
Copiers, A/V equipment
Mailing services
However, the concept has grown to involve more than simple resource sharing. Coworking spaces often strive to develop a community and may promote a particular goal or group such as green businesses, software development, or startups. Some coworking spaces host events, from Friday happy hour to workshops and seminars.
Who Coworking Is Right For
Coworking spaces aren't just for solopreneurs needing a small space of their own. Even larger corporations are finding benefits in coworking spaces. As the industry grows, so do the uses. Here are a few of the types of people that coworking can benefit:
Self-Employed: Coworking spaces offer freelancers a low-cost alternative to working from home or in a cafe.
Startups or Small Businesses: Small businesses with only a few employees can use a coworking space to save money or take advantage of a more prestigious address. The perks of a coworking space in terms of location and cultural events can attract better workers too.
Travelers: Businesspeople who travel use coworking spaces as a place to meet clients and conduct business or to work outside their hotels.
Remote Professionals: People working remotely use coworking facilities to have an office environment and the interaction they cannot get with their company.
Corporations: Some corporations use coworking spaces to give employees a place to work together without some of the drawbacks of coming to a corporate office, such as commutes or office politics.
Coworking Costs
Costs vary widely, depending not only on need but also location and access. Here are a few approximations from different coworking space companies:
Hot desk access: $350+ per month
Dedicated desk: $350+ per month
Private office: $600+ per month
Large or full-floor office space: $5,000+ per month
Memberships for access to multiple locations: $300+ per month
Prices vary by location, the prestige of the address, and amenities. You often get discounts for paying for multiple months.
Coworking Providers
There are thousands of coworking companies, some of which are local to their area, and some of which have locations around the world. Here are three of the most popular to give you an idea of what to expect.
1. WeWork
With 800 locations around the world, WeWork offers coworking solutions from hot desks to full-floor office space. Spaces are open 24/7 and kept constantly clean to minimize the risk of COVID-19. All spaces include phone booths for private calls, high-speed internet, and staff to assist you.
Prices vary according to location but can run hundreds of dollars a month for a hot desk, for example. WeWork also has a membership option for $299 per month (first two weeks free) that gives you access to shared spaces and on-site staff, complimentary refreshments, printers, and high-speed internet, plus limited access to meeting spaces. Visit WeWork to take a virtual tour and see pricing for coworking spaces in your area.
2. Regus
Regus offers thousands of coworking locations around the world, with a variety of options. You can choose a hot desk or dedicated desk space, an open office plan, or a smaller, dedicated shared office. It offers networking opportunities, reception and admin support, mail handling, business-grade internet and technologies, and more. In addition, members get free access to airport lounges. Call Regus for a quote and to book a tour or the nearest coworking space.
3. Novel
Novel offers a wide range of coworking options in over 25 cities around the US. In addition to dedicated workspaces that include locking drawers and use of its meeting spaces, you have access to lounge spaces in any of its locations, a nice convenience for travel. Plans run from $329 per month for a dedicated desk to dedicated, customized corporate offices that can hold up to 50 employees at $2,999 a month. Plans come with direct fiber internet and free espresso and snacks in the lounge.
Pros & Cons of Coworking
A well-managed coworking space gives its users access to the space and equipment they need while providing opportunities to network with enthusiastic, like-minded entrepreneurs. Many coworking spaces strive for developing a community as much as providing a more cost-effective work environment. However, there can be a price to pay in terms of sacrificed privacy and quiet.
Pros
Price: While leasing an office can cost thousands per month, coworking is just a fraction of that since you are sharing the time and space.
Comfortable, professional workspace: A coworking space usually comes with desks, office equipment, internet, and more. Some include conference rooms for meeting clients.
Networking: Working from home can be isolating. A coworking office exposes you to other entrepreneurs in different businesses. It can be a chance to make new contacts and find people who are willing to brainstorm, offer advice, or trade work.
Support for startups: Some coworking spaces hold events for members—such as seminars and mixers—to bring people together.
Upgraded internet: A coworking office usually has business-level, high-speed internet, which could be better than you can get in your home.
Flexibility: You can often choose your options, from a desk to a private office, and how long you need the space. This makes it a good choice for growing businesses or those just starting.
Perks: Travelers using coworking spaces can take advantage of secure lockers, while everyone can enjoy coffee or snacks provided by the facility. Some coworking spaces offer mailing services, and they take care of maintenance and housekeeping.
Cons
Limited privacy: Coworking spaces differ from privately owned offices in that they are public. Be sure to look for coworking areas that have a private room for video conferencing or private phone calls with clients.
Cannot change the environment: If you own the space, you can decide the layout, color, and more. If branding is important, this could be an issue. Some coworking spaces will customize large offices with longer contracts.
Distractions: From the startup involved in a heated brainstorming session to the Friday afternoon event going on while you're trying to meet a deadline, there can be a lot of distractions in a busy coworking space.
Availability: If you have a hot desk option, there may be times where you need to wait for a desk to become available, or you may find that all the common areas or conference rooms are taken.
Management of the space: A coworking space that is badly organized or managed can lead to people not having access to the equipment they need, whether a desk for themselves or their team or the ability to use the copier.
Coworking Is on the Rise
According to the statistic chart below, coworking is rising from California to New York, both being the highest coworking states. California had the highest number at 1,100 coworking spaces by Q1 in 2019, with New York coming in second with 666 coworking centers.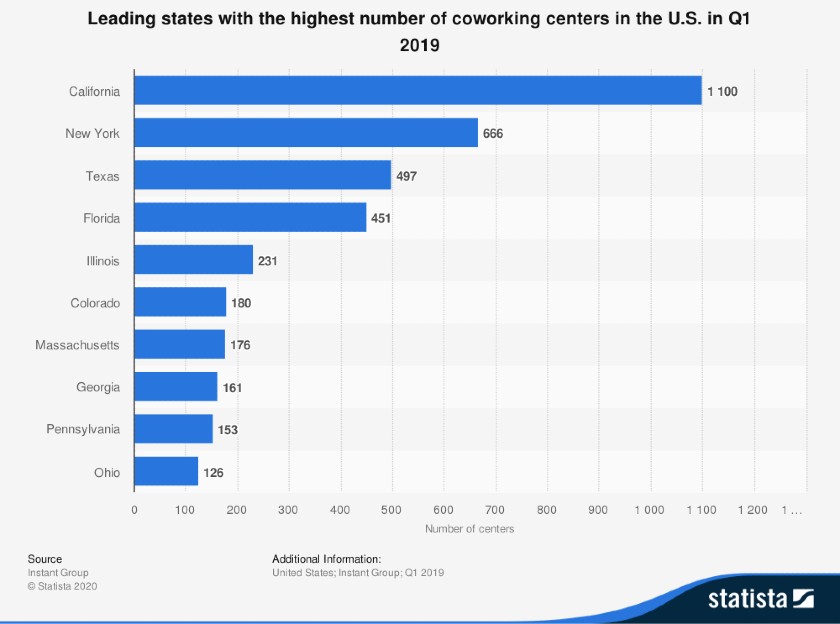 Bottom Line
According to Coworker.com, by 2022, there may be over 30,430 coworking spaces with over 5.1 million coworking members worldwide. Users enjoy the flexibility and benefits and the reduced operating costs. If you are a solopreneur needing to get out of the house, a small business needing a dedicated but temporary space while you grow, or a corporation looking for a different environment, consider coworking spaces.
Is coworking not right for you? Learn How to Choose a Business Location
Thinking about starting a business? Read our How to Start a Business: The Complete Guide