Customer Relationship Management (CRM) is software that helps businesses manage and optimize relationships with customers and prospects. It is a tool that establishes sales pipeline stages as well as manages and tracks activities within each stage with things like alerts and automated emails. Most CRMs range from free to over $100 per user per month.
One of the leading CRMs that allows you to set up your sales cycle is Insightly. In this guide, we will use Insightly to illustrate how you can implement a CRM strategy. A unique benefit of using Insightly is that it allows you to continue building on your CRM efforts after the sale with its project management features. Start your free trial with Insightly today.
How CRM Software Works
CRM software works by creating an ecosystem that links salespeople with selling activities and sales data. It allows users to input, store, and manage information about leads and customers that will help sales teams move customers and prospects along the sales cycle at a faster pace. CRMs have pipeline stages that mirror this sales cycle and that can be set up to do any number of things, such as alert you to follow up with a prospect or even send an automated email.
Every CRM system should include features like contact management, opportunity management, and lead and prospect management functionality. These features are important because they help you stay organized and give you easy access to information you need to move opportunities along the sales cycle. However, some systems may also include more robust functionality as well.
Below are a few core features and benefits you should find in CRM software:
Lead and Prospect Management – Functionality that allows you to manage leads and prospects in one place, convert leads into pipeline contacts and customers, and manage lead and prospect communications.
Account and Contact Management – The ability to access information about your leads and customers, such as contact details, interactions with your company, pain points, and even personal details like coffee preferences.
Opportunity Management – Features that let you manage your pipeline by tracking things like opportunity stage, probability to close, and opportunity to close ratios.
Each of these broad features, as well as more target features discussed later in this article, allow you to define and carry out activities important to getting deals closed as they relate to your sales cycle and the associated CRM pipeline. For more information on organizing your sales cycle into stages, read our article, 8 Sales Pipeline Stages Every Sales Team Should Have.
Who CRM Software Is Right For
CRM software is right for industries of any size that sell products with longer sales cycles or those that are more relationship-based. A few of these industries include real estate, technology integrators, construction or general contractors, automobile, and corporate caterers. However, CRMs benefit other business types too. CRMs help connects salespeople to prospects, organize information, and help and manage post-sales tasks and projects.
CRMs offer specific benefits for the following:
Business Owners and Managers – Data and reporting tools in CRMs help business owners and managers make important decisions based on sales revenue forecasts and the number, stage and value of deals in the pipeline.
Salespeople – CRMs help salespeople build relationships at scale by managing and tracking customer and prospect interactions like recent activity, issues resolved by customer service, or promotional offers sent to prospects.
Marketers – CRMs can help marketers plan and execute more relevant campaigns based on trends they observe.
Customer Service – CRMs benefit customer service by giving the full picture of what the customer has purchased and what their interactions have been with sales and other areas. This information becomes useful when resolving customer disputes or issues.
Which CRM Software is Right for You?
CRM Costs
CRM software costs can range from free to tens of thousands of dollars per year depending on factors such as the number of users, types of features, customization capability, and whether or not the software is cloud-based or hosted onsite. While some of the best-known CRM software tools are priced at the upper end of this range, small businesses can often find a feature-rich, non-enterprise level CRM for between $20 and $80 per month per user.
CRM Software Core Features
The core features of CRMs include lead and prospect management account and contact management, and opportunity management functionality. These CRM features and functionality help sales teams and business owners stay organized and provide easy access to information needed to close deals quickly.
To illustrate how salespeople use these core features, we will use an example of a restaurant owner who has just invested in a CRM and has also hired a few salespeople to sell events and catering packages to new and existing customers.
Here's how salespeople will want to implement a CRM software:
Lead and Prospect Management
The sales team needs a central place to store and manage all the leads the restaurant owner sends to them as well as all the leads they generate from their own prospecting. CRM software can integrate leads from the restaurant owner's advertising, lead generation campaigns, and leads that the salespeople get from networking. A good CRM can also categorize leads by source so that the restaurant owner knows what lead generation methods are working.
Good lead and prospect management also requires the following functionality:
Notes and Documentation
Salespeople and others in your organization who generate leads need a place to create and access notes and other documentation. Relevant notes allow salespeople to tailor their actions to the prospect they are interacting with.
For instance, suppose a prospect calls a restaurant looking for a catering quote. A staff member answering the call can enter all the contact details plus information on the type of catering package the prospect was looking for directly into the CRM. When the salesperson returns the prospect's phone call, he or she will have enough details to ask relevant questions, making the prospect feel like the salesperson and restaurant understand their needs.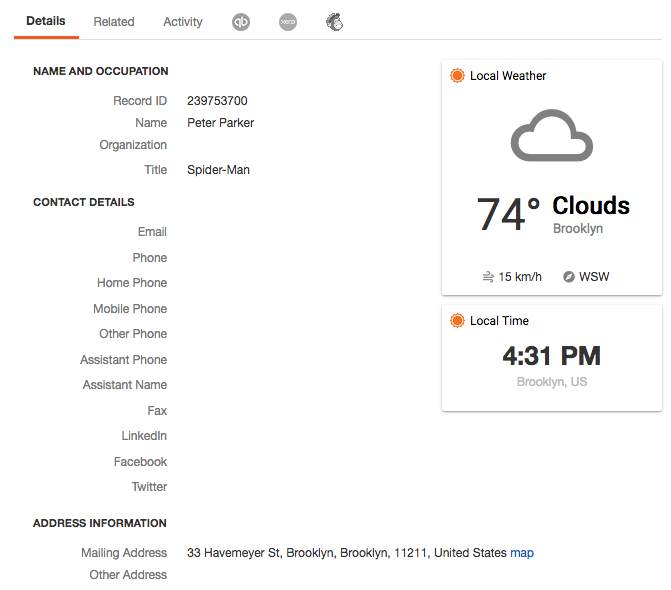 The ability to document and reference details important to your prospect can be the difference between a prospect remaining a prospect or becoming a customer. CRM software like Insightly allows salespeople and others in your organization to create and house important information needed to convert leads into customers.
Lead Data Entry
One of the most painful parts of lead generation can be entering lead data into your CRM software. A good CRM should help you automate lead entry tasks so that you can focus your time and energy on getting more leads.
CRM software like Insightly allows you to manually enter prospect information. However, it also offers a business card scanner that allows you to take a picture of a prospect's business card using your phone, which the system then uses to auto-populate contact details. You're also able to import prospect information from spreadsheets and capture leads from your website using the web-to-lead forms feature.
Using our restaurant example, suppose our salesperson made an in-person visit to present an event proposal. While at the customer's location, he or she met 15 new prospects. Instead of the salesperson keying in contact details from 15 business cards, he or she can take a picture of each card and a record will be created in Insightly. This allows the salesperson to focus more on getting additional leads and less on administrative tasks.
Lead to Opportunity Tracking & Conversion
An important feature salespeople find useful is the ability to convert leads into opportunities. When salespeople spend lots of time and energy nurturing their leads and documenting their activities, they don't want to lose any intel they've gathered.
CRM software like Insightly allows salespeople to easily convert leads into opportunities without losing information that helped them move the lead along the sales cycle. This feature is invaluable because it helps salespeople and others in your organization use, and continue to build on, important details that could help close more deals.
Smarter Prospect Emails
Your prospects are receiving tons of emails every day, so your business must provide tools to help your salespeople send better emails without wasting time. Salespeople need a way to link emails they send to prospects to deals so they can reference previous communications. They will also need the ability to track the effectiveness of emails they send.
With Insightly CRM software, salespeople are able to see emails they and others within the company have sent to their prospects. They can also save time on emails by creating and utilizing email templates. The software also allows emails to be scheduled, allowing the salesperson or other team members to time the emails just right.
And finally, one of the most valuable features is the ability to track and measure the effectiveness of the emails sent. Insightly CRM software includes email tracking, measuring things like open and click-through rates, and engagement metrics. This helps your salespeople learn what they are doing right and what they need to improve upon with the emails they are sending to prospects.
Account and Contact Management
In addition to managing leads and prospects, salespeople want to manage their existing accounts and contacts. You may have a huge organization with multiple departments as a customer. Using our example of a restaurant selling catering and event packages, larger organizations tend to have meetings where catering is needed. These meetings can range from company-wide to team or department meetings.
The same goes for events or parties. Each team or department usually has a designated person handling these types of activities, and this creates the need for the restaurant to track multiple contacts within each account. Salespeople want to manage and optimize their relationships with all contacts in each of their accounts because these relationships can lead to multiple sales from the same customer.
A good CRM should include the following account and contact management features:
Housing contact details – CRM software should contain fields to input basic contact details as well as other contact information such as social media profiles.
Creating contact links – CRM software should allow you to create links between contacts as well as links to various tasks, projects, purchases, and communications.
Linking to social profiles – Knowing who knows who ad how they relate to each other is key to successful selling. Your CRM software should allow you to input social media profiles. Insightly takes it one step further and allows you to do social media prospecting.
Unique details about each contact – There should also be a space to note unique insights about each contact, such as their favorite drink at Starbucks or the best times and communication channels to reach them.
Communications with each contact – Salespeople should be aware of all communications with each of their contacts. CRM software that makes them aware of communication history allows them to tailor future communications and activities.
Opportunity Management
Salespeople depend on CRM software to help them keep track of their opportunities and manage their pipelines. They build their pipelines to document and actively work upcoming sales opportunities. They also use them to predict sales and determine the amount of effort needed to hit their sales goals.
Salespeople can then engage in appropriate actions, like sending quotes and follow-up emails to contacts in each of their accounts until they close opportunities in their pipelines. By managing all of these activities in their CRM, top salespeople are able to keep track of how things are going and can prioritize their efforts.
A few features related to opportunity management in a good CRM software are as follows:
Convert Opportunities to New Projects
CRM software should allow salespeople to make converting an opportunity they've won to a closed deal and new project smooth and seamless. Insightly allows you to do this with a few simple clicks.
Performance Tracking & Forecasting
Salespeople need to know how they're tracking against their sales goals. They also need to forecast their expected sales so they can predict how much money they will make. They can also use this information to get the right type of support from their sales manager or from the business owner they are working for.
For example, Insightly CRM software offers features to help salespeople easily keep track of their performance, forecast sales, and document the likelihood of closing deals with customizable reports. You can even auto-populate probability to close for each stage of your deals.
Post-Sale Communication & Activities
The best salespeople communicate with their customers throughout the entire sales process. This includes communicating with customers after the deal is won, the project begins, the work is in process, or the product has been delivered. CRM software allows you to identify customers and individuals who haven't been contacted in several weeks as well as those who are critical decision-makers for future business. It also allows you to better manage customer experience.
Insightly allows you to continue communicating with customers. It also allows you to send automated messages to internal stakeholders who may be responsible for carrying out tasks related to the project.
CRM Software Advanced Features
In addition to core features, many CRM software comes with more advanced or robust functionality that can help businesses manage or automate other critical processes. A full-featured CRM tool might include things like advanced reporting tools, workflow automation, tools to help manage projects, or seamless integration with third-party software tools. While a full-featured CRM is typically more expensive, its added benefits can often outweigh the cost.
Reporting Tools
As a business owner or manager, you'll want to run reports to help you make decisions about your business. Reporting tools can illustrate key trends and insights happening in your business. Being able to recognize trends helps business owners and sales managers to invest in what's working and stop activities that aren't working.
CRM software tools like Insightly allow you to generate reports to let you know things like the source of your best leads, the number of sales by probability to close, the activities of your best sales reps and more. When it comes to reporting, it is always helpful to have both pre-built and custom reporting features so that you can learn from the most commonly used reports and create custom reports based on your specific needs.
Workflow Automation
CRM software that saves your salespeople time makes you more money by freeing up your sales team to sell more. System automation can free up salespeople from tasks like acting as a project coordinator once a sale is closed or a meeting scheduler at certain phases of the sales process.
Insightly CRM software allows you to automate workflows throughout the sales cycle. You can automate tasks such as sending emails, starting projects, delegating tasks and more. Once you define your workflows and establish workflow triggers, activities that would normally take a lot of time for your salesperson to complete happen automatically.
Project Management
Businesses that nurture their customer relationships and monitor their sales activities from pre-sales to post-sales are positioned to create loyal and satisfied customers. CRM software that contains project management features allows businesses to keep their customers satisfied throughout the entire process. The same level of attention and communication can be applied while projects are in process.
CRM software tools like Insightly include the ability to send automated updates throughout a project. You can also do things like track task completion rates and important milestones and stages.
CRM Software Providers
Today, there are many options for CRM software, especially for ones that cater to small businesses. At Fit Small Business, we use Insightly, but there are other CRM software providers offering software specifically designed for the small business market, such as Freshsales, Pipedrive, and Zoho. Each of these products has unique features suited for specific business types or business process needs.
Below is a summary of the four major small business CRM players and who they're right for.
Freshsales
Freshsales is right for businesses with territory-based sales teams that rely on inbound and outbound calling. It has a built-in phone system with features that include click to call, call recording, phone number assignments, call transfers, and phone activity reports. It also allows you to establish territories and assign leads based on your criteria.
Pipedrive
Pipedrive is best for businesses looking for a visual, easy to use CRM tool that can help them automate repetitive tasks within their sales process. It keeps salespeople focused on critical tasks throughout the sales cycle that are needed to close deals. Salespeople can create visual pipeline stages and define activities within each stage to be complete.
Zoho
Zoho is a CRM tool best for small businesses that want to manage marketing campaigns and social media engagement alongside their other CRM efforts. Businesses that engage in social selling and include lead generation strategies to build their pipelines will appreciate features like Facebook, Twitter, and Google+ integration.
Insightly
Insightly is the best for businesses focused on long-term relationships because of its project management features. It is also great for businesses that need automation and efficiency tools like the business card scanner, email templates, and web-to-lead forms, and lead assignment.
Because we used Insightly to illustrate what a CRM is in this article, we'd like to share more detail on a few of their differentiating features:
Project Management – Insightly helps to manage activities after you close the deal. Send and monitor communications, link records and relationships, and invite and assign tasks to other stakeholders.
Workflow Automation – You can automate tasks such as sending emails, assigning projects, requesting approvals, trigger send messages or set up a direct mail campaign.
Relationship Linking – Because relationships are dynamic, Insightly allows you to make connections between your contacts, partners, and team members. You can even link contacts to tasks, projects, and emails all within the software.
Social Profiles Integration – Access links to the social media profiles of your contacts all in one place. Also, let the tool do your prospecting by uncovering the social media connections of your contacts.
Email Tracking – Before making a call or sending an email to a contact, it's nice to know what you or your colleagues have already sent. Let the history of emails and other communications shape your next move with your contacts.
These are just some of the reasons we use Insightly. However, for a more in-depth exploration of what we think the best CRM tools for small businesses are, check out our article on the 6 Best CRMs for Small Businesses. This will help you decide which solution may work best for you and your business.
Pros & Cons of CRMs for Small Businesses
There are pros and cons of investing in CRM software that should be considered before making a final decision. Some of the pros include staying organized, scaling relationship building efforts, and tracking and reporting. Some of the cons include cost and sales team adoption. This section explores the pros and cons in detail.
The Pros of CRM Software:
Scalable Customer and Contact Management – CRM software allows businesses to manage a larger customer and prospect base while offering the ability to customize interactions and communications with each customer and prospect.
Ability to Store, Organize, and Filter Information – Small businesses are now able to store, organize and filter large amounts of customer and prospect data using CRM software.
Robust Tracking and Reporting – CRM software gives small businesses the tools to track the effectiveness of their activities.
Affordable Options for SMBs – Today, there are a variety of affordable CRM software options. Many of the players in the SMB space make free versions of their software or offer free trials.
The Cons of CRM Software:
Cost Prohibitive – Many CRM software solutions can be cost prohibitive to small businesses. There are now several options affordably priced for small businesses, but the key is selecting one with the features you will actually use, can scale with your business, and is offered at a price point you're willing to pay.
Time Consuming – CRM software can be time-consuming for salespeople to use and time-consuming for you to set-up. Choosing software that saves your salespeople and you time is important.
Ease of Use – Some CRM software systems can be difficult for both you and your salespeople to use. Choosing a solution that easy for your sales team to use and easy for you as a business owner to use is essential.
Resistance to Use or Adoption – Salespeople hate tasks that they perceive as preventing them from selling. If the CRM software you choose is difficult to use or is time-consuming, your sales team will not use it. If this happens, any data in your software won't give you the intel you need to make decisions for your business.
CRM Software Frequently Asked Questions (FAQs)
Because there is so much information on CRM software, small business owners have lots of questions as they are trying to decide which software is right for them. We decided to include a short FAQs section that may answer some questions you may have about CRM software.
What Does CRM Software Do?
A CRM system helps businesses manage and optimize relationships with current customers and prospects. It does this by allowing businesses to manage sales activities ranging from nurturing prospects to tracking post-sale communications and tasks.
What Is a CRM System Used For?
A CRM system is used to increase the odds of converting prospects to customers and to increase sales to existing customers. It's also used to support post-sales activities, including project management. Having a CRM strategy is important for getting the most out of your CRM software.
Why Have a CRM System?
CRM systems used to have a reputation for being complex and expensive. They have evolved over time and are simpler to use. They have also become very affordable, even for very small businesses. All businesses that have or plan to have more than one customer should have a CRM system to keep track of important interactions with their customers, prospects, partners, vendors and internal teams they work with to serve their customers.
The Bottom Line: What Is a CRM?
All businesses can and should use CRM software. Technology has made it possible for companies of all sizes and their salespeople to affordably reach thousands of prospects and customers. This is good from a business growth perspective, but can cause problems if relationships are not managed properly.
A CRM software tool will allow your salespeople and your company to take customer-specific and appropriate actions that will lead to more sales and more satisfied customers who feel like you care about them and their business. Insightly is a great CRM with core features and more advanced functionality specifically designed for small business. Sign-up for a free trial to test out Insightly for yourself today.