Customer relationship management (CRM) software is a database used to track customer activities, leads, and sales opportunities. Since all sales information is logged in your CRM, it provides business insights for your entire sales, marketing, customer service, and finance teams, and allows you to tailor interactions and enhance the relationship with your customers.
How a CRM Works
CRMs work by providing a central place for a salesperson to organize and manage information about leads and customers. For example, new leads can be added to a CRM, qualified, and then moved through the sales process. In addition, customers and contacts can be organized and segmented while keeping all customer communication in one place.
Without a CRM, businesses used spreadsheets, stacks of business cards, and contact sheets. Instead of fragmented files, CRM serves as a living record of important business information. When the correct information is entered, it's a powerful analytics solution that enables companies to pull reports and learn about their business.
CRM can be easily confused with similar business applications such as content management system (CMS) or customer data platform (CDP) software. Though just as important in some cases, these types of solutions perform entirely different functions. For instance, CMS software helps companies create and publish content on a website, and CDP software helps teams aggregate customer data from multiple sources like web forms and social media accounts.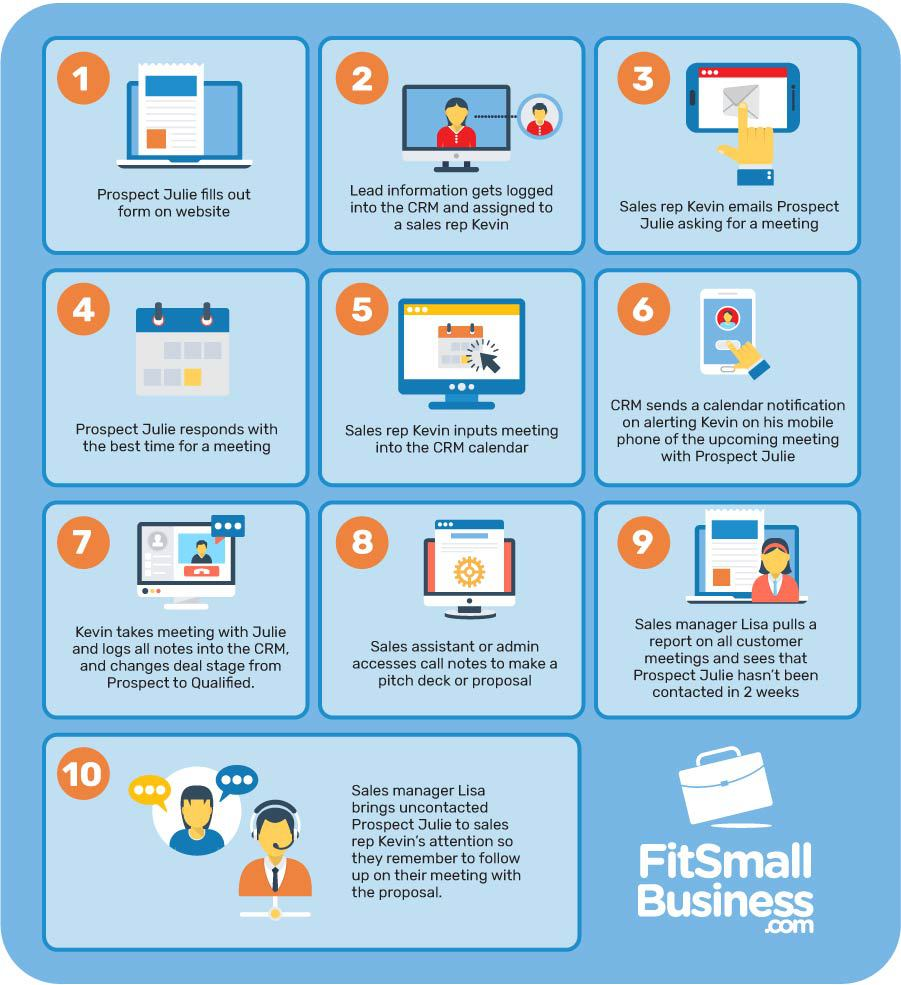 CRM Features
Most of the features of CRMs are meant to help you better organize your contacts and manage the relationships you have with your customers. While the specific features included will vary based on the type of software and the specific plans you choose, there is a common set of capabilities you can expect from most small business CRMs.
Here are some of the features that are commonly included:
Contact Management
At its core, a CRM exists to help you manage your contacts and the communications you have with those contacts, whether they are leads or customers. This means organizing and grouping those contacts based on various criteria, like whether they are a prospect or customer, their location, whether they are qualified, and which sales rep handles their account.
Account Management
Accounts are usually companies or organizations containing multiple contacts or business locations. Accounts generally hold the record of interactions or other pertinent information that will allow the customer to be serviced, such as their purchase history, key decision-makers, and customer service interactions. Account management features also often allow multiple sales reps to have visibility as they may manage different aspects of the sales process.
Sales Opportunity Management
Sales opportunities refer to potential deals that will generate new or additional revenue. These deals often come in as leads and move through the sales pipeline stages, in hopes that they become new business. Depending on your specific business, sales opportunities can represent new contracts, purchases, or other sales proposals. CRMs help you organize these based on the stage of your sales pipeline, and forecast the likelihood that they will be won.
Quote & Order Management
This feature automatically generates and sends price quotes. Sales reps can create a quote or proposal based on the specific needs of the customer and send them for review or approval. As a result, your company has a living record of everything sent to the customer or changes that were made. When a customer makes a decision to purchase, you can use your CRM to manage the process of procuring and delivering their order.
However, not every CRM will include this capability. In some cases, like in the case of enterprise resource planning (ERP) software, accounting and inventory management functionality is controlled by other modules in order to keep the CRM's users focused on presales activities. In other cases, a business may prefer to use third-party dedicated software to manage these tasks, and would rather not pay for functionality they aren't going to use.
Customer Segmentation
Segmentation is when you group customers based on similarities. Filtering customers by these trends allows you to market to them in a more personalized, effective manner. For example, a company could be releasing a product that's a good fit for its customers in the manufacturing vertical with less than 50 employees.
Task Management
Tasks are follow-up or time-sensitive to-do reminders, and can be assigned by another person or set for yourself to enhance customer service. Sales reps are continually creating tasks to make sure they follow up with prospects. Account managers set tasks to make sure they follow through on what they promised the customer. A sales manager could go through the CRM, identify which prospects haven't been contacted, and assign instruction tasks to their reps.
Reports Dashboard
The dashboard of a CRM is customized based on the numbers that are most vital for the employee to see regularly. For example, the sales team's dashboard should tell them where they are for the month and how their teammates are doing, while a sales manager's dashboard displays their teams' monthly numbers. As a best practice, sales staff should be told to be conscious of their dashboard and monitor their progress on a daily basis.
Mobile
Most sales teams need mobile access to their CRM. Because most CRMs are cloud-based today, they are usually accessible from most devices. This allows sales reps to communicate with contacts, track activities, and leave detailed notes about customer interactions while in the field. Since it can be difficult to keep track of everything you do during the day, having your CRM on your mobile device helps you stay organized and on top of your tasks in the field.
Chat Feature
Similar to tasks, chat features allow for customer conversations as well as departmental collaboration. While chat has long been a part of customer service software tools, CRMs have added the ability to embed a chat widget on your website to connect with prospects and potential customers while they are engaged with your company online. In addition, CRMs also offer communication tools that let you easily connect with members of your sales team.
Tangible Ways to Use CRM
Small businesses use CRMs in a variety of ways, primarily in managing leads and customers, as well as identifying and moving deals through the sales process. Since a CRM is, at its core, a database, there is a range of ways to customize the tools and features to meet your specific needs.
The following are examples of how companies utilize CRM for their day-to-day business operations:
Existing Customers
A software sales rep is about to hop on a call with an existing customer. After looking through the "customer notes" logged in the CRM, she sees that the customer will need more licenses at the end of the month. The sales rep now knows that this conversation will involve upselling. She can now review their pricing tiers and ask for proper support prior to the call. During the call, she can reference prior conversations and start a dialogue about addressing the customer's needs.
Payment & Invoices
The director of finance within a beverage company sees that there's $40,000 worth of unpaid invoices that will officially be late by the end of the month. He doesn't have the time to track down each customer individually and remind them to pay. By pulling a report from the CRM, he can see which account manager is responsible. The finance director can now send out an email to the account managers and ask them to send out payment reminders to their accounts.
Marketing Campaigns
A marketing manager is creating an email campaign to promote an upcoming trade show. She receives a list of over 2,000 attendees and enters their contact information into the CRM. As contacts from the list interact with her campaign, her marketing automation software scores the leads and feeds them back into the CRM.
The sales reps in her company can now preemptively reach out to qualified leads before the show. They can also strategically target prospects at the trade show and log their interactions in the notes section of the contacts in the CRM.
Is CRM Right for Your Business?
Since a CRM is a centralized place to manage all of your sales leads and customers, most businesses that sell to other businesses (B2B) will benefit from the ability to keep things organized. Even businesses that primarily sell to consumers (B2C) can take advantage of the ability to organize, qualify, and track customer activity. If you're wondering if a CRM is right for you and your business, there are a few factors to consider.
Using a CRM allows you to:
Centralize Information
If your company's data is stored in spreadsheets, stacks of business cards, and Google Docs, you will benefit from CRM. It keeps your company's vital information in one place. You can update and share data in real-time, so information is updated and accurate. As a rule, sales reps and account managers are required to "log calls" in the CRM after customer interactions. Keeping an active customer log to refer back to at any time helps provide maximum customer service.
Gain Insight Into Your Sales Process
You may have a good foundation of customers, but do you know how to scale those efforts? When you log information about your sales process into your CRM, you'll find valuable details that can help you create a reliable sales process. The insight you gain from a CRM is only as good as the information you enter. By running reports in your CRM, you'll be able to pull consolidated information from several different areas.
Manage Prospecting & Outreach
Outbound sales is a time-consuming and tedious process. A CRM can help set your sales force up for maximum efficiency. For prospecting and cold outreach, the power lies not in CRM alone but its CRM integrations. There are several different software tools to utilize depending on the type of outreach your company does. All sales technology tools must integrate with your CRM so that any results can be automatically logged, tracked, and measured.
In addition, information pulled from your CRM can help you measure important metrics, such as how long your sales cycle is, which part of the sales cycle takes the longest and needs to be improved, who your target customers are, and which sales reps are the highest performers. Each of those metrics can be used to refine your sales process and determine where to spend your time and resources, resulting in a more profitable sales organization.
Why Companies Hesitate to Implement CRM
We've already established that most businesses will benefit from implementing a CRM. In fact, 91% of companies with at least 11 employees use CRM software. Occasionally, you will come across a company that hasn't taken the leap yet. Like any technological update, some companies are slower to take action than others because they fear the unknown.
Here are the most common reasons businesses use to justify not using a CRM:
'Things are fine the way they are.'
Many companies feel that their processes are "good enough" and don't need to implement new technology. While existing processes may work, CRM is meant to improve processes and accelerate business growth. In addition, unless your company is currently only serving a small number of customers, it's likely that "the way things are" isn't sustainable as your company grows.
'We don't have the time.'
Some CRM software does have a learning curve. However, the time saved in the long run on manual processes outweighs the time invested in training. Also, if time is truly the main deterrent, many CRM providers offer options for helping get you set up. In addition, there are third-party consultants that you can contract to do most of the implementation and training for your team.
'It's too expensive.'
While most CRMs require a financial investment, in reality, there are many providers with low-cost, and even free options, based on the features you need. While free CRM options may be more limited in features, they are a great way for a small business to start organizing their sales process and managing customer relationships. And, since most small business CRMs are cloud-based, it's easy to purchase new features without the hassle of installing new software.
Benefits of Using a CRM
Studies have shown that CRMs show a tangible return on investment. For example, the return on investment (ROI) for businesses that use a CRM to manage customers is shown to be $8.71 for every dollar spent on software. Here are a few of the specific benefits of using a CRM that you should consider when making a decision about whether one is right for your business.
Manage Sales Leads
Leads can come from several different sources. They can come from trade shows, forms, and chatbots on your website, cold outreach, and marketing campaigns. The diverse origins of leads can make them hard to track and follow up on. Companies used to use spreadsheets if they used anything at all. With a CRM, leads are fed directly into your database so that they don't fall through the cracks.
CRMs also allow you to set rules so that specific leads go to an individual sales rep. Distributing leads on a rotating basis can ensure that they're equally distributed and don't cause conflict between reps. Once the lead is distributed, automatic reminders can be scheduled so that reps stay on top of follow-ups and input the correct information.
Improve Customer Satisfaction
CRM helps improve the customer experience from start to finish. Improving customer experience begins with the proper distribution of leads. Similarly, other customer-related tasks can be assigned so your team takes action at the right time. Customer satisfaction is often in the details.
The automation of customer service or follow-up tasks ensures that customer requests don't fall through the cracks. The collaboration between departments enabled by CRMs allows teams to serve and "wow" customers by diligently following through and remembering small details.
Increase Productivity
CRMs increase productivity by eliminating manual tasks. Calling, emailing, pulling reports, and account reviews are all streamlined by CRM. Having all of your customer information in one place prevents you from having to track down information from multiple locations. While there is a learning curve during CRM training, this technology will save you time in the long run.
Improve Departmental Collaboration
CRM allows several departments to work in conjunction, all for the benefit of the customer. Management, sales, marketing, finance, and even executives can collaborate using CRM. Providing equal visibility into accounts and sales numbers allows efficient communication between departments. An excellent example of this is sales and management.
Sales teams typically have weekly meetings with management to discuss issues and goals. CRM allows the sales manager to already have an idea of the reps' performance, goals, and issues before going into the meeting.
Accurate Reporting & Forecasting
Pulling reports can be accomplished by every department within your company. Like an advanced Excel spreadsheet, the filters in CRM allow you to easily pull the information you're searching for. For example, sales reps can pull a report of every account that hasn't been called on in two weeks, or sales managers can pull reports on who's behind their quota for the month. Each of these allows decision-makers to have access to the best information available.
Create a Scalable Sales Process
CRMs allow efficiency in the sales process so that scale is possible. The number one way to tell if your sales process is scalable is whether or not it's repeatable. That means that your process goes as smoothly while handling 50 leads as it does when you have five. Because CRMs have established steps and procedures that must be followed, this ultimately leads to scalability.
Shorten the Sales Cycle
A sales cycle is the journey starting from lead generation to winning the sale. The shorter your sales cycle, the more time you have to work on other deals and generate more revenue. CRM helps shorten the sales cycle by ensuring lead follow-up and proper management. Lead-scoring integrations allow you to spend your time on the leads that have the highest probability of being converted into customers.
What to Consider Before Implementing CRM
Like any business decision, choosing to purchase CRM software for your business involves consideration of many factors. In addition to making sure you think through the features you need, you'll want to evaluate the best CRM for your business based on these criteria.
Contracts
When you sign up for a CRM, there's more to the subscription than just the price. Make sure to look over your contract thoroughly and understand exactly what you're getting. Look for additional charges like setup, early termination, and data retrieval and import fees. It's also worth considering whether you'll have to sign up for an annual agreement in order to get the best pricing, and how much flexibility you'll have to add or change users.
This predicament is why it's always a good idea to start small despite there being an incentive to purchase more upfront for a discount. Also be sure to check for timelines. If the salesperson promised an installation or data migration time frame, make sure it's in the contract. Look for automatic renewal policies that may require a 60- to 90-day advanced notice.
Proper Support
Investing in a CRM can be not only costly, but it's also time-consuming. An effective database requires implementation, training, and ongoing maintenance. While the VP of Sales of smaller companies might handle the purchasing and admin in the beginning, your CRM will eventually need additional support to maintain it. Make sure your vendor offers adequate customer support, but also prepare to get support internally.
CRM support can be broken down into three categories:
CRM Customer Support
Find out who your CRM vendor has on staff to support you. Will you have a designated account manager, or will you spend time on long holds while your call is outsourced to a foreign call center? Many companies offer different levels of support based on the plan you subscribe to, with lower-priced plans often including only email or knowledge base support. If your CRM has problems or goes down, you'll want timely, reliable support.
CRM Internal Support
Companies usually specify individual employees who are responsible for CRM upkeep. It could be as specific as a Salesforce administrator, or a sales operations manager could be responsible for making sure accurate and timely data is entered into the system. Without a specific person overseeing CRM tasks, data is less likely to be accurate.
CRM Consultants
Some companies choose to outsource the implementation and maintenance of their CRM altogether. In other cases, a company may hire a dedicated CRM administrator who is responsible for the implementation and management of the overall database. The demand for CRM consultants is growing rapidly, and the average salary of a Salesforce consultant is $95,000.
Company Viability
CRM is now the largest market in the world of software, which means there are plenty of new options available. When evaluating CRM software, pay attention to the stability of the company. Will this company, which houses all of your business information, be around in five years? You don't have to go with the oldest or most expensive company, but you should be sure you've done your due diligence.
Consider what will happen to your data if the company ceases to exist. The type of coding they use will determine whether your information can be transferred to another system or not. Will support still be available if the vendor undergoes massive changes? Changing CRM vendors can be a painful process, so make sure your decision is one for the long haul.
CRM Cost
The most common pricing model for CRM is the monthly subscription model. The average small businesses will pay is anywhere from $12 to $20 per user, per month. Prices increase based on the number of users and added features. In addition, some companies offer a free version of their CRM with reduced features and accessibility.
CRM companies usually structure their pricing based on tiers or bundles. These bundles factor in the costs for the number of users, the amount of storage needed, and customizations such as added features.
CRM Integrations
What makes CRM so dynamic is the many programs that can integrate with it. While a CRM may not be capable of marketing automation or content management on its own, it can integrate with those programs so that all of your activities are synchronized. Remember, a CRM is only as effective as the information it's fed.
Email: Most businesses use Gmail and Outlook. Both platforms can be connected directly to your CRM so that vital customer interactions are automatically logged. Email is perhaps one of the most essential integrations, as many customer interactions occur there yet rarely make it into the CRM.
Marketing automation: Marketing automation platforms like Mailchimp and Marketo can be linked with CRM for maximum synergy between sales and marketing. These two programs will feed back and forth off one another, continually exchanging customer information so that marketing campaigns and sales outreach are customized.
Lead capture: Chatbots and web forms are popular ways to capture leads. Syncing lead capture technology with your CRM allows for automatic lead distribution and timely follow up.
Call technology: Computer telephony integration (CTI) software is essential for businesses with inside sales teams. CTI technology allows reps to make calls automatically from your CRM by clicking on any phone number in the database.
Social media: Integrating social media with your CRM offers complete data on customers and prospects. By pulling information directly from social media, your business can leverage data for a better understanding of your target audience.
Glossary of CRM Terms
Account: An umbrella that houses several different contacts within it. For example, Walgreens would be the name of the account. Ryan Foley, Marketing Director, and Jennifer Ayden, CMO, would be the contacts within the account.
Activities: Calls, emails, attempted calls, voicemail, or any interaction with customers that a sales rep engages in. Logging activities is one of the most essential practices to implement when using CRM. Activities give you a living record of what's occurring with customers so that the right actions can be taken on their behalf. For businesses with a sales team, activities serve as "marking territory" so that other sales reps know not to reach out to a customer.
Closed (won): The deal has been won or "closed," and what began as a lead is now officially a paying customer. The pipeline ultimately feeds the information that enables forecasting. If a sales rep has five deals in the opportunity stage, management will be able to predict the likelihood of closing percentage and strategize on how to move more deals or move deals faster through the pipeline.
Dashboard: A homepage that displays pertinent information. The information shown is customized based on the user. A sales rep's dashboard will most likely consist of their numbers and where they are in relation to their quota. For a VP of Sales, their dashboard would probably display the entire sales team's numbers.
Fields and custom fields: Slots where employees enter information about a contact or account. For example, if a bulk file of inbound leads is being uploaded into the CRM, they'd have fields such as "name," "title," "company," and "email address" that would get automatically filled after the upload. Many CRMs allow you to create customized fields to capture information specific to your sales process.
Forecast: Sales forecasts are projected future numbers and goals for your company to hit in order to be profitable. CRMs include forecasting features that pull past and current data and activity to predict future success.
Lead: A type of contact that has entered your sales funnel, which your sales team will nurture in hope that they become a customer.
Opportunity: An opportunity is usually opened when meaningful contact is made with the customer. At this point, the customer has agreed to a meeting, or you've had the opportunity to pitch them. Price quotes or proposals have been exchanged.
Pipeline: Pipeline refers to the stage of each opportunity in the sales process. Stages are typically named.
Prospect: A lead is a prospect when it has been qualified, i.e., it's been determined that it would be a good fit and that there's interest in the product.
Sales funnel: A representation of the stages of the journey your potential customers go through before making a purchasing decision.
Sales process: The sales process refers to the steps taken to close deals. CRM aims to streamline and improve each step taken to win customers. A stable sales process is one that is repeatable and keeps the customer top of mind.
Tasks: Tasks are reminders that keep your team organized. For example, when a sales rep cold calls a customer and doesn't make contact, they can immediately set a task that reminds them to follow up in a week. A week later, that task will be sent as a reminder for the rep to reach back out.
Bottom Line
CRMs are an important part of a small business' overall sales strategy. They help track things like sales leads and opportunities, and serve as a comprehensive database of customer information. They can even be used to manage invoicing and payments or marketing campaigns. A reliable CRM can make the difference between a business that's just getting by and one that's outshining the competition.