Customer relationship management (CRM) software is a database used to track customer activities, leads, and sales opportunities. Logging this important information provides insights on your entire sales, marketing, customer service, and finance teams, and allows you to tailor interactions to enhance relationships with your customers.
It's easy to confuse CRM with similar business applications such as content management system (CMS) or customer data platform (CDP) software. CMS software is for creating and publishing content on a website. CDP software collects customer data from multiple sources like webforms and social media accounts to analyze and predict customer behavior.
What a CRM Is
Customer relationship management systems are designed to collect and manage the wide variety of data sales teams collect on leads, prospects, and customers. CRM software has been around for decades but it's risen in popularity as features become more advanced. CRM is also gaining traction as an easy-to-use method of tracking sales activities across multiple channels and as a reliable way to improve the customer experience.
What a CRM Does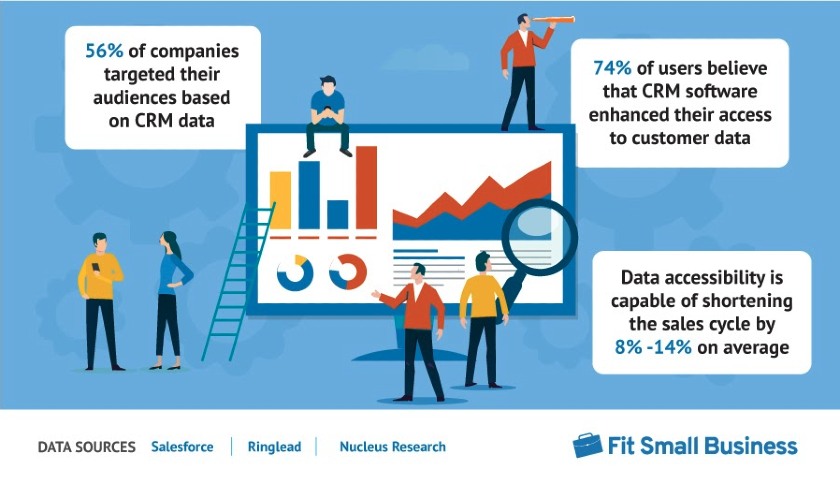 CRM software does a myriad of things, from housing a customer contact database to managing mass email campaigns and tracking service tickets. Studies show CRMs improve sales efforts in several ways:
56% of companies use CRM data to target audiences with the help of CRM features like list segmentation and lead qualification.
74% of CRM users say the software enhances access to customer data with filters, advanced search, and custom reports, which can shorten the sales cycle by 8% to 14%.
CRM features vary from system to system, and even between a vendor's individual service plans. Some systems support only sales efforts, while others also include marketing and sales tools to create a 360-degree view of the entire customer journey and all potential touchpoints.
Click through the tabs below to learn more about what different types of CRM software have to offer small businesses.
Recommended CRM Resources
To learn more about how a CRM can help your company track sales activity, keep teams connected, and provide the best customer service, we recommend checking out our informative CRM e-book and in-depth articles on customer relationship management software.
CRM e-book: A comprehensive look at customer relationship management systems and best practices