CRM software (aka customer relationship management software) manages everything about your leads, customers, and vendors. It stores contact information, logs conversations, tracks the progress of sales, and helps users manage their daily tasks. A CRM can also run automated tasks to take much of the busywork out of copying customer data, following up with customers, and more.
In this guide, we'll be showing you examples from Insightly – the CRM we use internally at Fit Small Business and recommend to other small business owners. Insightly is easy to use, does everything you need a CRM to do, and is free for up to two users. Click here to start using Insightly.
CRM Software: 3 Tools
Another way to look at CRM software is the combination (or perhaps evolution) of 3 common business tools:
Contact Book

. Rather than just tell you a customer's name and phone number, a CRM can tell you their purchase history, delivery time preferences, recent tweets, and a log of all emails and phone conversations you've exchanged.

Personal organizer

. Rather than just list events on a calendar, a CRM can buzz your phone ahead of every meeting WITH notes on your pending deal.

Performance tracker

. Rather than calculate quotas and commissions by hand, you can view these report (and many others) instantly.
Combining these tools keeps everything easier and more organized. Rather than having to flip between spreadsheets, call reports, and calendars, you can enter whatever you're looking for into a search box and find it immediately.
CRM Examples: What Does it Actually Do?
Throughout my time covering CRM systems at Fit Small Business, I've heard from many readers who were trying to solve specific issues by implementing a CRM. Here are a few of the most common examples, which really get at the point of what a CRM does:
A Magic Sort Button:

You want to find every customer in Pittsburgh, PA who uses your XYZ product and likes the color red.

Many businesses need to sort their customers and vendors using highly-specific categories.

Custom fields

allow you to save any type of data you need, and

custom reports

allow you to sort based on multiple criteria.

Save Everything:

Your top salesperson Shelly is out for the day and you need to fill in.

A CRM keeps notes, emails, phone logs, proposals, invoices and all other documents sorted in one neat, searchable place. When a call comes in, you can search the number and get completely up to speed before answering.

Manage Workflows:

Proposals need to pass through the chain of command for approval before they're sent to the client. This means a lot of time hunting down managers.

A CRM can expedite the process by giving your proposals and other documents/projects a workflow: They're automatically assigned from one employee to the next. We use it at Fit Small Business to manage our articles in the editing process.

In-Depth Reporting:

Am I getting a better ROI from

billboard advertising

, or

Angie's List

?

A CRM can answer these specific kinds of questions – as well as forecast your earnings, show how productive your team members have been, etc.

Everything Integrated:

You're sick of manually entering leads or transferring contacts from your CRM to another program.

Web-based CRMs are designed to work with other programs. Whether you want to add leads automatically from a web form, sign up new contacts automatically to your

email marketing list

, or transfer newly-closed deals to your

invoicing software

– just about any integration is possible.
A Dream Tool? Yes and No
If this all sounds too good to be true, that's because there's one important caveat: A CRM is only powerful when it's actually used. When a salesperson neglects to save a new client, or an accountant forgets to mark invoices "paid," the system slowly becomes less reliable.
For this reason, and as we'll explain more in this article, it's extremely important to choose the right CRM and implement it correctly from the start. There's a huge range of CRMs programs – all with different features, specialties and difficulty ratings. Read our guide to choosing CRM software.
Who Needs a CRM?
The short answer is everybody: CRMs fit a wide range of budgets (with Insightly and Zoho even providing free editions for small businesses) and can be heavily customized. You can make use of a CRM whether you're a solo realtor, a 4-person bakery, or a 10-member sales team at a regional paper supply company.
A CRM is ideal for anyone who wants to manage leads better and faster and who doesn't mind taking some time to set it up, train their employees, and potentially spend some money. A beginner-to-intermediate CRM like Insightly takes about a day to master and set up, and starts at $29 per user per month for full functionality. Click here to read our Insightly setup guide.
Or Take Our Quiz & Find the Best CRM For You
How Does a CRM Work? The Basics
In its most basic form, a CRM helps you save and organize data about your contacts and sales opportunities. In CRM lingo, each piece of data you save in the system is called a "record" and there are 4 main types:
Organizations

– The companies and organizations your contacts represent. Organizations are linked to contacts, and vice versa.

Opportunities

– Used to track potential sales and keep a record of past sales.

Tasks

–  Make note of any interaction (phone call, writing a proposal, sending an email, etc) and schedule tasks for the future.
As you can see from the photo to the right, each type of record usually corresponds to a different menu on the CRM. Clicking on the "Tasks" page, for example, will show you all of your upcoming, overdue, and completed tasks. The "Contact" page will show you a searchable list of contacts, and so on.
That said, each record will also be "linked" to related records. For example, let's say my business serves Ben Stein, a customer from New Age Accounting. On Mr. Stein's contact page, I can find all related tasks and opportunities, as well as emails, notes, documents, and so on.
How a CRM Helps Teams
Convenience and organization are some of the key perks to using a CRM. It's one of the reasons we recommend a CRM to solo entrepreneurs – even if you work by yourself and have a fairly small list of contacts, the way everything gets stored in one place makes it extremely useful.
No Information Barriers
That said, a CRM is really kicked into gear when you use it for teams. Each employee at your business can have their own account with personalized tasks and opportunities. However, as they add client and sale information, it will go to a single database (As an administrator you can view who enters what and set restrictions on what employees can access, but we'll describe this more below).
How does this help? Let's say somebody calls your business with a customer service issue. With a CRM, you can enter their name and immediately find out  which products they've purchased, when they were last helped, who the salesperson was, etc. This way you can immediately pick up where you last left off, or transfer them to the right employee.
Improve Efficiency with Workflows
Another key benefit is workflows. As we mentioned before, many businesses need to collaborate on their sales (or projects, in general). A workflow is when a project needs to be passed from one team member to another – such as a proposal that needs to be written by one employee, proofread by a senior employee, then approved by a manager.
What a CRM can do is automatically pass the project on to the next employee, after the previous one is finished. It does this by assigning tasks: Once an employee marks one as complete, it automatically assigns the next one.
The benefit here is you can track who's responsible for the project at any given time. It also helps move things more quickly, since each employee can receive a notification the moment it's their turn. This also prevents anything from getting lost in the shuffle – which can sometimes happen in a busy office.
How a CRM Helps Owners & Managers
So we've discussed how CRMs help individuals and teams – the next piece of the puzzle is how owners and managers can use a CRM to gain insight on their business.
Often managers are flying blind to the productivity and effectiveness of their staff. As long as your employees stick to the software and enter data properly, a CRM will give you immediate access to the following insight:
Productivity

– Who is finishing their tasks? In what amount of time and with what results?

Effectiveness

– How well is each employee closing sales? What are areas of improvement?

Daily Schedule

– Who has to work on what today? How well are leads/tasks being distributed?
A CRM can also give you insight on company-wide information, like:
Sales Pipeline

– How far along is each pending sale?

Earnings Forecast

– How much are you projected to earn this month? Next month?

Conversion Rates

– Which lead source is converting best, or giving you the best ROI?
Permissioning and Sales Territory
Another tool managers get is the ability to control who can do what in the CRM. Typically only administrators can make system changes, like custom fields or adding news users. You can also reserve the ability to export data for yourself, which prevents anyone from leaving with your customer list.
Another important control is who can see which record. For example, since salespeople can be protective of their customers and leads, you can make it so that each salesperson (or sales team) can only view their own contacts. A manager or a non-sales employee, however, can still see the whole list.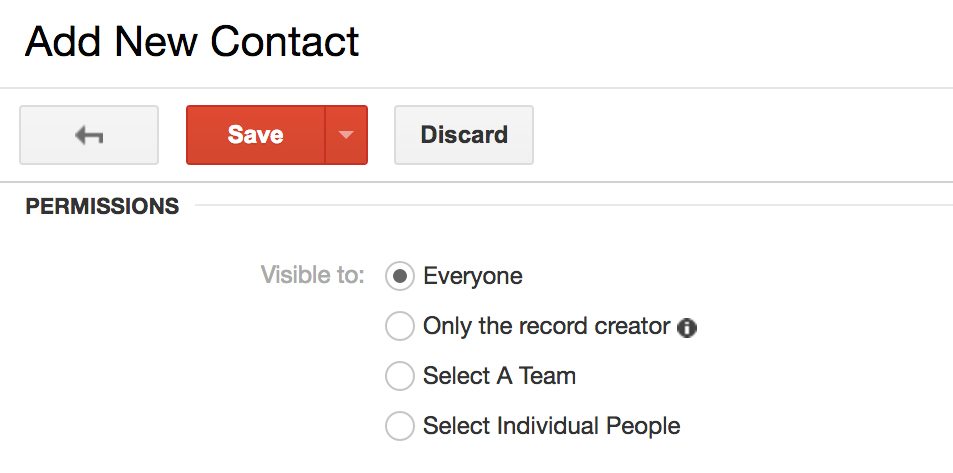 With Insightly, you can set permission levels every time you add a contact (or organization, task, etc.) You can make it visible to everyone, just yourself, just a team, or just select people.
With Zoho and Salesforce, territory management is more advanced. These CRMs can automatically assign leads based on location – i.e. if a lead comes from the East Coast, it goes to team A; if it's from the South, it goes to team B; etc. This is especially helpful for larger businesses who add leads from submissions on their website. Since you can ask leads to input their zip code, the system can automatically send it to the right team.
The Bottom Line
We've shown you a lot of cool things you can do with a CRM. The most important thing to remember, however, is that a CRM needs to be used consistently in order for it to work. If your employees aren't motivated to use it, or if they find it too confusing, the software won't do you much use. Stick with a platform that handles basic functions reliably and intuitively – and if you need help, check out our CRM software guide to compare options and see our top recommendations.