Google AdSense is a popular network for bloggers and website owners who want to monetize their sites through advertisements. You make space on your site where AdSense can place ads, and then you make money from those ads. Joining Google AdSense is fairly easy and since the ad network has no minimum traffic requirements, even beginners can use AdSense to start making money from online ads.
Networks such as AdSense are one of the ways many people make money blogging. Rather than going out and finding and negotiating rates with advertisers directly, a lot of bloggers choose to work with ad networks that handle all the details of advertiser negotiation, performance tracking, and ad creation. Google AdSense is the king of kings when it comes to ad networks because of its vast advertiser network.
How Does Google AdSense Work?
Google AdSense is free to publishers, which is what they call the bloggers and website owners who agree to publish ads on their sites. The ads that AdSense posts come from Google Ads, the largest online advertising platform on the planet.
With more than 2 million publishers, Google is the most popular ad network in the world. Many of the other top ad networks are Google Certified Publishing Partners, which means they also tap into the Google Ads platform to acquire ads. This means you need to be in good standing with Google AdSense and Google Ads, even if you eventually want to work with other higher-paying ad networks like MediaVine or AdThrive.
AdSense is an ad network that works with its advertisers through an ad auction process. The network chooses ads from those auctions that it feels will net the highest total earnings, and then places those ads on your site.
If for some reason you don't like some of the ads that are appearing on your site, you have access to blocking controls. This means you can stop any ad from being published on your site. You also have control over how many ads are shown on your site; you can adjust the number of ads displayed on your site through the AdSense ad load and ad balance controls.
Google AdSense Participation Policies
Like all ad networks, AdSense has its own set of participation rules and policies in place. One of which is never, ever click on ads on your site yourself; this can get you permanently banned. You are also prohibited from encouraging others to click on AdSense ads on your site.
Google also has quality content rules in place. For example, you can't post content on your site that is illegal, promotes illegal activity, violates others' intellectual property rights, is dangerous or derogatory, or that enables dishonest behavior. Malicious software, sexually explicit content, adult themes in family content, and sexual abuse material are also strictly prohibited.
Types of Google AdSense Ads
AdSense may place personalized ads or non-personalized ads on your site. Formerly called interest-based advertising, personalized ads are highly relevant to the site visitor and are often based on information previously collected by Google from that internet user's browsing history, demographics, or location. Non-personalized ads are not based on previous behaviors.
Google has three basic types of ad units that you can add to your site: display ads, in-feed ads, and in-article ads. Ad placement on your site will impact how much money you'll earn. The more prominent the ad, the more attention it will receive. Ads placed above and below the site's main header and navigation do particularly well, as do ads placed within articles.
How Much You Can Make With AdSense
For display ads, Google pays 68% of total advertising revenue to publishers and keeps the rest for its efforts. It pays 51% for AdSense for search and does not disclose revenue share for other AdSense products.
AdSense offers a free earnings calculator that helps you estimate potential earnings based on location and niche. AdSense notes that your actual earnings may be quite different from that which is estimated on its calculator. Ad revenues vary based on a number of factors, including advertiser demand, user device and location, season, ad size and placement, the exact niche targeted, and overall website quality and audience.
Using the AdSense Calculator, Google estimates a site in North America in the health niche with 50,000 monthly page views could earn $10,506 in advertising income (see below). A site with the same traffic in the beauty and fitness niche might earn only $6,042 with the same amount of traffic.
Frankly, I'd take the AdSense earnings calculator with a grain of salt for a few reasons. The calculator does not allow you to see revenue potential for less than 50,000 page views a month—many bloggers have considerably less traffic than this. Also, if you do have 50,000 page views a month, you'll probably want to move over to a premium network like MediaVine that pays its publishers 75% of total ad earnings. Many bloggers start with AdSense but report earning two to five times more on premium networks.
The best way to see how much you might earn with AdSense is to look at how much money others are actually making. Here are a few bloggers who have reported their AdSense earnings on their publicly-posted income reports:
In truth, it's rare to see AdSense publishers reporting that they earn more than $1,000 a month, though you often see that from publishers on the MediaVine and AdThrive networks.
How AdSense Pays You
Google AdSense earnings are finalized at the end of each month and publishers receive payment on between the 21st and 26th of the following month provided they've met Google's minimum $100 payout threshold. If you haven't earned $100 yet, your earnings will roll over each month until you do meet the $100 minimum payout.
You can opt to receive payments by check, EFT, EFT via Single Euro Payments Area (SEPA), wire transfer, Western Union Quick Cash, or Rapida.
How to Sign Up for AdSense
You'll want to have a high-quality, well-organized, easy-to-navigate website set up with at least five pages on it before signing up for the AdSense network. I also recommend bloggers have 10 or more blog posts before applying to Google AdSense. This will help ensure you make a good impression on the AdSense account review team.
Signing up for AdSense couldn't be easier. Just click on the "Get Started" button from the Google AdSense homepage and then enter your website URL, your email address (which needs to be a Gmail account), and note whether you'd like to receive performance suggestions. Next, enter your country name and accept Google's terms and conditions. After that, you'll need to provide some personal information including payment details and your address.
It will take up to 48 hours for AdSense to review your application. Once accepted, AdSense will prompt you to provide your preferred payment method for your ad earnings.
How to Set Up Ads on Your Blog or Website
Once you've been accepted by AdSense, you'll want to start the process of adding AdSense ads on your site. As a publisher, you have the option of adding a single code to your site that automatically places ads throughout our site, or adding code manually to your site.
Note that Google is only interested in putting ads on pages where there is high-quality content. You will get rejected by AdSense if you violate Google's ad placement policies, such as trying to put ads on 404 redirects, duplicate pages, thank you pages, or in pop-ups
If you've opted to use the AdSense automatic full-site option, you'll add your assigned AdSense code on your site just once, and then Google automatically places ads on your site for you. Once the code is in place, all you have to do is sit back and start earning money.
If you opt to manually place ads by ad unit, you'll need to place the AdSense code everywhere on your site where you want various ad types placed.
If you don't know how to add code directly to your site, no worries. There are several WordPress plugins, including Ad Inserter and Easy Google AdSense, that can help you do this easily without having any coding experience. Other web platforms, including Squarespace and Wix, also allow you to post AdSense ads on your site relatively easily.
After you've added the AdSense HTML codes to your website, it typically takes a couple of days before AdSense ads appear on your site. Occasionally, it can take up to two weeks before the ads show up.
If AdSense discovers a problem with your ad placements—for example, you've accidentally allowed ad placement on prohibited pages types—it will contact you and give you a chance to reset your ad placement parameters.
Tips for Making the Most Money With AdSense
There are a handful of ways you can ensure you're making the most money possible as an AdSense publisher. The first, and most important, is to grow your website traffic with targeted visitors who are eager to engage with the type of content you deliver. In general, the more your website traffic grows, the more money you'll make with AdSense or any ad network.
Here are a few other tips for maximizing your AdSense earnings:
Experiment With the Number of Ads You Post
Too few ads can limit your earnings potential, while too many ads may clutter your site and be a turn off for visitors. You can easily adjust how many ads you show by changing your settings via the Experiments tab on your AdSense dashboard. You can then compare how well your experiment performs in relation to how your site was performing before the experiment was initiated.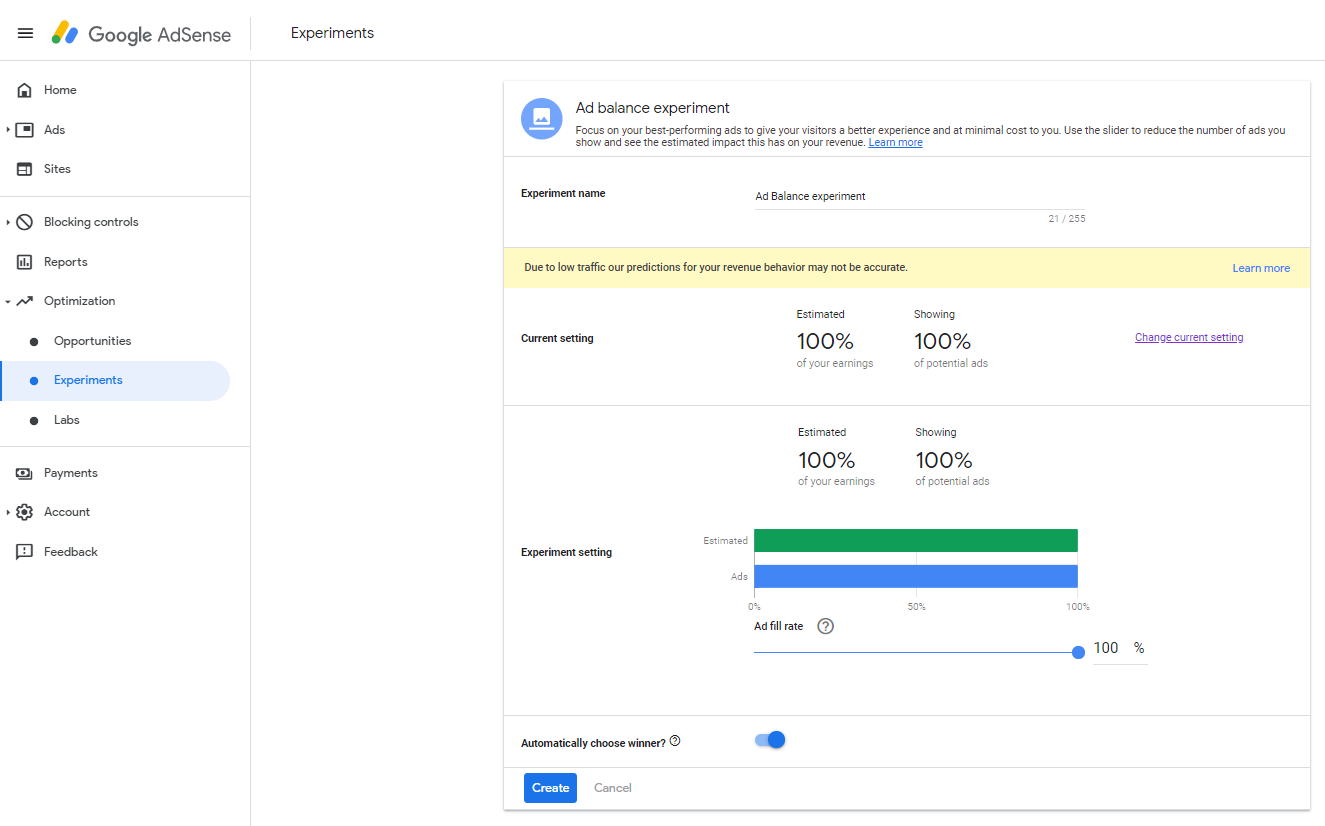 Experiment With Ad Placement
As a general rule, the more prominently the ad is positioned on the page, the greater the attention it will get. Placing ads "above the fold"—which is the point at which visitors do not have to scroll to view more content—generally produces the best results.
A word of caution: You don't want to reduce the quality of your site with overwhelming, in-your-face ads. If people come to your site and feel like it is mostly ads, they will likely leave and not come back. Make sure your essential blog content retains visual dominance.
Experiment With the Type of Ads You Post
AdSense offers a number of different ad dimensions, including horizontal, square, and vertical ads of various sizes. Play around a bit with the size of ads you include on your site.
Monitor Your Ad Performance
The AdSense publisher dashboard makes it easy to see how well ads are performing on your site. Visit your dashboard frequently, and be sure to view the Opportunities tab under the Optimization tab on the left sidebar. This is where you'll find suggestions from AdSense for improving your results.
Google AdSense Alternatives
If you join AdSense and find it's not producing the revenues you'd hoped for—or if you'd like to post ads on your site from multiple networks—there are several good AdSense alternatives available to you. Some have minimum traffic requirements and some don't. Remember: If the network is a Google Certified Publishing Partner, you'll need to be in good standing with Google AdSense and Google Ads to be accepted into the network.
Top Google AdSense Alternatives
| Ad Network | Minimum Monthly Traffic Requirements | Google Certified Publishing Partner? | Earnings Potential Compared to AdSense |
| --- | --- | --- | --- |
| InfoLinks | None | ✕ | Similar |
| | None | ✕ | Similar to Somewhat Better |
| Propeller Ads | None | ✕ | Similar to Somewhat Better |
| Ezoic | 10,000 page views | ✔ | Better |
| Monumetric* | 10,000 page views | ✕ | Better |
| SheMedia | 20,000 page views | ✔ | Much Better |
| MediaVine | 25,000 sessions | ✔ | Much Better |
| AdThrive | 100,000 page views | ✔ | Much Better |
*Unlike most ad networks, Monumetric charges a $99 set up fee for new publishers with less than 80,000 monthly page views.
Google AdSense for YouTubers
This specific post was directed specifically to bloggers. However, you can earn revenue from AdSense as a YouTuber too. Your channel will need to be approved to the YouTube Partner Program to apply for an AdSense account. You'll need at least 1,000 subscribers to your channel and 4,000 valid public watch hours to qualify for the program.
Bottom Line
Joining AdSense is a great way for bloggers to make a modest amount of money by placing ads on their sites. Because there are no minimum traffic requirements, AdSense is a great ad network for beginning bloggers. Once your traffic exceeds 10,000 page views a month, you'll likely earn more money through higher-paying networks such as Ezoic, MediaVine, and AdThrive.